The Kachin State People's Party hopes to win a majority of seats in the diverse state by uniting a previously fractured political bloc and targeting young voters.
By JAW TU HKAWNG and EMILY FISHBEIN | FRONTIER
Myo Lot Aung was too young to vote in 2015, but the 21-year-old native of Myitkyina, the Kachin State capital, is going all-in for the Kachin State People's Party this year. Driven by dissatisfaction with the ruling National League for Democracy and a sense of ethnic marginalisation, Myo Lot Aung has devoted the last 16 months to serving the KSPP, acting as treasurer of its youth wing.
The party has rapidly gained momentum since its formation in June 2019 out of the dissolution of several smaller Kachin parties. Myo Lot Aung is among the hundreds of young people now leading its campaign.
"Previously, many Kachin youth did not have any idea about how to use their patriotism to help their people," said Naw Hkung, who, also known as Jan Khone, leads the party's youth wing. Although several Kachin parties ran in 2015, many voters felt that splitting their support between these parties would be less effective at ending military rule than collectively voting for the NLD, he said. "After the KSPP was formed, they realised they could become involved with a party that represents and was granted a mandate by the Kachin public."
Social media savvy and a campaign strategy modelled on what Jan Khone described as US president Mr Donald Trump's successful youth engagement approach during his 2016 US presidential campaign have helped propel the KSPP forward.
In 2015, the NLD won nearly half the votes in Kachin, followed by the military-aligned Union Solidarity and Development Party's 22 percent. Another quarter of votes were split among ethnic parties, none of which gained more than 5pc.
Of the 40 elected seats in the 53-member Kachin State Hluttaw, the NLD holds 26 and the USDP seven. The remaining seven are held by pan-Kachin, Shan and Lisu parties. This year, the KSPP is contesting 35 state hluttaw seats and 30 in the national legislature. It expects to win about 28 state seats and 25 national seats, Jan Khone said.
The party's origins lie in a 2017 conference hosted by the Kachin National Consultative Assembly, known by its Jinghpaw initials WMR. The conference, attended by representatives of Kachin religious, cultural and civil society groups, established a working committee tasked with developing a united Kachin party, said WMR spokesperson Nhkum Tang Goon.
"To make a change through the electoral process, ethnic parties must win. Only then can they lead the affairs of the state," he told Frontier. "We [Kachin] have to build a strong and powerful party to deliver on and protect the public interest."
Disaffection runs deep
The KSPP is campaigning on promoting the rights of internally displaced people, fighting the state's rampant drug addiction, protecting the environment, and cancelling the controversial Myitsone Dam, a China-backed hydropower project that has been on hold since 2011 due to public opposition. But the party's main policy priority, like that of many ethnic parties across the country, is the establishment of a democratic federal union built upon equal rights, self-determination and equitable resource sharing among states and regions.
This vision of a federal union traces back to a document known as the Panglong Agreement, which Daw Aung San Suu Kyi's father, Bogyoke Aung San, signed with Kachin, Chin and Shan leaders in February 1947. The Panglong Agreement laid out a pathway for establishing "full autonomy in internal administration" for the three "frontier areas" upon independence from Britain. Just months after the signing, Aung San was assassinated, and a federated system of government has yet to be achieved.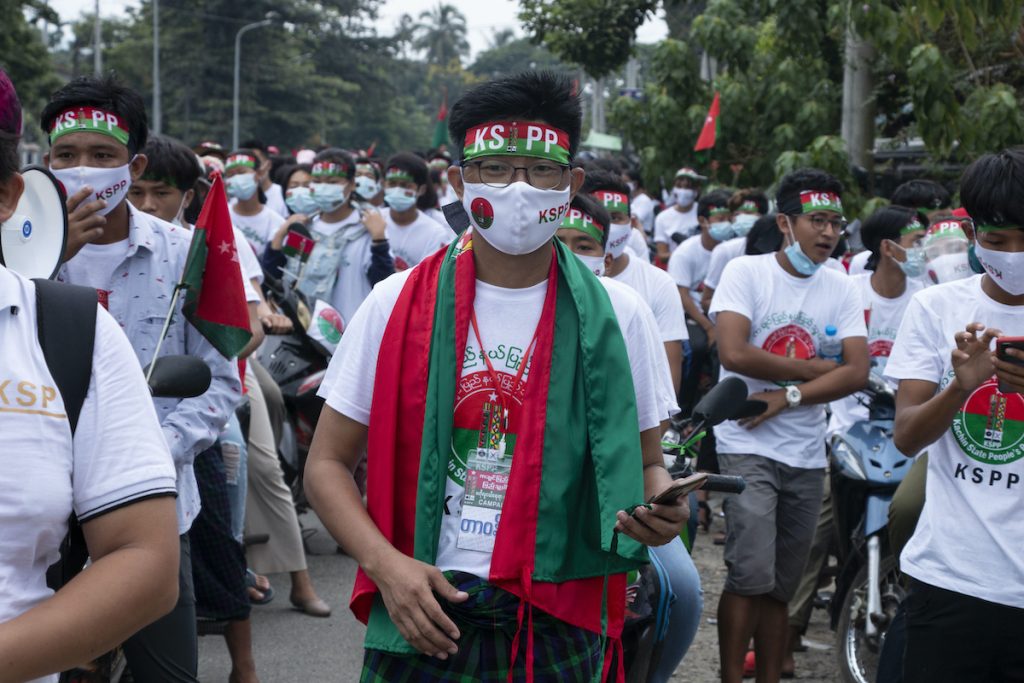 The Kachin Independence Organisation has since 1961 been fighting for the self-determination outlined in Panglong. Since a 17-year ceasefire collapsed in 2011, the conflict has displaced more than 100,000 people.
In August of this year, the KIO boycotted a 21st Century Panglong Union Peace Conference – the government's primary avenue for peace negotiations – after the Arakan Army, a Rakhine-based ethnic armed group and KIO ally, was kept off the list of invitees.
"For more than seven decades, we've been living under other people," said Labyawng Bawk Ja, KSPP fourth vice-chair and candidate for a state seat in Nawngmun Township. "This year we have the vision to achieve self-determination according to our destiny, to build up our [Kachin] nation by ourselves, [and] to achieve a genuine federal union in Myanmar."
During the NLD's 2015 campaign, party leader Aung San Suu Kyi vowed to prioritise peace and the establishment of a federal union.
On these points, Myo Lot Aung gives the party a failing grade. "They persuaded the Kachin public and made many promises they did not fulfill," he said. "Our ethnic rights have been neglected."
Today, peace in Kachin remains distant. In 2018, fighting between the Kachin Independence Army – the armed wing of the KIO – and Tatmadaw intensified, spurring widespread, youth-led protests throughout Kachin and across the country. The government responded by jailing protesters. More Kachin youth were arrested the following year for advocating on behalf of IDPs.
Hkawng Dau Lachyang, manager of the Maina Kachin Baptist Convention IDP camp in Waingmaw Township, said residents there are frustrated with the government. "Five years ago, the NLD announced their manifesto, but they did not keep their word, so many people have less hope and trust in the NLD. They want to vote for a party that can bring real change," he said.
He declined to name specifically which party he supports, but said, "We want our [Kachin] people to lead us because our leaders have a greater understanding than other leaders over our real situation and struggles."
'We cannot predict anything yet'
Under the current constitution, drafted in 2008 by the military junta, elected MPs face serious limits on their ability to pursue policy goals in both national and state hluttaws. The charter gives unelected military MPs 25pc of seats and requires the support of more than 75pc of all MPs to pass any constitutional amendment, giving the military an effective veto over any reform efforts.
But ethnic parties face an additional barrier. The president – who is elected by the Pyidaungsu Hluttaw, a combined sitting of the upper and lower houses – appoints all state and regional chief ministers, who then lead the respective state and regional governments. In 2015, the Bamar-dominated NLD alienated ethnic parties by appointing NLD party members as chief ministers in every state and region, despite having lost to ethnic nationality parties in Rakhine and Shan states.
This year, the NLD spurned overtures from ethnic parties to form governing alliances and is fielding candidates in every available constituency. But KSPP supporters believe the NLD may not win enough seats nationally to appoint a president, giving leverage to ethnic parties – if they're able to cooperatively form a large enough voting bloc in the Pyidaungsu Hluttaw.
Jan Khone told Frontier on September 30 that the party has held several meetings with the Chin National League for Democracy, Karen National Democratic Party, Kayah State Democratic Party and Mon Unity Party to discuss such a coalition.
"After analysing the data, we strongly believe we will be able to form a coalition government," said Jan Khone. "If we cannot achieve the necessary seats, we will discuss and work together with parties that have similar policies, enabling us to fulfill our political agendas."
Preliminary meetings were also held with the Arakan National Party and the Shan Nationalities League for Democracy, he said, and added that ethnic parties might consider forming a coalition with the NLD – or even the USDP – under certain conditions. "We cannot predict anything yet," he said.
He added that even if the NLD and USDP oppose a genuine federal union, "we still believe we will be able to decrease central power and make changes."
Tang Goon of WMR said peace may be contingent upon "mainland parties", including the NLD and USDP, maintaining a "sunny disposition" toward ethnic parties regardless of the election results.
"If they can understand and work together with ethnic parties, I think the peace process will likely progress, whichever party forms the government. But if ethnic parties win and [Bamar-dominated] parties don't give them their rights or the authority to act … the peace process might not progress," he said.
Even without amending the constitution, he said he hopes ethnic parties can push for reforms within state parliaments.
"If ethnic parties win in their states, have a chance to form state governments, have cabinet positions and have the right to govern their states, then we're hopeful that we'll see major progress in our country's politics.
"If that doesn't work, there isn't much hope for the country."
Demographic challenges
The KSPP faces demographic challenges in November's election. Township-level data on ethnicity is available from the General Administration Department, but it is largely considered unreliable, and ethnic data from the 2014 census has never been released. According to that census, however, just 34pc of the state's 1.7 million people identified as Christian – the religion of the vast majority of Kachin.
Compounding these demographic concerns is an election bylaw that was amended earlier this year to reduce from 180 to 90 days the time a person is required to have lived in an areas to vote as a resident. With hundreds of thousands of non-Kachin migrants believed to be living and working in the state, Kachin ethnic parties fear this may dilute their vote.
The term Kachin encompasses a diverse set of communities, and the concept and level of acceptance of a pan-Kachin identity varies among them. The Kachin National Association of Tradition and Culture includes the Jinghpaw, Lisu, Rawang, Lachid, Lhaovo and Zaiwa. Tensions between members of some groups have at times turned bitter, and the extent of KSPP support among those who identify as Kachin is difficult to predict.
In 2019, the Lisu National Development Party held a protest in Myitkyina against the killing and arrest of Lisu civilians by the KIA. The LNDP – whose general secretary, U Lay May Thar, told Frontier in June 2019 that the party maintains friendly relations with the USDP – is contesting 23 seats in the state.
In Nawngmun Township, where many Rawang live, the USDP holds all three MP seats, and former Rawang Literature and Culture Association chair Marip Yaw Shu is running as a USDP candidate for Rawang ethnic affairs minister for the state.
Also competing for Kachin votes is the Kachin National Congress, which also promotes self-determination and a federal union. The KNC is contesting 17 state hluttaw seats.
Myo Lot Aung believes the government has used a "divide-and-rule" strategy to keep the Kachin from advancing politically. "I think we should address this issue urgently among our people. If we cannot solve our internal problems, we will be left far behind," he said.
As a candidate, Bawk Ja is highlighting a similar message. "Many people in our state are manipulated by the military and mainland parties," she said, referring to the USDP and NLD. "The people who live [in Nawngmun township] are peaceful and humble, but because of oppression the area is less developed."
Of the KSPP's 65 candidates, 51 identify as Kachin. The party is also running Shan and Bamar candidates.
"Rebuilding Kachin political power might be difficult for Kachin people to do alone, so we need to work inclusively with other ethnic groups who have lived with us for a long time," said Myo Lot Aung. "Since we are the owners of the land, we believe that we should play the lead role, but we must not neglect or exclude any minority."
"We are sure that the non-Kachin people who live in Kachin State recognise that the state's political affairs should be led by Kachin people," said Jan Khone. "We will allow non-Kachin to take high positions in our party, to build reconciliation and trust … [and] because, although we are the largest ethnicity in the state, we are not a majority."
Jan Khone said that, if a federal democracy is established, the KSPP will create a state constitution that enshrines the rights of all the state's diverse peoples. "We are all facing the same segregation and inequality," he said.
The state also includes sizeable Shan and Gurkha populations, thought to number in the tens of thousands, as well as a Sikh community of a few hundred.
Kyaw Thura Tun, 23, an engineer from Waingmaw and a Gurkha, told Frontier he supported the KSPP because "the KSPP is not just standing for Kachin ethnic people but for all people of Kachin State". He said the party's youth wing had reached out to Gurkha youth in its campaign, and that he plans to vote for the KSPP at the state level and the NLD at the national level. "The KSPP knows the needs of the state's people better than other parties," he said. He particularly hopes the KSPP can permanently cancel the Myitsone Dam and advance the peace process.
Ve Ve Singh, a 27-year-old civil society worker from Myitkyina's Sikh community, spoke positively of the NLD government's past five years and optimistically of its platform for the next five, but declined to say how he will vote on November 8.
He said he was unaware of any KSPP outreach to Sikh voters.
"I want to ask the KSPP one question: Are you standing for the Kachin ethnic people or for Kachin State?" he said. "If for all the people of this state, then I really want to say, 'Welcome'."
Additional reporting by Ni Thi Ya