The Kachin State capital is home to a small and vibrant Sikh community that has long made an important contribution to business in the city.
By EMILY FISHBEIN | FRONTIER
SUNDAY MORNINGS are church time for many residents of Myitkyina. Yet, walking north along the Ayeyarwady River from the main market, it is not church hymns that passers-by can hear, but chanting, drumming and the distinctive sound of a harmonium.
Emanating from the windows of a temple's golden-domed towers, the musical prayer forms part of the weekly gathering of the Kachin State capital's small but vibrant Sikh community. Comprising 43 families – 280 people all told – the Sikh community has lived in Myitkyina since it became the commercial and administrative capital of Kachin, and is actively involved in the local economy.
Daw Bhagwant Kaur believes she is 92 years old, making her the oldest Sikh in Myitkyina. She was born in Waingmaw, on the other side of the Ayeyarwady, and traces her ancestry to a soldier who served with the British army in colonial Burma before World War II. He was posted to a town near Sadung on the border with China where he served for about 10 years before settling in Waingmaw, the region's then capital, where he was joined by five siblings and established a business trading salt, fruit and other goods.
Many Sikhs in Myitkyina have similar stories about the arrival of their ancestors in Kachin. Hand-written records in the gurdwara, or temple, show that the first Sikhs arrived in Kachin in about 1898 with the British military, after which some settled down and went into business.
The small Sikh community shared with others the hardship of World War II, including occupation by the Japanese. Baghwant Kaur said that during those six difficult years she and her family often fled to the jungle to escape the threat of violence.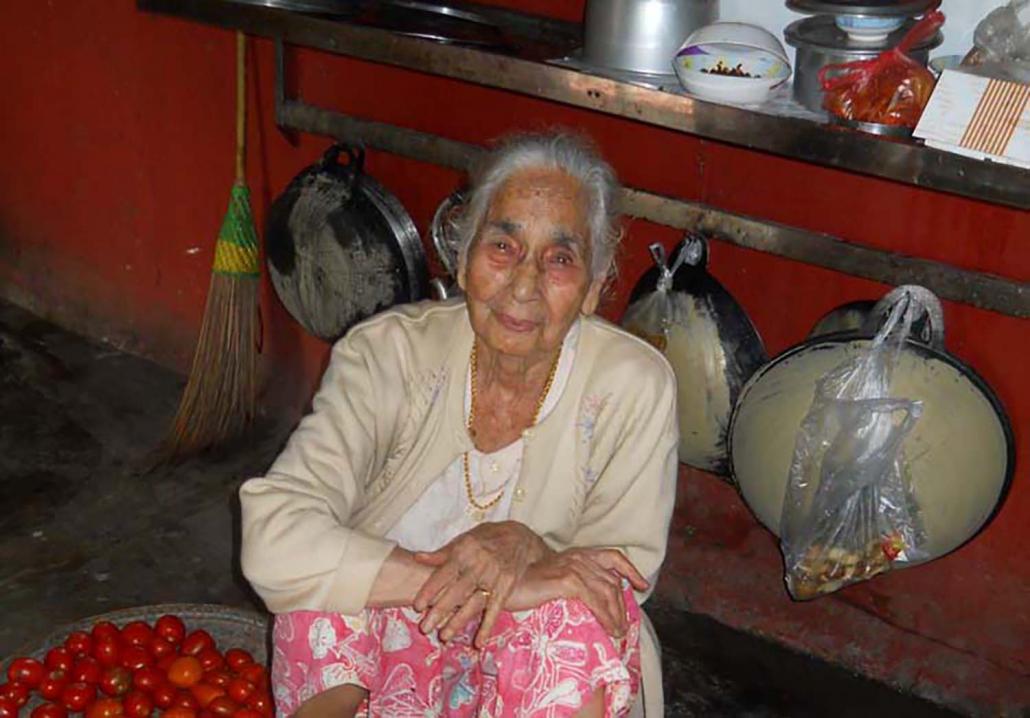 Soon after World War II ended, Baghwant Kaur travelled to British India to visit relatives in the western province of Rawalpindi, which had a large Sikh population. Then came the upheaval and religious bloodshed that followed the partition of British India into the separate nations of India and Pakistan in 1947.
The Sikh population in Rawalpindi and elsewhere in Pakistan faced persecution and violence, and hundreds of thousands fled to India. Bhagwant Kaur returned to Kachin State, where she married and had six children. Many other members of the Sikh community in Myitkyina have parents or relatives who arrived from Rawalpindi in the aftermath of partition.
When Burma gained independence from Britain in 1948, the Kachin capital was shifted from Waingmaw to Myitkyina. The Sikh community was among those who moved and re-established their businesses and social roots in the new location.
After General Ne Win seized power in 1962, life became harder for members of non-indigenous communities like the Sikhs. Those of Indian descent were barred from higher education and faced other forms of discrimination as they came under pressure to emigrate.
At its peak, the Sikh community in Burma is believed to have numbered about 10,000, but has dwindled to between 2,000 and 3,000. Myitkyina has the biggest community outside Yangon and Mandalay, but there are also sizeable numbers of Sikhs in Lashio, Taunggyi, Mogok and Pyawbwe.
There are about 50 gurdwaras in Myanmar and the community adheres to the same beliefs and traditions as Sikhs everywhere. Sikhs follow the spiritual teachings of 10 consecutive gurus, or teachers, who lived from 1469 to 1708, and they consider their holy book, Guru Granth Sahib, as the final and eternal guru.
Sikhism centres on belief in one creator and the unity and equality of all humankind. Sikhs practise their faith through meditation and prayer, engaging in community service, striving for social justice, and practising honest conduct and livelihood. According to custom, they do not cut their hair, in appreciation of the perfection of God's creation; men are recognisable by full beards and the turban they wear to cover their hair.
The Sikh community in Myitkyina remains active and close-knit. Although many older Sikhs attend prayer services every morning and evening, the Sunday morning services throng with youth and families. Sikhs do not have clergy and community members take turns leading the service, including singing, playing instruments, giving sermons and reading from the Guru Granth Sahib.
Among them is Ko Harmed Singh, 22, who has been interested from a young age in the baja, or harmonium, a keyboard with a hand-operated pump that is a core element of Sikh music. Beginning in the Eighth Standard, when he was about 14, he began visiting the gurdwara each evening to take lessons from the granthi, a religious scholar who lives at the temple and provides teaching and guidance to anyone who wishes to learn. Harmed Singh, who claims to know more than 1,000 melodies by heart, is known by Sikhs throughout Myanmar for his musical talent.
After services, men and women of all generations often gather for cooking, socialising, and feasting on fragrant Indian poori, curries, sweets and hot milk tea. These langar, or communal meals, form a central element of Sikh tradition. Gurdwaras are open to all faiths and it is not uncommon for Sikhs to invite non-Sikh friends to attend a service or join a langar.
To ensure that traditions are maintained through generations, classes are held at the gurdwara during summer holidays and many parents also teach their children at home.
However, proficiency in Punjabi, the native language of Sikhs and the language used for prayer, is in decline as each generation becomes more socially integrated and Burmese becomes the language of preference at home.
Throughout the generations, Sikhs have maintained positive business and social relations with the diverse ethnic and religious groups of Myitkyina. Sikhs and non-Sikhs regularly get together for a meal or tea, or at tennis or football matches. Many electronics, auto-parts and indoor market shops are run by Sikhs, and their employees and customers are drawn from all communities.
The Sikhs in Myitkyina have maintained their cultural identity as a group while adapting, adjusting and, at times, assimilating with the wider community and by so doing, enriching the fabric of Kachin society.
TOP PHOTO: Myitkyina's Sikh temple, which is known as a gurdwara. (Steve Tickner | Frontier)