Keep tuning in for full coverage from the Frontier team as we report on ongoing demonstrations and strikes across the country against the coup, and the military government's response.
By FRONTIER
UPDATE: 6:30pm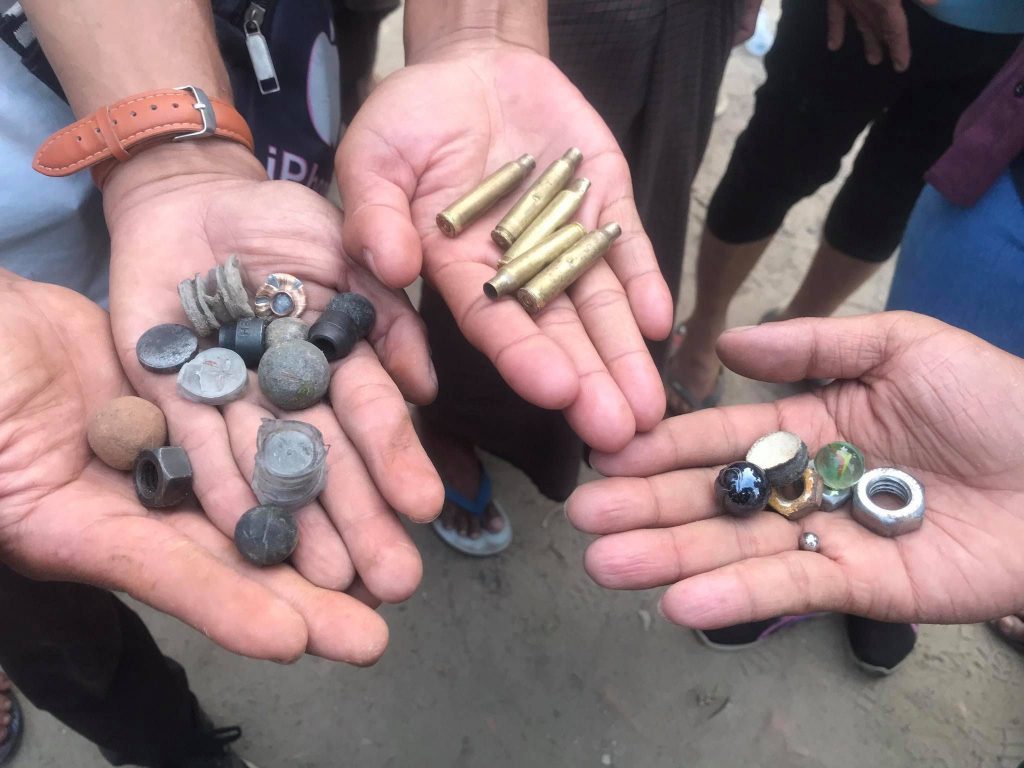 Two people confirmed dead in Mandalay
At least two protesters have been confirmed dead after police and military personnel fired live rounds in Mandalay this evening.
One of the deceased men was shot in the head and died at the scene, while another was shot in the chest and died on the way to hospital, according to our reporter. Several other people have been seriously injured, but the total number of casualties is not yet clear.
The confrontation occurred near the state-owned Yadanarpon dockyard, where many workers had joined the Civil Disobedience Movement. The area is now quiet, our reporter says.
But the two deaths make it the bloodiest day yet in more than two weeks of protests against the February 1 military coup.
Photos show security forces fired a wide range of objects at protesters, including live rounds and rubber pellets but also marbles, stones, ball bearings nuts and screws.
UPDATE: 4:20pm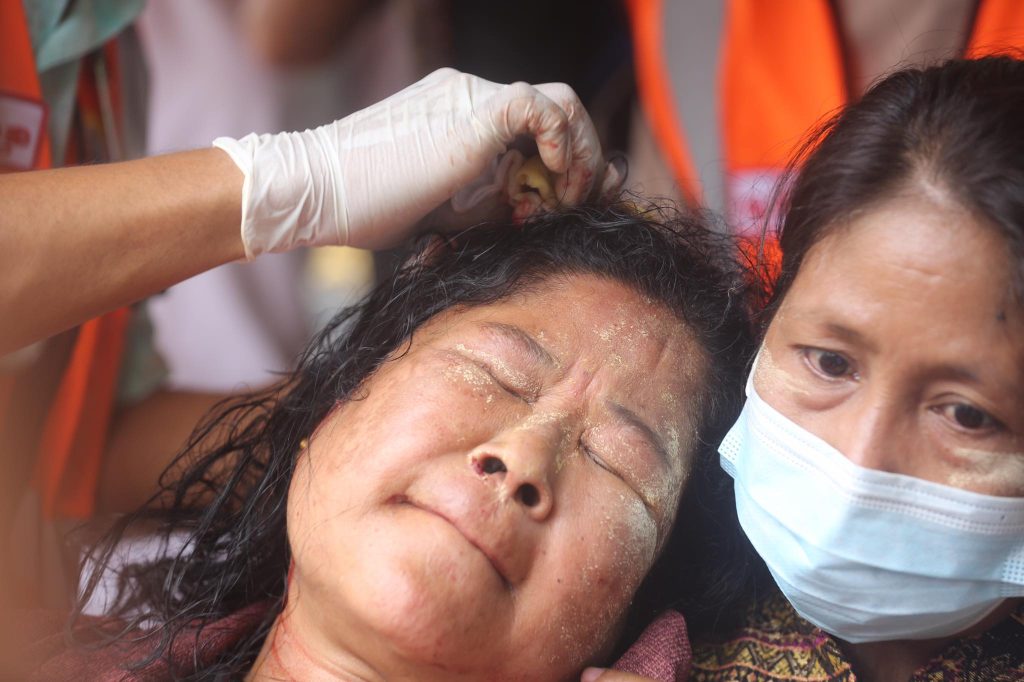 At least six seriously injured in violent Mandalay crackdown
At least six people were seriously injured in Mandalay today after authorities violently cracked down on demonstrators between 35th and 41st streets, Frontier has learned.
The incident in Maha Aung Myay Township began this morning, when police attempted to force staffers from the Inland Navigation Office who have joined the Civil Disobedience Movement back to work.
The crackdown occurred near the government-owned Yadanarpon shipyard, where engineers and workers have joined the CDM. At around 11am a small group of police arrived to detain the striking workers and a crowd of locals quickly surrounded them. Just before 1pm about 15 trucks of police and soldiers arrived as reinforcement, then fired more than 30 rounds into the air to break up the crowd.
One police source in Mandalay told Frontier that some of the police are actually soldiers in police uniforms. Our reporter says they came from the army base in Mandalay and are taking orders from a sergeant in a Tatmadaw uniform. At one point, they ignored orders from a police colonel on the scene.
The atmosphere there remains tense. Our reporter says police are continuing to make arrests, even of people who are visibly injured, and have blocked off the street in both directions so that people cannot leave – including him.
Throughout the afternoon, he said, police have been using water cannon and gunfire to break up crowds. It is unclear if anyone has been shot or killed. He said he has witnessed three people be beaten and then arrested.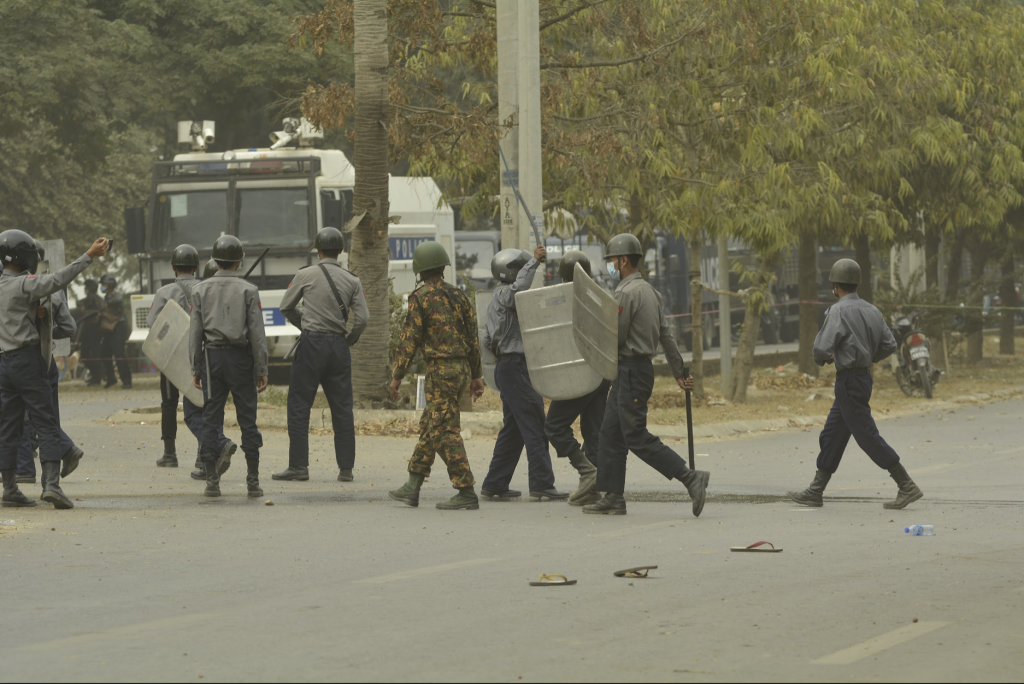 ---
UPDATE: 2pm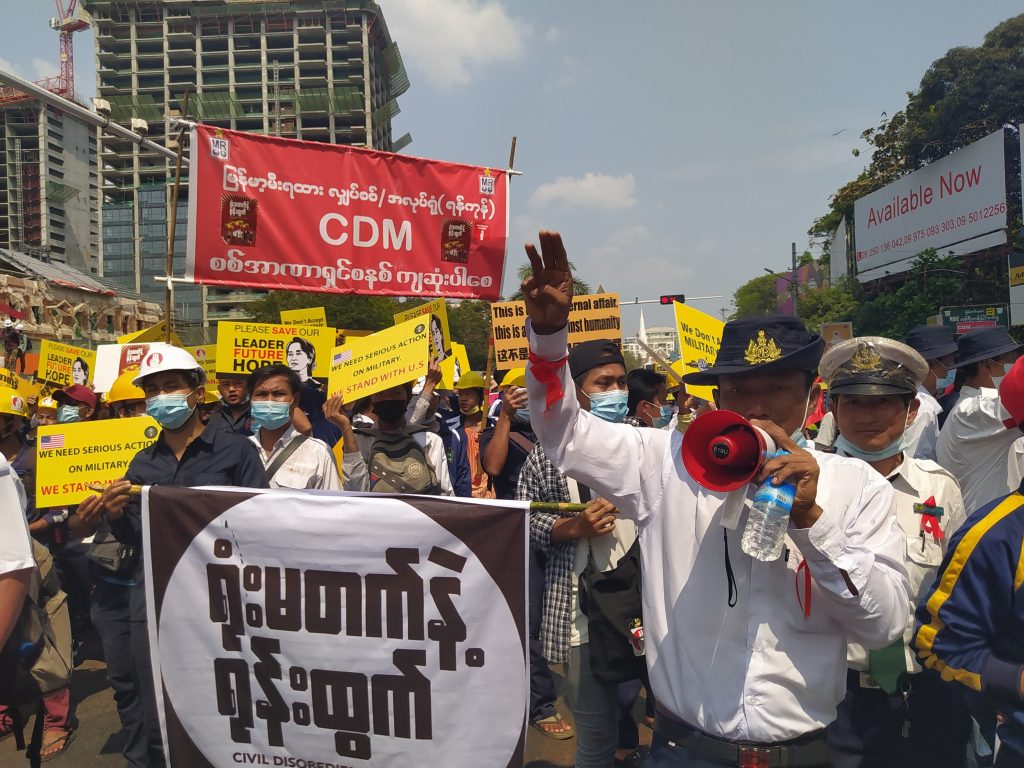 Junta's pro-business message falls flat
When junta chief Senior General Min Aung Hlaing made his first televised address to the nation at 8pm on February 8, a week after the military takeover, he tried hard to project an image of business-as-usual.
He told viewers his government would "welcome and invite domestic and foreign investments", and that it would grant permits to businesses that had been approved under the elected government he had just overthrown.
"There will be no change in the foreign policy, government policy and economic policy of the country during the period [where] we are temporarily taking responsibility for the State. We shall continue on the same path as before," he said.
This has been a consistent message from the military regime since it seized power. Min Aung Hlaing has promised to rebuild rather than remake an economy that was already hit hard by the COVID-19 pandemic, summoning tycoons, bankers and industry leaders to discuss an economic recovery plan. If anything, Min Aung Hlaing has pitched his regime as more pro-business than its predecessor.
But his efforts to win at least acquiescence by modelling his regime along the lines of the junta that took power in neighbouring Thailand in 2014 – economically liberal but politically repressive – appear to be falling flat. Even as Min Aung Hlaing made his pitch on February 8, his words were drowned out in many households by the nightly banging of metal pots and pans – a traditional ritual-turned-protest against the military regime.
Read the full story here.
UPDATE: Saturday, February 20, 1:30pm
A Martyr remembered
Good afternoon from Yangon. Hundreds gathered on Sule Pagoda Road in downtown Yangon this morning to hold a memorial service for Ma Mya Thwet Thwet Khine, a 20-year-old woman who died yesterday, 10 days after she was shot at a protest in Nay Pyi Taw. Organisers said the event was also for others who have lost their lives at the hands of the junta – presumably a reference to demonstrators who died in a car accident in Mandalay on February 8.
The ceremony got underway at 11am. An organiser read out a public statement, and protesters held a one-minute silence while giving the three finger salute that has come to symbolise opposition to dictatorship. They also sang "Kabar Ma Kyae Bu", a revolutionary song that has been popular during the demonstrations.
Mya Thwet Thwet Khine's death has also drawn international condemnation at a time of mounting international pressure on the regime, with US Secretary of State Antony Blinken holding talks with allied countries in recent days to press for a firm response.
"We reiterate our calls on the Burmese military to refrain from violence against peaceful protesters," spokesman Ned Price told reporters on February 19. "We will work with partners and allies to press the Burmese military to reverse its actions."
You can read the full story here.
Meanwhile, protests are continuing around the city. The new police line on Sule Pagoda Road, close to the junction with Bogyoke Aung San Road, remains in place but there were around 500 or so gathered in front of the police line half an hour ago and the crowd was beginning to build. A truck has been set up and activists are giving speeches.
No doubt you've been seeing and reading about the creative techniques that protesters are using to disrupt traffic. After police threatened to take action against car owners who blocked junctions on Wednesday, new strategies are being used to disrupt traffic, such as coordinated "drive slow" campaigns.
At Myaynigone this morning, things have got very creative. Protesters are pretending to faint in the middle of the road, very slowly tying and retying their shoelaces, and someone has "accidentally" dropped a load of onions. Actually, there's a hole in the bag – how did that get there? – and a crowd of people are helping to pick them up… and put them back in the bag with the hole in it. It's all fun and games for now and hopefully it stays that way.
Please check in again later in the day and we'll try to bring you more from around Yangon and elsewhere.
UPDATE: 5:30pm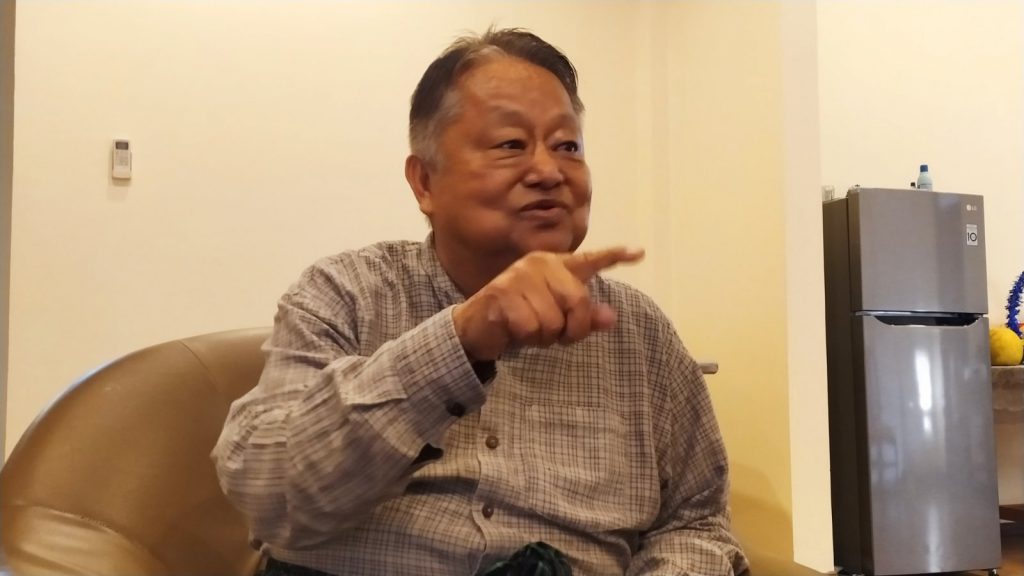 Win Htein urges judge to hand down verdict immediately
National League for Democracy patron U Win Htein has appeared in court by video link on charges of sedition today.
During the hearing at Dekkhinathiri District Court, Win Htein urged the judge to hand down a verdict immediately in the case, the court's news and information officer Daw Phyu Win Lat told our reporter.
The judge instead remanded him to Nay Pyi Taw Prison until his next hearing on March 5.
Win Htein is facing a sedition charge under section 124A of the Penal Code, although we're not sure exactly what length of prison term he is facing.
On February 14, the junta amended the section and increased the maximum penalty from three to seven years.
Phyu Win Lat was unable to explain the reason for the charge.
However, in the wake of the coup, Win Htein gave a number of interviews in which he was quite outspoken in his opposition to the junta.
On the morning of the coup, he told Frontier that he expected to soon be arrested.
He also said the coup meant the constitution was now invalid, and that the Tatmadaw's seizure of power occurred because the commander-in-chief had given "priority to power and his personal desire" over the "best interests of the country".
---
UPDATE: 4:45pm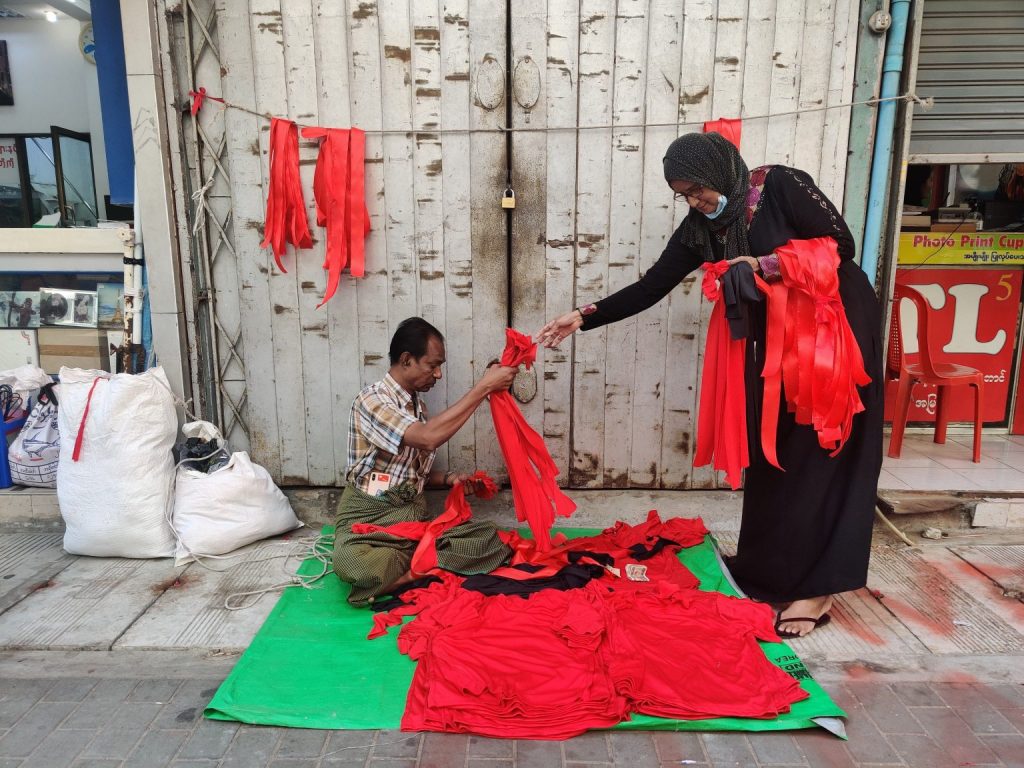 Artists, entreprenuers and almsgivers
Few people on the streets of Yangon over the last couple of weeks seem to be happy with the military having seized power from a democratically elected government – save for a few truckloads of pro-military supporters – but the massive protests that have overtaken the city since have created unexpected opportunities for some.
After Tatmadaw Commander-in-Chief Min Aung Hlaing staged a coup on February 1, activists and aggrieved voters debated whether or not they should take to the streets. By the following weekend, the debate was settled: the protests were on, and they haven't stopped since. Though there have been tense standoffs between protesters and police, downtown has often taken on a festival-like atmosphere. And no festival is complete without its artisans and merch vendors.
U Khin Myint, 57, used to sell purses and wallets on Anawrahta Street. But since demonstrators began flooding the area on February 6, he's switched to selling protest banners and National League for Democracy flags and headbands.
"After the coup, no one was interested in my wallets or purses, so I changed," he told Frontier. "And business is not bad."
Read more here.
UPDATE: 1:20pm
The movement's first martyr
Happy Friday, everyone, and welcome back to the blog.
Lets get the worst out of the way first. The 2021 pro-democracy movement now has its first martyr. Mya Thwet Thwet Khine was shot in the head by police while taking part in an anti-coup demonstration in Nay Pyi Taw's Zabuthiri Township on February 9. She was taken off of life support this morning and passed away at 11am, Frontier has confirmed. Frontier is still seeking comment from the family.
Further north in Myitkyina, authorities are cracking down on protesters. Frontier received warnings last night that such a crackdown was imminent, and today our reporter has already confirmed that four teachers and about 50 protesters were detained this morning. Journalists say media workers are also being targeted, with police firing slingshots at anyone taking photos. Videos on Twitter show police charging at protesters together with soldiers armed with rifles. We hear a similar crackdown is underway in the far northern town of Putao, but we're still trying to learn more about the situation there.
In Yangon, people are again gathering downtown, where police have sealed off Sule Pagoda Road from Bogyoke Road to the Pagoda with manned barricades, in an apparent effort to prevent a repeat of yesterday's vast rally that centred on the junction of Sule and Anawratha roads. We've also heard that they've begun removing anti-coup art painted on roadways during recent demonstrations.
That isn't stopping folks from gathering before the barricades, and it doesn't seem to be intimidating Mickey or Minnie Mouse from making their way downtown either: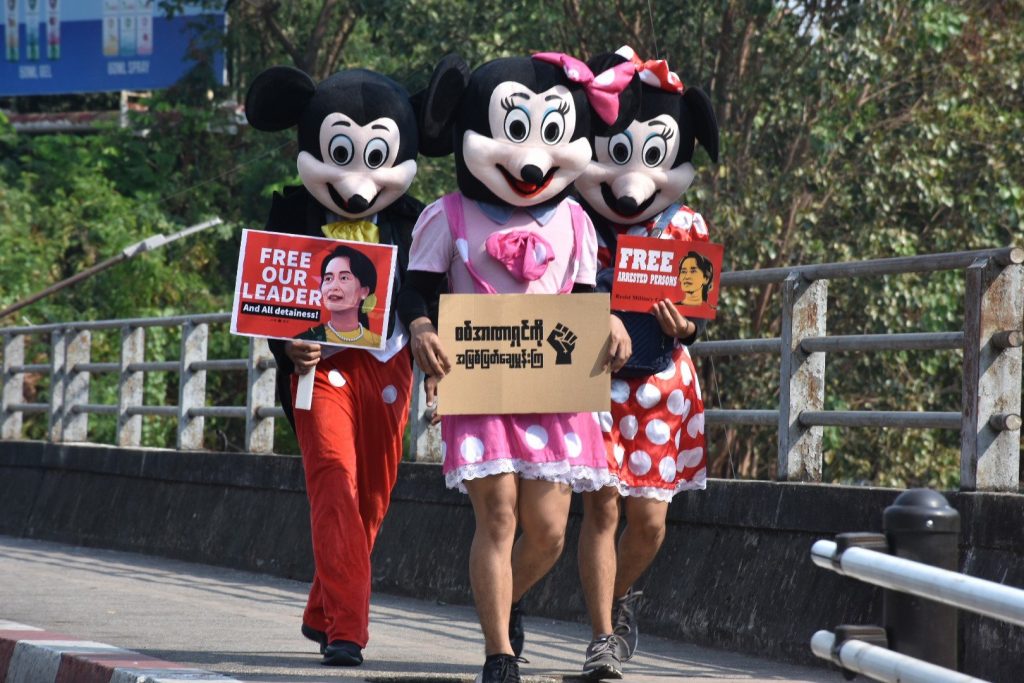 Protests are also amassing at Hledan junction.
Britain and Canada have joined the United States in slapping sanctions on the junta, with Britain targeting three Tatmadaw generals and Canada targeting nine. Canada also accused the junta of engaging "in a systemic campaign of repressions through coercive legislative measures and use of force", according to AFP. Last week, US President Joe Biden froze the juntas' access to some $1 billion worth of funds in the US.
More police have gotten on board with the protesters. Today in Mandalay, nine officers joined a demonstration in Amarapura Township – including an 11-year veteran of the police force.
"We are protesting against the coup," one officer told Frontier. "I want to tell the people not to hate the police. The police are doing what they are being told to do, because they are under their [the military] control. I want more police to leave the force and join protests."
Police in Yangon do not seem to be heeding that call. The fracas yesterday near the junction of Natmauk and Kabar Aye Pagoda roads, where a group of counter protesters that included robed monks attacked demonstrators and smashed car windows, generated a lot of engagement on social media – 1,000 retweets and nearly 900 likes. It turns out that police returned after our reporter left – but not to investigate or make any arrests. Instead, dozens of officers with riot shields formed a barricade around the monastery to protect the violent counter-protesters. Sadly, no one seems to have been held accountable for the vandalism that occurred.
We reported yesterday that police showed up early on but quickly left, refusing to go with protesters and vehicle owners to the nearby Shwegyin monastery, which the crowd believed the culprits had fled into. The monastery has a history of fostering nationalist monks and Tatmadaw loyalists, and our reporter saw metal pipes like those used to smash the car windows clearly visible in a room of the monastery.
The crowd was still gathered outside the monastery after our reporter left yesterday afternoon and stayed into the evening. However, Yangon-based photographer Ben Small was on the scene when the police returned and kindly shared these photos with us:
We hope you've been enjoying our liveblog. We'll increasingly be turning our attention back to what we do best – in-depth features – but will continue to add updates to the blog as major events unfold.
Speaking of features, we published one in the January 28 print issue about marijuana dealers increasingly turning to social media to sell their goods during the pandemic. We were holding it behind a paywall for members only before the coup overtook just about everything. We meant to release it earlier, but we are happy to be finally doing so today. Enjoy, and stay safe.
---
UPDATE: 6:45pm
Monks attack demonstrators, smash car windows in Yangon
Police declined to help aggreived demonstrators who had their car windows smashed by a group of vandals that included robed monks in Yangon today.
Frontier first reported on the scuffle – which occurred near the intersection of Namtauk and Kabar Aye Pagoda roads in Bahan Township – at around 1pm on this blog, shortly after videos of the incident emerged and quickly spread online. In them, maroon-robed monks and laymen in longyis and collared shirts confront drivers who had parked their cars to block the road in protest against the junta. They pull car doors open, screaming at drivers. In one, a monk notices one bystander filming the melee from inside their car, then approaches and smashes the window of the car with a pipe. Other pictures of smashed windows and scowling monks with metal pipes in hand were also shared. Myanmar Now has reported at least one injury.
When Frontier arrived, just before 1pm, the monks appeared to have retreated into the nearby Shwegyin monastery, which is known to house nationalist monks loyal to the Tatmadaw. The owners of the cars that had been vandalised, joined by a convoy of monks who took part in the 2007 Saffron Revolution and had also arrived on the scene, asked for permission to enter the compound but were rebuffed.
"Do not come and tell me about justice. Do you want me to beat you like I did before?" one monk shouted from inside the locked compound.
Through a window in one room in the monastery compound a military fatigue jacket and metal sticks like those seen in the hands of the attackers in previously published photos could be seen.
Bystanders told Frontier that police had arrived early on but quickly and quietly left when people asked them for help, and none had returned.
After 15 minutes, a monk who claimed to manage the monastery came outside to address the crowd.
"Does anyone have evidence that those who attacked the cars entered this monastery? There are many monasteries around here. How am I to search out the attackers among the hundreds of monks here? Do you have any evidence?" he asked.
The vehicle owners tried to show the monk videos on their cell phones but the monk refused to watch. He refused to offer any information about the monastery or the monks inside.
When Sayadaw Sanda Thiri, a monk who participated in the Saffron Revolution, tried to intervene, the monk who claimed to manage the monastery told him not to interject in matters that did not concern him. He then told the crowd to leave and went back inside the compound, locking the gate behind him.
Eyewitness and protest supporter U Tin Myint said he'd heard that many of the monks at Shwegyin were members of the ultranationalist Ma Ba Tha group. "Some of the monks that smashed out car windows are standing in the monastery right now, but the monk [that came out] pretended not to know," he said.
Ma Ei Thu, who earlier had posted a video on Facebook of one of the monks smashing the front window of her car while she sat inside, said she felt resentful. Her window is destroyed and she has video evidence of who did it, but nothing will be done, she said.
"They attacked my car, and they struck the driver in the hand – I have evidence. They're monks, but they're lying through their teeth," she told Frontier.
UPDATE: 2:30pm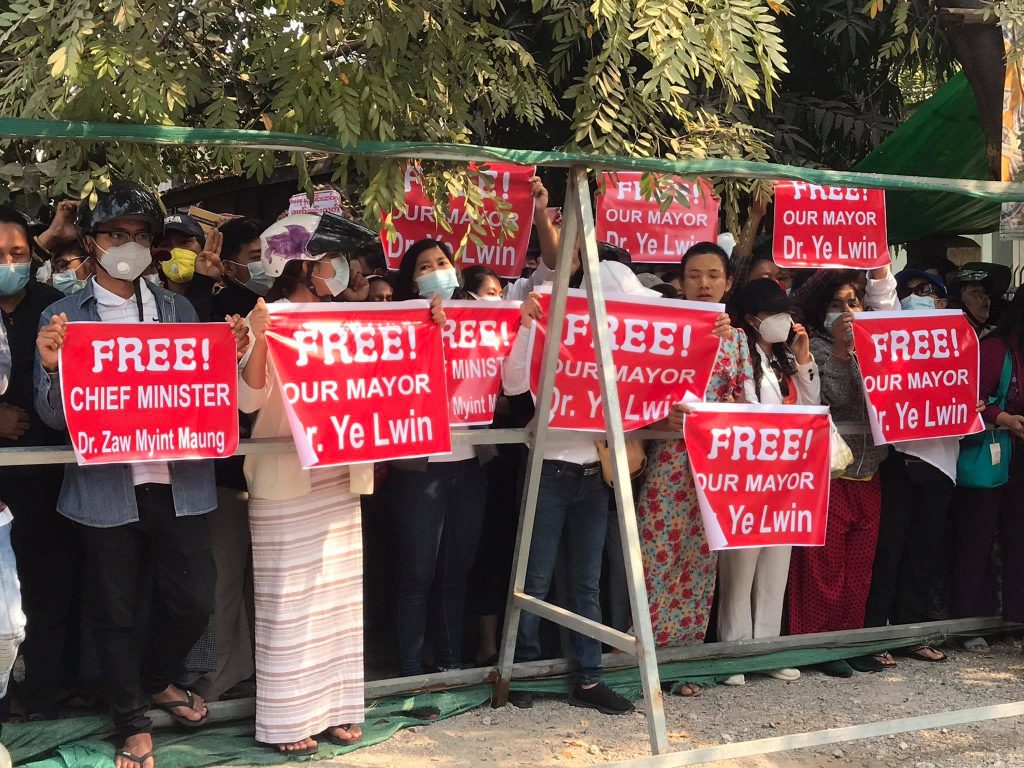 Protesters target court as Zaw Myint Maung faces incitement charge
Mandalay Region chief minister Dr Zaw Myint Maung has appeared in Aung Myay Thar Zan Township Court today by video link as he faces an incitement charge under section 505(b) of the Penal Code.
Protesters gathered outside the court in expectation of seeing the chief minister and also detained Mandalay Mayor U Ye Lwin, chanting slogans such as "release our chief minister and mayor" and "we want democracy".
Court information officer U Hla Myo Win said the case centred mainly around five statements that the National League for Democracy's Central Executive Committee has issued, which the complainant argued could undermine the current government and destabilise the country.
Section 505(b) criminalises statements or publications "with intent to cause, or which is likely to cause, fear or alarm to the public or to any section of the public whereby any person may be induced to commit an offence against the State or against the public tranquility", and carries a potential two-year prison term.
The case was filed on February 15 against the chief minister, who was remanded back to Mandalay's Oboe Prison until February 22.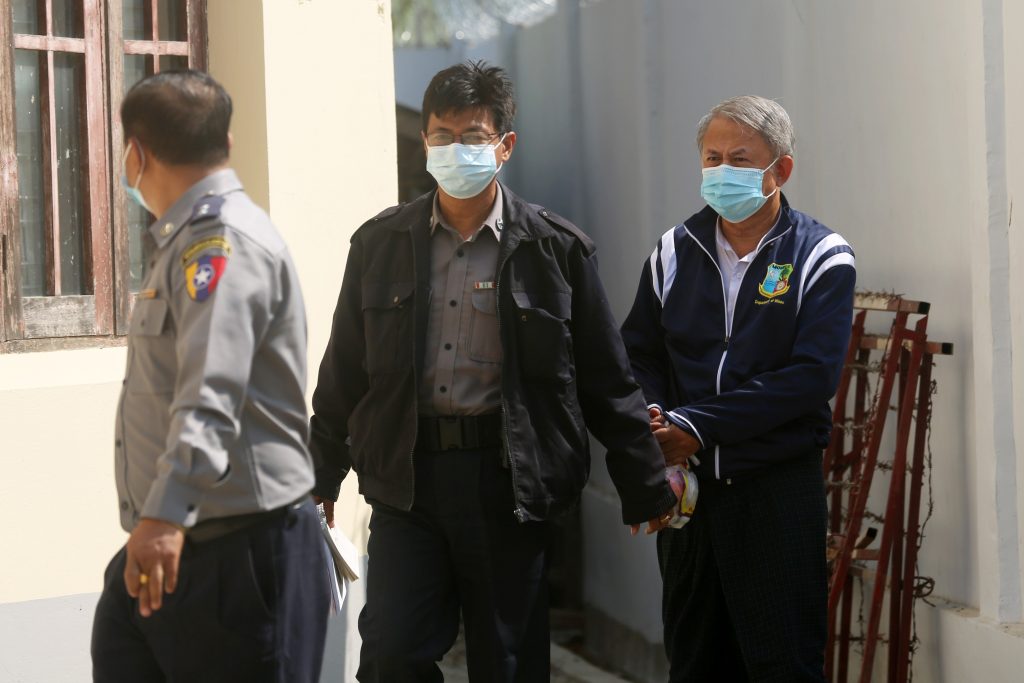 Unlike the chief minister, Mandalay Region Minister for Natural Resources and Environmental Conservation U Myo Thit actually appeared in court yesterday to face his charge, also under 505(b).
The charge stems from a statement Myo Thit allegedly signed on behalf of Zaw Myint Maung on February 10. The statement said the coup was illegal and that every day had been declared a holiday until the new government was allowed to form. It also honoured government staff who had opposed the military regime by joining the Civil Disobedience Movement.
Myo Thit was also greeted by a throng of protesters, who called for the release of regional ministers and other detained leaders. The minister was remanded back to prison but his lawyer, U Myo Swe, said he would seek bail today on medical grounds.
"Today I have got authorisation to represent him and the next court hearing will be tomorrow [February 18]. I will apply to get bail based on the minister's health after consulting with a doctor," Myo Swe said.
All Mandalay Region ministers were detained when the military launched its coup on February 1 but the following day they were instead placed under house arrest.
UPDATE: Thursday, February 18, 1pm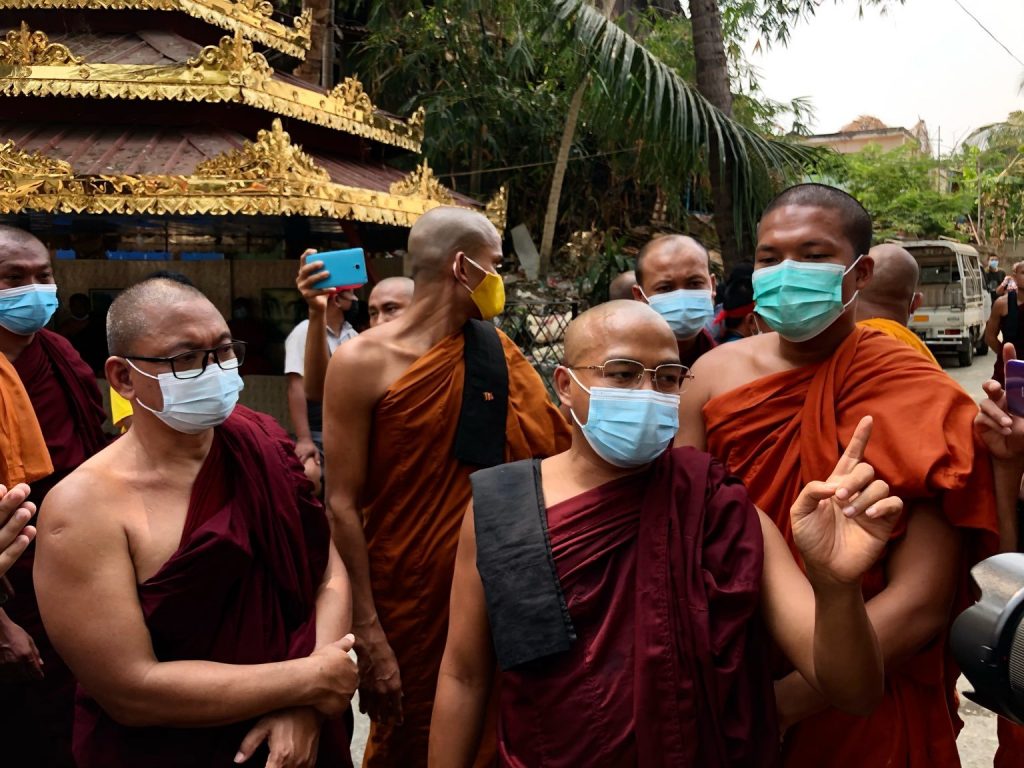 A few videos are making the rounds on social media today of angry counter-protesters – including robed monks! – confronting drivers who had parked their cars to block roads in protest against the junta.
Jarring images accompanying the videos show smashed out car windows and saffron-robed monks stalking the street with crowbars in hand.
The scuffle took place near the junction of Natmauk and Kabar Aye Pagoda roads in Bahan Township around noon. Monks from the nearby Shwegyin monastery – which is known to house several Tatmadaw loyalist monks – appear to have assaulted anti-coup demonstrators, vandalising several cars and possibly causing injuries.
Our reporter arrived just after the fact. Bystanders said the monks had run back into the monastery compound, where people are gathering and demanding the monks responsible for the melee come out. Stay tuned for updates.

---
UPDATE: 11pm
Eight detained civil servants granted bail in Nay Pyi Taw
Eight staff from the Cooperatives Department who were arrested after protesting against the military coup have been granted bail at a court hearing in Nay Pyi Taw today.
The Lewe Township residents were arrested on February 15 near the Myoma Market traffic light in Zabuthiri after joining the Civil Disobedience Movement.
The seven women and one man are facing a charge under section 188 of the Penal Code for disobeying a civil servant, after they allegedly failed to comply with a section 144 order that bans gatherings of five or more people.
They appeared in Zabuthiri Township Court in Nay Pyi Taw for the first time this afternoon. Three witnesses and a defendant were examined at the hearing, said Associate Township Judge Nan Aye Mya Thiri. "The trial judge granted them bail," she said, adding that the next court hearing will be on February 18.
Anyone convicted under section 188 faces a prison term of up to one month, a fine of up to K20,000, or both.
---
UPDATE: 5:20pm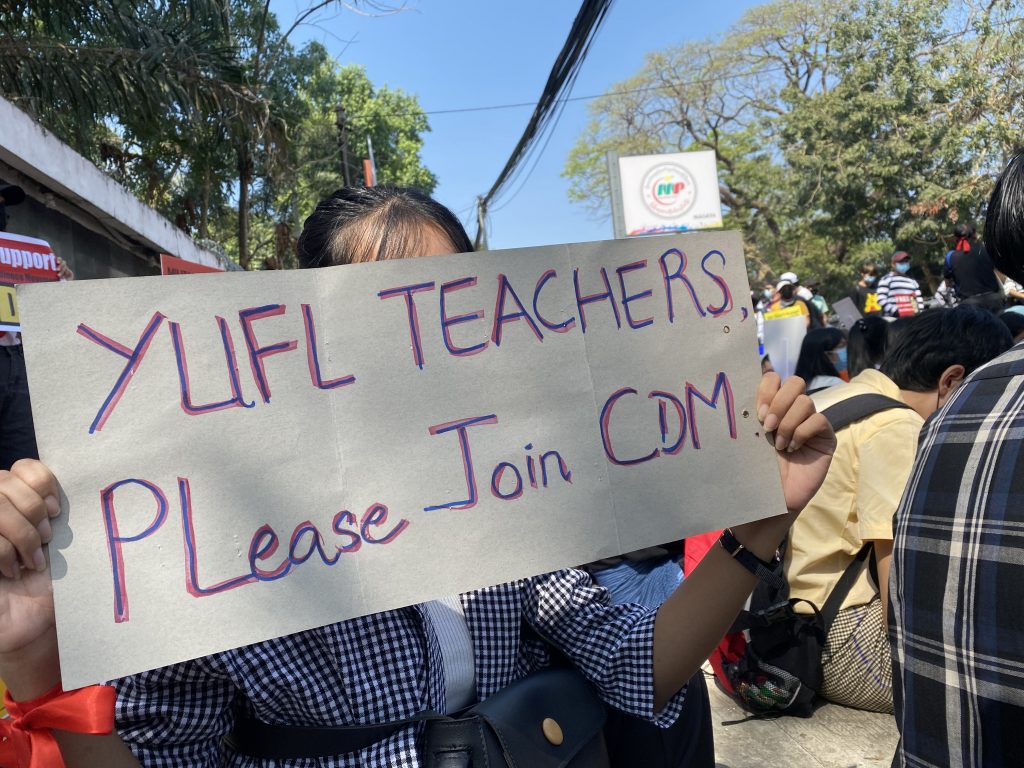 YUFL students call on university to join CDM
About 100 current and former Yangon University of Foreign Languages students began protesting today against the school's leaders for their reluctance to join the Civil Disobedience Movement.
Students have singled out their rector, Professor Kyi Shwin, as well as senior-level teachers, who they say have been silent on the protests and the CDM. They told Frontier they will continue to protest until the entire university leadership joins the movement.
"We will set a time to protest every day. Starting from tomorrow, students will gather in front of the university between 9am and 12pm," one former student who was leading the protest today said. "Today our numbers are small because it's the first day, but we are looking forward to seeing more students here."

A lecturer in the Chinese Language Department said she's sad faculty haven't shown more support for the CDM. "I am also a PhD student learning in China on a government scholarship, but I still decided to join. I'm not even worried that the military might withdraw my scholarship," she said. "There is nothing we can hope for from the education system under this military government."
So far just 10 junior-level lecturers at YUFL have joined the CDM.

There are more than 300 faculty members on staff at YUFL.
---
UPDATE: 4:30pm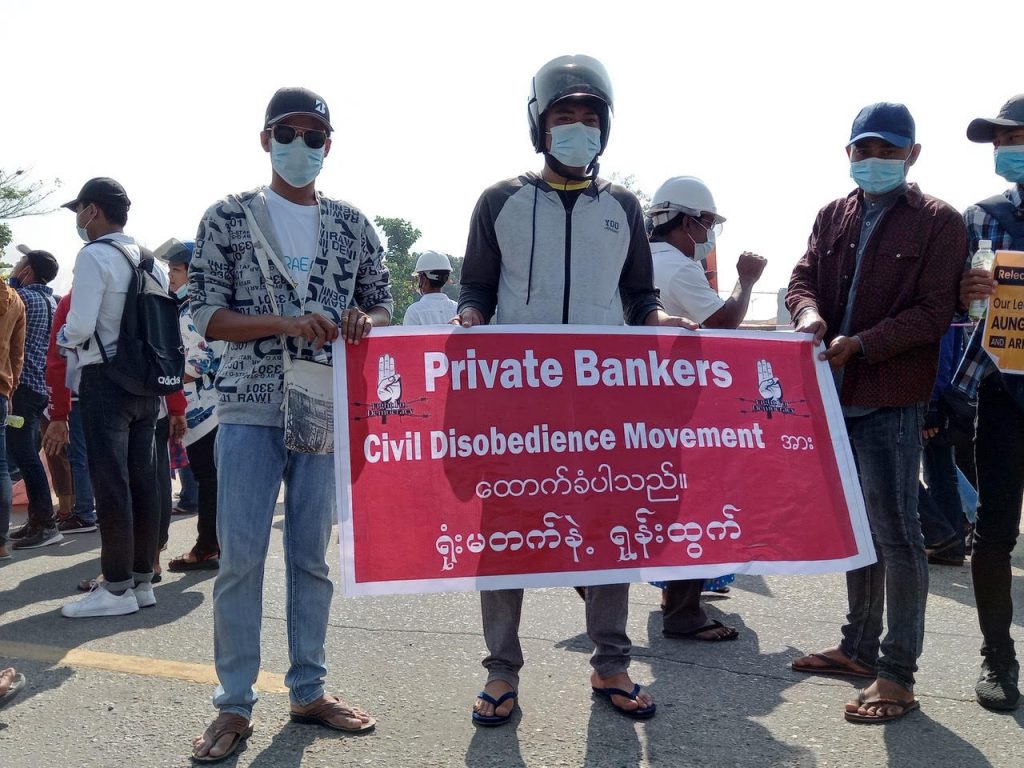 Bankers march in Nay Pyi Taw
Protests swelled today in Nay Pyi Taw, where nearly 3,000 people including more than 200 staff from private banks marched in front of the Myanmar-China liaison office on Pyinmana-Taungnyo Road, in Zabuthiri Township.
"Banks are an important source of cashflow for the State and the economy," one striking bank worker told Frontier.
The bank staffers were joined by government and private sector engineers, and local residents.
The road was also clogged with motorcyclists riding in a convoy in solidarity with the protests and the Civil Disobedience Movement.
People have also been protesting at the capital's Thabyaygone roundabout since about 10am. Security forces have been airing warnings over loudspeakers and telling crowds to disperse, but the demonstrators have mostly ignored the warnings and continue to chant anti-military and pro-democracy slogans instead, says our reporter in Nay Pyi Taw.
---
UPDATE: 3pm
Four arrested in Thandwe crackdown yesterday
Four people were arrested at anti-coup protests yesterday in Thandwe, southern Rakhine State, according to local resident.
A protest leader, who spoke on condition of anonymity, said three people were detained after taking part in a sit-in strike of about 500 in the centre of the beachside town Tuesday morning.
"We were at the sit-in when they were suddenly arrested. There was no violence. It was a peaceful protest," the organiser said.
He said those arrested are Maung Aung Khaing Myint, 19, Maung Yan Paing Htwe, 20, and Ma Mya Mya Win, 20. Locals told Frontier that today the three were taken to a military barracks in Ngapali.
"These three are young people, and include students. They were sitting in the front row of the protest," the organiser said.
A second demonstration of about 300 people started at 3pm close to the Thandwe Police Station. There, a 55-year-old man named U Khin Maung was arrested, though the organiser said Khin Maung was not involved in the demonstrations.
"He was waiting to pick up trash after the protests," said the organiser, adding that police hit fleeing demonstrators with sticks.
Thandwe police also used force to disburse demonstrations on February 11. Protests began in the town on February 8.
---
UPDATE: 2:30pm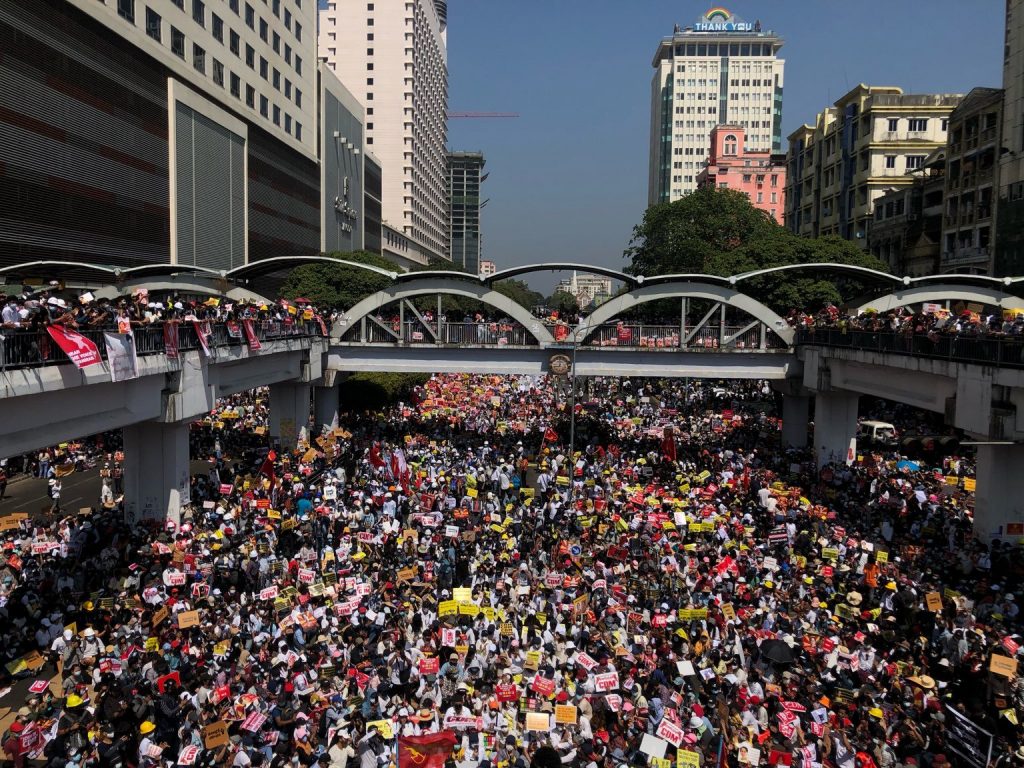 The protests surrounding Sule Pagoda in downtown Yangon today seem larger than they've ever been so far. While cars parked with their bonnets up and protesters sitting cross-legged in the middle of the road have kept most cars out of central downtown, the streets are just a sea of people now.
But protests are still ongoing uptown at the Hledan junction as well, where people are also blocking streets and flyovers.
And, outside the United Nations office on Natmauk Street, several hundred have again gathered to urge the international community to help the pro-democracy movement in Myanmar.
Some of them penned a letter to the UN High Commissioner for Human Rights and handed it to a security guards from the UN Development Programme office, who took it inside.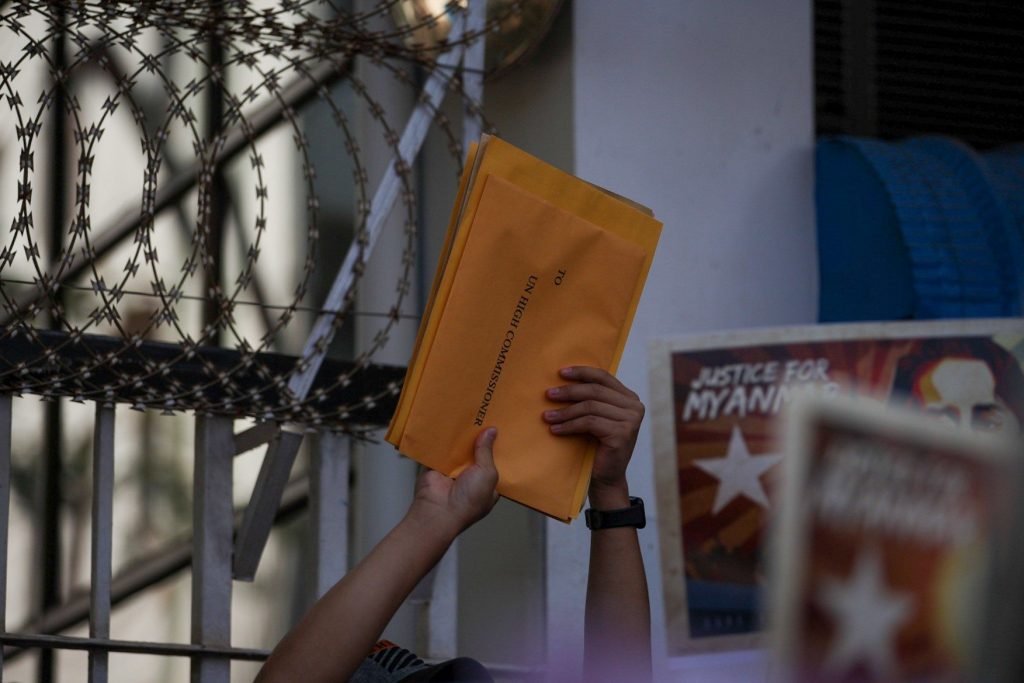 ---
UPDATE: 2pm
Big demonstrations in Mandalay
Wondering what's happening in Mandalay today? Protests, of course! Just as Yangon is seeing it's largest demonstrations in days, so is the country's second-largest city.
They're marching through the city rather than congregating in a single point, which means we haven't got a clear picture of the total number of protesters. It's clearly in the thousands, though, and likely well above 10,000. There's a broad range of people participating, including student union members, engineers, farmers and ordinary locals.
The number of people taking part is growing, too, because residents are emerging from their homes to join in and call for an end to military rule. Monks are expected to appear on the streets this afternoon.
---
UPDATE: 1pm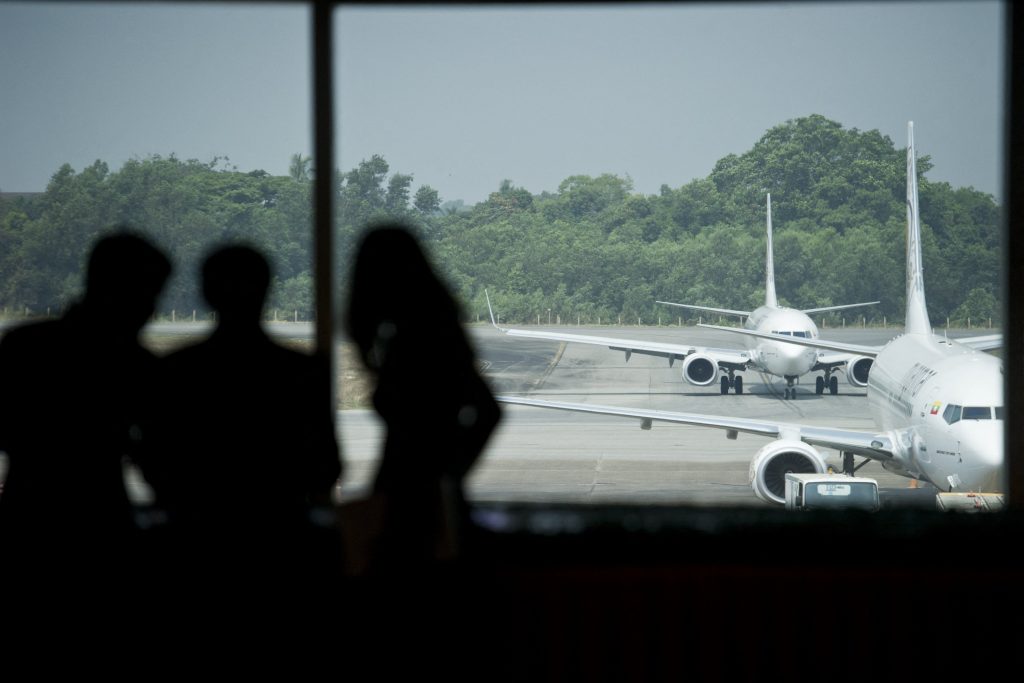 'We can arrest you at any time': police intimidate staff from grounded national carrier Myanmar National Airlines
Staff from state-owned airline Myanmar National Airlines say police are paying nightly visits to their housing complex in an effort to intimidate and force them back to work.
The airline had to halt relief flights and scheduled domestic services after more than half of its staff joined the Civil Disobedience Movement targeting the military regime.
"They came to the Department of Civil Aviation housing to threaten staff, saying things like, 'We can arrest you at any time.' They came to the housing complex every night. Staff are really concerned about it," said a member of MNA ground staff, who spoke on condition of anonymity.
Police arrived at the Mingalardon Township complex, near Yangon International Airport, around 11pm last night and stayed for a short period, the person said.
The ground staff member told Frontier that aviation police had also on February 9 asked management for a list of staff who have joined the CDM.
The first MNA staff walked off the job on February 3 and around 60 percent are now refusing to work, including supervisors, ground staff, cabin crew and the maintenance and engineering team, sources at the airline confirmed.
Read the full story here.
---
UPDATE: 11:30am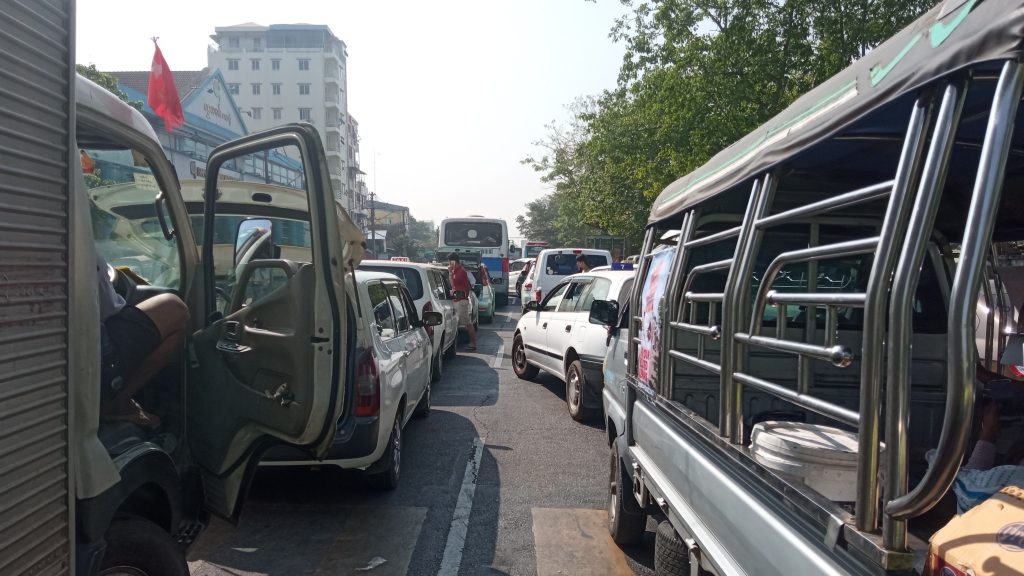 Oke Pone Seik bridge blocked, Sule filling up
We're getting more photos coming in from this morning's protests. Demonstrators have also blocked buses at the Oke Pone Seik bridge, a main entry and exit point into and out of North Okkalapa Township. Traffic has stopped along Thudhamma Road, and passengers are departing buses to walk instead.
In Myaynigone, more than 1,000 protesters began marching downtown toward Sule Pagoda Road, where traffic is also at a standstill.
Among the marchers are students unions from several universities, including the University of Computer Studies (Yangon), the University of Medicine-2 and the West Yangon Technological Univerity.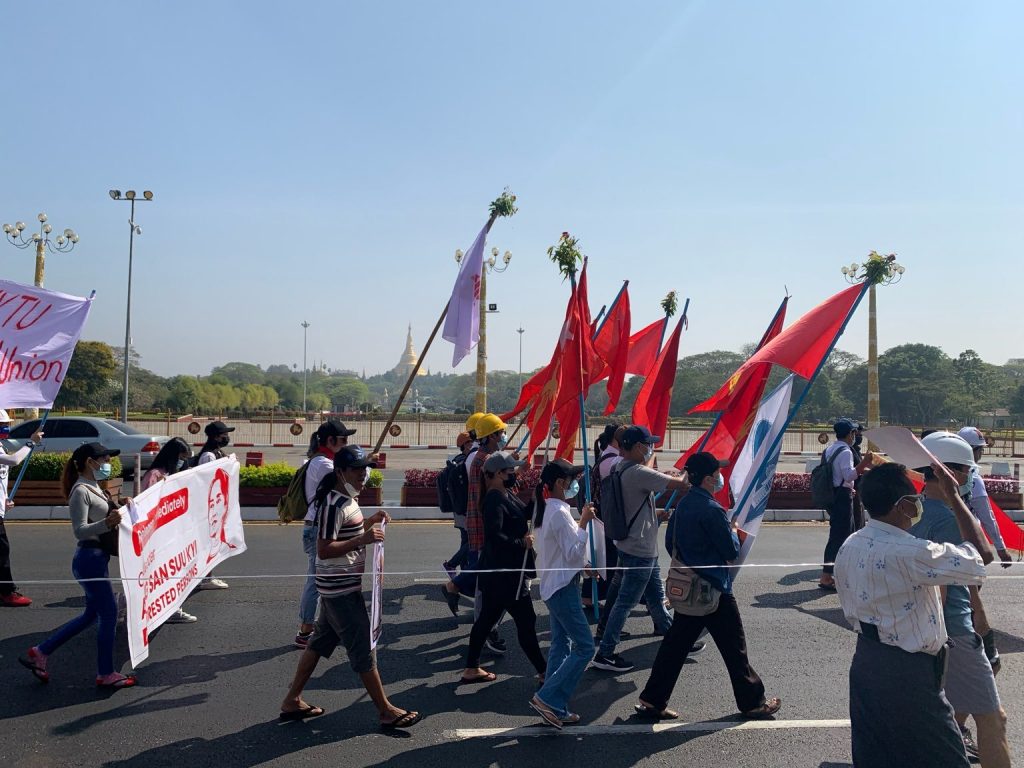 "We are marching peacefully," one protester told Frontier. "We are marching to gather one million for a Free Mother Su event at Sule."
From the looks of it, it's already getting quite crowded down there.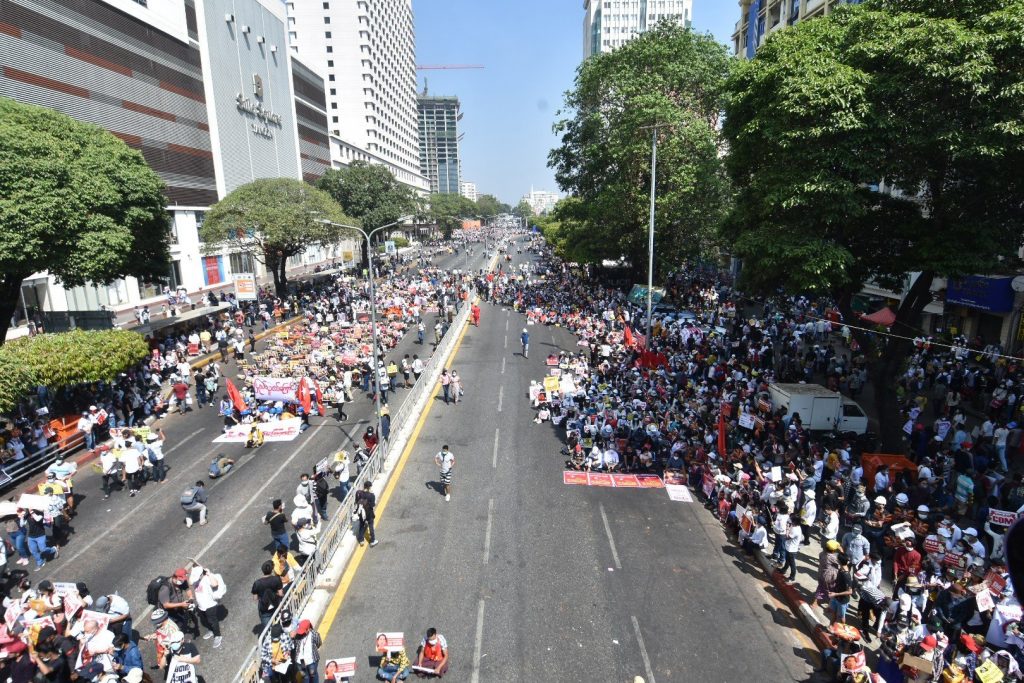 ---
UPDATE: Wednesday, February 17, 10am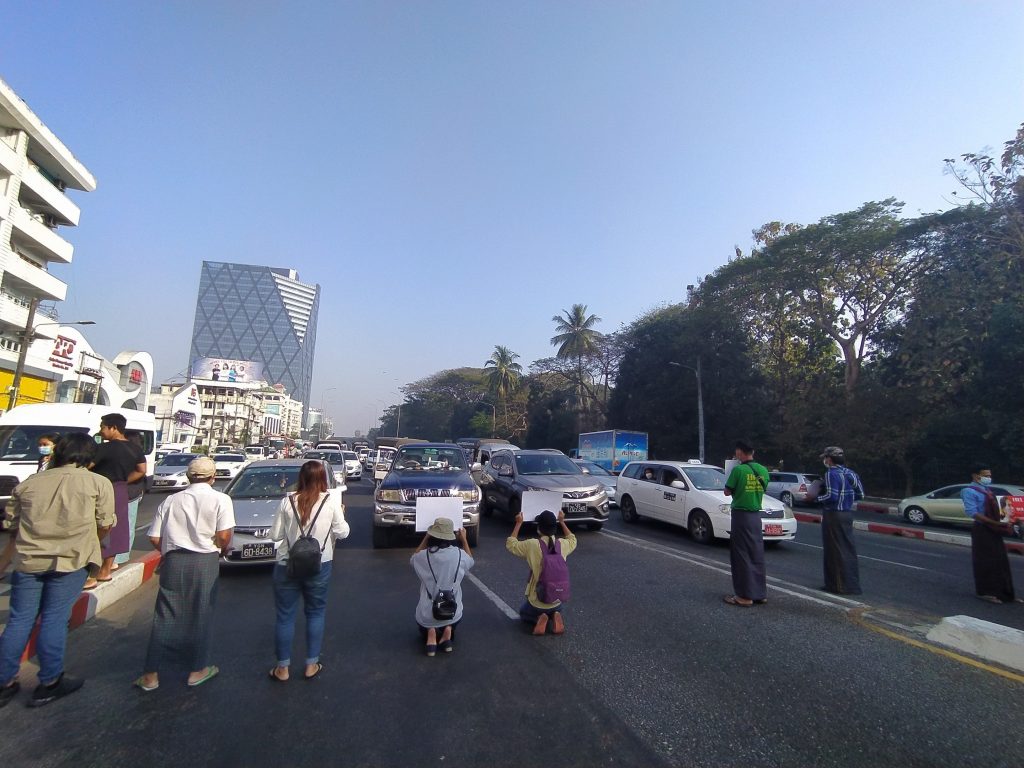 Protesters bring traffic to a standstill at key Yangon junctions
Good morning. After a quiet few days things have already kicked off with a bit of a bang in Yangon, with thousands of people demonstrating at several sites and protesters bringing traffic to a standstill across much of the city. Large numbers of cars just happened to break down at major junctions at the same time – what a coincidence!
First to Hledan Junction, where protesters are also blocking traffic the old-fashioned way: by kneeling or standing in the middle of the road. They began gathering at 8am and say they are calling on everyone to join the growing Civil Disobedience Movement. They've said they'll keep the roads closed until after close of business, so if you are trying to drive around the city today… good luck.
"We're kneeling in front of the cars to demand CDM. This is how we are carrying out the revolution," said Ko Aung Kyaw, who is protesting on the Insein Road section of the junction.
Just to make sure no one can get through, a few cars have been positioned in front of the protesters with their bonnets up. So far none of the cars stuck at the junction seem to be visibly upset at the road closure.
A few police officers have arrived at the scene and are urging protesters to disperse, but to no avail. They're also taking videos and photos of the protesters.
The blocking of traffic is part of a coordinated campaign. On Facebook, activists have been urging people to leave their cars with the bonnet up – to pretend they are broken down and can't move – at major roads. They're calling it "Kar ma pyet gyar net ha", which means, "Car, don't break down!" This is a kind of joke that has become popular since the coup – if you are using social media to encourage others to do something, you ask them to do the opposite. It might have started as a response to perceived junta surveillance of social media, but it has definitely taken on a life of its own.
The campaign is already well and truly under way. Our reporter was at Myaynigone Junction this morning, where around 20 cars had been parked and completely blocked Pyay Road under the flyover. Even before the cars arrived, a group of people on bicycles had shut the road down. "We will block the road the whole day so that people can't go to work. We must win this war," said one driver who had used their car to block the junction. In downtown, the junction of Bogyoke Aung San and Sule Pagoda roads is already blocked – here you can see a photo of the north side of the junction, with the Yoma Central construction site on the left of the frame.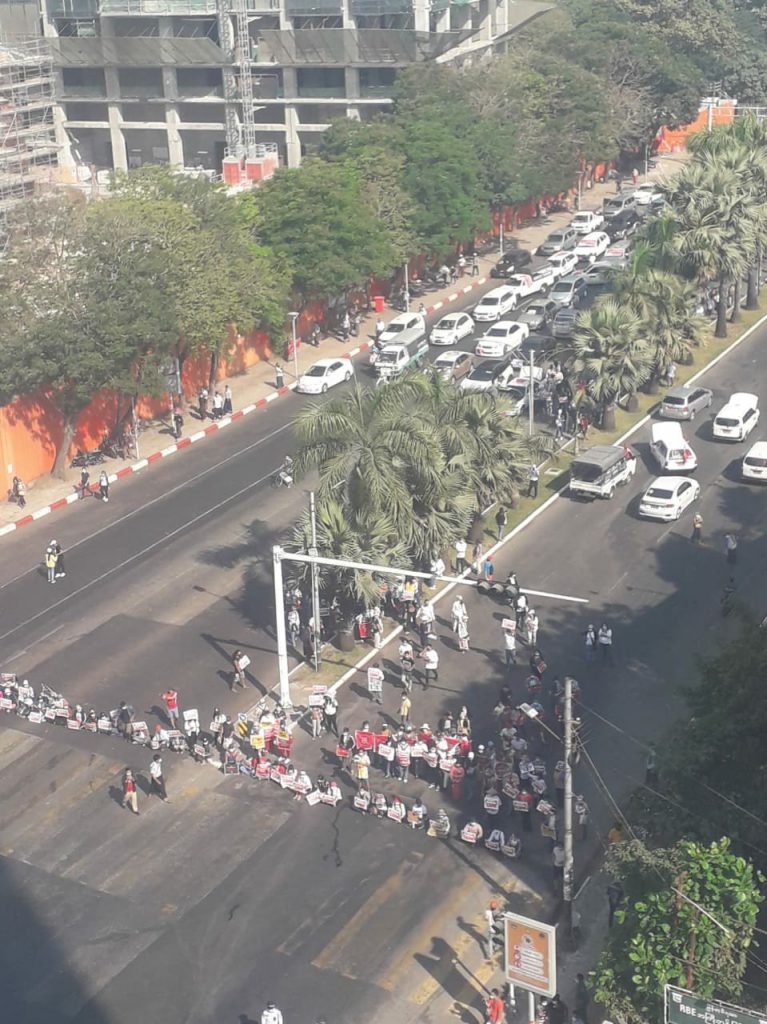 Based on the traffic overlay for Google Maps, it's clear from all the purple that many other major roads and bridges are already blocked, including the bridge ("bailey tada") from North Dagon into South Okkalapa at Parami/Pinlone roads, and the North Okkalapa flyover area.
Meanwhile, demonstrations are also underway at several other locations, including the International Labor Organisation office in Yankin Township. Right now there are thousands of garment factory workers protesting in front of the office, while plainclothes police wander around and take photos (presumably in a failed attempt to intimidate). There are also still protesters in front of the United Nations office on Natmauk Road, where we've heard a UN official may speak to the crowd at 10am. If that happens we'll try to bring you updates.
It's shaping up as a big day and a test of the junta's resolve. Already there are concerns that it could lead to violence and bloodshed. The United Nations special rapporteur on human rights in Myanmar Tom Andrews put out a statement overnight saying, "I fear that Wednesday has the potential for violence on a greater scale in Myanmar than we have seen since the illegal takeover of the government on February 1."
With reports of the military moving more troops into Yangon and the plans for large demonstrations, Andrews said he was "terrified that … we could be on the precipice of the military committing even greater crimes against the people of Myanmar".
He issued an urgent call for all governments, individuals and entities – particularly the business community – to use their influence to convince the junta to let today's rallies go ahead "without detentions or violence".
---
UPDATE: 7:20pm
Online trial begins for State Counsellor and President, new charge added for Aung San Suu Kyi
State Counsellor Daw Aung San Suu Kyi is facing a new charge under the Natural Disaster Management Law, as her trial – and that of President U Win Myint – got underway today in Nay Pyi Taw Zabuthiri Township Court.
The defendants appeared via video call, according to Assistant Township Judge Daw Nan Aye Mya Thiri, who is also the head of the court's news and information team.
In addition to a charge under section 8 of the Import and Export Law, which was filed on February 3 for the alleged import of walkie-talkies, Aung San Suu Kyi also stands accused of violating section 25 of the Natural Disaster Management Law, which is the same charge that has been levelled against Win Myint. Like Win Myint, she is accused of violating election campaign rules related to COVID-19, but Nan Aye Mya Thiri could not provide further details. The pair were detained early on February 1 when the military launched its takeover.
"Daw Aung San Suu Kyi said she would hire a lawyer and she would only accept a lawyer hired by the National League for Democracy. U Win Myint said he did not want to hire a lawyer," Nan Aye Mya Thiri told journalists today. It is unclear whether Win Myint, who has a legal background, will represent himself.
Nan Aye Mya Thiri said there were nine witnesses in each case at today's hearings, although it was not clear who was involved, adding that the pair appeared to be in good health, and that video conferencing was used for their health and safety. The trial was supposed to begin on February 17, but was brought forward one day. The next court hearing is scheduled for March 1.
UPDATE: 6:45pm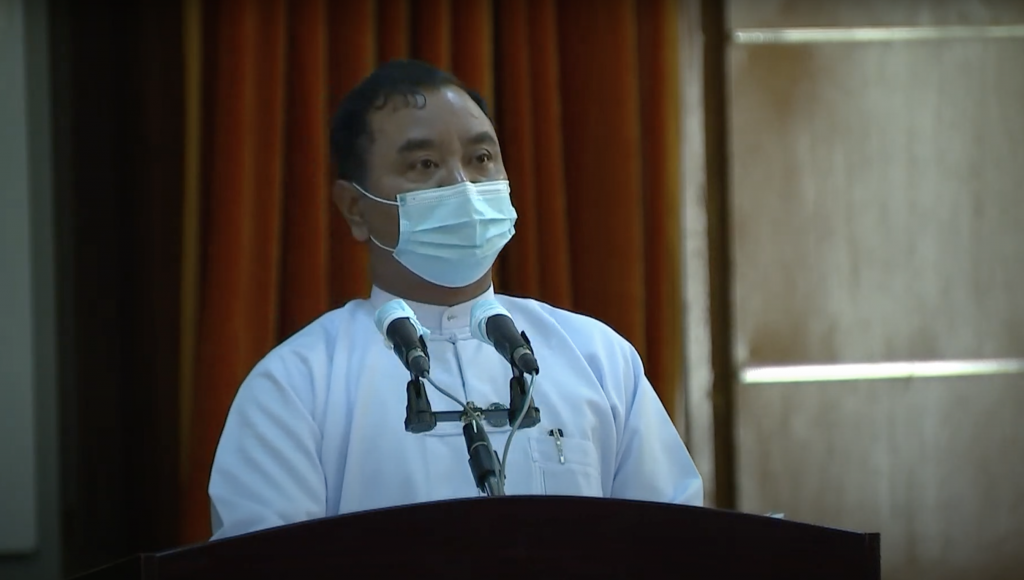 Military regime's first press conference: key takeaways
The State Administration Council has held its first press conference, with Deputy Minister for Information Zaw Min Tun (formerly head of the True News Information Team) taking questions from a handful of journalists.
Here are the main points from the press conference.
Asked whether the coup was in line with the constitution, he replied, "We are not doing anything beyond the 2008 Constitution".
On the constitutionality of removing President Win Myint and Vice President Myint Swe becoming acting president, Zaw Min Tun did not give a clear answer. He said it was important to "study the whole constitution", and referred to sections 40(a) and 417. In response to another question, Zaw Min Tun said the Tatmadaw had studied the basic principles of the constitution, covering sections 1 to 48. It had tried to resolve the issues with the civilian government through negotiation but had "inevitably" had to take state power when negotiations failed.
Since taking office the SAC has been busy amending existing laws to limit free speech and expand the definitions of offences such as high treason, sedition and incitement. It has also suspended provisions of the Law Protecting the Privacy and Security of Citizens. Asked about these legal changes, he said: "If necessary, the SAC has the right to amend or suspend laws according to provisions of the State of Emergency. They are amending laws to protect the country and the people."
On crackdowns against protesters, he said: "The police and military are fulfilling their duties according to rules and regulations. They have been taking measures step by step. Regarding the case at Thabaygone [roundabout in Nay Pyi Taw], people started throwing stones at police." When asked if a police officer shooting at people with a slingshot from a police car was in line with police procedure, he said there was no legal provision barring police from using a slingshot. He said the police used it to protect themselves.
Last week, a 20-year-old woman was shot at a protest in Nay Pyi Taw and is not expected to survive. Zaw Min Tun refused to clarify whether she was shot by a rubber bullet or a live round, but said the authorities were "investigating the case and will take action according to the law".
On the peace process, he said that the junta will form three committees: the National Solidarity and Peace Making Committee led by SAC chair Senior General Min Aung Hlaing, which will set policy; the National Solidarity and Peace Making Working Committee, led by SAC deputy chair Vice Senior General Soe Win and featuring regional commanders to implement policy; and the National Unity and Negotiation Committee led by Lieutenant-General Yar Pyae to negotiate with ethnic armed groups. Zaw Min Tun repeatedly emphasised that the three committees will focus on taking "practical actions" to further the peace process.
Although the military regime has only brought relatively minor charges against Daw Aung San Suu Kyi and Win Myint to date, there are rumours they could later face more serious charges, such as high treason. Zaw Min Tun refused to clarify if additional charges would be brought against them, saying only that the cases are "in process". He said Aung San Suu Kyi is in good health and has been detained at her ministerial residence. Regarding other state leaders and cabinet members in detention, Zaw Min Tun claimed the authorities are proceeding according to the law. He added that they found a significant amount of foreign cash in the Daw Khin Kyi Foundation. The military government would share all information it has found "transparently at the appropriate time". "We are doing these investigations because the sovereignty of the state is derived from the citizens and country," he added.
Regarding the Civil Disobedience Movement, Zaw Min Tun said the SAC was waiting for government staff to come back to work "soon". The regime won't take action against those who come back "in time" but will "inevitably" take action against those who miss this deadline. Asked how long the SAC would wait, he said it "won't be long", and added that civil servants should "go to the office with a smile". Action will also be taken against those who encourage civil servants to join CDM.
He insisted that CDM would have no serious consequences for the government. "The whole government mechanism is still working and we have enough capacity to replace [those joining CDM]," he said. He claimed that senior staff have been able to successfully negotiate with some staff who joined CDM and encourage them to return to work.
Regarding the international response to the coup, he said it was "as expected" and gave a long response that essentially amounted to the Tatmadaw doesn't care about international censure. The regime maintains friendly relations with all nations as well as the UN. "There's no need to ask about international recognition [for SAC]," he said. "It is easy to see by reading international reports and [the fact that Myanmar] still has connections with neighboring countries. All ambassadors from all countries are still in Myanmar."
Zaw Min Tun rejected the rumour that the military had been working with China to install a "Great Firewall". "If we want to do it, we already have sufficient technicians and technology to do it ourselves. We don't need to ask China," he said.
On the draft Cyber Security Law released last week that has attracted fierce criticism from a wide range of domestic and international groups, Zaw Min Tun said it had been drafted by the previous government, not the military regime. He refused to say whether it would be enacted.
Regarding the media, Zaw Min Tun said the junta was taking "necessary measures according to the law if media reports violate the law". "I can't promise not to take any action against the media," he added.
Zaw Min Tun got visibly frustrated with the reporter from RFA, particularly after she asked a question about the police using slingshots, and cut her off when she tried to ask a fourth question. In contrast, he allowed the editor-in-chief of nationalist outlet Thuriya Naywon to share his personal views on the military coup for two minutes. The editor said military had been "so soft" in responding to protesters and those joining CDM.
---
UPDATE: 4:45pm
Six people were injured when police fired rubber bullets on a crowd outside of a prison in Myaungmya Township, Ayeyarwady Region today.
About 150 people gathered outside the prison after police arrested a school headmaster for participating in anti-coup protests there, locals told Frontier.
U Htet Wai Yan Tun, headmaster of the Wet Myaynigone primary school, was arrested by six plainclothes police officers while sitting in a tea shop at around 10:30am, just after he'd left a morning demonstration, they said.
"They took the headmaster from the tea shop by force," an eyewitness told Frontier.
Some 50 teachers and another 100 residents followed the car Htet Wai Yan Tun was arrested in to the prison and gathered there to demand his release.
At 12:30pm police told the group to go back home or they would use force. Police then fired rubber bullets at the crowd.
U Tin Aye, who was in the crowd, told Frontier that U Win Htay, the Myaungmya police chief, was among those who fired shots.
"We saw him shoot at protesters," he said. "He fired more than 20 shots!"
Teachers there have been protesting – and joining the Civil Disobedience Movement – since at least February 6.
---
UPDATE: Tuesday, February 16, 1:45pm
MAH speaks at SAC meeting
Welcome back to another day under military rule. Sorry for the late start, but we are still digesting several emerging developments. We appreciate everyone's concern.
In a speech last night before his State Administration Council, Senior General Min Aung Hlaing insisted again that the junta is acting in line with the constitution, and that it will continue the "politic [sic], administrative, economic, social, peace and international relation policies" of the previous administration, according to a report on the speech in the Global New Light of Myanmar. He again chastised medics taking part in the Civil Disobedience Movement for their "failure to perform their duties" and said the government is "taking legal actions on these cases", though the state-run paper did not specify what that might mean.
The SAC chair also said "security assistance" was being provided to banks "for ensuring regular currency flow." This comes after widespread bank closures due to the growing CDM movement, and after increasing talk on social media of people intentionally pulling all of their cash out of public banks in order to saddle the military junta with a crippling banking crisis. While it's difficult to assess how much of this is just internet chatter, some banks seem to be limiting the amounts of cash customers can withdraw at a time, and Frontier has heard reports that ATMs across Yangon have run out of money and have not been refilled for at least a couple of days. Meanwhile, police have blocked off streets around the Central Bank of Myanmar's Yangon branch in Yankin Township, which has been the site of peaceful but escalating standoffs between protesters and soldiers in recent days.
Customers are queueing up at Myawaddy Bank branches in Yangon this morning in an effort to withdraw cash from the military-run bank. Almost all private banks have been closed for more than a week due to protests and staff joining the Civil Disobedience Movement, although electronic transactions are still possible (provided the internet is working). Myawaddy is one of the few to have opened its doors, but customers told Frontier it has introduced a token system to limit the number of customers that can withdraw money at branches, and also put in place withdrawal limits. We hope to bring you more on this later today. "We have a lot of money in Myawaddy and we want to take it out," one customer outside the Yankin branch told Frontier this morning. "We've already tried to withdraw it at one branch this morning but couldn't get a token. We also haven't been able to get a token here."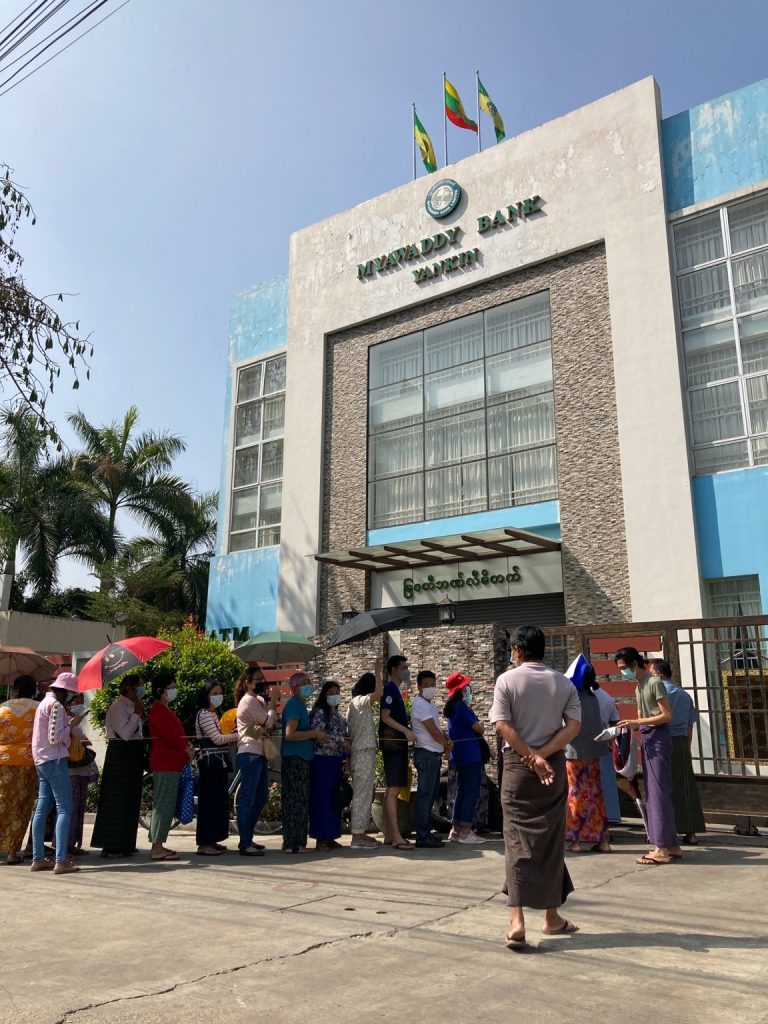 The Global New Light of Myanmar report on Min Aung Hlaing's speech at the SAC meeting also mentioned a discussion by SAC members over the role of "foreign advisors" in "disturbing the establishment of multiparty democracy" in Myanmar. Though characteristically cryptic, this may hint at one reason why Dr Sean Turnell, the Australian economic advisor to Daw Aung San Suu Kyi, is currently being detained. Turnell was arrested days after the coup began and is the first and so far only foreigner to have been arrested. Some have speculated that the SAC is trying to build a larger case against deposed leader Aung San Suu Kyi – possibly a treason charge for facilitating foreign interference in an election – that could carry up to 40 years in prison, effectively ending the 75-year-old's political career.
Additionally, the SAC announced amendments to the Electronic Transactions Law, but we are still analysing these and will have more to report on the changes soon.
Meanwhile, street protests are continuing, though they appear smaller than in previous days. By 9am, a couple hundred people stood outside the United Nations offices on Yangon's Natmauk Street, next to Kandawgyi Lake, calling on the international community to do more to help restore democracy in Myanmar.
"We are happy the UN issues statements of condemnation, but we understand they are powerful and can do more," said Thurein, a 21-year-old French student at the Yangon University of Foreign Languages. He suggested the international body not recognise the SAC as Myanmar's legitimate government, and only confer with detained President U Win Myint and the Committee Representing the Pyidaungsu Hluttaw. The committee was formed by elected MPs from the National League for Democracy after swearing their oaths in defiance of the coup.
"We will protest until our elected government is back," he added.
The calls to the international community were echoed outside of the United States embassy too, where by mid-morning a large group had again gathered.
---
UPDATE: 6:30pm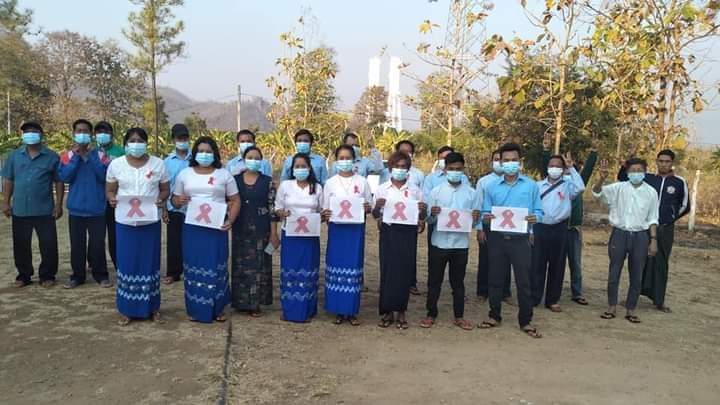 Loikaw hydropower plant staff join CDM
About 130 workers at two state-run hydropower plants in Loikaw Township, Kayah State, have joined the civil disobedience movement, a staff member told Frontier.
The staff are from Baluchaung 1 and 2 plants, which have installed capacity of 28 megawatts and 168MW, respectively. Also known as Lawpita 1 and 2, the plants have been an important source of power for decades.
The source said almost all workers are refusing to work, but they have set up a roster system to keep the plants operating with a skeleton staff of around five people.
Another source at the Ministry of Electricity and Energy in Nay Pyi Taw said staff from the ministry who are participating in CDM are continuing to run the power plants for a number of reasons.
"Workers who are at the plants are keeping them running because if there is no electricity it could be dangerous for the public," that source said. "Also, it's just not practical to abandon the plants and machinery."
The source said that ministry staff participating in CDM who have office jobs are refusing to work entirely, however.
"At first, there were just a few joining [CDM]," said the Baluchaung employee, who wished to remain anonymous. "But more and more have joined in, and now nearly all are participating."
He said employees at the plants began participating in CDM from February 3 and staged a protest march on February 12.
He added that they were determined to continue with their protest until the democratically elected government was reinstated.
"We suffered remarkable pain in 1988," he said. "We do not want our people, especially our youngest generation, to experience such events – or worse ones."
---
UPDATE: 4pm
Protests building outside NLD office as police, military demand access
Soldiers and police have descended on the National League for Democracy headquarters in Yangon's Bahan Township and are trying to enter the building. Security forces began arriving about 2:45pm.
Police and military have blocked a section of West Shwegonedaing Road in front of the NLD office, setting up barricades at both ends.
Shortly after setting up barricades protesters began arriving and there's now a large crowd already building in front of the barricades, many of whom have walked over from nearby Myaynigone Junction.
We understand there's about 15 people inside the office, including some party members and staff, and for now they are refusing to open the doors. They say that they are unable to open up the doors because the office is a crime scene – police visited the party HQ last Wednesday evening after receiving a complaint about a break-in.
The break-in, of course, occurred the previous night, when Tatmadaw soldiers raided the office, in what the NLD has described as a "lawless act". The military took documents relating to the party's funds, as well as computer hard drives and communication network devices, according to the NLD.
---
UPDATE: 3:20pm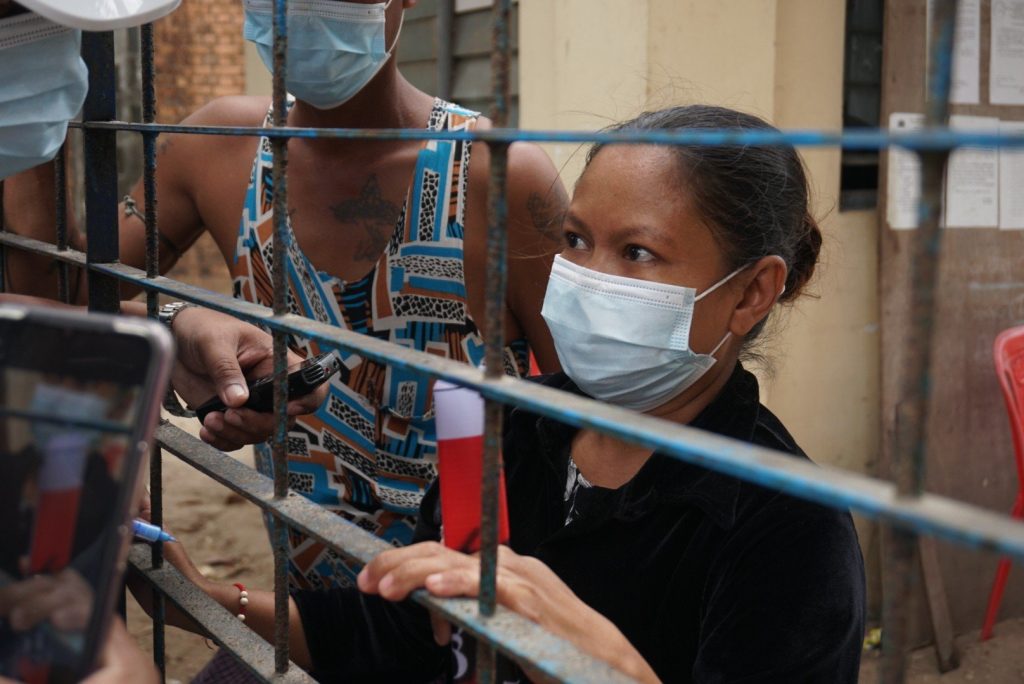 Protesters stop police from forcing CBM staff back to work
Demonstrators have stopped nearly 200 police from forcing Central Bank of Myanmar staffers back to their offices this afternoon, according to our reporter on the scene.
The staff have joined the civil disobedience movement and are protesting at their government-provided housing complex in Thingangyun Township.
Many civil servants are provided with government housing for their service. Of the 600 who live at the complex in Thingangyun, 200 are from the Central Bank. All of them joined the growing civil disobedience movement yesterday.
"Police officers came to take us and force us back to work, and to stop us from protesting, but we told them we're not going back to the office and we're remaining in the movement," said Daw Myint Myint Than, a 45-year-old bank staffer who lives at complex. "No bank employees were detained – protestors surrounded us and prevented it," she added.
Authorities had previously threatened to evict all residents who took part in the CDM, but this has not deterred bank staff.
"We will absolutely not work for the military government," said Daw Myint Myint Than.
Around 2pm, celebrities including the actors Pyay Ti Oo, Eindra Kyaw Zin and Paing Phyo Thu arrived at the housing complex to offer their support.
"We're all thankful for the bank staff from this housing complex who're participating in the CDM," Pyay Ti Oo said. "We want you to continue taking part in the CDM."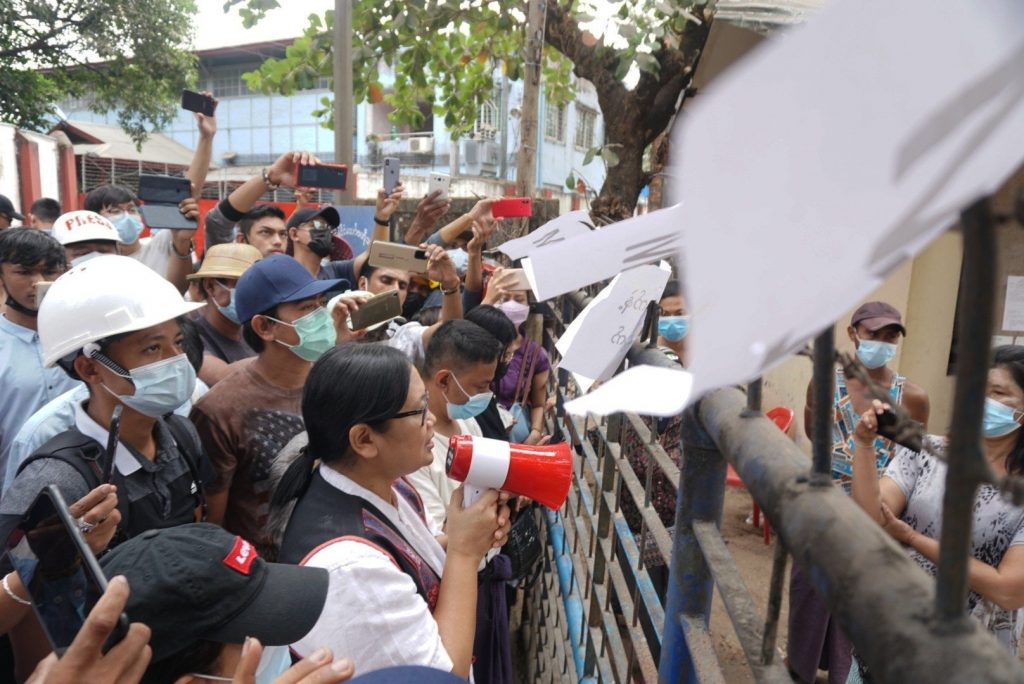 The Central Bank has also been a major focus for protesters, who since last week have been demonstrating outside the Yangon branch in Yankin Township calling on CBM staff to join the civil disobedience movement.
Protests are continuing at the CBM branch today, despite the Tatmadaw deploying members of Light Infantry Division 77 and armoured personnel carriers.
UPDATE: 3pm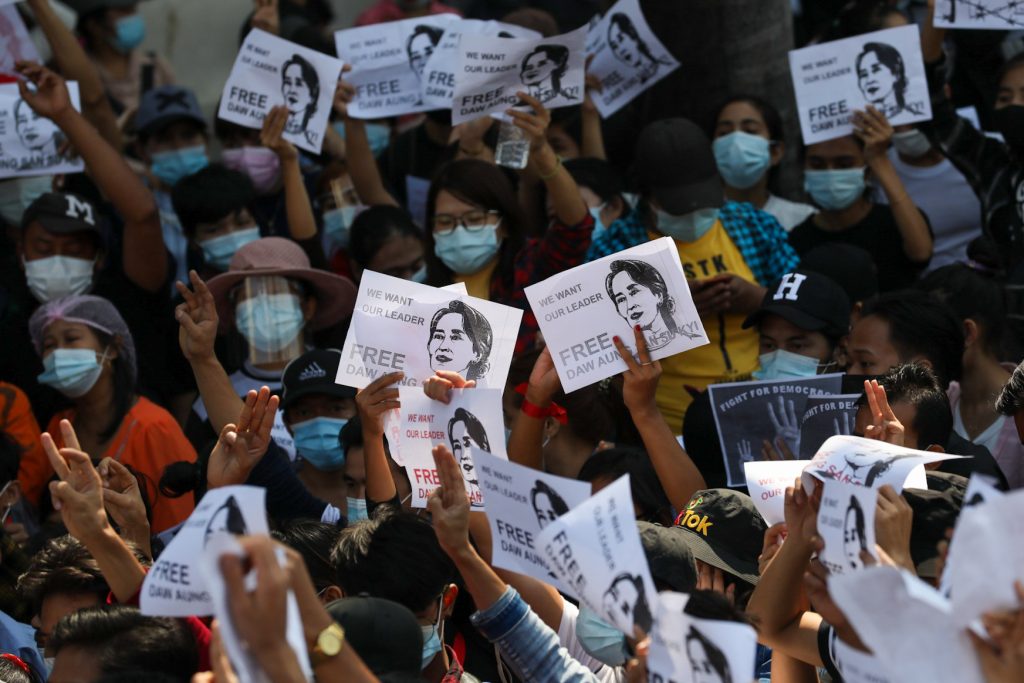 Suu Kyi to appear in court by video link Wednesday, as junta makes legal changes
State Counsellor Daw Aung San Suu Kyi had been expected to appear in court today, 14 days after she was first detained. However we have been told that her remand will instead end on February 17, which is 14 days after the charges were publicly revealed.
U Khin Maung Zaw, who the National League for Democracy has appointed to represent Aung San Suu Kyi and President U Win Myint, met this morning with a judge from Dekkhinathiri District Court.
He told reporters afterwards that the judge informed him that Aung San Suu Kyi and Win Myint would appear by video link in Zabuthiri Township Court on Wednesday. Khin Maung Zaw also said that the court had so far refused his application to represent them.
Both are facing charges that carry a potential three-year prison term: Aung San Suu Kyi is accused of violating the Export and Import Law after police allegedly found walkie-talkies at her home that were imported illegally, while Win Myint is accused of violating the National Disaster Management Law for greeting a passing NLD convoy in September 2020. The charges were revealed on February 3.
He also confirmed that party patron U Win Htein is facing a sedition charge under section 124A of the Penal Code and is due to appear in court on February 19. The charge carries punishment of "transportation for life or a shorter term, to which fine may be added, or with imprisonment which may extend to three years, to which fine may be added, or with fine".
Until last night, that is, when the junta announced changes and addition to several sections of the Penal Code that appear likely to be used against NLD members, protesters and particularly those promoting the civil disobedience campaign.
These laws were already extremely broad and regularly used to lock up activists, but have been expanded further and now carry more hefty punishments.
The change to section 124A now expands it to include sedition against the "Defence Services or Defence Services Personnel", in addition to the government. The reference to transportation for life has been changed to 20 years' imprisonment, while the reference to three years has been increased to seven years.
Two new charges have been added to the sedition section. Section 124C provides for a prison sentence of up to 20 years for actions that "hinder the success of performance of the Defence Services and law enforcement", while section 124D prohibits the hindering of "Government employees" and has a prison sentence of up to seven years.
The section on high treason, 121, has also been expanded to include use of "unconstitutional means" to try and overthrow the government.
Section 505, which covers "statements conducive to public mischief" but is often described as incitement, has also been expanded and the punishments increased. These changes seem to target those advocating for the civil disobedience campaign that has seen tens of thousands of government employees refuse to work.
The changes can be read in full in today's Global New Light of Myanmar, available here.
Meanwhile, the junta has also suspended sections of the Law Protecting the Privacy and Security of Citizens that required witnesses to accompany authorities during searches and arrests, limited detention to 24 hours without permission from a court, and required a warrant to conduct a search or arrest.
---
UPDATE: 1:15pm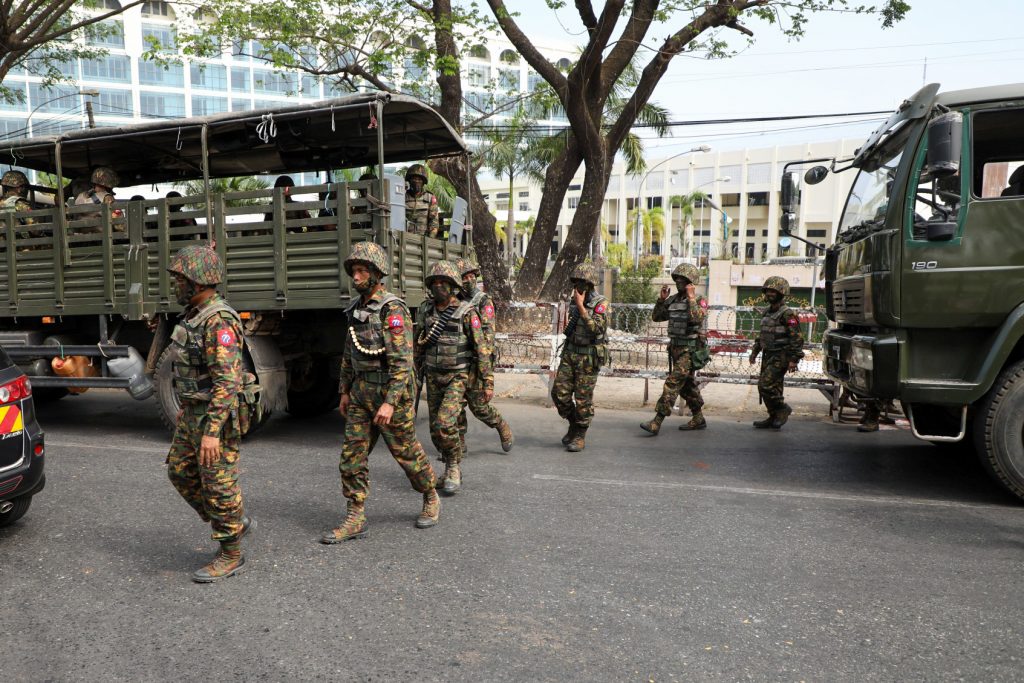 LID 77 deployed at Central Bank of Myanmar in Yangon
One of our photographers just sent in more photos from outside the Central Bank of Myanmar branch in Yangon's Yankin Township, where demonstrators are facing down soldiers.
The demonstrators have gathered to encourage bank employees to join the Civil Disobedience Movement, despite growing threats from the junta of punishment for any civil servant taking part.
"Due to unscrupulous persons' incitement, some civil service personnel have failed to perform their duties at present," Tatmadaw Senior General Min Aung Hlaing said last week. "Effective actions will be taken."
The soldiers at the Yankin bank branch are from the Tatmadaw's Light Infantry Division 77 – the same division that Human Rights Watch said fired on crowds in Yangon during the 2007 Saffron Revolution. (Hat tip, Poppy McPherson)
Protesters were moved from in front of the bank earlier when soldiers closed off the sidewalk there with fencing. They have relocated but remain on the street nearby. While the images are jarring, our reporters say things have remained peaceful so far.
Also, Batman was there.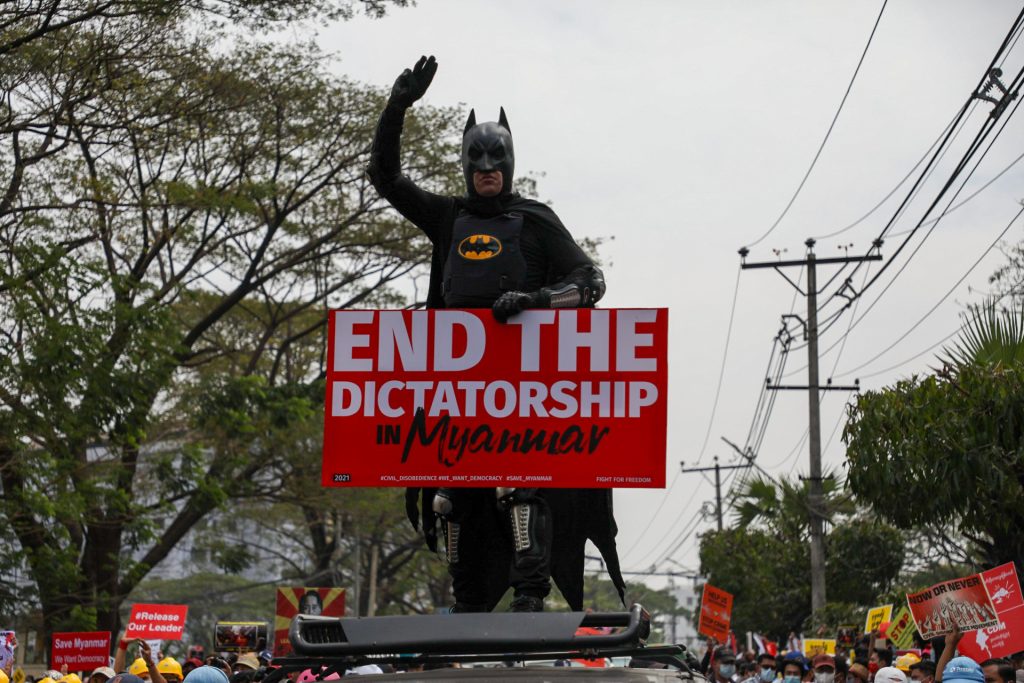 ---
UPDATE: Monday, February 15, 10:30am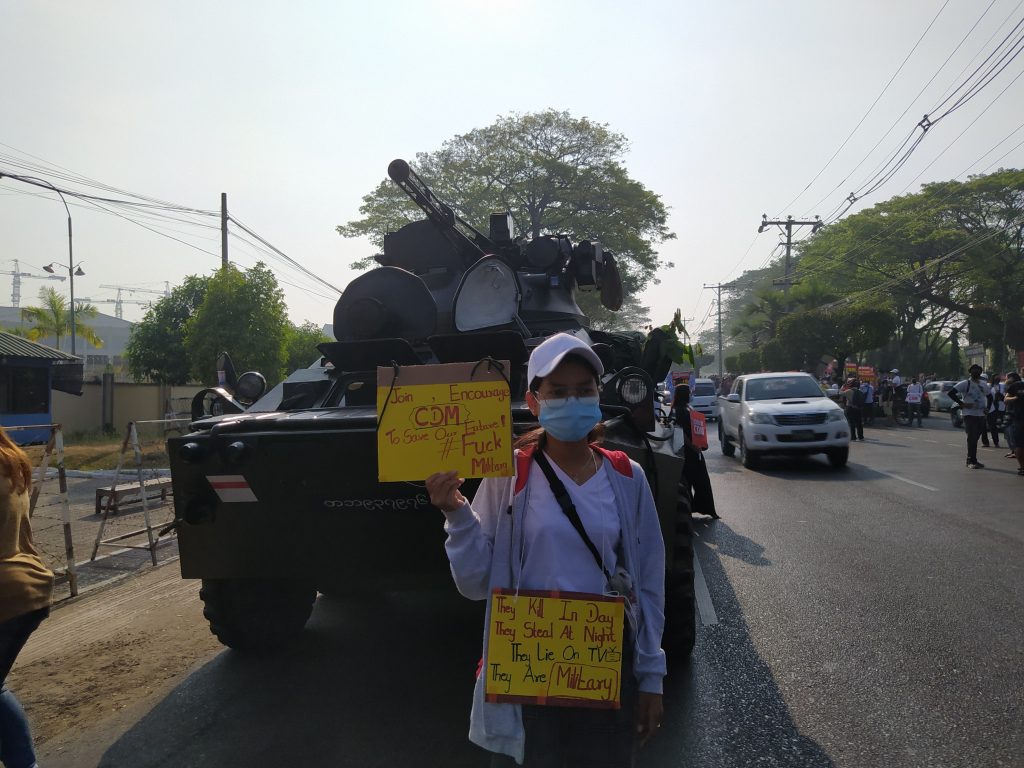 Shots fired in Myitkyina, tanks deployed in Yangon
Good morning.
Military tanks and truckloads of soldiers have been deployed at several major protest sites in Yangon this morning.
In front of the city's Central Bank of Myanmar branch, in Yankin Township, our reporter counted five trucks with 20 soldiers in each, two water cannons and two military tanks. The site has been a major flashpoint in recent days, with protesters urging bank employees to leave their desks to join the growing Civil Disobedience Movement, and police and ward administrators telling protesters to leave.
"They might do to us what they did to people in Myitkyina last night," said demonstrator Kaung Myat Thu, referring to a standoff in the Kachin State capital in which soldiers reportedly fired into a crowd of demonstrators at a power plant run by Buga, a company owned by the Kachin Independence Organisation that provides eletricity to Myitkyina and neighbouring Waingmaw. Protesters had gathered there after rumours that the electric grid would be cut spread through town. Frontier could not verify if the rounds were live or rubber bullets, but injuries and the arrests of journalists have been reported.
The display of force in Myitkyina is not deterring Yangon protesters yet. "We will continue to do what we must. We have protection from tear gas. If it gets worse, we will run away, then come back again," Kaung Myat Thu said.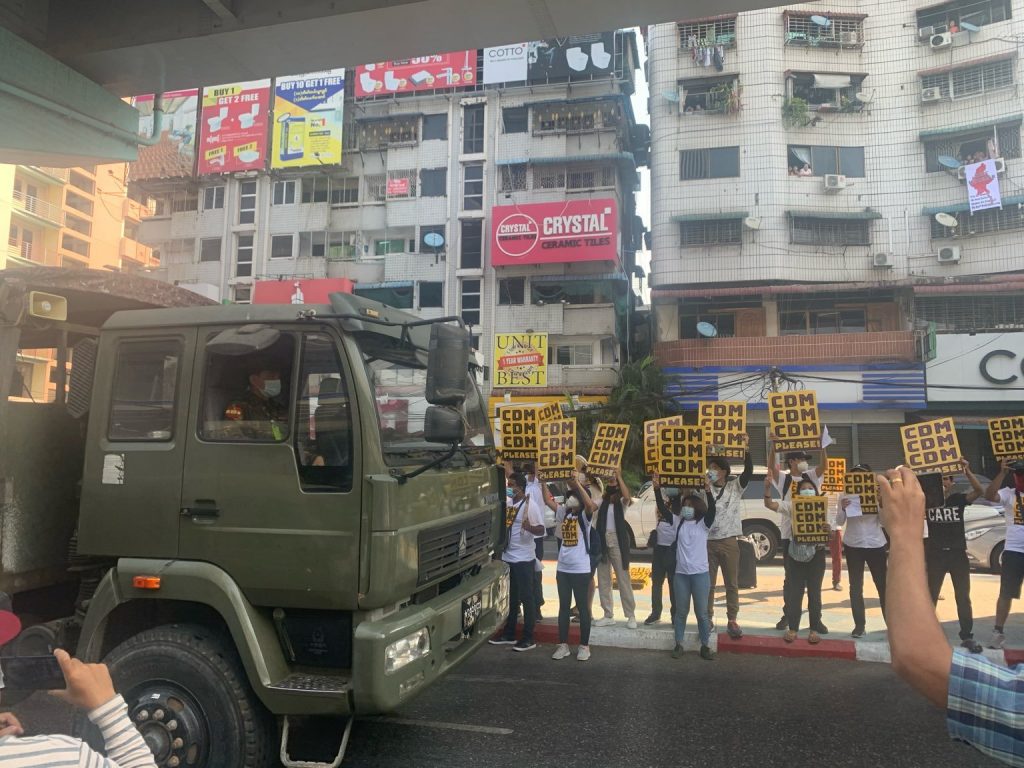 Another seven trucks of soldiers and an armoured tank are now at the Dagon junction, in the Myaynigone section of Sanchaung – another large gathering point for demonstrators over the past week – where protesters are chanting to the soldiers that General Aung San's military teachings are "not meant for killing civilians," notes our reporter, who estimates about 1,000 have already gathered there.
The tanks were spotted on several of Yangon's roads yesterday evening. Pictures of the vehicles began circulating about the same time that news of an enforced internet shutdown from 1am to 9am broke.
The internet is back on and all seems well in the city so far, but all of this put an already tense-city further on edge. Night patrols continued stalking ward streets after the 8pm curfew, trying to keep both police and recently-released prisoners from entering their neighbourhoods. So far, it seems to have been a quiet night, with no reported incidents we're yet aware of.
Meanwhile, outside Sule Pagoda, the central downtown site of some of the largest demonstrations so far, there were just a few hundred gathered by 10:30am. But periodically throughout the morning, groups large and small were marching there.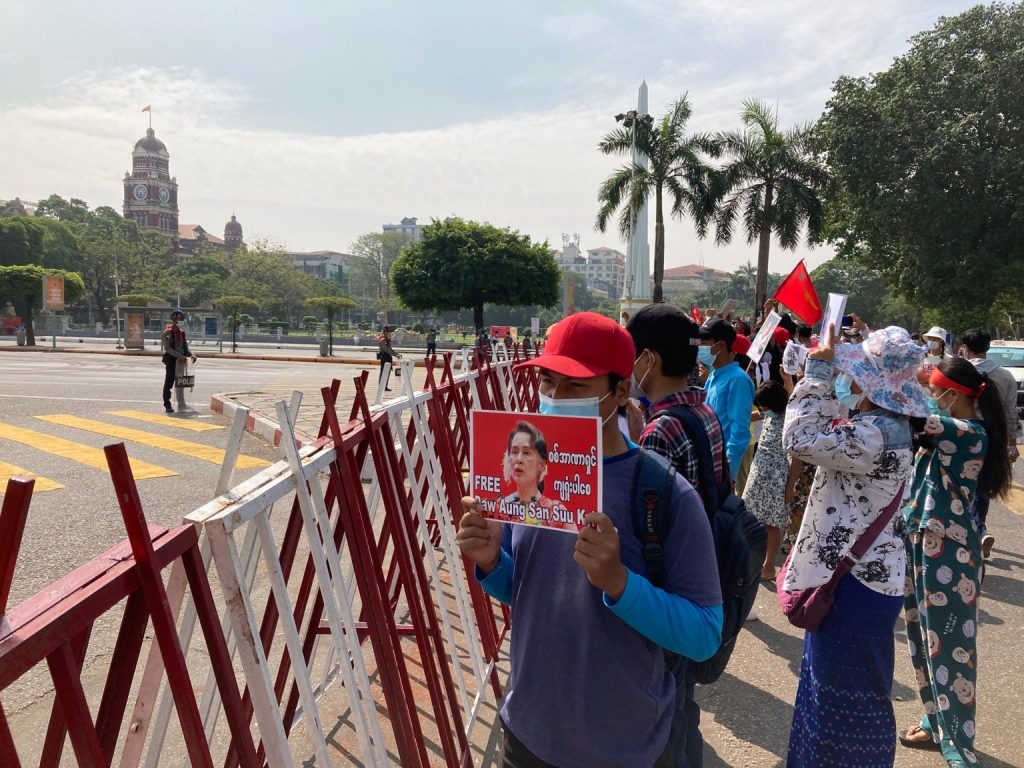 UPDATE 4:30pm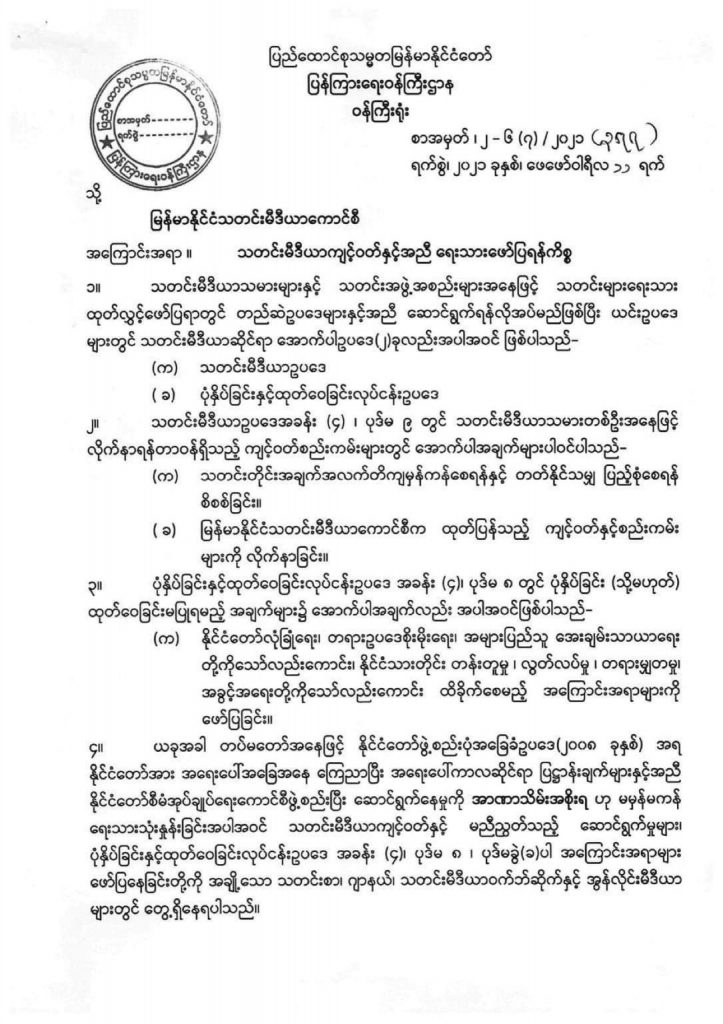 Ministry warns press against referring to 'coup government'
The Ministry of Information has written to the Myanmar Press Council warning journalists and media organisations not to refer to Senior General Min Aung Hlaing's junta as a "coup government".
The letter, dated February 11 and titled "Matter of reporting with news media ethics", claimed that calling the junta a "coup government" – arnar thein asoya in Burmese – was a violation of media ethics.
In one of the first direct threats the junta has levelled towards private media since the coup, the letter suggests that journalists who refuse to comply could face criminal charges, and publications could have their licences revoked.
"Some newspapers, journals and news media outlets have reported unethically, including by misrepresenting the State Administration Council as a coup government," the letter said.
It referred to section 9 of the News Media Law, which sets out a basic code of conduct that all "news media workers" are required to comply with or face potential criminal charges.
But the letter also referred to section 8 of the Printing and Publishing Law, which lists a range of things that a printer or publisher "must not publish", including "things that can harass national security, rule of law, public order or the rights of every citizen".
Although it was not mentioned in the letter, any publication that prints something in violation of section 8 can be banned by a regional court under section 9 of the law.
Both laws have been criticised by local and international free speech advocates for failing to meet international standards – including specifically the sections referred to in the Ministry of Information letter.
"It is informed that no provocative actions should be taken to incite public unrest, including the misrepresentation of the State Administration Council as a coup government," the letter states.
The threats in the letter reflect the junta's efforts since February 1 to present its power grab as being entirely in line with the constitution, and to present its government as different from military administrations that seized power in 1962 and 1988.
The letter claims that the Tatmadaw declared a state of emergency in line with the constitution and formed the State Administration Council headed by Min Aung Hlaing in accordance with the constitution's provisions on state of emergency.
It did not offer an explanation as to how the Tatmadaw's removal on February 1 of President Win Myint, the country's democratically elected head of state, was in line with the constitution.
Win Myint, State Counsellor Daw Aung San Suu Kyi and other members of the civilian national government were rounded up by security forces in pre-dawn raids, along with senior National League for Democracy officials and members of state and region governments and assemblies.
The military replaced Win Myint with its own nominee, former general Myint Swe, who then declared a state of emergency and handed over power to Min Aung Hlaing.
The justification for the state of emergency was the military's unverified claim that the November election was subject to potentially massive voter fraud.
---
UPDATE 3:30pm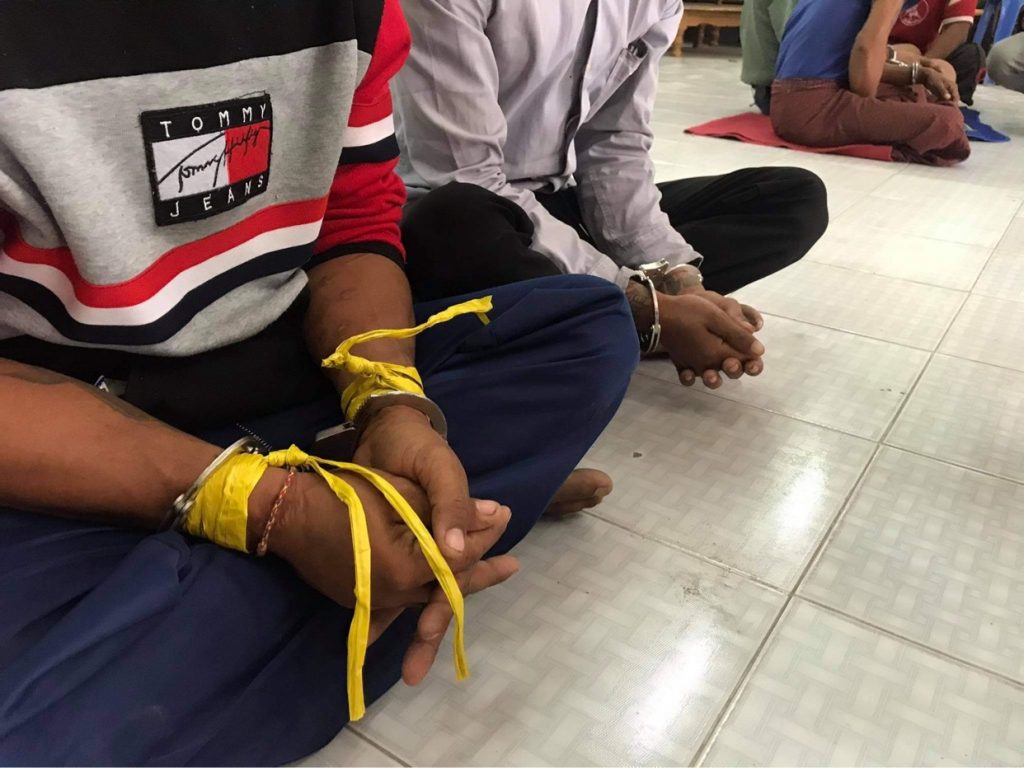 Mandalay residents stop car, detain five people in religious hall
Another indication, this time from Mandalay, of how nighttime arrests of dissidents have put communities on edge.
As we reported earlier, thousands of people in Yangon emerged onto the streets from 10pm last night – in violation of the 8pm curfew – after hearing rumours that dissidents were being detained.
In Mandalay, residents from Pyi Lone Chan Thar ward in Aung Myay Thar Zan Township also stopped and searched a suspicious vehicle from a charity team on 81st Street between 12th and 13th streets late last night.
Inside they found two former prisoners from the Inn Byaung labour camp in Mon State's Paung Township who had been released as part of yesterday's amnesty, along with two firefighters and the driver. The car is owned by the Khisna Mahi charity group from Chan Aye Thar Zan.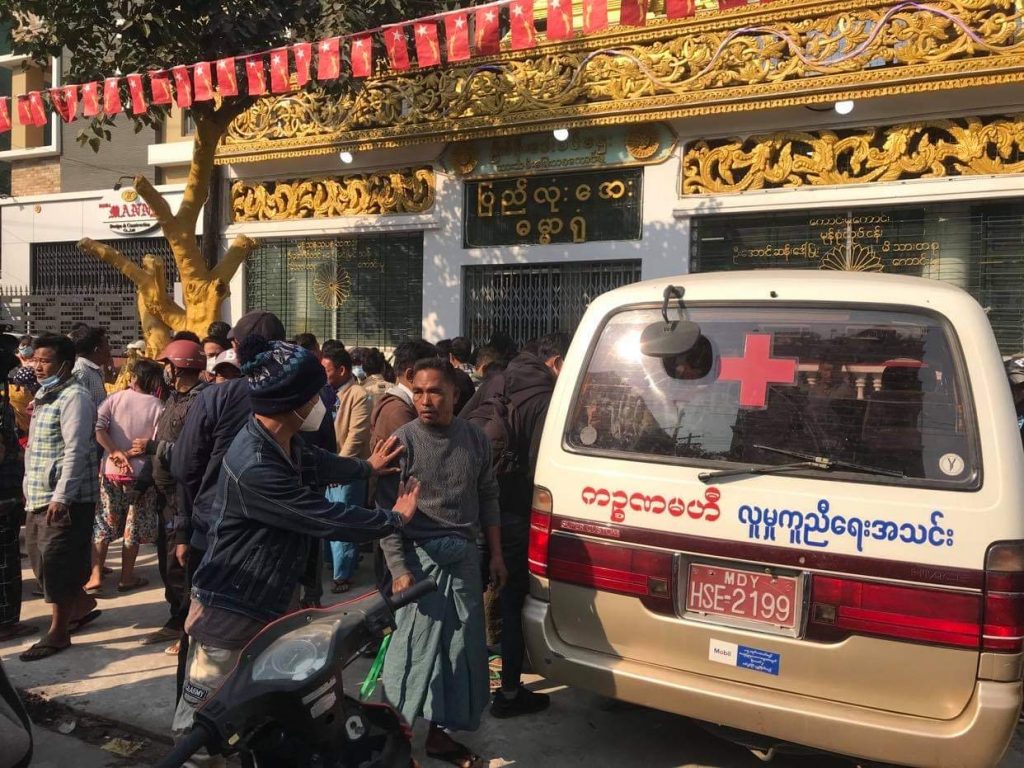 Residents said they did not find anything suspicious in the vehicle but they detained all five people in the car at the community's Buddhist hall, known as a dhammayone.
The two former inmates said they live in Ohbo Aung Chan Thar ward in Mandalay and the driver had agreed to give them a lift home.
One of the former prisoners, Ko Kaung Kaung, said they'd hired a taxi with seven other prisoners from Paung. The others in the taxi had been met by their families beside the highway near Mandalay.
"The Highway Police allowed us to continue to our homes but told us a curfew had been imposed. We walked from the highway and asked for help when we saw the charity group. All we have is a certificate showing we were released from the prison and our clothes. We don't have anything else," said Ko Kaung Kaung.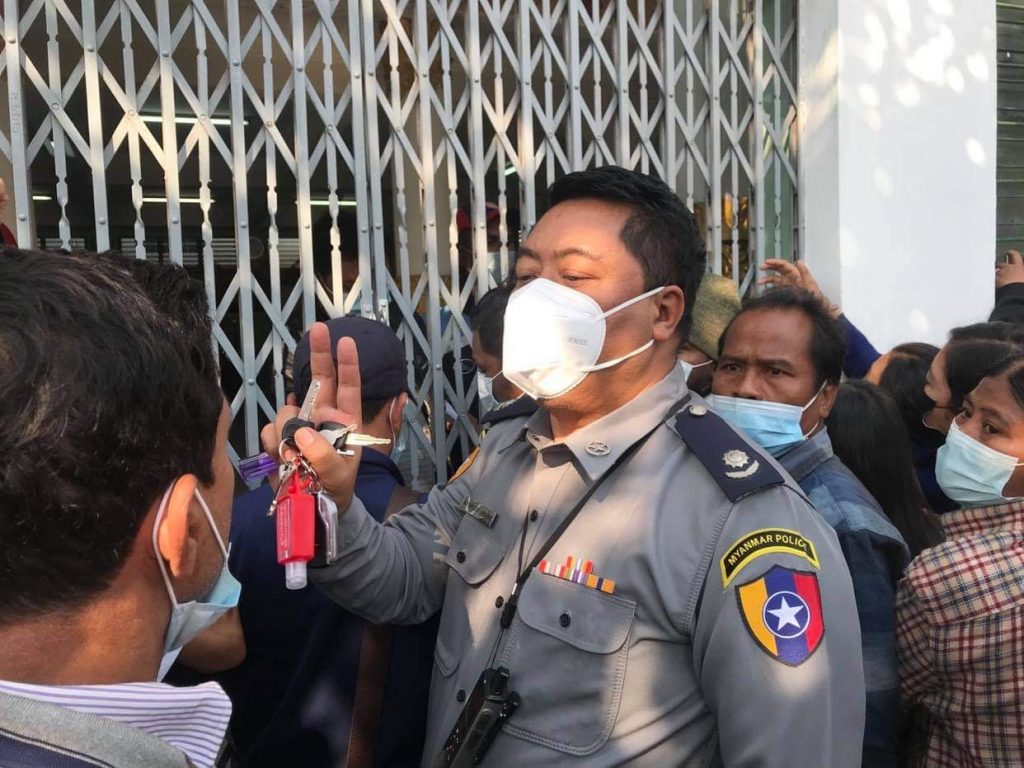 At 10am Police Major Kyaw Zin Myint, head of Aung Myay Thar Zan Township police station, arrived at the dhammayone to investigate. He said they would likely face charges for violating the 8pm curfew.
"The Highway Police should not have allowed them to continue their trip. The charity group should also not have sent them home after the curfew," the police major said.
However, residents have refused to hand over the two former inmates to the police, and the police eventually left the dhammayone without them.
---
UPDATE: 2:45pm
Hundreds gather to mark independence leader's birthday in Yangon
Today is a special day in Myanmar: the anniversary of the birth of independence hero Bogyoke Aung San, father of detained National League for Democracy leader Daw Aung San Suu Kyi.
Hundreds of activists gathered around a statue of Aung San at Bogyoke Aung San Park in central Yangon earlier today, observing a two-minute silence from noon.
Meanwhile in the town of Pyinmana near Nay Pyi Taw, more than 1,000 people gathered around a statue of Aung San to commemorate his birthday, our reporter told us.
Aung San was born 106 years ago in the small town of Natmauk in Magway Region and was a prominent student leader who became a national figure during World War II. Tragically, he was assassinated by a political rival in July 1947, less than six months before Myanmar became independent.
Although Aung San is closely associated with the Tatmadaw, which he helped found, he's also a widely revered figure in the pro-democracy movement. After seizing power in 1988, the military regime tried to remove traces of Aung San from public life, including removing him from the country's banknotes. After political reforms began he quickly reappeared and his image has been a common sight at protests over the past week.
---
UPDATE: 2:30pm
Bogyoke Aung San commemoration stops traffic on main road
A few dozen protesters blocked traffic in both directions on Kabar Aye Pagoda Road – one of the city's major roads – for 10 minutes to mark the anniversary of the birth of Myanmar's independence hero Bogyoke Aung San.
They stood in silence at the corner of Kabar Aye Pagoda and Kanbawza roads in Bahan Township, opposite Pearl Condominium, and gave the three-finger salute that has become a symbol of the recent protests.
A few hundred marchers who had been passing by when they launched the flash protest also stopped and stood together in silence . The only sound that could be heard was the revolutionary anthem Aung Ma Kyay Bu playing off in the distance.
When the blockade ended after 10 minutes, bystanders erupted in cheers and drivers honked their horns as they continued on their way.
Apologies for earlier misidentifying this as a protest.
---
UPDATE: 2:15pm
Protesters back US opposition to coup
Protesting outside embassies has become a bit of a theme in recent days, and today there's also a demonstration taking place outside the United States embassy on University Avenue in Bahan Township.
In recent days the United States has started sanctioning Myanmar's military leaders, putting place asset freezes and travel bans on 10 individuals and three military-linked companies.
The tone is quite a bit different from the protests we've seen recently at the Chinese and Russian embassies, however, where demonstrators expressed anger at those countries' support for the regime.
Protesters have gathered on a lawn on the opposite side of the road and are carrying signs with messages such as "We stand with our European and US allies".
---
UPDATE: Saturday, February 13, 2pm
Large crowds gather in Yangon for eighth straight day
Large crowds have gathered for an eighth straight day in Yangon to protest against the coup, including at Hledan and around Sule Pagoda. Above is a video our team took at Sule earlier today, and below are some photos.
There is also just a sea of people on University Avenue today – below is a video that we shot earlier. In fact, the whole area around the middle and southern end of Inya Lake is best avoided if you're travelling by car (unless spending your afternoon in a stationary taxi is something that appeals). Other heavily congested areas include downtown around Sule Pagoda, Pyidaungsu Road around the Chinese embassy, and Natmauk Road near the United Nations office.
---
UPDATE: 11:30pm
Thousands of Yangon residents flood streets after arrest rumours spread
It seems we spoke too soon about calling it a night.
Thousands of residents across multiple townships in Yangon have spilled out onto the streets from 10pm – in defiance of the 8pm curfew – after rumours spread of police arresting local dissidents.
As protests and a civil disobedience campaign grow around the country, for several nights security forces have been rounding up dissidents, including medical officials, politicians and even an astrologer. The arrests have left many people on edge, but also determined to do what they can to stop the police from detaining those joining the fight against military rule.
In Sanchaung Township, hundreds of residents ran around chanting and banging pots and pans after they heard that a local medical official who had joined the civil disobedience movement against military rule had been detained.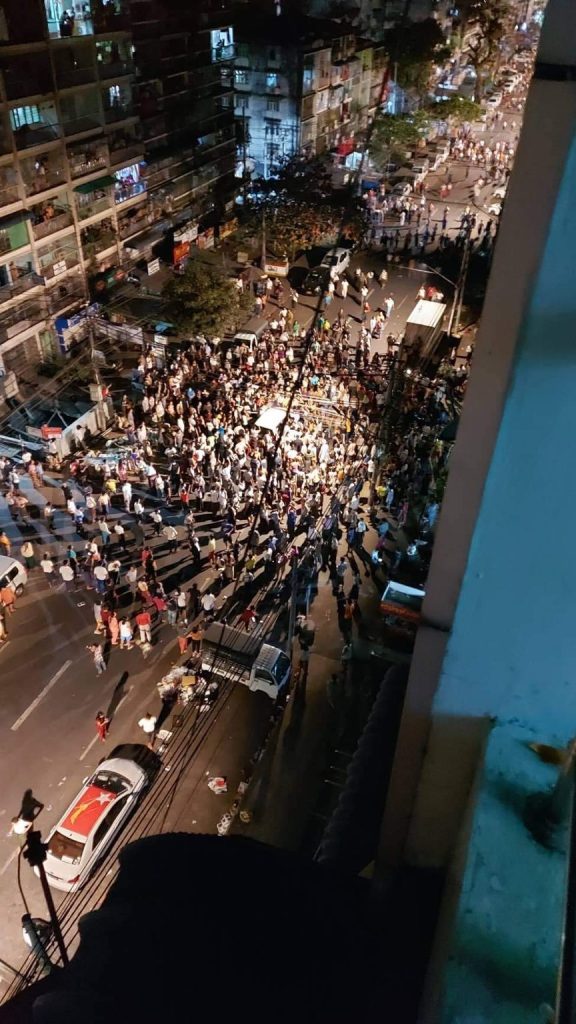 The residents were apparently trying to stop police from detaining the official, and ran through the streets yelling, "We, the people of Sanchaung, are we united? We are! We are!" Once word got around that the police had already gone the crowd quickly dispersed. Frontier was unable to confirm if anyone was actually arrested.
In neighbouring Kyeemyindaing Township, hundreds more people ran from their homes and surrounded a police station where they'd heard a teacher had been detained. The crowd left after the woman who they thought had been detained used a loudspeaker to inform them she was safe.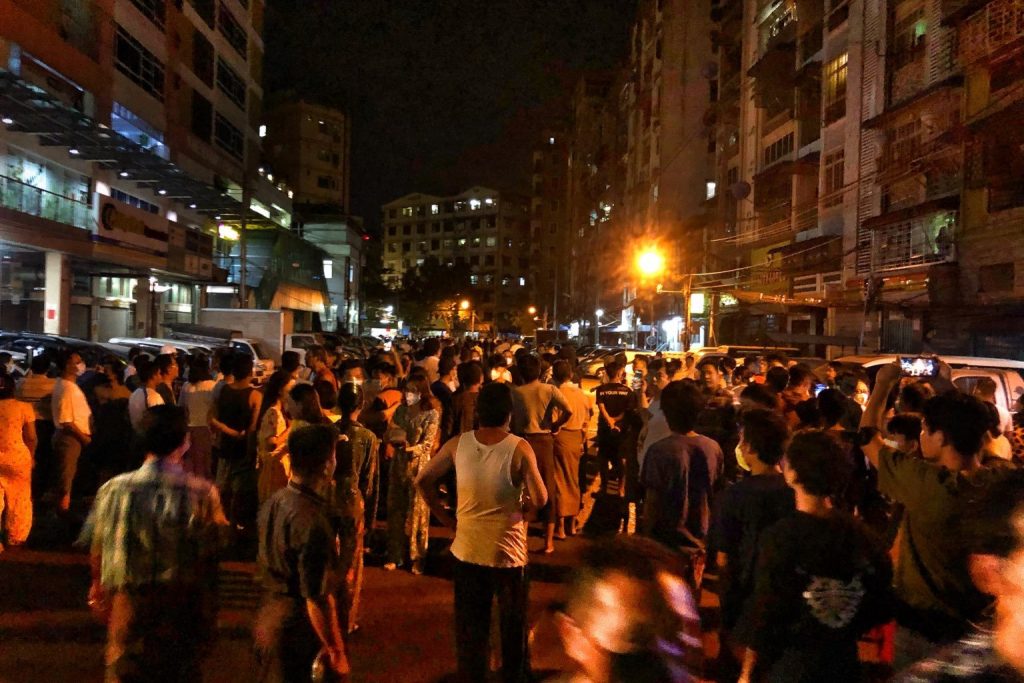 Large numbers of residents also filled streets at several locations in downtown, including at the corner of Mahabandoola Road and 53rd street, and banged pots and pans. It wasn't immediately clear what had prompted them to leave their homes. Residents also reported similar incidents on Theinbyu Road, in the Yay Kyaw area of Pazundaung Township, and the Hledan area of Kamaryut Township.
The scenes were reminiscent of the night of February 6, when a rumour spread by SMS that Aung San Suu Kyi had been freed sparked wild celebrations, with thousands of people emerging onto the streets and some even setting off fireworks.
---
UPDATE: 7:40pm
Protesters defy curfew to demand astrologer's release
As another day of protest came to a close, several hundred people remained outside the South Okkalapa police station as a military-imposed 8pm curfew approached.
Inside, a 26-year-old astrologer is being held for his alleged sorcery against the military dictatorship.
The crowd first gathered last night, after Lynn Nyo Tar Yar was taken from his home around midnight. About 200 neighbours marched to the township police station to demand his release, and an officer told the crowd over a loudspeaker that someone from the General Administration Department had sued Lynn Nyo Tar Yar under the Penal Code's section 505(b), which carries up to two years in prison for anyone who "makes, publishes or circulates any statement, rumor or report with intent to cause, or which is likely to cause, fear or alarm to the public … whereby any person may be induced to commit an offence againt the State or against the public tranquility".
Lynn Nyo Tar Yar, a popular astrologer online, had posted on his Facebook page images of nine blades laid in a specific arrangement with burning candles on them – part of a ritual he said would "destroy the dictators". Though authorities have yet to give a reason, his followers believe it was this post that he's been arrested for. He had not otherwise taken part in any street protest.
Last night the crowd stayed until about 4am, and regrouped outside the station again in the morning.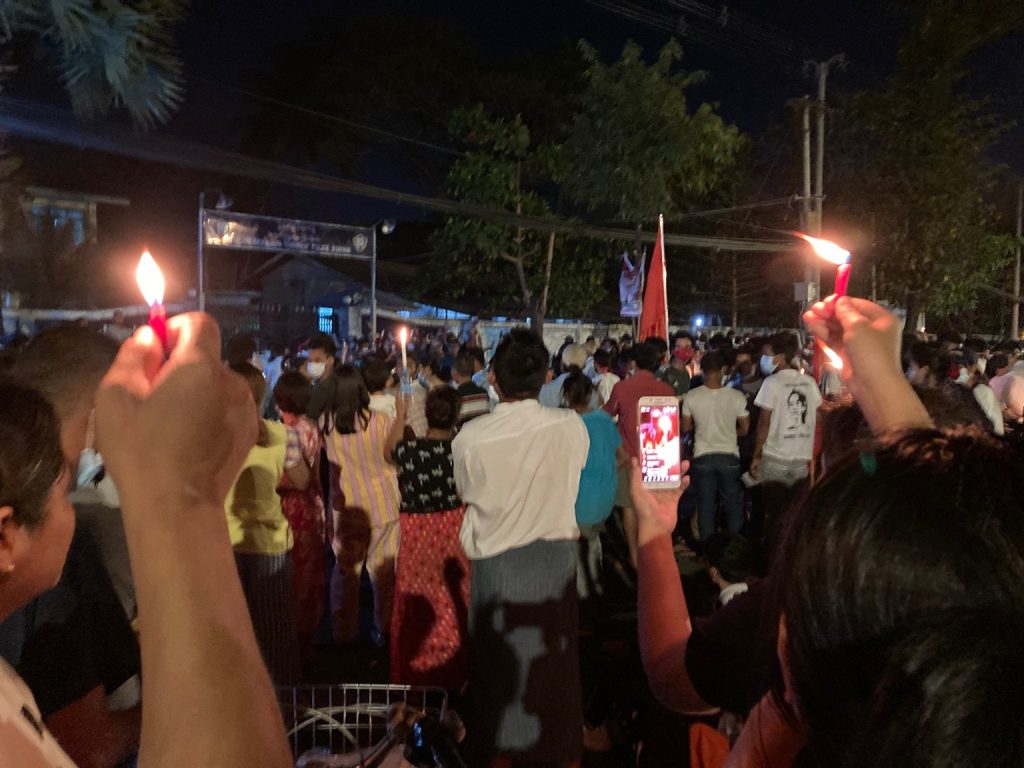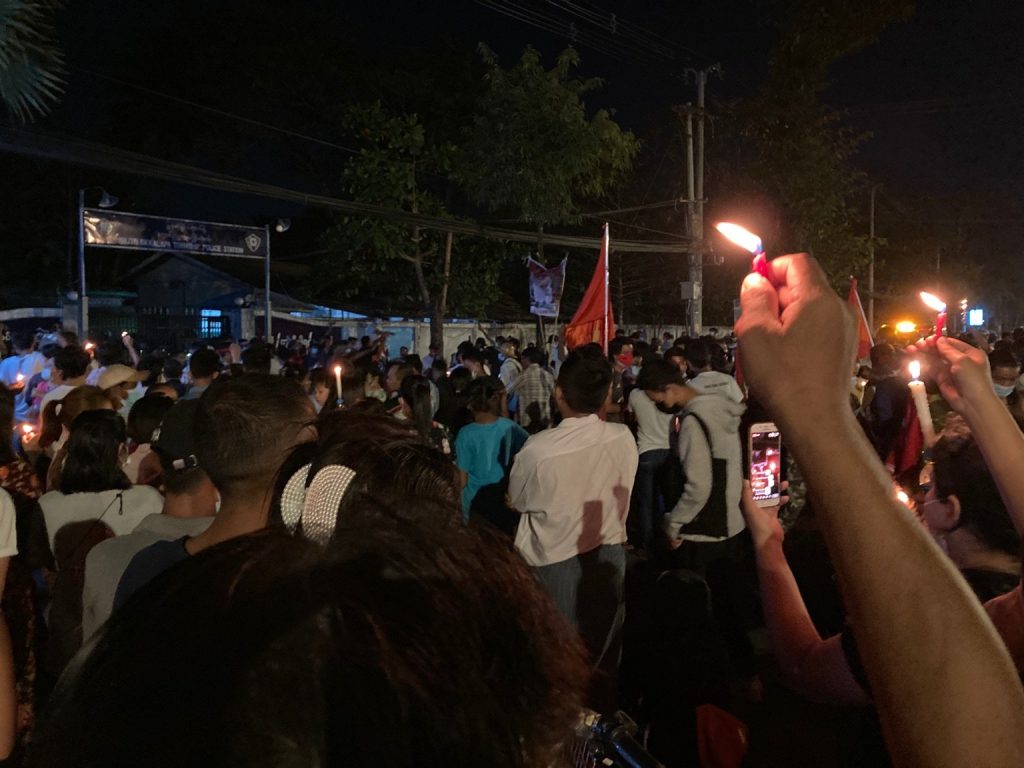 ---
UPDATE 4:30pm
More peaceful protests in Mandalay
There has been no signs of violence or tension on the streets of Mandalay today, following yesterday's stabbing that left a protester requiring surgery.
On Tuesday police also used water cannon and tear gas before forcibly dispersing demonstrators. Since then protesters have changed strategy and not confronted police in large numbers.
That has also been the story of today, although quite a large crowd gathered around the area of 62nd and 35th streets.
The protests are just as colourful as yesterday, with natkadaws (spirit mediums) and people dressed in costumes from the time of the Burmese kings – a period closely associated with Mandalay, which was the last royal capital.
Today though we're also seeing more professional groups demonstrating en masse, including doctors and lawyers.
There are fewer police on the streets than we've seen in past days, with almost none at all in the downtown area. The only places with a significant police presence are the police station on 38th street, outside the Chinese consulate, and at Maha Muni Pagoda.
---
UPDATE 4pm
Protesters set up "Lennon Wall" at busy Yangon junction
Yangon's Shwegonedaing Junction has not been a major focal point for demonstrators, but a few dozen have set up a camp underneath the flyover.
One eye-catching feature of this area – besides the ukuleles, of course – is the wall of handwritten notes set up on a construction site fence on the west side of the road.
Organisers call it a "Lennon Wall", an apparent reference to a wall in the Czech city of Prague that since the early 1980s has been covered in graffiti related to musician John Lennon as well as various social causes.
More recently, activists in Hong Kong adopted the idea during protests in 2014 and 2019-20, setting up "Lennon Walls" around the city on which people could scrawl messages on post-it notes.
The wall in Yangon seems to be based on the Hong Kong concept: instead of being covered in graffiti, it has been plastered with small squares of paper on which passers-by are being encouraged to write messages. When Frontier visited earlier this afternoon there were hundreds written in Burmese, English and Chinese.
The notes began to appear on Wednesday and are being cleared away nightly by the authorities.
But some of the messages are being recorded for posterity in photos on a Facebook page, From Wall to Democracy.
---
UPDATE: 3pm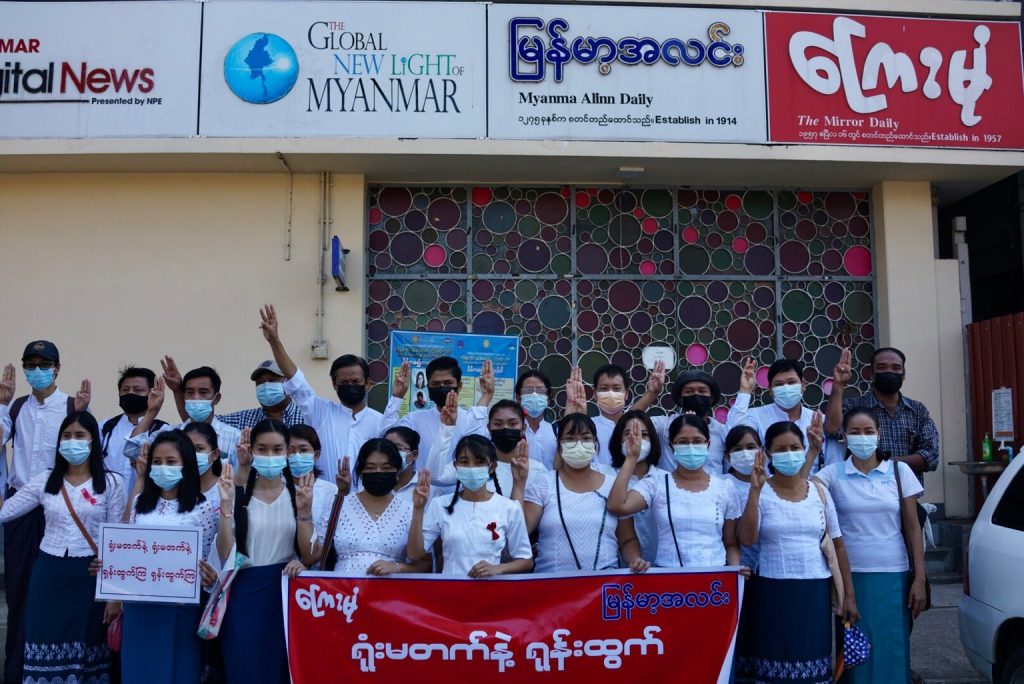 State media under fire
Dozens of staffers from the Ministry of Information, including journalists from state-owned media like the Global New Light of Myanmar and MRTV, joined the Civil Disobedience Movement yesterday to protest outside their Yangon office. Today, demonstrators have also turned their ire on state media.
Placards at several protests in Yangon have sprung up calling MRTV and the military-owned Myawaddy News "fake news" and "toxic", and accusing them of "broadcasting misinformation." By mid-day, several dozen youths had gathered outside MRTV's Sanchaung office in protest, chanting into a loudspeaker, "We are the youth, we have a future!"
Earlier in the day, the MRTV Facebook page targeted independent journalist Mratt Kyaw Thu. In two posts, Mratt Kyaw Thu recalled time he'd spent in 2015 training MRTV journalists in Nay Pyi Taw, describing senior-level staff that he said had none of the technical expertise required to run a broadcast news operation.
"I saw some senior level staff, directors general and the like, that weren't really aware of the technology," he told Frontier. "They didn't even know how to open a Gmail account."
He also reported on staff defections at MRTV after a source there told him 100 staffers had joined the CDM, adding that if the few staffers with technical expertise were to join, he believed the entire operation would collapse.
MRTV posted screenshots of Mratt Kyaw Thu's posts about the station with a large, red "X" superimposed over them and the tag "FAKE News". Mratt Kyaw Thu tweeted a screenshot of that MRTV post early in the day and by 2:30pm it had nearly 7,000 likes and 8,000 retweets. One of the top responses reads, "If MRTV says it is 'fake', for sure it is in fact 'true'".
Mratt Kyaw Thu, who is now a freelancer, won the Agence France-Presse's Kate Webb Prize in 2017 for his coverage in Frontier of ethnic and religious conflict in Shan and Rakhine states. His spat with MRTV comes a day after Facebook announced it will begin "to significantly reduce the distribution of all content on Facebook Pages and profiles run by the Myanmar Military," which it said has "continued to spread misinformation".
It said the new measures apply to the Facebook pages of the Tatmadaw True News Information Team, Tatmadaw spokesperson Brigadier-General Zaw Min Tun and "any additional pages that the military controls that repeatedly violate our misinformation policies."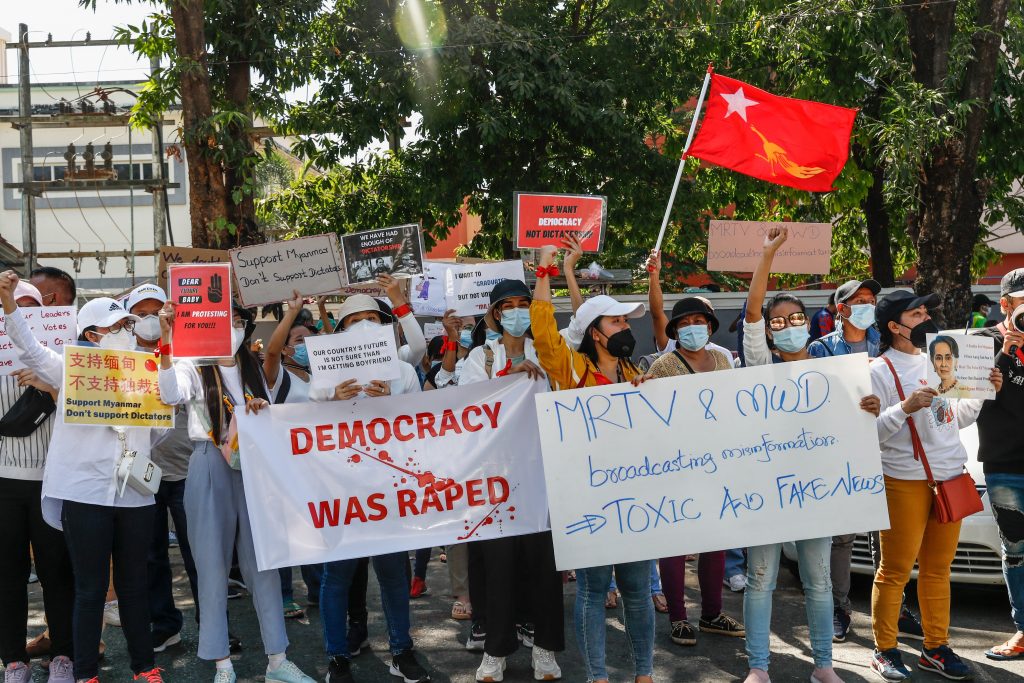 The company said it also blocked channels it reserves for world governments to submit content removal requests, and said it will "protect political speech" that "allows the people of Myanmar to express themselves and to show the world what is transpiring inside their country".
Facebook also pledged to remove "misinformation claiming that there was widespread fraud or foreign interference in Myanmar's November election" – comments seemingly directed at allegations the military used to seize power – as well as any content calling on people to bring weapons to demonstrations.
"Facebook is treating the situation in Myanmar as an emergency," the company said. "Our Integrity Operations Center has been running around the clock since the coup began."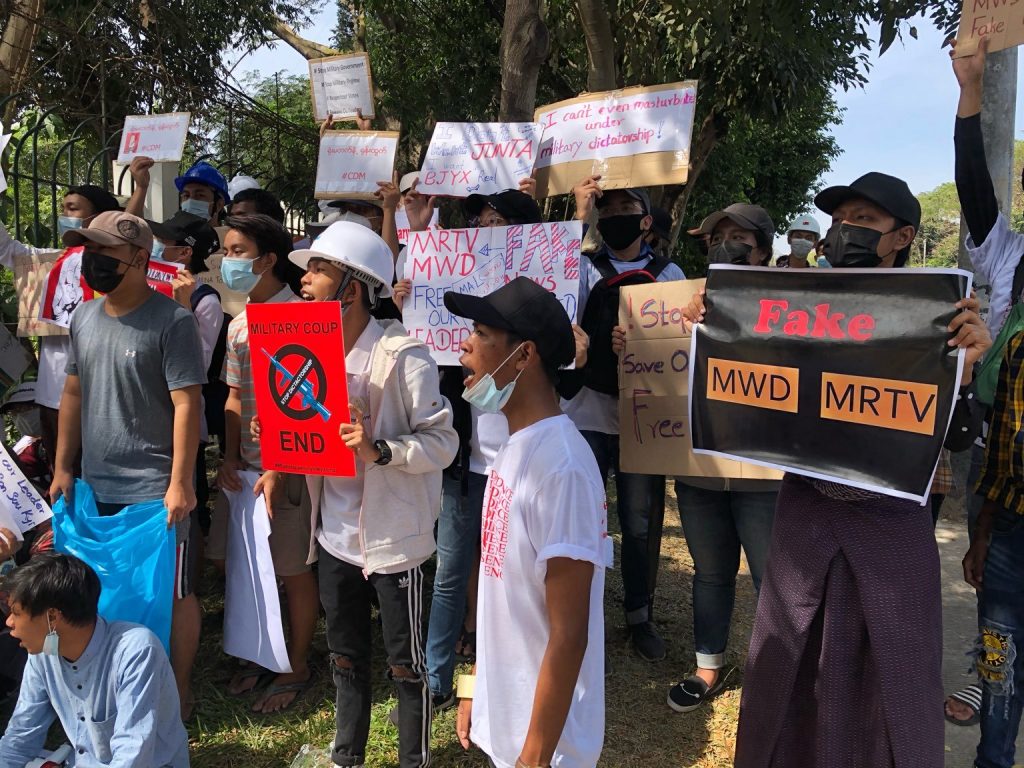 ---
UPDATE: 2:30pm
Demonstrators target Russian government with embassy protest
Although the protest at the Chinese embassy has gained more attention, there are also hundreds of people protesting outside the Russian embassy in Yangon today calling on the Russian government not to cooperate with the military regime.
"We don't want Russia to support Myanmar dictators and Russia should condemn the military coup," one demonstrator told Frontier.
Both Russia and China have been fairly staunch allies of Myanmar governments over the years, helping to block efforts to censure the country at the United Nations Security Council. They have also been among the biggest suppliers of weapons to the military.
The demonstrators urged the Russian government to follow the lead of the United States, which overnight announced sanctions against the military regime.
---
UPDATE: 1:45pm
Yangon demonstrations even larger today
Our team on the ground at key protest sites in Yangon say crowds are even larger than in previous days, with well above 100,000 people now out on the streets. This has perhaps been helped along by the national holiday for Union Day, which has created a long weekend.
Estimating the total number is difficult because crowds are so dispersed around the city, and many groups of demonstrators seem to be constantly on the move.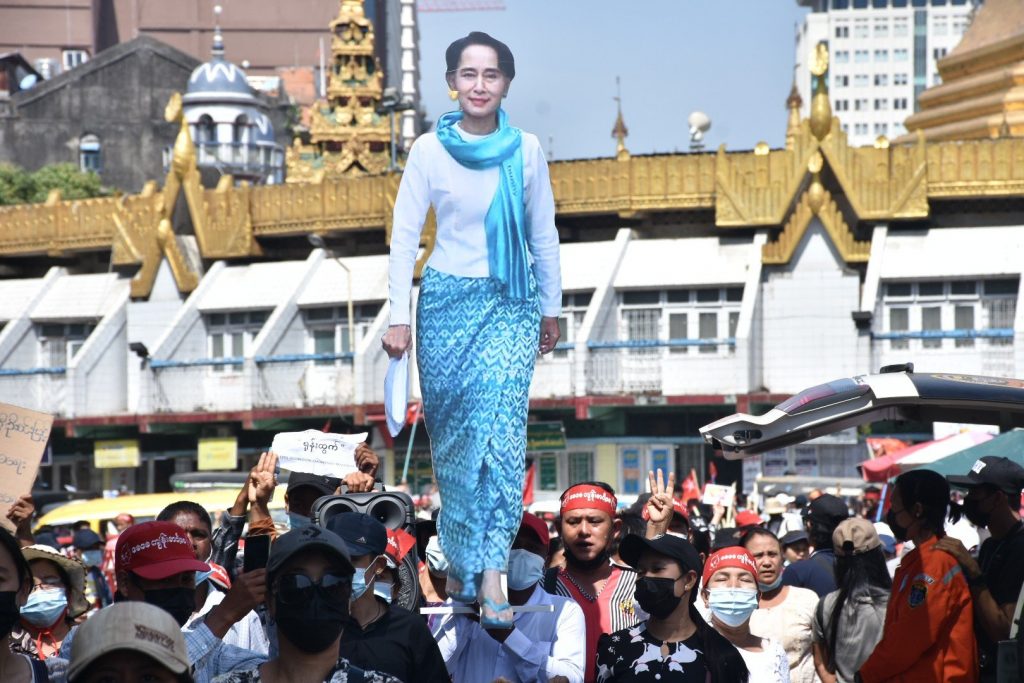 However, at least four main protest sites are packed with large numbers of people today: Hledan Junction, Sule Pagoda, Myaynigone Junction and Kabar Aye Pagoda Road near Myanmar Plaza.
Frontier reporters said the number of people at Sule, Hledan and Myaynigone was significantly larger today than in previous days, while Kabar Aye Pagoda Road has only emerged as a protest site in the past day.
There are also smaller protests at a number of other sites, including outside the United Nations office on Natmauk Road, outside the Russian and Chinese embassies, and outside MRTV.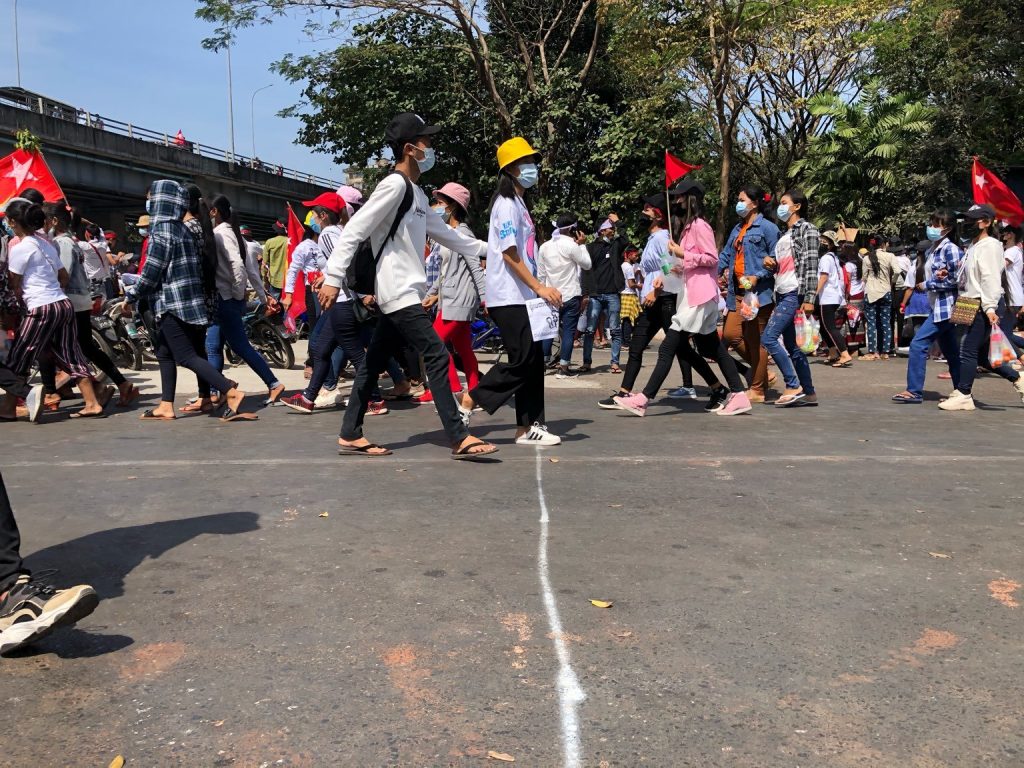 There is little police presence – in fact, the police line at Hledan Junction has now disappeared completely. Three days ago Hledan was the site of a tense standoff between armed police and military personnel and tens of thousands of demonstrators who refused to disperse.
---
UPDATE: 1:30pm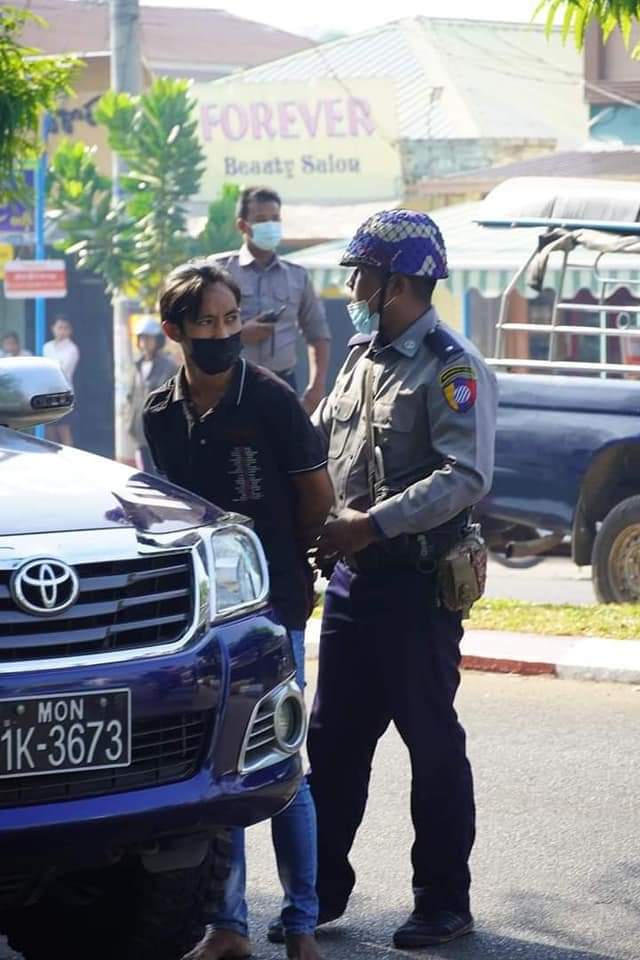 Police open fire in Mon State to break up student protest: eyewitnesses
Police fired six bullets to break up a protest in the Mon State capital Mawlamyine this morning and arrested four student leaders, two eyewitnesses told Frontier.
The dramatic confrontation occurred at about 11am as between 500 and 1,000 demonstrators were marching near Mawlamyine University. Ko Da Na Tun, the vice president of the Mawlamyine University Students' Union, said police also aimed their weapons at protest leaders and beat several demonstrators.
"Police drove up and stopped their car between the car that was leading the demonstration and the protesters who were following behind. One student went to the police to negotiate with them to allow the protesters to pass but they just arrested the student without saying anything," Da Na Tun said.
The situation then quickly escalated. "Police pointed their guns at the heads of three students and told them to freeze," he said. "I watched one of my friends get beaten up on the road."
Police fired six bullets into the air, sending the students running into the nearby university campus. One student hiding in the campus said two military vehicles had waited in front of the university but did not enter to try and detain them. The student confirmed that police had fired into the air, but said they had not seen police aim their guns at the students.
Frontier called Mawlamyine police station for comment, but the person who answered the phone hung up when informed they were speaking to a journalist.
The students say they fear more arrests are likely, as the junta has been rounding up activists and dissidents across the country in recent days.
"So far we know that four men have been arrested but there may be more. We're not sure because we are on the run now," he said. "We aren't safe now – they can arrest whoever they want, whenever they want."
The student union has identified the four detained men as Ko Nyo Min, Ko Hein Zaw Aung, Ko Pyi Soe Phyo and Ko Htun Nyein Oo.
---
UPDATE: 11:40am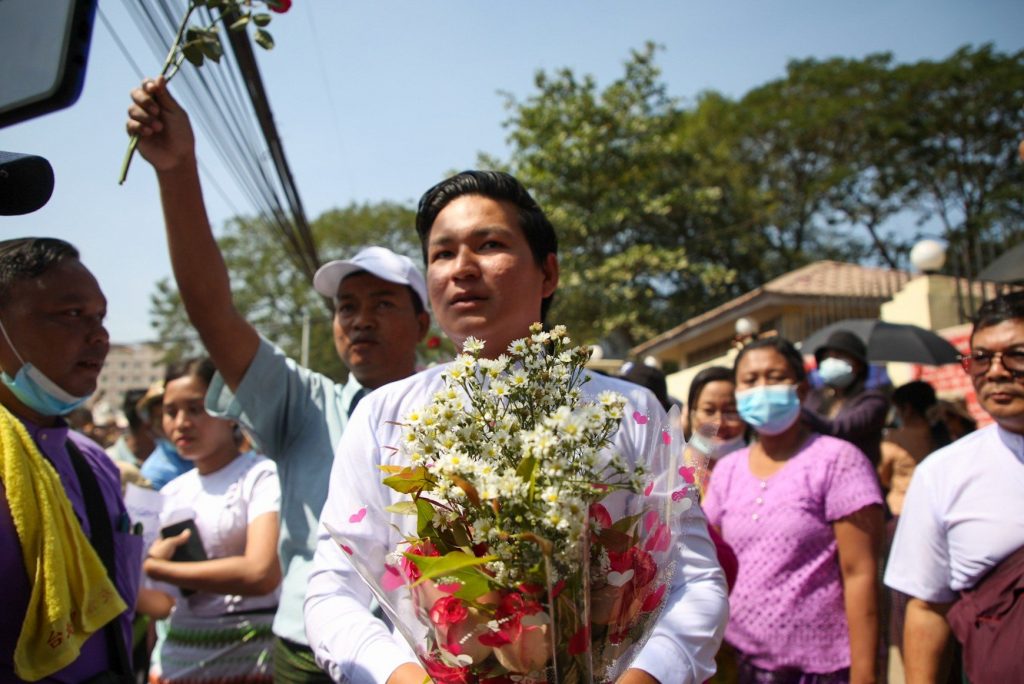 Supporters of U Ko Ni assassin walk free
Four youth supporters of the gunman who killed U Ko Ni, the constitutional law scholar and Aung San Suu Kyi ally who crafted the State Counsellor position for her, were released from Yangon's Insein Prison this morning. They were convicted for incitement after attending the trial of gunman U Kyi Lin while dressed in T-shirts that bore the threatening message, "eat while you still can", which was interpreted as a threat against journalists.
One of the four young men, whom Frontier could not specifically identify, addressed a crowd at the prison gates. He wished "good health" to junta chief Senior General Min Aung Hlaing and said, "people should not protest or be violent, because the military is acting according to the law. Please don't make trouble for the country."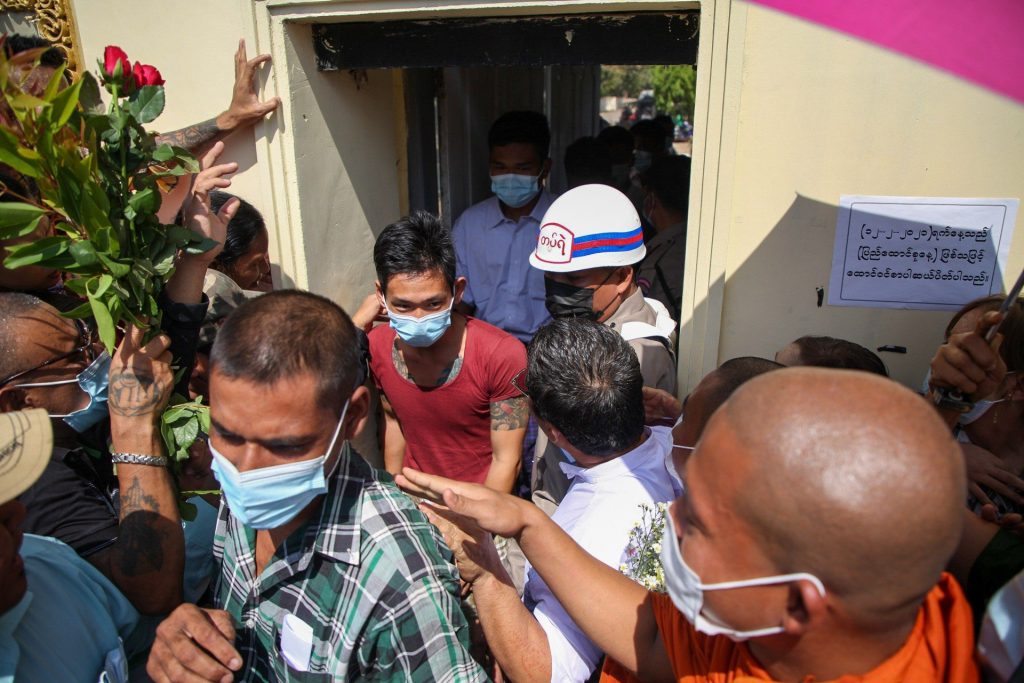 Hundreds of people are still gathered outside the infamous prison, following news that the military regime is reducing the sentences of more than 23,000 prisoners today, though it's not yet clear how many will actually walk free. "The State Administration Council … has remitted the punishment of 23,314 prisoners from the respective prisons, jails and camps," an announcement in the state-run Global New Light of Myanmar said today, using the official name of the new military administration. That could mean some will be freed while others will have their sentences reduced.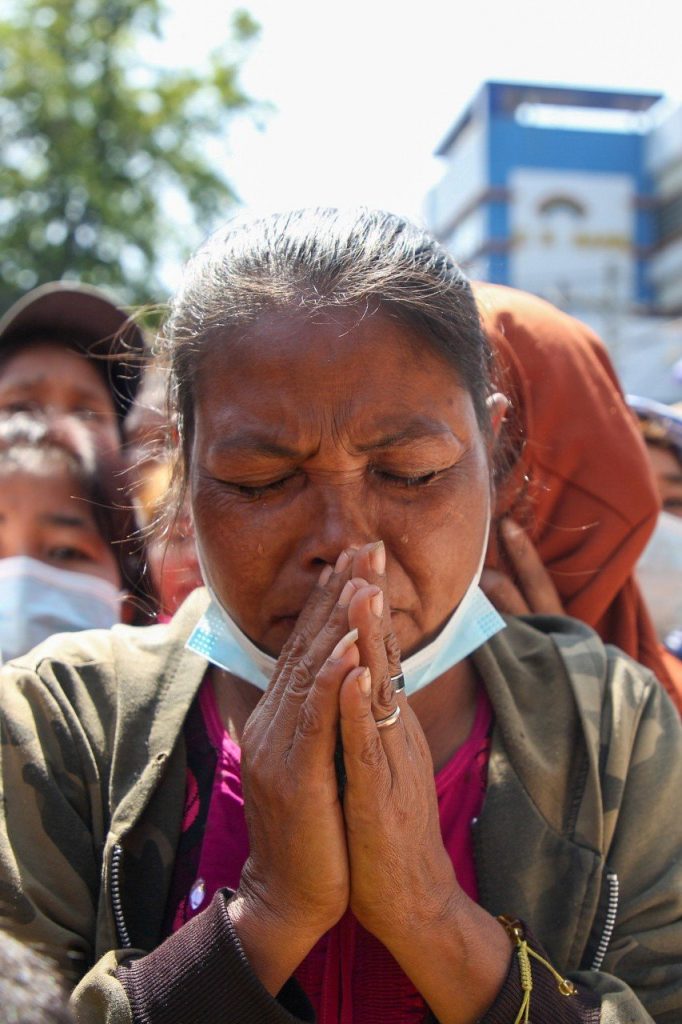 Another SAC statement said the pardons are meant to "please the public and to create the humanitarian and compassionate grounds," but it's worth noting that they come alongside mass arrests of activists and political leaders who are protesting the new regime; the SAC may just be making room for its critics, more than 260 of whom have now been detained. Some nationalist monks that were critical of the National League for Democracy government, such as U Parmaukkha, had been there since at least 9am. Social media users suspected early this morning that ultra-nationalist, pro-military monks, including U Wirathu, could be among those freed.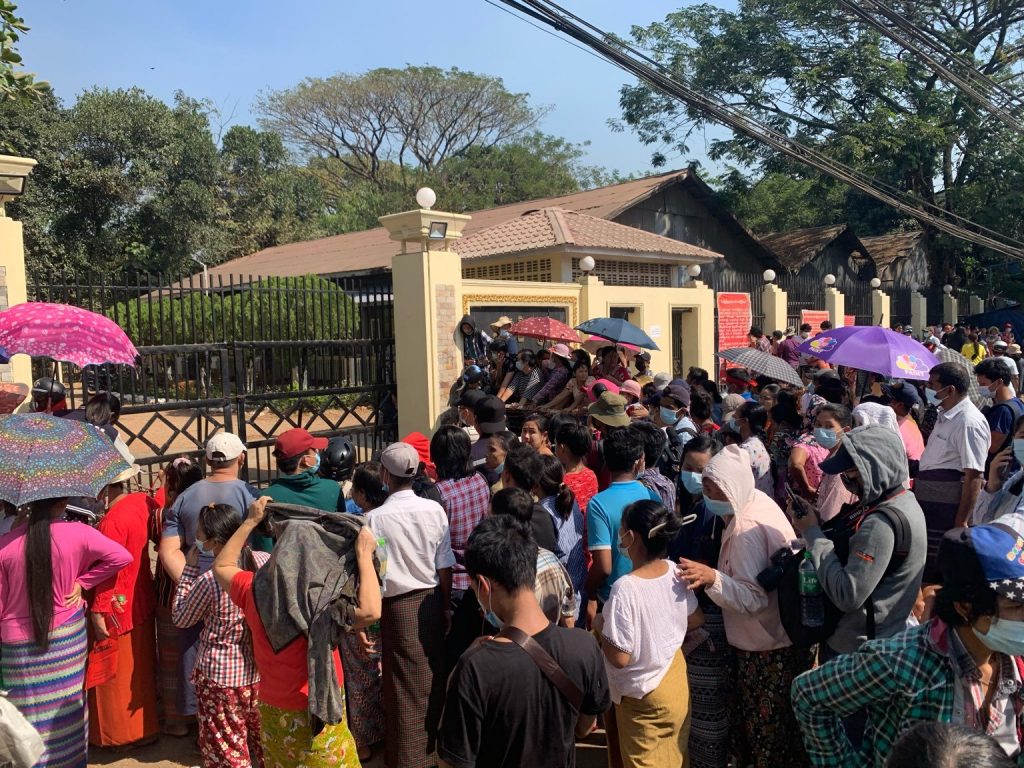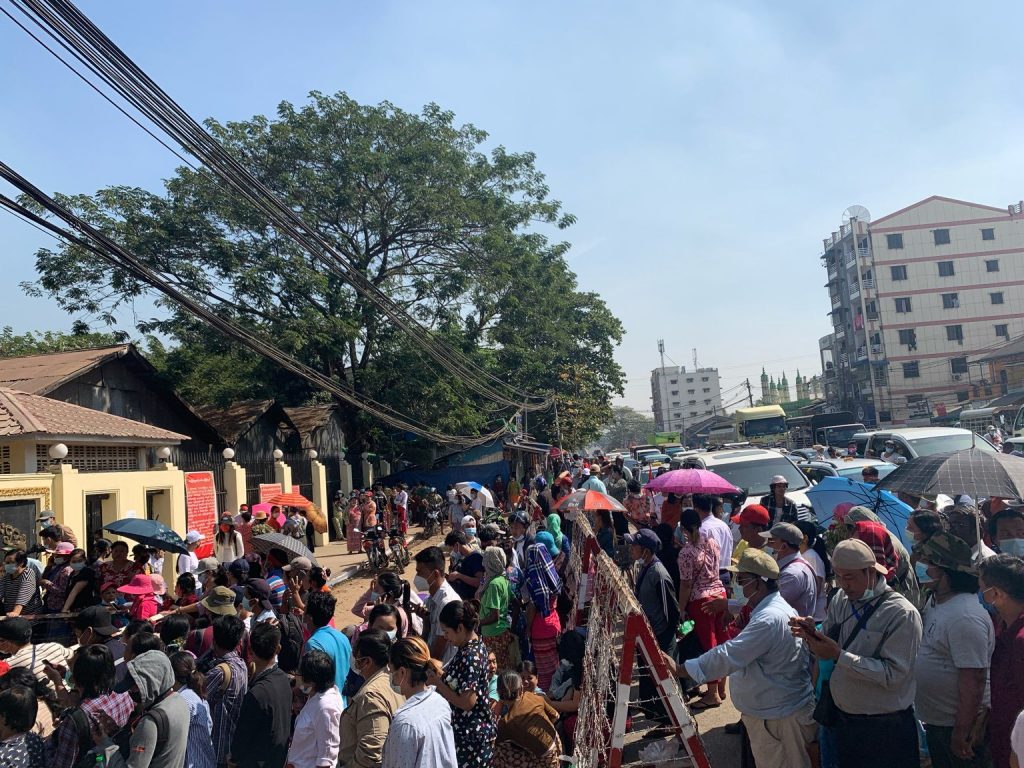 ---
UPDATE: 10:45am
Doctors join protest at Chinese embassy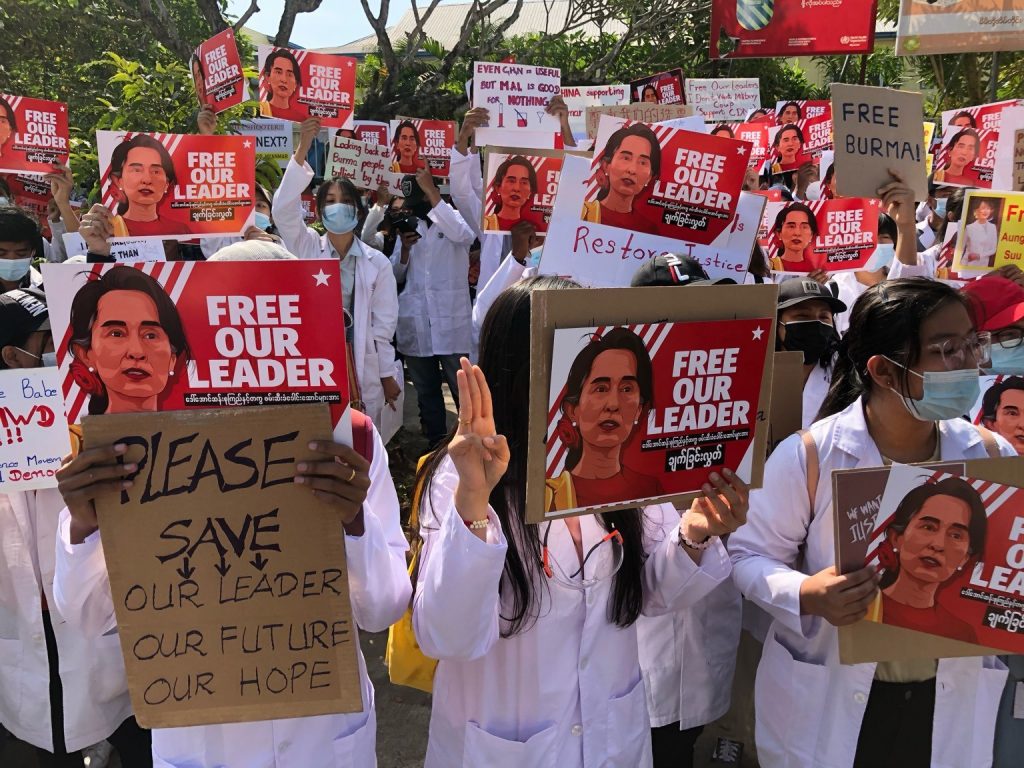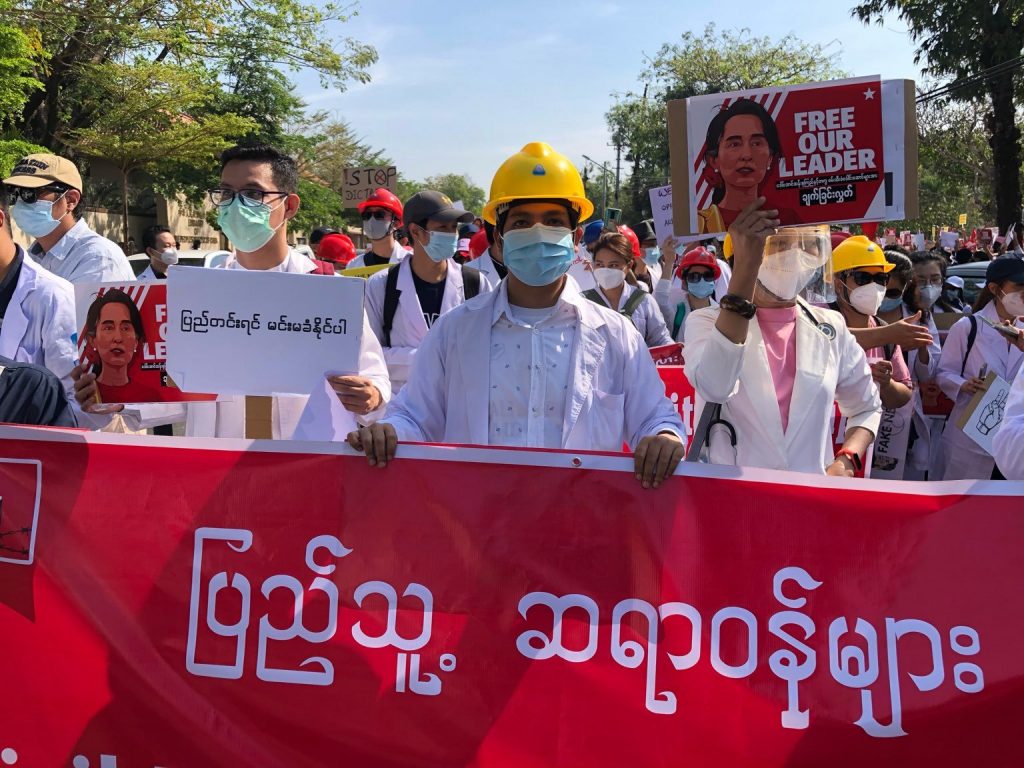 People are once again amassing on the streets of Yangon. Today is the national Union Day holiday – marking the day in 1947 that the Panglong Agreement was signed, unifying the soon-to-be independent country – and demonstrations are once again expected to be large.
Doctors taking part in the growing Civil Disobedience Movement this morning joined already-large protests in front of the Chinese embassy, which grew yesterday after rumours spread online of Chinese IT experts being flown into the country to help the military junta shut down online dissent. The Chinese embassy denied the claims, saying the flights people had seen were carrying standard cargo, such as seafood, but that did little to quell people's anxieties. Our reporter on the scene said that by 10am today there were already more than 1,000 people there.
The sight of doctors taking to the streets today carries added weight in light of the news last night of a doctor's arrest in Ayeyarwady Region's Ingapu Township, apparently for taking part in the movement, and in light of reporting from Frontier on the increasing threats government medics are facing to return to work from military and government officials.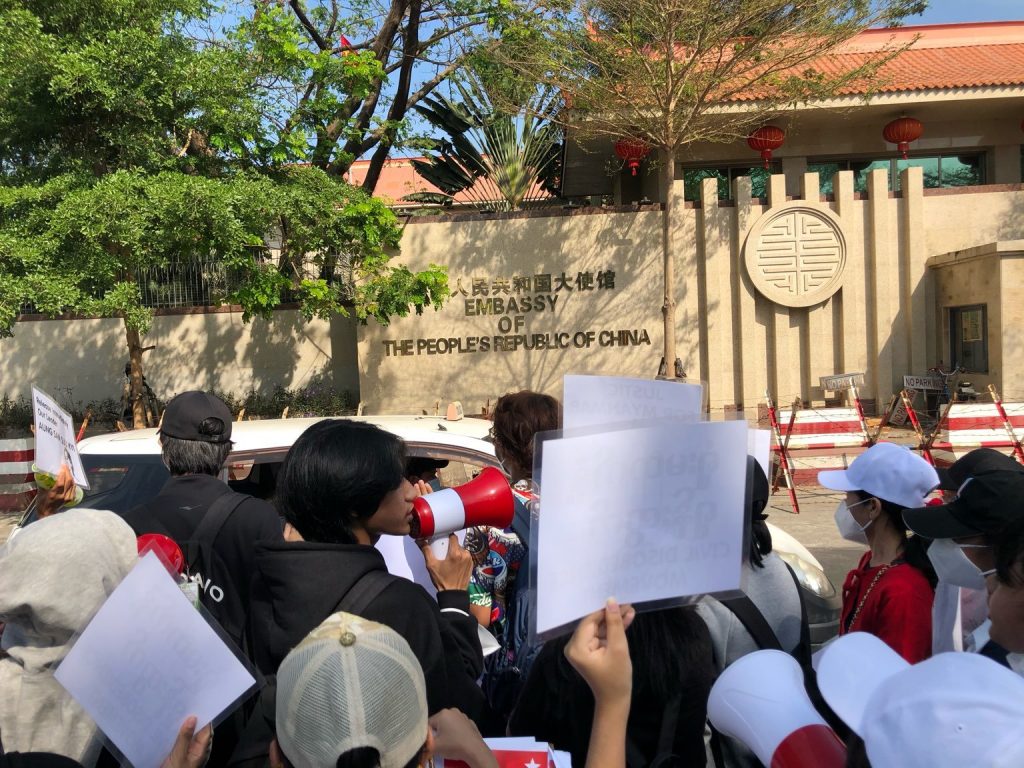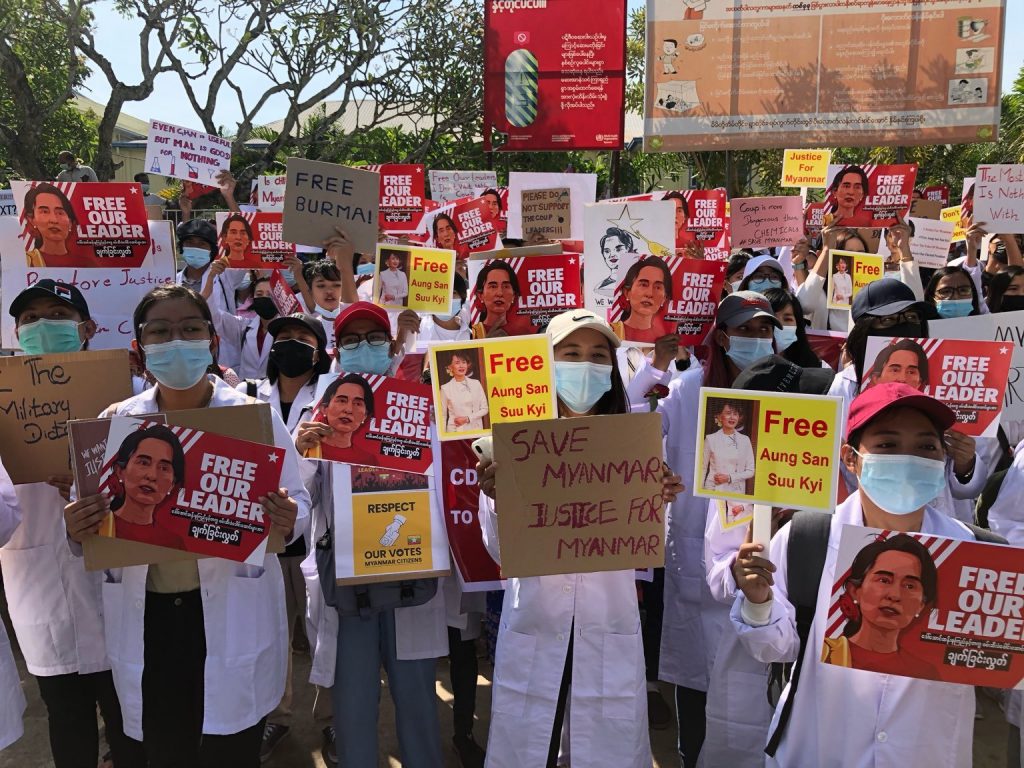 ---
UPDATE: Friday, February 12, 10am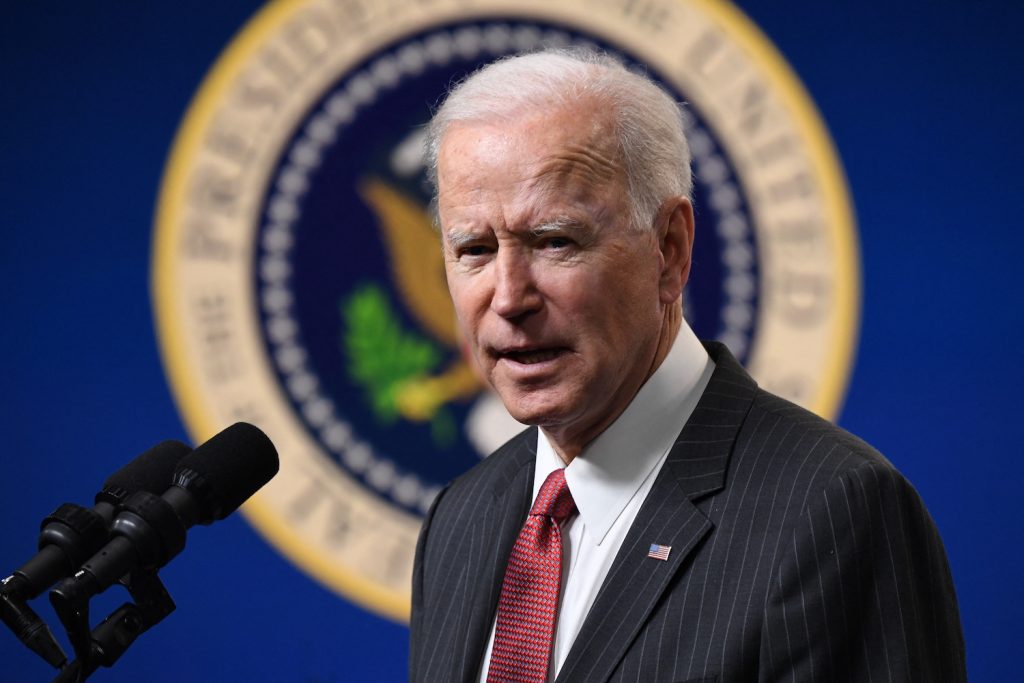 US sanctions, mass amnesty and more arrests
There's been quite a lot of news overnight and this morning, with the United States announcing new sanctions against members of the military junta, Senior General Min Aung Hlaing signing pardons for more than 23,000 prisoners and more activists and dissenting civil servants being arrested overnight. We also, of course, have more protests taking place today.
Here's a brief update on each item:
The United States on Thursday announced sanctions on the leaders of Myanmar's junta and several gem companies, and warned it would act further if the military uses violence against protesters. A day after President Joe Biden previewed the sanctions, the Treasury Department said on February 11 it was blocking any US assets and transactions with 10 current or former military officials held responsible for the February 1 coup. The targets include Senior General Min Aung Hlaing, the new junta chief, who already was under US sanctions over the brutal campaign against the Rohingya. But the sanctions also hit new individuals, including the military leaders named to a new cabinet such as Defense Minister General Mya Tun Oo. Read the full story here.
The military regime has reduced the sentences of more than 23,000 prisoners this morning, following a week of fresh arrests targeting allies of ousted leader Daw Aung San Suu Kyi and election officials. It was not immediately clear if they would all be freed or if some would be freed while others would receive sentence reductions. "The State Administration Council … has remitted the punishment of 23,314 prisoners from the respective prisons, jails and camps," said an announcement in the state-run Global New Light of Myanmar, using the official name of the new military administration. A separate announcement said sentence reductions were intended "to turn the prisoners into certain decent citizens, to please the public and to create the humanitarian and compassionate grounds". Read the full story here.
Overnight there were more arrests of activists and dissenting civil servants. In Ayeyarwady Region's Ingapu Township, military officials detained doctor U Pyae Phyo Naing, who had joined the civil disobedience movement and participated in protests against the regime. His family says they do not know where he is being held. Meanwhile, security forces detained an astrologer in South Okkalapa township. The raid on his home prompted thousands of residents to emerge onto the street in an attempt to stop the arrest, and some are still protesting outside a South Okkalapa police station in Yangon. So far the junta has arrested more than 260 people since the coup, according to the Assistance Association for Political Prisoners. We'll have more on this later today.
---
UPDATE: 7:30pm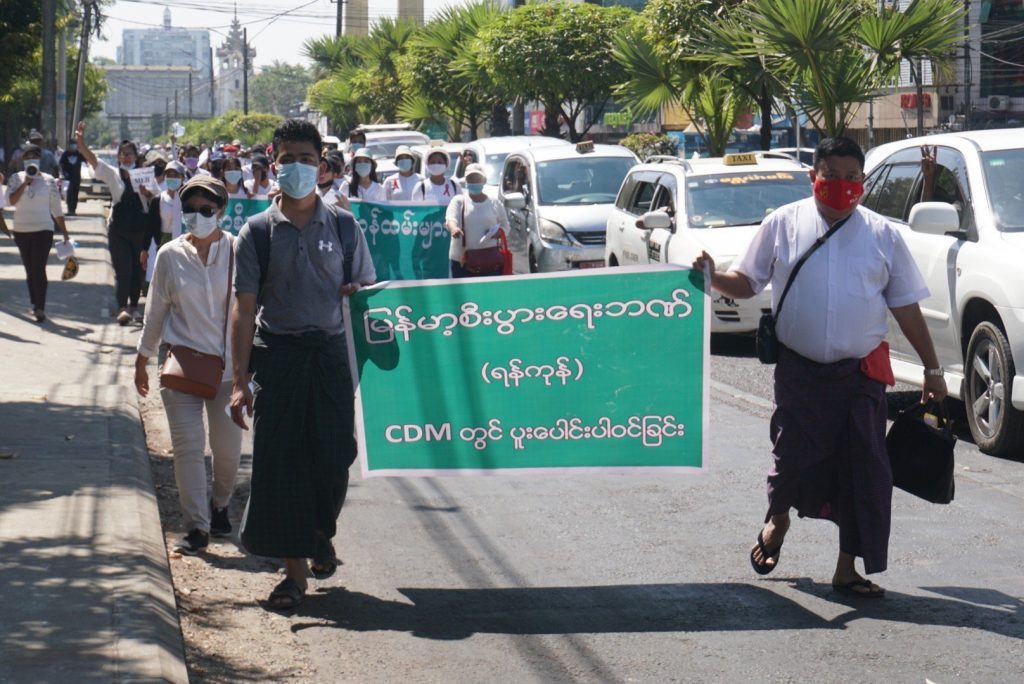 Junta chief blames "unscrupulous persons" for growing civil disobedience campaign
Commander-in-Chief Senior General Min Aung Hlaing has blamed "unscrupulous persons" for inciting civil servants to stop work in protest against the February 1 military coup.
In a speech published on the Tatmadaw True News Information Team Facebook page this evening, he promised that "effective actions" would be taken against those encouraging the Civil Disobedience Movement.
His comments appeared to be directed at prominent 88 Generation activist Min Ko Naing, who posted a Facebook video yesterday saying that CDM was crucial to the success of the resistance against the military rule. "It is time to determine whether we're servants of the people or servants of the military," Min Ko Naing said.
In tonight's speech Min Aung Hlaing avoided blaming or threatening protesting civil servants – unlike on Tuesday when he he told a meeting of his junta that government staff are "prohibited from taking part in politics" and will face "legal actions" for doing so.
Instead, he encouraged them to return to work and even promised to review laws related to civil servants and rectify any "weaknesses".
"Those who are away from their duties are requested to return to their duties immediately for the interests of the country and people without focusing on the emotion," Min Aung Hlaing said.
As Frontier reported earlier today, more and more civil servants are walking out of government offices to oppose military rule, despite pressure from their superiors and threats of punishment from the junta.
Tens of thousands of civil servants from a wide range of ministries have refused to work since the civil disobedience campaign was launched on February 3, demanding that the military return power to the democratically elected civilian government.
Read more about the growing CDM movement here.
---
UPDATE: 7pm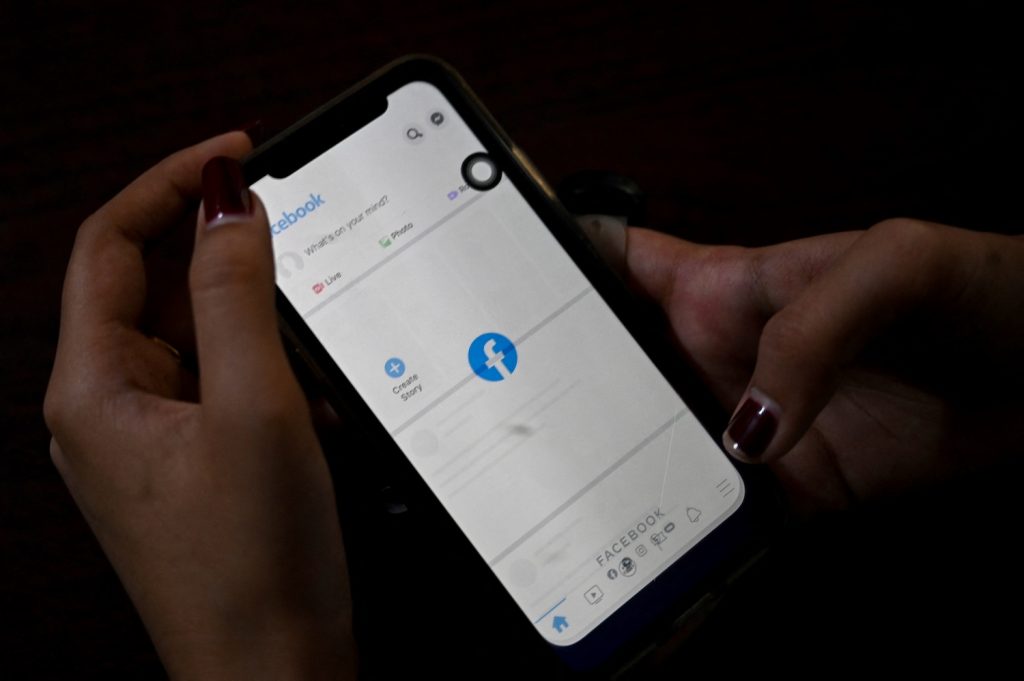 Cyber Security Law draft sparks alarm
In one of its first legislative acts, Myanmar's new military regime is planning to enact a controversial Cyber Security Law that critics warn will put freedom of expression and user privacy at risk.
The draft bill, which was leaked online in recent days, would require all "online service providers" to keep data onshore and provide it to the government on request. It also carries a potential three-year prison term for anyone deemed to have spread "misinformation" or "disinformation", and requires internet businesses to remove content "in a timely manner" on the regime's orders.
The bill was quickly condemned by civil society groups in Myanmar, with almost 160 organisations penning a joint statement on February 10 warning that it "violates the principles of digital rights, privacy and other human rights".
Although the Ministry of Transport and Communications has been working on a Cyber Security Law since at least early 2019, the draft released this week is thought to be significantly different from earlier versions.
The bill was distributed to mobile operators and internet service providers on February 9 with a request to respond with comments by February 15.
The incoming junta has made the Cyber Security Law one of its first priorities, reflecting the importance it attaches to controlling communications and information amid nationwide protests against the coup.
Read the full story on the Frontier website here.
---
UPDATE: 6:30pm
Man undergoing surgery after stabbing during Mandalay protest
A young man has been stabbed twice in the chest by an unknown attacker during a demonstration in Mandalay this afternoon, sources have confirmed to Frontier.
Onlookers said a stranger joined the protest group near the corner of 73rd and 30th streets in Chan Aye Thar Zan Township, stabbed the man and then fled the scene. The incident occurred around 5:30pm.
A Mandalay-based social welfare group tried to take the man to a private hospital for treatment but the hospital refused to admit him, a member of the group said on condition of anonymity. They then took him to the Byamaso Social Welfare Association, where he is undergoing surgery. His condition is not yet known.
Until the stabbing, the protest in Mandalay had passed largely without incident today. On Tuesday, police fired water cannon and tear gas at demonstrators, resulting in some injuries, but since Wednesday protesters have largely avoided confronting the police.
---
UPDATE: 4:30pm
Mandalay protests get colourful
As we mentioned yesterday, demonstrators in Mandalay have been changing up their approach after the violent confrontations with police on Tuesday. Rather than gather on 38th Street – widely referred to as "Daw Aung San Suu Kyi Street" – they've instead been parading through the town the past two days. Yesterday demonstrations were led by monks, but today we've seen natkadaws (spirit mediums), comedians and pride groups, and people dressed up as princesses, ghosts and members of the old Burmese royal court.
---
UPDATE: 4pm
One protester detained in Wakema, others in hiding in Lashio
We've just spoken with the wife of a man who was arrested after organising a protest against the military coup in Ayeyarwady Region.
U Thiha Zaw was taken by police from his home in Wakema Township at around 2am today, his wife Daw Khaing Zin Thant confirmed.
"Five police and our ward administrator knocked on our door while we were sleeping. My husband offered to come to the police station in the morning but they did not accept that. They gave no reason for the arrest, they just told my husband to come with them," she said. "They said it'd be just a short while, but then they sent him directly to Myaungmya prison."
She said she has not been able to contact her husband since. She assumes he was targeted for helping to organise protests in Wakema. There, like elsewhere in the country, thousands have been taking to the streets on a daily basis, demanding that democracy be restored.
She said the couple have two children, and that Khaing Zin has a heart condition that has her worried for his health.
"I have no idea what to do to get him released," she said, her voice cracking with despair.
We were also able to reach an activist in Lashio, in northern Shan State, who is one several who have gone into hiding after police came looking for them. Already, four or five others including some students have been detained, the 26-year-old told Frontier.
"Our town is small so the police can easily track down protesters," he said.
He said that, before the detentions, locals who he believes are working as military informers were posing as journalists at protests and surreptitiously snapping photos of activists and protest leaders. He said residents have begun public shaming campaigns against these alleged informers.
"I think they want to scare everyone by detaining a few people," he said of the police. "It's like a psywar."
In Lashio, a town with an estimated 130,000 residents, tens of thousands have been joining protests against the military every day this week, he said, adding that the civil disobedience movement is also gaining momentum there.
Though he's still in hiding, he said he has no regrets.
"February 1 was like the smashing of all our hopes and dreams. It's our duty to fight the military government; we owe it to ourselves and our entire generation," he said. "When the next generation studies history at school, they cannot read about our failure to push back against the military."
---
UPDATE: 3pm
"IT technicians" rumour sparks large protest at Chinese embassy in Yangon
Thousands of people came to protest outside the Chinese embassy this morning in response to rumours exploding online that Chinese IT experts were seen arriving in Myanmar to assist with the military junta's efforts to control social media.
The claim has not been well-sourced or verified by mainstream media, and the Chinese embassy has responded that the flights were carrying normal cargo, such as seafood. The post has so far attracted more than 18,000 comments.
It has done little to deter demonstrators, who held signs outside the embassy in English, Chinese and Burmese urging China not to support the military regime. "We don't want 'seafood', we just want Amay Suu," read one placard, referring to the Chinese embassy statement.
A Frontier reporter at the demonstration estimated there were around 3,000 people, including members of the Myanmar-Chinese community, and the crowd filled a large portion of Pyidaungsu Road.
Unsurprisingly there's a lot of sensitivity around access to information and data security right now, with the junta twice shutting down the internet since the coup and attempting to restrict access to social media.
The military regime has also released a draft Cyber Security Law that critics say would harm freedom of expression and mean mobile operators and internet service providers would be required to keep user data onshore and hand it over to the government on request.
---
UPDATE: 1:30pm
We've got more protest updates from around Yangon this morning, with workers from different branches of the Ministry of Electricity and Energy joining demonstrations in Thaketa.
Around 1,000 workers from the Thaketa gas-fired power plant who have joined the civil disobedience movement marched along Min Nandar Road in Thaketa late this morning. From what we understand the plant is still running (for now) – ensuring power supply is not disrupted will presumably be a major priority for the junta.
Meanwhile, a much smaller group of around 50 staff from the Ministry of Electricity and Energy in Thaketa and neighbouring Dawbon Township also walked off the job and staged a demonstration.
Earlier in the morning, a group of around 100 dental students and graduates gathered outside the Yangon University of Dental Medicine in Thingangyun Township urging their professors to join the civil disobedience movement.
---
UPDATE: 1pm
State-owned bank staff join protests
Staff from Myanmar Economic Bank – the largest of the four state-run banks – have joined anti-coup demonstrations in Yangon for the first time. More than 50 MEB staff in total from seven branches participated in a march this morning and are refusing to work as part of the civil disobedience campaign against military rule.
Frontier caught up with the demonstrators as they were heading to the Central Bank of Myanmar.
"The reason we're marching against the military coup is that we don't like military dictatorship and we don't want to work under a military administration," said U Thet Linn Aung, a 40-year-old employee of the MEB branch in Tarmwe.
Although the marchers represent less than 10 percent of the 600-plus MEB workers in Yangon, Thet Linn Aung said they anticipate the number will grow. "Today is the first day that MEB staff have marched in Yangon. In the coming days we expect more to join us."
We're increasingly seeing protesters focus on the banking sector, with demonstrators targeting the Central Bank of Myanmar (as mentioned earlier) and members of the Myanmar Bankers Union reportedly staging a protest outside Myanma Apex Bank in downtown Yangon this morning.
Many private banks, including KBZ and CB Bank, have shut their branches this week as protests have grown and staff have walked off the job, although they are still processing electronic transactions which has helped to limit the disruption.
---
UPDATE: 12:15pm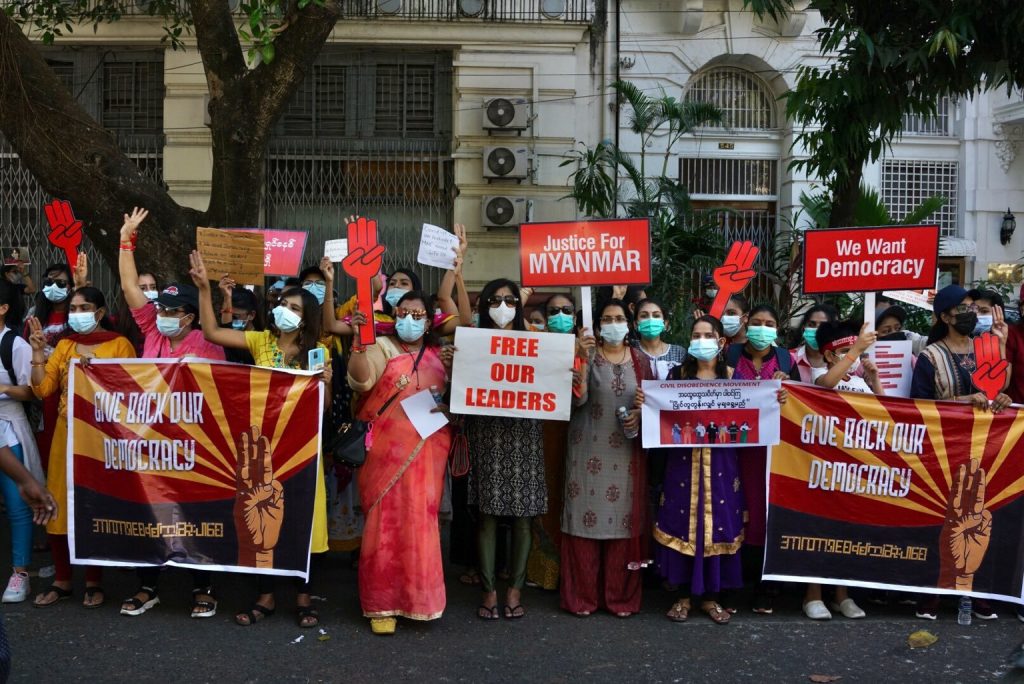 Hindu youth join protests
About 100 Myanmar Hindus rallied in front of the Indian embassy this morning to protest against the military regime. The mostly young group called on the Indian government to take action against the leaders of the coup – who they called Myanmar's "military dictators".
One young man who asked to remain anonymous called out the older generation and the mainstream within his community for not being more vocal.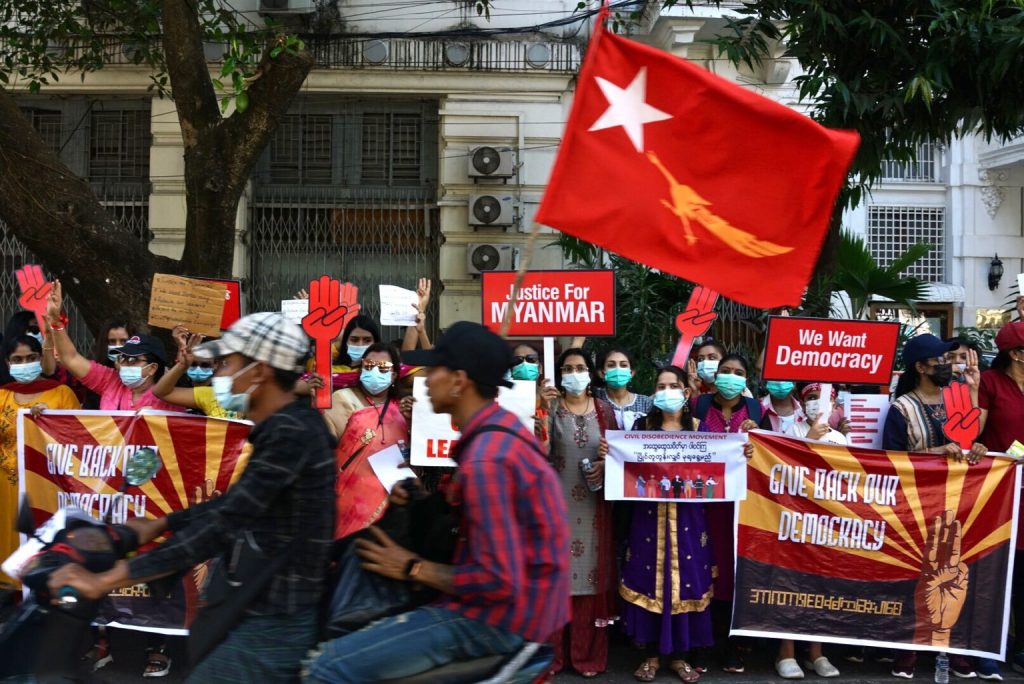 "Only Hindu youth have joined these protests," he told Frontier. "Other Hindu people and Hindu organizations haven't joined."
He said he hopes the Indian government takes "strong action" against the military regime soon.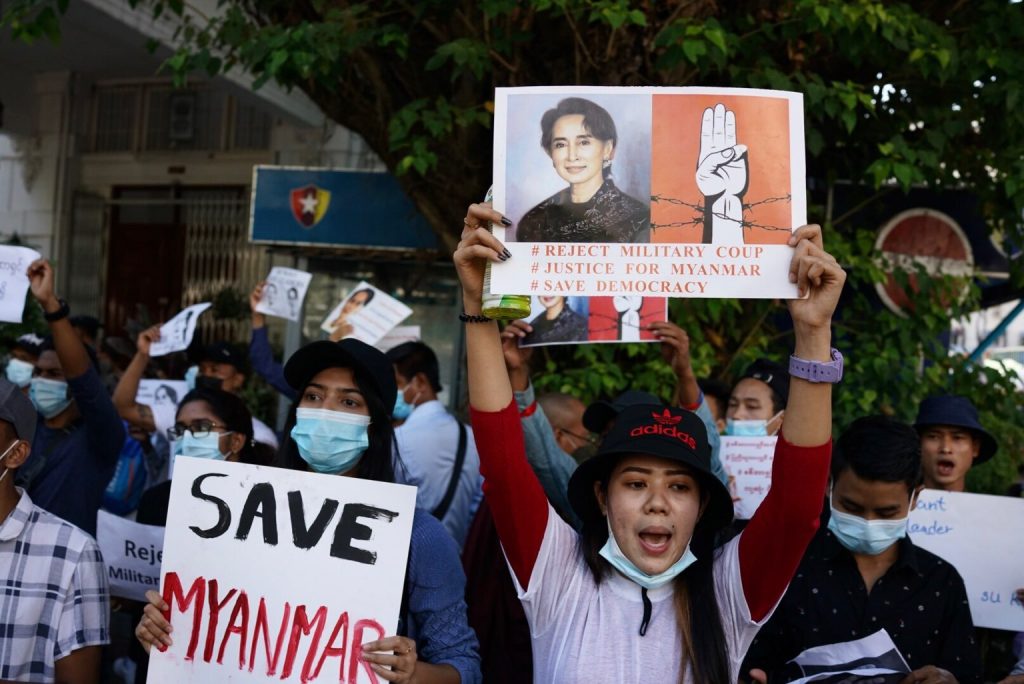 ---
UPDATE: 11:50am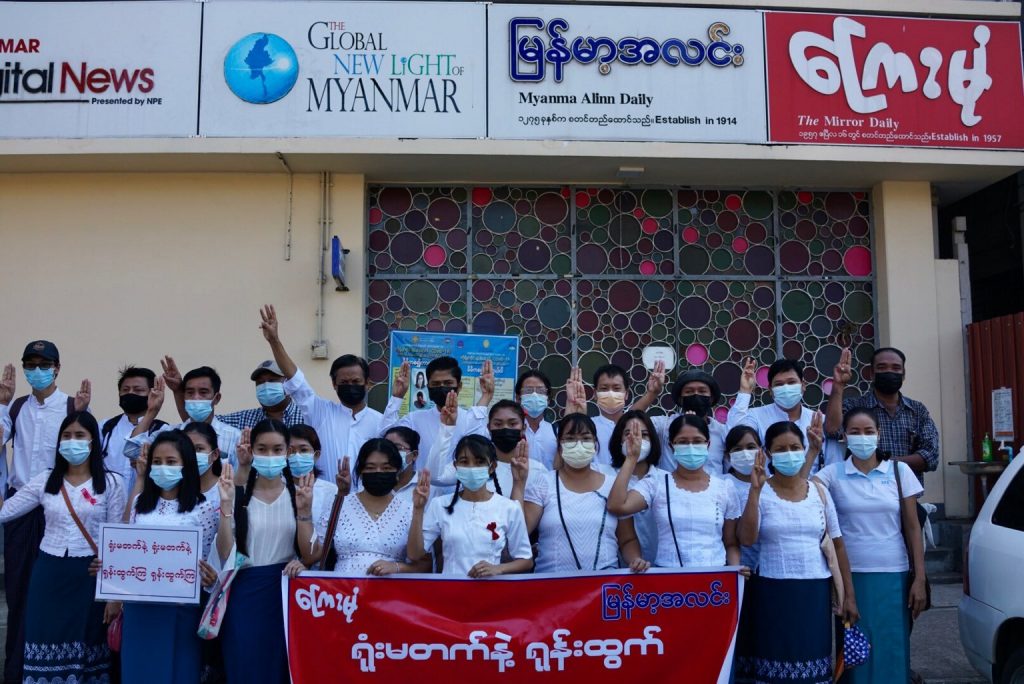 State media workers join CDM
Staff from state-owned media are joining the nationwide civil disobedience movement.
In Yangon, 36 staffers including reporters from the Ministry of Information protested in front of their downtown office and called on other civil servants to join the CDM too.
U Ye Khaung Nyunt, editor of the Myanmar News Agency, said his organisation's coverage in Yangon has stopped completely since February 8.
"We will fight against the military coup until the people have democracy again," he said.
The information ministry runs the outlets Myanma Alinn, Mirror Daily and the English-language Global New Light of Myanmar. The military-owned Myawady News is run out of Nay Pyi Taw.
Ye Khaung Nyunt also said that 35 staffers in Nay Pyi Taw have also joined the CDM.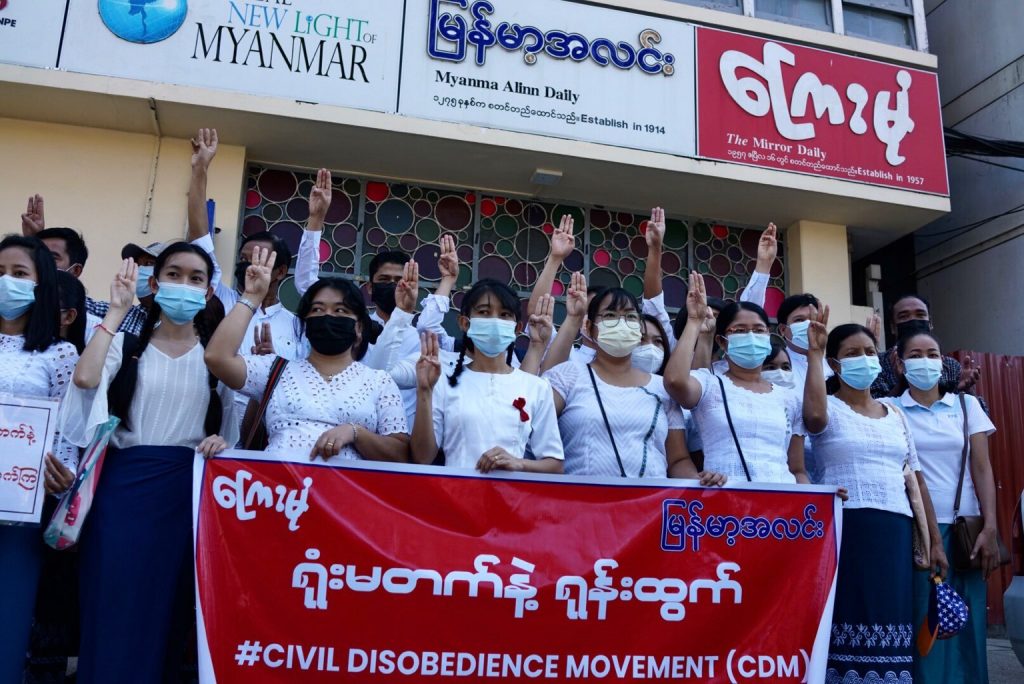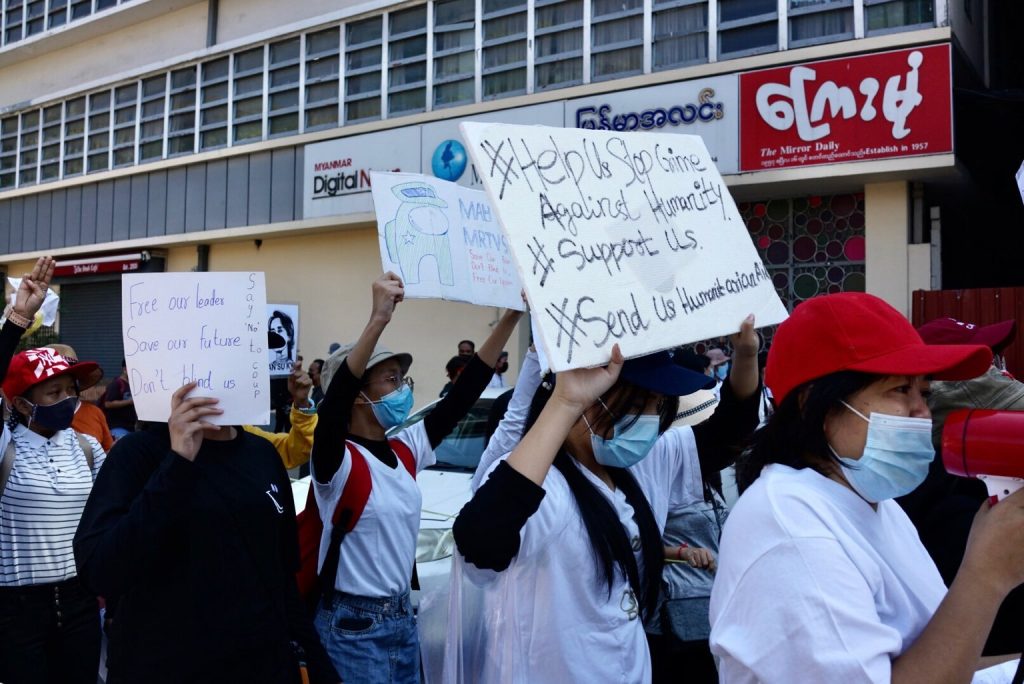 ---
UPDATE: 11:00am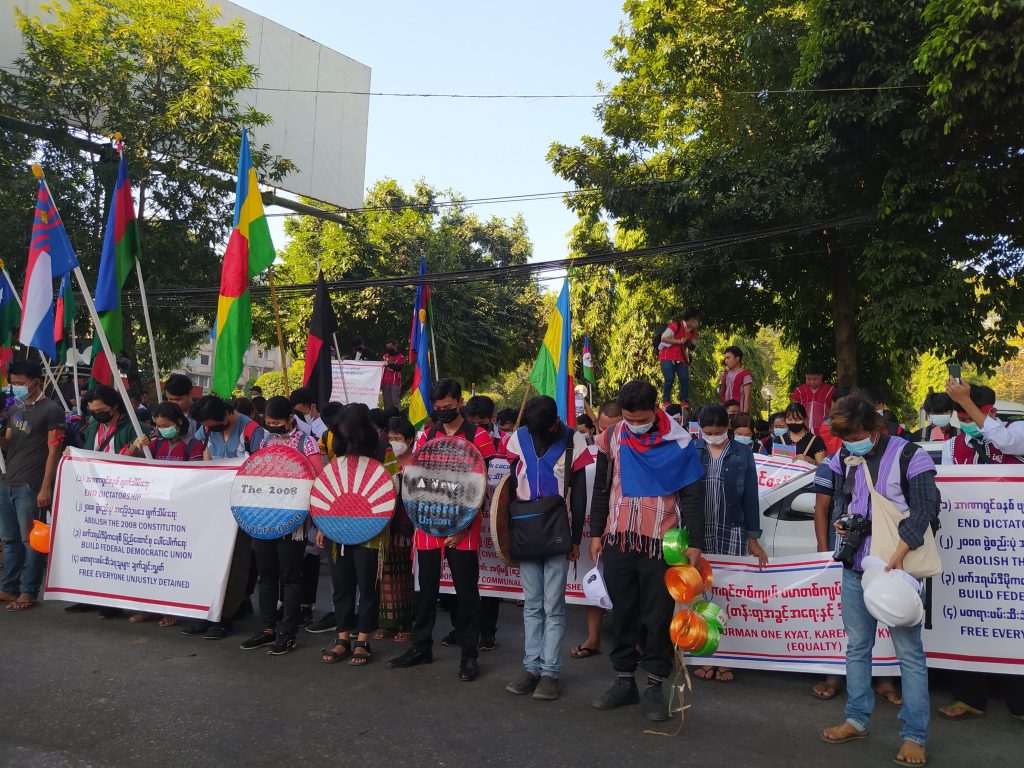 Ethnic nationalities unite against military rule
Earlier this morning, a so-called Anti-Military Dictatorship Movement of Ethnic Nationalities was held by Padonmar Park, in the Myaynigone neighbourhood of Yangon's Sanchaung Township.
The gathering of diverse ethnic groups was another sign of how disparate factions of Myanmar society with interests that don't always align are unifyied in their resistance to Tatmadaw rule.
The groups also called for the repeal of the Tatmadaw-drafted 2008 Constitution, a federal union, and the release of political prisoners.
Representatives from the Kachin, Karen, Chin, Bamar, Mon, Rakhine, Shan, Wa, Naga, Ta'ang and several other ethnic nationalities took part.
Today is also Karen National Day, and all the assembled groups also joined in saluting the Karen national flag.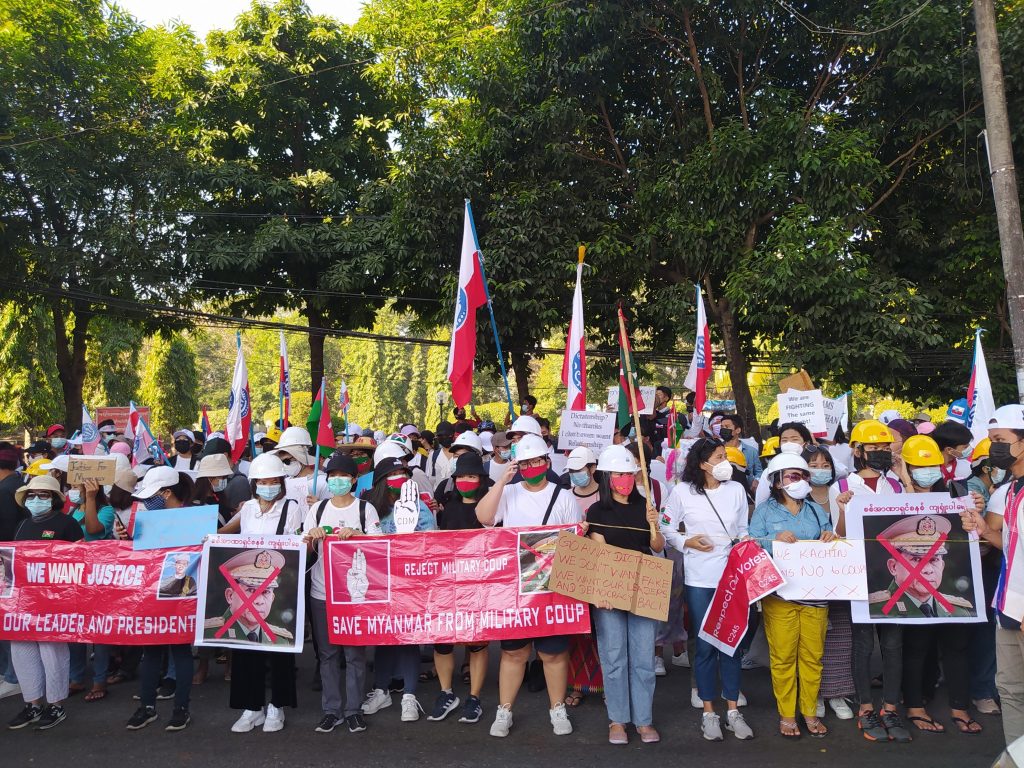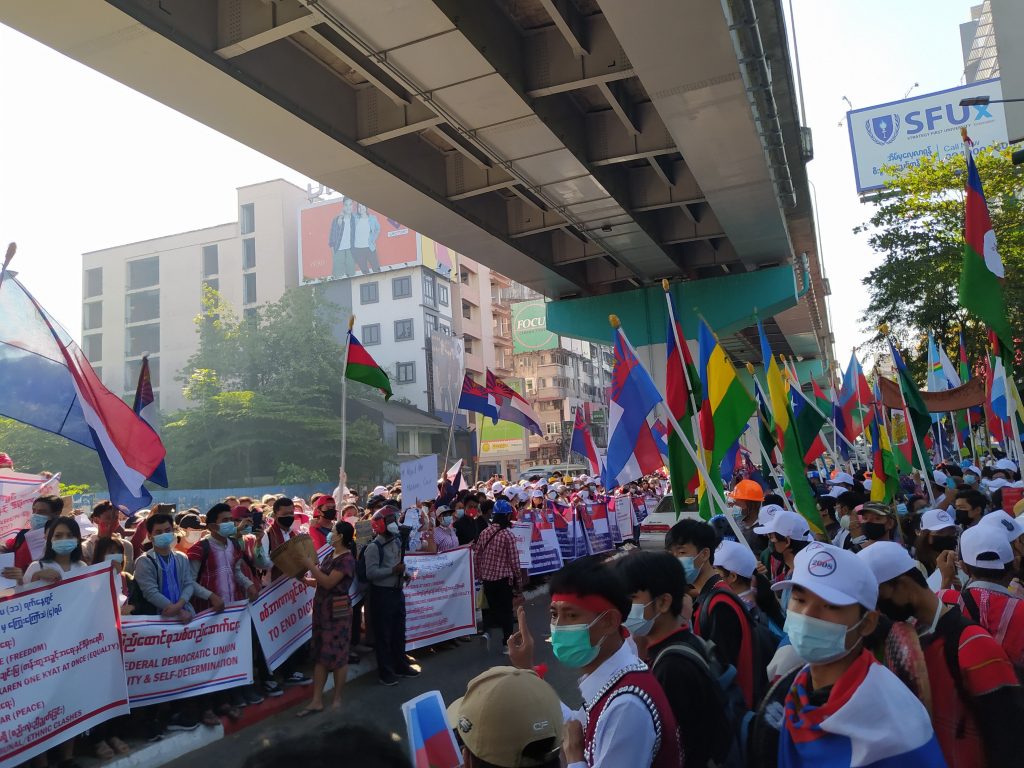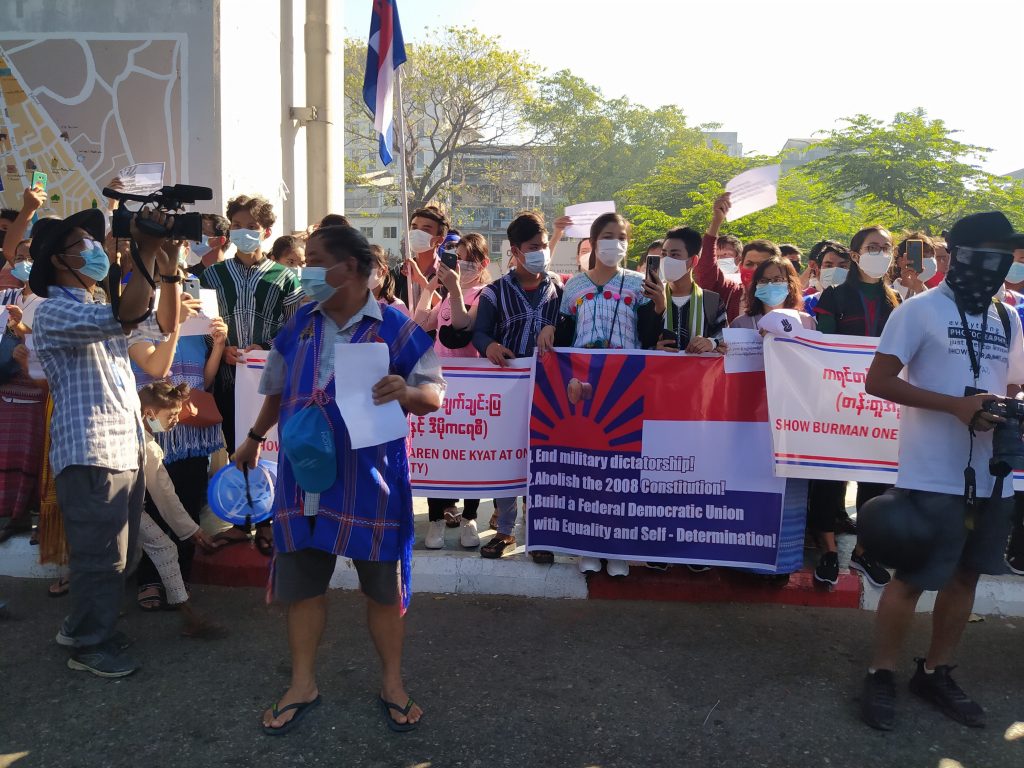 ---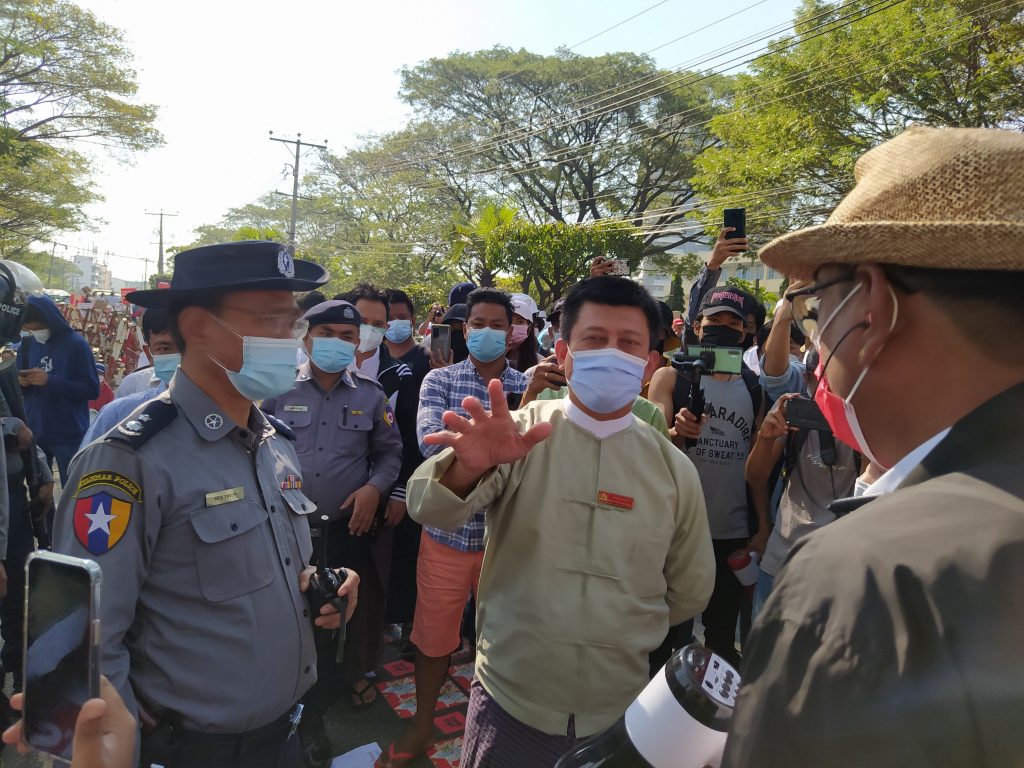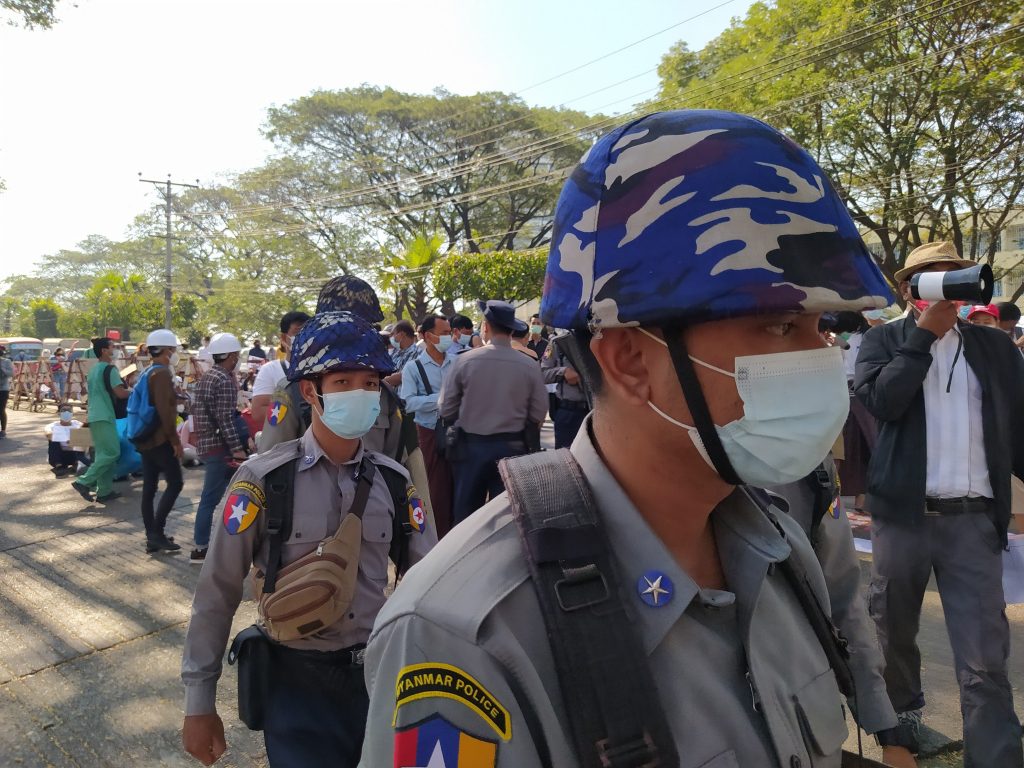 Police move protesters from Central Bank of Myanmar branch
Police and a township administration officer have told protesters they must move from in front of a branch of the Central Bank of Myanmar in the Yangon's Yankin Township, where the protesters were encouraging bank employees to join the country's growing Civil Disobedience Movement by not going into work.
The administration officer told the group that "forcing" state employees to join the movement is illegal and that "action" could be taken against them if they did not move. He said the crowd would have to move within an hour.
"This is the second time they've come and warned us to move from here," said Aung Myat Thu, one of the demonstrators. "Fifteen minutes after we arrived, the administration officer told us to leave. When we did not go, they came back with a lot of police."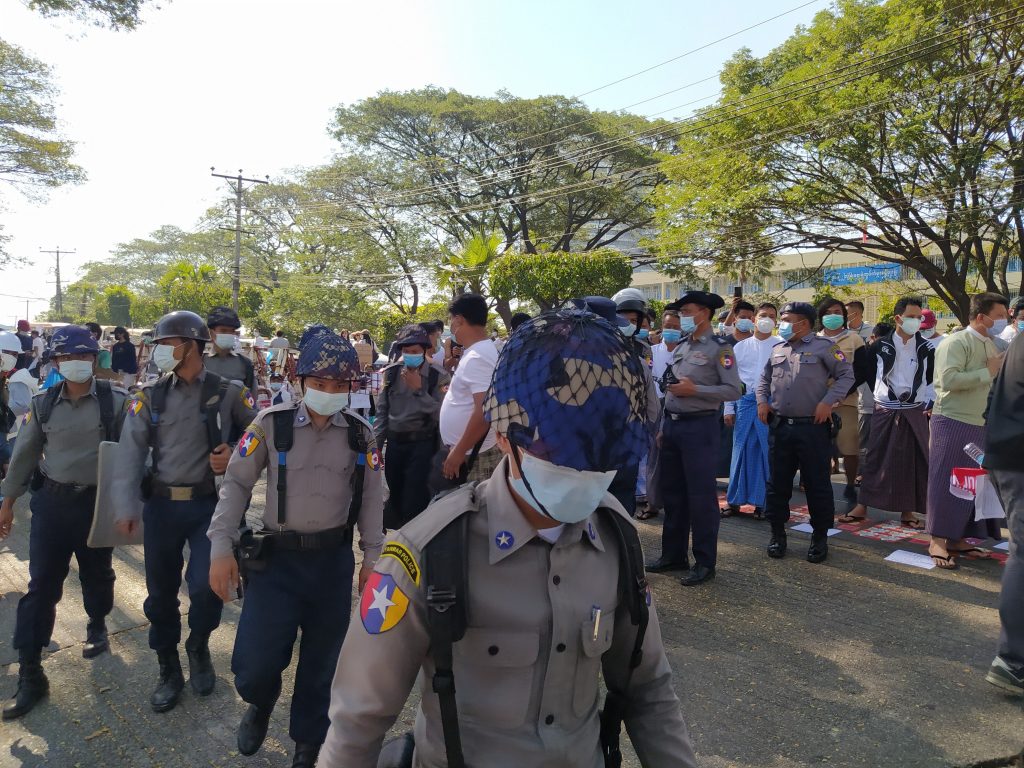 He said the group will comply with the orders to move to a nearby spot, and that it does not want any confrontations with police.
"We will demonstrate effectively, in a non-confrontational way," he said. "The CDM is very important."
---
UPDATE: Thursday, February 11, 10:40am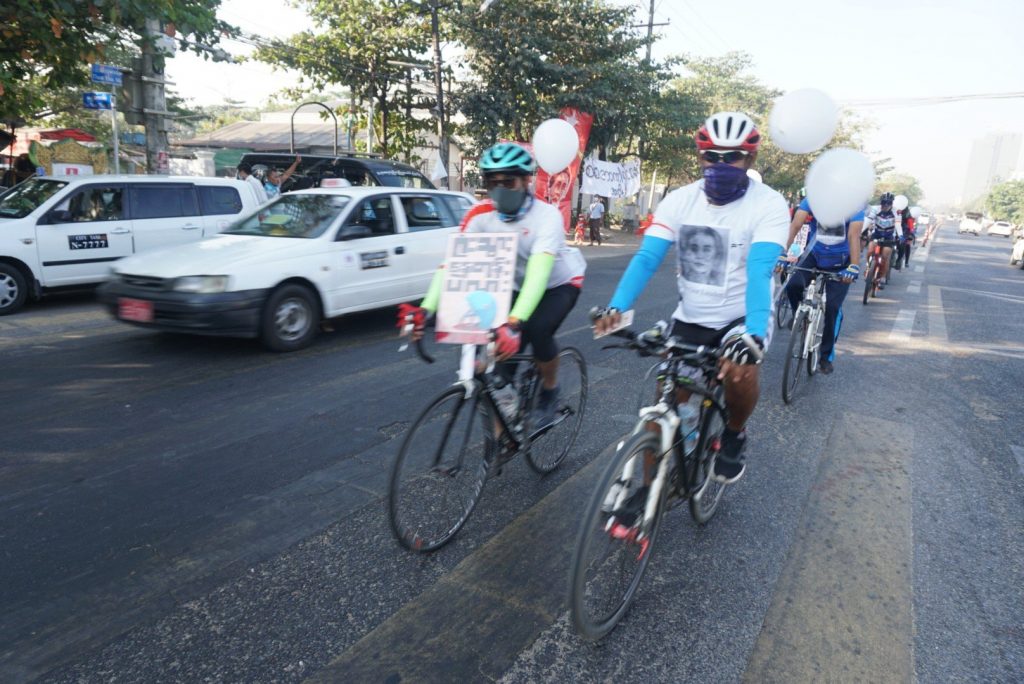 Cyclists kick off day six with early morning ride
More than 130 cyclists from the Myanmar Fixie Association began Yangon's sixth straight day of protests against the military's seizure of power with two early-morning rides.
A first group of about 30 cyclists began riding from the Thuwanna Football Stadium in Thingangyun Township at about 8:30am, while a second group of more than 100 began at the X Sports outdoor sporting goods store beneath the Myaynigone bridge in Sanchaung Township. Below the other end of the bridge, across from the Dagon Center shopping mall, groups of young demonstrators had already begun amassing with placards as well.
While the Yangon protests kicked off in earnest on February 6, U Cho, a 45-year-old cycling enthusiast and MFA secretary, said the group began earlier, on February 3.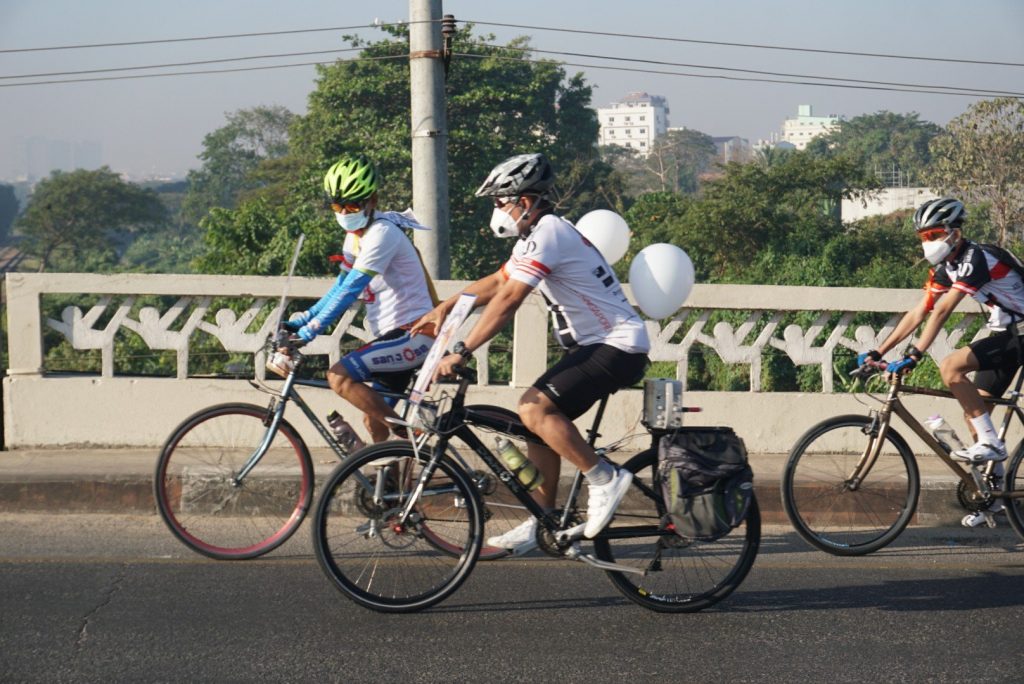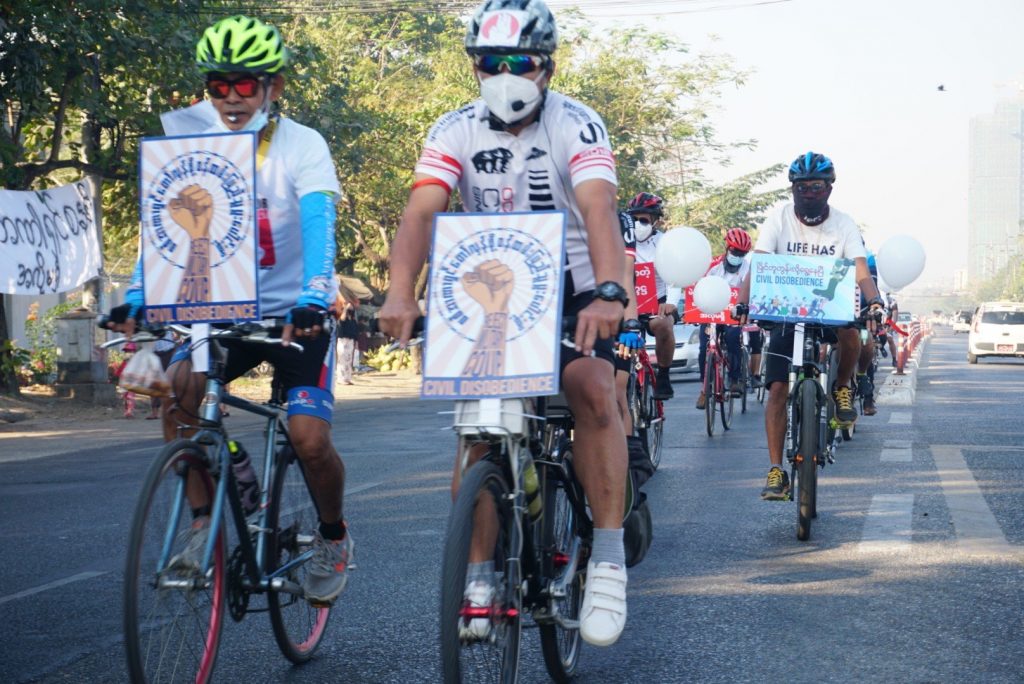 "Today is our ninth day protesting against the military coup," he told Frontier, adding that he wants to see the "immediate release of Daw Aung San Suu Kyi and President U Win Myint."
As the cyclists took off, several steered their bikes with one hand and raised the other in a three-finger salute, to cheers from onlookers.
"We encourage this kind of activity against the military coup," said Thingangyun Township resident U Than Soe, 58. "Everybody who loves democracy and wants the State Counsellor [Aung San Suu Kyi] to be freed must take part in the non-violent, anti-coup campaign."
Elsewhere throughout the city, groups were already gathering. Clusters of marchers were carrying signs and chanting, before the regular workaday chaos of the country's commercial capital had even begun roaring to life.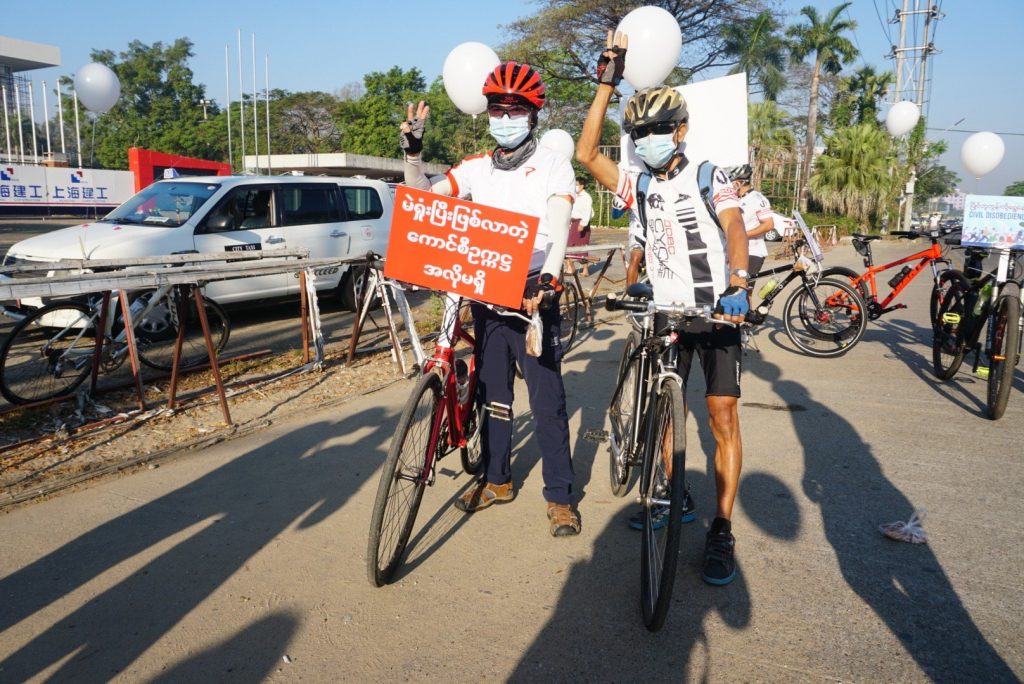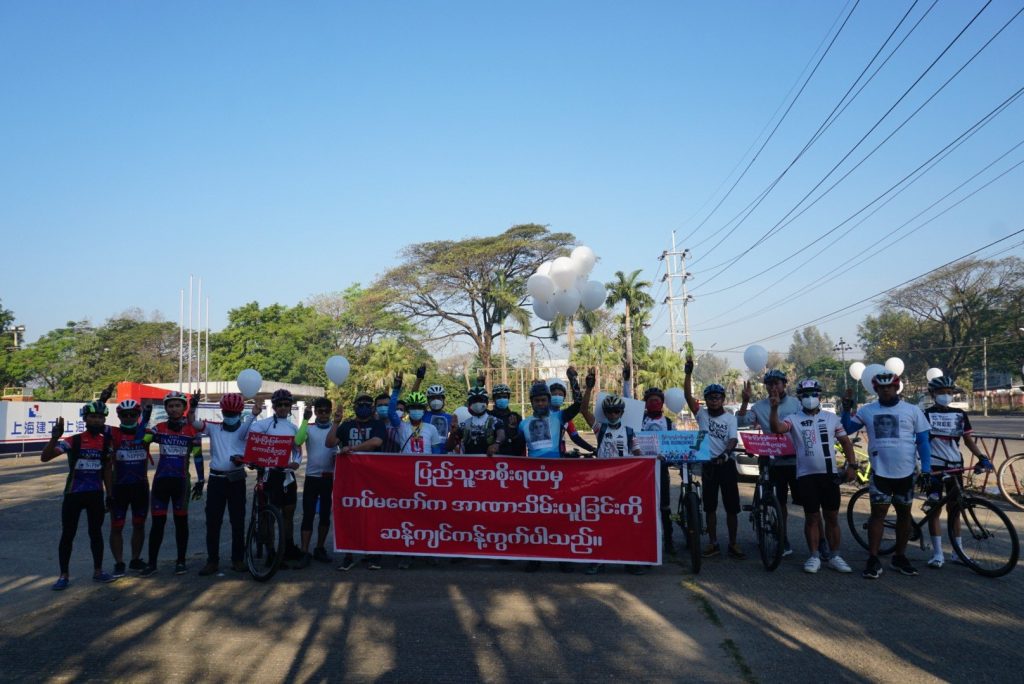 ---
UPDATE: 7pm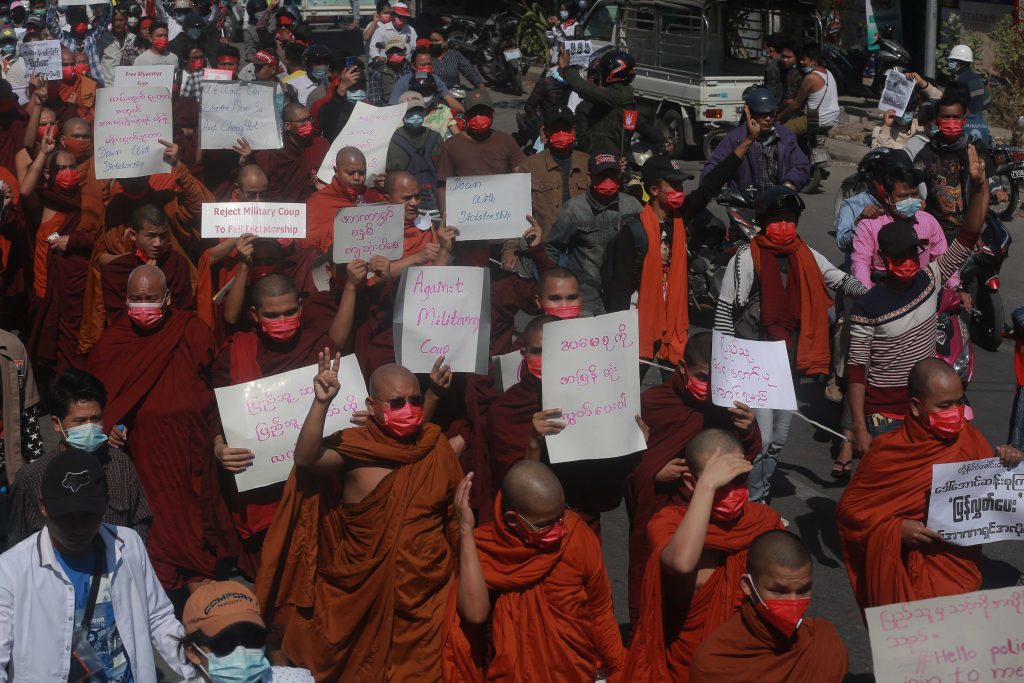 Protesters released as demonstrations change tack following police violence
About 200 people arrested at protests in Mandalay yesterday were freed this afternoon. They were held overnight by the Tatmadaw's Light Infantry Battalion 119 before being taken to Patheingyi Township Court, where they were told to sign a pledge not to continue demonstrating.
But if the military thought this would cow the protesters, they were wrong.
"We all agreed to sign the pledge, but we are ready to rejoin the protests alongside the people," one of the freed protesters told Frontier. "I am prepared to do whatever it takes to fight against military dictatorship."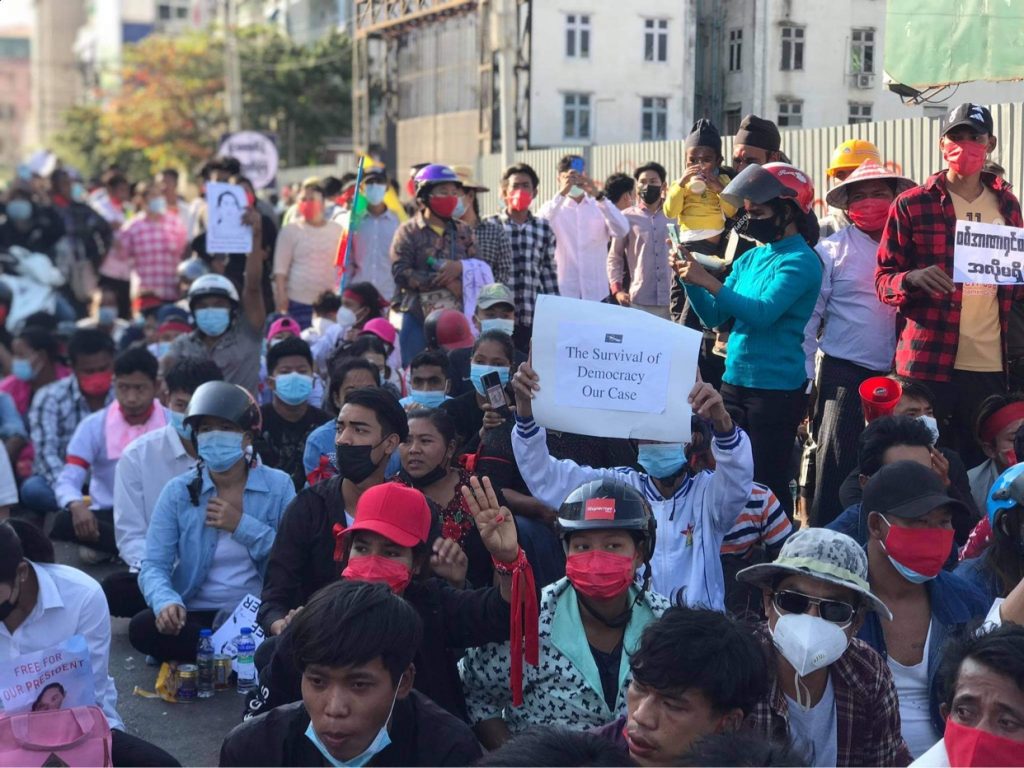 Despite this defiance, the situation in both Mandalay and Nay Pyi Taw today has been a lot less tense than yesterday, in part because protesters have changed strategy and avoided confronting police in large numbers.
Police deployed water cannon, tear gas and rubber bullets to disperse protests in both cities yesterday afternoon. In Nay Pyi Taw police also fired live rounds, hitting a young woman in the head and a man in the chest. The woman is in a critical condition and not expected to survive. Social media videos from Mandalay show police violently breaking up protests in the early evening.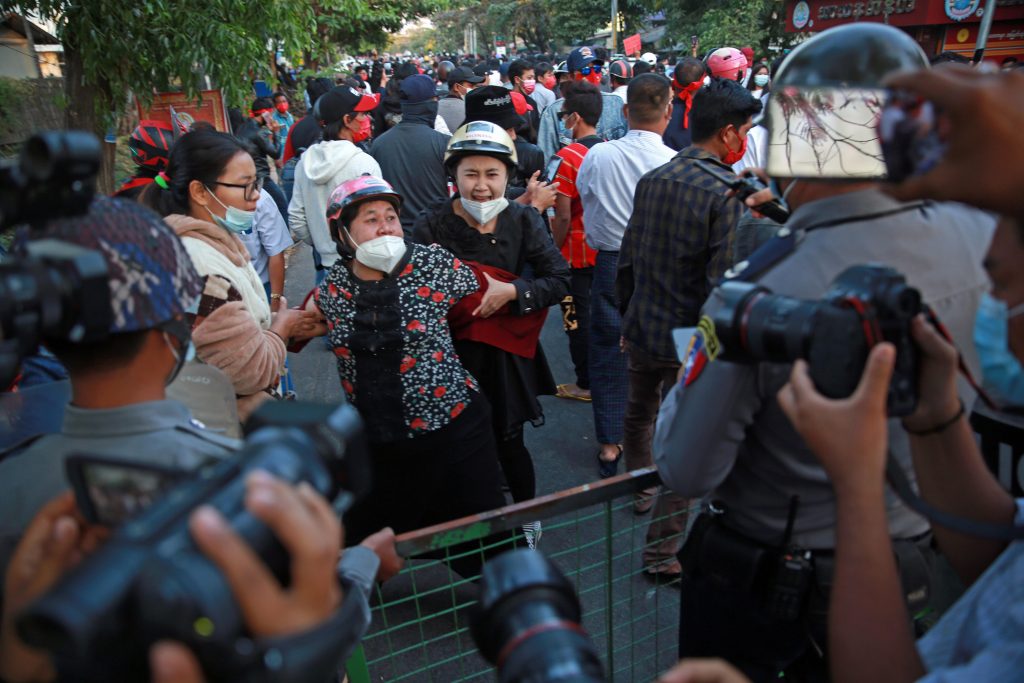 State media has claimed that police acted within the law to disperse protesters who were throwing bricks and bottles.
Today the atmosphere is quite different, however. Most protesters in Mandalay have avoided the junction of 38th and 78th streets where yesterday's confrontation occurred and have instead been rallying at different locations around the city.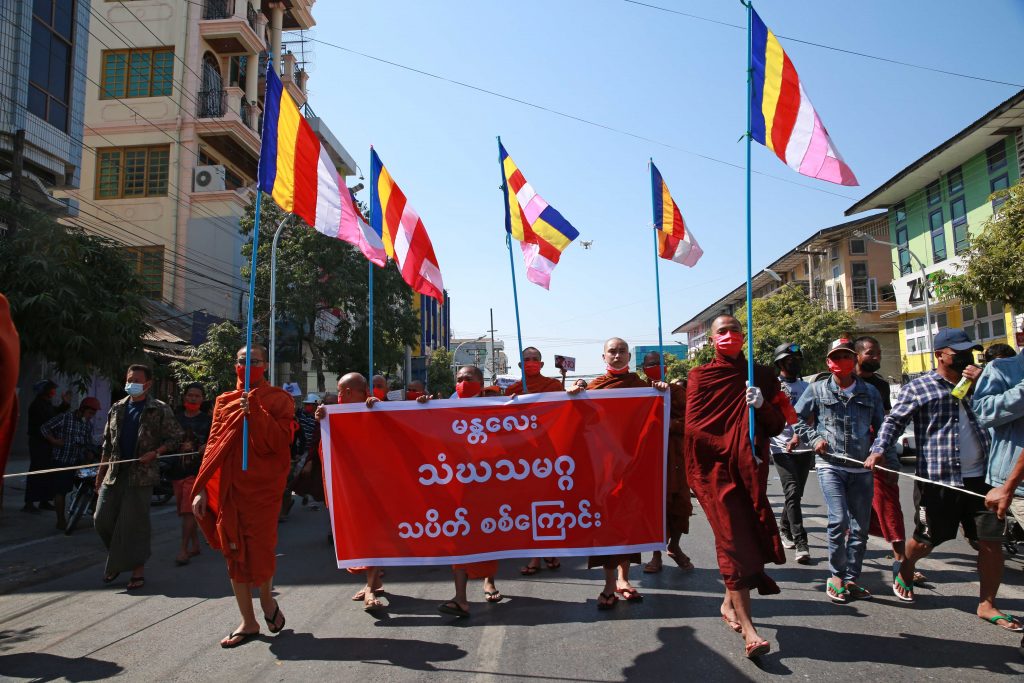 Monks from politically influential monasteries, including Mya Taung, Moe Taung and Khin Ma Kan have been leading the protests in Mandalay today.
In the evening, around 1,000 people staged a sit-in in front of police at the corner 38th and 78th streets, but there was little of the tension from the previous day. Police are organised into three lines of security, with military personnel providing further support behind them.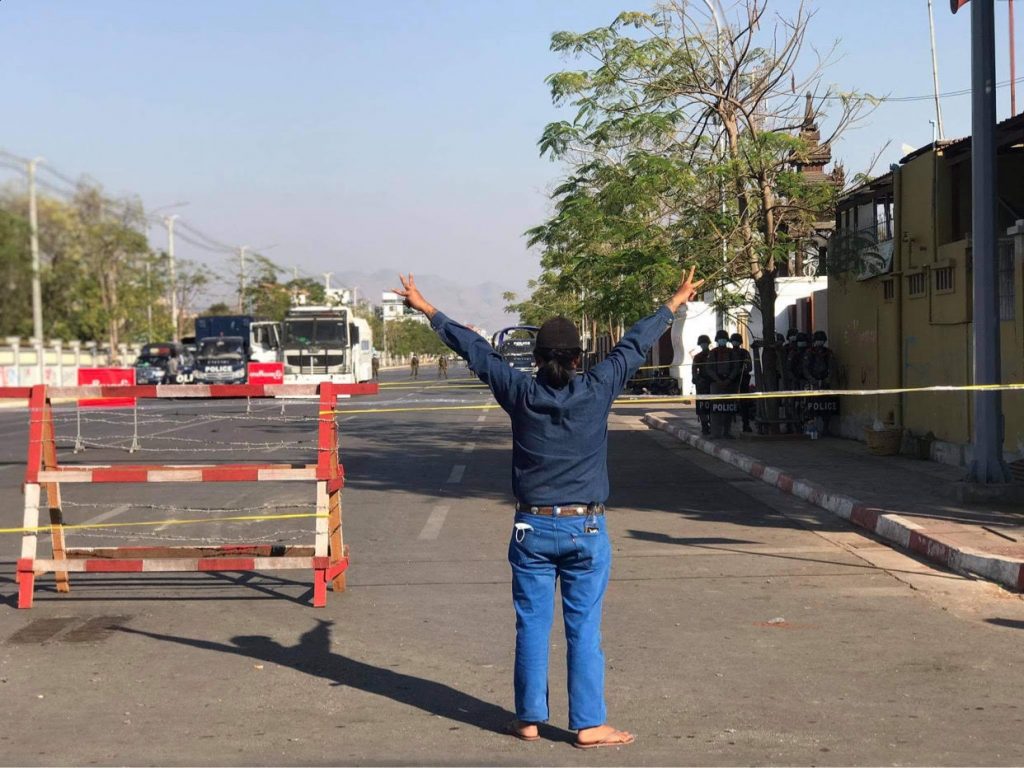 In Nay Pyi Taw it was a similar story. Protesters mostly avoided Thabyaygone roundabout, the scene of yesterday's bloodshed, instead riding around the town on motorcycles to protest against the military regime. Hundreds of civil servants who have joined the civil disobedience movement also staged a rally against the coup at Myoma Market.
In the afternoon crowds began to gather at Thabyaygone roundabout, but our reporter estimated it was just one-third of yesterday's gathering, and police made no attempt to disperse them.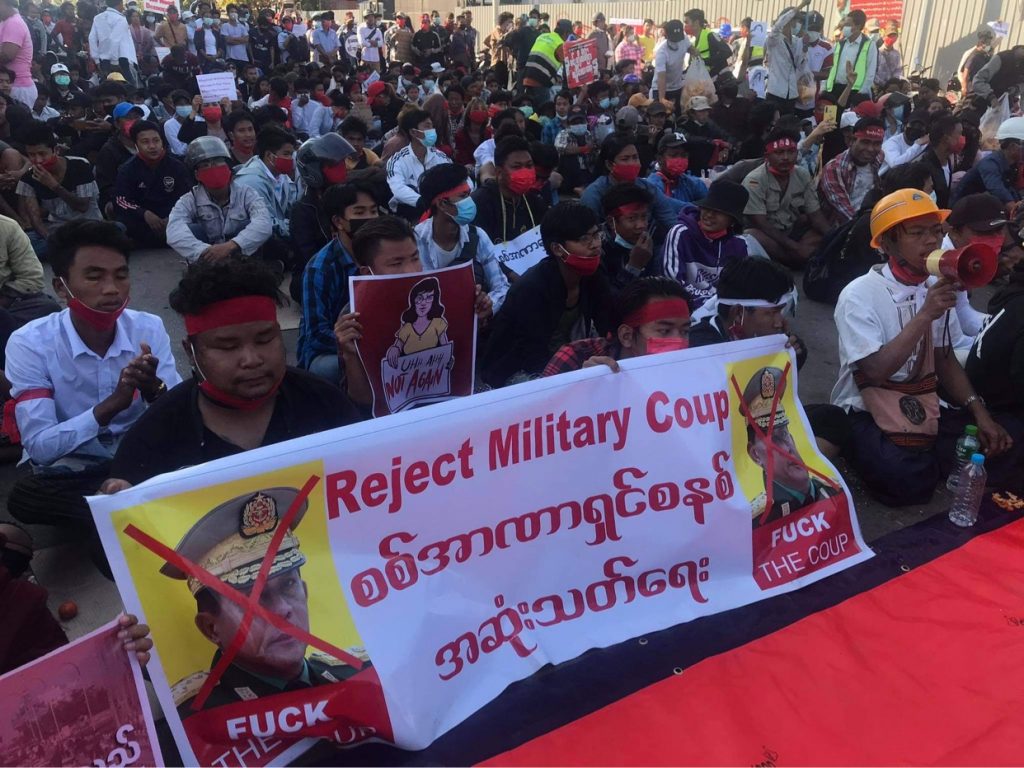 ---
UPDATE: 6:30pm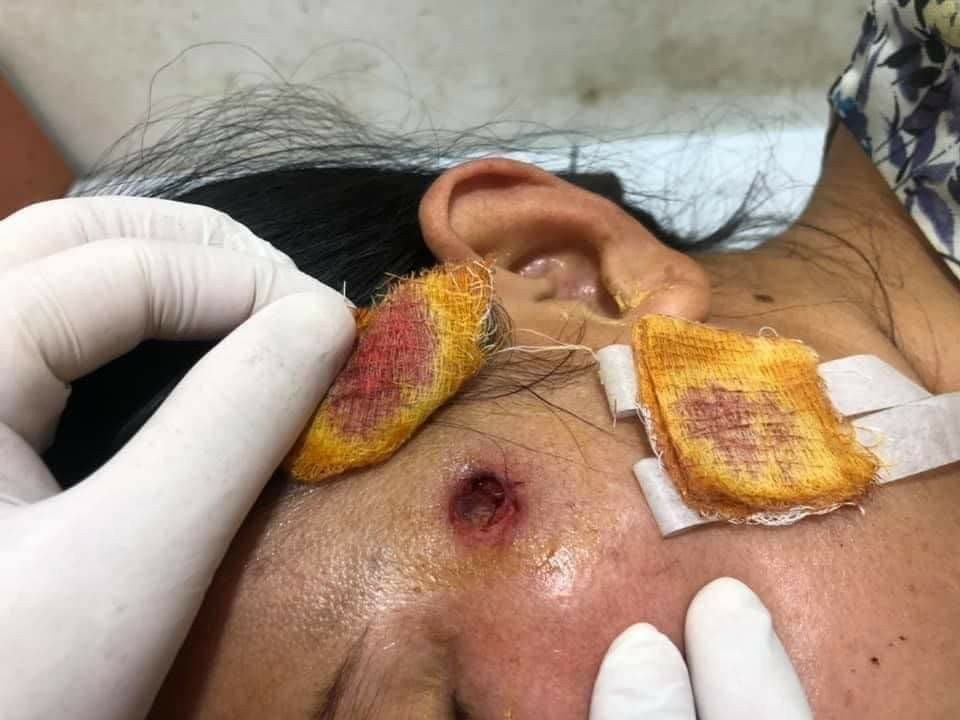 BGF accused over Myawaddy shooting
An eyewitness to the shooting on Sunday of an anti-coup protester in the Kayin State border town of Myawaddy has accused members of the Kayin State Border Guard Force of responsibility.
The man suffered a gunshot wound to his cheek and is in Myawaddy General Hospital, but is not in a serious condition.
The February 7 protest drew around 500 people and the shooting occurred at 2pm, said resident Ko Set, who took part in the demonstration.
He said BGF members wearing camouflage T-shirts rather than their normal uniforms were providing security in Myawaddy together with the police on the day of the incident. He said he recognised one of the men as a BGF member.
"The protester was shot by a person wearing a [camouflage] T-shirt. If you look closely, there were about four or five of these people. One was carrying an M16 rifle," he said.
The police force does not issue M16s but the BGF is known to use them. Police stationed at the protest were firing rubber bullets rather than live rounds.
A spokesperson for the BGF did not respond to requests for comment. However, a BGF officer, who spoke on condition of anonymity, said the Tatmadaw had assigned the BGF to provide security together with police in Myawaddy, and instructed BGF forces to wear civilian clothes.
Immediately after the shooting soldiers from the rival Democratic Karen Benevolent Army arrived at the scene, and police immediately withdrew.
A senior officer from the DKBA, which signed the Nationwide Ceasefire Agreement in October 2015, said that the following day the Tatmadaw pressured the group not to get involved in the demonstrations. On the evening of February 8, the DKBA issued a statement warning that any of its soldiers who intervene in the protests could face disciplinary action.
---
UPDATE: 5:20pm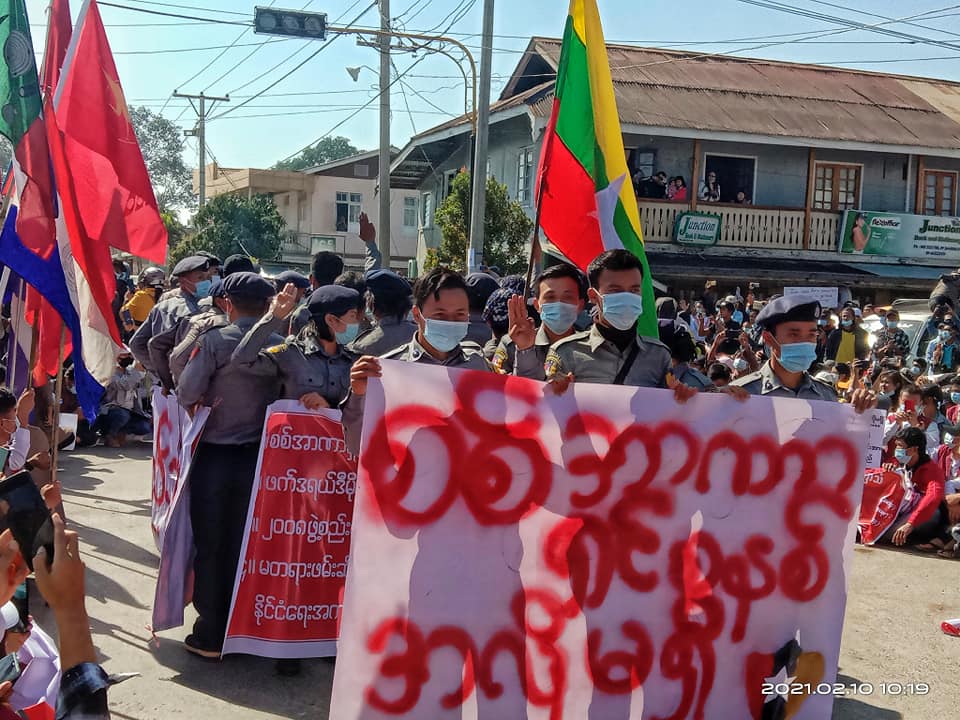 Loikaw, Kayah State sees largest police defections to date
In case you missed it, a remarkable video emerged on Facebook this morning of what looked like an entire police force in the Kayah State capital of Loikaw marching in solidarity with protesters against the military coup.
Just after 10am, Facebook user LU Myar Poe Poe shared a seven-minute video of several dozen uniformed officers marching and waving the three-finger salute, surrounded by a large crowd of protesters cheering and applauding them. The officers salute protesters as they chant "the people's police!" – a common refrain at protests around the country. The officers then shake hands with the protesters and hold up banners that read "Say no to the military dictatorship".
According to the Loikaw-based Kantarawaddy Times, a total of 49 officers took part, though that does not encompass the entire department. The remaining officers are now pursuing the defecters' arrest. The Kantarawaddy Times did not specify how many police remain in the department. None of the defectors appear to have been detained yet.
The Kayah State chapter of the National League for Democracy shared photos of the event on their Facebook page: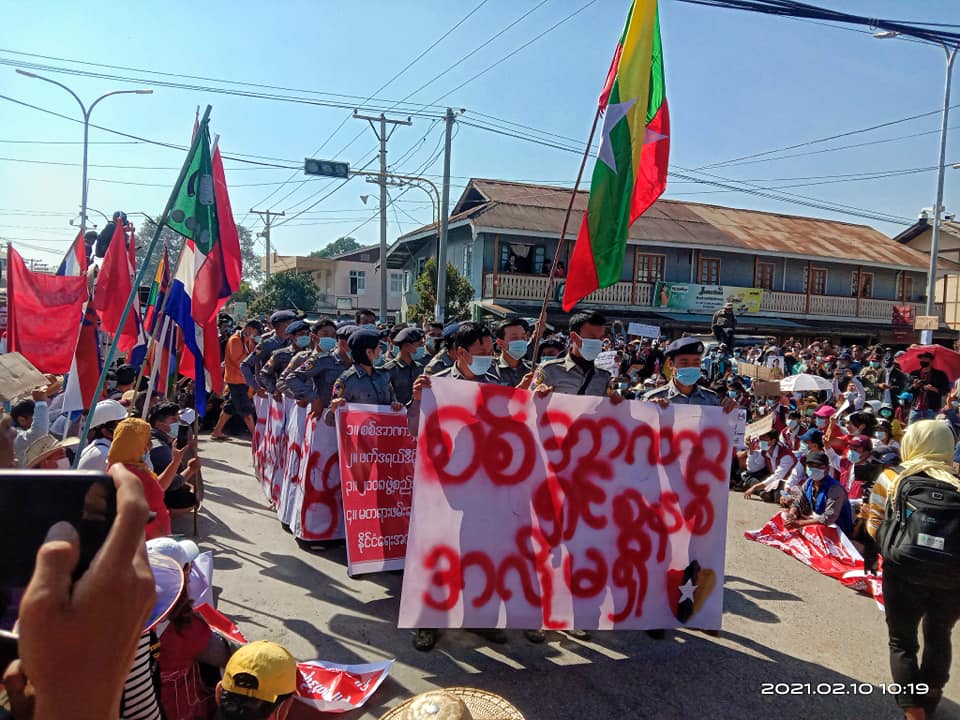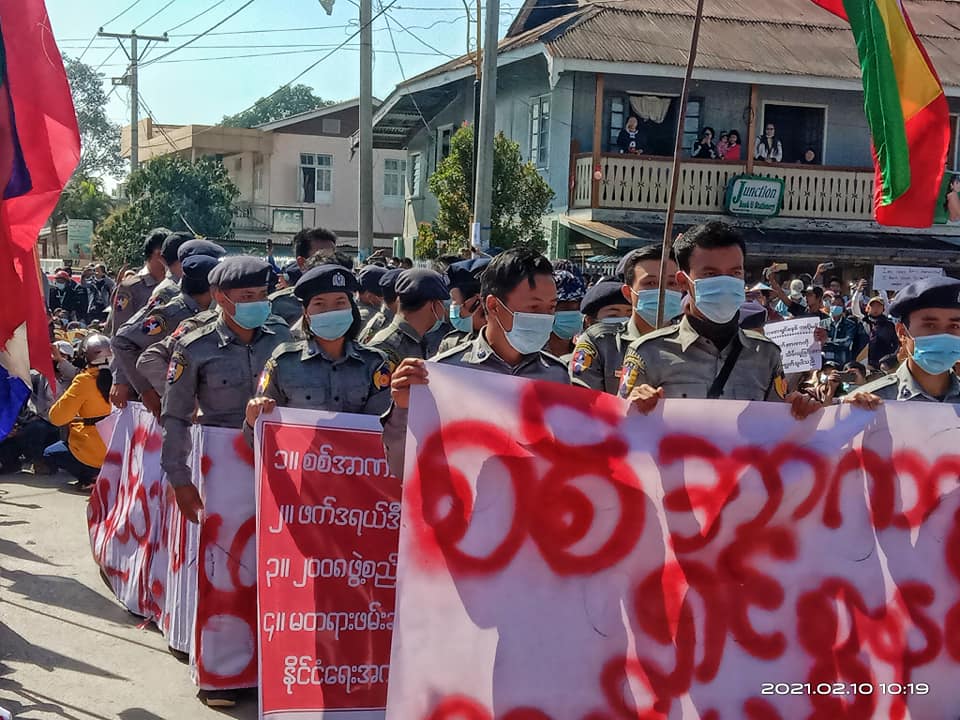 "We are very glad that police are joining the protest and support the democracy movement. Their actions are much appreciated and respected. This is a risky decision that may affect them and their families," Sai Lin Lin Oo, secretary of the NLD's information team for Kayah State, told Frontier.
Sai Lin Lin Oo said the department at first asked the officers to resume working, but all 49 refused.
"Now we are protecting them," he said. "I hope their decision serves as an example for the rest of the police across the country."
There have already been a number of small incidents where police broke ranks to join protesters, but none this large. Yesterday, in the Dry Zone town of Magway, in another dramatic moment caught on video, what looked like three officers defected to protect protesters being doused by a police water cannon. Their colleagues rushed over to try to pull the defectors back, but protesters wouldn't allow it. Police are also seeking those former officers, who have gone into hiding with the help of locals.
One officer each in Nay Pyi Taw and in Myeik also defected on Tuesday to join protests. They are part of the larger civil disobedience movement, in which thousands of state employees have stopped working to protest the military takeover. Thousands of medics from more than a hundred government hospitals and medical labs have walked off the job, crippling the country's COVID-19 testing and vaccination programmes. Large groups of teachers, engineers and other civil servants have also joined.
"For senior-level [police] officers, it's more complicated. Their departments provide their apartment, their car, and others things as long as you're still one of them. But once you leave, it all ends," said a senior Kayah State police officer told Frontier on the condition he remain anonymous.
"A police officer would have to leave his home and his family if he were to join the protesters or the CDM movement and immediately become a fugitive. It is not easy for an officer to make this decision", the officer said.
It's not a choice many officers are willing to make. One senior anti-trafficking police officer said she didn't want to join protesters because it would mean "giving up everything".
That doesn't mean officers are all happy with a hierarchy that has them working under the authority of the military. The senior Kayah State police officer, who also served for 15 years in Yangon Region, insisted that, "for many years, the military has been using the lower echelons of the police force as puppets."
---
UPDATE: 4pm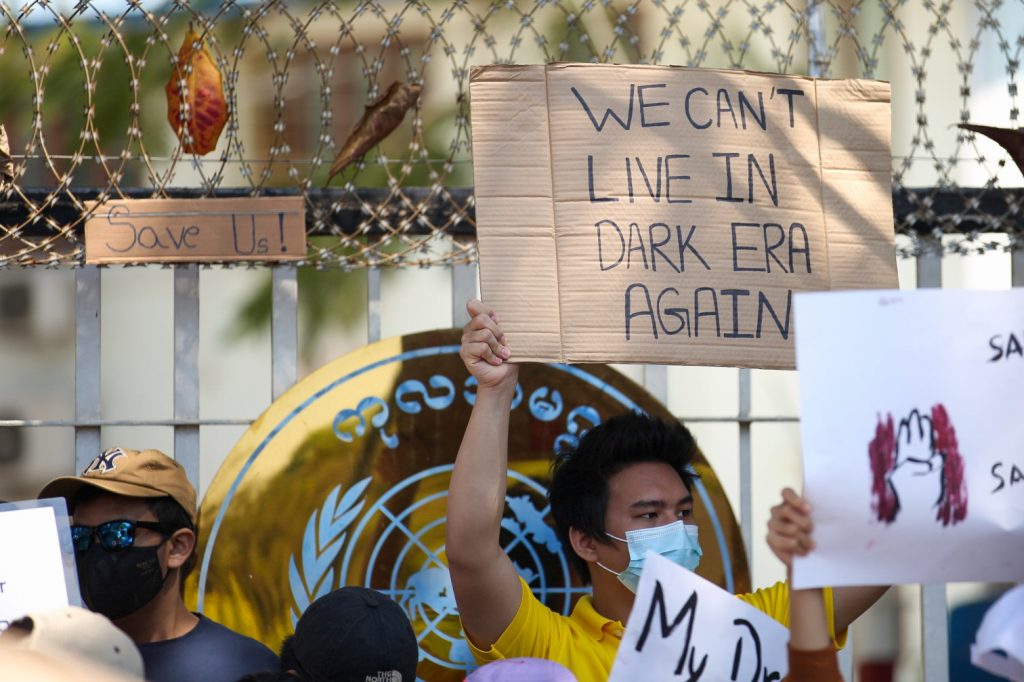 An open letter published by Frontier says the international community can best help Myanmar by offering long-term support to civilian efforts to build peace and democracy, not by cutting all ties with the country in the wake of the coup. It is vital that Myanmar's international partners continue to support humanitarian and development work, the letter argues, so that the fragile gains of the last decade are not lost.
Read the letter in full here.
---
UPDATE: 3pm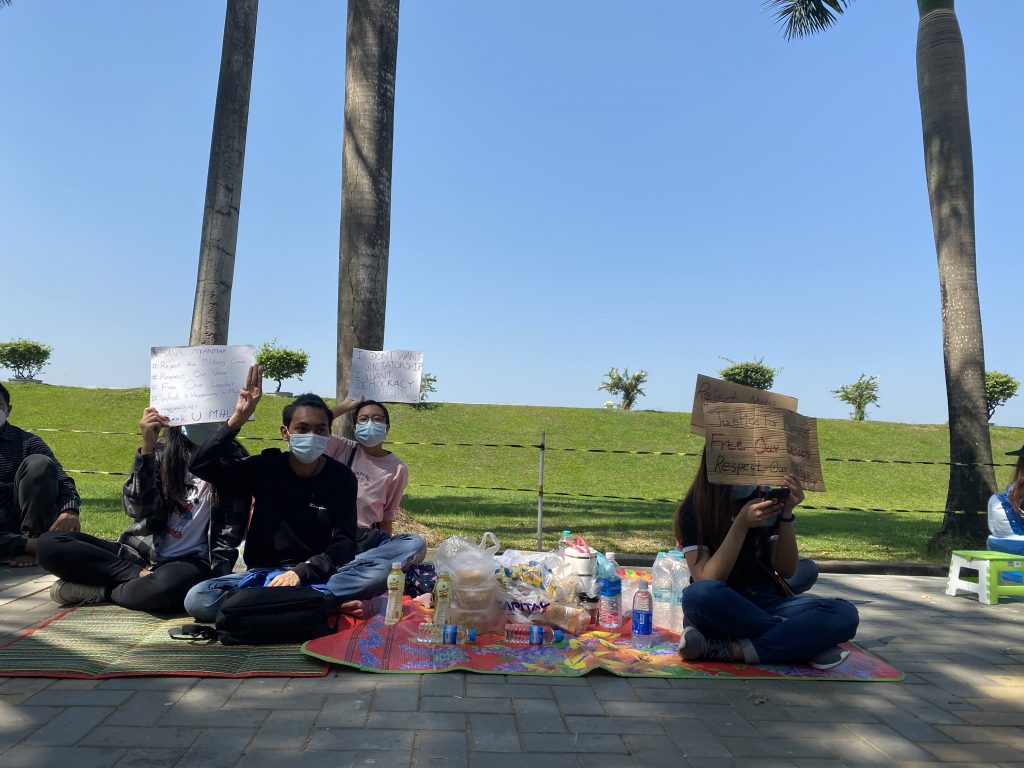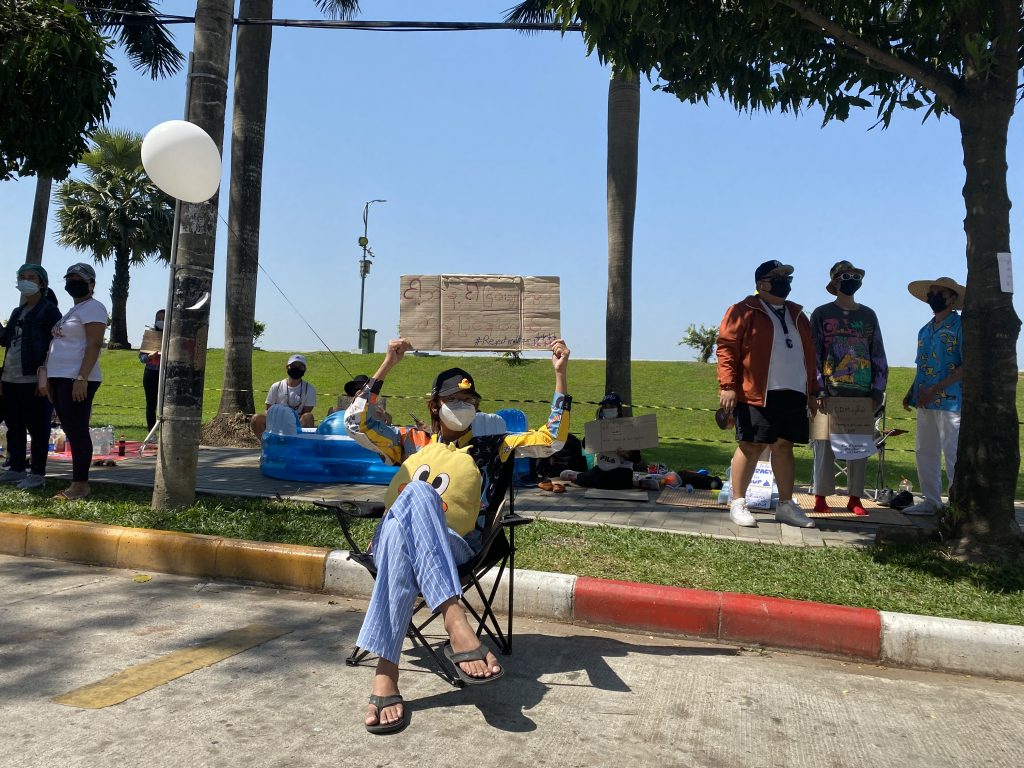 Protest and chill
Hundreds of youths have camped out in groups of four and five beside a grassy bank of Inya Lake, across Kabar Aye Road from Myanmar Plaza in Yangon, chanting "We are the youth, we all have a future".
Ko Myo Thu Ko, 21, said his group had arrived just after 8am and planned to stay until 8pm.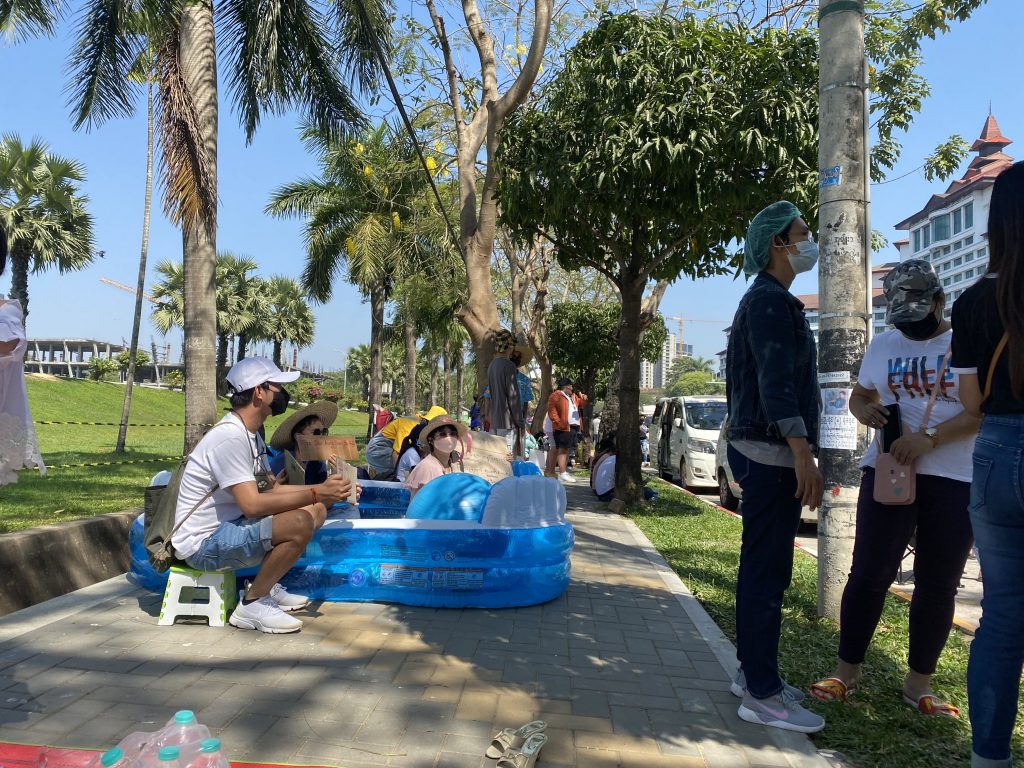 "We are protesting in accordance with section 144," he said, referring to the section of the Code of Criminal Procedure under which the military government has imposed an 8pm-4am curfew and a ban on gatherings of five or more people.
"Our protest will be a long journey, so we have to find a relaxed way to endure it. We will be on the street every day until the military gives back authority to the government we elected," he added.
Mi Sandi, a singer from Thaketa Township, sat nearby in an inflatable swimming pool.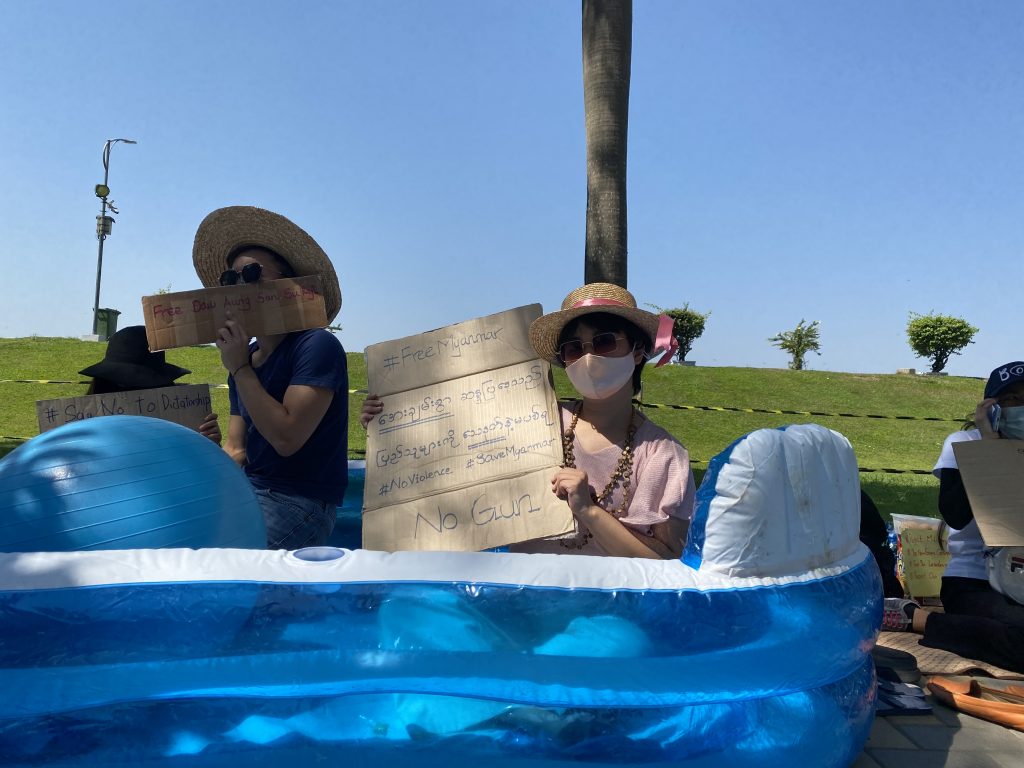 "We will sit here the whole day, and we won't engage in violence," she told Frontier. "We really cannot accept the violence of the police in Nay Pyi Taw yesterday."
Yesterday in Nay Pyi Taw, police fired rubber bullets and live rounds at crowds of demonstrators, striking a 19-year-old woman in the head. It is unclear if the woman is dead or remains in a critical condition at a Nay Pyi Taw hospital.
---
UPDATE: 2pm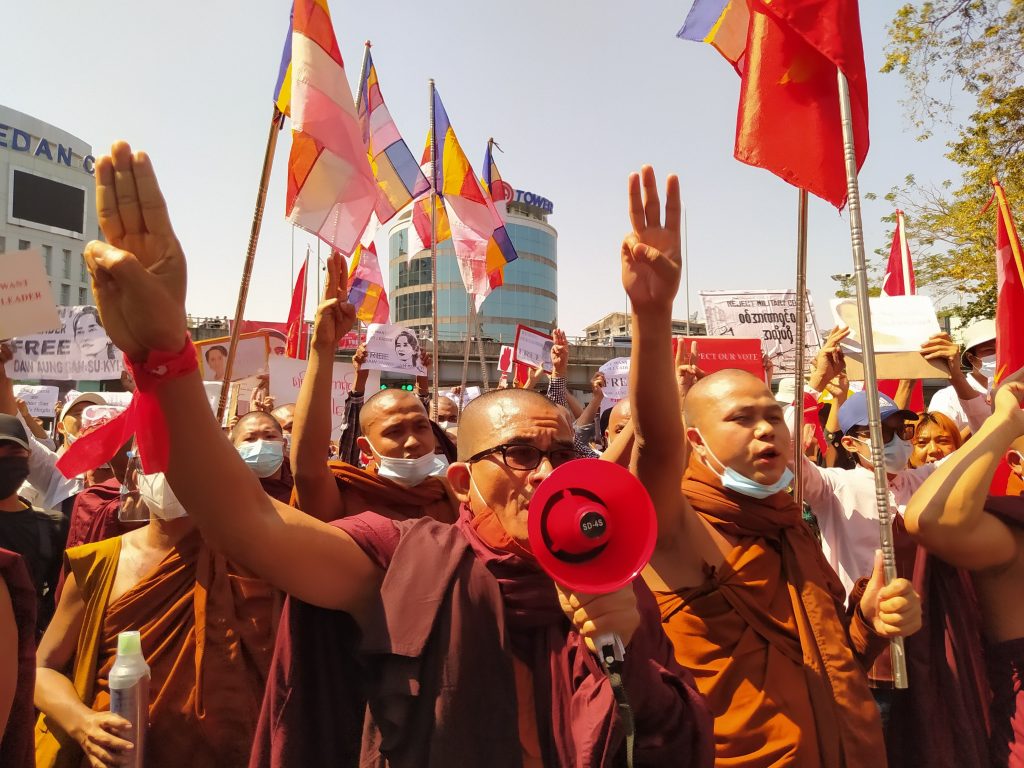 Monks from the Shwe Nya Wah monastery joined protests at the Hledan junction today.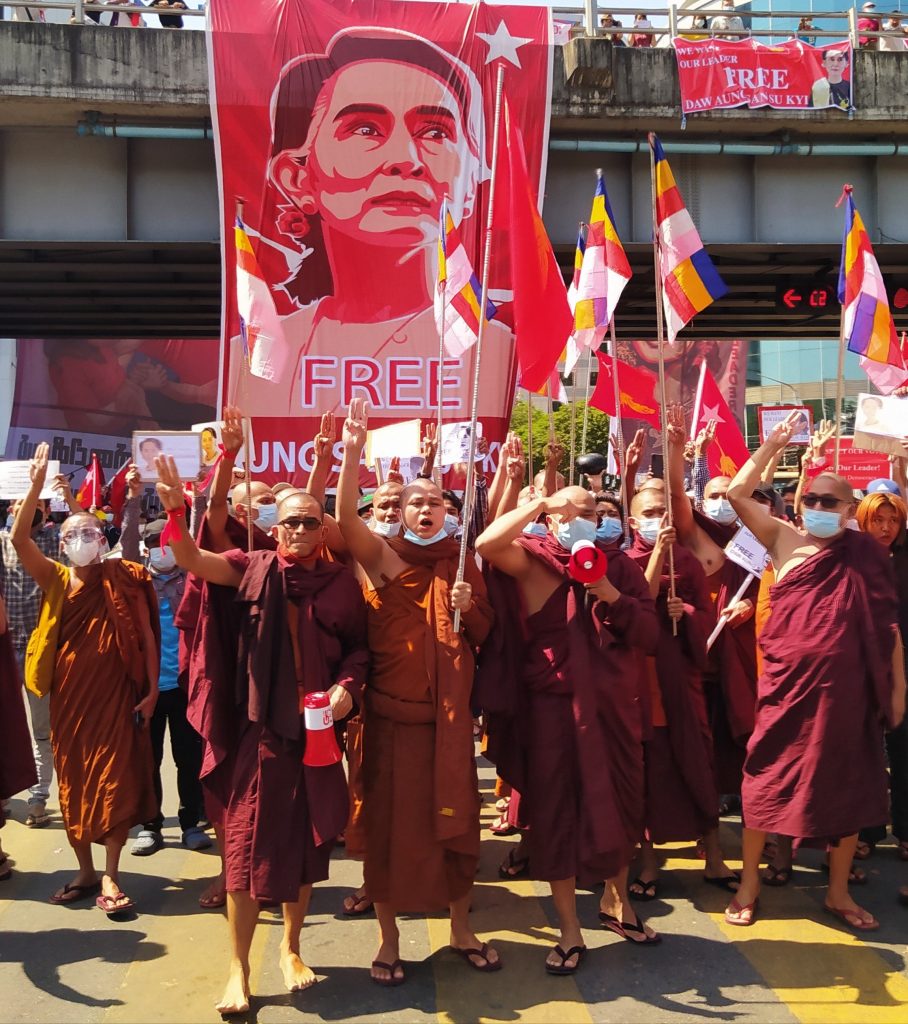 The monastery is home to U Pinnyasiha, also referred to as the Shwe Nyah Wah Sayadaw, is known for his outspoken criticism of the Tatmadaw. He is also known for his condemnation of ultranationalist, anti-Muslim monks such as those from Ma Ba Tha and the 969 movement.
Unsurprisingly, he was arrested on February 1, the first day of the coup.
---
UPDATE: 1:20pm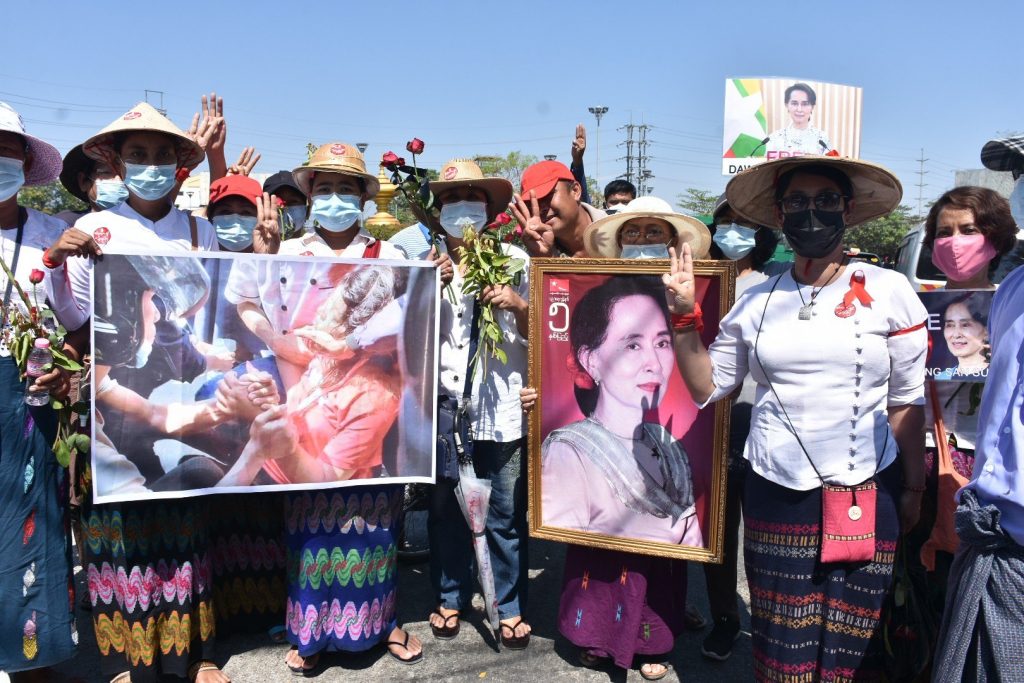 In Yangon's Thaketa Township, a small group of demonstrators held what they said was a memorial for a 19-year-old woman shot in the head at a protest in Nay Pyi Taw yesterday, though it is still unclear if the woman is alive or not. The demonstrators said they will return tomorrow and hold another vigil in her honour.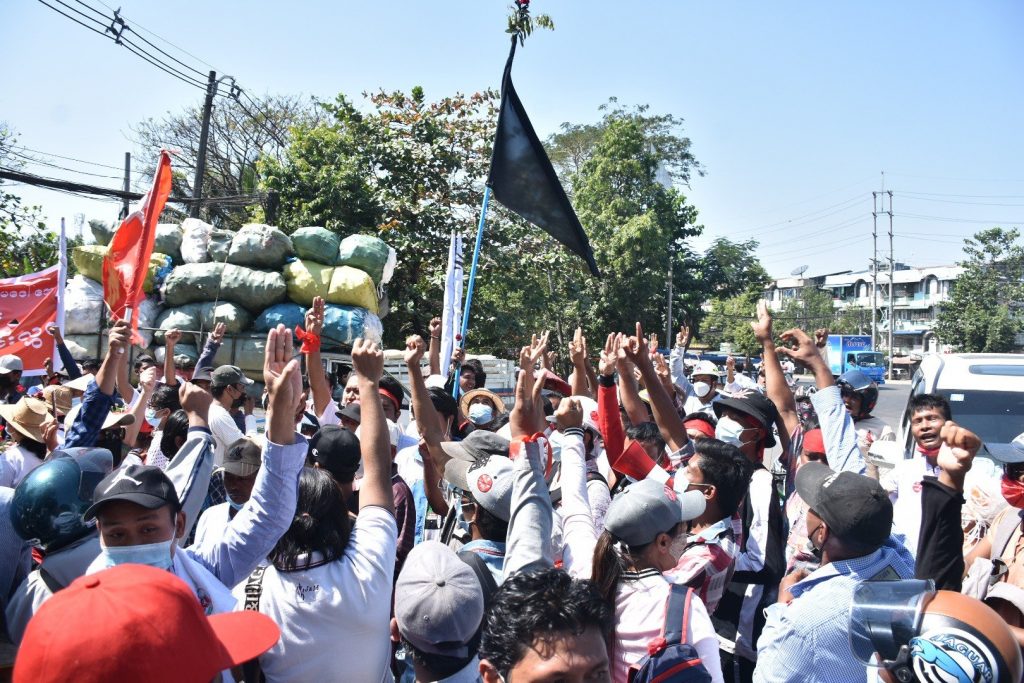 ---
UPDATE: 1pm
With several democracy and human rights activists already detained, our multimedia journalism team at Doh Athan asks in their first video report on the military's seizure of power, "What does the coup mean for the future of human rights in Myanmar?"
(Subtitles in English)
---
UPDATE: 11:30am
Protesters in Yangon haven't been deterred by the violence we saw yesterday in Mandalay and Nay Pyi Taw, which resulted in the death of a young woman. However, the focus of the protests seems to be less on Sule and Hledan and more on Myaynigone and Natmauk Road, near the Japanese embassy and United Nations office.
Above are some photos from the protest in Natmauk (top left and right), where there were about 20 police present, and demonstrators at Myaynigone earlier this morning.
---
UPDATE: 11am
Princesses join the protest
Some very colourful scenes from Yangon this morning, with a group of more than 100 protesters dressed as "Disney princesses" threatening to steal the show.
The group started out at Kyeemyindaing Township and walked to Myaynigone, where a Frontier reporter ran into them, and said they might go to downtown.
Most of the young women are students or recent graduates from Yangon University of Foreign Languages, Yangon Arts and Science University and Yangon Institute of Economics.
And why the costumes? "We want to show that young girls are also participating against the military coup. We thought these costumes were the most obvious way to do that," said one member. "We are young and educated – and we are totally against the military coup."
---
UPDATE: 10:45am
Dissent swells in the government ranks
We've got more movement on the civil disobedience front in Nay Pyi Taw this morning, with hundreds of civil servants led by staff from the Ministry of Electricity and Energy staging a protest near Myoma Market.
Notably, among the demonstrators there were several senior officials, including director general-level. Director generals head departments within ministries – only permanent secretaries and deputy permanent secretaries have a higher rank.
One official from the Department of Rural Development who joined the protest acknowledged that civil servants were divided over whether to join the campaign. Some of those who remain in the office may want to participate to show they oppose the coup, but are facing pressure from their superiors or worry about the impact on their families.
"We do not want to put pressure on those who are in the office. Staff have family problems and other difficulties. We understand them. We hope they also understand us," the official said.
We hope to try to bring you more on the growing civil disobedience movement later today.
---
UPDATE: Wednesday, February 10, 10am
Protests against the military coup are continuing for the fifth straight day in Yangon, and for the second day in defiance of police orders not to gather in groups of more than five people.
Early in the day, a group of protesters in the city's downtown staged a mock funeral for "all dictators", replete with pallbearers carrying a coffin on which was inscribed, "Min Aung Hlaing, aged 65". It was also adorned with photos of the Tatmadaw commander-in-chief.
"This is the end for the dictators, which the Myanmar people desire", one demonstrator shouted, as the funeral procession marched down Maha Bandoola Road toward Sule Pagoda. Roadside spectators cheered them on.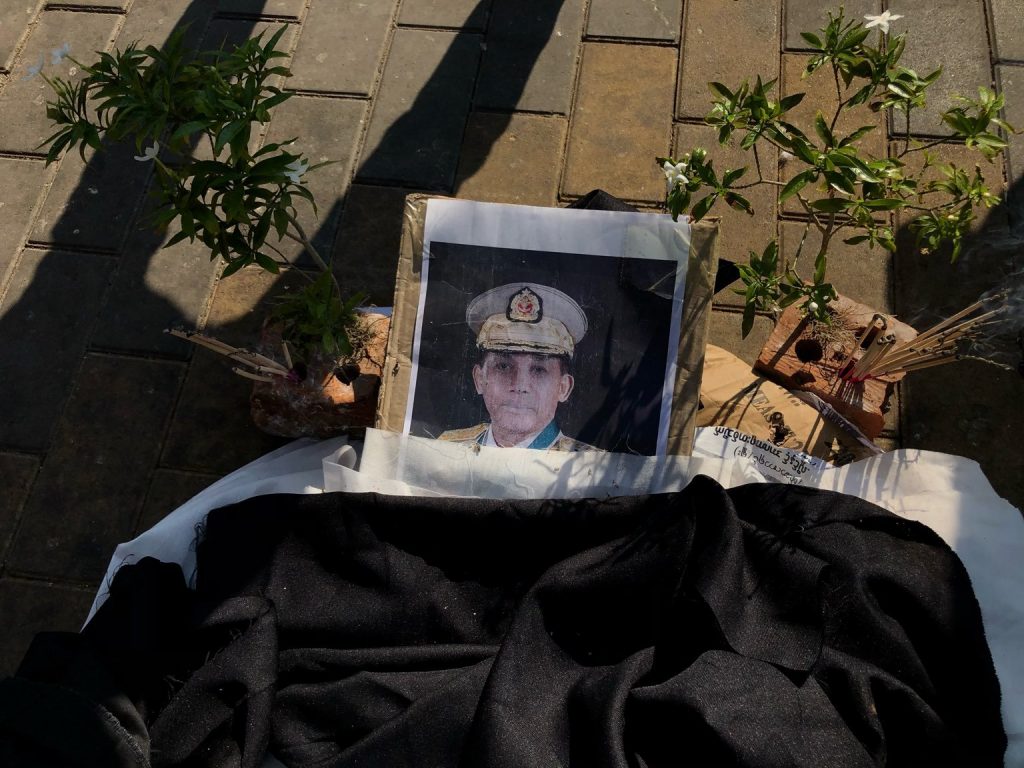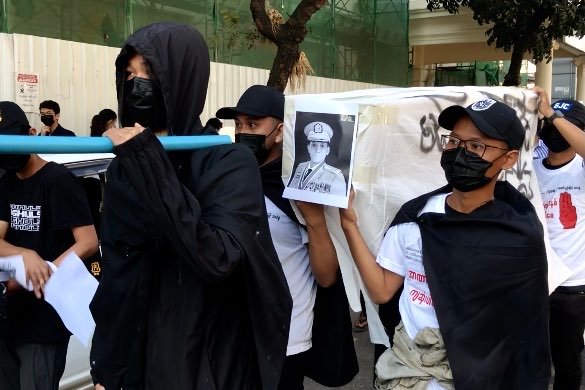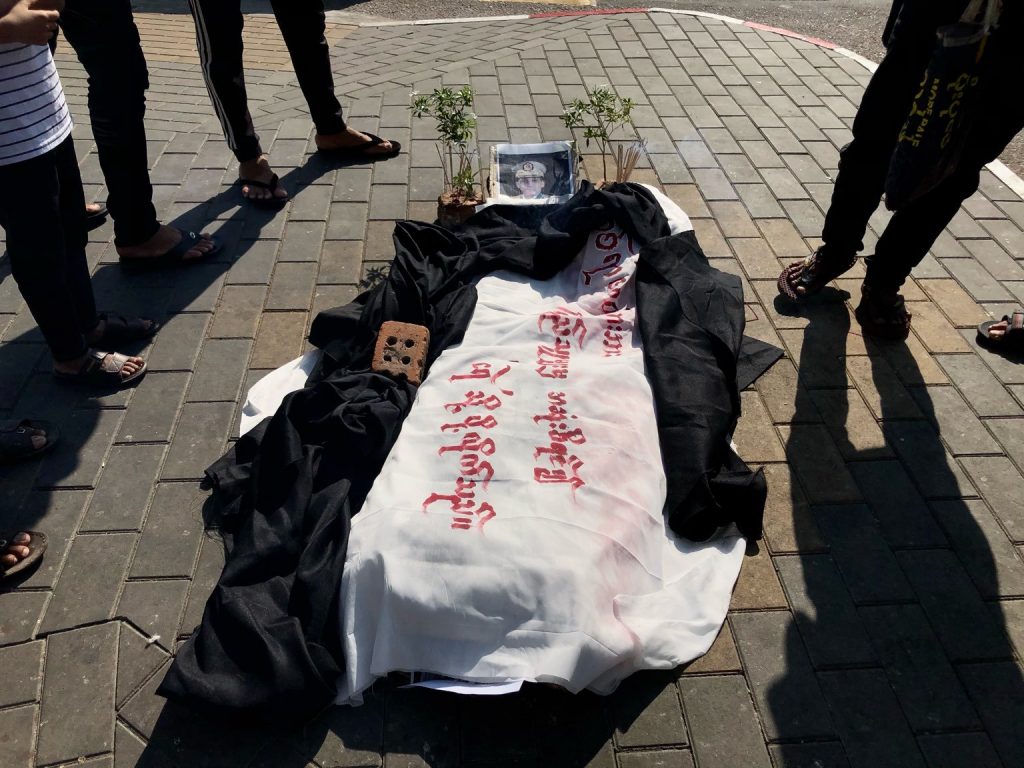 UPDATE: 6:10pm
Police in Sittwe this morning briefly detained for questioning two leaders of a Rakhine State civil society organisation while investigating what they thought was a protest planned for this afternoon in the state capital. In fact, there were no protests in Sittwe today.
Officers from the Sittwe No 1 police station interrogated U Tun Myint Thein and U Khaing Kaung San, the chairman and director, respectively, of the community development group Wan Lark Foundation.
Khine Kaung San told Frontier that police called him in for questioning after hearing the Wan Lark Foundation would lead a protest in Sittwe at 2pm.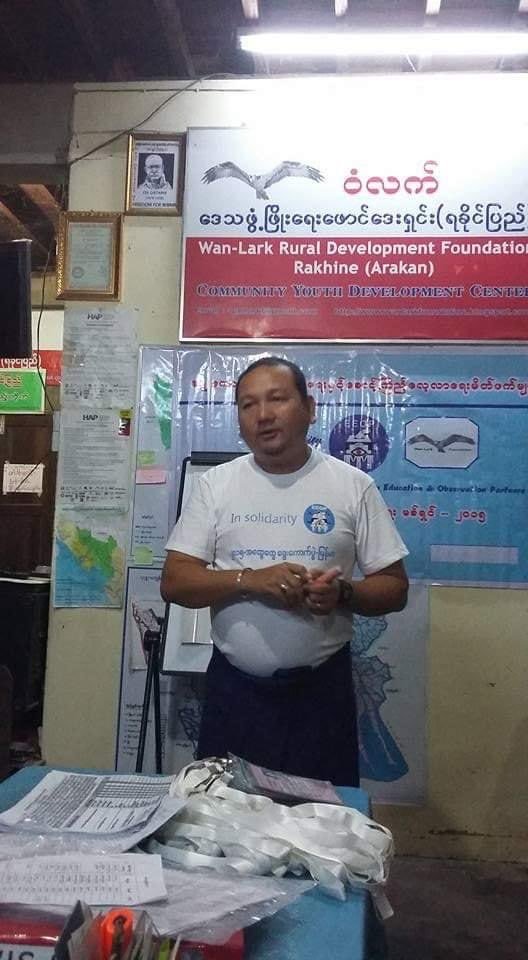 "The police asked if we were planning a protest, and why we were protesting," he said. "We told them Wan Lark was not planning any protests because we're a CSO."
"We're doing a lot of work for displaced people, and on other problems in Rakhine – we have no time to protest," he said.
Across the south of the state, thousands gathered today to protest against the military coup. Demonstrations have been reported in Gwa, Thandwe, Taungup and Munaung.
UPDATE 5:45pm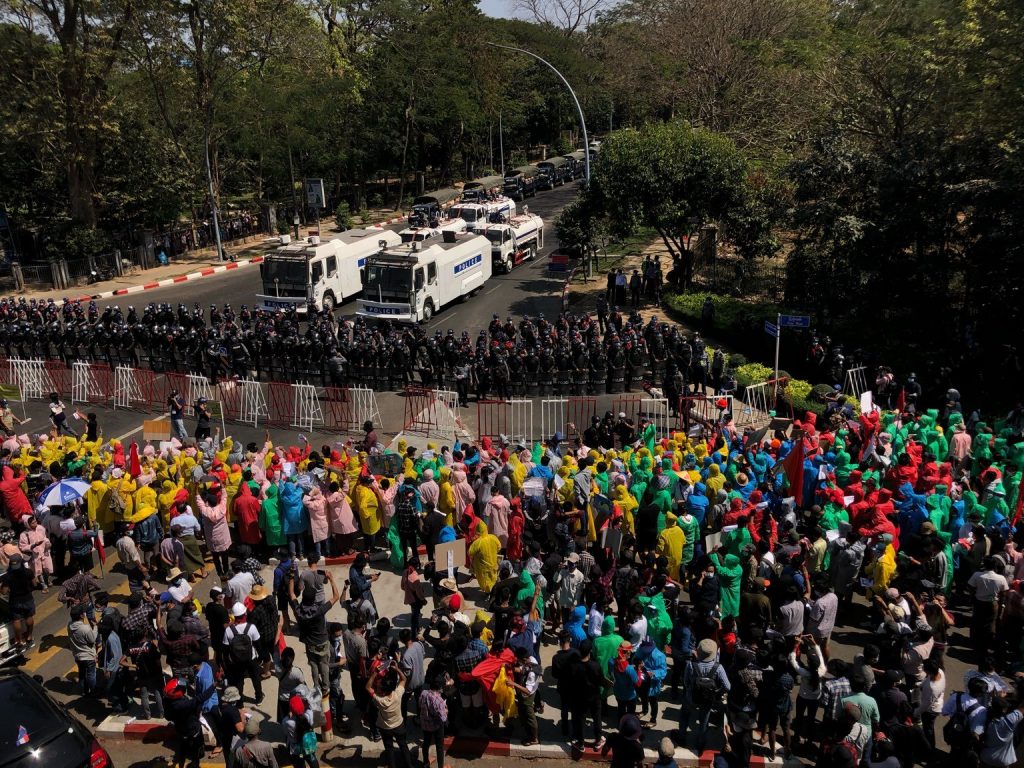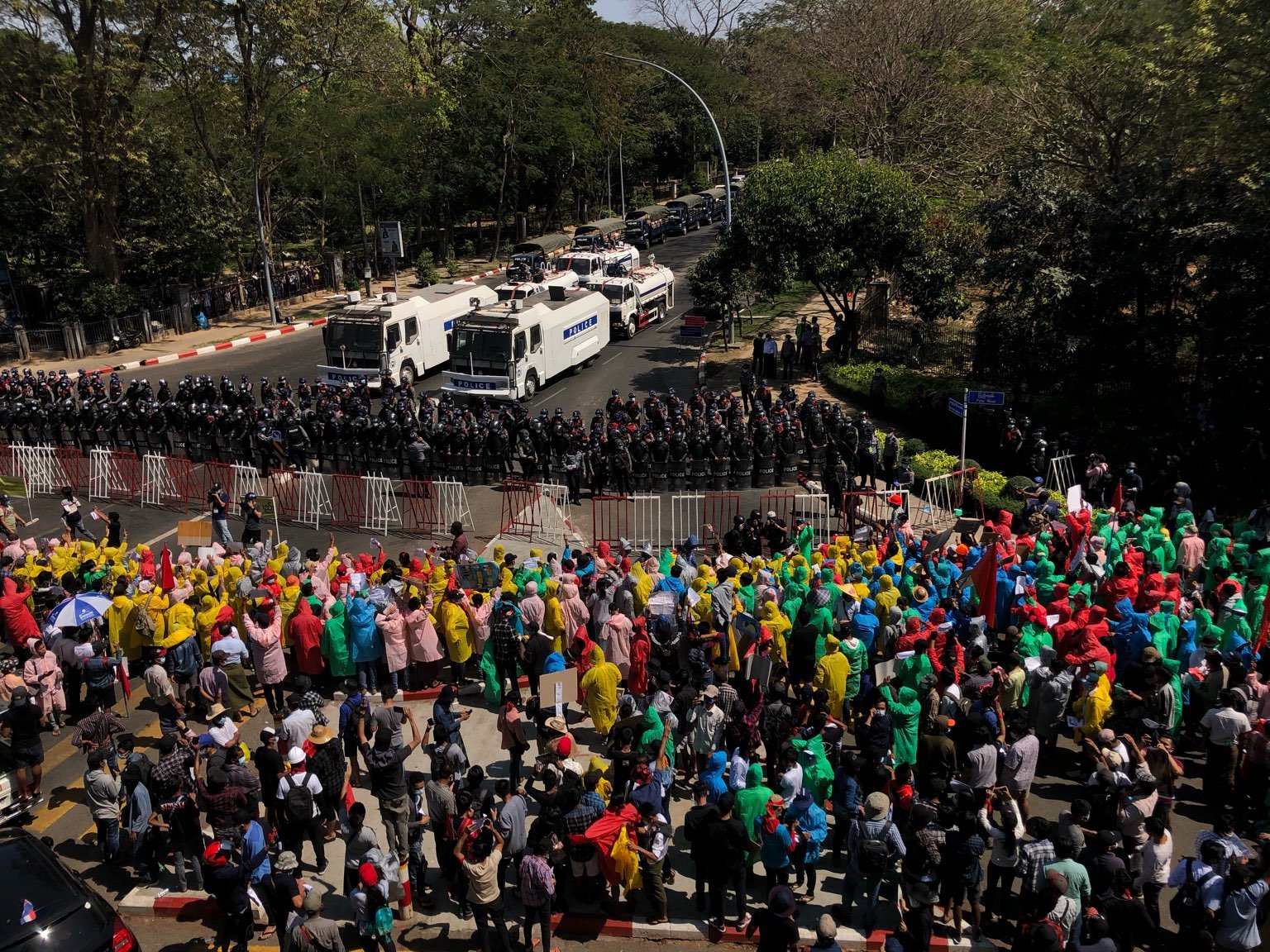 Peaceful end to the day in Yangon, but violence and tragedy in MDY, NPT
Protests have wound down largely without incident in Yangon, despite a tense standoff at Hledan Junction between tens of thousands of protesters and around 100 police manning a barricade at the entrance to University Avenue.
In downtown Yangon, a few hundred protesters were still active around 5pm at City Hall, chanting directly at police on the opposite side of a barricade. The footbridge on the corner of Anawrahta and Sule Pagoda roads was still packed with people who were cheering passing cars and giving the three-finger salute.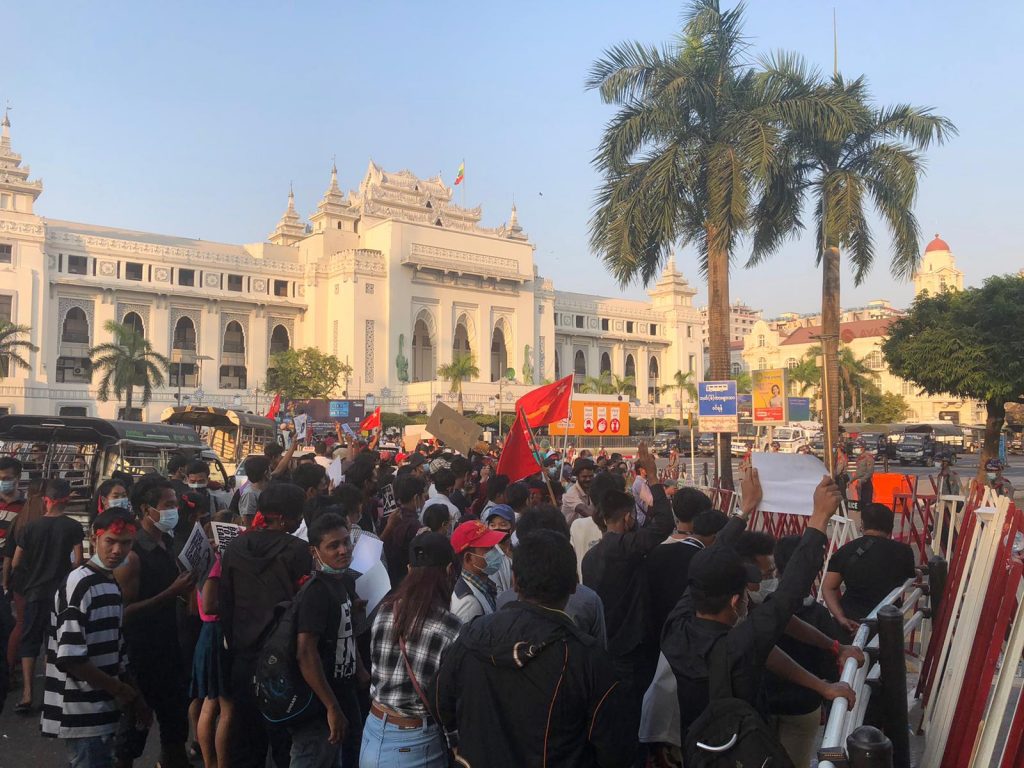 Sadly, the same can't be said for Mandalay and Nay Pyi Taw, where police fired water cannon, tear gas, rubber bullets and, it seems, some live rounds. A woman aged around 20 is in intensive care after being hit by what appears to be a live round in Nay Pyi Taw.
This evening, videos on social media showed police in Mandalay leaving their barricades and rushing demonstrators on 38th Street, hitting them with their batons.
All of urban Mandalay and parts of Yangon are subject to a section 144 order that puts in place an 8pm and 4am curfew and bans gatherings of five or more people. Those caught violating the order face up to six months in prison.
---
UPDATE 5:15pm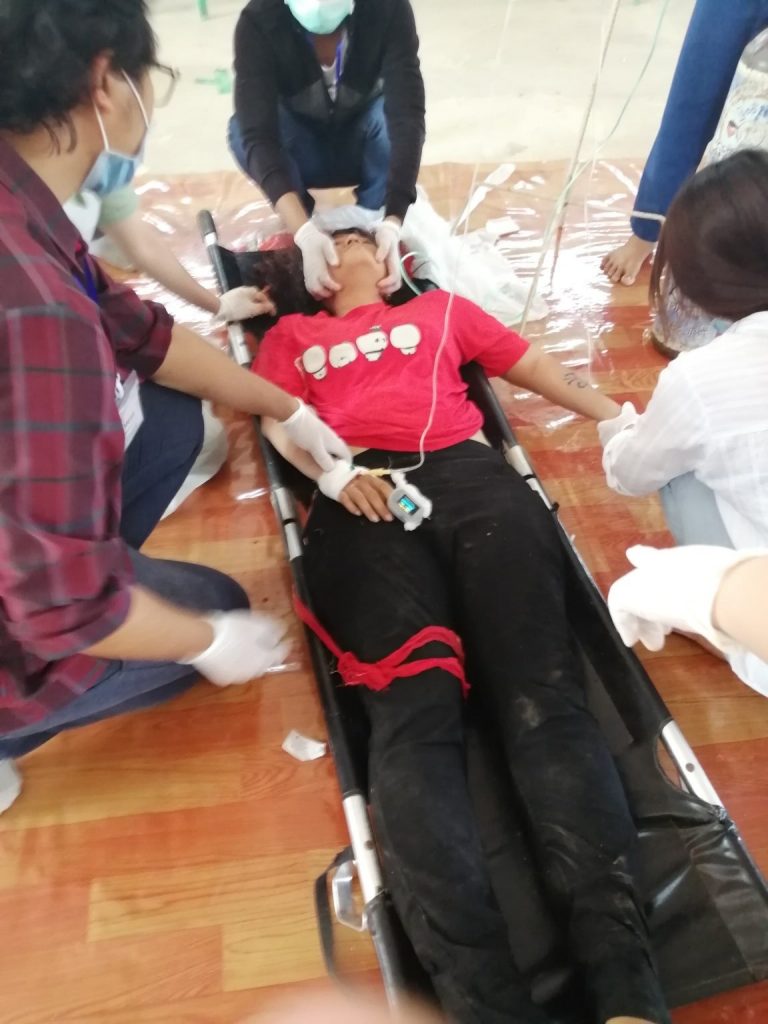 Woman in intensive care after NPT shooting
A woman aged around 20 is in a critical condition after suffering a gunshot wound to the head during a protest in Nay Pyi Taw.
Some media reported that the woman died but a doctor from Nay Pyi Taw's 1000-bed hospital said she is receiving treatment in the hospital's intensive care unit.
However, he said the prognosis was not good. "She could die at any time," he said.
A video of the incident shows the woman had been standing off to the side of the demonstrations when she suddenly fell to the ground.
Frontier reviewed X-rays that showed the bullet hit her in the face and penetrated deep into her skull. It appears to be a live round, rather than the rubber pellets police had fired earlier.
A member of an emergency medical treatment group that assisted the woman said they immediately sent her to the 1000-bed hospital in Nay Pyi Taw because her condition was so serious.
"We've been told she's in a critical condition," he said.
---
UPDATE: 4:20pm
A dramatic scene unfolded at a protest in the Dry Zone town of Magway this afternoon, when several police broke ranks with their fellow officers to join the demonstrators.
Thousands of protesters, including students, health workers, government employees and youths gathered in the town just south of the border between Magway and Mandalay regions, on the Ayeyarwaddy River.
In a video making the rounds on social media, the demonstrators are seen holding up green tarpaulin to shield them from an onslaught of police water cannon. Finally, one, then two and three officers leave a line of police facing off with the crowd, just in front of the cannon. The crowd erupts in applause, and several on the protest's front line embrace them.
Other officers attempt to pull the defectors out of the crowd and drag them back to the police line but are unable to. The defectors, riot shields still in hand, turn to face the police and cannons in solidarity with the crowd.
Our reporter in Magway was on the scene to capture the moment in pictures. He was unable to speak with the defectors but says the protesters have taken them into hiding to protect them from punishment.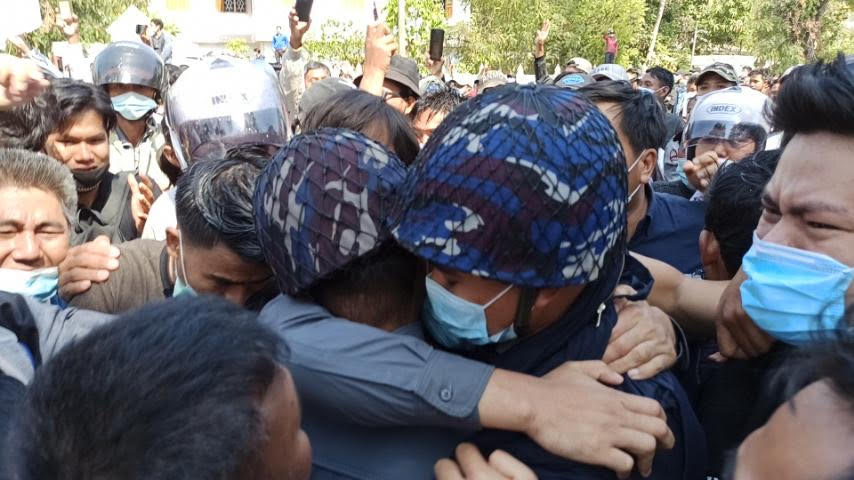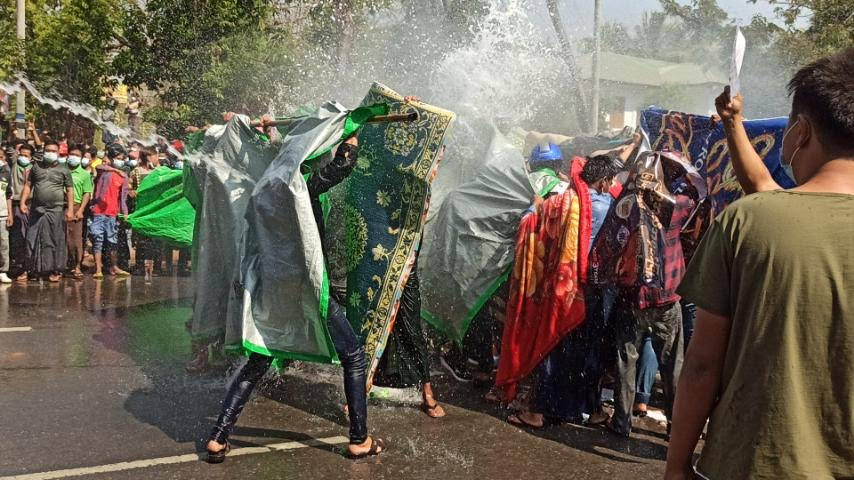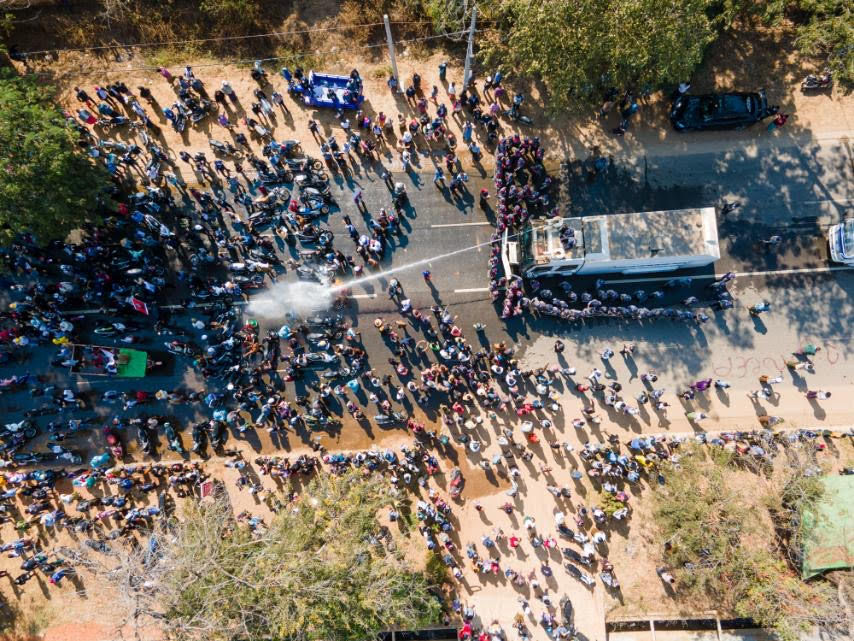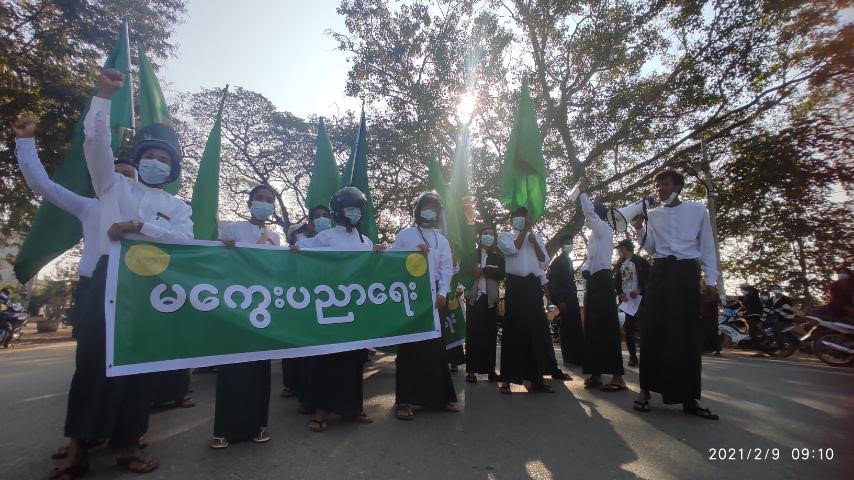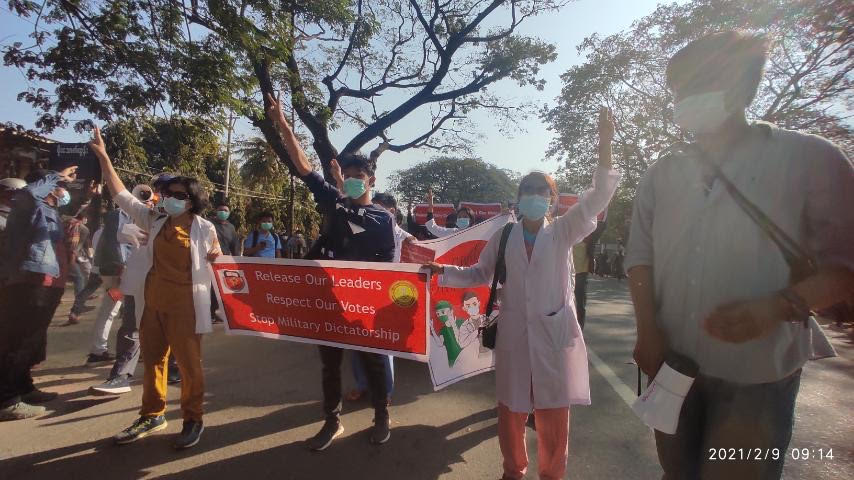 UPDATE: 3:20pm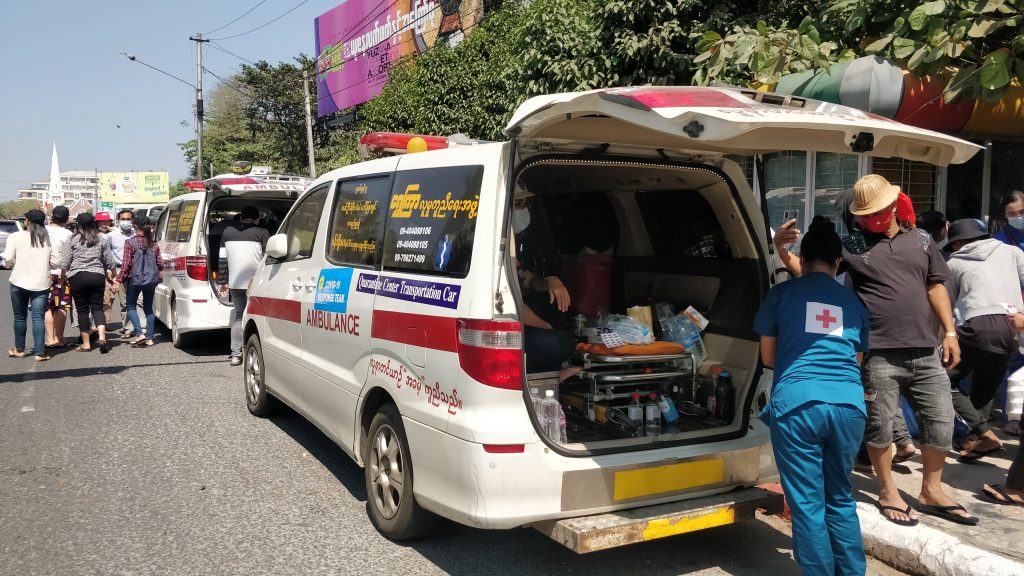 Volunteer ambulance crews brace for a crackdown
As hundreds of thousands of people across Myanmar take to the streets today, defying threats of "action" in state media and local bans on gatherings, fears of a violent crackdown are looming. Water cannons have injured protesters in Mandalay and Nay Pyi Taw. Rubber bullets were also fired in the capital city, and teargas sprayed on crowds in Mandalay. A tense standoff is also taking place at Yangon's Hledan junction, where tens of thousands of protesters are ignoring police and army orders to disperse.
In preparation for a violent crackdown, ambulances belonging to local private charitable groups are stationed close to protest sites in Yangon. The volunteer ambulance crews have been at the frontline of Myanmar's response to the COVID-19 pandemic, and now stand ready to support the protest movement against military rule.
One volunteer told Frontier she haunted by memories of the military's bloody crackdown on mass protests in 1988, when she was only 12 years old, and said social welfare groups need to be prepared for similar scenes this time.
Asked about other parallels with '88, she said, "The mindset of the military is the same, but the response of the people is different. Back then, we were isolated. But the new generation, they are open to the world and know their rights."
---
UPDATE: 2:45pm
Water cannon, tear gas fired in Mandalay
Police in Mandalay have used much harsher tactics today in a bid to disperse tens of thousands of protesters from the streets of Myanmar's second-largest city. This afternoon they've fired water cannon and tear gas, and our journalist on the ground was among those gassed.
The photos above show the impact the water cannons can have – the force is powerful enough to flip an adult over. Unsurprisingly, several people hit by water cannon have been injured, not only in Mandalay but also Nay Pyi Taw. Police have also been more aggressive about arresting protesters, rounding up at least 200 people, including several journalists, according to our reporter.
This hasn't deterred protesters at all – there are still tens of thousands on and around the extension of 38th Street, which is the focal point for the demonstrations today. Fittingly, the extension is known locally as "Daw Aung San Suu Kyi Street", because it was opened under the NLD government.
---
UPDATE: 2:15pm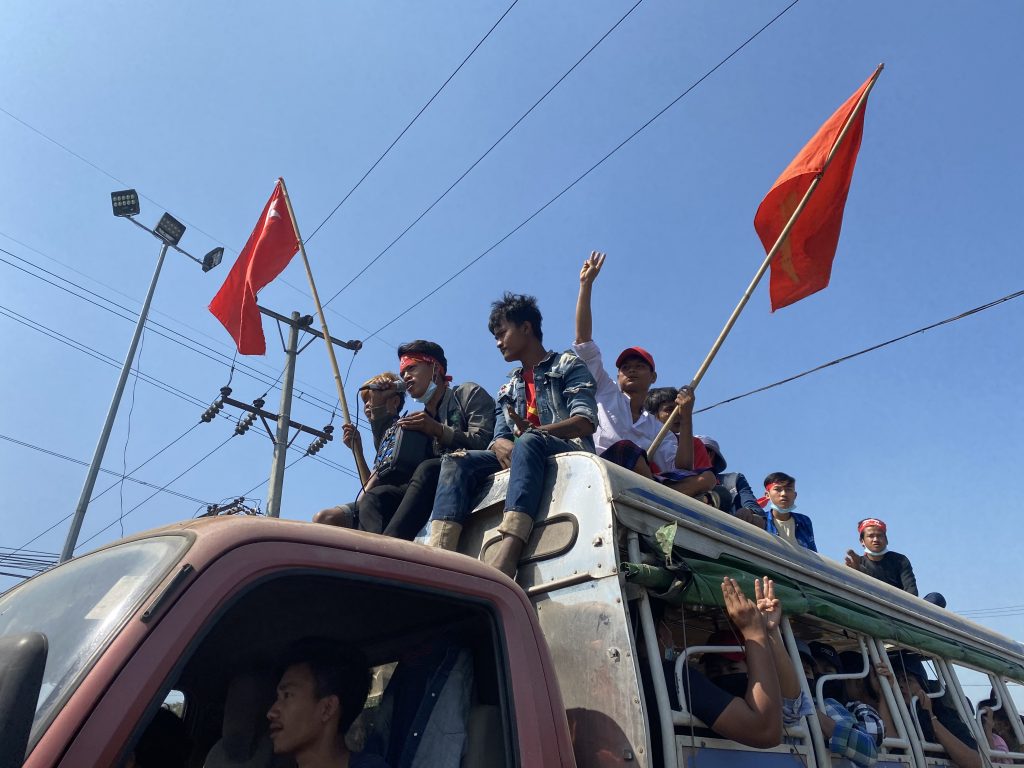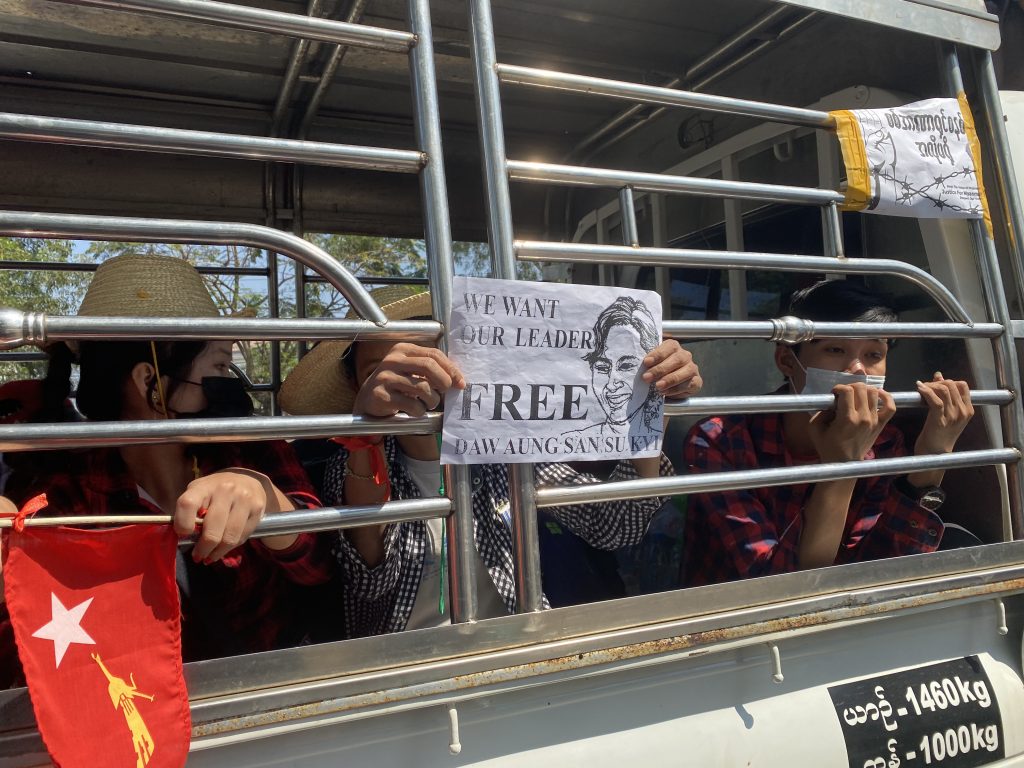 Hundreds of vehicles carrying thousands of demonstrators from Hlaing Tharyar, on the far western outskirts of Yangon, were blocked by police in front of Tatmadaw Battalion 532 on Yangon-Pathein Road just after noon, as they approached the Bayintnaung bridge on their way downtown. Dozens of police formed in three lines, warning the drivers not to enter and saying they'd shoot live rounds if anyone did.
With the road blocked, demonstrators by their thousands began leaving their automobiles and crossing the bridge by foot while chanting "the people's police".
Most of the demonstrators were young, in their late teens and 20s, and almost all were from Hlaing Tharyar's industrial zones. Ko Aung Ye Linn, who works at the MaMa noodle factory, said MaMa had closed yesterday and today "to get involved in the protests".
"From our industry, more than 1,000 workers are protesting the military coup," he said. "The supervisor told us that we have to go back to work tomorrow, but we're not sure we will."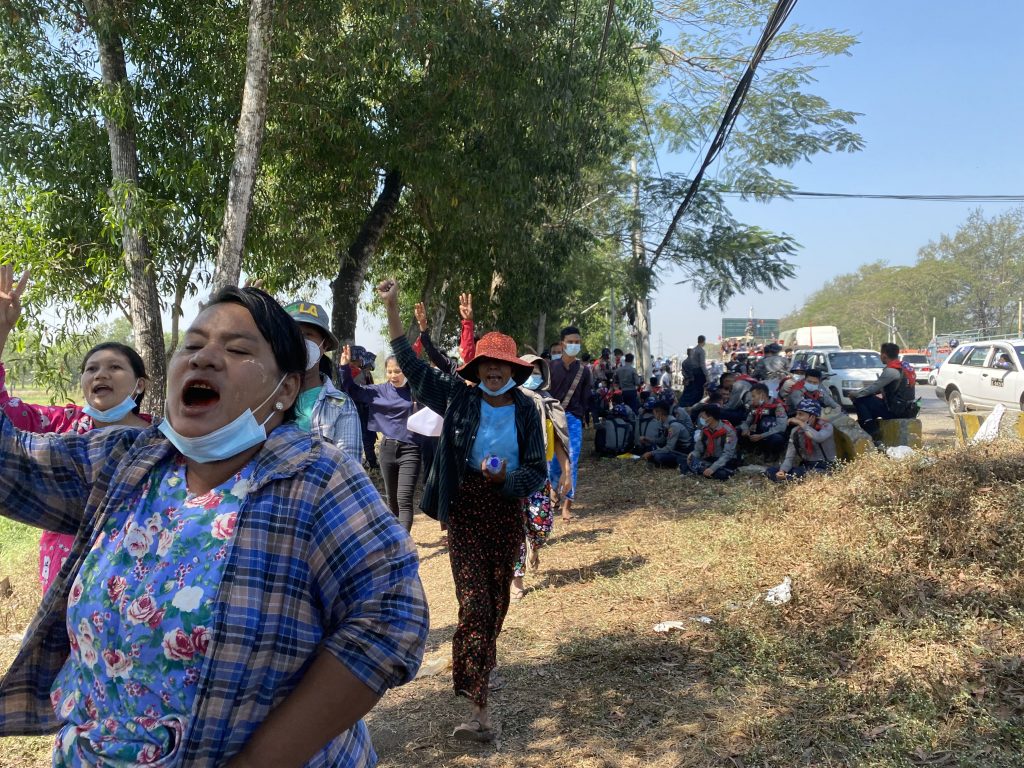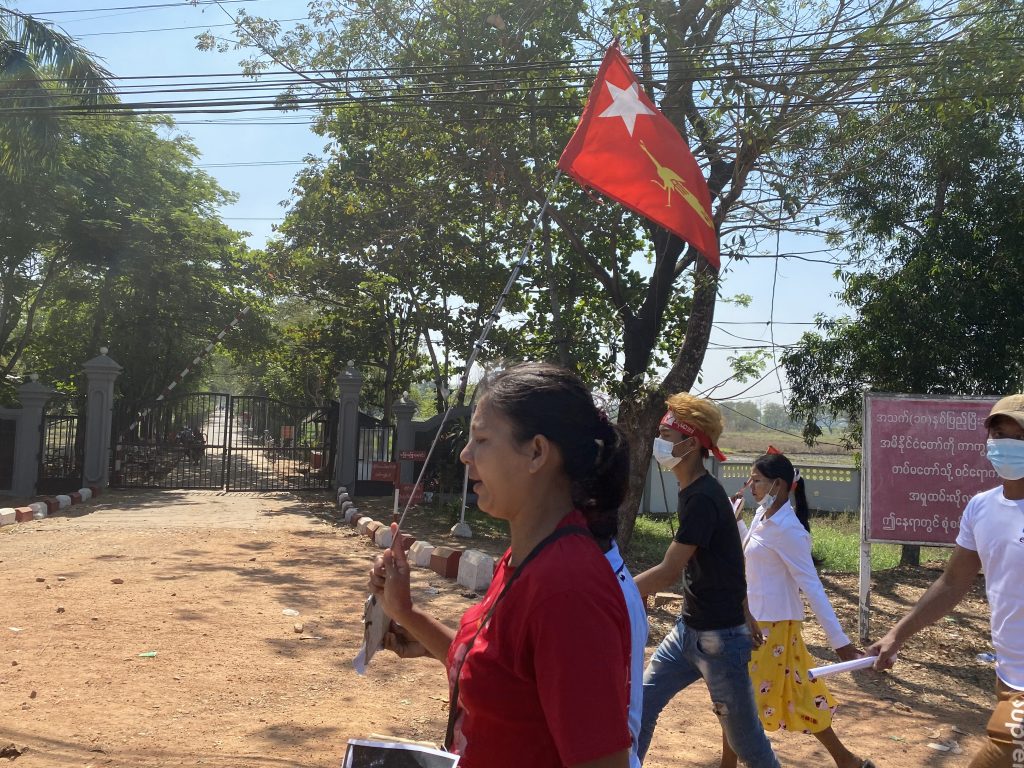 Nearby, a traffic light was out and traffic police were absent, causing large traffic jams until local residents began directing traffic themselves. Power was not out at homes and businesses in the area immediately surrounding the junction, and some said they believed power to the traffic light had been cut intentionally by police to delay protesters.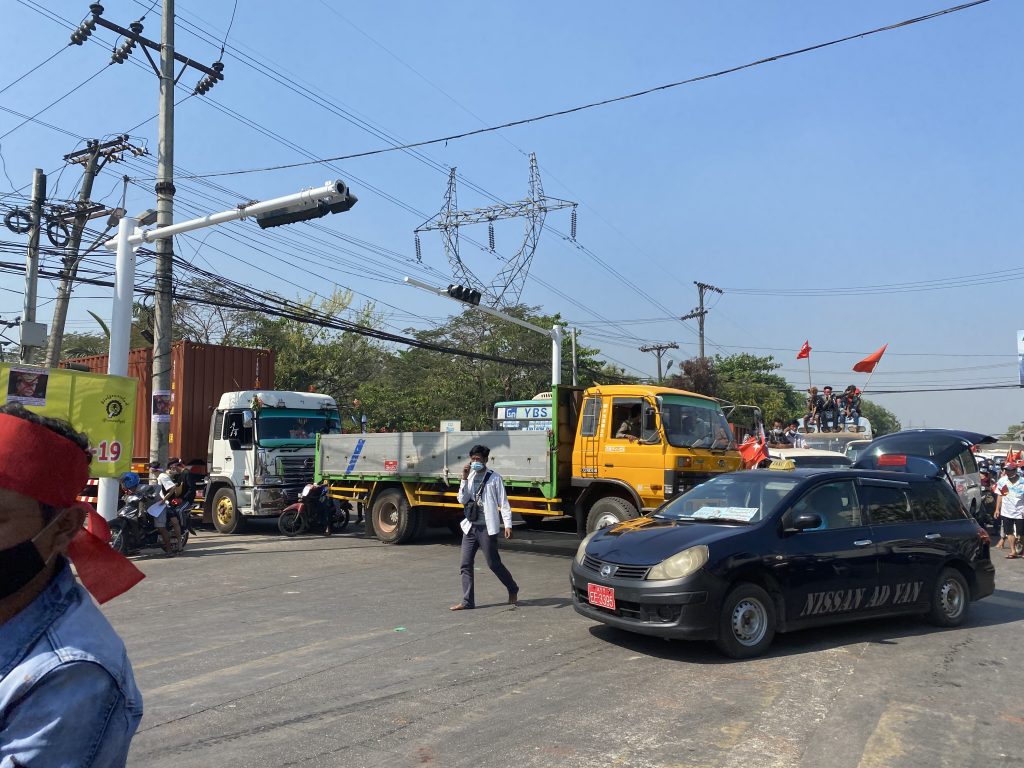 ---
UPDATE: 2:10pm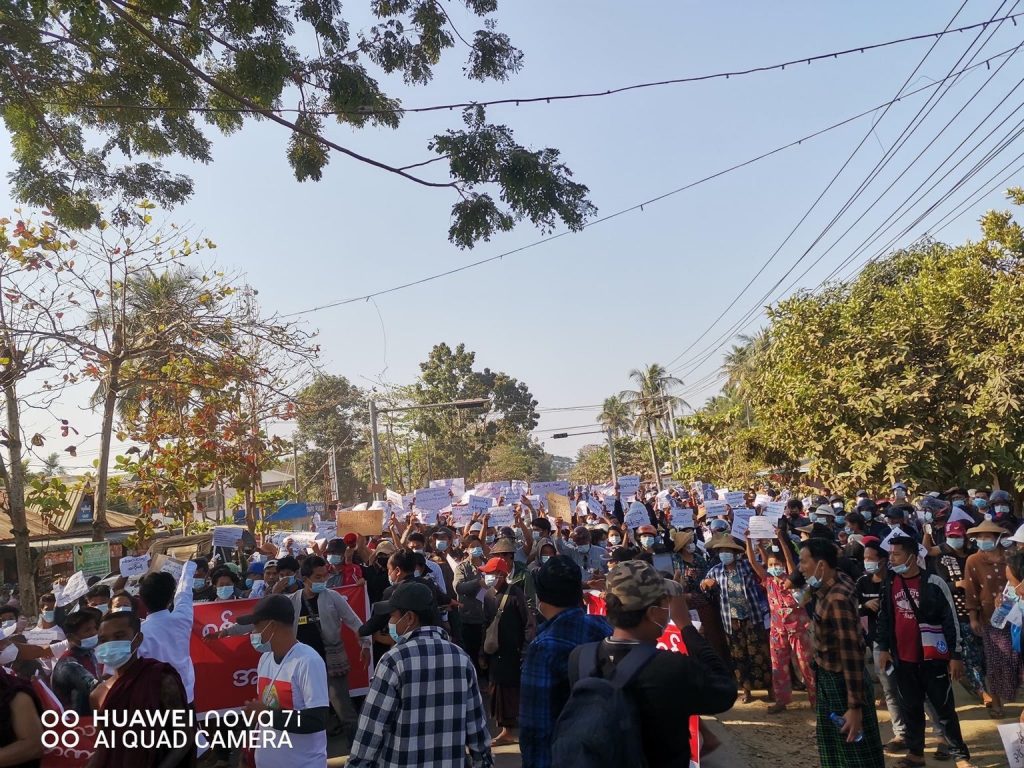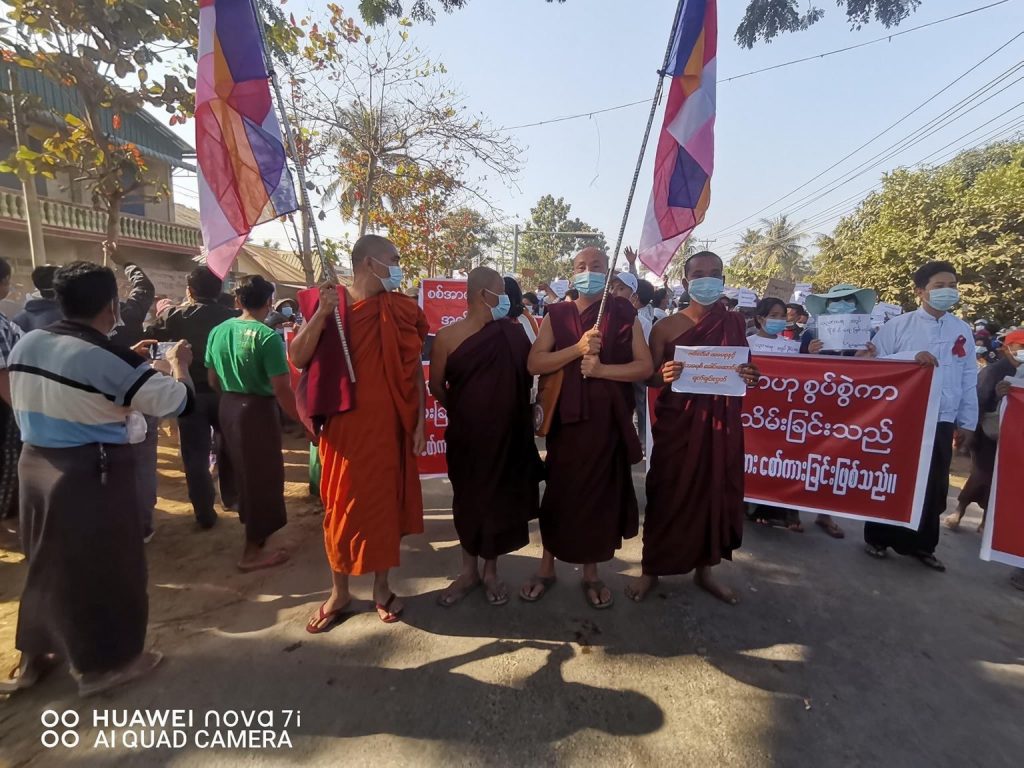 By 8:45am, more than 5,000 protesters gathered in the coastal, southern Rakhine State town of Gwa – a rare NLD stronghold in the state. Police at first blocked a major junction outside of the home of the state NLD chair U Nyi Pu, "But we negotiated with them and they opened the barriers," said Soe Min Aung, one of the leaders of the Gwa protest. "We will continue to escalate the movement in the coming days, until the dictatorship falls."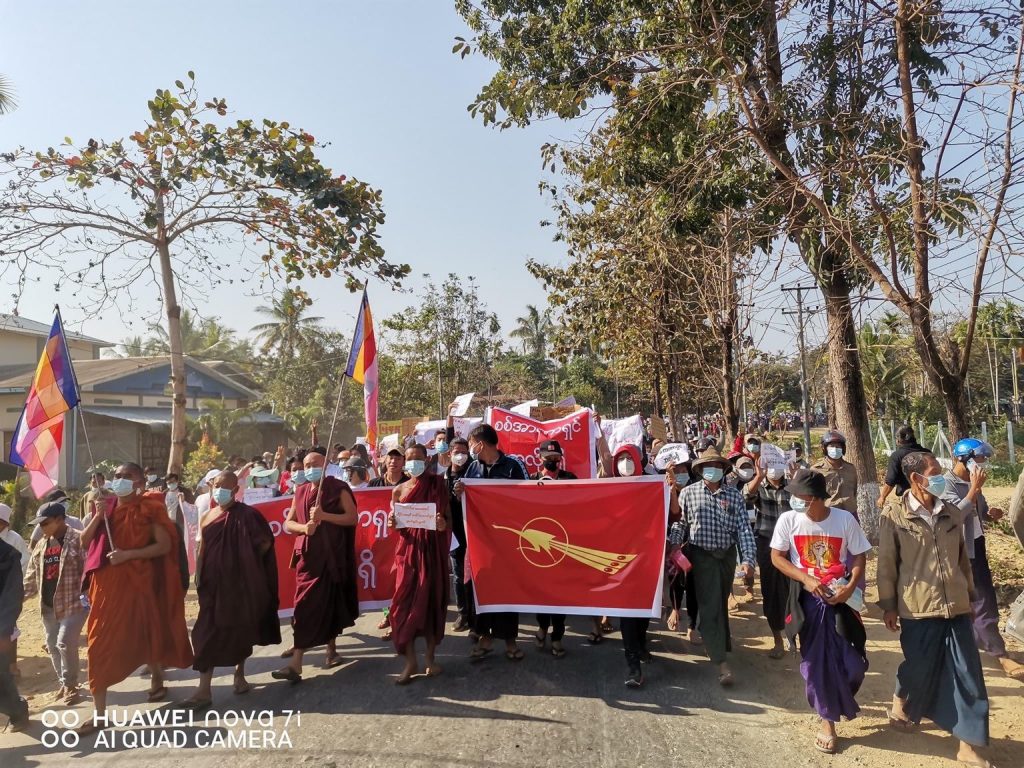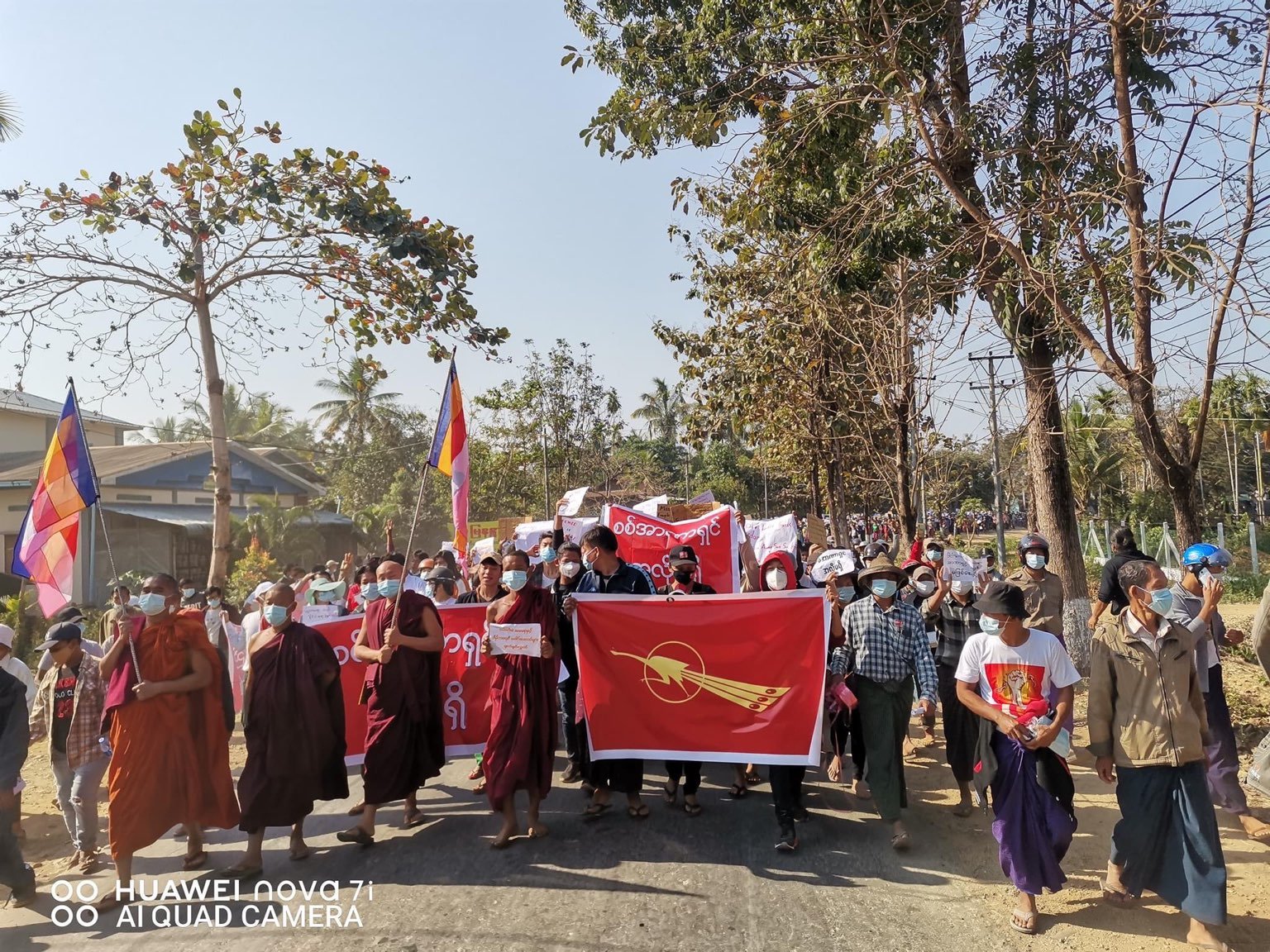 ---
UPDATE 2pm
Tense standoff at Hledan Junction
In Yangon, meanwhile, a tense standoff between tens of thousands of demonstrators and police is continuing at Hledan Junction in Kamaryut, which is under a section 144 order that bans gatherings of five or more people. Demonstrators are organised on the ground and up on the flyover bridge facing police and military personnel, who are stationed at the entrance to University Avenue. Police have repeatedly warned them to disperse and have water cannons ready but are not yet using them.
You can see from the photos above that many demonstrators are wearing raincoats in anticipation of water cannon being used, and that the lines of police and protesters are only separated by a few metres. A line of police wearing body armour are manning the barricades, while behind them are armed riot police and further back military personnel who arrived in the area late this morning. Mobile data doesn't seem to be working well – we're not sure if that's just because the networks are overloaded or some cell towers are being switched off.
---
UPDATE: 1:30pm
Police fire rubber bullets in Nay Pyi Taw
We have some breaking news from the capital, where our reporter says police have fired rubber bullets into the air to disperse thousands of demonstrators at Thabyaygone roundabout. The firing initially sent protesters scattering but we're now told that many have returned to the roundabout again to continue their demonstration, and police have not made an attempt to stop them. Above is some video footage showing the chaotic scenes.
---
UPDATE: 1:15pm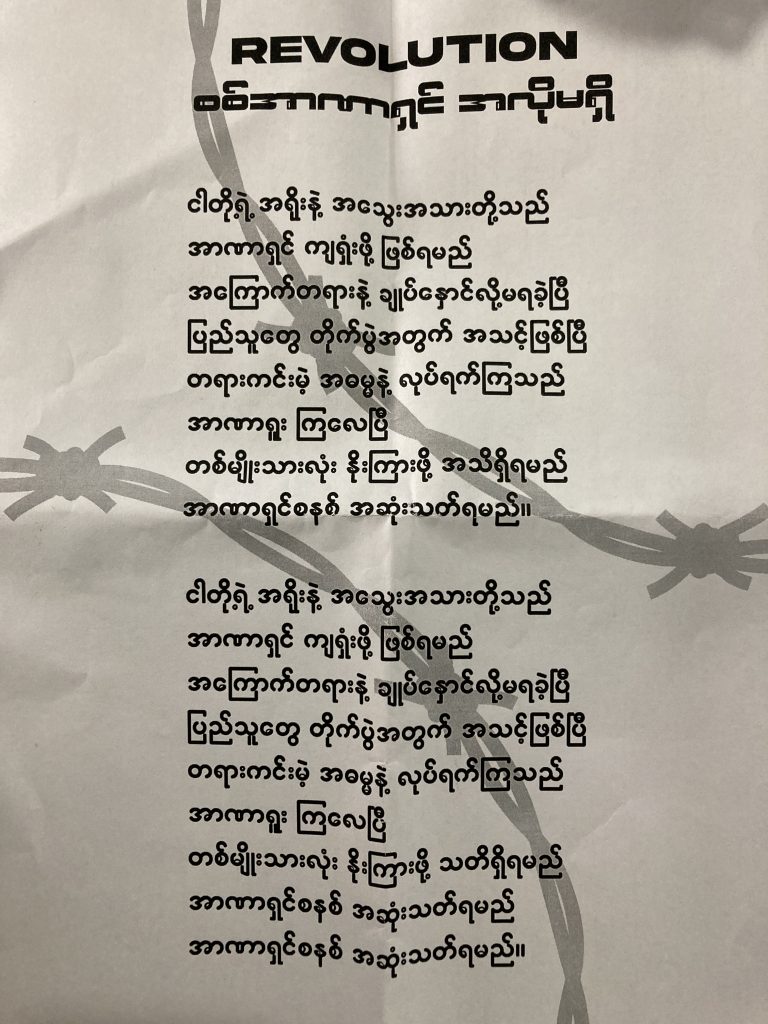 The sound of the revolution
Revolutionary songs have been a prominent feature of the demonstrations in Myanmar since the military coup.
Popular songs that we've been hearing include "Kabar Ma Kyay Bu", from 1988, and "Ayay Gyi Pyi", which was widely used during the NLD's election campaign last year.
Composer Naing Myanmar, who wrote "Kabar Ma Kyay Bu", penned a new tune yesterday for the demonstrations with the English name "Revolution" and Burmese name "Sit Anarshin Aloke Ma Shi", which translates to "No need for military dictatorship".
Lyrics for the song were being distributed at Sule in downtown Yangon this morning, and a group were playing it through a small sound system and encouraging people to sing along with them.
Some of the choice lyrics include, "Our bones and blood must be for the falling of the dictatorship" and "People are ready to fight for democracy". Without mentioning the military, it says, "They are crazy for power".
---
UPDATE: 12:30pm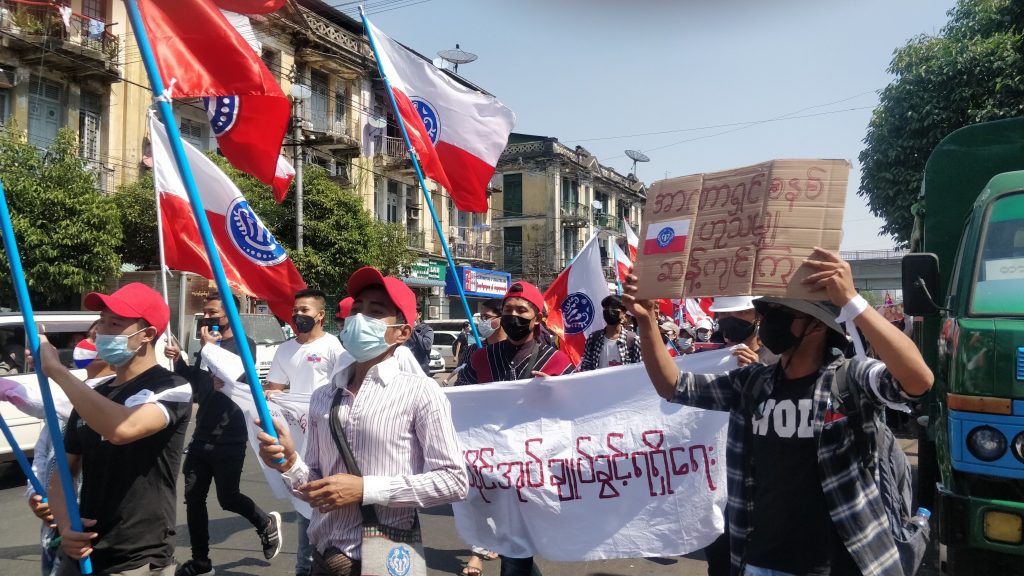 About 50 Rakhine youth marched on Anawratha Road through Lanmadaw Township just after noon. One 25-year-old participant said they weren't a student union or youth group but just a collection of young Rakhine people in the city. He said the massive participation of young people, including children, meant he wasn't scared of the police or army. He believed the military would eventually hand back power because "the people are speaking in one voice".
He said the group was headed north to Myaynigone.
UPDATE: 11:50am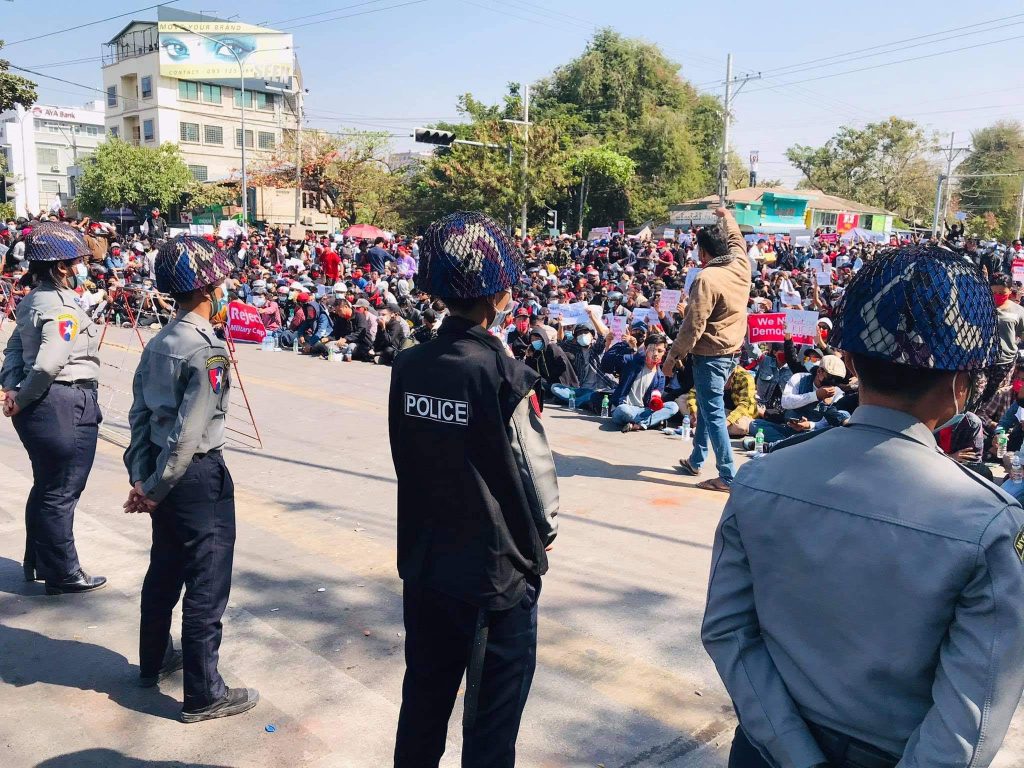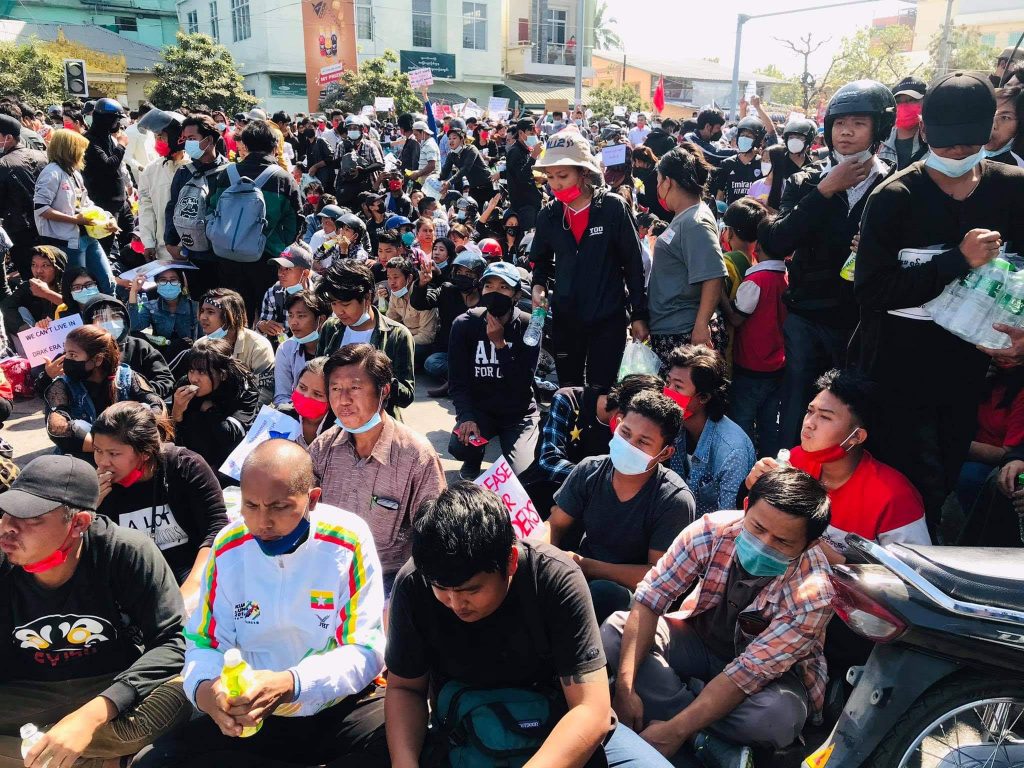 Our reporter in Mandalay says police have been seen driving around protests there (seen above) in trucks and snatching individual demonstrators off the streets, and have so far detained between 20 and 30 people. Water cannons have also been used to break up the demonstrations in Myanmar's second largest city.
Separate reports suggest several activists and at least one freelance journalist have been arrested in Mandalay over the past day or two. Frontier is still trying to confirm these arrests and the identities of those detained.
---
UPDATE: 11:30am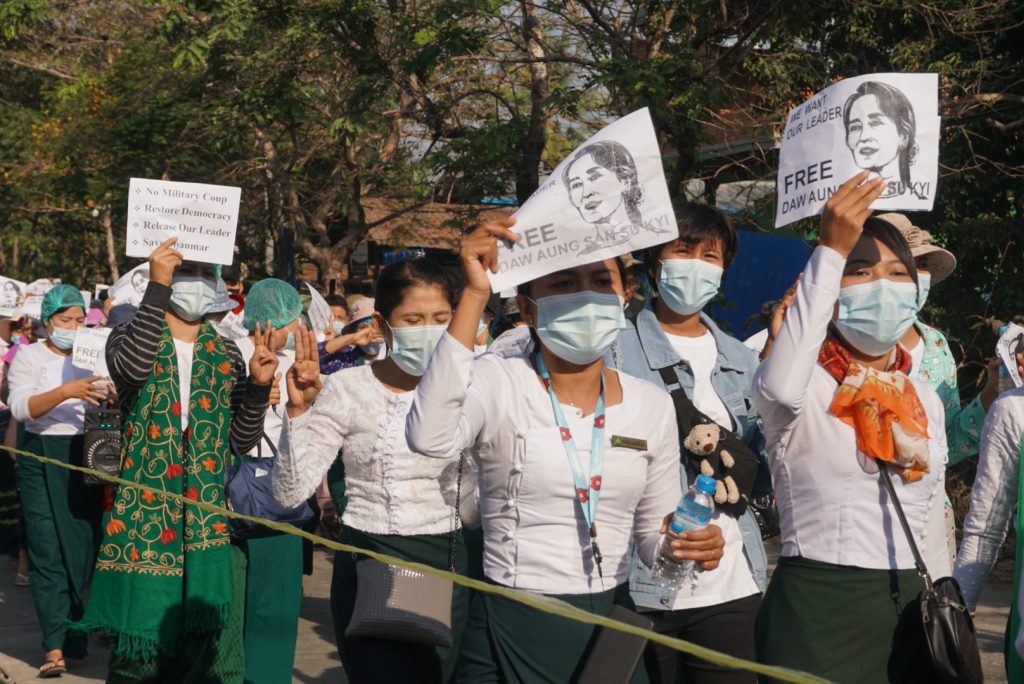 Several hundred teachers joined the 700 or so residents protesting the military coup this morning in Dala, a largely poor town immediately south of Yangon. Waving three-finger salutes and green flags – a symbol of the education profession – they chanted their support for Daw Aung San Suu Kyi, who is under house arrest in Nay Pyi Taw and facing charges for possessing illegally imported walkie-talkies.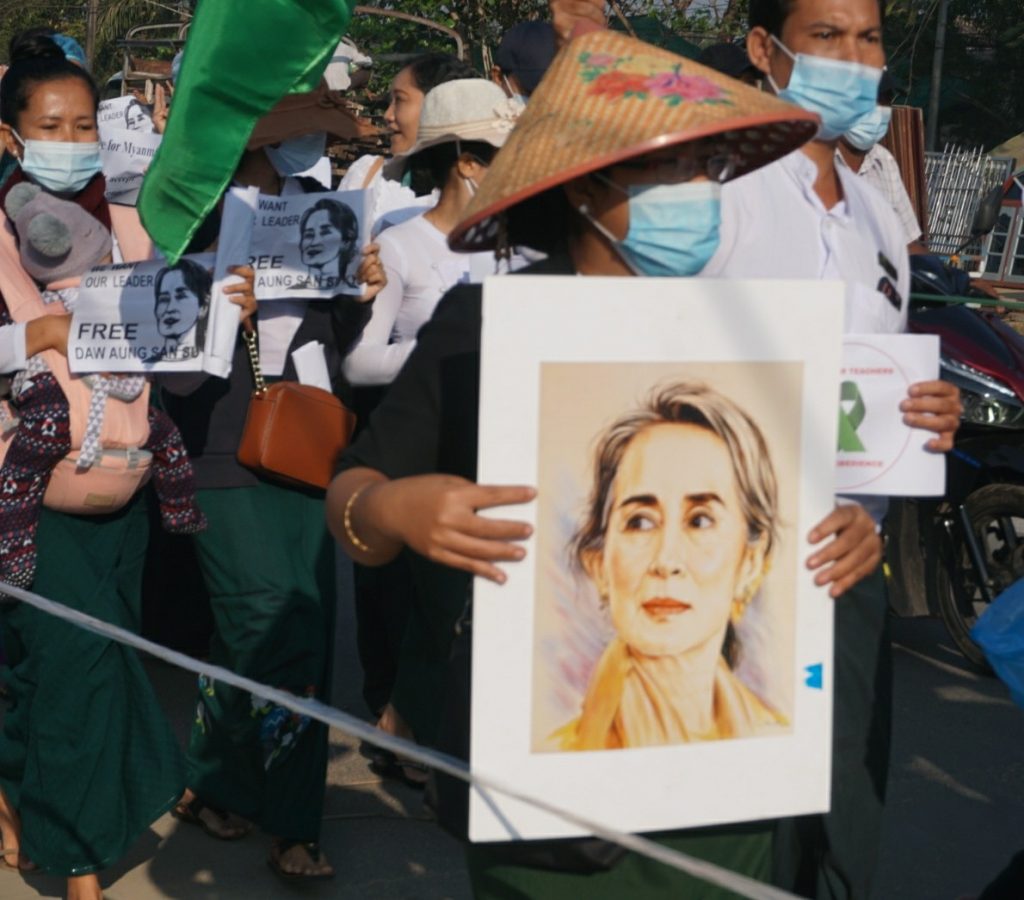 U Sun Tun Lin, a teacher at Dala's No 2 Basic Education High School, said he and his colleagues had joined the nationwide civil disobedience movement, in which hundreds of government workers are refusing to show up to work in defiance of military rule.
"We are doing this for the next generation," he told Frontier.
In a statement dated February 7, the powerful Myanmar Teachers' Federation called on teachers from all over the country to to join the movement the following day. More than 600 teachers from 81 basic education schools in Dala have so far answered that call.
---
UPDATE: Tuesday, February 9, 10:45am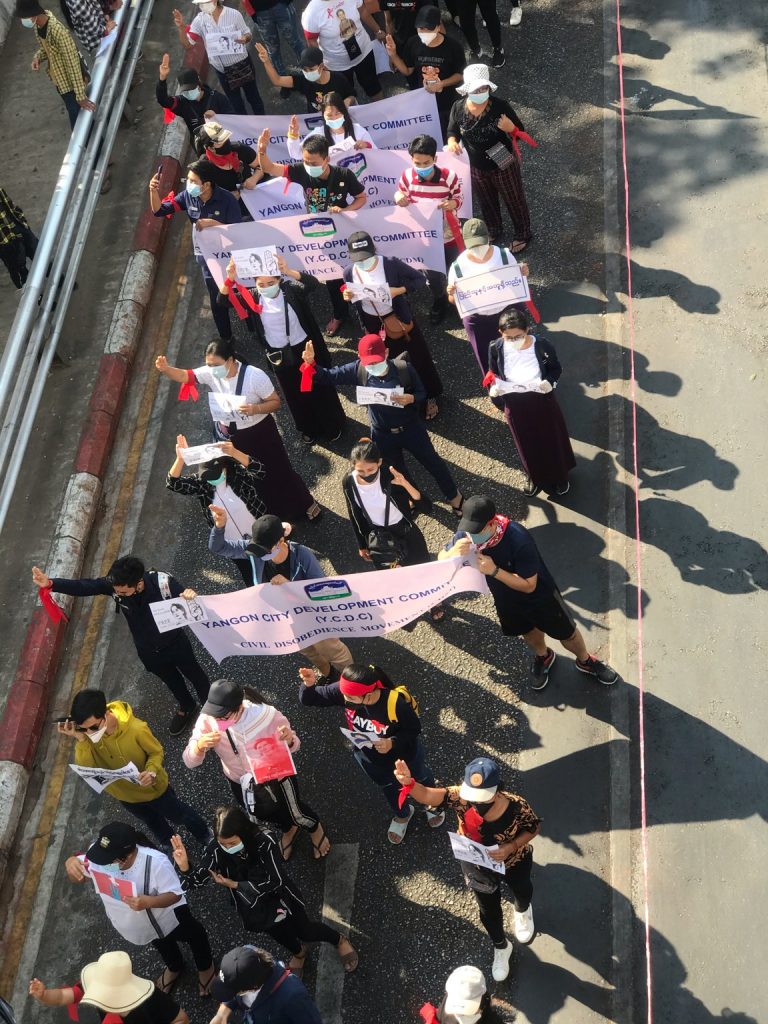 Protests resume in Yangon despite ban on gatherings
Thousands of anti-coup protesters are converging on Sule Pagoda in central Yangon and marching through other parts of the city, despite township authorities announcing a ban on gatherings of five people or more.
In a sign that Myanmar's civil disobedience campaign against military rule is gaining pace, Frontier reporters saw more than 1,000 staff from the Yangon City Development Committee, the city's municipal government, march in an organised column along Sule Pagoda Road.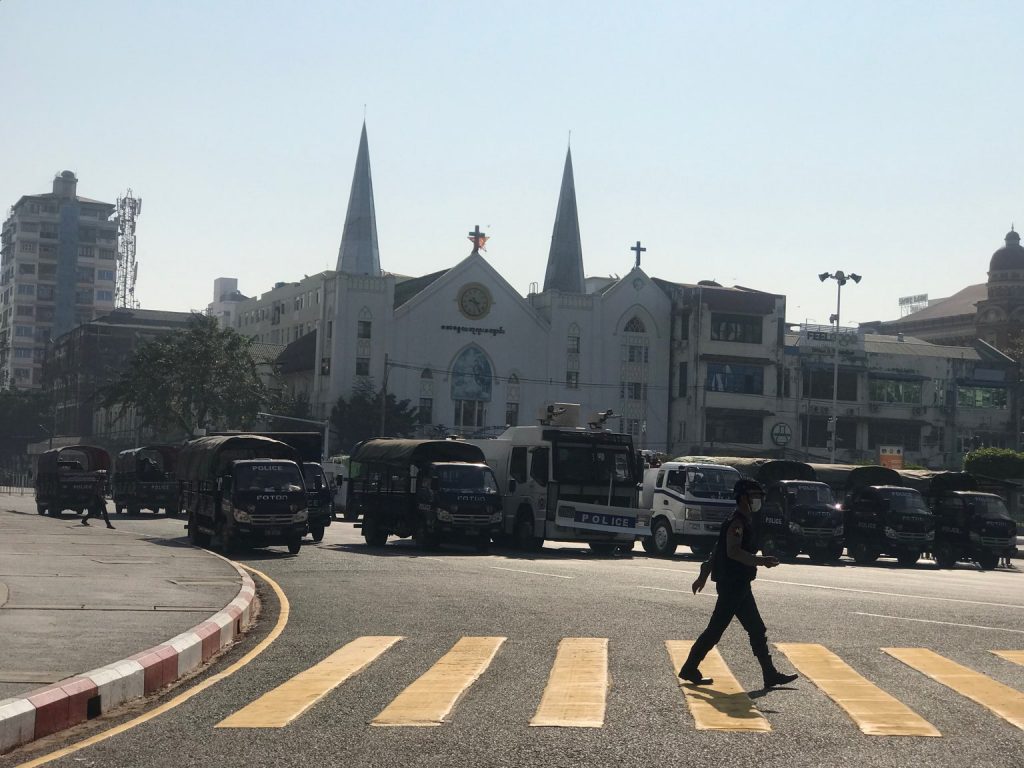 Tatmadaw soldiers have occupied YCDC's nearby headquarters, City Hall, since the coup was launched on the morning of February 1. The road outside City Hall, a historic protest venue, is still barricaded by riot police and contains a truck mounted with a water cannon.
Several bridges into central Yangon were closed for several hours since about 4am this morning, but have been reopened to allow freight to pass.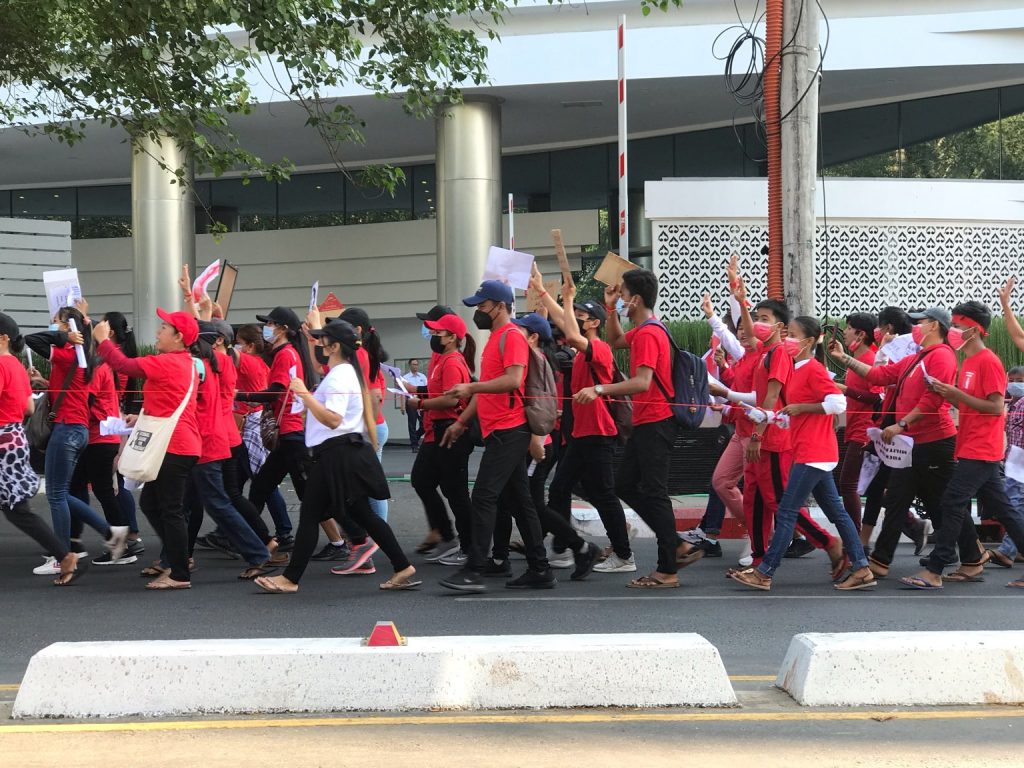 Despite the tens of thousands of people who have taken to the streets since Saturday to denounce the military takeover, police in Yangon have so far acted with restraint and the army remains off the streets. Police in Nay Pyi Taw doused protesters with a water cannon but did not break up the protest that formed at a major junction in the capital city, and Tatmadaw soldiers were visible in photographs from protests in towns elsewhere. There are unconfirmed reports of protest organisers being arrested in Mandalay overnight, and Frontier is trying to verify other claims of protesters being assaulted yesterday in various parts of the country.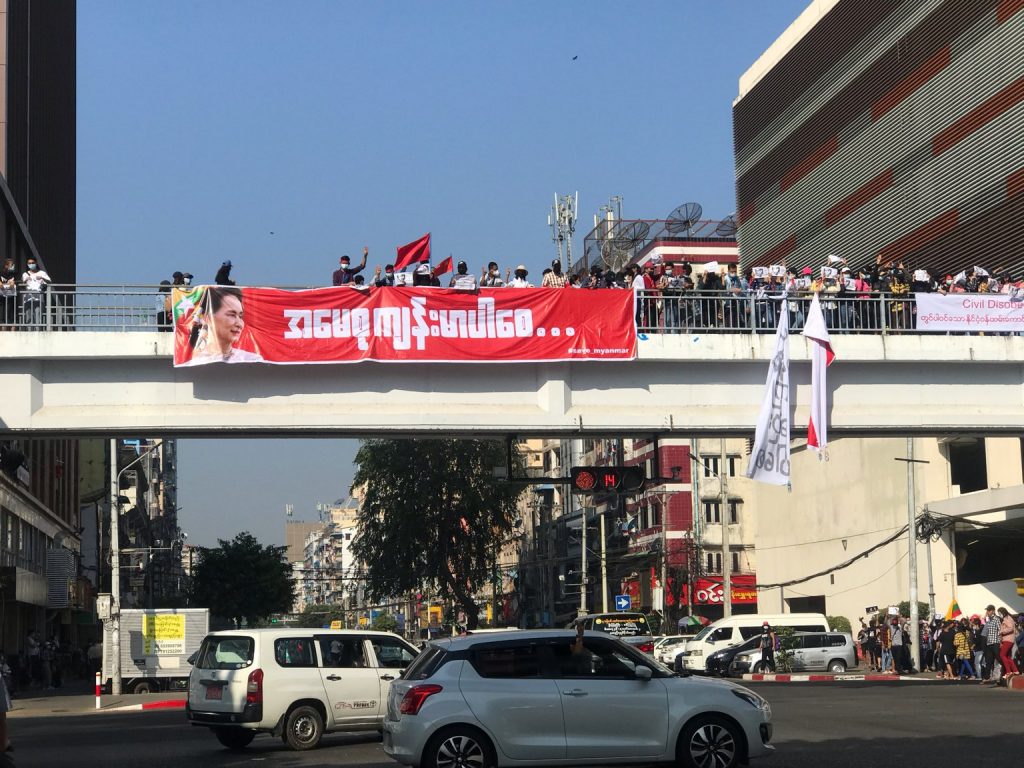 Since the internet was restored on Sunday afternoon after the country spent more than a day offline, social media has seen a spike in disinformation seemingly calculated to sow fear about protesting, so all reports of threats and abuses should be treated with caution.
As we type, protests continue to erupt and build up in various parts of Yangon, in defiance of a military government statement broadcast on state media yesterday that said "action" would be taken "in accordance with the law" against anyone creating disturbances.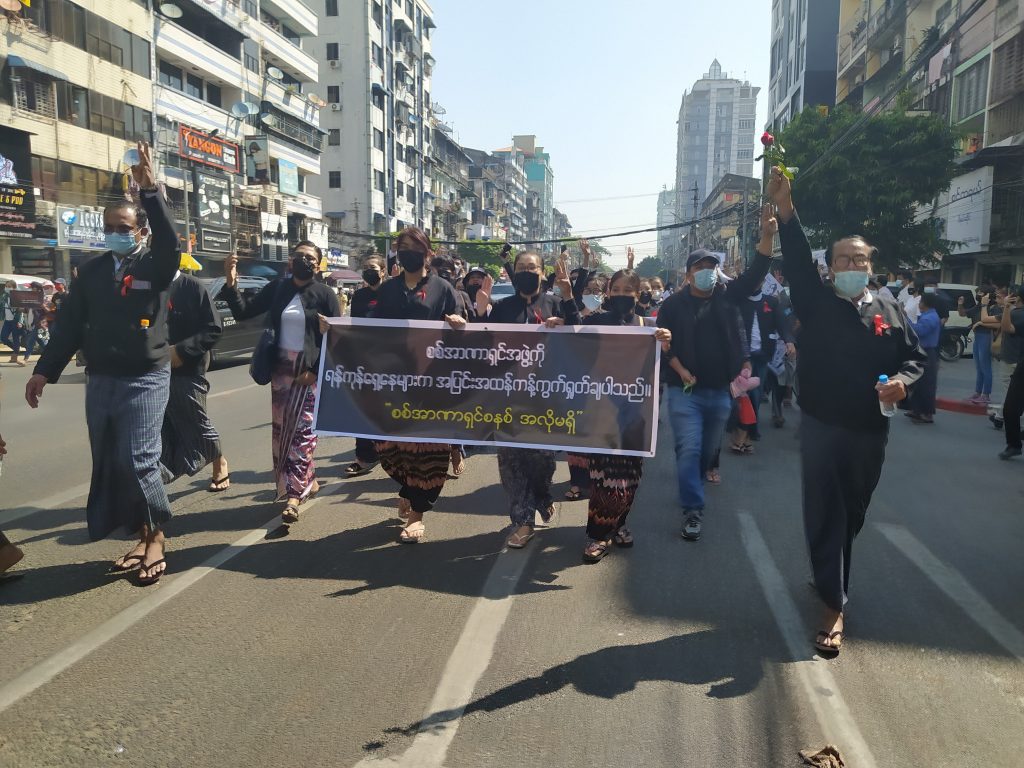 The extent of the new government restrictions is unclear. A statement printed in state newspapers this morning said that public gatherings of five or more people were banned, and an 8pm-4am curfew was in place, in several dozen townships across Myanmar, including only Sanchaung and Kamaryut Townships in Yangon. However, last night Frontier staff heard authorities read out the order in townships across the city, implying the restrictions are far more widespread.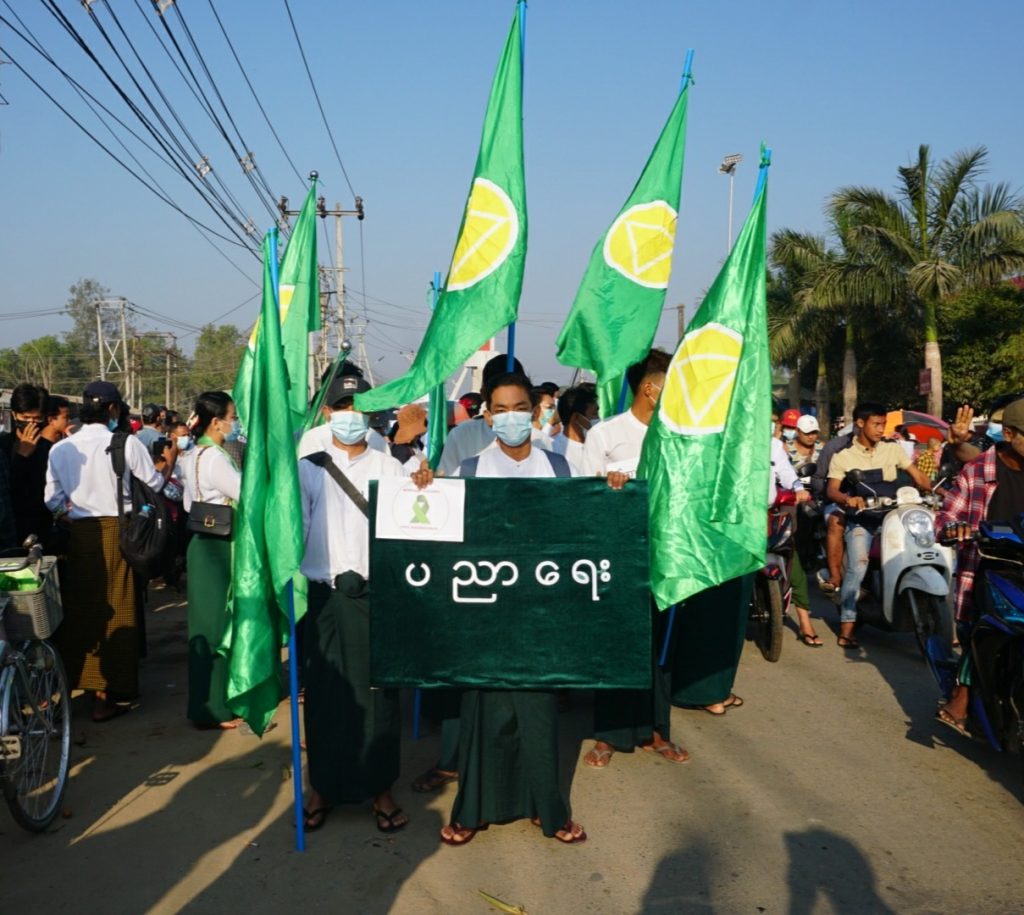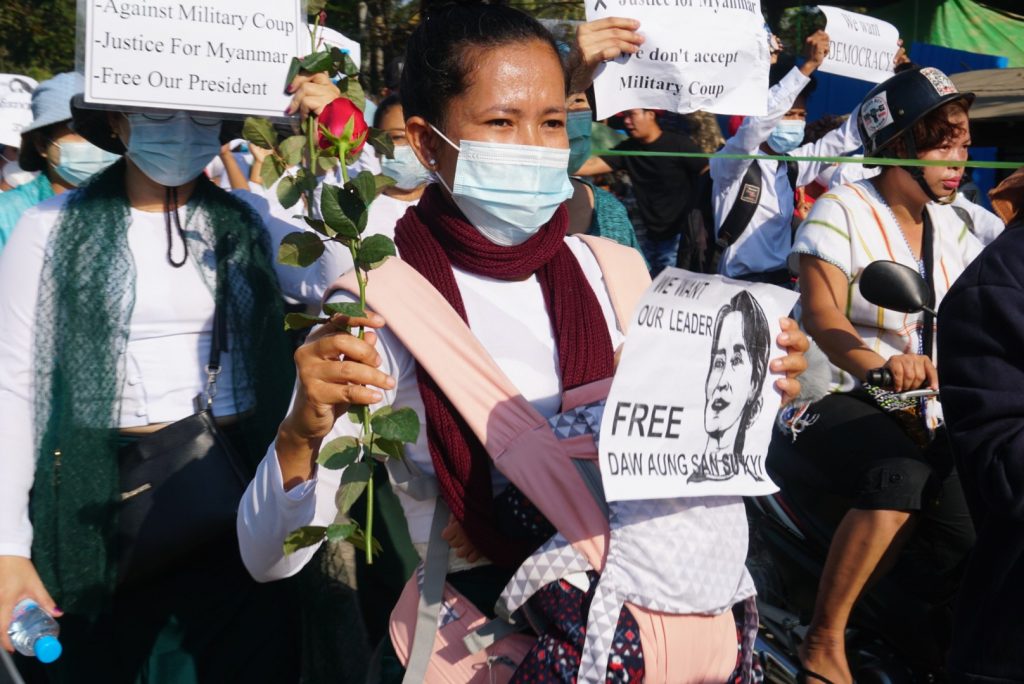 ---
UPDATE: 9pm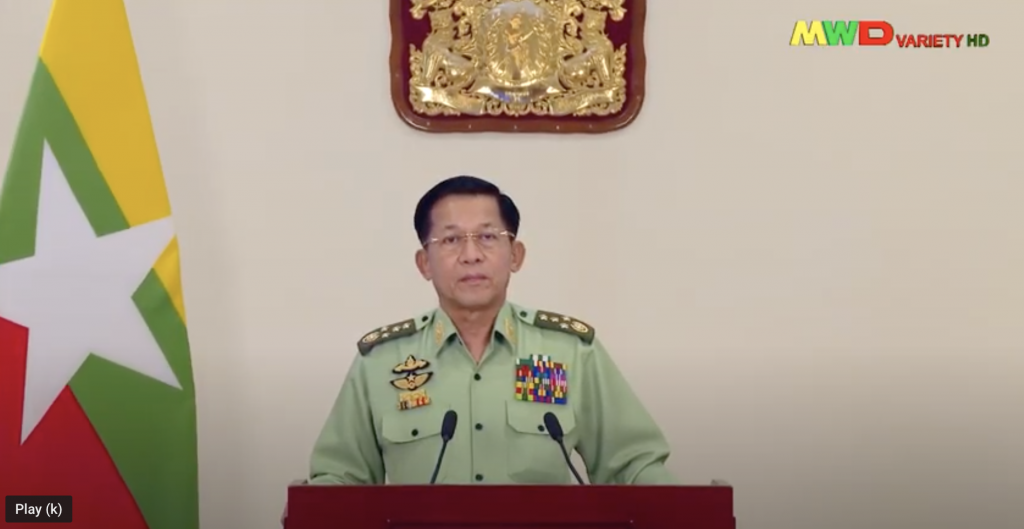 Junta chief addresses nation amid nightly pot-banging
At 8pm, when most of the nation seemed to be banging pots and singing revolutionary songs, Myanmar's military chief Senior General Min Aung Hlaing took to the Tatmadaw-controlled airwaves to address the nation.
The timing of the speech amid a nationwide chorus of dissent fit a wider theme: A refusal to acknowledge the mass protests that erupted in Myanmar's major cities over the weekend and spread to towns across Myanmar today. Instead, the head of the newly-convened State Administration Council said in a speech televised on Myawady TV that the reconstituted Union Election Commission would probe the military's own claims of widespread fraud in the November 8 election, most of which revolve around alleged errors in voter lists.
He said the junta would also accelerate the COVID-19 vaccination programme, which began in Myanmar at the end of last month with the delivery of vaccines from India. He said they would use the donations made before the coup by citizens and businesses to the country's vaccine fund, and would seek to raise more funds from the citizenry. He also said the new regime would revive Myanmar's battered economy, respect previous agreements with foreign partners, push the peace process forward via the Nationwide Ceasefire Agreement, and hold fresh elections at the end of the emergency period (which is currently timed for a year).
Despite the promise of rapid progress on a number of fronts, Min Aung Hlaing said the probing of electoral fraud had hit an early snag: the final voter lists displayed back on election day could not be found. He also took the opportunity to heap more blame on the ousted UEC, saying its refusal to listen to the concerns of opposition parties or address fraud allegations "inevitably led to [the Tatmadaw] overtaking state responsibilities".
Min Aung Hlaing tried to reassure the public that the situation was different from 1962 and 1988, when coups were followed by long periods of repressive military rule.
International and domestic observers to the November election pointed to a number of procedural flaws in the vote, and the exclusion of marginalised minority groups, but found the process to be credible overall.
---
UPDATE: 6:15pm
The staff of JU JU Fancy Shop in downtown Yangon bring the day's protest to a close with a rendition of the National League for Democracy's campaign song for the 2020 election. That's it from us for today, unless something very dramatic happens tonight. A quick recap: tens of thousands of people – possibly as many as 100,000 – have again turned out in Yangon to show their opposition to the military coup. Large protests also took place in Mandalay, as well as Kachin State in the north, Chin State in the west, Tachileik in the east and Dawei in the south – and many places in between. Thanks for joining us.
---
UPDATE: 6pm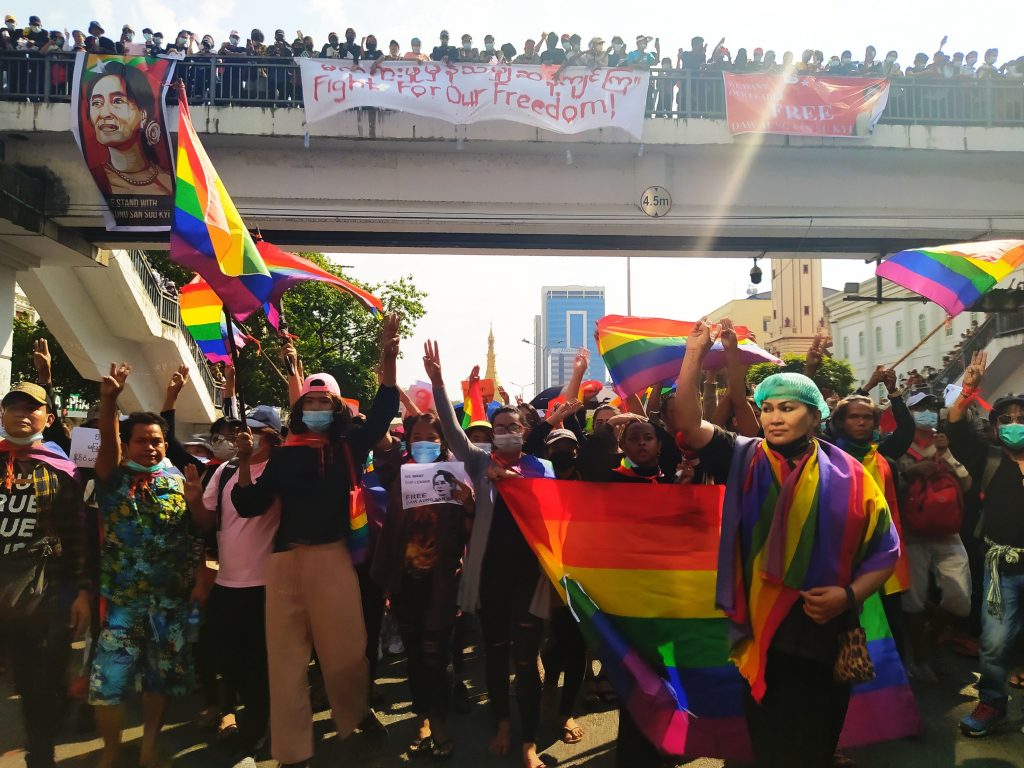 Added to the patchwork of flags representing different political parties and students and workers unions dotting Yangon's protests today was the rainbow flag of the LGBT community. This photo was taken underneath the pedestrian bridge near Sule Pagoda.
"We came out en masse to let the people and the military know that we LGBT people are also against the military dictatorship," said Angel, a 26-year-old transgender woman, said. "We are also citizens and voted in the 2020 election, which is our right. Now that there's been a military coup, we've taken to the streets."
The group was marching in alliance with representatives of the progressive Democratic Party for a New Society.
UPDATE 5:40pm
Medical workers set up roster to keep emergency department running
The civil disobedience movement began with health workers and they are continuing to walk off the job in large numbers to protest against the military coup. Nearly 3,000 workers from Yangon General Hospital are taking part in the campaign, including 70 from the emergency department. To make sure that people can still receive emergency medical care they've set up a roster system, so that around 15 staff are on duty at any one time.
Significantly, we're also seeing very senior health professionals joining the civil disobedience movement, not just lower-ranking staff. Among those who are taking part are Dr Myint Myint Nyein, pro-rector of the University of Medicine 1 in Yangon and Professor Zaw Wai Soe, who led Yangon's COVID-19 response.
---
UPDATE 5:30pm
More photos from Mandalay today, where huge crowds turned out to oppose the military coup and call for the release of Daw Aung San Suu Kyi. As we wrote earlier, today's demonstrations were led by Buddhist monks, and were joined by Buddhist and Muslim volunteer groups.
---
UPDATE 5:10pm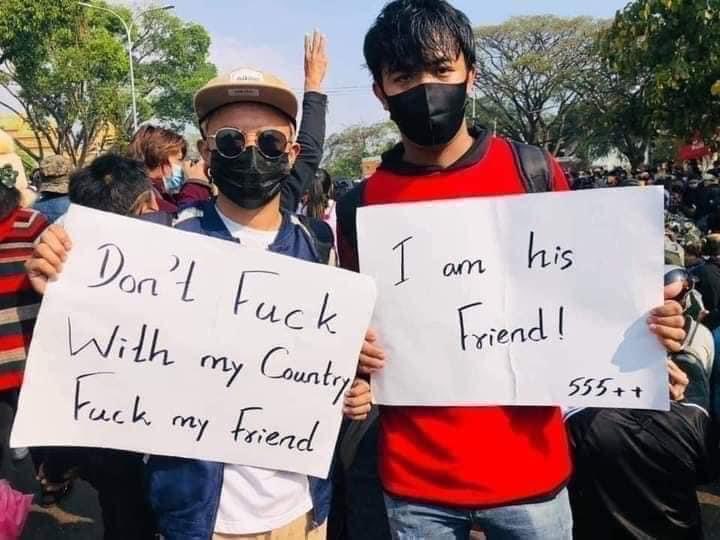 Trolling the Tatmadaw
People of all ages are taking part in today's street protests, but youth make up the biggest chunk. A generation that grew up trading memes on Facebook is taking their wit, irreverence and innuendo to placards mocking the military. Here's some of our favourites: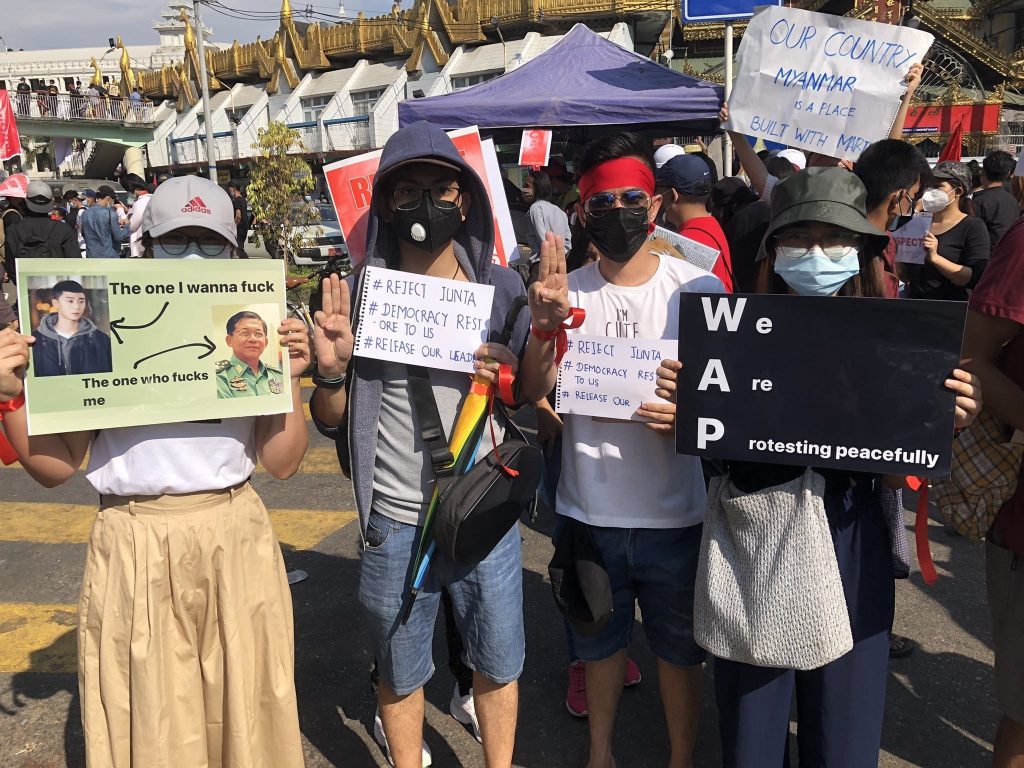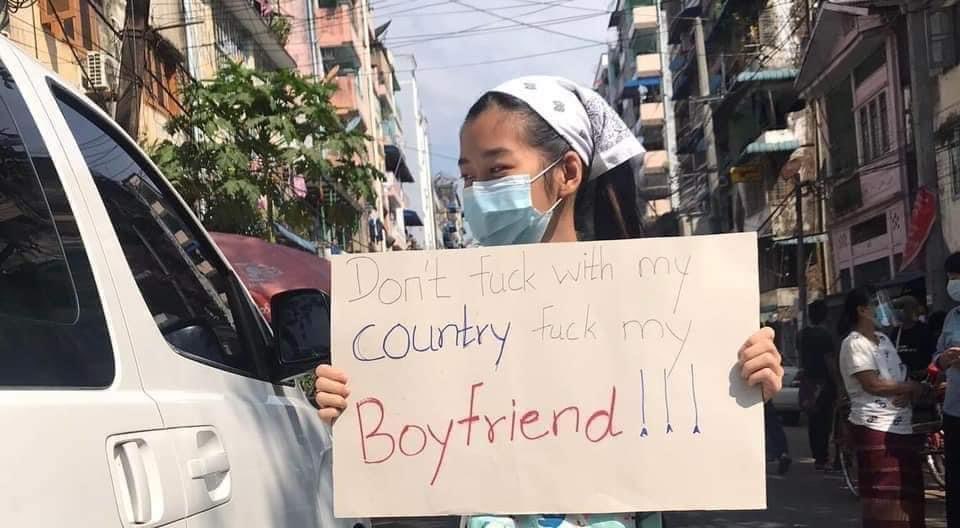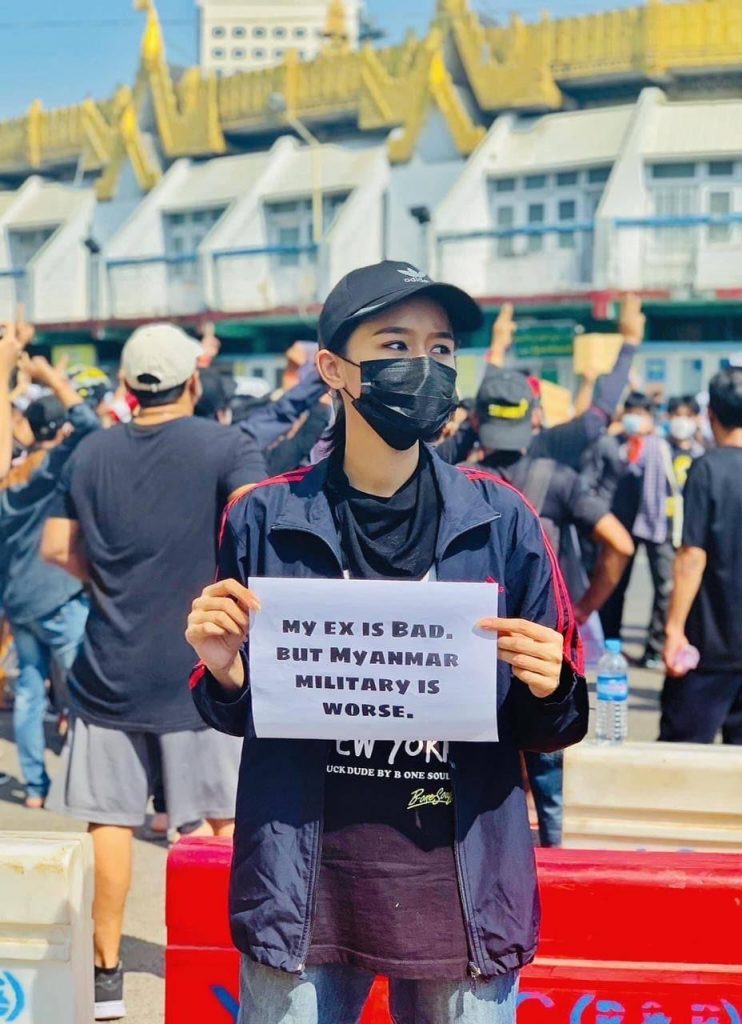 But behind the trolling is real anger over what the military takeover could mean for their future, after many expected they would not have to suffer as their parents did during decades of military rule.
A 28-year-old woman from Hlaing Township in Yangon told Frontier at a protest today in Myaynigone, "The future of young people depends on a people's revolution and everyone, including government staff, should participate as much as they can."
"We will fight against the dictators and reverse the coup," she said, adding that a growing civil disobedience campaign involving striking public sector workers will have a "significant role in the success of our revolution".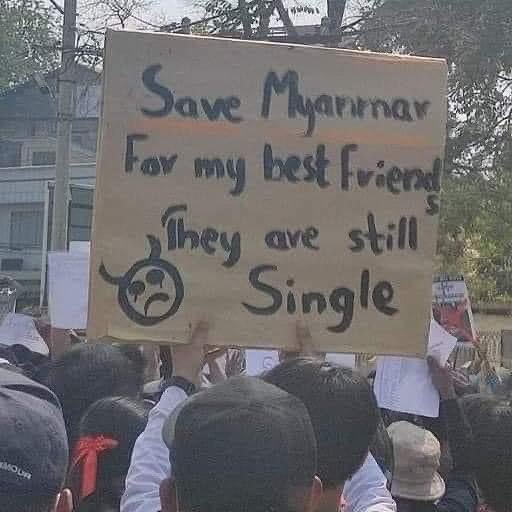 A 24-year-old student of English at Yangon's Dagon University said theirs would be the "final revolution" to "bring down the dictatorship".
He added that the international community should not believe what the Tatmadaw says. "Especially China and Russia – they should respect the election results and stop supporting the military junta," he said.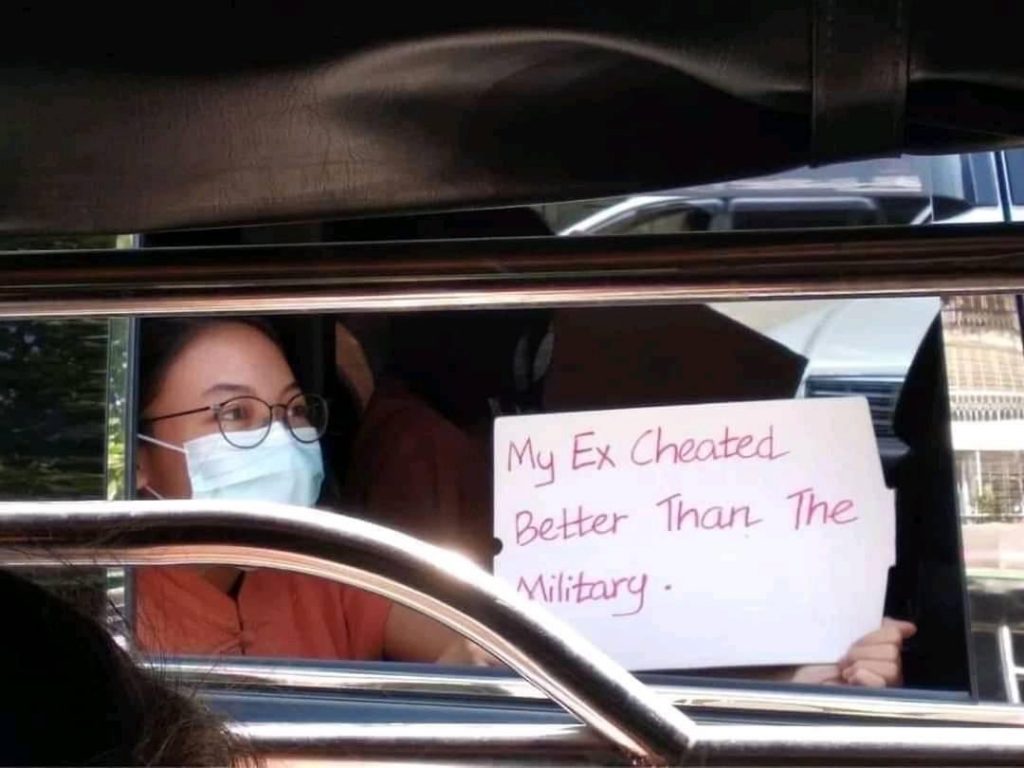 Another student, aged 23, told Frontier he had joined the tens of thousands at protesters at Sule Pagoda because he could not accept the coup. "I will continue to oppose the dictatorship in any way I can," he said.
He said the witty, meme-like placards mocking the Tatmadaw were a good way to catch people's attention. "It's funny, but also effective."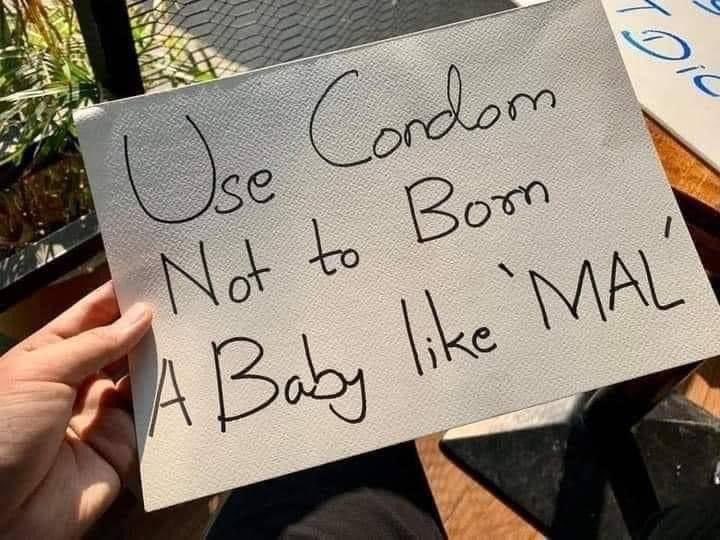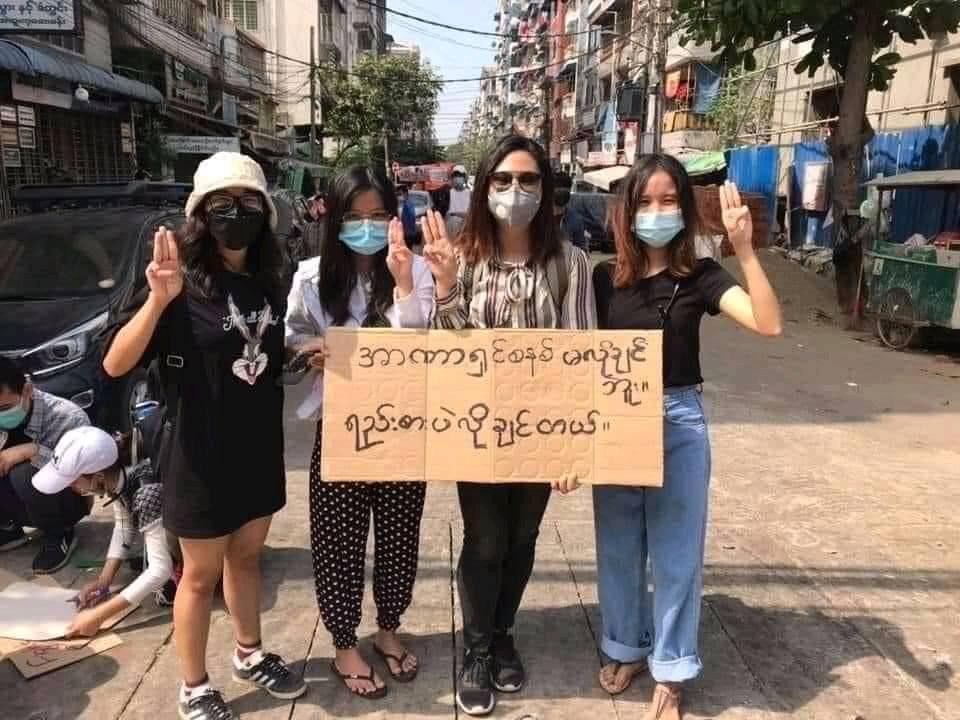 ---
UPDATE 4:45pm
Monks lead massive Mandalay protest
Protests in Mandalay are continuing to escalate, with politically active monks leading today's demonstrations. Monks were a prominent feature of the 2007 demonstrations against military rule but have barely been sighted during Yangon's protests – we've really only seen a handful out on the streets over the past three days. We couldn't even get an estimate on the number of people who participated today, with residents saying only that there were "thousands" of motorbikes, and that Buddhist and Muslim volunteer groups joined in with their ambulances. There was also more evidence of the expanding civil disobedience movement, with education and judicial staff participating in the protests. Protesters marched along 38th Street, which we're told is also known as "Aung San Suu Kyi street", shouting slogans calling for the fall of the military regime and the reinstatement of democracy.
---
UPDATE 4:20pm
Tachileik joins the protests
Protests over the weekend were mostly limited to Yangon and central Myanmar, but today we're receiving more and more reports of demonstrations in ethnic minority regions. In eastern Shan State, thousands of residents of Tachileik, a town on the border with Thailand, have taken part in anti-coup protests today despite very inclement weather. A source on the ground said they marched around the town shouting slogans such as "Reject the coup", "No to dictatorship!" and "We support civil disobedience movement".
---
UPDATE 4:10pm
Pro-military supporters arrive near Sule
We have just received a video from our team showing five trucks of pro-military supporters travelling along Strand Road close to Sule Pagoda. They were in light trucks waving Myanmar flags. There are fears that their presence could provoke a confrontation with anti-military demonstrators. The anti-military demonstrators taunted them as they went past, yelling, "We don't need K5,000 protesters" – a reference to the widespread belief that most pro-military demonstrators are being paid for their services.
---
UPDATE 4pm
More images from our team in Yangon's downtown area. The police are still maintaining a perimeter around City Hall, watching on as demonstrators file past around Sule Pagoda. The bottom image is the footbridge at the corner of Anawrahta and Sule Pagoda roads, near Sule Square.
---
UPDATE: 3:30pm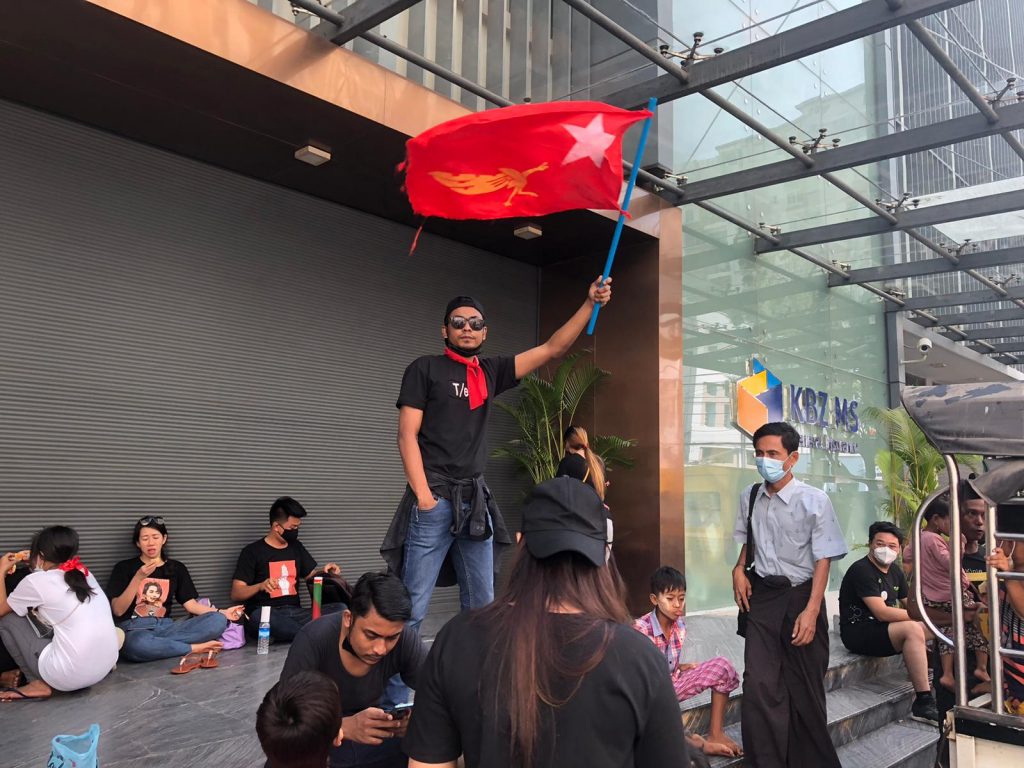 Bank branches close as junior staff join protests
Today's protests appear to have closed most if not all of the major banks, including KBZ, which accounts for about 40 percent of the sector. It doesn't seem to have been a deliberate policy, more that staff just didn't show up, and some have gone to join the protests. We spoke to two sources at the bank who said all branches had closed, but U Than Lwin, a senior adviser to KBZ and a former deputy governor of the Central Bank, told Frontier earlier today that they "have not instructed branches to close".
"Branches where employees don't come to work may have closed. We still don't have reports on the number of branches that are closed," he said. "We have managed things so that some financial services, such as ATMs, will continue to operate." You'll remember that when the junta shut down the internet on February 1, it caused chaos because it meant the ATM network went down as well.
We spoke to some KBZ staff who joined the protests and they said they did it of their own initiative – it wasn't an organised movement among staff within the bank. However, a source at the Tourism Bank, which is relatively new and a minor player, said many junior staff have joined the civil disobedience movement, leaving only management.
---
UPDATE: 3:10pm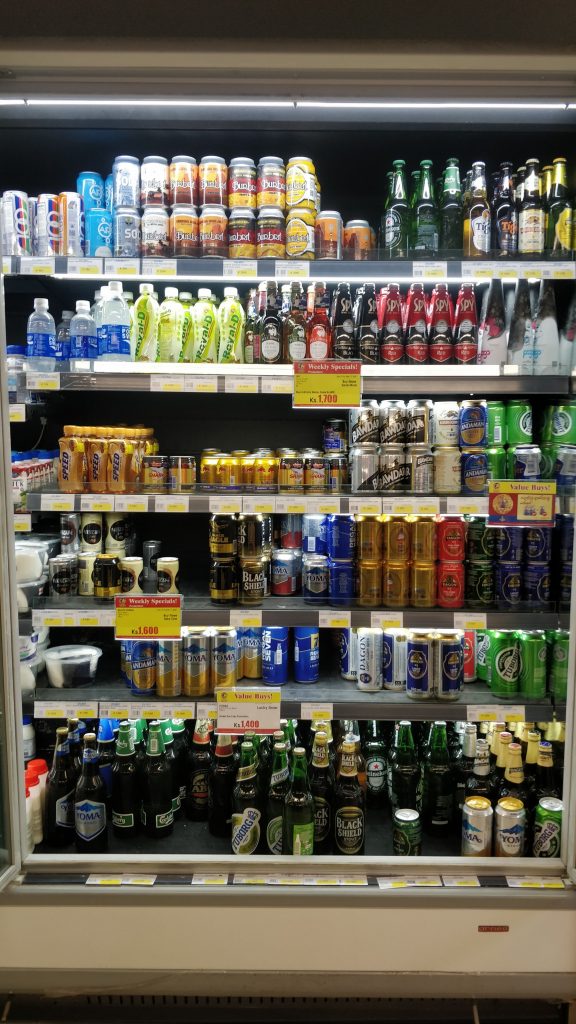 We might be a bit late on this, but it seems that some City Mart stores have cleared the shelves of Myanmar Beer, which is produced by Myanmar Brewery Limited, a joint venture between military-linked Myanmar Economic Holdings Limited and Kirin. Following last week's coup the Japanese beverage giant said it was terminating the partnership, something activists have been urging it to do for years. Staff at one City Mart branch confirmed to us they had pulled Myanmar Beer from the shelves and were refusing to sell it. The policy doesn't seem to extend to other MBL brands, such as Kirin and Black Shield, or Dagon Beer, which is owned by military company Myanmar Economic Corporation.
---
UPDATE: 3pm
Images from the protest in Mawlamyine earlier this morning. Our sources on the ground tell us that it started near Mawlamyine University, on the outskirts of town, and was led by around 100 university students. As they went along more residents joined in and by the time they got to the city's downtown area there were thousands of people in the procession.
---
UPDATE: 2:50pm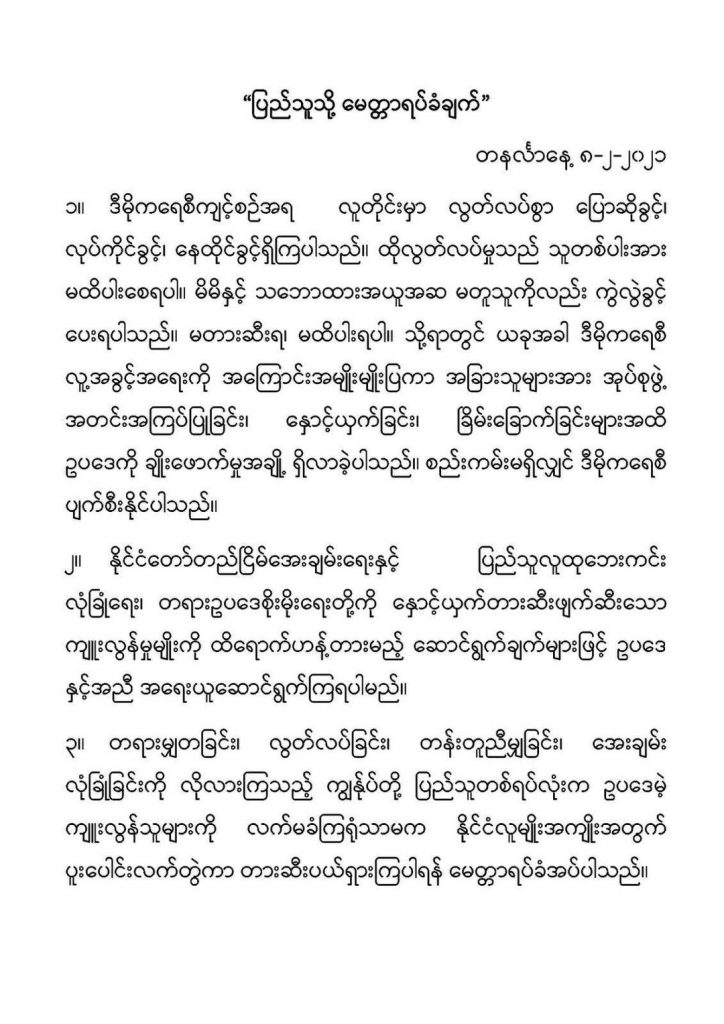 So far the military government has said basically nothing about the protests, but state media is now carrying ominous warnings that demonstrators will face action (without referring to the protests directly). "Those who are disturbing the stability of the state, the safety of the public and the rule of law should be countered by effective measures and action will be taken according to the law," said the warning, which was broadcast across the bottom of programming on MRTV and is now up as a statement on the MRTV website. So far we haven't seen any effort to disperse protesters, however. Our reporters in downtown Yangon say the atmosphere is still very festive.
---
UPDATE: 2:30pm
We're getting more images from the protest in Nay Pyi Taw and it's quite a bit bigger than we realised! In the top image you can see there are thousands of people gathered at Thabyaygone Roundabout, which is adorned by a statue of Bogyoke Aung San, the country's independence hero and father of Daw Aung San Suu Kyi, who remains under house arrest. At one point this morning police opened fire on crowd with a water cannon, but it had almost no effect – protesters later cheered the police and regrouped.
---
UPDATE 2:15pm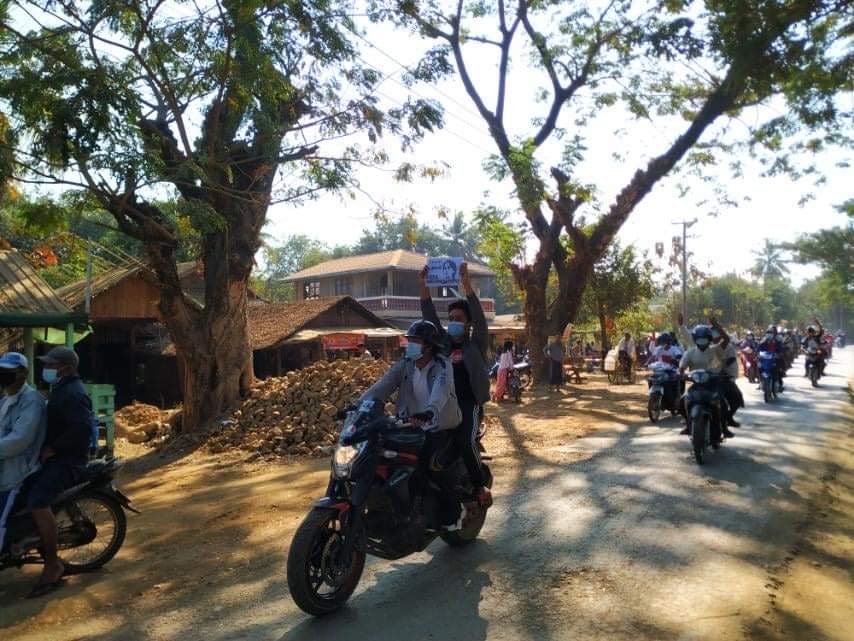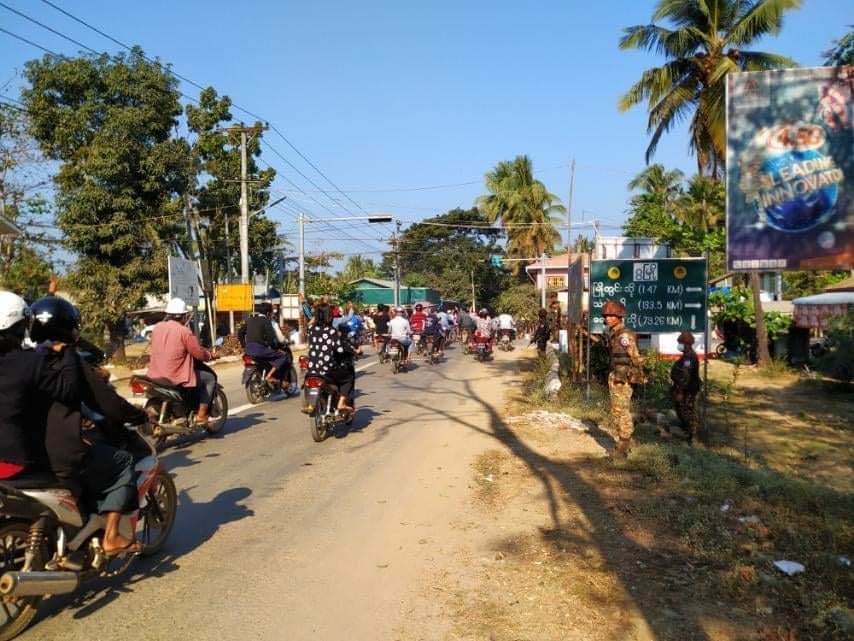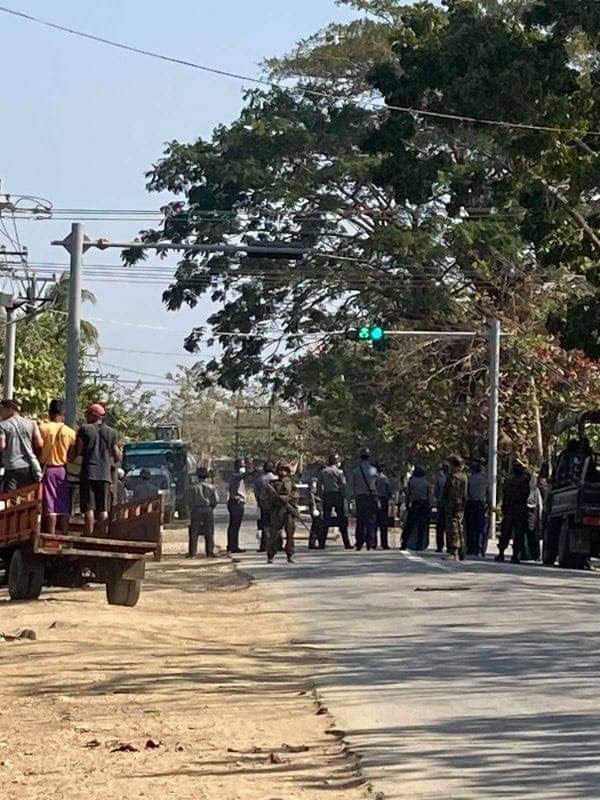 In Gwa Township, Rakhine State, nearly 1,000 motorcyclists rode from 8:30am to 10:30am this morning in support of the nationwide protests. Police have now blocked Nga Thaing Chaung Junction and roads around the home of Rakhine State NLD Chair U Nyi Pu.
"We don't accept this military coup," said protest leader Soe Min Aung. "People from every sector have come out to protest today."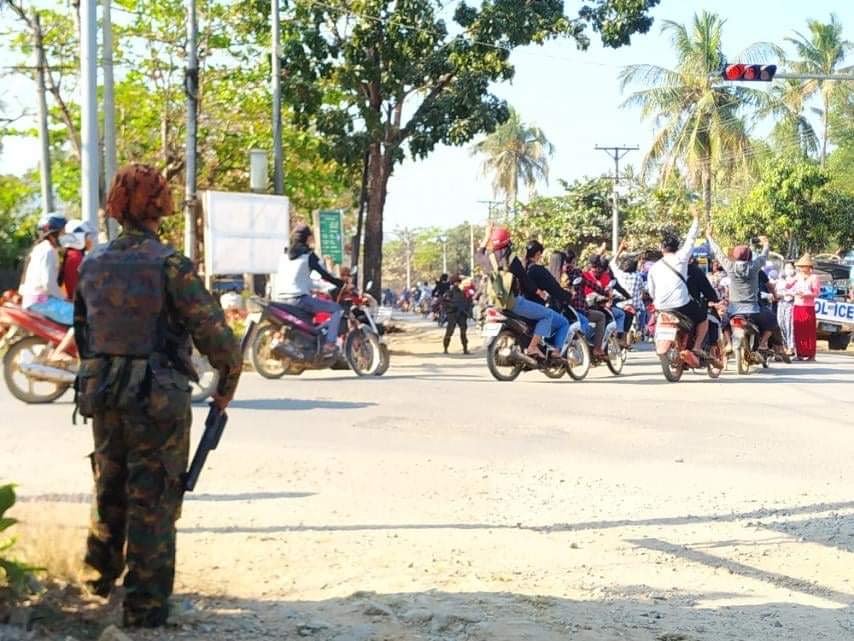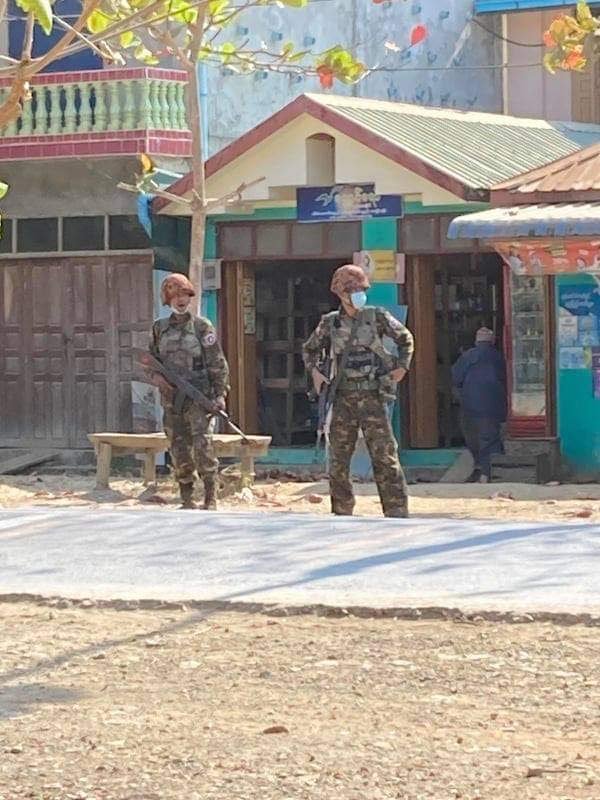 ---
UPDATE 2pm
Much of the action now seems to be in downtown Yangon, where tens of thousands – if not more – are gathering once again at and around Sule Pagoda. Frontier reporters on the scene say it's easily bigger than yesterday's demonstration already, and is not as heavily concentrated on Sule – people are spread out all over the downtown area.
Google Maps shows that much of the downtown area is now at a standstill, as are the main roads leading into downtown, like Pyay and Kabar Aye Pagoda Roads.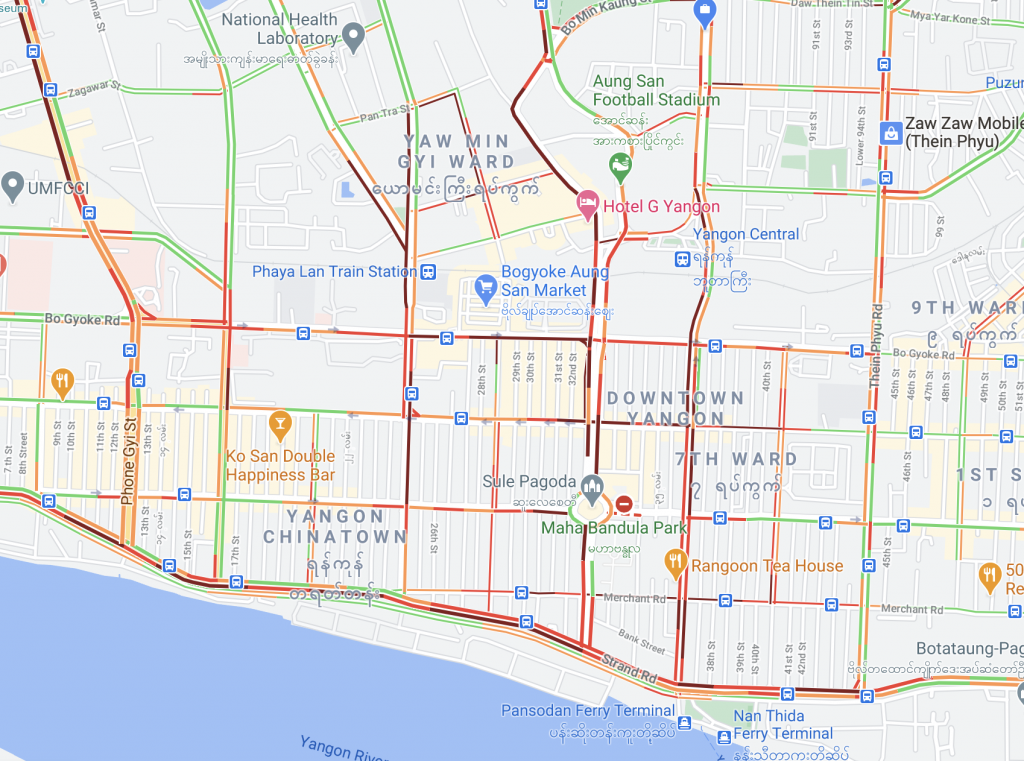 ---
UPDATE 1:45pm
Apologies for the delay in getting this up and running, we've been madly tweeting and wrapping up the Daily Briefing for Frontier members. The civil disobedience movement is continuing to build, with more and more in the state and private sectors refusing to work. Here are some photos from a deserted Sanpya General Hospital in Thingangyun Township in Yangon. Nurses from the hospital joined the movement on February 3 and the emergency and outpatient departments closed three days ago as CDM gained momentum.
---
UPDATE: Monday, February 8, 12pm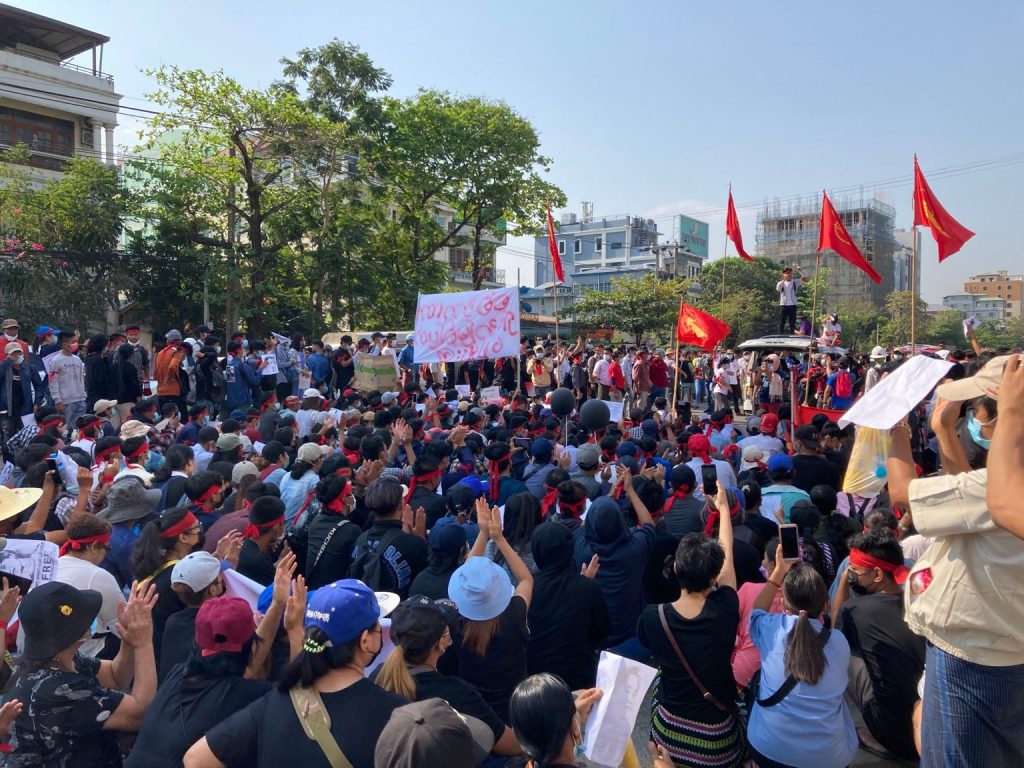 Protesters are back out in force today in Yangon. Tens of thousands of people are streaming in from the city's suburbs and making their way into the downtown area, following demonstrations yesterday that we estimate may have drawn up to 50,000 people. We'll have more for you throughout the day, as well as recaps of the morning's events.