State Counsellor Daw Aung San Suu Kyi and President U Win Myint are facing charges that could see them jailed for up to three years, and require the National League for Democracy to revoke their party membership.
By FRONTIER
State Counsellor Daw Aung San Suu Kyi and deposed President U Win Myint are set to face criminal charges following the February 1 military coup that could see them jailed for several years.
Both were detained during the early morning coup, which saw Vice President-1 U Myint Swe – a military appointee – installed as acting president before immediately handing over all executive, legislative and judicial power to commander-in-chief Senior General Min Aung Hlaing.
The junta has not confirmed where Aung San Suu Kyi and Win Myint are being held, although a party official has said they are under house arrest in Nay Pyi Taw.
Police documents provided to Frontier this afternoon show Aung San Suu Kyi is facing a charge of violating the Export and Import Law after a search of her Nay Pyi Taw home on the day of the coup found communications devices that had allegedly been imported illegally and were being used by her security team. The charge carries a potential prison term of three years, a fine or both.
Win Myint is facing a charge under the Natural Disaster Management Law related to an incident in September in which he allegedly waved to a passing National League for Democracy convoy from outside the Presidential Palace.
The charge sheet states that this was a violation of COVID-19 prevention rules issued by the Ministry of Health and Sports for election campaigning, and under section 25 of the law he faces up to three years' imprisonment, a fine or both.
Police in Nay Pyi Taw have refused to comment on the charges, but U Aung Kyi Nyunt, an NLD lawmaker and Central Executive Committee member, confirmed the news to Frontier.
"We don't want to comment. We will respond after discussing among members of the CEC," he said.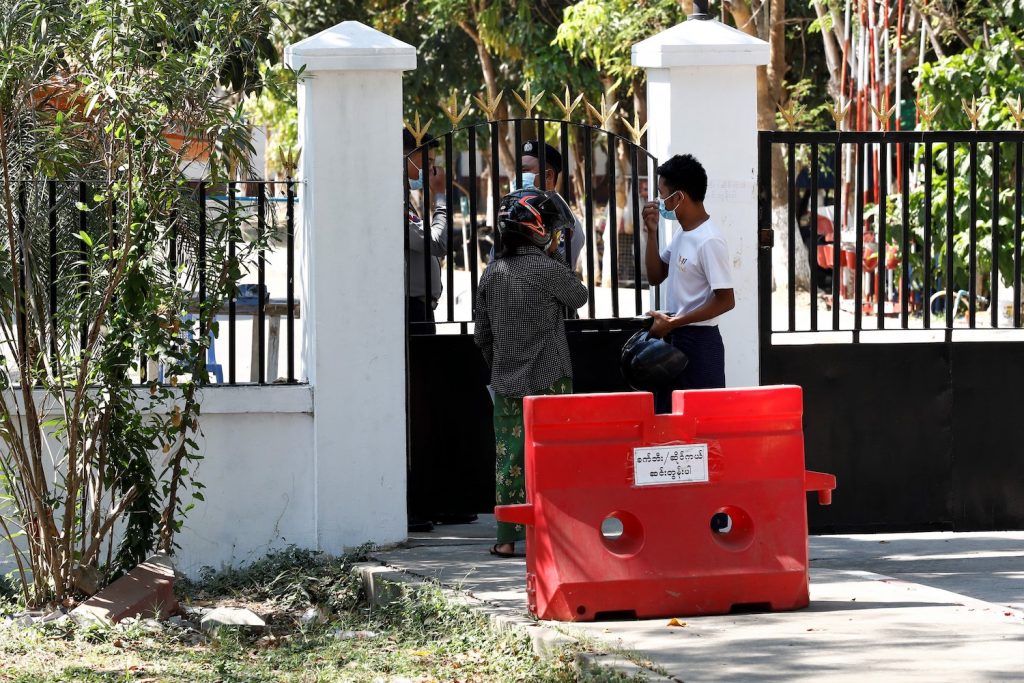 Other NLD members condemned the charges, however. "I strongly condemn this action [from the military]. We are urging them to release our leaders immediately," said Amyotha Hluttaw representative U Maung Maung Swe.
Party patron and former political prisoner U Win Htein told Frontier that he had been expecting the military to find a pretext to charge the NLD leaders.
"I understand they are prepared to do whatever they want. Charging the leaders is not out of character – they have seized power in order to do what they want. I am really disappointed at their reckless behaviour. The future of this country will not improve if they keep doing things like this," said Win Htein, who had a career as a Tatmadaw officer before being dismissed and later joining the NLD in 1988. "I know well how brutal they are. I am now over 80 years old but I will keep fighting them until I die."
The conviction and imprisonment of Aung San Suu Kyi and Win Myint would be a devastating blow to the NLD, as under Myanmar's election laws it would require the party to remove them as members or face the prospect of de-registration. They would also be unable to stand for election while serving a sentence.
In its justification for the coup, the military has cited unsubstantiated allegations that the November election – which the National League for Democracy won in a landslide – was subject to massive voter fraud. The military claims its investigation into electoral rolls has revealed 10.4 million suspect ballots, but domestic and international monitoring groups have said the election, though procedurally flawed, was overall free and fair, delivering a clear mandate to another NLD government.
Min Aung Hlaing's military junta has promised that it would hold "free and fair" elections and hand over power to the winning party. It has already sacked and replaced the Union Election Commission, which will conduct a probe into the military's fraud claims before holding a fresh vote.
Meanwhile, NLD parliamentarians have issued a statement calling for the "immediate and unconditional" release of all people detained in the coup, including Aung San Suu Kyi and Win Myint, and urging the military to honour the results of the November election by allowing parliament to convene, which it had been due to do on the morning of the coup.
The statement from the party's Pyidaungsu Hluttaw representatives said that as candidates elected on November 8 had not violated the election laws or the constitution, they are the country's lawful legislators and their term will run for five years.
"Staging a coup based on voter fraud allegations undermines the sovereignty of the citizens," the statement said. It also described the National Defence and Security Council meeting that handed power to Min Aung Hlaing as "unconstitutional" and said Win Myint remains the country's "legitimate" president.