Across Myanmar, staff are walking out of government offices to oppose military rule, despite pressure from their superiors and threats of punishment from the junta.
By FRONTIER
Less than two weeks after the Tatmadaw seized all branches of government, public sector workers from nearly every sector are increasingly opting not to show up to work. While most government employees remain at their desks, the Civil Disobedience Movement against military rule has already gained many thousands of workers across the country, and it seems to be growing every day.
These striking workers have faced pressure from senior staff, as well as threats of punishment from the new military government. In comments published in state media, commander-in-chief Senior General Min Aung Hlaing told a meeting of his junta on Tuesday that civil servants are "prohibited from taking part in politics" and will face "legal actions" for doing so. He claimed that, besides voting in elections, civil servants stay out of politics in countries with a "mature democracy".
Nonetheless, this morning Frontier saw hundreds of striking staffers from the electricity and information ministries, including journalists from state-owned media outlets, and employees of state-owned banks take to the streets of Yangon to declare their participation in the movement. Similar walkouts are reportedly taking place across Myanmar.
On Wednesday, several hundred staff from the Central Bank of Myanmar, the Myanmar Investment Committee, the Ministry of Rail Transportation and the Myanmar Air Traffic Control Centre also joined the CDM. BBC Burmese has estimated the movement is already costing the country about US$200,000 a day from air cargo shutdowns alone.
The movement shut down 90 percent of operations on the country's state rail network on Wednesday when staff in eleven states and regions joined in, according to U Htay Hla, deputy general manager of Myanma Railways' railbus engine and maintenance department.
"About 100 employees in our department didn't show up today," he told Frontier on Wednesday. "Yangon trains stopped running yesterday. All the drivers just stopped the trains on the tracks wherever they were [when they heard others had joined the CDM]."
He said the remaining staff were still trying to get all the trains back to the central station to be safely stored. "We don't want them to be tampered with or destroyed. They were bought with the people's money," he said.
But he claimed there are no hard feelings between department higher-ups and striking workers. Senior managers also support the CDM, he said, and are not pressuring employees to return.
"We just want to serve the people under the government they chose," he said. "Next year, it'll be thirty years that I've served my country. If I want to retire peacefully, I can. But I don't want a pension from this military government."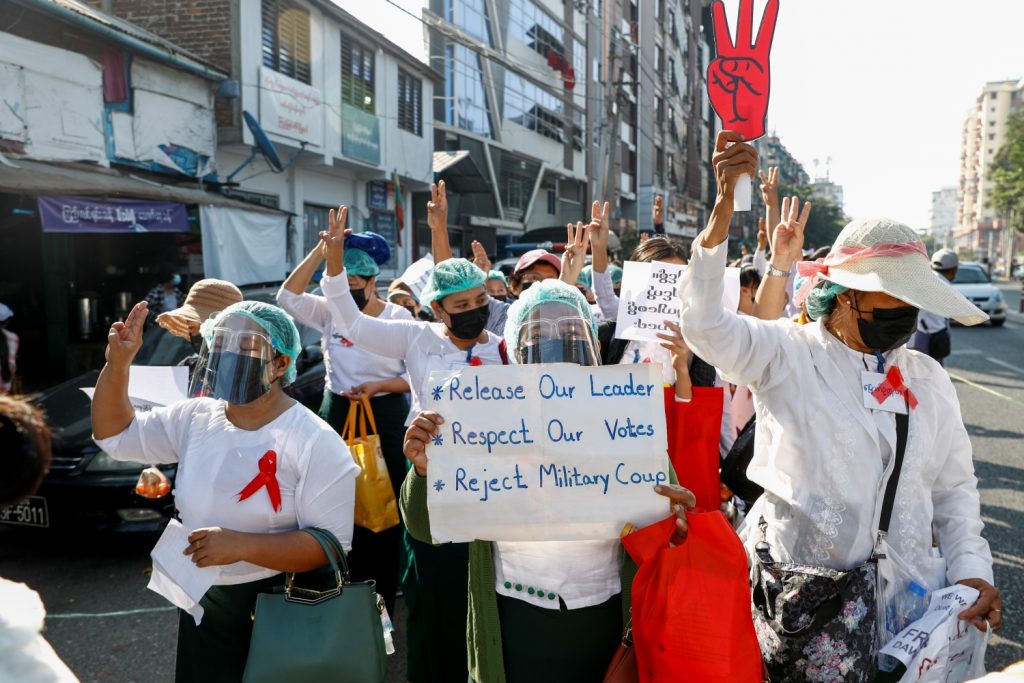 Ma Nyein Moh Moh Zaw, a junior-level investment commission staffer in Yangon, told Frontier she and 50 of her co-workers also joined the CDM on Wednesday, alongside 70 central bank staffers.
"Across the country, MIC has 500 employees. We'd like to see all of them join the CDM," she said, adding that she has so far faced no pressure from her bosses to return. "The CBM staff are facing a harder time from higher-level officials, who are against the movement."
Immediately after the February 1 coup, the military government detained the central bank's chair and vice chair and replaced its top leadership. U Than Nyein was installed as chair, U Win That and Daw Than Than Swe as vice chairs, and Dr Khin Naing Oo and U Aung Kyaw Than as new board members.
The wife of U Bo Bo Nge, the vice chair before the coup, told Radio Free Asia on Tuesday she had received no news about or had any contact with her husband since the coup took place.
In a sign of the movement's rapid spread across the country, a freelance journalist in Myitkyina told Frontier that hundreds of government staffers in the forest and general administration departments, as well from state banks and Myanma Railways, also joined on Wednesday. The journalist said they took to the streets of the Kachin State capital chanting, "Don't go to the office, let's fight!"
Thousands more in health, construction, education, agriculture and forestry departments have joined this week in different towns and cities – including the capital Nay Pyi Taw. In order to swell the movement, ordinary citizens have in recent days been publicly pressuring government staff at their workplaces.
On Wednesday morning, dozens of young protesters stood outside Customs House on Strand Road in Yangon urging Customs Department workers to join the movement. They held up signs that read, "Salvation is in your hands, please join the CDM," and "Hi Aunty, do you not feel shame stomping on our futures as you walk into work?"
Still, workers continued to stream past them and into the office. Getting quotes from government staff who remain at work has proved difficult. Calls to staffers at several ministries in Nay Pyi Taw went unanswered. Others that have left are facing increasing pressure from their bosses and from military officials to return or face legal action.
These threats are not always effective, however. On Friday last week, after the junta appointed People's Pioneer Party chair Daw Thet Thet Khine, a jewellery magnate and Nation League for Democracy defector, as minister of social welfare, relief and resettlement, hundreds of employees of that ministry also joined the CDM.
"We cannot recognise the military as our government, so our minister is still Dr Win Myat Aye, not Daw Thet Thet Khine," a ministry staffer who has joined the movement told Frontier. "We will not go back to work until we have our minister back."
On Tuesday, the ministry sent a warning to employees signed by deputy director general U Aung Kyaw Moe saying that legal action will be taken against them if they continue to strike. The warning cited sections 38 and 10(g) of the Civil Service Personnel Law, which punish the unspecified "violation of discipline and failure of duty" and stipulate that civil servants be "free from party politics", respectively. One worker told Frontier that same day they had been forced to sign papers acknowledging that they had read the warning.
Daw San San Aye, the ministry's director general, declined a request from Frontier for an interview.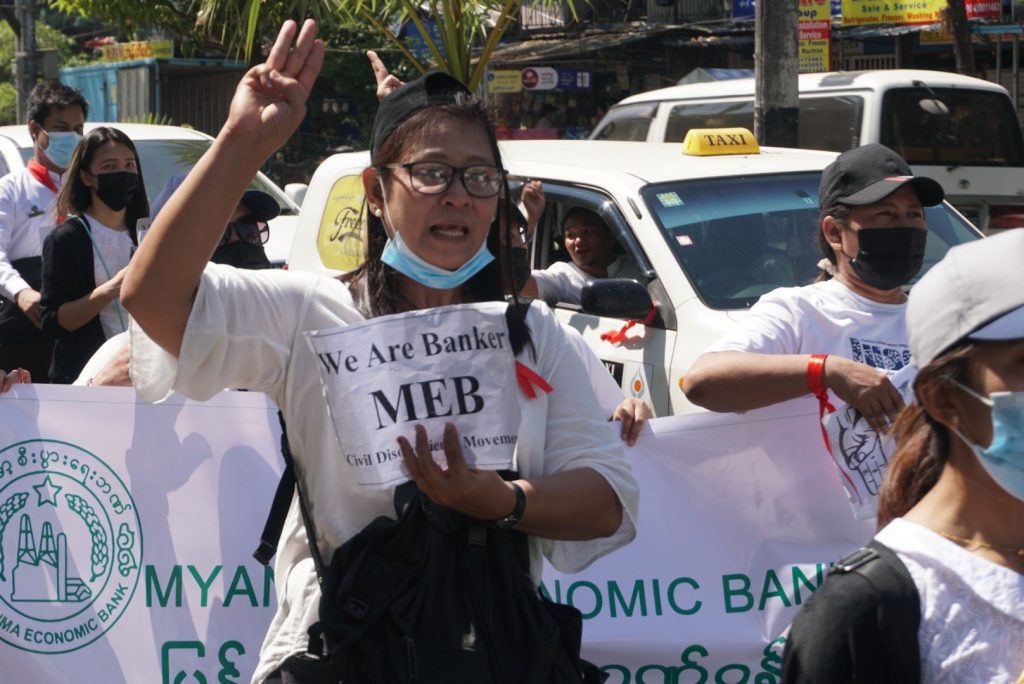 Government teachers and medics have also faced threats from their superiors, and from military officials. On Tuesday, a video spread on social media of a Tatmadaw officer threatening a doctor to reopen a hospital that was forced to close after the entire staff walked out in protest. When the doctor told the officer he had could not open the hospital without any staff, the officer told him to "be ready for the consequences".
Frontier could not determine what hospital this was or where the incident took place.
Staff at more than a hundred government hospitals and medical facilities across the country have joined the movement, and this is likely troubling the junta, which has said it would make addressing the COVID-19 pandemic one of its priorities. The walk-offs have crippled the government's coronavirus testing and vaccinations programmes, with the National Health Lab in Yangon now testing a fraction of the samples it was before the coup.
Some Facebook users have built groups and pages with the intention of shaming senior government officials that pressure workers to return to work and abandon the CDM. With names like "Public Shaming" and "Shaming Unethical Officials," administrators collect evidence through the Messenger app from staffers that say they have been pressured to return by officials, then post personal, identifying information about those officials. Evidence of intimidation is also shared in the form of voice recordings, screenshots and photographs of physical letters staffers have received from management.
On Monday, the 88 Generation democracy activist Paw Oo Tun, better known by the non de guerre Min Ko Naing, took to Facebook to urge civil servants to resist pressure from their superiors and commit to the CDM for 21 days.
In another message communicated in a Facebook video on Wednesday, the veteran activist said the CDM was crucial to the success of the resistance against the military rule. "It is time to determine whether we're servants of the people or servants of the military," he said.