Polling stations in Hlaing Tharyar and other factory suburbs were in uproar as some voters found they weren't registered and so couldn't vote, though voter lists seem to have improved from 2015.
By HTIN LYNN AUNG | FRONTIER
Two days after the November 8 election, the scale of the National League for Democracy's victory was becoming clear. More than half the country voted for the party, and many people were in a jubilant mood.
Not U Hlaing Win Tun. The 35-year-old resident of No 26 ward in Hlaing Tharyar East Township's Shwe Lin Ban industrial zone was upset not only at the result, but also the fact he'd been denied the chance to vote on election day.
"I feel bitter," he said. "The party I wanted to vote for was badly defeated and I also lost my right to vote – the right of every citizen."
Originally from Bogale Township in Ayeyarwady Region, Hlaing Win Htun has lived in Hlaing Tharyar, an industrial suburb in north-western Yangon, since marrying more than two years ago.
He had planned to return home to vote in this year's election but with the second wave of COVID-19 escalating, he decided instead to vote in Hlaing Tharyar East.
He did everything he was supposed to. He reported to the ward election sub-commission and submitted Form 3(a), which enables anyone who has lived in their current temporary residence for more than 90 days to cast a vote in that township. He was told he would be able to vote inside Basic Education High School 14, a huge polling centre with 29 stations and more than 30,000 registered voters.
On November 7, residents of his ward received voting slips to help polling staff find their name on the voter list on election day. When Hlaing Win Htun complained that he hadn't got one, he was told he could still vote by showing his Citizenship Scrutiny Card at the polling station.
But when he turned up at the station, Hlaing Win Htun was told he wasn't on the voter list, suggesting his vote had not been successfully transferred from Ayeyarwady Region despite his Form 3(a) application. His wife and mother-in-law, who had both received a voter slip, were on the list, and were able to cast their ballots.
"I went and asked my ward sub- commission and they said they'd submitted the names of those who applied with Form 3(a) to the township sub-commission, but when it was sent back, some of the names were missing. Because of this I lost the right to vote," he said.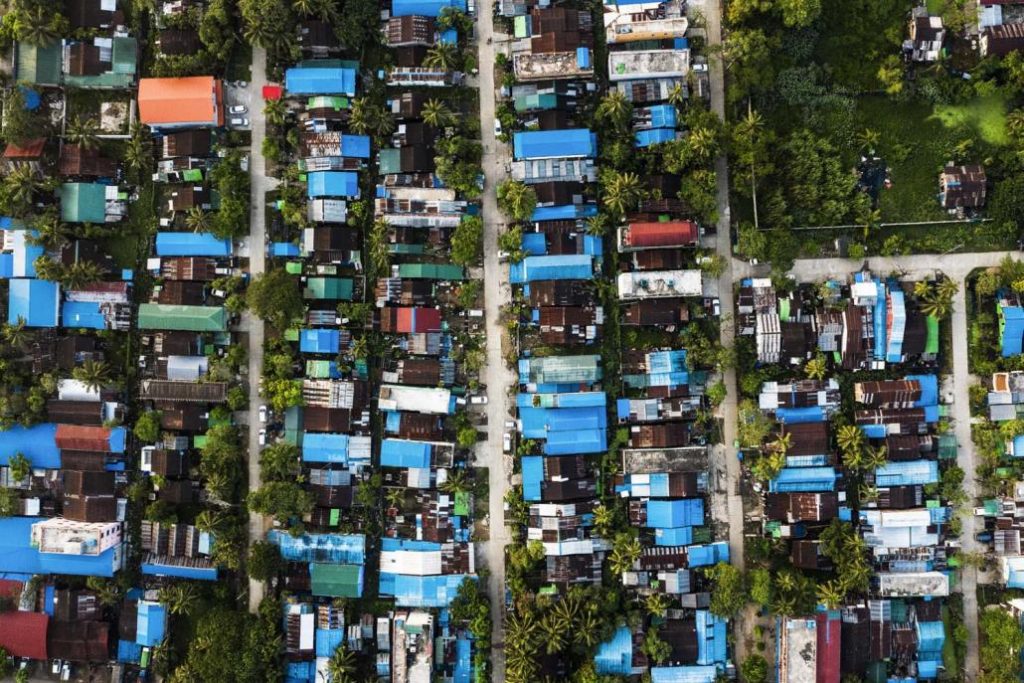 Fixing Hlaing Tharyar
Hlaing Win Htun's story is not unusual. While there were reports of some eligible voters in different parts of the country arriving at polling stations and finding their names missing from the list, the problem seems to have been concentrated in industrial areas of Yangon with large populations of internal migrant workers. Frontier warned in a pre-election investigation that many of these migrants were vulnerable to disenfranchisement because of the cumbersome vote transfer process, which places the onus heavily on the voter and requires documents that many lack in informal settlements.
On election day, Frontier also observed the problem in Mingaladon Township in northern Yangon: many voters in Thingangyun Gyi ward were not given slips, and when they turned up to vote found they weren't on the voter list.
"I've lived here for almost four years," said Ma Myint Myint Yi, 35, from Thingangyun Gyi's Thiri Thukha Street. "They came to my house to collect the voter details for the list but [later on] only my husband received a voter slip. When I went to vote, they said I hadn't been included on the list."
Such errors have also plagued previous elections, prompting the Union Election Commission to recompile the voter lists ahead of this year's vote. It was the voter's responsibility to ensure that they were included and their details were correct, by checking the lists during three public display periods. If they were missing or their details were incorrect, they could submit an application to be added or to amend their details.
But the challenge of ensuring accurate voter lists is particularly acute in Hlaing Tharyar, which had a population of almost 700,000 at the time of the 2014 census. Under-resourced government departments struggle to provide even basic services, and the township's population only continues to grow. An immigration official told Frontier last year that Hlaing Tharyar probably had close to 1 million residents.
To make the township more manageable, the government on February 27 issued an order dividing Hlaing Tharyar into two townships, east and west, citing the large population. Because the constitution specifies that Myanmar has 330 townships, the government at the same time eradicated the tiny township of Seikkan in downtown Yangon, which had been a rare Union Solidarity and Development Party stronghold in the city.
For the election sub-commissions of East and West Hlaing Tharyar there is the additional challenge that most residents are, like Hlaing Win Htun, migrants from other areas of the country. This means that to vote in Hlaing Tharyar they would need to transfer their registration from another township, or cast an out-of-constituency advance vote. Many in Hlaing Tharyar work in the township's garment factories, and taking leave to check the voter list or file documents could mean having to give up valuable bonus pay that is usually contingent on attendance.
"Even if Thagyarmin himself" – the king of Myanmar's celestial beings – "came down to earth and held the election, the voter lists wouldn't be 100 percent right," said U Maung Hmwe, who heads the election sub-commission for Yangon's Northern District, which includes Hlaing Tharyar. "But it's even more difficult to compile voter lists in a place like Hlaing Tharyar, where there's so many migrants."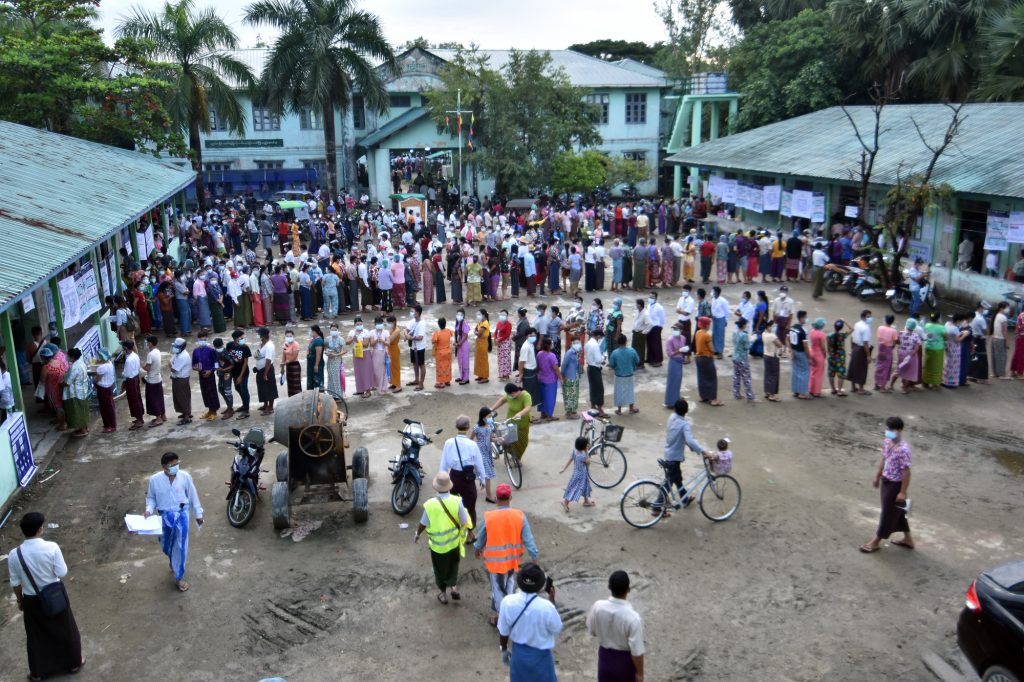 When Frontier met Hlaing Win Htun at BEHS 14 on election day, he was one of around 60 frustrated, upset and angry residents who had been told they were not on the voter list at the polling centre. The atmosphere was tense, with overburdened electoral officers trying to respond to complaints and help them search through thick sheaves of pages containing the names of registered voters.
U Myint Kyaw, the chair of the sub-commission for Shwe Lin Ban ward, said there were "probably around 100 people" who turned up at BEHS 14 on election day and were unable to vote.
Not all left off the voter lists were migrants, though.
Ma Aye Paing, 37, also lives in No 26 ward in the Shwe Lin Ban industrial zone. She's lived in the area her whole life, and grew up in Shwe Lin Ban village when it was surrounded by rich farmland, long before the now-ubiquitous factories and worker hostels began to appear.
She voted in 2015, along with her parents and younger brother. When voter lists went on display this year, she found her name had been left off, although her parents and brother were still there. She filed an application to be placed back on, but never received a voter slip.
"I was waiting eagerly to get a voter slip day after day," said the visibly upset Aye Paing on election day. "But now they say I'm not allowed to vote because I'm not on the list. I've been waiting here since 5am. I've been sent from one place to another but nobody can solve my problem. Now it's already 11am and I still haven't been able to vote."
Frontier learned that in a single street, Mee Thet Kan, in No 26 ward, 110 people who were eligible to vote and had submitted Form 3(a) had been left off the list.
"There are many people who lost their chance to vote in this ward," said U Win Naing, 50, a resident of Mee Thet Kan.
The street is home to about 350 households, who because they live informally on land in the Shwe Lin Ban industrial zone and are unregistered were not included on the initial voter list. Win Naing said the ward sub-commission told them they could apply to be added using Form 3(a) and gave them the form on October 5. All 350 households filled the form and submitted it to the sub-commission, Win Naing said. "But when they gave us voting slips in early November, in most households there were one or two people who missed out. When we asked the sub-commission, they said they'd informed their superiors and we shouldn't worry. But on election day, we couldn't vote," he said.
There were similar complaints from other areas of East Hlaing Tharyar, including Taw Win Hnin Si Housing and Shwe Lin Ban Low-Cost Housing. "We saw the same problem here in ward 18 – we had seven people who turned up and couldn't vote," said U San Win, who was in charge of polling station 18.
U Ye Kyaw Thu, secretary of the East Hlaing Tharyar Township election sub-commission, said errors on the list may have been due to the recent split of Hlaing Tharyar into two townships. "It was only eight months before the election, so data collection may have been weak," he said.
After voter lists went on display, the sub-commission had been inundated with 25,000 Form 3(a) applications, he said, comprising around 7pc of the 360,000 eligible voters in the township. "There are just too many people here," he said.
He said that voter slips were not essential for casting a ballot, though being on the right voter list was.
"Voting slips just contain numbers to help us find voters on the list more easily. Even if someone doesn't have one, they may be on the voter list," he said, adding that, nonetheless, "there may be cases where polling station staff can't find the name of people who have come to vote".
"But if they are really not included in voters list, they will not be able to vote as the voters list is already closed now."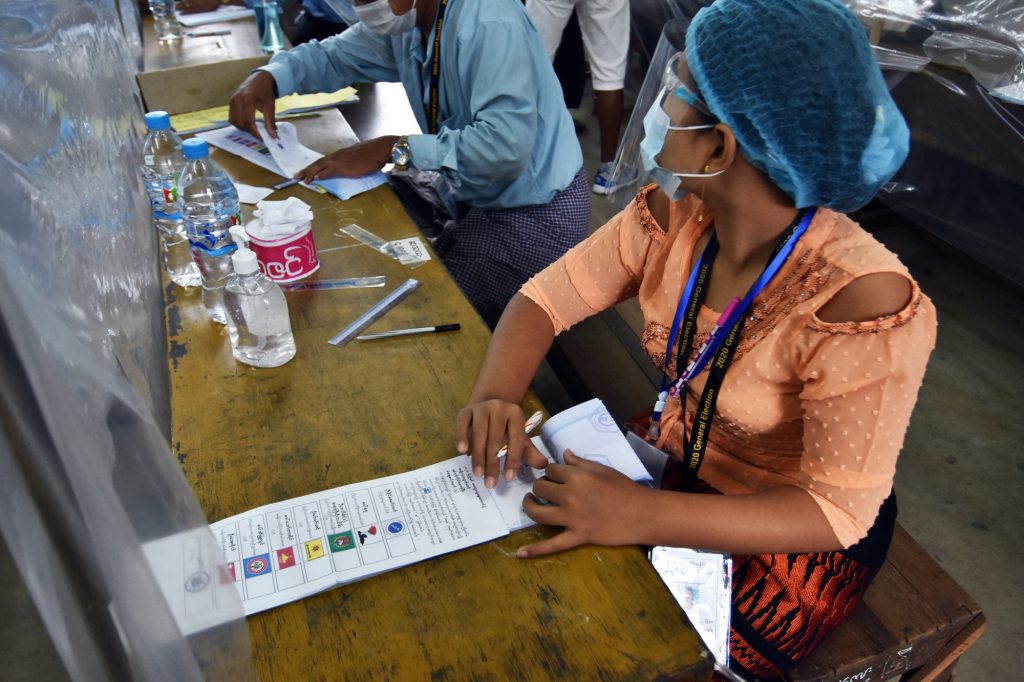 Still an improvement?
Some numbers suggest that, despite the problems, voter lists in Hlaing Tharyar were in better shape on November 8 than five years earlier.
Hlaing Tharyar East had 362,585 voters and Hlaing Tharyar West had 278,219, for a combined 640,804. Turnout across the two townships was 52.36pc – a long way below the national average of about 70pc, but far better than in 2015.
Back then, the voter list for all of Hlaing Tharyar was 454,307, and turnout was just 36.71pc – meaning that twice as many people voted this year compared to five years ago. Reports at the time estimated the number who were left off voter lists and tried to vote as being in the "tens of thousands". In one polling station, the voter list contained more than 1,000 names but only eight votes were received, while hundreds of people had to be turned away because they were not included. Election sub-commission officials blamed a computer error for some of the mistakes.
Various sources in Hlaing Tharyar estimated that there were likely thousands of people across the two townships who were turned away from polling stations on November 8.
U Ye Kyaw Thu said it was unclear as yet how many people had missed out on voting in Hlaing Tharyar, but the sub-commission was trying to collect data so it could work out how the errors happened and improve the accuracy of voter lists for future elections.
"I'm sorry but it's just very difficult to estimate what the number is," he said. "We're compiling a list of those who are old enough to vote and weren't able to. Although we can't give them the chance to vote, we will try to make sure it doesn't happen again."
Maung Hmwe, the district sub-commission chief, said he believed the voter lists were at least 95pc accurate. "The remaining 5pc may be due to migrant workers being counted on the list one day and moving somewhere else the next," he said. "But we are learning lessons from the current situation and hope to compile more accurate voter lists for the next election."
But the errors seem to have given the USDP and its allies further ammunition with which to question the fairness of the election.
On November 11, 16 parties led by the USDP issued a statement calling for an impartial investigation into the management of the election, citing the UEC's alleged "failure to accurately check, amend and announce voter lists" as one of the reasons. They also demanded a recount of ballots to check they are all cast by eligible voters, and an investigation into whether parties received foreign funding.
The parties have also called for the investigation commission to include "candidates from competing political parties and institutions which have a responsibility to safeguard the 2008 Constitution" – an apparent reference to the Tatmadaw, which has already accepted the results of the election.
For Hlaing Win Htun, the voter list errors are no reason to question the result of the election. The NLD received more than 80pc of the vote in both east and west Hlaing Tharyar; its Pyithu Hluttaw candidates won the election in both townships by more than 100,000 votes. "I don't want to deny the election result," he said. "Among those who couldn't vote – people like me – there'll be NLD supporters, USDP supporters and supporters of other parties. Every one of them deserves the right to vote."
But watching NLD supporters celebrate after the election win, after being denied the chance to vote, was hard to take, he said. "I felt so sorry after seeing this. I just wished I could have had the chance to vote for the party I support, whether they won or not."