The government is dividing Hlaing Tharyar into two townships, in a desperate bid to bring order to an industrial suburb beset by criminal gangs, shoddy infrastructure and over-population.
By HEIN THAR | FRONTIER
IT'S 5pm and the area around Hlaing Tharyar Township's Bogyoke bus stop is deceptively quiet. The small food stalls on No. 5 Main Road are mostly empty, and knots of motorbike taxi drivers wait for customers to spill out of the nearby factories.
Among them is Ko Chit Ko, sitting astride his motorbike as he chews a quid of betel and occasionally spits a streak of red juice on the road. "Wait and see, brother!" he says. "In half an hour you won't be able to move because of the crowd."
On cue, at 5.30, the scene is transformed. Hundreds of workers, women and men in their factory uniforms and carrying their lunch boxes, begin streaming from the factories lining the four-lane road. Motorbikes start and their riders tout for fares, as buses pull up at the stop with conductors shouting destinations. The scene is all noise, movement and clouds of dust.
"It's too crowded," Chit Ko says redundantly as the workers throng around him.
It wasn't always like this. Three decades ago, the area to Yangon's west was just paddy fields and villages, separated from the city by the Hlaing River before the current bridge was built.
But Hlaing Tharyar's phenomenal population growth – particularly over the past decade – has resulted in 15 percent or more of Yangon's urban population being crammed into this single township. And it's not just a problem for residents: it's also causing headaches for policymakers, MPs and electoral officers, with the government often unable to provide even the most basic services, such as waste management, health facilities and policing.
The government now seems to have hit on a solution: splitting Hlaing Tharyar into two townships. But will that really improve life for the township's long-suffering residents?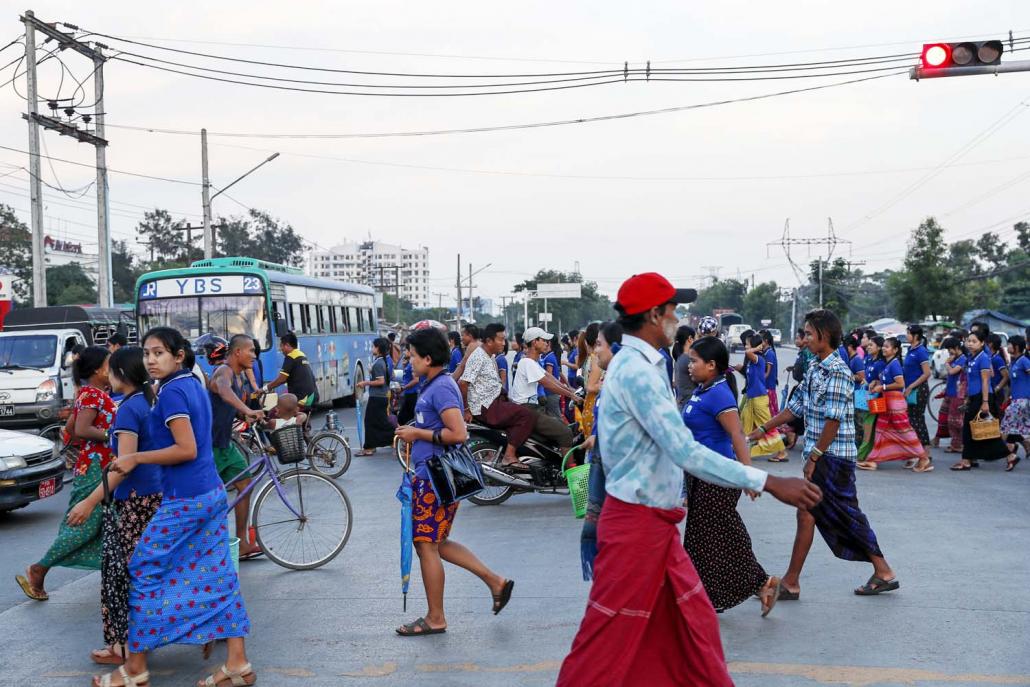 Up to a million?
Hlaing Tharyar covers an area of about 67 square kilometres, and the 2014 census showed it had a population of 687,867, giving it a population density of 10,216 a square kilometre – easily the highest of any township in the country. The next most heavily populated township in Yangon Region is South Dagon, with 371,646 residents. Hlaing Tharyar's population exceeds that of Chin and Kayah states, of 478,801 and 286,627 people, respectively, the census showed.
A voter list update done in September by the Union Election Commission and General Administration Department found Hlaing Tharyar's population had risen to more than 730,000, with about 560,000 eligible to vote (an increase of over 100,000 since the 2015 general election).
However, an official with the Department of Immigration, who asked not to be identified because he was not authorised to speak to the media, estimated that the township might have as many as one million residents. He said the voter list update, which he assisted, had missed many of the internal migrant workers, whose numbers fluctuate but are increasing overall. "Everyday, new people come to Hlaing Tharyar but we can't say how many," he said.
Hlaing Tharyar's one dozen industrial zones contain more than 850 factories employing more than 300,000 workers, many of whom migrated from the countryside to work in the township.
Residential areas are dominated by dormitories that house the area's workers, charging a minimum of K50,000 a month for a small room with up to three beds. Workers prefer dormitory accommodation because it is cheaper than renting an apartment. Some property owners have built dormitories and some residents supplement their income by letting rooms in their homes.
Most of the buildings are small, cramped and poorly built. "Who wants to live in this kind of place?" said Ma Kathy Nwe, a factory worker who lives in a tiny room at a dormitory in No. 5 ward. "You can ask anyone you see – no one wants to live here."
However, Kathy Nwe put up with the difficult living conditions because she wanted to live close to where she worked.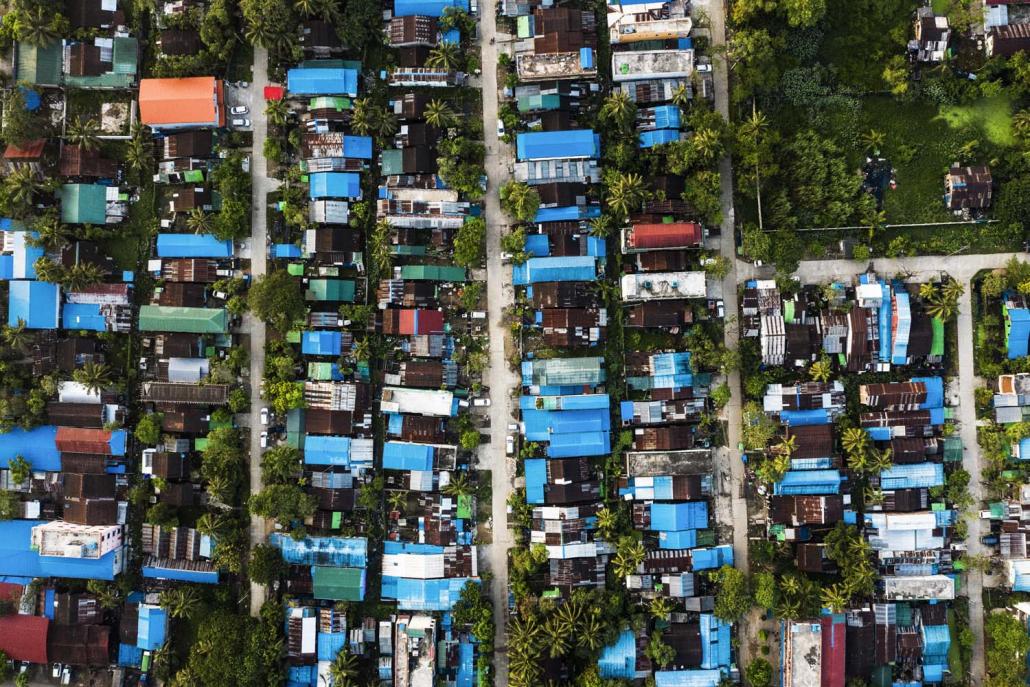 The great migration
Hlaing Tharyar was established as a township in 1989, the year after the 8-8-88 national uprising, and records from the township's GAD office show it was created to resettle "squatters" – families who had occupied derelict buildings in central Yangon – as well as Yangon residents whose homes had been destroyed by fires that broke out in numerous townships, including Insein, Mayangone, Thingangyun and South Okkalapa, in the years prior.
The military junta wanted to give the township an auspicious name for its new residents and chose "Hlaing Tharyar", which means a place filled with pleasure.
"There were no rich people in our township when it was established; the residents had meagre incomes," said U Chit Ko Ko Lin, the township's current deputy administrator.
He said that, in 1991, the authorities established the township's first industrial zones, as well as trading centres for produce from the Ayeyarwady delta, which lies immediately to the west.
The situation changed dramatically after Cyclone Nargis devastated the delta in 2008, Chit Ko Ko Lin said. Survivors whose homes or livelihoods had been destroyed began heading to Hlaing Tharyar in the hope of finding work in its factories.
"At that time, so many people, rich and poor, migrated to Hlaing Tharyar from Ayeyarwady Region," said Ko Banyar Hlaing Oo, a writer who moved to the township that same year from the delta township of Hinthada.
Largely as a result of the post-Nargis migration, more than half of Hlaing Tharyar's residents are originally from Ayeyarwady Region, according to an assumption widely shared by locals that Frontier was unable to corroborate.
They include the motorbike taxi driver, Chit Ko, who migrated in 2008 from Labutta, another delta township, where his family were farmers. The factory worker, Kathy Nwe also grew up in Labutta, where her family fished for a living. The death of her father in 2010 prompted her to move to Hlaing Tharyar to find work, leaving her mother and younger sister behind.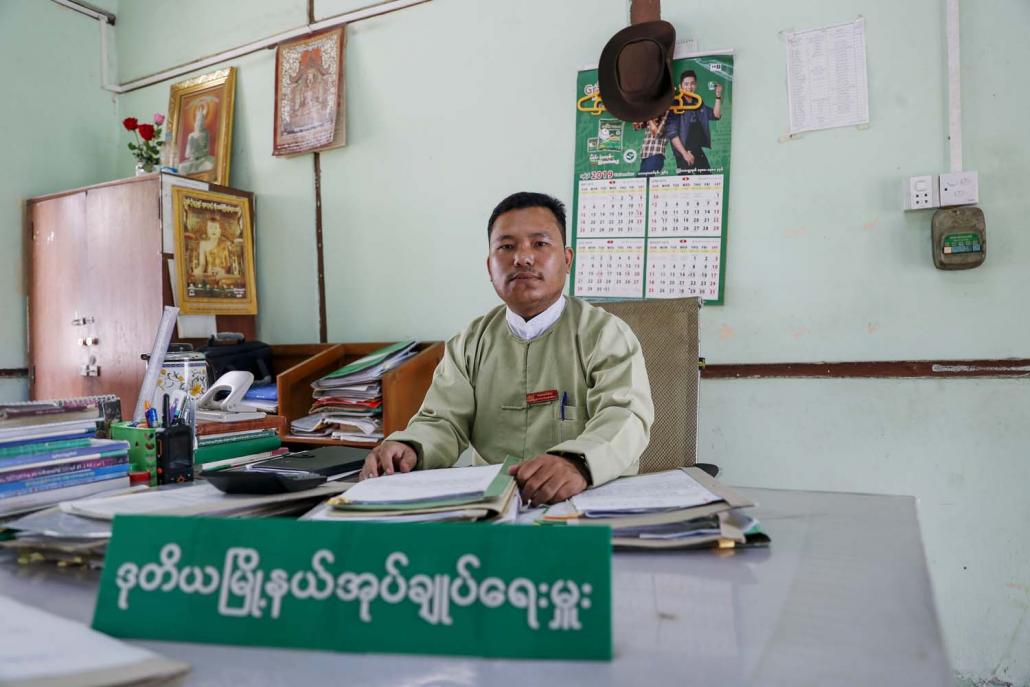 'Vice city'
"The more people, the more problems," Chit Ko said, referring to the challenges that rapid population growth brought to the township.
These include the basic work of administration. Deputy township administrator Chit Ko Ko Lin said the township has 58 GAD staff. This is more than the average for a Yangon township of about 36, according to figures from the Yangon Region GAD, but Chit Ko Ko Lin insisted it still wasn't enough.
The township GAD office, court and main police station are arranged along Yone ("office") Street, which bustles noisily all day with township residents waiting hours to receive official attention, with legions of hawkers and small pop-up shops there to serve them.
Chit Ko Ko Lin said GAD staff devote most of their time to trying to resolve land disputes, a "constant headache" in a community that GAD figures show has nearly 200,000 residents living in informal settlements. Another major problem is labour disputes, which Chit Ko Ko Lin said occur almost daily in the factories, with insufficient government staff to respond to them.
Township police commander Major Khin Zaw, his eyes bleary from lack of sleep, said maintaining law and order is also difficult given the meagre resources at hand. These stretch, he said, to two police stations, including the township headquarters, two detention centres and 189 police personnel, about 100 of whom are officers on the beat.
"Being a policeman in Hlaing Tharyar is like being a guardian of hell," he told Frontier. Criminal gangs run rampant, he said, adding that gang members are prone to attack police officers if they try to stamp out gangs' operations, which include karaoke parlours that double as brothels, a thriving drugs trade and the informal leasing of land and housing that sits at the heart of many land disputes. "They do no respect or fear us because there are more of them than there are of us."
The writer, Banyar Hlaing Oo, said, "If you put up a fence on your own land, you need to pay off a gangster or they'll destroy it. When the rule of law fades, people pay money to solve their problems."
When Frontier visited the main police station on September 23, 10 police officers were surrounded by twice as many local residents, each trying to open a criminal case, mostly related to thefts and violent assaults. The adjoining cell held 15 people who had been arrested that day.
One Chinese national told Frontier he was there to report the theft of several generators at a factory he owned. One local teenaged boy said his motorbike had been stolen. He said it had happened twice before with previous bikes, which were never found despite him reporting each theft.
But they were lucky not to have been hurt, said Police Sub-Lieutenant Kyaw Htay. He told Frontier, "These days, thefts are often accompanied by violence. If someone catches a thief invading their home or shop, they seriously risk being assaulted or even killed." He said there had been two unrelated murders of this kind in July, and one incident that month when two shopkeepers were robbed and killed by one man. The killers were still on the run, he said.
The motorbike taxi driver, Chit Ko, said it was easy to find professional criminals who would kill for a fee. Two of Hlaing Tharyar's most notorious criminals, Dar Kalar and Poe Hut Phyu, who are allegedly responsible for murders, have become famous on social media, and the frequent media reports of crime in the township has led people elsewhere in Yangon to nickname it dusayait myodaw, "Vice City".
Out of 116 murders reported in Yangon Region between January and September this year, 19, or 16 percent, occurred in Hlaing Tharyar, whose share of the region's population of 7.3 million is around 9 percent according to the 2014 census, but is probably larger. This is a murder rate well above the average for the city, though it's not as exceptional as much of the anecdotal evidence would suggest.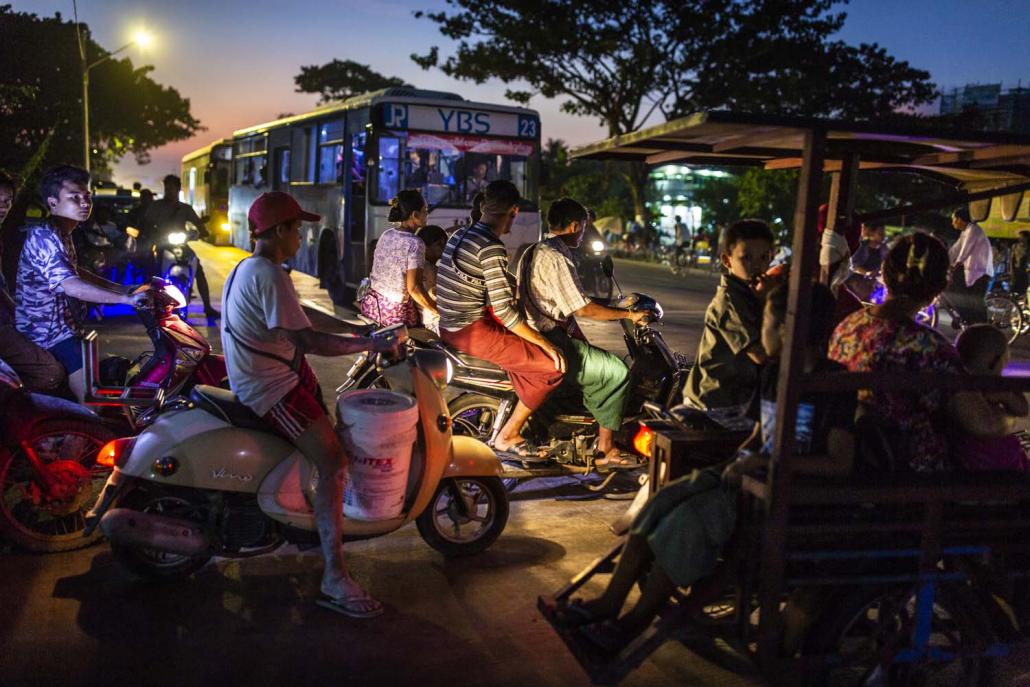 The partition plan
Details about the Yangon Region government's plan to divide Hlaing Tharyar are sparse.
Chief Minister U Phyo Min Thein hinted at the plan at a news conference in July but did not elaborate, other than saying that splitting the township would make it easier to administer. There were reports in Burmese language media in August that preparatory work had begun, but neither regional government nor township officials confirmed this.
Sources who requested anonymity said the Hlaing Tharyar township administrator had sent the plan to Yangon's Northern District GAD office, which had submitted it to Phyo Min Thein's office in the last week of September.
The final step will involve the chief minister submitting the plan to President U Win Myint for approval, in line with section 54 of the constitution, which states that, in the redrawing of administrative boundaries from the village to the regional level, "the President shall act, as necessary, upon the recommendation of the Chief Minister of the Region or State concerned."
Documents viewed by Frontier show that the plan involves dividing Hlaing Tharyar into two townships, East and West Hlaing Tharyar, each of 13 square miles (about 33.6 square kilometres) with a population of about 400,000.
Yangon Region MP U Win Maung (National League for Democracy, Hlaing Tharyar-1), who supports the township being split, said one reason for doing so was that its budget was insufficient.
"Although our township has the biggest population, it does not get a bigger budget than others," said Win Maung, referring to the Constituency Development Fund – the K100 million the Pyidaungsu Hluttaw allocates annually to each township in Myanmar, regardless of population size, with MPs having the final say over which development projects are funded.
Win Maung said Hlaing Tharyar receives a total of between K5 billion and K7 billion a year in budget allocations, which he said did not allow enough for fixing the township's roads, half of which he described as being in disrepair.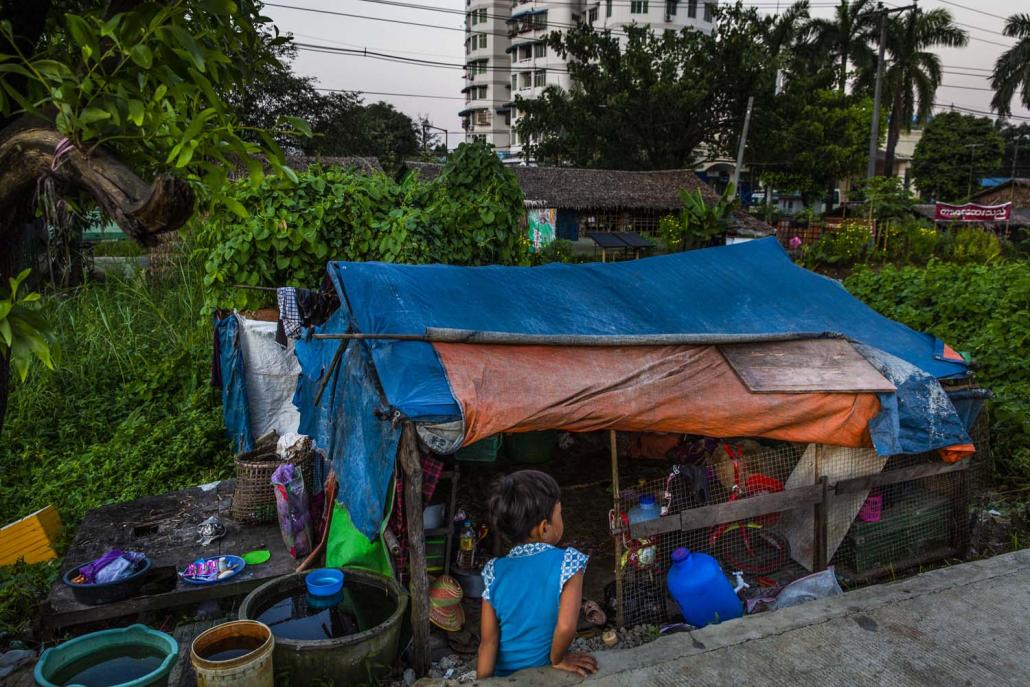 Election deadline
Win Maung and deputy township administrator Chit Ko Ko Lin said the Yangon Region government wants the division completed before the 2020 general election, which the election commission has said will likely happen in November that year.
This would create three new parliamentary seats for parties and candidates to vie for in the election – another seat in the Pyithu Hluttaw, which are allocated one per township, and two more in the regional parliament, two of which are allotted to every township.
However, because the constitution caps the number of elected seats in the Pyithu Hluttaw at 330, these new seats would be added at the expense of seats for constituencies elsewhere.
The Pyithu Hluttaw MP for Yangon's Seikkan Township, U Tin Maung (NLD), told Frontier on September 25 that, once Hlaing Tharyar is split, Seikkan will be abolished and absorbed into Botahtaung Township to keep the number of townships at 330 nationwide.
Seikkan's miniscule size makes it an obvious candidate for abolition. It occupies a thin sliver of riverside land in the vicinity of Botahtaung jetty in the eastern downtown area and houses only 2,826 people, according to the 2014 census, many of whom are government staff employed by Yangon's Port Authority. As with the creation of new townships, any final decision on abolishing one is made by the President, without the need for a parliamentary vote.
The creation of new constituencies for Hlaing Tharyar will also increase the power of any vote wielded by a Hlaing Tharyar resident, which is currently very diluted. Because the same number of parliamentary seats are given to each township despite vast disparities in population size, a vote by a Hlaing Tharyar resident is currently worth about 250 times less than that of a Seikkan resident.
The partitioning of Hlaing Tharyar could also deliver new government investment in the neglected western part of the township. Development has so far been concentrated in eastern Hlaing Tharyar, which contains the township's administrative offices as well as its public hospital.
"We need to build infrastructure in western Hlaing Tharyar quickly," said Chit Ko Ko Lin, suggesting there may not be enough time to do so before the 2020 election.
Most of the township residents that Frontier spoke to were unaware of the partition plan. Kathy Nwe, the factory worker, was surprised when Frontier told her of it, and was unsure whether or not it would improve her life.
Hlaing Tharyar had given her steady employment, she said – but, after nine years, "it still doesn't feel like home".
TOP PHOTO: Hkun Lat | Frontier