Hundreds of thousands of eligible voters could lose their right to cast a ballot in November thanks to a vote transfer system that shifts the burden from electoral authorities to voters.
By PYAE SONE AUNG | FRONTIER
As the November 8 vote nears, discussions of disenfranchisement have tended to focus on marginalised ethnic and religious groups and remote rural communities. But vulnerable though these groups are, hundreds of people in Myanmar's largest cities risk losing their voting rights because they are registered to vote elsewhere.
This scenario may play out on a grand scale in Yangon Region's most heavily populated township of Hlaing Tharyar. The original residents of this industrialised western suburb of Yangon are outnumbered by internal migrants who work in hundreds of garment and other factories in the township's 13 industrial zones.
Data gathered at the start of the year by the General Administration Department cited a population of 733,600, of whom close to 600,000 are now registered to vote. However, an immigration official speaking anonymously told Frontier last year that the township probably held closer to 1 million residents, with authorities unable to keep a full tally of the transient, but growing, population of internal migrants. Moreover, according to GAD figures, more than 200,000 residents live in informal settlements, largely without documents.
Under a decision it said was aimed at more effective administration, the government decided last year to split Hlaing Tharyar into two townships. Although the division of administrative structures is still in process, the Union Election Commission is already treating the area as two townships, giving it two Pyithu Hluttaw and four regional hluttaw constituencies, as well as one Amyotha Hluttaw constituency. The township election sub-commissions said the preliminary voter lists displayed nationwide between July 25 and August 14 showed that East Hlaing Tharyar has 314,812 registered voters, and West Hlaing Tharyar has 253,206.
However, even electoral officials admit that these lists failed to include large numbers of residents, particularly migrant workers. These left-out voters likely number in the many tens of thousands, but it's hard to tell in the absence of comprehensive population data.
Their exclusion is largely a product of the way the lists were made. Voters were enumerated through a door-to-door survey of residents undertaken by ward officials and immigration officers between June and September last year. Ward-level election sub-commissions were then supposed to vet this data, including by comparing it against the lists for the 2015 general election, before submitting it to the township sub-commissions.
There were reports from across Myanmar during the last public display in July and August of large numbers of voters missing from the lists, as well as inaccuracies in voters' personal data and the inclusion of absent or dead voters. But in Hlaing Tharyar, the small ratio of government staff to local residents, together with the huge number of people living in informal settlements, have magnified the flaws found elsewhere.
"The voters lists are being amended and more names are being added to them," U Kyaw Thaung, chair of the East Hlaing Tharyar election sub-commission, told Frontier during the last display period, acknowledging that many migrants were missing from the lists. "Many of them live in rented accommodation and their addresses often change. We are adding them to voter lists through Form 3s."
The sub-commission chair was referring to Form 3(a), through which people can request to be added to the voter list in a particular constituency. On checking the voter list and finding their name absent, voters must fill out the form at their local ward office. Migrants from elsewhere in Myanmar must also attach a signed endorsement from their employers or ward officials that they will have lived in the area for at least 90 days by election day, and migrants' landlords are sometimes asked to verify this information. The process not only puts the onus heavily on the voter, but also leaves their voting rights at the mercy of their bosses, landlords and local government officials, who may not always be cooperative.
Township sub-commissions are supposed to coordinate so that voters who file a vote transfer application in one township are removed from the voter list in their original township. However, Kyaw Thaung said the sub-commission had requested that applicants ask their relatives to apply to cancel their registration in their home towns and villages.
"We have to make sure that they don't appear on voter lists in two places," he told Frontier on July 30. But while this would ease the workload of electoral authorities, it only heaps more responsibility on ordinary voters, who might have little time or energy to spare.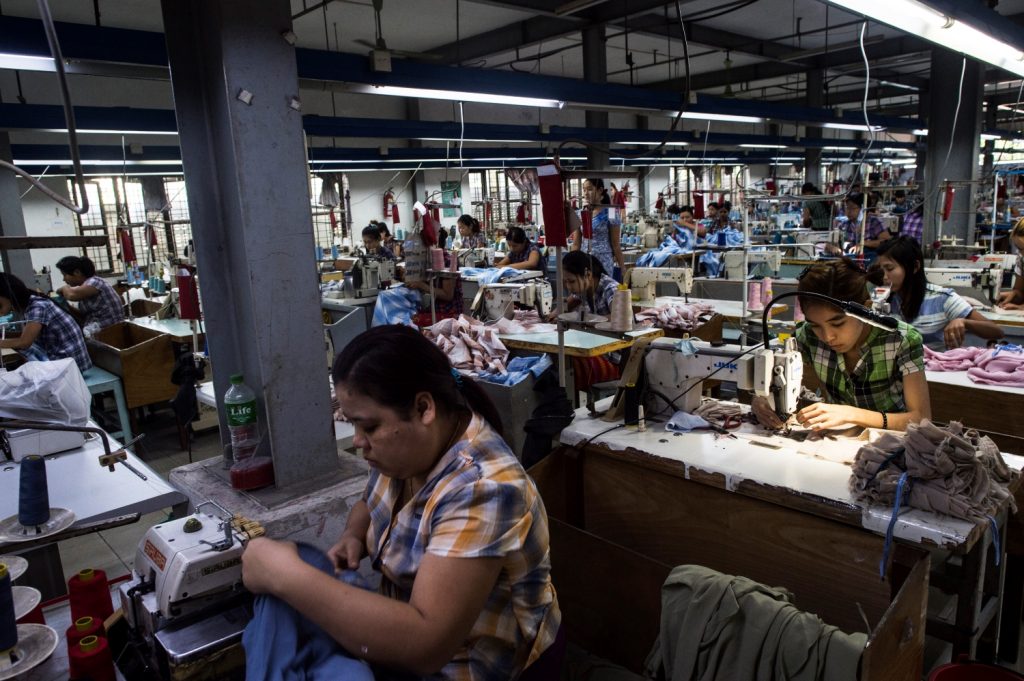 Overworked, uninterested, stuck at home
Heavy workplace commitments, including the need to work overtime, made it difficult for migrant workers in Hlaing Tharyar to check the preliminary lists and fill out a Form 3(a), or even to take much interest in politics.
Ma Nwe Yee Win, 35, a factory worker who moved from Magway Region to Hlaing Tharyar several years ago, predicted a low turnout by migrant workers on election day, regardless of whether they are registered to vote in the area. She did not check to see if she was on the preliminary voter lists and has no interest in voting.
"Some of my friends who are interested in politics checked the lists in August, and when they discovered their names were missing they had their landlord verify their address in Hlaing Tharyar so they could be added, but only a few did that, as far as I know," Nwe Yee Win told Frontier.
Ma Khine Zin Htet, 26, who has lived in Hlaing Tharyar since 2012, told Frontier in September that she and her co-workers were unlikely to vote in November, but, in her case, it is not due to lack of interest. "In 2015, I returned to my native village in Aunglan Township [in Magway Region] to vote for the first time. The factory granted me leave for the election and I had a chance to visit my family for a few days. But this time, with COVID-19 cases spreading, I'm trapped in Yangon," she said.
On top of stay-at-home orders in Yangon, which became more stringent in the course of September as the COVID-19 case count rose steeply, the government banned travel out of Yangon Region on September 10. This ban has yet to be lifted.
As to transferring her vote from Aunglan to Yangon by filing a Form 3(a), Khine Zin Htet said a demanding job left her with little spare time. She said she would rather not spend precious time on her rare days off having her address verified and then visiting ward offices to fill in forms.
Ma Than Than Htay, secretary of the West Hlaing Tharyar election sub-commission, said that 200 voter list amendment forms on average were submitted each day to her office during the three weeks that the lists were on display in July and August. "The [township] commission is reviewing these forms submitted from wards and village tracts so that more accurate and complete voter lists can be displayed for the second time in October," she said.
The voter lists were displayed again nationwide from October 1 to 14, and internal migrants had until October 10 to transfer their vote by completing a Form 3(a). The new display coincided with an enforced shutdown of Yangon factories imposed on September 21 to curb the spread of COVID-19.
Although the shutdown in theory gave workers more time for activities besides work, stay-at-home orders were still in effect. Voter lists could be checked via a website and smart phone app but Form 3(a) applications still needed to be completed in person, and a residency endorsement from an employer or a ward official was still required. Moreover, difficulties accessing the previous month's wages and government compensation from the Social Security Fund meant many workers attached little importance to voter registration.
However, the increase in the size of the recently displayed voter lists from those shown in July and August indicated that thousands of migrants had successfully enrolled, despite the burdensome process. The new list for East Hlaing Tharyar has 336,849 names, an increase of 22,037, and that for West Hlaing Thar has 262,552 names, a more modest increase of 9,436. Yet, this likely represents only a fraction of those missing from the preliminary lists. Again, in the absence of comprehensive population data, the full scale of disenfranchisement will go unrecorded.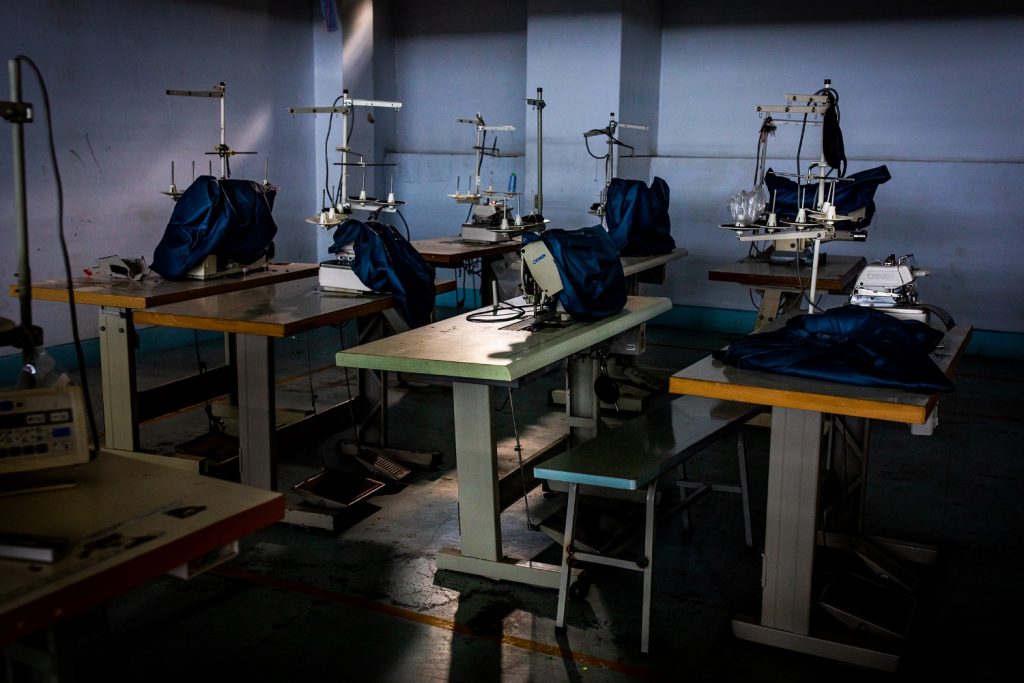 Factories 'only interested in making profits'
Meanwhile, the question of who votes, and who cannot, is certain to affect the electoral chances of some candidates and political parties.
Seven independent candidates with years of experience as labour activists are standing in Hlaing Tharyar constituencies on a workers' rights platform. Consequently, they are relying heavily on support at the ballot box from migrant factory workers.
The independents joined forces with civil society groups and trade unions in July to form a voter registration and education committee aimed at securing the vote of duly enfranchised factory workers, but their endeavour has been disrupted by the restrictions imposed in response to the "second wave" of COVID-19 infections, which began in August.
U Htay, independent candidate for the Pyithu Hluttaw seat of East Hlaing Tharyar, estimated that tens of thousands of people were not included on voter lists.
"It is disappointing that even families that have been living in Hlaing Tharyar for 20 years are not included on voter lists," U Htay told Frontier, adding that this was often "because they lack household member lists".
U Htay was referring to a type of form submitted to ward administration offices that lists the members of each household. These forms aided authorities in compiling the voter lists, but the residents of informal settlements often lack this and other forms of documentation.
"We had only managed to get a little over a thousand labour union members registered before the increase in COVID-19 cases was followed by strict stay-at-home orders in Hlaing Tharyar," he said on September 28.
He also complained about a lack of cooperation from government officials and factory owners in endorsing that workers had lived in the area for more than 90 days. "They [factory owners] are only interested in making profits and preventing their factories from being shut down," he said. "Why would they care about the civil rights of their employees, such as the right to vote, when they are ignoring labour rights?"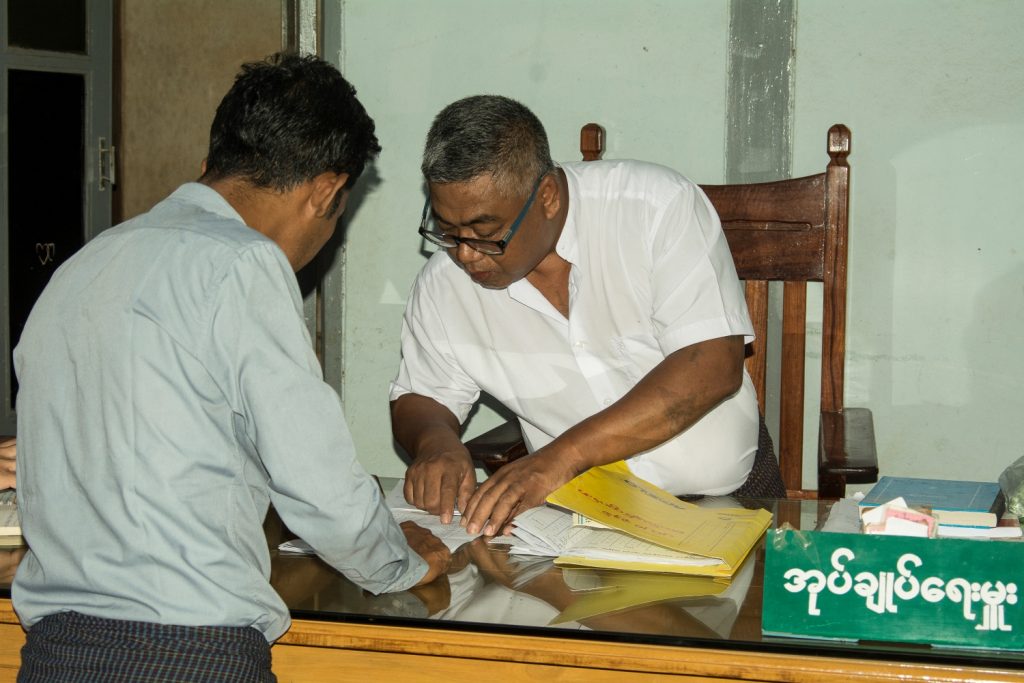 The 'busy bee' of Ohn Zone
The picture is very different in Mandalay Region's Thabeikkyin Township, where cooperation between government officials and mining companies has been effective in ensuring that migrant workers in the largely rural township are registered to vote.
U Saw Chit Nyunt, administrator of the township's Ohn Zone village tract, takes pride in being an elected official, saying it motivates him to ensure that all the residents of the tract's 16 villages enjoy their rights as citizens.
Ward and village tract administrators have since 2012 been locally elected via a tiered voting system. Firstly, the electorate is broken down into clusters of 10 houses each, and the heads of each household elect a leader for that cluster. These 10-household leaders then form an electoral college which chooses the administrator, who is not allowed to have any political party affiliation.
These administrators are the closest contact people have with the government, and the local elections have helped to reorient the relationship between the state and citizens from the oppressive practices of military rule. But this transformation has been uneven, and the key role played by local administrators in compiling voter lists, along with several other aspects of electoral administration, has been a test of their responsibility to communities.
"I am a busy bee these days making sure everyone in our area gets to vote," administrator Saw Chit Nyunt told Frontier during a visit to Ohn Zone in late August.
The village tract has a population of 28,335, of whom 19,044 were included on the preliminary voter lists displayed in July and August. The township has a substantial migrant worker population because its nine mining companies employ more than 3,000 workers from throughout the country.
"Because of gold mines and companies that employ migrant workers, our area is regarded as having a 'floating' population. People come and go all the time," said Saw Chit Nyunt. "The migrant workers and their families who live here temporarily were not included in the preliminary voter lists."
Similar to elsewhere in Myanmar, these lists were based on a survey of households undertaken last year. But while officials in Hlaing Thayar have largely shifted the onus onto voters to update and correct voter lists in recent months, in Ohn Zone village tract, Saw Chit Nyunt and his team have personally toured the villages and encouraged residents to check the voter lists, and even offered incentives.
"The government distributed COVID-19 relief through our office of K20,000 [for each low-income] household, and we gave the cash handout only to those who knew their voter ID," he said, referring to the serial number next to a voter's name on the list.
"The township immigration officer is also visiting villages regularly to issue National Registration Cards. We provided residents with NRCs only after they had checked their voter ID," Saw Chit Nyunt said, referring to Citizenship Scrutiny Cards, the default identity cards that are popularly called "NRCs". He said these incentives had proved effective and resulted in many people seeking adjustments to their voter list entries.
The handout of CSCs at the community level is taking place under the Department of Immigration's Thitsar programme, which has been active since 2016 but is being intensified ahead of the election. Although the UEC has said that these identity cards are not mandatory to vote, they do make access to the polling booth more straightforward.
Saw Chit Nyunt was also collaborating with local employers to register migrant workers, in contrast to the situation in Hlaing Tharyar, where Frontier could not find evidence of factory bosses directly contacting authorities to enrol their workers.
"We are collecting the list of migrant workers from mining companies before the second voter display [in October]," he said in August.
Whereas migrant factory workers who had been left off the preliminary lists in Hlaing Tharyar had to visit ward offices and laboriously submit forms if they wanted the chance to vote, in Ohn Zone large companies such as Myanmar Htawara Co, a gold miner that employs nearly 1,000 migrant workers, submitted lists of their names to election officials.
"The companies keep the NRCs and other official documents of their workers, so they have accurate data," Saw Chit Nyunt said. "I am positive [the migrant workers] will all be included."
Htawara's public relations manager, Ma Khin Aye Swe, confirmed that the company helps workers to register to vote. "We told our field manager to submit the lists to the GAD office and then to the election sub-commission," she told Frontier, adding that the company would also provide transport to polling stations for their workers on election day.
The restrictions accompanying the "second wave" of COVID-19 infections makes coordination between companies and electoral authorities all the more vital to avoiding disenfranchisement. U Maung Gyi, an activist who helps to mediate disputes between residents, migrant workers and gold mining companies, said several companies have "not allowed their workers to leave the mining area since the COVID-19 outbreak".
Saw Chit Nyunt told Frontier on October 13 that more than 600 names had been added to the new lists that went on display at the beginning of the month in Ohn Zone. While this still appears to leave most migrants off the list, he explained that Form 3(a) applications were still being processed and estimated that "more than 1,600 migrant voters will be added before election day".
He seemed pleased with this result, even though it falls short of his earlier goal to have every eligible voter included. The task of compiling a comprehensive voter list might be vastly easier in a village tract of rural Mandalay Region than a teeming ward of Hlaing Tharyar, but his work demonstrated that a proactive approach from authorities is a surer safeguard against mass disenfranchisement than shifting the onus onto voters.