Despite a lack of international support, the military regime is pushing ahead with a census that many fear will be used to further oppress dissidents and could intensify conflict.
By FRONTIER
The United Nations has denied state media reports implying it would assist the Myanmar military regime with a controversial "census", which critics warn could be used to strengthen the regime's control over the population.
As far back as December last year, state media carried a report claiming the United Nations Population Fund country director, Mr Ramanathan Balakrishnan, discussed "support" for a census with the regime's minister for immigration and population, U Myint Kyaing.
At a subsequent meeting in July, they supposedly discussed the "conditions of cooperation" including "technology assistance and provision of materials related to the population data collection which is being carried out by the ministry".
The reports understandably raised the alarm among activists, who warned that the regime will use any information gathering exercise to ramp up surveillance of dissidents and legitimise its delayed election, now expected in 2025.
"If the terrorist junta later commits crimes based on information UNFPA helps collect, then the UN will be responsible," said Daw Wai Phyo Myint, a digital rights activist with Access Now.
But the UNFPA appears to have put those fears to bed.
"UNFPA is unable to support the 2024 census in Myanmar," said UNFPA's Asia and Pacific Regional Office in an email to Frontier in late August, adding that such a process should be "anchored in transparency and neutrality".
"The UNFPA reassures the country of its continued support to advancing sexual and reproductive health, gender equality, and women's empowerment," the statement continued, referring to its other programmes in Myanmar.
Additional confirmation came from the United States Census Bureau, which said it partners with the UNFPA "upon request and with approval from the US State Department", but has received no such request from UNFPA in this case. The US provided "technical assistance" for the last comprehensive census, carried out with support from UNFPA and Western countries in 2014, during the now aborted democratic transition.
Back then, many were optimistic about the country's future, but such hopes have been dashed by the 2021 military coup, the subsequent violent crackdown on peaceful protests and a spiralling civil war.
Yet even in 2014, the census was controversial. While Brussels-based thinktank International Crisis Group acknowledged that "accurate demographic data is crucial for national planning and development", it warned the process could inflame ethnic tensions, which it duly did. Rakhine nationalist mobs attacked international aid organisations in the state, believing Rohingya would be permitted to self-identify. Instead, the persecuted Muslim minority were controversially told to register as Bengali – implying they are illegal immigrants from Bangladesh – or be left out entirely.
The flawed process cost US$74 million, with Myanmar only paying $15 million, and the rest of the funds coming from Australia and European donors. Now isolated internationally and under Western sanctions, the regime insists it will be "self-reliant" and fund the 2024 census through the national budget, despite the country being in the midst of a major financial crisis.
Ms Mary Callahan, who conducted a political risk assessment for the 2014 census, said it's "unlikely" the regime could successfully complete a similar survey next year without international support. She said the regime doesn't "own any version of the very expensive software needed to process this kind of data", which was done through a British firm in 2014.
She said the Ministry of Immigration and Population "does not have the capacity to do this kind of work, or the US dollars to contract it out", adding that sanctions will likely worsen the dollar shortage.
In June, the United States sanctioned two state-owned banks that handle the bulk of the junta's foreign currency transactions – arguably the strongest measures imposed on the regime to date.
Isolated from the West, the regime could turn to more supportive countries for help, like China or Russia, to pursue pet projects, like transitioning away from paper forms to tablets.
"Perhaps MOIP can strike a cheap deal with a Chinese tablet maker, but again, the software will not be up to standard," Callahan said. "Not to mention the absence of electricity to charge the tablets."
A tool of oppression
But even without UN support, the regime seems intent on pushing ahead with the plan, with a 15-day trial census across 20 townships scheduled to begin on October 1. Even if only partially successful, such a process could endanger activists who are living incognito or in hiding, and could also spark conflict in areas with a strong resistance presence.
Daw Pyae Phyo Thu*, who left her job as a university professor after the coup to join the Civil Disobedience Movement against the junta, said she fears for her own and her family's safety if the regime is able to compile more thorough population records.
"I've been worried since I heard that news. Because I joined the CDM, I think security forces are looking for me. I'm really worried my family members could be arrested if they come to the house and can't find me," she said.
This is no idle concern – arresting the relatives of hiding political activists has become a routine tool of oppression for the junta.
Frontier spoke to 10 striking civil servants and five resistance fighters, who all expressed concern about the safety of dissidents and family members if the military successfully conducts a census.
"Census data will be abused by the military junta in its surveillance against people who are opposing the military coup. What the military regime is doing is not for the benefit of the people," said Wai Phyo Myint.
Perhaps even more alarmingly, the regime is already engaged in a separate, but seemingly related, effort to collect everyone's "biometric data". This began as a pilot project in November last year, according to state media, and has so far targeted staff at ministries in Nay Pyi Taw and people living in Yangon, Bago and Ayeyarwady regions. However, the scheme is intended to eventually cover all residents of Myanmar, regardless of citizenship status.
On August 10, The Global New Light of Myanmar reported that biometric data from some 700,000 people had been collected and is being entered into an e-ID registration system.
Ko Khant Nyar*, a student at the state-run Technological University in Ayeyarwady's Maubin Township, said immigration officials came on August 23 and 24, scanning students' eyes and fingerprints and recording their blood type. Khant Nyar knew his blood type already but said those who didn't know theirs had to get their blood tested.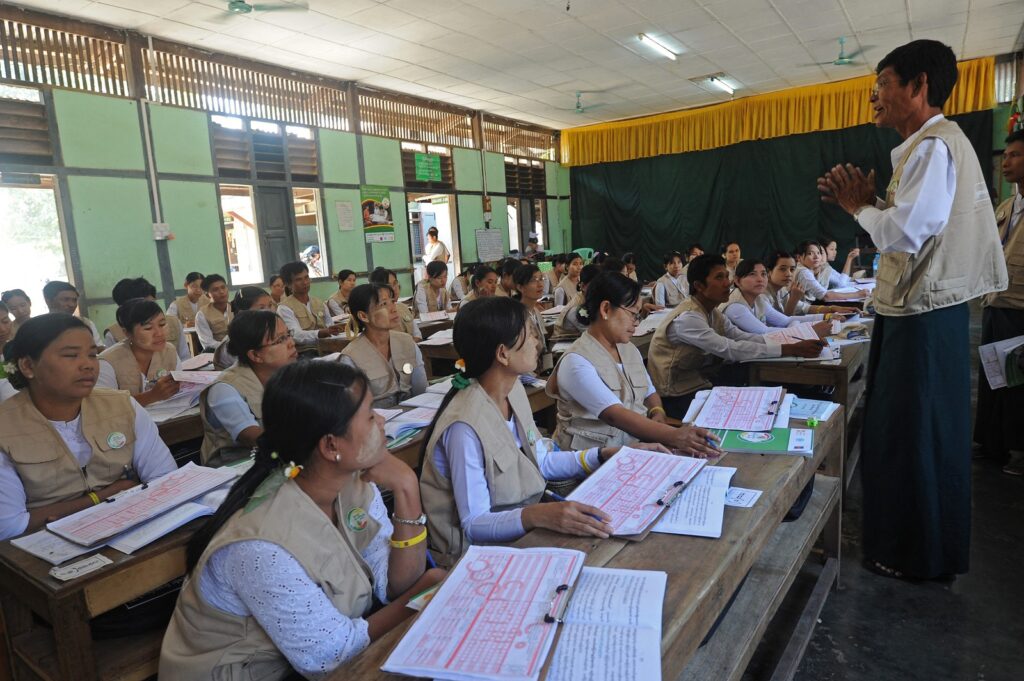 "We applied for the e-ID card so we could travel to the campus without being arrested at junta checkpoints," said Khant Nyar, who estimated around 30 percent of the student body also applied. He said while he hasn't been harassed so far, he's afraid whenever he passes through checkpoints and believes the e-ID will provide additional safety.
One state media article said the e-ID would be an "upgrade" of the Citizenship Scrutiny Card. Popularly known as the National Registration Card, it is the primary identity document for Myanmar citizens and is essential for travel, access to education and formal employment.
State media similarly said the e-ID would be linked to the provision of public services, including healthcare and passport renewal, and would even be used for opening bank accounts and buying SIM cards. This means dissidents who manage to avoid being registered could be excluded from vital services, while those who do register could be much more easily monitored.
Yet, despite the clear dangers, the regime may have secured some international support for this scheme. In July, Myint Kyaing visited the headquarters of India's Unique Identification Authority in Delhi to discuss cooperation on an e-ID system between the two countries.
The election element
Although previously planning to hold an election this year, junta chief Senior General Min Aung Hlaing now insists the census must come first.
"To hold the election, the Senior General underscored that necessary preparations must be undertaken in late 2023 in order to enumerate the census in 2024. If so, the population of the nation can be approved and the voter list can be compiled," The Global New Light of Myanmar reported in September. Soon after, military-linked party officials told international media the election would be held in 2025.
The 2021 coup followed the National League for Democracy's re-election in a landslide victory the previous year. The junta's handpicked Union Election Commission has since annulled the results of the 2020 election and outlawed the NLD.
As in Myanmar's last population count in 2014, a census is supposed to be anonymous. The purpose is to record demographic data, not to locate and document individuals. With a voter list, however, it's the other way round.
But the regime has seemingly conflated the two processes.
"Not only is this not a census — the most fundamental principle of which is anonymity — that adheres to international standards, as promised by the Minister of Immigration and Population, it also appears to be illegal under the 2013 census law," said Callahan, who added that the law requires personal data be confidential and not used for "any other administrative purposes".
She said that ahead of the 2015 and 2020 elections, township branches of the General Administration Department were instrumental in compiling the voter list. But due to strikes, assassinations and conflict, many GAD offices are barely functioning.
"The Union Election Commission cannot be sure GAD even exists in many parts of the country, which I suspect led to the decision to opt for census data collection," said Callahan.
Alarmingly, the census could also lead to a surge in armed conflict or assassinations. Resistance groups are understandably wary that the process could be akin to a military intelligence gathering operation, and therefore are eager to disrupt it. They also hope to undermine the junta's planned election.
"The census shows that the military wants to hold elections," said Padoh Saw Tah Doh Moo, general secretary of the Karen National Union, responding to a question from Frontier during an August press conference. The KNU has been fighting for political autonomy for decades and has allied with the broader pro-democracy uprising after the coup.
"There should be no elections held under the 2008 [military-drafted] Constitution. Elections would have a negative impact rather than a positive impact on solving the political problems of Myanmar."
Other ethnic armed groups and post-coup resistance forces told Frontier they wouldn't allow the regime to conduct a census in their territories.
Khu Plu Reh, general secretary of Karenni State Interim Executive Council, also said the junta is only able to secure Loikaw, Kayah State's capital.
"If the military's staff try to collect data [elsewhere] in the state, we may arrest and punish them," he warned.
However, a census requires many thousands of enumerators, and it's unclear who they will be. Callahan said that in 2014, most of them were government schoolteachers and midwives. Since the coup, state health and education staff have been at the forefront of the CDM, meaning the regime may need to recruit from other groups.
But even if they remain in their jobs, government workers will probably hesitate to take part in the exercise, given the risks.
"The current security situation is such that enumerators… will be viewed by the many resistance groups as agents of an illegitimate junta, and therefore possibly targeted for violence," she warned.
This means the junta will likely use heavy coercion to mobilise the required numbers. During an earlier effort to update voter lists in January, community leaders and members of charitable organisations said they were forced to take part. While the regime claims it registered nearly 90 percent of the population in January, critics say that's impossible; Callahan said the process "failed abjectly".
Khu Plu Reh of the Karenni State council and Bo Thanmani, leader of the Yinmabin People's Defence Force in Sagaing Region, both told Frontier they would arrest and imprison census enumerators if they entered their territory. "They are a pillar of the junta," Bo Thanmani said by way of justification.
Activists and opposition groups, meanwhile, have urged members of the public to refuse to comply with the census, although this could carry great risks.
"Personal data should only be given to the elected civilian government that you can trust," said U Nay Phone Latt, spokesperson for the National Unity Government, a parallel administration appointed by lawmakers deposed in the coup. "Giving your personal data to a terrorist group is similar to giving your home address and keys to a robber."
Callahan said over decades of military rule, many people in Myanmar have become used to telling officials what they want to hear – another reason the census is of limited statistical value.
"They are not being dishonest… but rather managing the risk of the kind of wrath that comes from reporting truthful information that might upset official narratives," she said, adding that in 2014, many questions were never answered.
"Nonetheless, enumerators were required to fill in an answer on every single question, incentivizing made-up data," she said. "Myanmar produces enough bad data, and always has. There is no benefit to carrying out a census."

* denotes the use of pseudonym for safety reasons
Correction: The figure for the cost of the 2014 census has been revised, from US$58.5 million to $74 million. The former figure is quoted by UNFPA, but Frontier understands that it is not the final amount.