The public profile of one of Myanmar's best-known – and perhaps most controversial – tycoons has been on the rise, a development broadly welcomed by the business community.
By KYAW LIN HTOON | FRONTIER
A GOLDEN nameplate on the grand building in Yangon's Hlaing Township announces its address as 5 Pyay Road, the compound behind which has new office buildings in smart, modern designs and a garage that houses luxury cars.
This is the headquarters of the Htoo Group of Companies, one of the country's biggest conglomerates, which is headed by U Tay Za, 53, who has become more prominent on the public stage since financial sanctions imposed on him by the US Treasury Department in 2007 were lifted in 2016.
Although his career has not been without controversy, all of the Myanmar businesspeople interviewed for this report, involved in sectors ranging from banking to oil and gas, welcomed Tay Za's return to prominence.
They hoped he would use the financial might of the Htoo Group to compete against foreign enterprises and contribute to economic development.
During military rule, Tay Za was regarded as one of the country's top cronies because of a reported close relationship with then-junta chief Senior General Than Shwe that is believed to have facilitated the growth of the Htoo Group. It has about 20 subsidiaries involved in activities including aviation, hotels, construction and timber, and about 40,000 employees.
Union of Myanmar Federation of Chambers of Commerce and Industry vice chairman Dr Maung Maung Lay believes that the country no longer has cronies or oligarchs. He accepts that Tay Za had links with the junta, but says many countries had benefited economically from similar business arrangements.
"Those foreign governments had also worked with the people they trusted," he told Frontier. "Regardless of what happened in the past, this is the time to work together hand in hand."
Tay Za was among a group of moguls who were assured by State Counsellor Daw Aung San Suu Kyi at a meeting in Nay Pyi Taw last October that their place in Myanmar's economy and society were secure.
Since then, Htoo Group companies such as AGD Bank have been expanding. In recent months, the conglomerate has rebranded with a revised logo, new website and expanded social media presence.
New businesses are being developed and existing ones rebuilt. In July, Htoo Group signed a memorandum of understanding with Vietnam's Petrolimex for the import and distribution of petroleum products. Air Bagan, a Htoo Group subsidiary, is planning to resume operations after they were suspended in August 2015 amid difficulties linked to sanctions. Flights are operated by its code-sharing partner, Asia Wings, which is also owned by Htoo Group.
Air Bagan, which was established in 2004, was also affected by negative publicity over two accidents, including a crash near Heho Airport on Christmas Day 2012 that left two people dead and 11 injured.
The carrier's spokesperson, Daw Grace, said it was busy making arrangements to buy planes.
"We will buy ATR-type aircraft because they are suitable for domestic routes. But because we may also fly to overseas destinations, we might buy some jet-engined planes," she said.
From DSA drop-out to leading philanthropist
Tay Za is the son of Thiripyanchi Myint Swe, a former Tatmadaw lieutenant-colonel nicknamed Shan Myint Swe who was well-known for his role in an attack in 1956 on the headquarters of the Communist Party of Burma at Lewe (now part of Nay Pyi Taw Union Territory) as part of the Aung Marga operation.
Tay Za was initially interested in a military career and attended the Defence Services Academy in Pyin Oo Lwin as a member of the 1982 intake, but dropped out during his third year to pursue business interests.
Tay Za's higher public profile of late has included making nationalistic comments and religion-based donations through the Htoo Foundation, a charity he founded in 2008.
The foundation recently donated about K15 million (about US$11,200) for ethnic Rakhine affected by the recent violence in the north of the state. Two-thirds of the amount was dispatched through the Venerable U Nyanissara, popularly known as the Sitagu Sayadaw and one of the country's most respected monks.
The foundation also sent two helicopters to conflict areas to conduct rescue missions, transport those displaced and deliver food and medicine.
In early September, Tay Za donated the plane that had crashed at Heho in 2012 (a Dutch-made Fokker F100) for display at the Chit Thu Myaing Park in the Kayin State capital, Hpa-an. The donation followed a request from the head of the Kayin State Border Guard Force, Colonel Saw Chit Thu.
The foundation donated more than K10.8 billion to various causes between 2008 and 2016, according to its chief executive officer U Paw Myint Oo.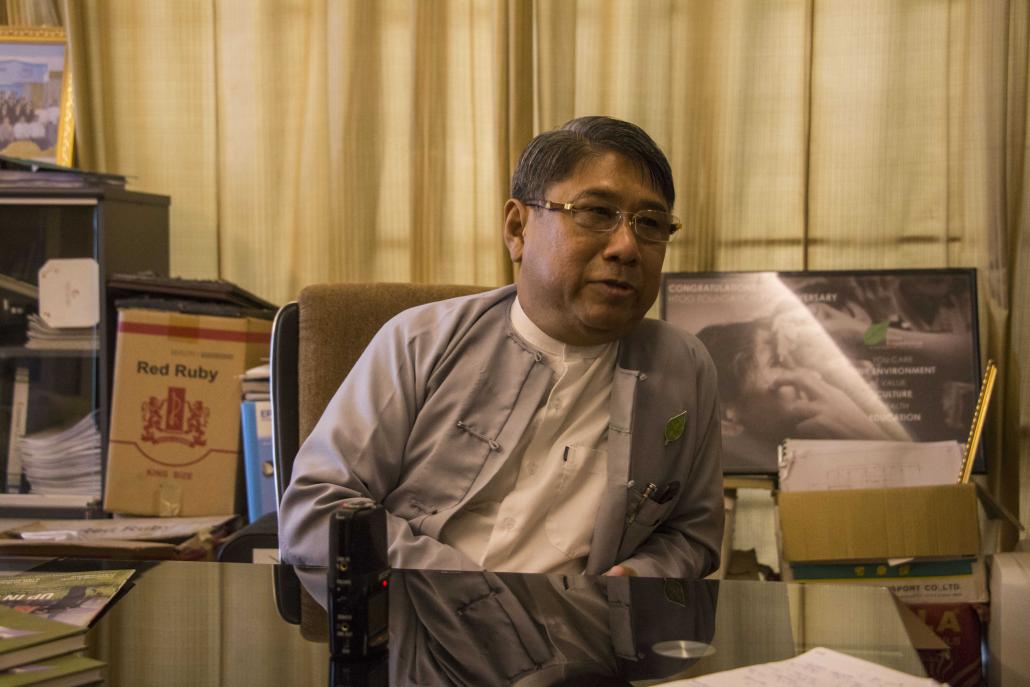 Some of the donations have attracted criticism, but Paw Myint Oo said these were often misunderstood.
"We have faced baseless accusations over our CSR [corporate social responsibility] activities," he told Frontier.
He recalled an incident when the foundation was installing a generator in remote Putao, in the far north of Kachin State, to provide free electricity. Some residents criticised the project because they thought the power was to be sold to China.
"How we could do that? Such a small generator could only produce power for a small township. If we wanted to sell to the other country we would need hundreds of miles of cables," said Paw Myint Oo, who is also an executive committee member of the Myanmar Red Cross Society.
He said the foundation was in talks with similar organisations to establish a national-level association of charitable groups.
Back in the spotlight
Htoo Group spokesperson U Tun Tun Win dismissed rumours that Tay Za was planning to invest in other countries in the region and said he had remained heavily involved with the conglomerate despite a lower public profile.
 "He disappeared from public view, but for us, he didn't disappear. He lived in Myanmar for most of the time during the last three years and made decisions about the group's future plans and offered guidelines," Tun Tun Win said.
He said Tay Za's health had been affected when a helicopter in which he was travelling in far northern Kachin made a forced landing in early 2011. The passengers and crew were stranded for three days in freezing conditions before eventually being rescued.
Tun Tun Win said Tay Za had also been focusing in recent years on handing over his business to his sons.
"So he stepped behind a bit and lets them work to the best of their ability while continuing to coach them," he said.
Tay Za has two sons and a daughter. His oldest son, Ko Pye Phyo Tayza, 30, is managing director of Htoo Group, and Ko Htoo Htet Tayza, 26, was appointed managing director of AGD Bank in mid-2015 when he was 24. Asiamoney magazine described him in April as one of the youngest managing directors in international banking and a rare example of a millennial heading a bank anywhere in the world.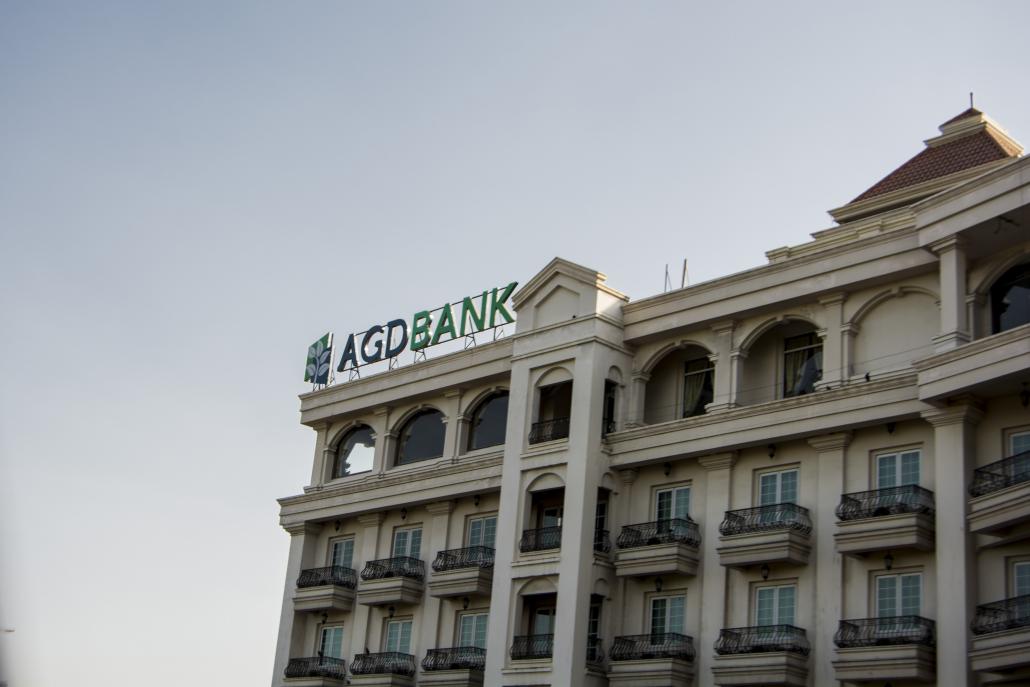 Tay Za's daughter, Ma Htoo Htwe Tayza, 19, also known as Rachel Tayza, is pursuing a career in the arts industry.
Htoo Htet Tayza also has a keen interest in the hospitality sector. He holds a BSc in International Hospitality Management from Switzerland's École hôteliér de Lausanne, one of the world's top hospitality schools, and is a partner in Yangon's Escape Gastro Bar, in Mayangone Township.
There was scepticism in the banking industry over Htoo Htet Tayza's ability to manage a bank established with capital of K30 billion, but he has earned respect for his capacity and enthusiasm, sources said. Tay Za's decision to appoint his son to run AGD Bank has been described as courageous.
Although labeled cronies for close links with the junta that gave them an unfair advantage over competitors, the business acumen of top moguls has been praised.
"They are the most talented businesspeople in the country," said banking expert Dr Thaung Han.
Tycoons tend to emerge in economies making a transition to democracy and become richer because of wealth distribution, he said.
"We hope they will work for the country with goodwill," he told Frontier.
His comments were echoed by U Ye Lin Myint, national coordinator of the Myanmar Alliance for Transparency and Accountability, an alliance of 450 groups and individuals that focuses on the extractive industries sector.
"They can change our country either for good or bad; we want them to be passionate about working for the country," he said, adding that the ability of the nation's moguls had never been underestimated.
Tay Za had focused his business activities on Myanmar on the advice of his father, Myint Swe, said Paw Myint Oo.
"Once his father admonished [Tay Za] not to invest in other countries because he believed that if he did, the beneficiaries would be the people living there, not the people of Myanmar," the Htoo Foundation CEO said.
The strong position that tycoons have retained since the transition began in 2011 has created controversy in the business community because the size of their enterprises is believed to give them an advantage in forming partnerships with foreign investors.
Most foreign companies seeking investment opportunities tend to form joint ventures with the country's biggest conglomerates because of their financial resources and expertise, said Dr Soe Tun, chief executive officer of Farmer General Services Co Ltd.
Soe Tun and U Aye Tun, the chief executive officer of Aung Thein Than, a distributor of imported car products and machinery, agreed that the government needs to establish a level playing field to make it easier for smaller companies to compete against conglomerates like Htoo Group.
Although Tay Za does not appear to have his sights set on expanding abroad, Aye Tun said that large companies like Htoo Group could help the local economy by expanding into international markets. This would create opportunities for smaller domestic firms to emerge and fill the gap, he said.  
"These conglomerates should break into the global marketplace and compete with foreign companies," he said.
TOP PHOTO: AFP