Far from the bright lights of Yangon and Mandalay, a Bagan local has managed to build up a business empire – with help from some friends in high places, according to residents.
By YE MON | FRONTIER
FOR MORE than 40 years, U Nyunt Lu has been a caretaker at Gubyaukgyi Pagoda, an Indian-influenced temple built in the 12th century, providing security and ensuring precious wall paintings are not damaged.
To carry out his duties, Nyunt Lu has lived in a small house beside the pagoda compound since 1988. But now he faces eviction at the end of October, because the house is on land that has been claimed by one of the area's most prominent and influential businesspeople, U Myo Min Oo.
Nyunt Lu's house is on a plot between the pagoda compound in Wetkyi-In village, northeast of Old Bagan, and the boundary of Royal House Hotel, one of four at Bagan owned by Myo Min Oo, who has extensive business interests in the area.
Nyunt Lu said he believes it was built on land donated to the pagoda by Daw Khin Mar Kyi, a resident of nearby Nyaung-U (Frontier was unable to contact Khin Mar Kyi).
"I have lived here since 1988 when the land was owned by someone I did not know, but now the Settlement and Land Records Department says the land is owned by Myo Min Oo," Nyunt Lu told Frontier at his house.
He said his eviction is being supported by the Archaeology Department, which wants him to relocate to another house about 600 metres from Gubyaukgyi Pagoda. The Archaeology Department and Myo Min Oo disapproved of him discussing his predicament with visitors, he added.
U Aung Aung Kyaw, director of the Department of Archaeology, National Museum and Library in Bagan, told Frontier that there was no record of such a donation and the land is owned by Myo Min Oo. "That's why the pagoda caretaker [Nyunt Lu] has to relocate," he said.
Several sources said the pagoda compound contained two ancient stupas, but Myo Min Oo allowed no one to enter except guests at the hotel. According to Nyunt Lu, he has instructed his staff to initiate legal action for trespassing against anyone, including Archaeology Department officials, if they enter the hotel without permission.
Gubyaukgyi Pagoda is in the Ancient Monument Zone, where development is prohibited under a management plan prepared by Myanmar as part of its application for Bagan to be added to the UNESCO World Heritage List.
The adjoining hotel compound is in the Protected and Preservation Zone, also known as the buffer zone, in which development is allowed, subject to permission. Myanmar has undertaken, as part of its management plan, to remove hotels from the buffer zone by 2028.
But in this respect it has been alleged that Royal House Hotel received favourable treatment. U Thu Ya Aung, secretary of Myanmar Archaeology Association, said that the hotel compound would normally have been included in the prohibited zone around Gubyaukgyi. The hotel compound is the only piece of "buffer zone" near the pagoda, and is surrounded by the prohibited zone, he said.
He said there was speculation that corruption was involved. "But there is no evidence," he told Frontier on August 19.
Mandalay Region Minister of Planning and Finance, U Myat Thu, who was involved in drafting the zoning plan for Bagan, could not be reached for comment.
Frontier also requested comment from Myo Min Oo and Shin Than Thu, a publicly company that operates some of his businesses.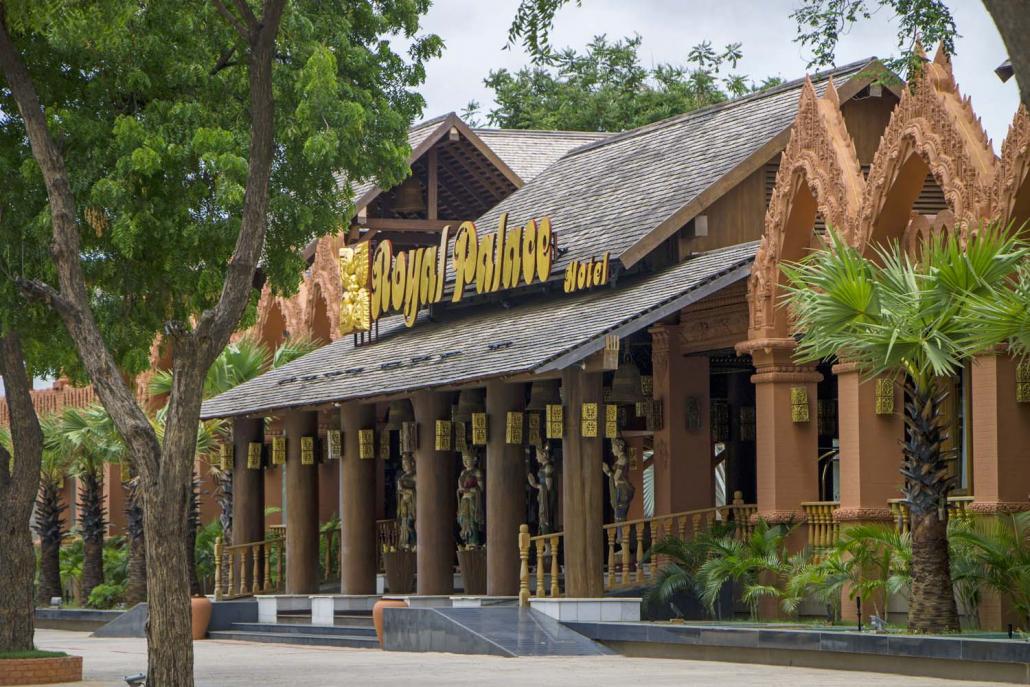 Who is Myo Min Oo?
Myo Min Oo's hometown is Nyaung-U, the gateway to Bagan, and residents said he was born to a family of modest means.
However, he is believed to have benefitted from a close relationship with U Tay Za, chairman of the Htoo Group of Companies, who under military rule was regarded as one of Myanmar's most notorious crony businessmen.
Multiple sources told Frontier that after the United States government imposed sanctions that specifically targeted Tay Za and his companies in 2007, seriously disrupting their operations, the control of some of his assets at Bagan was transferred to Myo Min Oo and he prospered.
Today Myo Min Oo's businesses at Bagan include four hotels, including the Royal House and the Royal Palace Hotel, one of the area's biggest, three restaurants, the 1517 handicrafts shop, car rentals, a hot-air balloon company, the Nan Myint viewing tower, a clinic, motorbike showroom, and a vocational training school in Mandalay run in conjunction with Hong Kong-based iGroup, a multinational that focuses on information products and library technologies.
The hot-air balloons are operated by the Shin Than Thu, which in 2018 also won the tender to collect visitors' fees for the Bagan Archaeological Zone with a bid of K7 million.
When Frontier visited Bagan in July, a close relative of Myo Min Oo, who asked not to be named, said the businessman had acquired considerable land holdings inside and outside the Ancient Monument Zone on which he was yet to launch any projects.
The relative also said Myo Min Oo has a good relationship with government officials at all levels, including those in the Archaeology Department, and that no one could say "no" to his projects.
Residents widely refer to Myo Min Oo as a "crony", a term once reserved for those close to the military regime. He is said instead to enjoy a close relationship with Nyaung-U Township members of parliament and with Mandalay Region Chief Minister Dr Zaw Myint Maung, who is also the National League for Democracy representative for Amarapura-1.
Mandalay Region lawmaker U Myint Soe (NLD, Nyaung-U 2) bristled at suggestions that Myo Min Oo's projects have received favourable treatment from lawmakers.
"You should not ask that kind of question; let's leave it in the past," he said. However, Myint Soe added that Myo Min Oo should take more care to respect the archaeological integrity of ancient sites at Bagan, which was added to UNESCO's World Heritage List in July, nearly 25 years after Myanmar first nominated it to be listed.
U Myo Setsan, a leader of heritage conservation group Save Bagan, said many of the area's residents were disappointed because they believed that as a Nyaung-U resident Myo Min Oo should be setting a better example than other businesspeople in ensuring that Bagan's ancient sites were protected.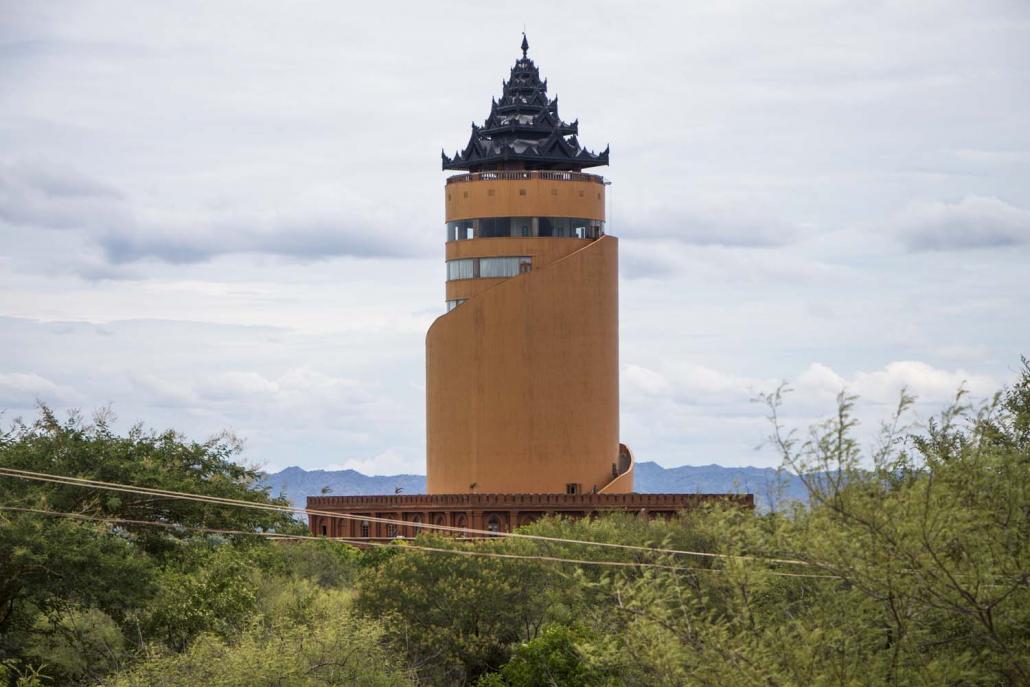 Friends in high places
In November 2018, a visit to Mount Popa by State Counsellor Daw Aung San Suu Kyi and Mandalay chief minister Zaw Myint Maung generated chatter on social media when an image emerged of them travelling in a golf buggy driven by Myo Min Oo.
Social media posts compared the photo to one taken when the country was under military rule showing Tay Za driving a buggy carrying junta leader Senior General Than Shwe and his wife and other family members during a visit to Mandalay.
The Myanmar Archaeological Association's Thu Ya Aung said the Mt Popa photo was evidence of the close ties between Myo Min Oo and the Mandalay chief minister and government officials, but said the relationship has not brought benefits for the Bagan region. "If he proposes a project to the regional government it will approve it immediately," he told Frontier.
In January 2017, Aung San Suu Kyi made an unexpected change to her schedule during a visit to Bagan with a member of the Bhutanese royal family when she went to the 1517 handicrafts shop, where she met Myo Min Oo. The state counsellor had been due to visit the Bagan House lacquerware shop and no reason was given for the sudden change in the schedule, which some attributed to Myo Min Oo's influential role in the area.
Ko Naing Tun, a member of the Bagan-Nyaung-U Committee for Cultural Site Implementation, a monitoring body formed by local MPs and residents, told Frontier on July 29 that the schedule was changed at the direction of the Mandalay regional government. "We were surprised," said Naing Tun, who was among a group waiting at Bagan House to see Aung San Suu Kyi. "I don't know if the state counsellor knew about it [the schedule change]."
Myo Setsan remains angry at an incident that occurred in March, when Zaw Myint Maung ordered him to leave a regular meeting in Mandalay of officials, hoteliers, MPs and community representatives to discuss projects at Bagan. Myo Setsan, who is a regular critic of the regional government and Myo Min Oo, was told it had happened because of the businessman's influence.
"I will never forget that day," Myo Setsan said. "I had thought such behaviour only occurred when the country was under military rule."
Preparing to face his eviction, Nyunt Lu said Bagan residents were "increasingly afraid" of Myo Min Oo's influence. "Myo Min Oo's power is getting bigger and the Bagan authorities pay so much respect to him – they treat him like a god. He can do whatever he wants."
TOP PHOTO: U Myo Min Oo drives State Counsellor Daw Aung San Suu Kyi and Mandalay Region Chief Minister Dr Zaw Myint Maung in a golf buggy at Mt Popa in November 2018. (Thar Byaw | Frontier)