The Ministry of Industry has issued a plan for industrial growth that will focus development along four main corridors, while seeking to tackle problems like human resources and land prices.
By KYAW PHONE KYAW | FRONTIER
ON economic policy, the new government has kept its plans close to its chest. A broad economic plan has been promised and sources familiar with the policy say it is complete but yet to be made public.
One policy important for economic development has already been released, however. The Ministry of Industry's industrial plan is the first such document to be issued by the government.
Interestingly, it was not drafted by the current government. The policy was uploaded to the Ministry of Industry's website on March 22, during the last week of the former government's term.
Nobody took much notice, probably because they figured that a policy issued by a lame-duck administration was not likely to be in place for long, let alone implemented. But on July 24 the National League for Democracy government issued the same, unchanged policy through the National Gazette, a government publication that released official documents.
At 60 pages, and with heavy use of formal language, it's not the easiest document to digest, so Frontier has summarised some key points.
Frontier also contacted a range of businesspeople from industrial and economic bodies, but they all declined to comment because they said they had not yet read the policy.
The overview
In its introduction, the policy identifies two geographic areas to serve as the focus of industrial development. In the south, Yangon, Bago and related areas have been selected because of their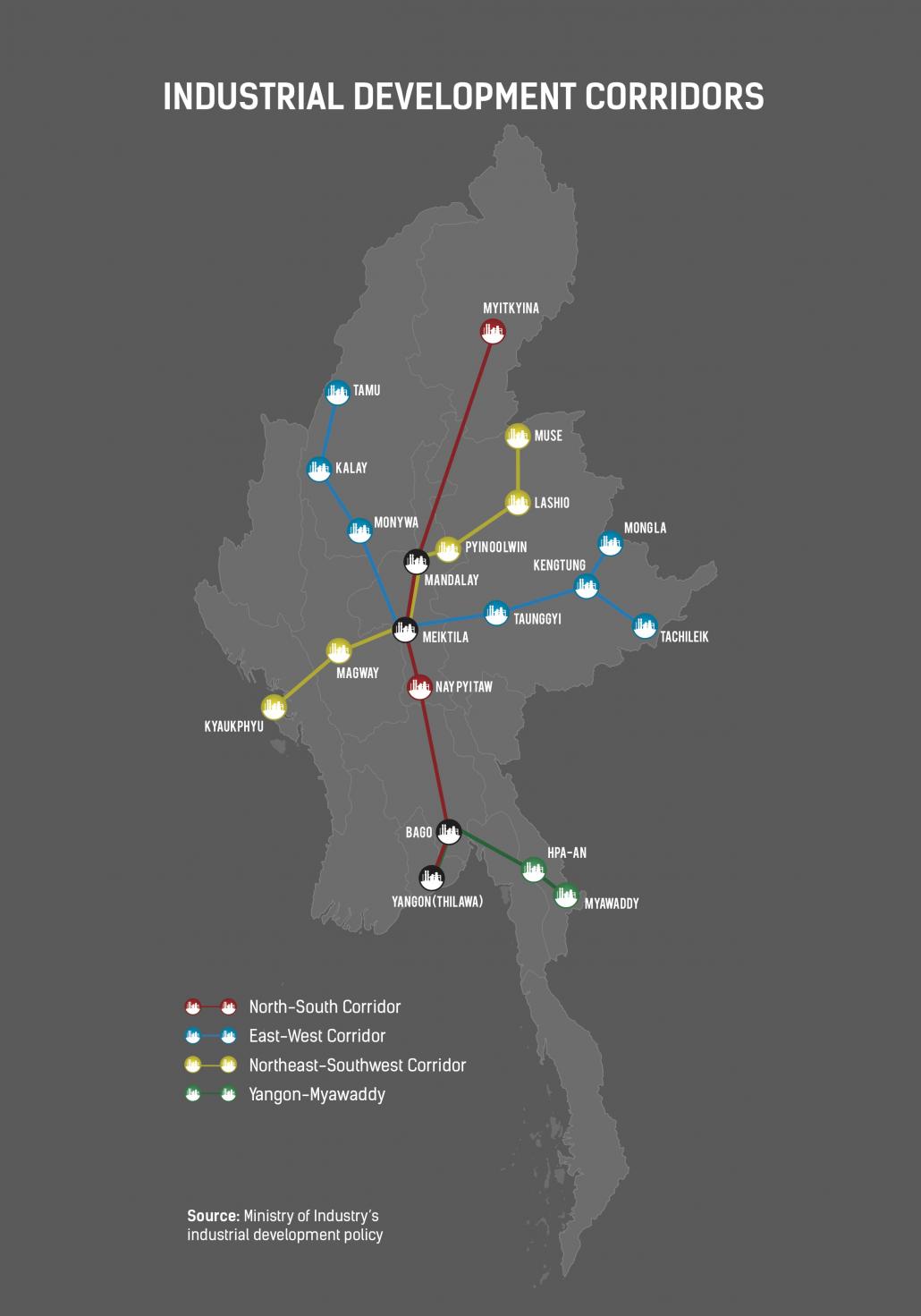 relatively developed infrastructure and proximity to the ocean, while in central Myanmar, Mandalay, Sagaing and related areas have been identified for growth due to their strategic location on economic corridors, particularly the ASEAN Highway. It also aims to increase the industrial sector's contribution to GDP to 37 percent by 2030-31.
The government will form committees to implement various aspects of the policy. One of Myanmar's two vice presidents will lead a national committee, while deputy ministers will head sectoral committees. A monitoring mechanism will be established to ensure the committees follow the policy.
The policy also identifies 11 main challenges to industrial development, including inadequate electricity and energy supply, poor transportation infrastructure, a lack of skilled labour and the high price of land for industrial purposes. It also references the World Bank's ease of doing business index, on which Myanmar ranked 167 out of 189 countries in 2015.
On this front, the paper states explicitly that Myanmar "needs to reform", and outlines several initiatives to make it happen. These include making company registration and tax payments easier, including through the use of one stop service centres (more below) and mobile teams.
To address human resource shortages, the government plans to set up National Productivity Centers, a Myanmar Industrial Management Institution, a Technical and Skill Development Training Center and a Labor Skill Standard Authority.
The corridors
The four economic corridors – north-south, east-west, northeast-southwest and Yangon-Myawaddy – are the foundation of the industrial policy. These areas account for the majority of Myanmar's economic production and population. The north-south corridor, for example, runs from Thilawa in Yangon to Myitkyina via Bago, Nay Pyi Taw, Meiktila and Mandalay. It currently encompasses 48 percent of Myanmar's population and provides 55 percent of GDP. The corridor also includes a special economic zone at Thilawa, 24 industrial zones and seven sub-industrial zones.
The policy also discloses the government's plan to build two new deep-sea ports, at Pathein in Ayeyarwady Region and Ye in Mon State. The Pathein port will be in the Ngayokekaung area, just south of the state capital, and will be a landing point for ships from Africa and West Asia. The Ye seaport, at Kalagote Island, will be a transit point for cargo heading to Mawlamyine, Myawaddy and Mae Sot in Thailand.
The ministry's conceptual plan for industrial development shows where growth areas are likely to be located. While most of these could already be guessed at based on geography, infrastructure and population, it will provide reassurance for those planning to set up an industrial business.
Under former governments, this type of information was rarely made public. Instead, it was made known to companies run by friendly businesspeople, including relatives of government officials, giving them a jump-start on everyone else. Thus it appears to represent an attempt to level the playing field.
Powering development
One of the common complaints among business owners operating in Myanmar is the lack of a stable electricity supply. This requires them to invest in expensive backup generators, and power from a generator is much more expensive than that from the national grid. In some cases, businesses choose to close temporarily rather than operate on backup power due to the high cost.
The policy indicates that hydropower and natural gas are likely to remain the backbone of power production in the future. It notes that the country has the ability to produce 100,000 megawatts from hydropower and estimated 11.8 trillion cubic feet of existing natural gas reserves. It states that the Ministry of Electricity and Energy aims to increase installed capacity from current levels of 2700MW to 22,720MW by 2030-31.
One interesting point is that it makes little mention of coal, despite the government's power master plan anticipating that almost one-third of Myanmar's power in 2030-31 will be generated by coal.
Prioritised sectors
The paper outlines short, medium and long-term priorities for industrial development.
In the short term, the focus is on labour-intensive industries: garments, shoes, packaging, wood-based furniture and finished products. Agriculture, fisheries products and livestock breeding are also mentioned, as well as the production of associated value-added products, such as canned items, fruit jam and sesame oil.
Meanwhile, industries that do not require advanced technology, such as the manufacture of vehicle and motorcycle spare parts, electrical devices and plastic products, is another short-term priority.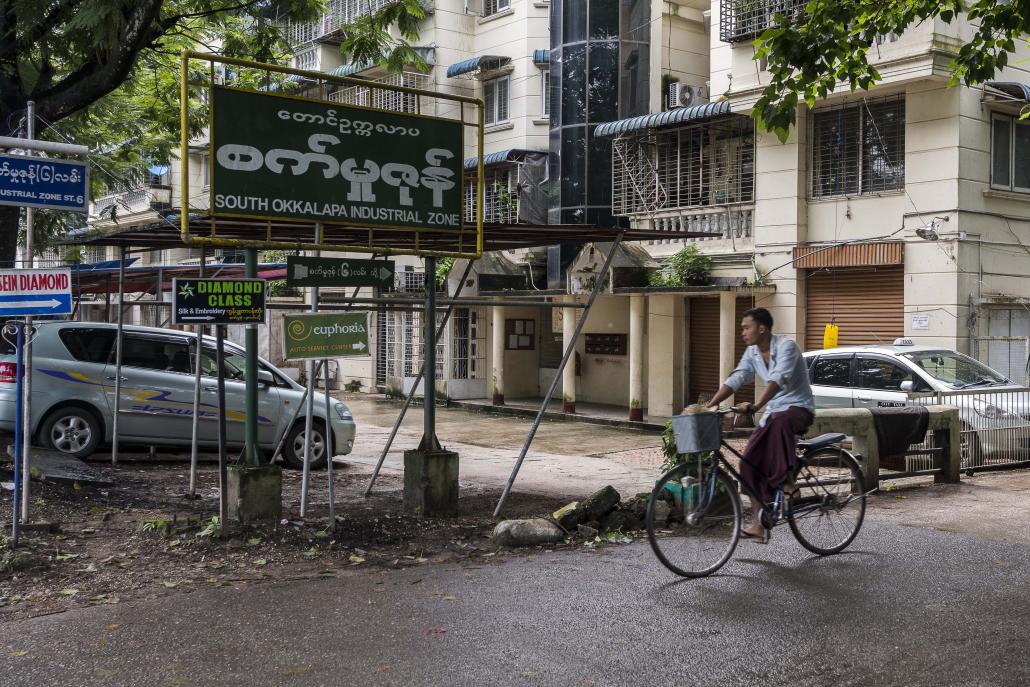 In the medium term, the government will prioritise sectors that require more technical know-how, such as textile and garment dying and painting, shipbuilding and related industries, and manufacturing of larger components for automobiles.
Over the longer term, the government aims to foster advanced industries, such as the manufacturing of semiconductors, pharmaceuticals and chemicals. Heavier industries, such as iron, metal refining, cement, petrochemical and electric power will also come later.
The policy states that the government is willing to cooperate with local and foreign investors to privatise state-owned industrial businesses where possible, but also mentions that it will not consider selling off industries related to defence and security.
Cutting red tape
The government will establish one stop service centres in each region to facilitate investment. These centres will provide information on market research, starting a business, and accessing technology and finance. Business owners can also use the centres to register their company, apply for licences and permits, pay taxes and acquire documentation for visas.
The policy paper also states that foreign and local businesses will pay the same amount of tax, as per the 2015 Union Tax Law.
Land use
The government warns in the policy that it will confiscate land in industrial zones that has been undeveloped for at least three years. It is taking this step to control monopolisation of land in the zones, the policy says.
In the appendix, it provides figures on industrial zone plots. Of the 37,076 plots in Myanmar's industrial zones, 7,194 are empty – almost 20 percent. Yangon has the highest number, with 2,345, followed by Shan State with 1,464 and Mandalay with 1,381.
Agriculture focus
Well, this is new. We've all heard of Special Economic Zones, but the creation of Special Agriculture Industrial Zones has not previously been flagged.
The policy says the government will establish SAIZs in Sagaing, Bago, Magwe, Ayeyarwady and Tanintharyi regions. Each will have a specific focus: for example, the Sagaing zone will focus on rice, wheat and oil products to be exported to India, Laos and Thailand.
The Bago zone will focus on agriculture products to export to China and Magwe will focus on supporting the growth of the Northeast-Southwest economic corridor. The Ayeyarwady zone will use the Pathein seaport for exports, while the Tanintharyi zone will utilise a planned seaport at Dawei.