OPINION
By selling off Myanmar's resources rather than developing its infrastructure, the military has starved the country of electricity and made it dependent on its neighbours.
By GUILLAUME DE LANGRE | FRONTIER
There is a paradox at the heart of military rule in Myanmar. While the military emphasises sovereignty, independence and internal strength, its policies consistently weaken the country and make it dependent on others.
This is particularly true in the energy sector. Despite Myanmar's abundant natural resources, successive military regimes have made it energy poor, reliant on its neighbours and irrelevant to regional energy politics.
Let's start with gas. When the Yadana gas field was discovered in the mid-1980s off the coast of Ayeyarwady Region, about one in 10 households had access to electricity in Myanmar. Malaysia, Thailand and Vietnam discovered fossil fuel reserves at around the same time and used them to build infrastructure and fuel growth.
However, instead of investing in gas power plants and new lines to increase access like all its neighbours, Myanmar's ruling military chose to sell 80 percent of the gas from Yadana to Thailand, provide limited power to Yangon, Myanmar's commercial capital, and send much of the post-tax profits abroad. This scenario largely repeated itself in the early 2010s with the Shwe gas field, off the Rakhine State coast, but with the gas exported to China.
As a result, in terms of power production, Myanmar is now 20 years behind Vietnam, 30 years behind Thailand and 40 years behind Malaysia.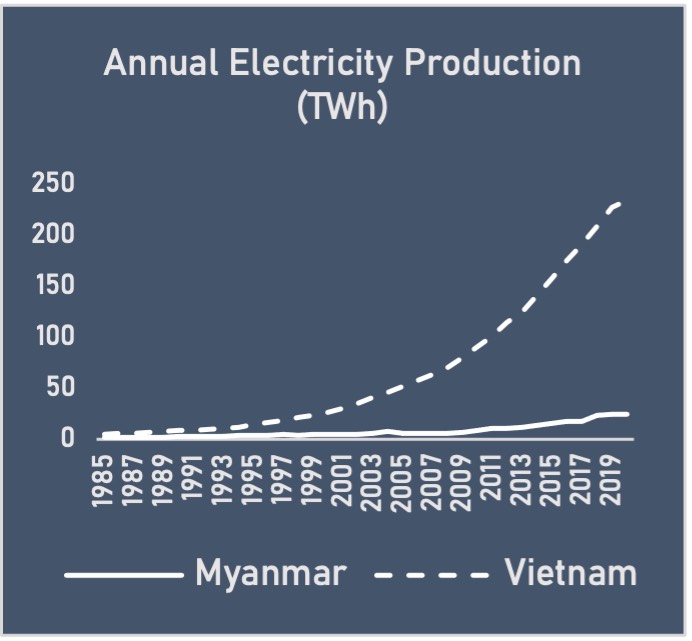 While the revenue from gas exports is significant, Myanmar's energy relationships with Thailand and China are one-sided. The country fulfils only 1.2pc of Chinese gas demand and 13pc of Thailand's demand. Both countries are also reducing their need for Myanmar gas by investing massively in Liquefied Natural Gas port terminals, and China is diversifying its pipeline routes through Central Asia and Russia. If necessary, Thailand could replace its Myanmar gas imports with LNG within a few months. Myanmar, therefore, depends on gas exports far more than Thailand or China depend on Myanmar gas.
Before introducing political and economic reforms in 2011, Myanmar's generals had locked 80pc of the country's gas production in long-term export contracts. This meant that, when the economy subsequently boomed, there wasn't enough gas and electricity to sustain that growth. The National League for Democracy government that took power in 2016 started to import LNG as a stopgap until new domestic gas became available. The result was that, by 2020, the country was exporting its own cheap gas at long-term contract prices while importing foreign gas at higher and more volatile prices for its own needs.
The same happened with hydropower. In the late 2000s, three large dams – Shweli-1, Dapein-1 and Chipwe Nge – were approved and built in Kachin State to supply China. In the original contracts, Chinese firms would finance the bulk of the projects and Myanmar would have a right to only 8-20pc of the electrical output.
But this was just the beginning of the great giveaway of Myanmar's energy resources. The next step was to plan a cascade of seven dams in Kachin, known collectively as the Myitsone dam project, and a string of mega dams on the Thanlwin River. Although never completed, the dams would export at least 85pc of their output to China and Thailand. The fact that three quarters of Myanmar's population didn't have electricity wasn't a concern.
During the failed democratic transition of 2011-21, this practice of selling off Myanmar's energy for scraps was temporarily halted. Myitsone was suspended and the government instead focused on increasing local supply and building thousands of kilometres of power lines. Power plant capacity and the number of grid-connected households both doubled during that time.
From 2016, the new NLD government also tried to fix the military's past mistakes. For instance, the 2007 contract for A6 off the Ayeyarwady Region coast, the most promising offshore gas block since Yadana, didn't guarantee any gas for domestic consumption, so the NLD negotiated a 25-35pc share for Myanmar. It also renegotiated the export contracts of the three dams in Kachin, so they would keep most of the production for domestic use. For the first time, Myanmar's energy policy was about providing energy to Myanmar.
Since the February 2021 military coup, junta leader Senior General Min Aung Hlaing has resumed selling off Myanmar's resources and weakening its energy security. In June last year, he approved the large Hatgyi dam on the Thanlwin in Kayin State. If completed, 90pc of the electricity will be sold to Thailand, at a time when Myanmar's power shortage is so acute that industrial zones had to shut down 12 hours per day during this year's March-May hot season. The rest of the export-oriented mega dams are also back on the table.
Meanwhile, all but a handful of minor domestic-oriented projects are at a standstill as the junta finds new ways to scare off foreign and local investors. The biggest infrastructure project approved since the coup, a US$2.5-billion China-Myanmar LNG project, hasn't progressed in 18 months. A tender for four dams in Tanintharyi Region had to be reissued for lack of proposals, while the prospects of most other dam projects are dim because they are in areas where the military cannot guarantee safe access to companies. In addition, a tender for 18 solar projects attracted only two bids, compared to 50 bids received for a similar tender before the coup, in 2020.
This lack of progress means that Myanmar has performed a rare feat, going from being one of the most promising developing countries for renewable energy to one of the only countries in the world where electrical capacity declined last year. Even the heavily fortified capital Nay Pyi Taw has had unprecedented power cuts this year, while military bases around the country have had to rely on generators.
With respect to gas, the military has created so much instability that new field developments have been put on ice, which will have long term consequences. French energy giant TotalEnergies and Australia's Woodside have pulled out of the A6 offshore block, while Thai company PTTEP says its promising M3 block in Ayeyarwady, destined for domestic consumption, "is awaiting development due to the political issue in Myanmar".
Without these two critical projects, Myanmar's gas output will fall by 49pc by 2025 and 80pc by the end of the decade. In short, the coup is creating a decade-long energy and public finance crisis.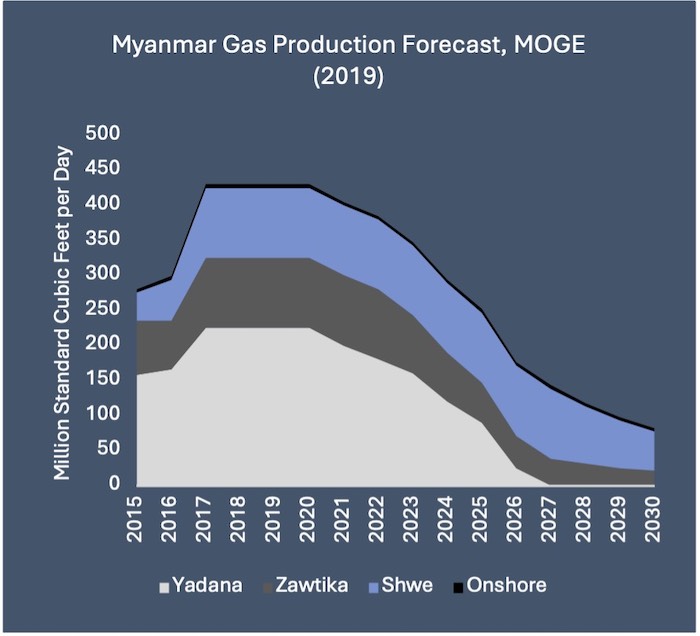 This crisis shows that, for all the regime's isolationist rhetoric, military-run Myanmar is anything but independent. It cannot fund its public sector without gas revenues from Thailand and China. It cannot restock its petrol stations without Russian oil. It cannot develop new gas fields without Thailand's support. It cannot build new power plants without Chinese and Thai banks and engineers. It will also soon be forced to import power at a premium from China and Laos.
It's understandable that neighbouring countries would make some use of Myanmar resources to build their own energy security, but looking back on six decades of energy data, there is no evidence that the military ever tried to do the same for Myanmar.
The sad irony is that Myanmar could be an energy powerhouse and wield tremendous geopolitical influence within Southeast Asia. Instead, it is mostly irrelevant to the region's energy politics. Generation after generation of military leaders have weakened the country's energy security so much that every night, when viewed from passing airplanes, Myanmar is that dark, seemingly empty space in between its neighbours' lights.
Guillaume de Langre is a former adviser to the civilian government and Myanmar energy expert.