The oil industry in Magway Region has taken a beating from arson attacks on small wells by junta forces determined to eliminate a source of revenue for the resistance.
By FRONTIER
The junta has inflicted a heavy price – in lives, homes and livelihoods – on Magway Region for its spirited resistance to the coup.
In the 17 months from the coup to July 15, more than 5,700 houses and other buildings have been torched there, the second highest number of arson attacks of any region or state behind neighbouring Sagaing Region. At least 207 civilians have been killed in Magway Region by security forces, according to the Assistance Association for Political Prisoners, in addition to an unknown number of combat casualties.
More recently, regime forces have also targeted oil production in Magway. Burmese-language media reported the destruction of more than 300 small oil wells in Myaing and Pauk townships during July alone.
Oil industry investors and workers estimate that there are nearly 1,000 wells in the two townships, with major deposits in the Kyaukkhwet, Thabyenyo, Naethut, Thayetkan and Letpando areas. The wells are tightly packed and rudimentary, comprising derricks made from metal or bamboo that stretch up to 10 metres in the air, alongside small bamboo and tarpaulin shelters. The wells produce anywhere from a few barrels of oil a day to a few hundred, which is transported to local refineries for domestic use.
The manager of a well in Myaing Township said that in July alone regime troops had launched four offensives to destroy oil wells in the township
"They also set fire to oil stored in tanks. It caused huge losses," the manager said.
Residents insist the attacks are intended to weaken the resistance. They point to the fact that the campaign of destruction has focused on Myaing and Pauk townships, where People's Defence Forces are particularly active, while wells in other areas of Magway Region with little resistance activity have been left untouched.
Regime forces have targeted the two townships because they suspect that the owners of the wells have been providing financial support to the PDFs, residents say. The suspicion seems to be well-founded.
"Oil well owners give financial support to PDFs for the cause of the revolution. It's not a tax; it's voluntary support. The well owners have a close relationship and they raise funds collectively to provide monthly support to the PDFs," said a worker at the Letpando field in Pauk Township, adding that they were unsure how much the well owners contributed.
In retaliation, pro-military social media users have called on the military to act against well owners in Magway Region.
Citing security concerns, well owners declined to respond to questions from Frontier about whether they were providing financial support to PDFs. However, workers told Frontier that some well owners had stopped paying taxes to the regime and were supporting PDFs instead.
"They don't want to pay tax to the dictator, so they provide financial support to PDFs," said the manager of a well in Myaing Township. He said the PDFs try to provide security in the oil extraction areas of Myaing and Pauk townships, but lack the firepower to stop a raid by regime soldiers. "When the military launches an offensive, the PDFs have to evade them," he added.
Workers and residents said the destruction of the wells may have an impact on the funding of PDFs. Frontier was unable to contact PDFs in Myaing to ask about financial support.
On August 3, the PDFs in Myaing and Pauk townships said in a statement that they had formed an alliance to fight the military. Their struggle is strongly supported by many residents, who are also providing personal financial contributions. Some women have given the PDFs their jewellery to raise funds for the revolution.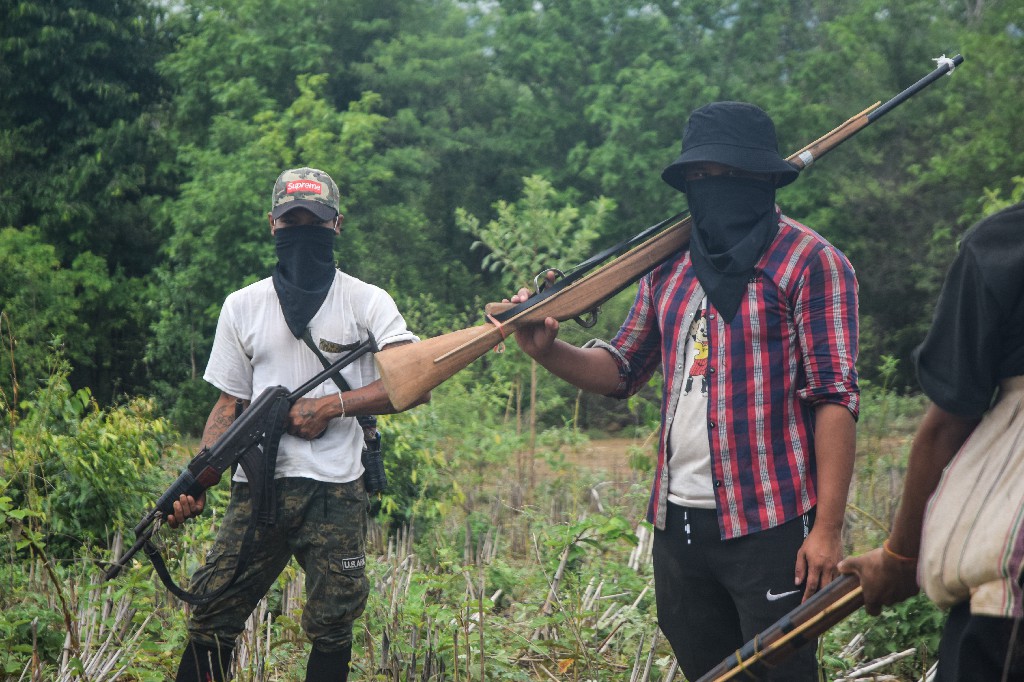 'We are doing what we have to do'
At a news conference in Nay Pyi Taw on July 26, a reporter from a pro-military publication asked junta spokesperson Major-General Zaw Min Tun if there were plans to take action against well owners in Magway who were helping to fund PDFs.
Zaw Min Tun said it was known that revenue from the Kyaukkhwet and other fields was being used to support PDFs. "We are doing what we have to do," he said.
Onshore oil fields are also a source of revenue for the regime. Myanmar investors who want to drill for oil or extract it from hand-dug wells have to apply to the junta's Ministry of Electricity and Energy for a production block licence. If the application is approved, they are issued with an annual licence on which they pay a tax of K300,000 (US$143) an acre (0.404 hectares). Some investors lease blocks from the licensee rather than apply directly.
Well operators are also required to pay regional or state governments for permits to transport oil. They told Frontier that the bureaucracy involved in getting a permit to move oil from the wellhead to a refinery or buyer across regional or state borders is particularly onerous. "Permits are needed to transport oil anywhere – if you don't have a permit, it's smuggling," said an oil tanker driver from Kyaukpadaung Township in Mandalay Region, who like other sources spoke to Frontier on condition of anonymity.
"The well owner has to buy the transport permit in advance from the state or regional government concerned. For example, a permit from the Mandalay Region government for a truck carrying 250 barrels of oil costs K2.7 million ($1,290). The permit is only valid for two days and when it has expired it is useless," said the driver.
"Without a permit letter bearing a stamp showing that it has been paid for, the oil truck can go nowhere," the driver said.
He added that the permits cost K1.5 million in Magway Region, and that overall permit fees had risen about K200,000 ($96) under the military regime.
Figures from the Ministry of Planning and Finance show that onshore oil blocks generated more than K200 billion ($96 million) in tax revenue each year between the 2014-15 and 2017-18 fiscal years.
The junta's Ministry of Planning and Finance has not released figures on tax revenue from onshore blocks since the coup. It has forecast revenue of about K445 billion from taxes on oil and natural gas in the current 2022-23 fiscal year, but the figures available do not disaggregate revenue from oil and gas, or onshore and offshore production.
The annual report of the Internal Revenue Department issued under the junta on January 1 shows that total tax revenue for the 2020-21 fiscal year was just over K4.745 trillion ($2.27 billion), a fall of 35 percent on the previous year. Almost every revenue source – income tax, commercial tax, special goods tax, stamp duty, tax on gemstones and jewellery, and proceeds from the Aung Bar Lay lottery, among others – declined steeply in the wake of the coup, due both to the economic downturn and non-compliance.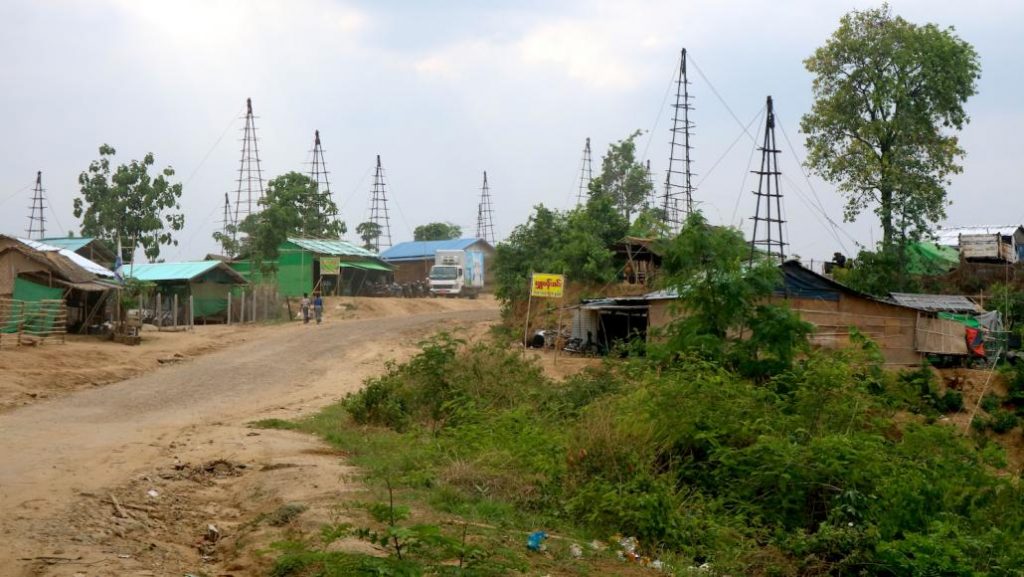 Workers, investors flee
The military regime's destruction of oil wells in Magway Region has badly hurt the livelihoods of workers in the industry and others who rely on oil extraction for their income. While many in Magway depend on farming, it has become common for women to work the fields while men supplement family income with jobs at the oil wells.
"Oil well workers are not earning regular income because they have to stop during raids by the military; they have to stop working for three days or even a week if troops are present. My daily wage is about K12,000 ($5.74) but I am not earning it regularly and other jobs are hard to find," said an oil worker from Myaing Township.
The jobs shortage created by the destruction of the wells has forced workers to seek employment elsewhere, including in neighbouring Mandalay Region on the other side of the Ayeyarwady River.
A woman who operates a well at the Kyaukpadaung field in Mandalay Region said workers from Magway were seeking jobs there because their region was not secure.
"The military have not burnt and destroyed wells here in Mandalay Region," she said, adding that junta officials sometimes conducted checks of oil wells in Kyaukpadaung.
The arson rampages by the military in Magway have also resulted in oil industry entrepreneurs in Myaing and Pauk townships investing in fields in Mandalay Region instead.
One investor told Frontier they moved from Myaing Township to the Tatma oil field in Mandalay Region after the military's campaign of destruction. But the costs associated with drilling an oil well have increased significantly, from K20 million to K30 million ($9,570-14,350), the well owner said.
"The equipment and materials needed to extract the oil have become more expensive," said a well owner at the Tatma field.
The manager of a well in Myaing Township said buyers were paying lower than market prices for oil produced there and in Pauk Township because of insecurity at the fields.
He said crude oil from the two townships is fetching just K150,000 ($72) a barrel, about half what it is selling for in other townships.
"Buyers face difficulty transporting the oil because the area is insecure, so they pay lower than the market price. Before the coup, oil from this area fetched the same price as other areas," he said.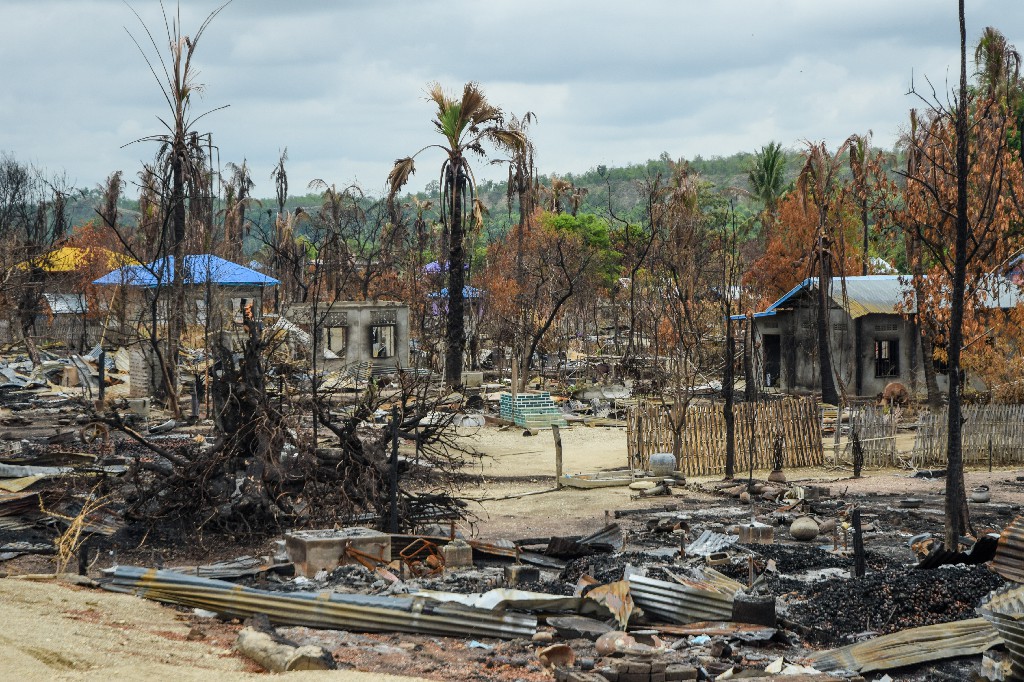 An unstable business
Oil well investors said the coup had created instability in the local market for crude oil, which is also influenced by the global price and the exchange rate.
Investors said a barrel of crude oil fetched about K100,000 ($48) before the coup, when prices were stable and the cost of production was relatively low.
Despite the local crude oil price rising to about K300,000 ($144) a barrel since the coup, the increase had brought little benefit for investors because of price volatility and the extra challenges facing the industry, investors said.
The well owner at the Kyaukpadaung field said that before the coup the price of crude used to fluctuate by between about K5,000 and K10,000 ($2.40-4.80). "Now it fluctuates by about K100,000 ($48); if there's too much price volatility, no business can run well," she said.
"We pay the same tax as before the coup, but some well operators have returned their licences to the military council because of the bad political situation. Others have halved the area of their blocks when they renewed their licences," she added.
Investors also complained about delays transporting crude oil because of an increase in the number of checkpoints and the imposition of overnight curfews.
A tanker driver from Kyaukpadaung said that before the coup oil could be transported to refineries around the clock.
"Now there's a curfew and a trip that took one day before the coup takes three days," he said. "There's been no increase in the transport tax since the coup but the security situation is causing delays."