OPINION
The senior general's policies are focused on regime survival and will do little to revive Myanmar's battered economy when his illegitimate rule is the main obstacle to stability and growth.
By AUNG MYIN | FRONTIER
In recent months, junta chief Senior General Min Aung Hlaing has held meetings across Myanmar with representatives of micro, small and medium-sized enterprises. In these meetings he has suggested MSME development is a top economic priority for his administration, and has lamented that previous governments allowed consumers to become dependent on imported goods at the expense of local businesses. As evidence, he has pointed to the persistent trade deficits under the Union Solidarity and Development Party (2011-16) and National League for Democracy (2016-21) governments, which Min Aung Hlaing said cumulatively totalled almost US$25 billion.
MSME development is part of a broader industrial policy that Min Aung Hlaing says will both reduce reliance on imports and help achieve higher exports. Other elements include the reopening of loss-making state-run industries that the NLD closed for economic reasons, and the heavy promotion of the agriculture and livestock sectors. He's dusted off an old slogan from the previous military regime – "The strength of the nation lies within" – to sell these policies.
At a meeting of his "Union government" on October 7, the dictator claimed that these policies were already working, and that Myanmar's economy had not contracted as much as the World Bank, Asian Development Bank and International Monetary Fund had reported (most agree that GDP plummeted by almost 20 percent immediately after the coup). "Myanmar's economy is not too much declining because of manufacturing export products made from agriculture and livestock farms," he said, before adding that Myanmar "should not rely on the external [world] for the economic development of the state".
But the focus on MSME development and "inner strength" isn't really about developing or growing the economy; it's an attempt to cover up a much more troubling reality. Almost two years after he stole power, Min Aung Hlaing has no positive economic message to sell, even to his supporters (the broader public no longer pays much attention to what he says). The economy has been buffeted by COVID-19 and the coup, and there is little prospect of it improving while his illegitimate administration is in power and the country remains wracked by political crisis.
Min Aung Hlaing is following in the economic footsteps of his predecessors, General Ne Win and Senior General Than Shwe, who oversaw inward-looking regimes that (albeit to different degrees) espoused policies of import-substitution and autarky. The junta chief's real agenda is regime survival, so it's no surprise that he has fallen back on policies that helped to keep his predecessors in power for so long, albeit at great cost to the Myanmar people. The past also tells us why his industrial policy will fail to achieve its stated aims, and what we can expect Myanmar's economy to look like in the years ahead.
Fifty years of failure
Under Ne Win's socialist rule, beginning in 1962, Myanmar quickly adopted an economic policy of import substitution. Its agricultural and industrial sectors declined, and by the 1980s, when its neighbours were reaping the benefits of their export-led growth models, Myanmar was facing an economic crisis.
The late Myanmar economist U Myat Thein wrote that Myanmar's economy during this period was caught in a vicious cycle, in which low exports and increased imports of raw materials created balance of payment and budgetary problems. This in turn led to low growth and slow industrialisation – an experience shared by many other countries that adopted import substitution policies around the same time as Myanmar.
Although the subsequent regime, called the State Law and Order Restoration Council, adopted a "market-oriented" economy after coming to power in 1988, this was only a partial liberalisation. The junta enacted certain reforms to open the economy to investment but would not take the steps necessary for macroeconomic stability. This was due to the priority placed on regime survival, personalised decision-making, and the desire of top generals and their cronies to extract rents from public investments and natural resources.
It wasn't that junta leaders were unaware, for example, of the need to unify multiple exchange rates; instead, they made a conscious decision to maintain the grossly overvalued official rate of K6 to the dollar (compared to a market rate of up to K1,200) because it benefited their personal interests, and those of the military as an institution. For example, foreign currency earned from exports of natural resources could be converted at the overvalued exchange rate, allowing the military to purchase equipment abroad more easily with its kyat-denominated budget allocation. For a similar reason, there was no willingness to privatise state-owned enterprises, such as Myanma Timber Enterprise or Myanma Oil and Gas Enterprise, because they were a cash cow for the regime.
Misallocation of public resources and institutionalised corruption were therefore dominant features of the Than Shwe-led regime, which rebranded itself the State Peace and Development Council in 1997. It also implemented many white elephant projects, the most obvious of which is Nay Pyi Taw, the new capital. Even necessary infrastructure projects invariably overran their deadlines and budgets; one World Bank review of hydropower projects found construction costs had blown out by as much as 400pc.
Military and ex-military officials have often blamed Myanmar's underdevelopment during SPDC rule on Western sanctions. However, others pointed out that it was poor governance and lack of infrastructure that really hindered foreign investment outside of the energy sector. Consequently, the agricultural, manufacturing and services sectors were unable to link with regional and global value chains as they had done in neighbouring countries.
Vietnam provides an example of how an economy can develop even under an authoritarian regime. While the Myanmar military and crony-owned companies were busy exploiting the country's natural resources, Vietnam's government was developing industrial zones and providing electricity, and its firms were producing products for export.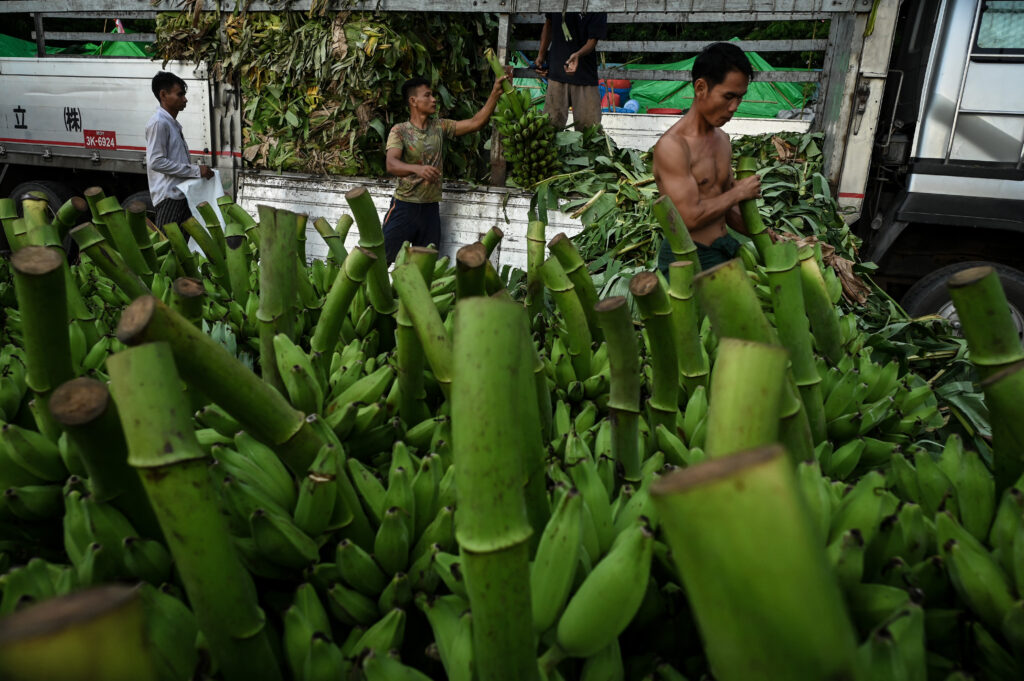 Trade deficits: not such a big deal
Due to these legacies, Myanmar lagged behind neighbouring countries in basically all governance and socioeconomic indicators when the military regime handed over power to ex-general President U Thein Sein's quasi-civilian government in 2011.
With support from the international community, both Thein Sein's USDP government and the subsequent NLD administration made significant progress towards addressing the country's many challenges. Poverty fell, while mobile phone penetration and electrification rose massively. The exchange rate was unified, foreign investment flowed into the country and GDP growth averaged 7pc between 2011 and 2017. Official development assistance and foreign investment played an important role in this growth.
That doesn't mean Min Aung Hlaing is wrong when he says Myanmar became largely reliant on imported products during this time. When it comes to consumer goods, even soaps and soft drinks are imported to satiate Myanmar consumers. This can be blamed partly on the fact that under Ne Win's rule, consumers only had access to low-quality products made by state-owned enterprises. Private enterprise emerged under the Than Shwe regime, but many locally made products still had a poor reputation.
The relaxation of trade restrictions from 2011 unleashed pent-up demand for foreign goods. This certainly contributed to persistent trade deficits but another reason was imports of capital goods. These are generally considered "good" imports because they are assets used to make products and services. Strong capital goods imports reflected the high level of foreign and local investment in the economy in the years preceding the coup.
Despite the deficits of the past decade, Myanmar never encountered foreign exchange shortages or balance of payments problems. Investment, aid, grants, remittances and other sources of foreign currency helped balance the books and the Central Bank even accumulated foreign exchange reserves. For example, despite a trade deficit of about 4pc of GDP in 2020, Myanmar's foreign reserves actually rose, the IMF said in its last country report, in July 2020. The problem for Min Aung Hlaing's regime is that all these sources of foreign exchange declined dramatically after the coup, and in fact the country experienced capital outflows due to plummeting investor confidence. This left it with little choice but to restrict imports; the alternative would have likely been a balance of payments crisis.
Min Aung Hlaing has trumpeted a $600 million trade surplus in the 2020-21 fiscal year as evidence of his regime's sound fiscal management. But this surplus has less to do with surging exports than a collapse in imports, particularly capital goods – a fall attributable to investors cancelling or suspending projects, or withdrawing from the country entirely.
Within months of taking power, the State Administration Council, as the regime calls itself, also started tightening the rules on consumer goods. Imported cars were banned, as were soft drinks brought in through border trade. These restrictions have been gradually increased, to the point that more than 80pc of import items now require a licence, up from about 35pc prior to the coup, according to the World Bank.
Bringing in imported goods has gotten even more complicated since April, when the regime introduced strict capital controls, including the forcible conversion of foreign currency at a fixed exchange rate. Under the new system, importers must seek approval from a military-controlled committee to buy dollars at the official rate of K2,100 to the dollar, compared to a current market rate of about K3,000, so they can pay their suppliers. The unwillingness to approve adequate levels of imports has created shortages of essential goods like fuel, medicines and cooking oil. Such import restrictions are proof that the first priority of the SAC is regime survival, even at the expense of the economy and public welfare.
Regime survival and economic stagnation 
Why will Min Aung Hlaing's economic policies fail? For MSMEs to help grow the economy, business owners need openness, macroeconomic stability and good governance. In addition, they require reliable infrastructure, particularly electricity supply. Unfortunately, Min Aung Hlaing and his fellow coup-makers have undone a decade of hard work and progress towards these goals, as relentless power cuts this year have shown.
Myanmar businesses also need capital investment, technology and access to markets in order to grow; investors don't just bring money to get nascent industries off the ground, but also the technology needed to improve efficiency. Instead, however, businesses find themselves increasingly isolated from the world economy.
The coup has prompted many foreign investors to head for the exit. Some have left because of reputational concerns and sanctions, others because of the worsening operating environment, including trade and foreign exchange regulations, and financial sector fragility. Even those that have stayed have suspended their expansion plans, while the World Bank's latest firm monitoring survey found in June that companies' average operating capacity was just 59pc.
Meanwhile, most aid-funded infrastructure projects have been suspended, and more than $15 billion of investments that were in the Project Bank pipeline, and due to be funded through loans, government spending and private finance, are unlikely to materialise. The situation is only getting worse: the Financial Action Task Force's decision to blacklist Myanmar will be a further impediment to growth, as it will increase the cost of doing business due to the requirement for enhanced due diligence.
But the regime is compounding these setbacks with desperate policy moves, particularly on trade and foreign exchange, that are causing huge difficulties for businesses. Recently, for example, the junta's Ministry of Commerce announced that imports through border crossings (starting with stations on the Thai-Myanmar border) will only be allowed if payments are made with export earnings. This rule will stifle legal imports of consumer goods, and will likely push up prices and encourage traders to use illegal channels that are already flourishing.
For long-time observers of the Myanmar economy, the outcome is likely to be sadly familiar. As long as Min Aung Hlaing is in charge, Myanmar will endure perpetually slow economic growth. After the big decline in GDP last year, most forecasters are expecting growth of just 2-3pc this year, while some estimate the economy will barely grow at all. The best-case scenario is that it will take five or six years just for the economy to reach pre-COVID levels.
Of course, this outcome could be averted, but it would require the military to hand back power to a civilian government recognised by the people and the international community. Unfortunately, the one policy that could most help the economy is the one that the junta refuses to consider.
Aung Myin (a pseudonym) is from Yangon and has worked on development assistance programmes for donor agencies and international organisations in Myanmar for two decades.