Importers say strict new foreign currency controls are unworkable and are likely to lead to recurring shortages and the return of a black market for fuel.
By FRONTIER
As Myanmar's military leaders relaxed with family members in Pyin Oo Lwin and Nay Pyi Taw for this year's water festival in April, a crisis was slowly building in the waters off Yangon.
Oil tankers from Singapore were bobbing in the Gulf of Mottama, refusing to enter Yangon River to unload the petrol and diesel needed to keep the economy running.
Two weeks earlier, the regime had introduced new foreign currency rules that required banks to change deposits into kyat within 24 hours, and fixed the exchange rate at K1,850 to the dollar, below the market rate of K2,000.
The generals had also mandated that outbound bank transfers – for example, to pay for fuel imports – would require pre-approval from a new Foreign Exchange Supervisory Committee, led by Lieutenant-General Moe Myint Tun.
Among those immediately affected were fuel importers, whose dollars were now either frozen or converted into kyat at some 5-10 percent below the market price.
Typically, importers pay a 20pc deposit to their Singaporean counterpart, and the balance when the fuel arrives at import terminals at Thilawa port, south of Yangon.
By the time the nine-day Thingyan festival concluded on April 17, oil tankers were arriving off Yangon but fuel importers were still unable to buy the millions of dollars needed to pay traders in Singapore from the Central Bank of Myanmar (CBM). And until the money landed in these accounts, the tankers were not going to unload their fuel.
What followed was an all-too-predictable slow motion train wreck.
Worried their tanks would soon run dry, some importers began cutting supply to retailers, who then started limiting how much customers could buy. This sparked rumours of a shortage, which in turn prompted panic buying that only exacerbated the problem.
"Until the end of Thingyan, we hadn't been told of any plan to sell US dollars," said Ko Thar Gyi* a Yangon-based fuel importer. "When distributors cut supply, demand increased dramatically, and so some fuel stations ran out of fuel."
The CBM called an emergency meeting with the junta's Ministry of Commerce and Ministry of Energy's Petroleum Products Regulatory Department on April 18. U Sein Toe*, a Mandalay-based fuel retailer, told Frontier that the meeting ran for three days, during which time the panic-buying only grew worse. On the final day, the CBM agreed to sell enough US dollars for fuel importers to meet domestic demand – somewhere in the region of US$400 million to $500 million a month, at current prices.
Regime spokesman Major-General Zaw Min Tun later blamed "unscrupulous media outlets" and recalcitrant fuel importers for "spreading those rumours", and insisted the country had "sufficient" quantities of fuel. But he also confirmed that the CBM would resume selling US dollars to importers, via private banks, from April 20, starting with $30 million. CBM data for bank-customer dealing shows above-average foreign currency trading after Thingyan, reflecting this injection of dollars to fuel importers.
After the deal was struck, retailers almost immediately lifted restrictions on fuel sales and the queues vanished. Everything seemingly went back to normal.
New rules for an old game
But behind the scenes, the fuel import, distribution and retail business has changed fundamentally.
On April 21, the day after it agreed to provide dollars to fuel importers, the regime formed a Supervisory Committee on Import, Storage and Distribution of Fuel Oil, chaired by the junta's Deputy Minister for Commerce U Nyunt Aung. Three days later, the committee issued new rules for the industry, referred to as Standard Operating Procedures (SOPs).
As a result, the regime now exerts near-total control over who gets to import petrol and diesel, how much they can bring in, who they can sell it to, and at what price.
This reverses more than a decade of liberalisation that began in 2010, when Than Shwe's military junta privatised hundreds of fuel stations to regime cronies. A state monopoly was gradually broken up, with first local companies and then foreign firms getting the chance to invest in fuel storage, distribution and retail facilities.
The relatively free market that encouraged private businesses to invest in the sector has disappeared almost overnight.
Most obviously, the Supervisory Committee on Import, Storage and Distribution of Fuel Oil has started fixing the price of petrol and diesel, by issuing daily reference rates for wholesale and retail sales.
These are based on the free on board (export) price in Singapore, from where most imports are purchased. Fuel businesses have been sticking closely to this reference rate, out of fear that they could be prosecuted for profiteering.
But the entire sector is now closely controlled.
To import fuel, an eligible company must first get an import licence from the junta's Ministry of Commerce after which they can apply to the Foreign Exchange Supervisory Committee for approval to buy foreign currency. If granted, the CBM will then instruct a local private bank to sell the specified amount of dollars to the importer. The bank inspects the documents again, before transferring the dollars to the designated trader in Singapore, who dispatches the fuel to Yangon. Once the fuel arrives, the importer sells it at the wholesale reference rate to fuel stations, which then sell the fuel to customers at the retail reference price.
A fuel importer, who spoke on condition of anonymity, said that under these new rules licensed importers are set a monthly quota of fuel based on their imports over the past two years and expected demand over the coming 12 months.
Importers have been ordered to use a "controlled sales system" that ensures the price is controlled at each stage based on the reference rate, and that the right amount of tax is collected.
A Yangon-based importer and distributor said this was a significant change from the "open sales system" formerly practiced.
"Before, you could buy and sell fuel freely – A could sell it to B and B could resell it to C," U Min Min* said. "It's not like that anymore."
One motivation for the regime appears to be tax collection. Although fuel importers and retailers were regularly among the top commercial taxpayers in the country, tax evasion was still widespread.
"In the past, fuel importers evaded taxes when they resold to retailers. The real sales volume was more than what was reported for tax reasons," Yangon-based fuel retailer Ko Kyaw Kyaw* told Frontier. "The SAC is now checking closely in order to raise more revenue."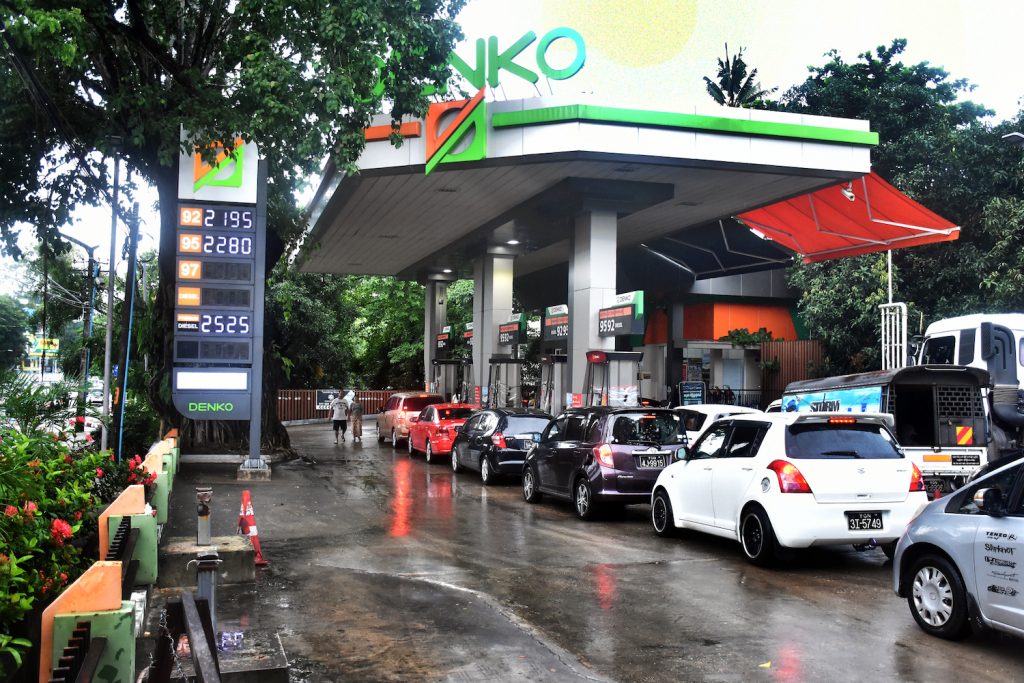 Recurring shortages
So far, the new system has been anything but smooth. Many importers, distributors and retailers are unhappy; some appear to be pushing back – for example, importers who decline to bring in more fuel shipments – while others are simply giving up, with retailers in particular closing their doors.
The problems were evident in mid-May, when retailers once again began to run out of certain types of fuel, particularly 92 and 95 RON petrol. On 17 May, a major importer and retailer, Denko, wrote to PPRD saying that unless it could get more fuel, it would have to prioritise its Yangon and Mandalay outlets, and may be forced to close its 38 fuel stations altogether. Over the next few days, many stations began to run out of petrol, and long lines formed at those that were still selling fuel.
Again, the regime insisted there was no problem; within a few days, tankers began docking at Thilawa and the supply issues were quickly resolved. CBM data showed a large amount of foreign currency being traded to pay for the fuel. Further shortages of 92 and 95 RON petrol were reported in late May and early June, with some stations running out or rationing their supplies, and shortly afterward CBM data again showed a large amount of US dollars being traded.
Industry sources cited a range of reasons for the recurring shortages, mostly related to increased bureaucracy and red tape.
U Htin Paw*, a Mandalay-based importer, said the Foreign Exchange Supervisory Committee will "question and check how the importer will sell and distribute the fuel, check whether the entire amount is necessary and so on … This process takes too long."
Once this committee has given approval, private banks instructed to sell the dollars carry out their own inspection of the importer's documents, including their plan for reselling the fuel.
"The banks are checking how fuel importers will resell their fuel – I think this is largely related to tax collection," said Kyaw Kyaw, the Yangon-based retailer. "But it's causing a lot of delays."
Unexpected delays can be expensive: if tankers are stuck at port the importers have to pay demurrage of $15,000 to $20,000 a day, which "just adds further to the cost of importing fuel", Htin Paw said.
Meanwhile, some importers report that they are not being allocated enough dollars to buy their monthly import quota, despite the regime's earlier promises.
"A fuel importer might have a quota of 10,000 tonnes of fuel a month, but will only be given permission to import 5,000 tonnes. That means they'll only be allowed to buy enough US dollars to purchase those 5,000 tonnes, even if it's not enough to meet demand," said Min Min, the Yangon-based importer and distributor.
Turning to the black market, where the dollar trades at around K2,050, is not practical, because it would be impossible to sell the fuel for a profit at the reference rate.
Importers are also upset at the reference rate, which fluctuates daily based on the export price in Singapore. If the price falls since they have bought their shipment of fuel, they are simply being forced to sell it to wholesalers at a loss.
With importers not getting their full import quota or reluctant to sell fuel in storage if the price is not right, retailers are struggling to secure enough fuel at the wholesale reference rate. For them, too, the black market is out of the question, because the price is higher than the retail reference rate. Faced with the choice of losing money or breaking the law, some retailers are simply closing down.
Along the 250-kilometre route from Mandalay to Htigyaing in northern Sagaing Region, about 20 of the 50 fuel stations have already closed, according to Sein Toe, the Mandalay-based fuel retailer. PPRD rules require them to sell fuel for around K2,120 a litre, but the black market price is around K2,200, and labour costs and other expenses make the break-even point K2,250.
"If someone complains to the authorities that they're selling at a high price, they will be in trouble," said Sein Toe. "Many small fuel stations have decided to close down rather than buy on the black market to continue their business."
But Dr Win Myint, the secretary of the Myanmar Petroleum Trade Association, played down the difficulties.
"The Central Bank is selling US dollars to importers when the tankers are already at Yangon [Thilawa] port. If the Central Bank sells dollars regularly like this, there won't be any more fuel shortages," he told Frontier.
Regime spokesman Zaw Min Tun told a June 1 press conference that Myanmar had enough fuel to last for two weeks. Although this was supposed to be reassuring, it underlines why shortages are occurring so frequently – with such low reserves, tankers have to arrive regularly to keep supplying the market, and even the slightest delay could result in a shortage of the various types of petrol and diesel.
"Because of this new system, most importers don't have much in storage," said Kyaw Kyaw, the Yangon-based fuel retailer. "If there's some hold up or delay, then there'll be more shortages."
More shortages and a new black market?
Under Than Shwe's military regime, the state was the sole importer of fuel and sold it at heavily subsidised rates to privileged customers. This fuel, along with illegal imports, was traded openly on a black market.
Importers told Frontier that a new black market is likely to develop to meet domestic demand if Min Aung Hlaing's regime does not make enough dollars available to importers.
Economic growth over the past decade means fuel imports have risen sharply, from less than $1 billion in 2010 to around $4 billion by 2019. Although the economy has shrunk as a result of the coup, likely dampening demand for fuel, oil prices have risen due to the war in Ukraine and other international factors.
Providing billions of dollars a year in order to maintain the K1,850 currency peg could thus prove a significant challenge for the regime.
"So far it [the black market] is under control, but if unmet demand gets too big, a black market is inevitable," said Thar Gyi, the Yangon-based importer.
"Also, fuel isn't the only thing dollars are needed for – there's also huge demand for dollars to buy cooking oil, medicines and so on," he said.
Htin Paw, the Mandalay-based importer, meanwhile, said the new import controls would likely lead to further fuel shortages. "We're worried about shortages because it's getting harder to buy US dollars. That's why we're reluctant to sell retailers as much fuel as they want," he said.
"If it keeps getting harder to import fuel, then it will be brought in illegally."
Kyaw Kyaw questioned whether the foreign currency controls were sustainable. "The new foreign exchange rules have caused huge problems for fuel imports," he said. "I don't see how we can work under this system."
"Times have changed – it is difficult to reduce fuel consumption. You can't just tell people not to use cars and motorbikes. One way or another, demand will be met."
* denotes the use of pseudonym for safety reasons