Informal migration from Myanmar is being blamed for the recent resurgence of COVID-19 that has left Thailand in lockdown and prompted Thai authorities to step up security along the 2,400-kilometre frontier.
By LAWI WENG | FRONTIER
Speaking on December 22, Prime Minister Prayut Chan-o-cha was clear about who he thought was to blame for Thailand's outbreak of COVID-19: migrants from Myanmar.
"They snuck out and came back in," he said.
Five days earlier, the first case of the country's second wave had been detected in a migrant worker at a shrimp market in Samut Sakhon, which many still refer to by the old name of Mahachai, about 35 kilometres from Bangkok. Thai authorities soon confirmed another 800 cases, the majority among Myanmar nationals, and the number has since grown to several thousand. The government has responded by placing large parts of the country, including Bangkok, under lockdown.
Until December, though, Thailand had largely managed to keep COVID-19 at bay. The emergence of the second wave has unleashed a wave of anger, discrimination and hate speech towards Myanmar migrants, helped along by comments from officials like Prayut.
"Some Thai taxi drivers wouldn't accept Myanmar migrants, and some factory owners didn't let them work although they let their Thai staff keep working," said Ko Than Zaw Htike, who works with the Migrant Workers Rights Network in Samut Sakhon, a seafood processing hub in the province of the same name where many migrants live and work. "Even some restaurants didn't want to sell food to migrants."
Migrant workers are sometimes facing tighter movement restrictions than Thais and not all have received the compensation they are legally entitled to, Than Zaw Htike said. Some migrants in Samut Sakhon have not even been allowed out of their apartments to buy food. "They contacted us when they needed food and we went to help them," he said.
But there have also been examples of compassion. Than Zaw Htike said Thai civil society organisations have worked with their Myanmar counterparts to ensure workers who are struggling to get by during the lockdown have enough food, some of which has been donated by Thai restaurant owners.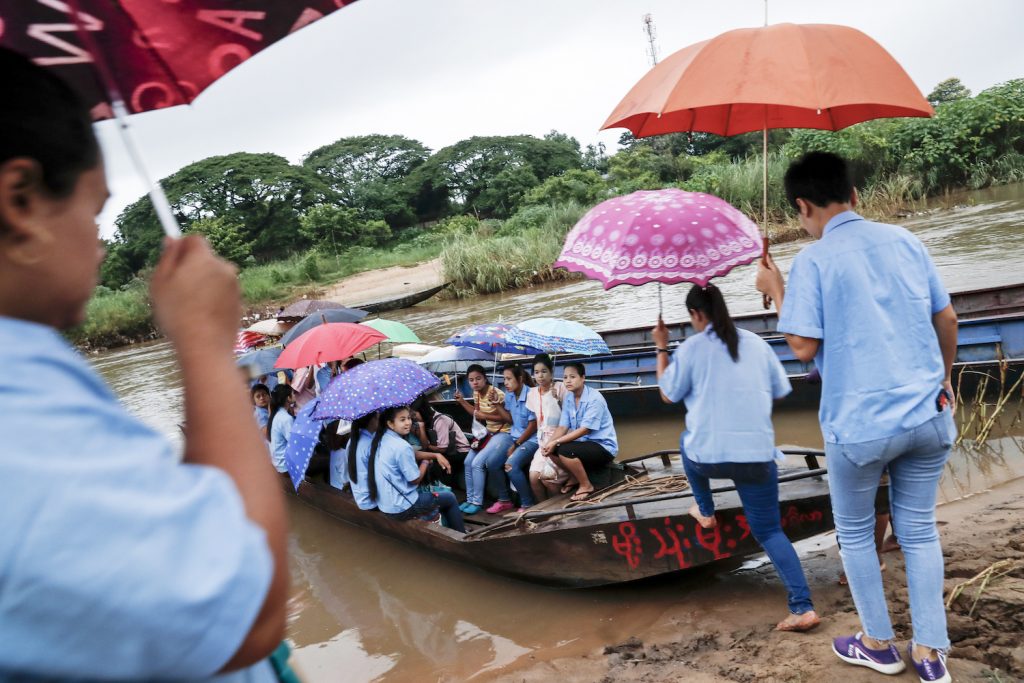 Tracing it back to the border
The exact source of the outbreak remains unclear but many, like Prayut, are pointing to informal migration from Myanmar, which has been battling its own second wave since August and has so far confirmed close to 130,000 cases.
The Kingdom hosts an estimated 2.5 million registered Myanmar migrant workers and perhaps half a million more who are employed illegally. These workers are an important engine for the Thai economy and also support families back home through remittances.
Traditionally, most Myanmar workers have been undocumented, but in recent years the two countries have made significant strides in formalising migration through a worker passport scheme.
The COVID-19 pandemic has upended migration patterns, however. The economic fallout of the virus meant many migrants in Thailand suddenly found themselves without employment. When they returned home, many found there were no jobs in Myanmar, either.
Restrictions to prevent the spread of the virus have meant that since March it has been impossible to legally enter Thailand at land borders. Ethnic armed groups operating along Myanmar's border have closed unofficial crossings at which migrants could previously cross without trouble, in an unprecedented display of cooperation with the Myanmar government.
These rules have made it much more difficult to cross into Thailand, but not impossible. The porous border, rising poverty and desperation in Myanmar, and corruption among security forces have enabled migrants to continue entering the Kingdom over the past nine months.
Shortly before the latest outbreak, Frontier visited the Kayin State border town of Three Pagodas Pass, which is a common transit point for informal migrants, to investigate how restrictions are being enforced and circumvented.
Residents, migrants and brokers said there were numerous routes and methods into neighbouring Sangkhlaburi District. Although migrants are sometimes caught and detained by Thai authorities, in the vast majority of cases they are able to cross successfully.
Some ride motorbikes into Thailand using jungle roads that traverse the border, while others hide inside vehicles and are smuggled over by bribing Thai authorities. Other migrants walk through the jungle, even passing close to a Thai army checkpoint called Nam Ma Cake, to waiting transport. Agents charge 500 baht to smuggle someone over the border by motorbike, while a car to Bangkok costs another 8,000 baht.
"The people were crossing the border like they were going to a festival," said Nai Win, who works in the Sangkhlaburi area and recently encountered migrants walking along jungle tracks into Thailand.
He said it wasn't only corruption that enabled migrants to enter Thailand. "The Thai army knows migrants are crossing the border but they feel sympathy for them – they know they are poor and desperately need work in Thailand," he said. "They could stop them at any time, but they just ignore the people who are crossing along the jungle roads."
After crossing into Thailand, travelling to a destination within the country can be more complicated. There are many checkpoints along the road from Sangkhlaburi to Kanchanaburi, so some migrants take boats along the Songkalia River and then continue by car after passing the checkpoints.
The restrictions have made it riskier and more expensive to cross into Thailand to look for work. Still, many are willing to roll the dice.
Nai Seik Lyi, a resident of Three Pagodas Pass, said two of his children returned to Myanmar in April but after being unable to find work decided to pay 8,500 baht each to brokers to take them back to Bangkok in November. In normal times the trip would cost them 500 to 1,000 baht, he said.
"They've got their jobs back now but it will take a while to pay the debt they incurred due to the high cost of getting to Bangkok," he said.
But in the wake of the latest COVID-19 outbreak, Thai authorities have sought to tighten up on informal migration.
A community leader in Sangkhlaburi said many soldiers who had been stationed in the area prior to the outbreak had been replaced, and additional troops have also been assigned to the area. The soldiers have been deployed into the jungle and have been using drones to monitor known crossing points along the border.
Thai authorities have also launched a crackdown on migrant smugglers in Sangkhlaburi, sources in the town said. Early on January 7, Thai police launched pre-dawn raids to arrest known people smugglers in the area, and have also vowed to investigate government officials who have received bribes from smugglers.
But it seems unlikely this will be enough to deter many migrants from attempting to enter Thailand, particularly given Myanmar's economy is continuing to suffer under the effects of its own second wave of COVID-19.
"Because of COVID-19 many people in Myanmar are struggling to survive … in this situation, they'll keep trying to migrate to Thailand," said U Htoo Chit, executive director of the Thailand-based Foundation for Education and Development, an organisation that supports migrant workers.
He said the Thai government couldn't police the entire 2,400-kilometre border.
"There are many places where migrants can cross into Thailand illegally. No matter how hard Thai authorities try, they won't be able to stop it on their own. The only way they can be successful is to work with the Myanmar government."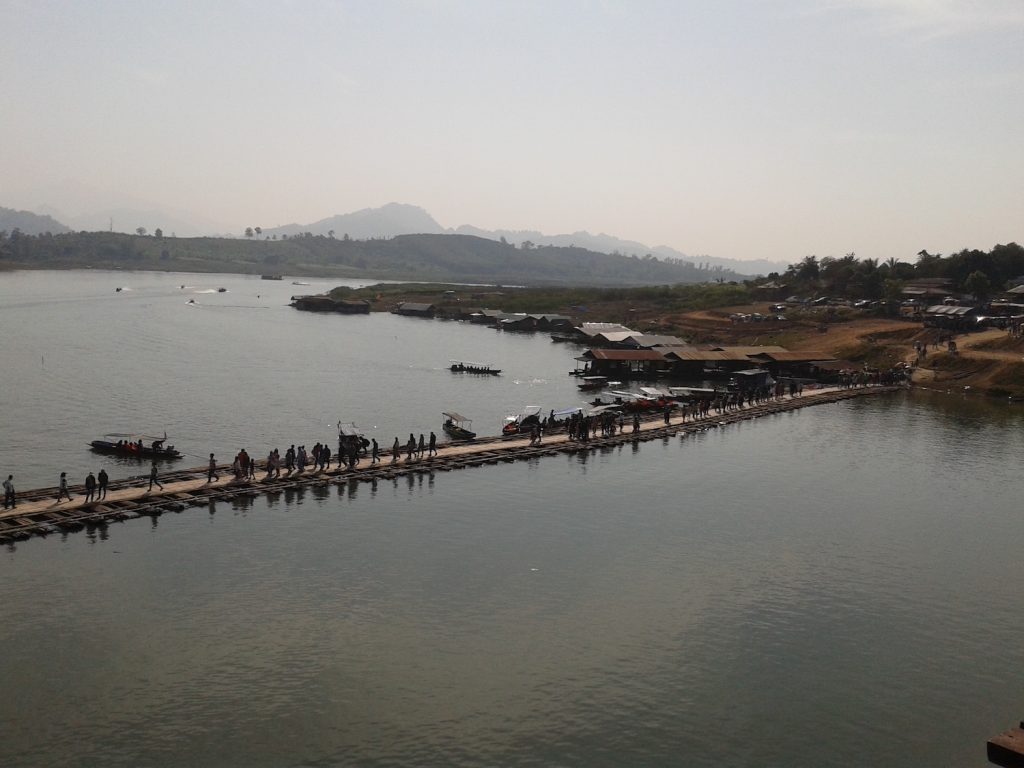 Holiday hopes dashed
The outbreak in Samut Sakhon has also had a significant economic impact on communities in Sangkhlaburi, many of whom are Mon and have relatives on the other side of the border.
Sangkhlaburi is a popular holiday destination for Thais, who come to visit Mon villages, explore lakes and the national park, and walk across Thailand's longest wooden bridge. Many in the small town had been expecting to welcome a large number of tourists over the new year period, but their hopes were dashed by the resurgence of the virus, which has made many Thais wary of travelling.
"Some visitors cancelled their bookings already," Mi San Win, who owns a guesthouse in Sangkhlaburi, told Frontier in late December. She had a full guesthouse last new year but just five visitors this year, she said. "We had some good months before COVID-19 returned, but now it's back and there's not really much we can do about it."
Motorbike taxi driver U Kular had been hoping to make around 400 baht a day over the holidays, but told Frontier that he has instead only been able to make 60 baht a day. Shop owners in Sangkhlaburi who sell handicrafts to holidaymakers invested tens of thousands of baht in Mon, Kayin and Thai traditional clothing that they now have no chance of selling. "My granddaughter bought a lot of clothes that are popular with tourists to sell to them from my house during the holidays. I don't know how she'll be able to sell them now," said Nai Tin, 80.
Many Mon residents of Sangkhlaburi earn extra money sending goods imported from Myanmar to Samut Sakhon, which is about nine hours' drive from the border. But with Samut Sakhon under lockdown and movement restrictions in place across much of Thailand, this small-scale trade has been brought to a halt.
Desperate residents are taking on whatever work they can find. Mi Win said that she recently sowed 20 sarongs for a factory, for which she was paid a total of 100 baht. The factory owner asked for 100 pieces, and she split the order with four friends who are also out of work.
Residents are increasingly worried Thai authorities will tighten restrictions in Sangkhlaburi District and other areas along the border with Myanmar. Rumours of an impending lockdown have sparked panic buying, with residents stocking up on rice and cooking oil. Although prices have remained stable, some shops have run out of rice.
Not everyone is able to stock up, though. "I've got nine children to feed," said Kular, the motorbike taxi driver. "If this goes on, I don't know what we are going to be able to eat."