As the tourism industry continues to grow, some companies are offering tours tailored for visitors with a special and often deeply personal interest in the Burma Campaign of the Second World War.
By OLIVER SLOW | FRONTIER
One recent dawn at the Rangoon War Cemetery off Pyay Road in Kamaryut Township, the immaculately-tended grounds were empty except for two Myanmar youths strolling the neat rows of headstones and reading the epitaphs. A particularly moving one on the headstone of a British soldier reads, "I was not here to hold your hand; sleep on, dear one, though in a foreign land."
"We were passing by and it looked like a nice place to stop and have a look," one said. Asked if he was aware of the history of the Second World War, and that some of the most important battles of the Asia-Pacific theatre were fought in his homeland, the young man admitted he was not.
"But I'd like to learn, it seems interesting," he said.
The Rangoon War Cemetery is one of three in Myanmar maintained by the Commonwealth War Graves Commission, which cares for 23,000 cemeteries and memorials in 154 countries and territories worldwide. It is the final resting place of 1,381 Allied soldiers who fell in Burma during World War II – of whom 86 are unidentified – and 36 who fought in World War I.
The Burma Campaign involved fighting between Allied forces and the Japanese Imperial Army after it invaded in 1942. There were notable battles with the advancing Japanese forces at the Sittang Bridge, Bago and Pyay. Allied victories in the battles of Imphal and Kohima on the Indian border in 1944 were turning points in the Burma Campaign, precipitating a rout of the Japanese. Allied forces recaptured Rangoon in early May 1945.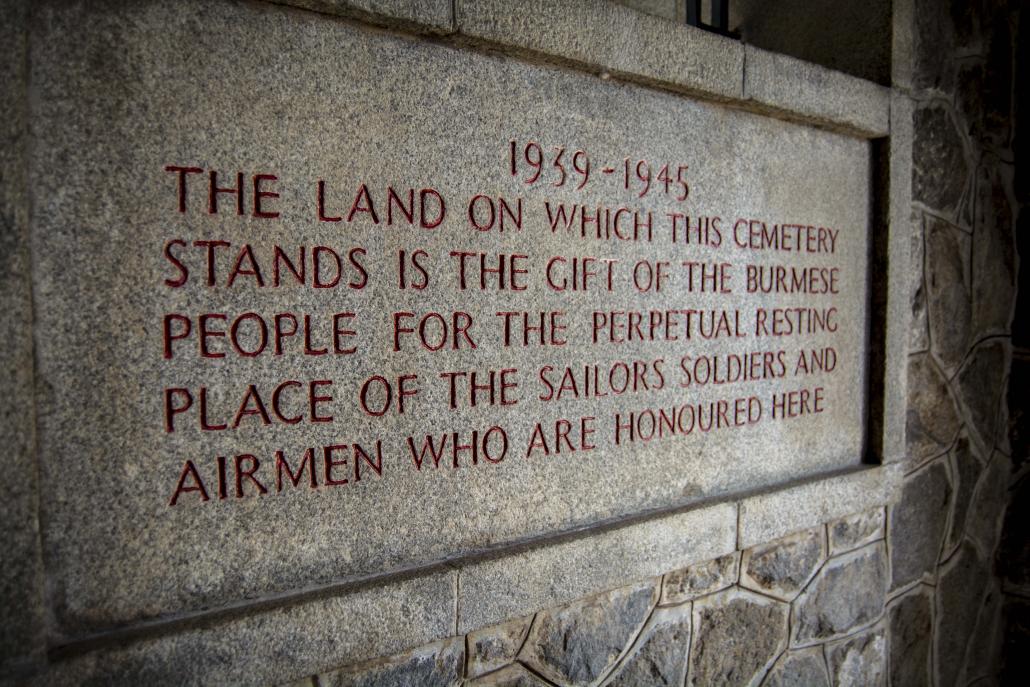 As the tourism industry continues to grow, specialist companies are focussing on travellers with an interest, often deeply personal, in the Burma Campaign.
Britain-based Spirit of Remembrance, a battlefield and remembrance travel company, is working with Yangon firm Pegu Travels to offer tours to some of the main World War II sites in Myanmar.
"The main target audience is family history travellers; second or third generation travellers whose family members fought or were involved in Burma in World War Two," said Graeme Archer, marketing director at Spirit of Remembrance. "You also have travellers who are looking for what we call 'travel with meaning', where they can travel to new and exciting destinations that have a rich and varied history," he said, adding that a program for remembrance tours is being finalised.
Yangon is more than likely to be one option. Not only is it the first port-of-call for most visitors, it has two cemeteries maintained by the CWGC. As well as the cemetery in Kamaryut there is the larger Taukkyan War Cemetery, about 25 kilometres north of Yangon. It has 6,374 graves and honours the memory of almost 27,000 members of the Commonwealth land forces, their names inscribed in a large memorial monument.
The commission also maintains a war cemetery at Thanbyuzayat, the terminus in Mon State of the notorious Burma-Siam Death Railway built by the Japanese using Allied prisoners-of-war and Asian forced labour under barbaric conditions that cost tens of thousands of lives.
A Death Railway museum opened early this year near the ThanbyuzayatWar Cemetery, which is about 65km south of the Mon State capital, Mawlamyine, and about 365km by road from Yangon.
The cemetery contains the graves of 3,149 Commonwealth and 621 Dutch soldiers.
"The most accessible destinations are Yangon and Thanbyuzayat," said Marcus Allender, business development director at Pegu Travels. "In Mon State, tourists are able to tie in visits to places like Mawlamyine and Hpa-an [the Kayin State capital], while in Yangon you also have the colonial architecture and history," he said.
Many of the main battles of the Burma Campaign took place in remote areas and Mr Allender believes there's potential for trips to sites such as Fort Hertz in Kachin State and Fort White in Chin State.
"In northern Chin State, for example, the culture is very distinct from other parts of Myanmar," said Mr Allender. "Being there you can see the dramatic mountains over which the British fell back onto from the advancing Japanese. It's a fascinating place to see in itself, so people can tie in the war history," he said.
John Boyd, an Australian whose father and two uncles were captured by the Japanese in the fall of Singapore, has been a frequent visitor to Myanmar and Thailand. One uncle, Bob Goodwin, who toiled on the Death Railway, wrote three books about his experiences.
"[The visits] always drive home the cruelty inflicted on our men during the Japanese occupation," said Mr Boyd. "I think the younger generation wants to learn about what happened here," he said.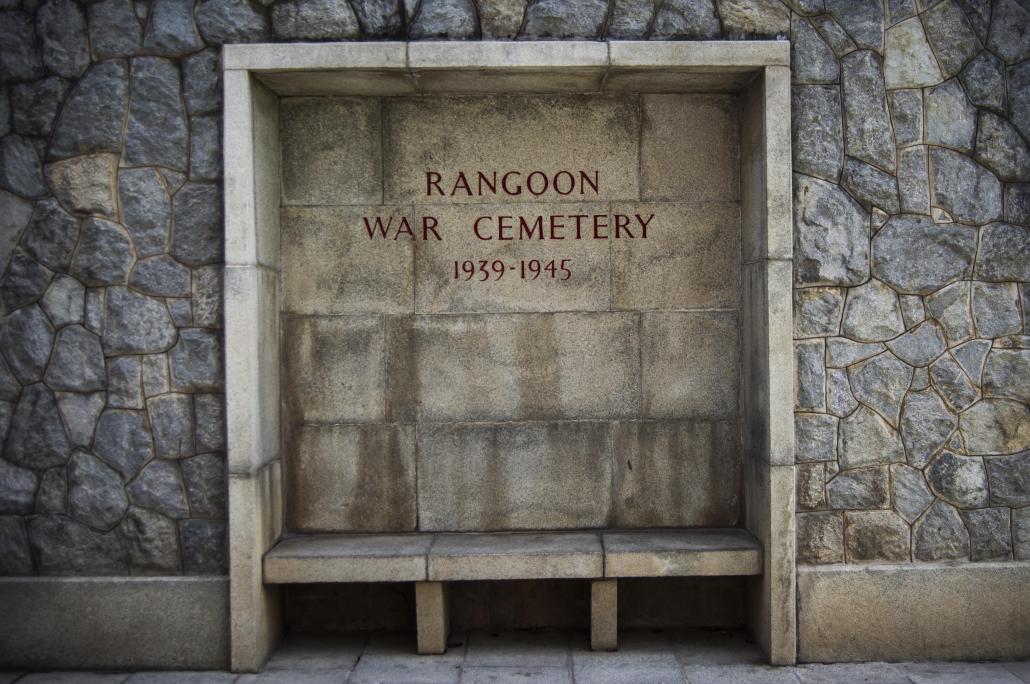 Tour companies see potential for increased travel to Thanbyuzayat following the opening of the Death Railway museum. Edwin Briels, general manager of Khiri Travel Myanmar, told Frontier he is interested in developing itineraries that incorporate the museum and its surroundings.
"It would be excellent if we could have a day trekking following the old railway route," he said.
Mr Briels said opening the Myanmar-Thai border at Three Pagoda Pass would capitalise on the five million tourists a year who visit Kanchanaburi, the terminus in Thailand of the Death Railway and the site of another CWGC cemetery and the famous Bridge over the River Kwai.
"That's 20 times the amount of tourists who visit Bagan annually; it would be fantastic if we could convince just five percent of them to cross the border," Mr Briels said.
Attractions on the Thai side include several museums, walking trips and memorials, he said.
"It would be fantastic if we could develop something similar on the Myanmar side and opening the border would be a game changer."
Other travel companies say it is too soon to be offering tours that focus only on sites associated with the Burma Campaign. Thomas Barrows, product manager at Exotissimo Travel Myanmar, said that visits to sites such as Taukkyan War Cemetery are included on some of its tours, but only as stops on trips to such destinations as Bago and Mount Kyaikhtiyo.
"I do think the new Death Railway museum in Thanbyuzayat is a promising attraction," Mr Barrows said. "The railway is already famous because of [the movie] The Bridge over the River Kwai and it's not far from Mawlamyine. If they ever start running regular flights from Yangon to Mawlamyine, it could really take off," he said.
Title photo: Maro Verli / Frontier