The regime's sudden decision has hobbled Myanmar citizens seeking better lives overseas and risks depriving migrant workers of legal protections, with rights groups suspecting a ploy to target dissidents.
By FRONTIER
Ma Thuzar Maung* spent years learning Korean so she could go to university in Seoul this year, but the Myanmar junta's suspension of passport services has put her dream on hold.
The 24-year-old tried unsuccessfully to book an appointment at the passport office in Yangon and had no option but to pay K70,000 (US$25) to a broker, who booked her a slot on January 30. However, on January 2, the regime announced an indefinite closure of all 20 passport offices throughout the country. It said simply that the offices' computer systems needed upgrading and gave no indication when they would reopen.
"It's unbearable to lose this opportunity," Thuzar Maung told Frontier. "It's rare to have the chance to study in South Korea."
The announcement came after the Myanmar Passport Issuance Board said the online booking system, launched in March last year, would close from December 5.
The booking system, in which applicants must wait to be given QR codes before presenting themselves at passport offices, was seemingly unable to cope with the sheer number of people seeking to leave the country in the aftermath of the coup. On some days up to 5,000 applicants are reported to have queued outside of Yangon's passport office, with about half of them making a return visit because they were unable to complete the process in one day.
Labour activist groups say the system was also clogged by the junta's introduction of additional checks to screen for dissidents. On reaching the front of the queue and having their QR codes scanned, applicants' names were allegedly checked against a list of people charged with incitement under Article 505A of the Penal Code.
Brokers connected to passport office staff charged people up to K500,000 ($175) to receive a QR code quicker and to complete the formalities at the passport office within one day, including the submission of papers, payment of fees and posing for photos. After this, applicants would receive a receipt and return after 10 days to collect their passports.
After January 2, passports were still granted for migrant workers under an arrangement with the Myanmar Overseas Employment Agencies Federation, for pilgrims to the site of Buddha's enlightenment at Bodh Gaya in India, and for people making medical trips. However, by mid-January, applications were suspended even for these groups.
Overseas and in limbo
The closure of passport offices is not only disrupting the plans of tens of thousands of people preparing to leave the country but also affecting Myanmar citizens overseas whose passports are expiring.
On December 5, the Myanmar consulate in Chiang Mai in northern Thailand said it would also stop making new appointments for passport renewals, in a Facebook post that has since been removed.
On January 7, the embassy in Bangkok said it would renew PJ-category ("job") passports on Saturdays only but gave no guidance to holders of other passport types. Similar rules have been put in place at embassies and consulates across the region.
Thida Cho*, aged 29, said she tried to renew her PV ("visit") passport at the consulate in Chiang Mai on January 20, but staff claimed they were unable to renew any type of passport because they had not received permission from the Yangon passport office.
Neither the consulate nor the Bangkok embassy responded to Frontier's telephoned requests for comment.
Labour rights groups in Thailand and Malaysia, which have the highest number of Myanmar migrant workers, estimate that hundreds of thousands of Myanmar nationals working abroad will be affected if embassies cannot renew passports before they expire.
The Thailand-based Myanmar Workers Rights Network and Aid Alliance Committee of Myanmar Workers estimate that nearly 5 million Myanmar are working in Thailand, of whom the passports of more than 100,000 had expired since the start of the COVID-19 pandemic in 2020.
"Thai employers want to issue work permits to their workers but many of them have passports that expire in 2022, and because the embassy cannot renew them on time Myanmar workers are facing difficulties," said U Khine Gyi from the Aid Alliance Committee.
Myanmar workers in Thailand said that even before the recent suspensions, it had become increasingly difficult to renew their PJ passports since the 2021 military coup. They told Frontier that previously there was a straightforward application system at the Bangkok embassy. However, this was replaced in March last year by the need to request tokens by calling a hotline.
The Bangkok embassy said on its Facebook page it had issued over 10,000 appointment tokens on January 7 and 14 alone. However, Sein Hla*, a woman working at a factory in Samut Sakhon Province, south of Bangkok, said colleagues had called the embassy hotline at least 100 times without success, before eventually paying to circumvent the process. "Because it's hard to get a token, they have to pay a lot of money to a broker," she said.
Ten migrant workers and two labour organisations in Thailand said those who applied in person at the embassy paid THB1,100 ($33), provided they were able to navigate the process, but that most people were paying between THB5,500 and THB10,000 ($168 and $305) to use brokers.
They added that people renewing PJ passports that expired in 2021 and last year were given appointments at least two months from the date of receiving a token, while those whose passports expire this year were being told they'd have to wait for seven months or longer before seeing embassy staff.
Because of the backlog and the need to have a valid passport to receive a work permit, Thailand's Department of Employment this week said it will look to extend the deadline for Myanmar migrant workers who need to renew work permits to mid-May.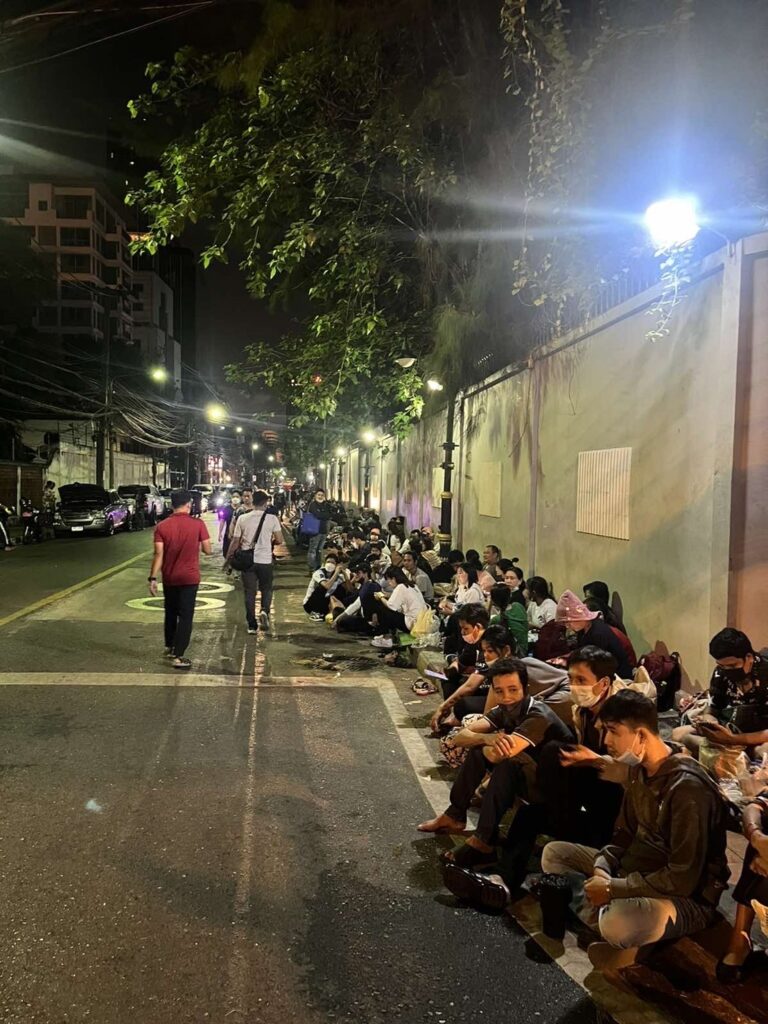 A deliberate ploy?
One explanation for the delays and suspensions in issuing passports is the stresses that the Civil Disobedience Movement has placed on an already creaky bureaucracy.
Participation in the CDM, a mass strike by government staff following the coup, has varied substantially between ministries and departments, and Frontier could not confirm how far the movement has affected the home ministry, which manages passport offices.
However, labour activists and opposition politicians claim that, rather than being a symptom of bureaucratic dysfunction, the passport fiasco is in fact a deliberate ploy by the junta to root out citizens at home and abroad who are involved in the anti-coup resistance.
"The terrorist military council is creating difficulties for those who want to go abroad to get jobs to support themselves and their families just like the way it launches airstrikes on villages, burns houses and robs people," U Kyaw Zaw, spokesperson for the President's Office of the parallel National Unity Government, told Frontier.
Ko Hmine Myo Satt of People's Spring Song, a group that assists Myanmar workers in Malaysia and raises funds for the NUG, said that nearly 200 Myanmar passports have been confiscated by the embassy in Kuala Lumpur since the coup after being handed in for renewal. Many of these alleged cases involve people wanted by the junta for political reasons, he said. He added this has caused people to live undocumented, hiding from Malaysian authorities and finding illegal work. Some, he said, have been arrested and imprisoned pending deportation.
U Aung Kyaw, a consultant with the MWRN, said that while he had not heard of anyone's passport being confiscated in Thailand, embassy and consulate staff in the country were pressuring migrants to return to Myanmar to renew their documents.
Thiri San*, a 32-year-old migrant, said that in early January an officer at the Chiang Mai consulate advised her to renew her PV passport in Myanmar, but she thought it too risky to do so.
"It's not safe to return… The junta's security forces will arrest anyone they want and charge them with supporting the NUG and PDF, even if they have no connection," she said, referring to the parallel government and the armed People's Defence Force under its command.
Aung Kyaw said that unlike workers in Malaysia, those lacking valid documents are theoretically able to apply for a Certificate of Identity from Thai authorities, which allows them to obtain work permits and legally reside in the country without having to return to Myanmar. 
However, sources said that the Thai labour ministry had also stopped granting CIs two months ago because the junta's Ministry of Immigration and Population and its police force were no longer issuing documents necessary to obtain a CI in Thailand. Aung Kyaw told Frontier that the granting of CIs would resume at the end of January.
Months 'wasted'
Junta spokesperson Major General Zaw Min Tun told Voice of America in a January 18 article that the junta is also looking to resume passport services by the end of the month.
"As far as I know, the Ministry of Home Affairs is planning this. At the end of this month, the planning will be completed," he said.
On January 10, the embassy in Bangkok said it was forming two mobile teams that would be sent to factories with more than 1,000 Myanmar workers to renew their expired PJ passports, with factories allotted renewal slots during a raffle held on January 23.
"The programme is convenient for migrant workers, but the embassy has wasted many months and should have taken such measures a long time ago in cooperation with the labour ministry in Thailand," Aung Kyaw, the MWRN consultant, told Frontier.
He said there were migrant workers at 7,000 factories in all 77 provinces in Thailand and wondered how all of them could be visited by the mobile teams.
NUG spokesperson Kyaw Zaw said that members of the NUG's labour ministry had held meetings with Thai labour officials about the challenges facing migrant workers, and that its offices in countries such as South Korea and Japan were dealing with similar problems.
"We are constantly looking for ways to solve problems that arise in host countries. We want to help Myanmar workers with passport problems, but this requires the host country's understanding and cooperation," he said.
Asked if the NUG planned to open representative offices in Thailand, Malaysia or other Southeast Asian countries, he said an announcement would be made at the appropriate time.
Meanwhile, Myanmar migrants increasingly have to live and work in the shadows, stripped of the protections they once had.
Ko Hein Min Htet*, who arrived in Thailand in 2016, said he was careful to try to avoid Thai police when in public because his passport expired last year.
"I will be extorted by the police if I'm stopped because my documents are incomplete," said Hein Min Htet, who works as a chef in Bangkok.
"All I can do is keep trying to renew my passport," he said.
* denotes the use of a pseudonym for safety reasons