A booming tourism industry was one of Myanmar's great success stories after 2011, but big talk from the junta is unlikely to aid the recovery of a sector ravaged by COVID-19 and the military coup.
By FRONTIER
On October 12, three women from Yangon were reportedly killed during a pilgrimage to the famed Kyaiktiyo "Golden Rock" Pagoda in Mon State's Kyaikto Township during a clash between the Myanmar military and anti-junta forces.
The violence was the latest blow to Myanmar's floundering tourism industry, which was rocked by COVID-19 and then the 2021 military coup overthrowing the elected National League for Democracy government.
"Due to the current political instability, prospective travellers are concerned for their safety, citing the incident at Kyaiktiyo Hill," said U Naung Naung Han, chair of the Union of Myanmar Tourism Association, a private body that maintains a good relationship with the junta. But even this relationship did not stop Naung Naung Han from speaking frankly about the bleak outlook for Myanmar's tourism industry.
While the Kyaiktiyo victims were domestic tourists, he said some foreign travellers, mostly from Thailand, cancelled tours after the incident. Official figures in 2019 show Thailand accounted for more than 273,000 foreign visitors to Myanmar, second only to China with nearly 750,000.
Multiple attempts to entice Thai tourists have so far fallen flat. In cooperation with the junta, Thailand's Channel 5, owned by the Thai Army, produced a documentary promoting travel to the ancient capital of Bagan, a UNESCO World Heritage site in Mandalay Region.
The UMTA had also been heavily promoting Yangon-Bago-Kyaiktiyo packages, also popular with Thai tourists, visiting other major Buddhist sites, like Shwedagon Pagoda in Yangon and Shwemawdaw Pagoda in Bago.
"But even this simple trip has not been successful; [foreign tourists] dare not come anymore," Naung Naung Han told Frontier on October 18.
And Golden Rock is not the only tourist destination under fire.
On October 24, the military allegedly torched villages and killed civilians in Sagaing Region's Wetlet Township near the Hanlin Pyu Ancient City, a UNESCO World Heritage site. Meanwhile, fighting between the Arakan Army and the military has recently restarted in the historical Arakan capital Mrauk-U, home to unique Buddhist temples of stone built hundreds of years ago.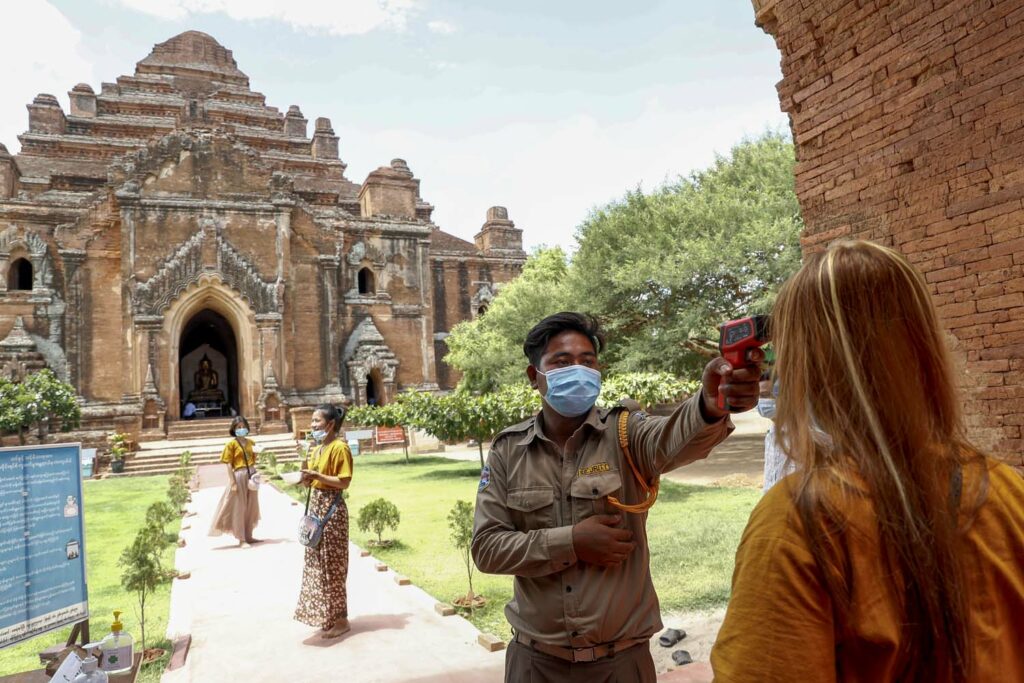 Temples of gloom
Residents of Bagan said that, although tourism numbers were up slightly on last year, the overall slump had negatively impacted regional living standards, and that authorities had begun to neglect the town's famous pagodas.
Local businesspeople who had seen their incomes rise in step with Myanmar's tourism boom told Frontier that they were now struggling to make ends meet.
"I work here as a taxi and horse-cart driver, mainly for foreigners. There are now far less foreigners coming to Bagan – it's almost like nobody's come here for the whole year. Of course, my income is down," said driver Ko Myo*.
Before COVID-19 and the coup, these drivers could typically earn K400,000 a month (US$300 at the pre-coup exchange rate), but now they struggle to make K100,000 ($35 at the current exchange rate), he said.
The loss of tourism income has knock-on effects to other industries, and farmers have been especially hard hit by the absence of visitors. Some have been left with no option but to sell their land.
"In Bagan we're still a long way from recovering to pre-COVID-19 levels," said Ko Si Thu*, who provides car and scooter rentals and bullock cart tours to Bagan's tourists. "Everyone who depends on tourism has been affected – when business is good for hotels and restaurants, it's also good for farmers and and other merchants."
A woman who produces poneyaygyi, a regional condiment made of fermented beans which is popular with visitors, said that her sales had fallen by 40 percent since the pandemic, and that she now relies almost entirely on the wholesale market to turn a profit.
U Thet Lwin Toe, managing director of Myanmar Voyages International Tourism Co Ltd, said the raging conflict in other states and regions would put off tourism for the foreseeable future.
"Sagaing, Kachin and Rakhine cannot be considered as tourist destinations; it is too dangerous to go there now. Even Yangon and Mandalay are not entirely safe to visit, and even domestic travellers have to take great care. For foreign tourists, it is out of the question," he said.
Naung Naung Han said that although the military had not officially banned travel to areas affected by fighting, tourism companies were avoiding trips to Sagaing and Magway regions and Kayah State.
The most popular destinations for domestic travellers have been locations where they feel safe, such as the beach resorts on the Bay of Bengal at Chaung Tha and Ngwe Saung in Ayeyarwady Region and Ngapali in southern Rakhine State, and Bagan, Mandalay, Pyin Oo Lwin and Taunggyi.
"Domestic tourism only compensates for about 3pc of what's lost with the decline in international tourism. The only time people are really travelling is on national holidays, whereas before you'd see elevated levels of tourism for most of the month surrounding important calendar events," a foreign travel specialist familiar with the Myanmar market told Frontier.
Boom and bust
Myanmar's tourism industry boomed after the transition to democracy began in 2011 but Naung Naung Han said the country would be lucky to attract 1pc of the 4.3 million tourists that visited in 2019.
Official figures showed that international passenger volumes more than tripled between 2010 and 2015, from 1 million to more than 3.4 million, and the number of foreign airlines serving the country rose from 13 to 28. During the same period, the number of domestic travellers jumped from 1.2 million to 4.6 million.
"2012 to 2016 were the real growth years, but afterwards the NLD administration put in a number of measures that further improved the sector," said the foreign travel expert
"Not only were roads and airports improved, but hotels and guesthouses were renovated and improvements to internet connectivity, payments systems and visa regulations made the country more accessible to visitors."
The steady growth in foreign tourists slowed amid international outcry over the military's brutal crackdowns on the Rohingya Muslims in 2017, with arrivals in 2018 at just over 3.5 million, up only about 100,000 on the previous year.
Shunned by the West for its refusal to condemn the atrocities, the NLD turned to its neighbours, easing visa restrictions for visitors from China, Japan, South Korea and India – statistics from Yangon International Airport show that in 2019 and 2020, over 70pc of arrivals were from Asian countries.
But Myanmar was not exempt from the devastation of the COVID-19 pandemic; in 2020, arrivals slumped to 900,000, and slid further to 130,000 in 2021, with most coming on business visas.
"In the whole year of 2021, tourist arrivals constituted almost zero percent of total arrivals. The number of incoming foreign travellers was only a few thousand, but they were all business travellers," said Naung Naung Han. "We can only expect some visitors in the first quarter of 2023."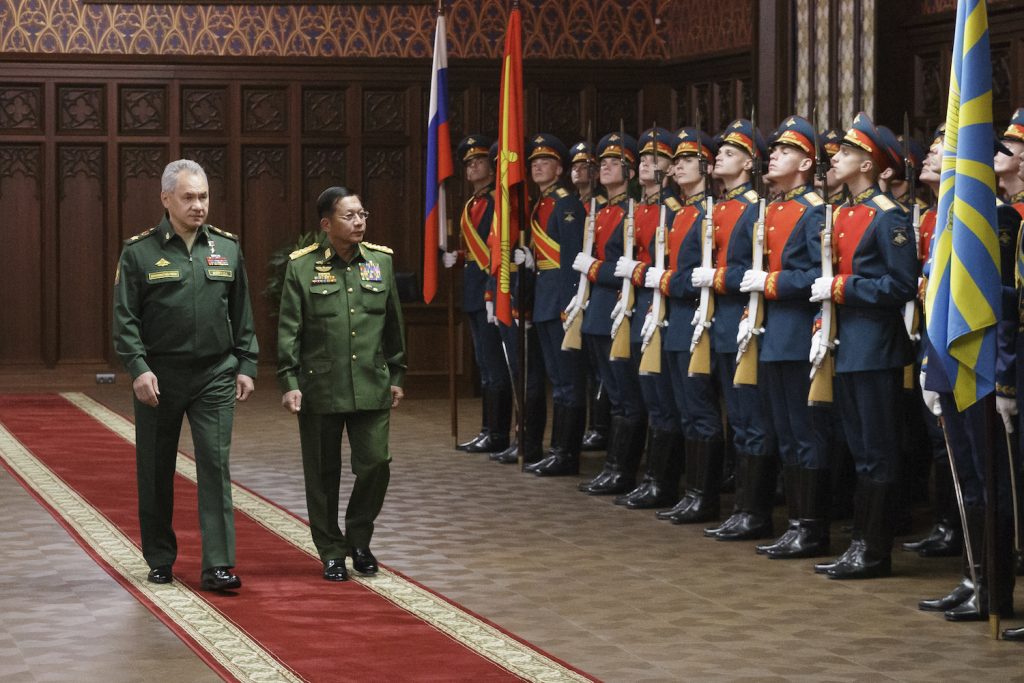 Failed pivot to Russia and China
According to state-run Myanma Alin, in September junta leader Min Aung Hlaing claimed the reopening of international commercial flights in April 17 was followed by signs of recovery in the tourism sector and called on the industry to prepare accordingly.
The junta likely wants to boost tourism both as a source of income – figures released by the NLD government showed that Myanmar earned US$2.8 billion from tourism in 2019 – and in order to portray the country as stable.
But with the regime increasingly isolated, it has been scrambling to reinvent Myanmar as a destination for Russian tourists, while also continuing to appeal to the Chinese. Moscow and Beijing are two of the only governments continuing to support the junta.
The junta's tourism minister Dr Htay Aung admitted at an October workshop in Yangon, also covered by Myanma Alin, that the arrival of Chinese tourists would depend on Beijing relaxing its "zero" COVID-19 policy and allowing citizens to holiday abroad. Later that day, he said visa free travel had been extended to Russian tourists.
But Thet Lwin Toe, from Myanmar Voyages, said so far only Russian business travellers had come to Myanmar.
"Russian tourists typically want to visit a happy country, with good access to the beach – like Thailand. They just aren't coming to Myanmar – and I can't see busloads of Russians wanting to take a 6-hour trip from Yangon to Ngwe Saung beach [in Ayeyarwady Region]," the foreign travel specialist said.
Naung Naung Han said the absence of direct air links between Russia and Myanmar is another obstacle. Yangon Aerodrome Company figures show that there were only 1,486 Russian arrivals to Yangon International Airport over the first six months of 2020.
Frontier tried repeatedly to call U Hlaing Oo, director-general of the junta's Ministry of Hotels and Tourism, but he did not answer his phone.
Naung Naung Han said the tourism industry is also facing a cash crunch. Western sanctions, limited resources due to the devastation of COVID-19 and a lack of support from the junta have combined to further hobble the sector.
"Because of sanctions, tourists cannot transfer their money to Myanmar and only a few will think about coming. We cannot make arrangements for the trips if we do not receive money in advance; it is just not possible to do it with our money. The flow of money must be smooth in the first place to support a recovery of the tourism industry," he said.
He said the Myanmar Tourism Entrepreneurs' Association proposed that the junta fund a promotional documentary featuring top destinations to screen in foreign countries.
"If the government can implement this plan, it will create greater awareness about what Myanmar has to offer as a destination and would benefit the tourism sector," he said.
But he said the junta's outward messages of support for the industry had so far not been met with any significant investment or support.
The foreign tourism expert said the industry's problems run much deeper than a lack of support from the military.
"Who wants to visit Myanmar at the moment?" they asked. "There are still obligatory COVID-19 tests with the threat of a five-day quarantine, and Western government travel advice puts Myanmar in the red or orange category, affecting the price of insurance… The Asian tourist market, which makes up the bulk of Myanmar's visitors, is also known to be very sensitive to security risks."
For now, the industry remains on life support, with grassroots tour operators suffering the most.
"My income's fallen so much that I can just about afford to eat," said Si Thu in Bagan. "There's nothing left for other expenses."
*denotes use of a pseudonym on request for safety reasons