Kayan Lahwi men and women, who have fled conflict in Kayah State to Thailand for over 30 years, live stateless in villages as reluctant tourist attractions frozen in time because of their distinctive appearance.
By FRONTIER
Every morning when she has finished the cooking and household chores, Mai dresses herself and her six-year-old daughter Poe Yal Bal in the traditional attire of their ethnic group and the distinctive accessories worn by its women.
After donning short-sleeved blouses hemmed with coloured thread and tying their hair, Mai and her daughter put on the brass neck rings that identify them as Kayan Lahwi. Commonly known in Burmese as Padaung, a term that many in the group object to, their homeland in Myanmar spans Kayah State's Demoso and Loikaw townships, southern Shan State's Pekon Township and parts of Nay Pyi Taw Union Territory.
Once in full traditional dress, Mai and her daughter are ready for the tourists. In over 30 years of receiving visitors, not much has changed in Thailand's remote Kayan villages, including the incremental flow of ethnic Kayan fleeing war in Myanmar.
"The children are dressed in ethnic costumes and the guests who come to the village take their photos and give them pocket money. Others like to take pictures of us weaving and sometimes they put on our traditional costumes and have their picture taken," said Mai.
As well as making money from tourists snapping photos, Mai and other villagers sell hand-loomed cloth and traditional clothing, as well as jewellery associated with the Kayan Lahwi: copper ringlets, bracelets, earrings and necklaces.
The brass coils made the Kayan Lahwi women a tourist attraction both here and in Myanmar, and there's no shortage of visitors to the village where Mai lives. It's about 26 kilometres from Mae Hong Son town, part of a popular tourist loop, and a four-hour traverse of the Pai River from the border with Kayah (also called Karenni State), where Mai was born.
Kayan ares of Demoso and Loikaw townships have experienced fierce fighting since the February 2021 military coup. The area is around 100 km as the crow flies from Mae Hong Son town, but a long, circuitous road journey of about 920 km via the border crossing at Myawaddy in Kayin State.
Huay Pu Keng, like a number of Kayan Lahwi villages in northwestern Thailand, was established just over 30 years ago when residents of Kayah began fleeing mounting conflict in their homeland. Among the displaced, Kayan Lahwi have attracted particular attention, with their physical appearance providing a source of intrigue, income and exploitation in equal measure.
Saw Eh Ke has lived in Kayan Taryar, another Kayan Lahwi village in Mae Hong Son province, since its founding, but was born in Panpet village in Demoso Township.
In 1990, as fighting between the Tatmadaw and the Karenni Army threatened to engulf their home, his mother Saw Ae Ke took him and his sister and fled to the Thai border. Saw Eh Ke was eight years old when the soldiers came to Panpet, and he has never returned.
"I was very young when I left, so I don't recall much – but I do remember walking for a week. Afterwards, our family stayed in an IDP camp on the Thai border for three or four months, and then we made it to Kayan Taryar. My mother is now 72 years old. She's the oldest in the village and still wears traditional costume for visitors," he said.
Since leaving Kayah, Saw Eh Ke has not seen any of his friends or relatives that remained in Myanmar, and today has only a limited understanding of the current situation, he told Frontier. Because he lacks identification, he has no option to legally return.
"We have heard reports that there is a military coup in our home state – I am ready to help those of us who make it here [to Kayan Lahwi villages in Thailand] as much as I can," said Saw Eh Ke, recalling how difficult his own journey was.
"When my family left the Karenni region, my sister fell seriously ill from exhaustion from trekking through jungle. We had no food and drink, and I will never forget having to eat leaves from the forest to survive," he said. "All of Myanmar's previous wars and the current wars are caused by military dictatorship. Without the Myanmar military, all our regions would be peaceful. I hate the Myanmar military," he said.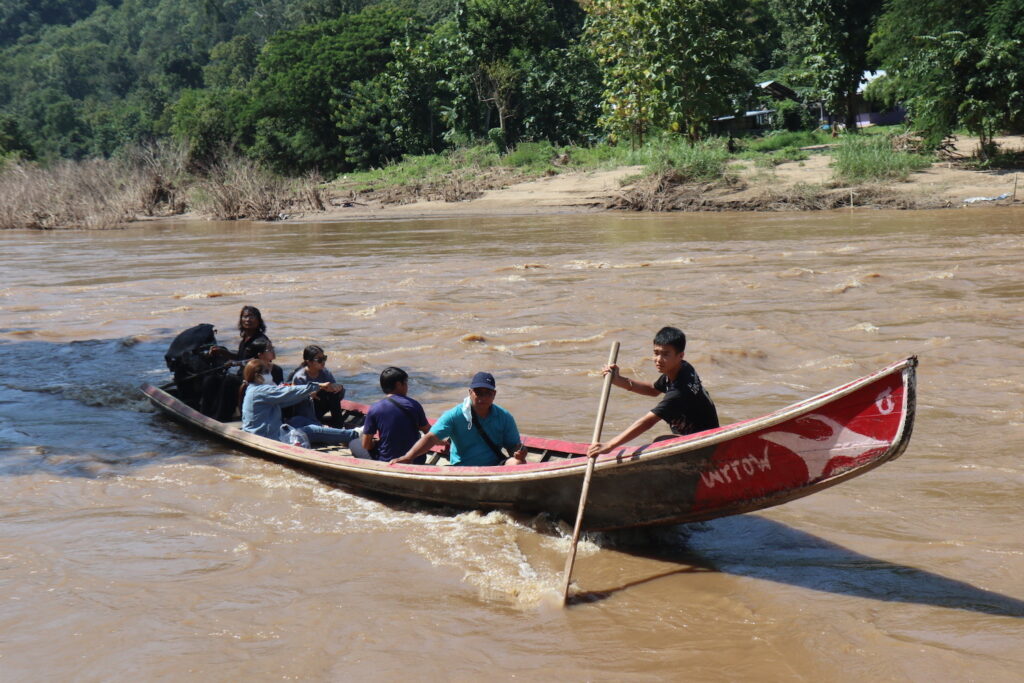 'If I don't wear traditional clothes, I risk being arrested'
Like Saw Eh Ke, Mai came to Thailand to avoid civil war when she was very young – just four years old – and has lived in Huay Pu Keng for 28 years.
Despite the length of her stay, Mai does not have Thai citizenship and her only identity document is what's known as an "ethnic card", which can be renewed every 10 years.
"It's like a guest citizen's card," said Mai, adding that those holding the cards cannot vote in Thai elections and are subject to travel restrictions.
"There are about 200 people in the village, but only about 30 or 40 have ethnic cards and the others have migrant worker's cards [issued to undocumented migrant workers and known as 'pink cards'] or do not have any documents," she said.
In the past, many tour operators have refused to run trips to Kayan Lahwi villages amid ethical concerns and fears of potential forced labour and human trafficking. A signboard at the entrance to Huay Pu Keng provides its ungainly colloquial name, "Long Neck Village", in both English and Thai. Simultaneously increasing the romance for tourists and decreasing the ease of movement for residents like Mai, it can only be reached by a 30-minute boat trip from Mae Hong Son.
The village chief, Naung, said Huay Pu Keng is yet to be officially recognised as a Kayan village.
"Our village has more than 200 people, and even though it's been established for more than 30 years, it's not officially recognised as 50 percent of us don't have Thai citizenship," said Naung, who holds an ethnic card. Naung said once a village reaches that threshold and is officially recognised, it becomes easier for others to also get citizenship.
"Children born to those who hold ethnic cards are regarded as Thai citizens and have the right to be educated in Thai schools. There are children in this village who are considered Thai citizens. But other children, whose parents hold migrant worker's cards, are not," he said.
Naung said that if undocumented village residents travel to Mae Hong Son town they risk being arrested by the police.
"People without a card cannot go to the town; the police will arrest them," he said, but added that an exception is usually made for Kayan Lahwi in traditional dress, further compelling the women to fulfill the living tourism role local authorities have carved out for them.
"When I take my daughter to Mae Hong Son, I have to wear traditional dress. If I don't wear traditional clothes, I feel apprehensive that the police will stop me for a check," said Eh Mwi Paw, 42, who holds a migrant worker's card.
Eh Mwi Paw's husband has an ethnic card, and is legally allowed to work, and her two sons are studying in Mae Hong Son.
"My sons always ask why mum doesn't dress like other people when she goes to town. They don't understand that if I don't wear traditional clothes, I risk being arrested," she said. "Our situation is that even though we have lived in Thailand for many years, we are not recognised as an ethnic group by the Burmese side, nor are we recognised as Thai citizens. We are just on show as a tourist attraction."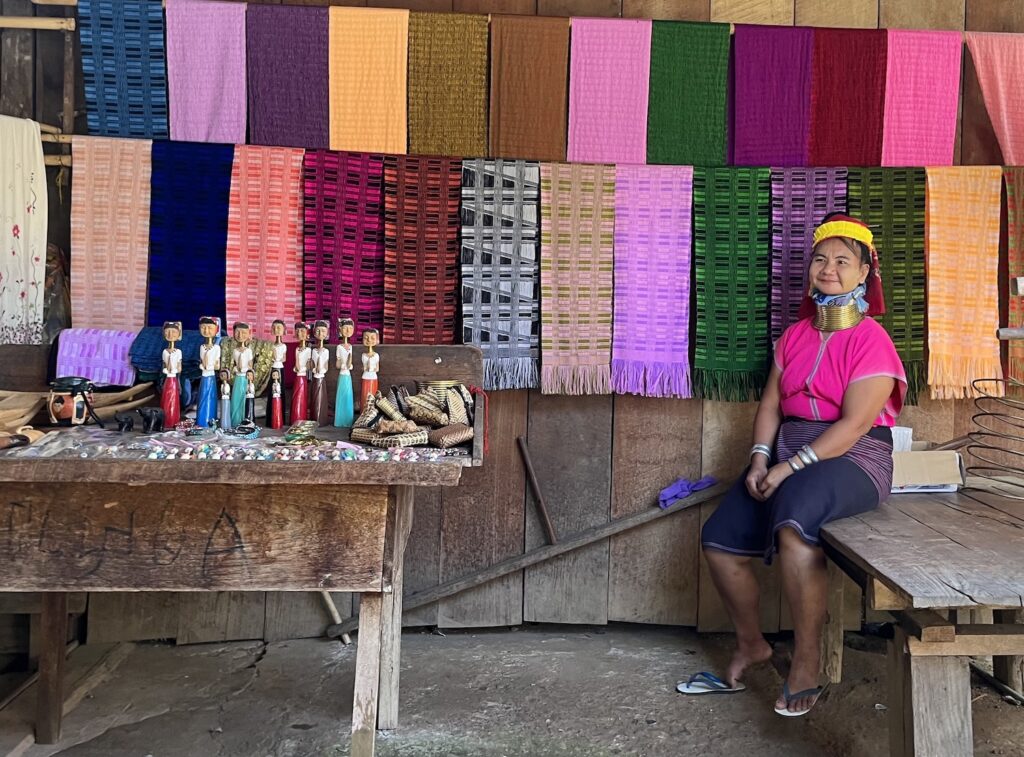 'I'll probably stay right here until I die'
Saw Ae Sehun, the head of Kayan Taryar village, said the Thai authorities had stepped up checks in border areas since the coup in Myanmar, including on Kayan Lahwi who had settled in Thailand.
"Going out in traditional dress is the safest way. Our traditional dress can fully guarantee our safety. When the Thai police see us in our traditional costumes, they do not check us," he said.
The political crisis has led to an influx of refugees coming across the border, with some living in camps and others sheltering in Kayan Lahwi communities like Huay Pu Keng and Kayan Taryar.
"Some people living in our village eloped from the refugee camp to come to Kayan Taryar," said resident Hla Bwe Sae. "They can't return home, so they're firmly based here."
With permission from Thai authorities, Kayan Lahwi with relatives in tourist villages can relocate from the IDP camps on the border, but most find it difficult to leave.
"Many Kayan Lahwi live here but few of them have ever been to Mae Hong Son town. Many don't venture outside the village," said Hla Bwe Sae.
He said that unlike Huay Pu Keng, Kayan Taryar does not attract many visitors, because of its smaller population and more remote location.
"The Thai government has opened a primary school for children in our village and there is also a medical clinic. Although we all live here, we don't speak Thai, so we rarely go outside the village. They do agricultural work in the surrounding mountains, and stay in the village," he said.
Now 30, Hla Bwe Sae left Demoso Township when he was 10 years old.
"I can't go back to Demoso and I don't know anything other than the village I live in on the Thai side. I'll probably stay right here until I die," he said.
Although Kayan Lahwi villages are promoted as tourist attractions, they do not receive any other support from the Thai government, said Saw Ae Sehun.
"We are portrayed as an ethnic group with interesting traditions for tourists. But our Kayan Lahwi kin who live on the border in Thailand are being exploited – they don't get any other rights or support," he said. "I often used to dream about returning to Myanmar, but since the coup it is impossible to go back."
Saw Ae Sehun said that despite not being able to return to Myanmar, he would do all he could to help any refugees who crossed the border and came to Kayan Taryar.
"If any ethnic person from the Karenni region comes across the border and asks for support, we will help them. If they need somewhere to live, we will give them a place to live, and if they need food, we will give them food to eat," he said.