A family in Pakkoku is offering disabled, elderly and unwanted animals a sanctuary to live out their days.
By HEIN KO SOE | FRONTIER
DAW Ohnmar Than's love of animals began at birth. Instead of being breastfed by her mother, she was raised on cow milk. She said it made her feel as though the cow was her natural mother.
Throughout her adult life she was a farmer in Pakokku Township, Magwe Region. Then, six years ago, when she was about 50, Ohnmar Than and her husband, U Kyaw Zaw, sold their farm and bought a 15-acre plot about 12 kilometres (7 miles) outside of Pakokku, on the road to Yesagyo Township.
They named it Metta Seintsan, and invited people across the country to send their unwanted or disabled animals to live out their days in peace.
Many have taken up the invitation. Today Metta Seintsan is home to more than 400 animals, of which cows and dogs account for about two-thirds. However, there are also large numbers of cats, ducks, pigs, geese, goats and rabbits. Two monkeys and a single stallion round out the list.
"Some animals can't work anymore because they are too old or they are disabled," Ohnmar Than told Frontier during a recent visit. "We want to save their lives and make sure they are peaceful."
Some of the cows have been rescued from a trip to the abattoir: many Myanmar object to the killing of cows, so they buy them before they are due to be slaughtered and send them to Metta Seintsan. Some of the dogs come from Bagan. The owner had to give them up because they were aggressive toward foreigners, Ohnmar Than said, adding that they live peacefully at their new sanctuary.
At first she and her family covered the park's upkeep out of their own pocket, but after a year they began to run low on money. Later they began inviting donations, with the local monks particularly supportive.
Those who sent the animals to Metta Seintsan also sometimes come and visit, and provide cash or in kind support to cover the animals' upkeep.
When Frontier visited, Daw Aye Thet Soe from Pyapon Township in Ayeyarwady Region was saying goodbye to 14 bulls.
"They used to live on my farm, but now I don't have to work because my two children are living abroad and send money back to support us. We can't care for the animals anymore so I decided to donate them to this park," said the 45-year-old.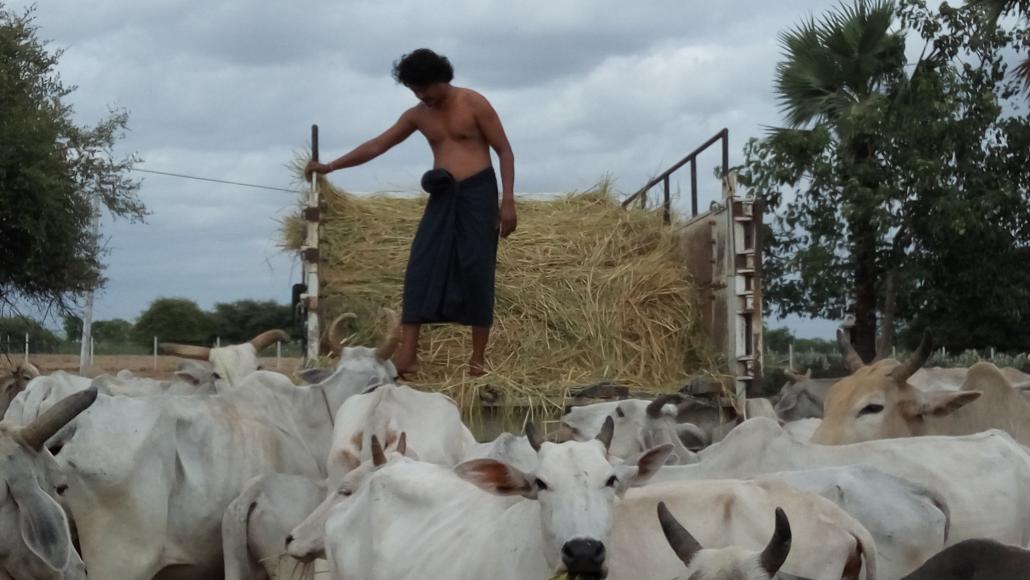 She initially heard about Metta Seintsan through a program on state broadcaster MRTV and then travelled to Pakokku to see whether it would be a suitable home for her bulls. She then arranged for Metta Seintsan to truck them from Pyapon to Pakokku.
This "pick-up service" is one of a number of operating expenses at Metta Seintsan. Ohnmar Than said she is sometimes able to find a donor to cover the transport costs.
Another expense is food, which Ohnmar Than estimates at about US$400 a month. About half of this is covered by donors.
The centre also employs 15 staff, who are paid K90,000 a month to look after the animals.
Given that some of the animals are disabled – 20 out of 150 cows have some form of disability – regular veterinary care is also important.
The district and township livestock breeding and veterinary departments provide medicine and check-ups every two months to ensure the health of the animals. They also advise staff on how to look after the animals, and if one is seriously ill, they will come immediately to provide treatment, Ohnmar Than said.
Pakokku locals said Metta Seintsan has become a notable landmark in their township.
"It's a very famous place around here," said motorbike taxi driver Ko Htun Win. "I've taken donors there a couple of times."
Ma Moe Moe, who lives in Pakokku's No 2 ward, said she sometimes donated to the centre.
"About three months ago I gave K10,000. Some animals there really need our support, because they are old or disabled," she said.
Ohnmar Than said despite the financial cost of looking after so many animals, she is determined to continue offering sanctuary to existing residents and newcomers.
"I don't care about the difficulties that we face," she said. "We'll never stop supporting these animals."