The short answer is no, and a plan to hold the first such event in the city has generated controversy among the artistic community.
By LILLIAN KALISH | FRONTIER
IF IT were not for an event that appeared on Facebook earlier this year, the issue of a biennale in Yangon would not even be on the minds of the country's contemporary artists.
Most artists are too busy exhibiting in Myanmar or abroad, applying for grants, and collaborating with embassies and arts organisations to worry about the logistical challenges of holding a biennale in the commercial capital.
But when Italian NGO Culture2All announced on Facebook in May their intention to hold a biennale, some Myanmar artists were quick to speculate about the show's intentions.
The biennale was advertised as a "pioneering exhibition" which "reflects upon the new systems that surround contemporary thought in Myanmar". The event is due to be held in the carpark at Junction Square on Pyay Road in November.
Culture2All president Mr Mauro Salvemini's idea for a biennale to feature 50 Myanmar artists came after the NGO arranged an exhibition of the work of 10 prominent painters in Milan last year. The group included biennale collaborator, Khin Maung Zaw.
The plan for the biennale includes raising funds for charity, with participating artists being required to donate one of their works to Culture2All to support efforts to combat malnutrition.
That was the plan at least, until artists fought back.
Many artists were angered by a number of issues, including the proposed venue for the biennale, its organisers and even the type of art to be displayed. Their biggest complaint was over the name of the event.
What's in a name?
Although the use of "biennale" made the event sound like any other foreign-run exhibition in Myanmar, in the art world, the Italian word carries special significance.
Since the inaugural Venice Biennale in 1895, the word has been understood to describe an international exhibition of contemporary art involving artists, curators and others from a range of artistic and professional disciplines.
Since then, cities around the world – from Shanghai to Sao Paolo – have hosted biennale events. In one sense, the existence of a biennale has been regarded as a marker of a country's economic development and political stability.
Holding a biennale requires local and international government and arts organisations to work together. The events need major funding support as well as access to heritage buildings or the construction of new exhibition spaces.
It usually takes years for a city to arrange a biennale. Plans were unveiled in Bangkok in May for the first biennale in the Thai capital to take place between November 2018 and February 2019.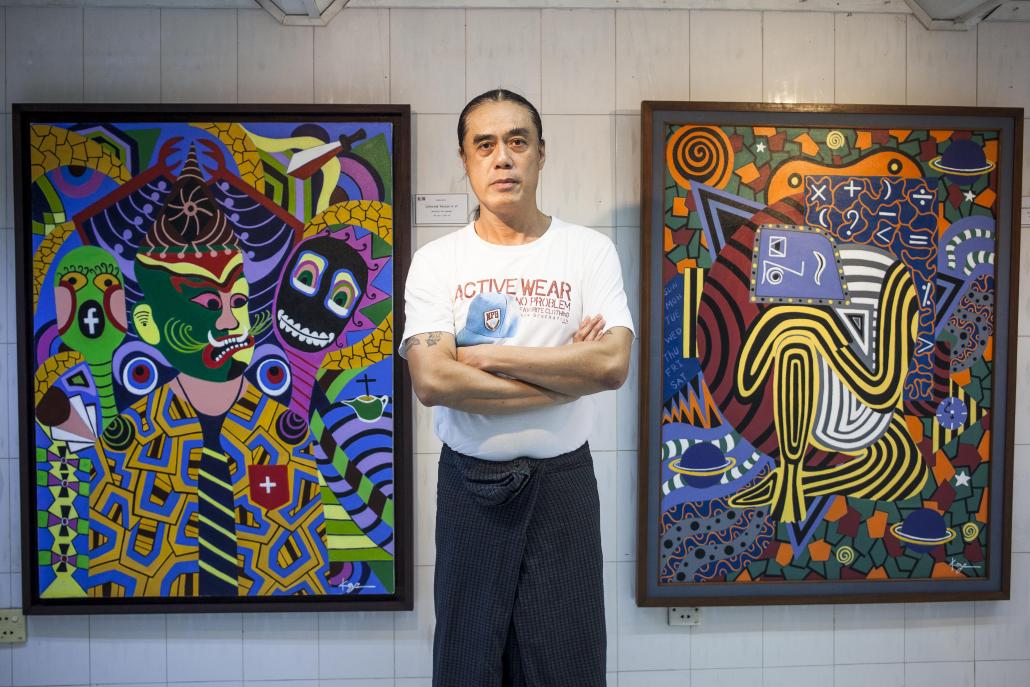 The proposed Yangon biennale was due to be held six months after it was announced.
Although not explicitly stated, most of the artists invited to participate in the event were painters, including traditionalists, a choice at variance with the cross-cultural and contemporary roots of a biennale.
In addition to being ill conceived, many artists believed the proposed Yangon event was too rushed. They were quick to air their concerns.
Soon after the Facebook announcement, painter and performance artist Htein Lin contacted the event's organisers by email to explain why he opposed the decision to call the exhibition a biennale. He also began discussing it with fellow artists on Facebook.
"If you call it a biennale, you have to know what that means in the contemporary world," he told Frontier. "Now in the region, people are watching what is going on in Myanmar."
Khin Maung Zaw, the artist collaborating with Culture2All for the event, has acknowledged disquiet about the use of "biennale".
"I know some artists are very upset by the name, this I can understand … That's why I urged Mauro and Culture2All to consider changing it. I know that if we have a biennale we need to prepare more," he told Frontier in May.
Htein Lin has declined Culture2All's offer to participate in the biennale. He said the decision that artists must donate one work without compensation to Culture2All and the organisation's apparent lack of understanding about the contemporary arts scene was an insult to the artistic community
"It is very difficult to give a piece of my work for free," he said.
"For me, it is not about the money but it is a kind of value from the person who takes our work," he said in reference to the biennale's organisers.  
Htein Lin was disappointed that the event was being promoted as Yangon's first biennale.
"They are bringing their Western curatorial concepts to an area they've never been before," he said.
Htein Lin was exasperated by a video on the biennale's Facebook page of what was purported to be a Myanmar dance performance that he quickly realised was a traditional Indian dance.
"I feel like it sucks," he said.
The politics of art
Together with other contemporary artists such as Aye Ko, Nge Lay and Phyu Mon, Htein Lin has been campaigning against the biennale plan.
The group sent a letter with 20 signatures to the Italian embassy calling for the name of the event to be changed.
On May 18, four of the artists met the embassy's deputy head of mission, Mr Matteo D'Alonzo, to discuss the letter.
Although the proposed biennale is independent of the embassy, the artists wanted the embassy to mediate to help resolve their concerns.
A week after the meeting, Htein Lin received an email from D'Alonzo which said that Salvemini "has agreed to adopt a name for his artistic initiative different from the initial 'Biennale'."
Frontier sought comment from Salvemini and others at Culture2All but they have yet to respond.
Since mid-May, the event has been promoted as the "YaB 2017/Art Park Expo". It is unclear if the "B" refers to "biennale", but the word has disappeared from the Facebook event page.
Although the controversy over the name seems to have been resolved, the situation has sparked a conversation among artists and arts administrators that focuses on two questions: Is Yangon ready for a biennale? Who owns the future of Myanmar's arts administration?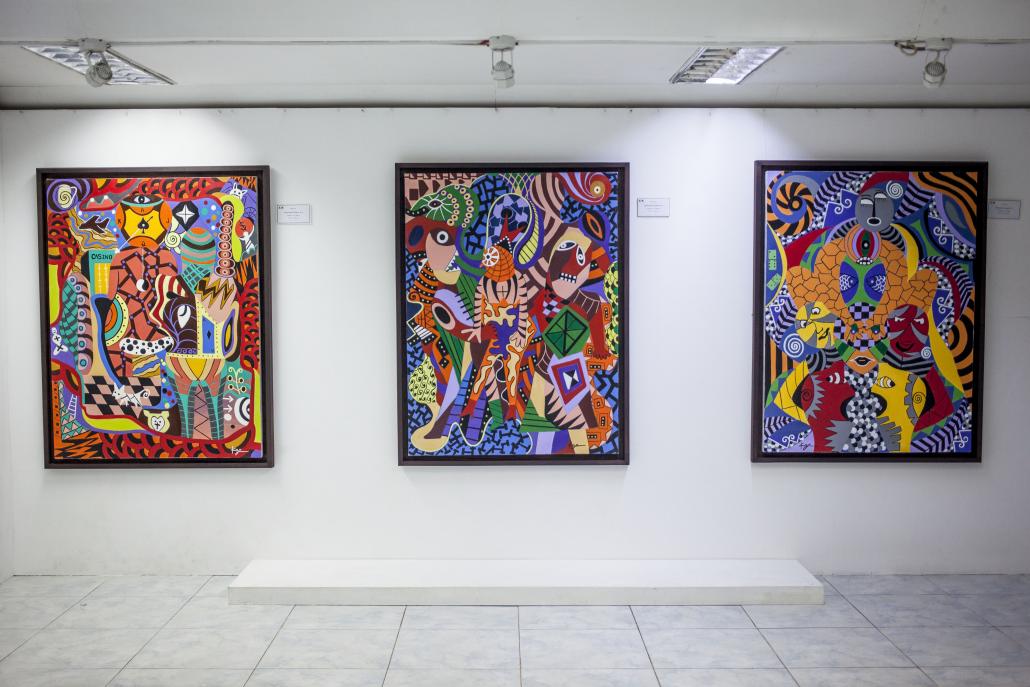 Myanm/art Gallery owner and Myanmar art historian Ms Nathalie Johnston believes it's too soon to be thinking about a biennale.
"Yangon is not ready for a biennale for one simple reason: there are no government institutions which support the arts, and a biennale is meant to be a collaborative effort between artist communities, local public institutions, and private institutions," she said.
As for the future of arts administration, Johnston has reservations about a continuing trend of foreign organisations funding and promoting public arts initiatives.
"Unfortunately, I think there are many more years of dictation [in terms of arts administration] from foreign organisations for the simple fact that they have money and autonomy to create large events, help the artists produce work, and provide space," Johnston said.
Although the biennale may be an example of a foreign organisation's overreach of power and failure to collaborate effectively with local artists, Yangon has enjoyed a series of public arts events run by overseas groups.
Events such as the Mingalabar! Festival, My Yangon My Home, and the opening of the Secretariat for an exhibition by German artist Wolfgang Laib, have provided opportunities for public interaction with arts in some of Yangon's historic landmarks.
Looking forward
In future, Johnston believes there needs to be a greater "sensitivity to and a deeper knowledge of the context" by arts administrators looking to curate events in Yangon.
Performance and visual artist Zoncy (Zon Sapal Phyu) welcomes the involvement of foreign organisations in the art scene as long as they respect and promote "how Myanmar artists think" instead of using them for "commercial reasons".
"Art is a diplomacy tool," she said. "Myanmar's art scene still needs foreigners while our government is in transition and we are very happy to collaborate with them."
Although the controversy over the biennale may seem to be an issue of concern only to the arts community, it highlights the way in which some foreign organisations try to exercise influence in Myanmar.
Htein Lin says an upside of the controversy is that it brought Yangon's often-fragmented contemporary arts community together to speak with one voice.
"In the end, it's a good thing," he said. "It's an opportunity to rethink where we stand and how we understand each other and our relationship between the embassies, arts, and ourselves."
TOP PHOTO: Htein Lin at his Yangon workshop in late May. (Theint Mon Soe aka J | Frontier)