Successive generations of Myanmar hip hop have pushed back against a repressive government and a conservative culture – at least, until the National League for Democracy came to power.
By CHARLIE ARTINGSTOLL | FRONTIER
Hip hop has always been political in Myanmar.
The pioneering hip hop group Acid released their first album, Sa Tin Chin (Start), in 2000, under the heavy hand of the government censorship board. Despite going against the pop-heavy sound in vogue in Myanmar at the time, the album was hugely successful. Acid, together with a regular collaborator, the rapper Sai Sai, are now considered the grandfathers of Myanmar hip hop, which has itself gone through multiple, distinct phases, or "generations", distinguished not just chronologically but also stylistically.
To most readers' ears, the songs of that generation may seem strange. While Western hip hop pioneered the technique of sampling older songs, the borrowing in early Myanmar hip hop might sound more like straight-up theft to Western ears. The beat for Acid and Sai Sai's "Kyi Nay Ya" (Looking at You), for instance, is the 2000 Eminem single "The Real Slim Shady".
As anyone who's wound up at a Myanmar KTV will know, this isn't unique to hip hop. Myanmar's so-called "copy songs", known in Burmese as "copy thachin", have been common for decades.
For one, early hip hop artists in the country lacked the equipment and know-how to make their own beats. But, like so much in Myanmar, the roots of copy thachin are inextricable from the country's political history. Jane Ferguson, a cultural anthropologist at the Australian National University, has argued that copy songs in the 1960s were, in part, a result of Myanmar authorities realising that, with government-approved Burmese lyrics, they might prevent international hits with subversive lyrics from gaining traction in Myanmar. They offered the enjoyment and distraction of Western music without any of the potentially damaging messaging. Political rallying cries in the West – "Blowing in the Wind" by Bob Dylan, "Imagine" by John Lennon, even "Winds of Change", by Scorpions (especially ironic, given allegations about the song's provenance) – were lyrically reconstructed in a way that government censors found conducive to maintaining power.
When Acid and Sai Sai's first albums were being released, government censors demanded song lyrics be submitted before publication, and anything overtly political – or anything the government found in any way offensive – was taken out. In this context, the saccharine sound and pop-influenced lyrics of that first generation of emcees are understandable. Most lyrics on the first album would be considered quite politically tame by Western standards – but then, they had to be. Impressively, though, these artists were still able to sneak through subversive messages by developing their own subtle, tongue-in-cheek slang.
Hip hop's second generation fought against these copy songs and love-story lyrics, producing original music with homemade beats and a harder sound. Artists like J-Me, Bigg-Y, G-Tone, Kyak Pha and YaTha, among others, were more willing to defy the censorship board. Releasing their first tracks around 2003, they found ways to work around the system. The group Myanmar Future Generations, for instance, created music outside the country and began releasing it digitally, such as 2003's Lu Nge, or Youth Anthem. The song featured lyrics like, "Where is the independence? / Generations have been damaged / the new generation won't stop", and it featured audio samples from the speeches of then-dissident Daw Aung San Suu Kyi, who was under house arrest at the time.
Their emergence coincided with General Khin Nyunt's announcement, on August 30 of that year, of the seven-step "Roadmap to a Discipline-flourishing Democracy". Nothing happened overnight, but it marked the beginning of two twin socio-political trends that changed the nature of Myanmar hip hop: the opening of the country toward liberal democracy and the outside world on the one hand, and the declining influence and eventual end of pre-publication censorship on the other.
By 2006, the third generation had emerged. Technology that reached Myanmar from that year onward – personal computers with CD writing capabilities and, later, internet access – allowed for faster and, more importantly, clandestine distribution of music. Prior to that, being a musician required a studio and a distributor – each of which would be held responsible if the military government disapproved of the tunes. These third-generation mixtapes side-stepped the censorship board, and gained a wide following. The lyrics became raunchier and more shocking: the songs of Jouk Jack, for instance, are littered with explicit sexual references. Hip hop began increasingly focusing on the baser urges of young males.
One notable exception to this trend was the group Generation Wave, formed in 2007. They produced an album in secret and left it at tea shops around Yangon. With tracks like "Wake Up" – a call for young people to join the pro-democracy movement – the music was overtly political in a way that conventionally released music at the time couldn't be.
But Generation Wave is the exception that proves the rule. It is interesting that, with the technology to side-step censorship from within the country, themes in Myanmar hip hop became less overtly political rather than more. With more freedom to speak, rappers seemed to be saying less. Ethnologist Ward Keeler has argued that rap in Myanmar should not be judged as "an empowering political voice" but instead as a way of expressing individual autonomy and the widespread anxieties of young men everywhere, albeit in a conservative Buddhist context. Similarly, the mixed media and performance artist Htein Lin argued in a 2010 essay that, while outside of Myanmar there was a "hope that [hip hop] was becoming a vehicle for change", in Myanmar it acted more as a "release valve" – a "tool to keep Burma's youth thinking about anything other than politics".
"You need to squeeze and release, squeeze and release," the hip hop artist U Thxa Soe told the New York Times at a concert in Yangon in 2010, insisting that live shows were part of the government's strategy for social control. "The government is trying to distract people from politics," another attendant, who the Times described as a Western-educated Myanmar businessman, told the paper. "There's not enough bread, but there's a lot of circus."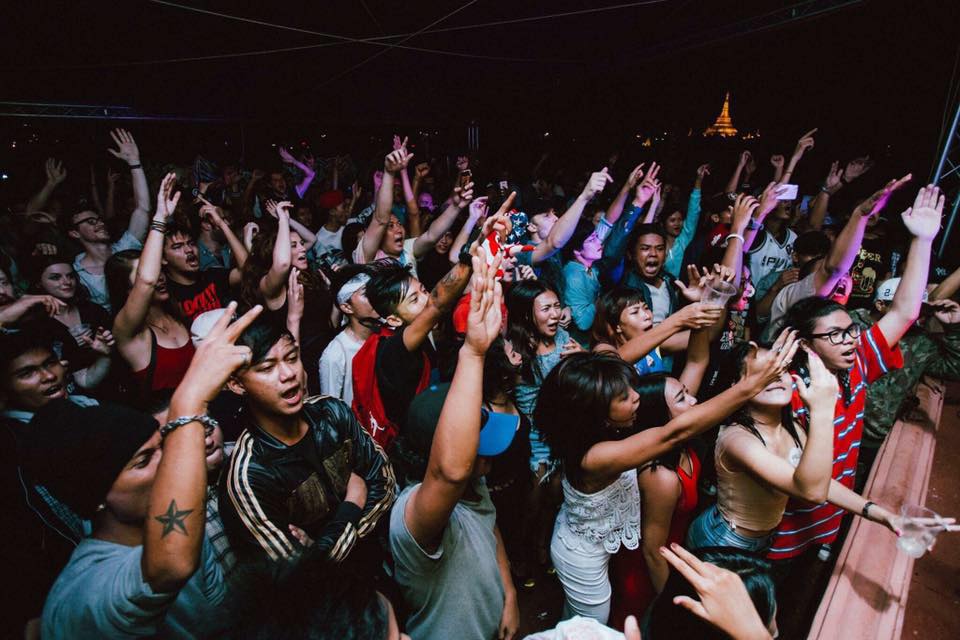 Perhaps providing such a release valve is itself a political act in conservative Myanmar. Naomi Gingold argued in The Economist in 2016 that these arguments "missed the larger story by focusing on lyrics and assessing by the standards of Western free speech". She takes a swipe at Keeler in particular, who she calls a "parachute academic" – just dropping into the country to publish an academic paper and leaving, without taking the time to fully understand the context (a jab that would be harder to lob at Htein Lin, a renowned artist born and raised in Myanmar and a six-year political prisoner of the military dictatorship).
There is an important distinction being made here between music that is political in its content and music that is political in its context. Myanmar hip hop can include explicitly political messages and themes in its lyrics, or it can inherently create a political influence subtextually, by its relation to the larger social context it exists in.
Before pre-publication censorship was abolished, government censors targeted not just lyrics but also musical styles it felt were too foreign or radical. A song about pretty girls and fast cars may not necessarily seem political, but releasing and distributing music in that style and genre was itself made into a political act. It'd be a mistake to miss this distinction between music released after making it past censors and music released beyond the censors' purview.
Keeler had "latched on to commercial rap full of bravado, girls, and parties, to conclude that Burmese hip-hop was politically irrelevant", Gingold wrote in 2016. But the "entire institution of Burmese hip hop – that it exists at all and thrives in popular Burmese culture today – is political".
Still, by the time of the 2015 election, the "entire institution of Burmese hip hop" had arguably already been co-opted. Anyone living in Yangon then will remember the National League for Democracy's election-year rap song, blasted ad nauseum from the speakers of campaign trucks throughout the city. As a sign of how comfortable rap in Myanmar has gotten with authority, that song included several famous first-generation emcees – including two Acid members – and the second-generation rapper G-tone.
Zayar Thaw, one of the original members of Acid, even won a parliamentary seat as an NLD lawmaker representing a Nay Pyi Taw constituency that year (he is not standing for re-election in November).
Another Acid rapper recently served as a judge on Myanmar's first series of The Voice, and Sai Sai is now a successful pop musician and businessman, with his own cosmetic brand. His face is plastered on billboards all over the country, selling everything from Samsung products to drinking water. His latest album, Sai Sai is Sai Sai, sells on Apple Music under the hip hop/rap category, but his latest trending track is called "My Girlfriend Is Cooler Than Your Girlfriend" – hardly subversive.
Meanwhile, one can't help notice what's going on next door. In neighbouring Thailand, young people are leading massive, pro-democracy protests against a military junta disguised as a democratically-elected government. Two years ago, before the protests really kicked off, a cooperative of young Thai rappers released the fiercely political single Rap against Dictatorship, with lyrics that could easily be applied to Myanmar, including the line, "The parliament house is the soldiers' play yard / the charter is written and erased by the army's boots."
This is not to say there are no political emcees out there today in Myanmar. Many of the winners of the Voice of the Youth – a national award sponsored by an INGO that "aims to empower Myanmar youth … and [engage] in constructive dialogue across societal, religious and ethnical divides" – are exactly that. Talented rappers like Lanbar, Zwe Thet Paing and Floke Rose, all previous winners, have a clear political edge to their rap. The Myanmar Times described Floke Rose's song "Education", which won the award in 2017, as a "staunch criticism of the state of Myanmar's schools and universities."
Still, it is true that no distinct, unified fourth generation of Myanmar hip hop has yet emerged to explicitly challenge the significant limits that remain on democratic governance and free expression. Most Myanmar rappers are still writing songs about pretty girls, fast cars and stacks of kyat.
Perhaps it is when oppression is at its zenith that the best political art is created. One can imagine that, had the reforms that began in 2011 not taken place, the inexorable rise of technology and a growing social unrest uneased even by limited reforms may have led to a much more aggressively political Myanmar hip hop generation today. When the machine has been dismantled, there's nothing much to rage against.
But the extent to which the machine has been dismantled, as opposed to renovated, is debatable. The infamous section 66(d) of the Telecommunications Law, which relates to online defamation and was enacted in 2013, is regularly used to silence dissent and imprison government critics. It's only one of several similarly used laws. Just last month, five students were arrested at Pakokku University in Magway Region for posting stickers around Mandalay protesting the world's longest-running internet blackout, which is still ongoing in parts of Rakhine State. They were charged under the Peaceful Assembly and Peaceful Procession Law for holding an unauthorised protest, and under sections 505(a) and (b) of the Penal Code for sedition. In four years of NLD rule, the government has brought at least 539 lawsuits against 1,051 individuals, according to the free speech group Athan, using laws it says are "repressive to freedom of expression".
What is the role of art in all of this? Each musician, of course, is free to create as they wish, guided by whatever it is that inspires them. Choosing to turn away from politics is its own exercise of freedom. It is ironic, though, that the ruling party includes a rapper who made his name speaking out against censorship – and was even detained for his allegedly anti-government messages in 2008 – yet has used the law to silence so many of its critics.
It is even more ironic that contemporary hip hop seems to have little to say about it.