The development of contemporary art in Myanmar has been hampered by a paucity of curators, with most galleries asking artists to arrange, fund and promote their own exhibitions.
By MIN PYAE SONE | FRONTIER
ARTS reporters in Yangon have plenty of artists and gallery owners to interview, but one art world actor seems to always be missing.
Myanmar has been short on curators since the arts scene began a revival of sorts about 20 years ago. The word "curator" lacks a direct Burmese translation, and the role itself is little understood in Myanmar. Though attitudes are changing, the government and much of the public tends to view contemporary art as a novelty, with little precedent in Myanmar culture, and as an amateur passion where professional curatorship isn't required.
Those wishing to become curators – or to work with galleries exercising a degree of curatorship – have few options. The national universities of art and culture in Yangon and Mandalay offer a degree in "Painting" that asks students to memorise only a few select details of global art history while focusing on painting techniques.
Ko Aung Khant Kyaw, 23, who graduated from NUAC Yangon three years ago with a bachelor's degree in Painting and teaches Visual Arts at SKT (formerly Horizon) International School, participated in a group discussion at a workshop on curating hosted by the Japan Foundation last November in Yangon, which I attended. "I've been in many group exhibitions, but I have yet to participate in something I'm proud of," he said, attracting agreement from the assembled artists and gallery managers.
After the event, Aung Khant told me about the exhibitions held at NUAC for graduating students. "There were no curators there, just students, parents, and other relatives," he said. "Exhibitions in Myanmar are just for socialising; people come to drink, talk and enjoy themselves. Nobody even looks at the art anymore."
Government patronage of the arts, such that it exists, has done little to raise standards or increase public appreciation of contemporary art. In the 2018-2019 fiscal year, the government allocated more than K35 billion (US$24 million) to the Ministry of Religious Affairs and Culture.
Though most of this was spent on religious monuments and ceremonies throughout the country, the ministry is also responsible for funding the national universities of arts and culture and the National Museum in Yangon. However, the museum asks artists to donate works to its staid permanent display of contemporary art and curates just a handful of events each year, mostly about history and traditional culture.
With little help from the government, the contemporary arts milieu relies almost entirely on commercial galleries. Many of the owners of these galleries, who struggle to even pay the rent, see a curator as a luxury they cannot afford. Instead, they hand their spaces over to artists, or artist groups, to supply and display the artwork as they see fit, charging them rent and taking a cut of sales, and often leaving artists to do most of the promotion.
"We let the artists do what they want and do not interfere in any way; they are the ones who pay for our space," said one downtown Yangon gallery owner, who asked me to leave when asked if I could interview him and record his name. "No hard feelings, but you really should be asking bigger galleries, not me," he said as I reached the door.
However, a small number of talented curators in Myanmar have been behind a number of high-concept exhibitions in Yangon in recent years, which have taken place in large public venues like the Secretariat building rather than conventional art galleries. This rise in curatorial practice has been encouraged, directly and indirectly, by grants and funding from foreign cultural organisations in Myanmar.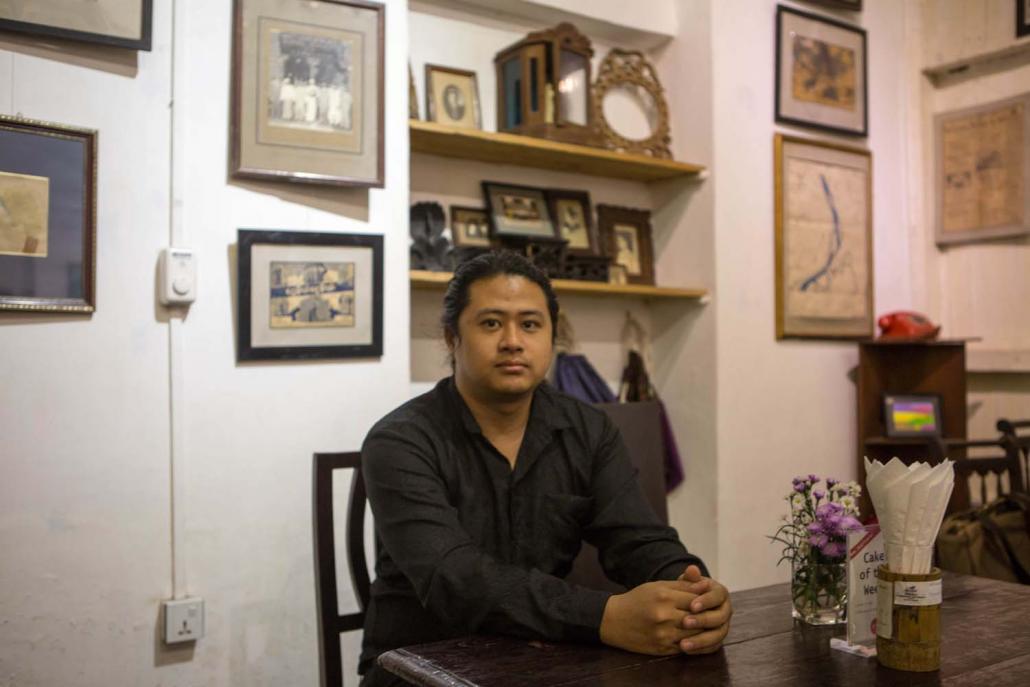 Sai Htin Linn Htet, 28, is a Yangon-based curator, multimedia artist and human rights activist whose work addresses the themes of empathy, pollution, gender equality, identity and discrimination. He is also programme manager of the biennial My Yangon My Home: Yangon Art & Heritage Festival and co-curated the July 2019 edition, called "Building Bridges Yangon", with Indian curator Ms Ushmita Sahu at the newly renovated, colonial era Tourist Burma Building opposite the Sule Pagoda.
Helped by a team of volunteers, Htin Linn Htet was responsible for curating many of the Myanmar artworks featured in the international exhibition. In an email interview, he described the challenge of developing an exhibition design "that is suitable to the venue" while also providing room for "the voice of the artists".
Htin Linn Htet, who has now worked with several foreign curators, sees it as his role to advise them on the tastes, values and sensitivities of the Myanmar public, making space for stimulating foreign subjects and styles while making sure local culture is represented.
However, despite frequently conservative and dismissive attitudes from the public towards contemporary art, he insists that "things are rapidly changing here".
"We are going no way but up," he said. "I'll continue to promote emerging artists, stepping between their artworks and the public, as a mediator, curator, and a friend, as long as there is a need for one to materialise their unrealised projects."
Yet, Htin Linn Htet says the dividing line between professionalism and amateurism in Myanmar art remains thin. Artists, who have to depend largely on self-promotion, have little recourse to feedback or guidance from galleries and other institutions. However, River Gallery, which opened in downtown Yangon in 2006, bucks this norm.
"Rather than telling the artists what to do, we focus on helping the artists articulate the 'story' behind the artwork if they need assistance on that," said River Gallery owner Ms Gill Pattison, a New Zealander who has been living in Yangon since 2002. "The language of art does not always readily translate into regular language, and sometimes we can help the artists find a way of conveying more of their thoughts and feelings about their works."
Pattison and River Gallery work with some of the most internationally recognised Myanmar artists – most of whom have experience working with overseas curators and sometimes curate their own shows. Pattison said that when she was planning to open River Gallery in 2005 as a professionally curated gallery in the international mould, "I really didn't have much idea of whether it would be successful, whether anyone would visit, or whether anyone would buy." 
However, it helped that she knew many talented artists.  In 2004, Pattison had organised the now defunct Myanmar Contemporary Art Awards in cooperation with Myanmar Times. "The artists entrusted me with their works at the outset, and then I think we repaid this trust through professional, transparent business practices and we did our best to promote their careers," Pattison said.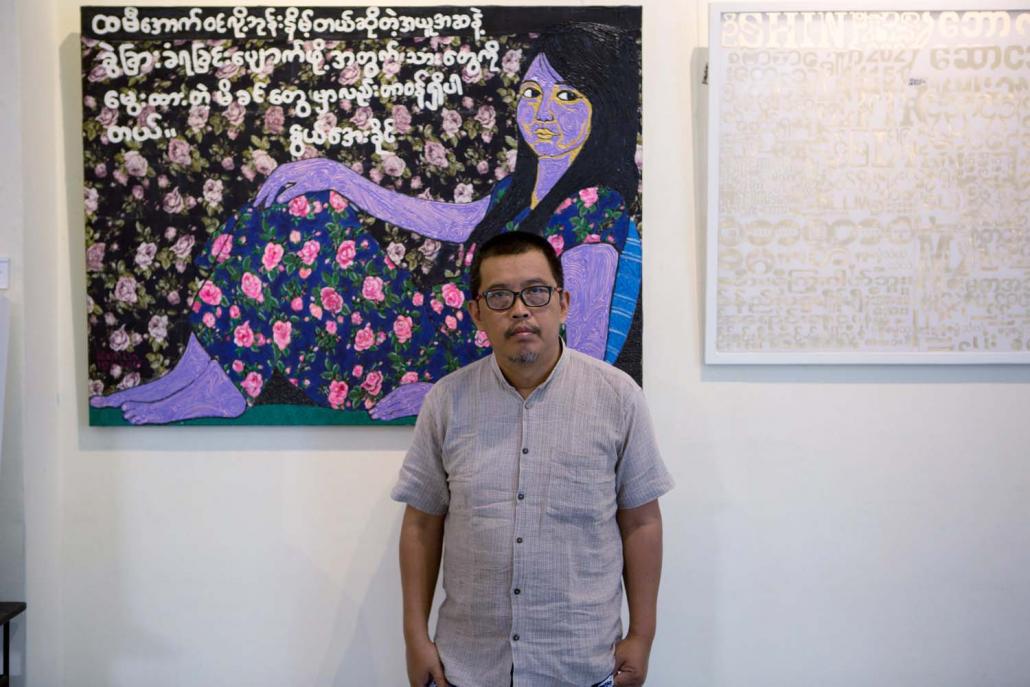 An artist often featured at River Gallery is U Htein Lin, 53, a star in Myanmar's contemporary scene, who has a satirical and sometimes controversial approach to social and political issues. His "Skirting the Issue" exhibition at River Gallery last year tackled misogynist taboos by featuring canvases made from htamein (a women's longyi), which are traditionally seen as polluting for men and are handled only by women.
When I interviewed Htein Lin at a Yangon teashop late one evening in early January, he began on the subject of curatorship by talking about his six-and-a-half years as a political prisoner.
"In prison, I painted and even organised a solo show there for the prisoners. I suppose you can call it my first time curating," he said. It was a risky venture because organising such an event in prison was prohibited.
"Dealing with the guards and prisoners for space and logistics was very hard," he said. "First of all, it isn't an art gallery, it's a prison. Second, there's the problem with the timeframe and finding the opportunity. Third, how we would invite people to my show."
Htein Lin hand-drew the invitations on used snack packets and distributed them around the prison, a task made easier by the fact that inmates in each block of 15 cells had to change cells every day. "We asked a single-cell inmate to let us use his cell when everyone was getting ready to switch cells. The cell was nine feet by nine feet," he said.
Htein Lin and some fellow inmates had to negotiate with the guards and arrange times when occupants of the 15 cells could view the works, which were displayed on torn plastic bags attached to the walls with toothpaste. When the day finally came, inmates showered, dressed up and visited the cell to view Htein Lin's works.
Soon after Htein Lin's release in 2005, one of his close friends, fellow artist Daw Chaw Ei Thein, curated and displayed a selection of the hundreds of works he created in prison. The exhibition at her house in northern Yangon, near the airport, ran for only one day because it attracted the attention of plainclothes intelligence officers.
When he returned to Yangon in 2013 after living in Britain for seven years, he started to curate exhibitions using ideas and curatorial principles gleaned from galleries in London, Paris and elsewhere. "A proper exhibition should make you feel and think differently about the things you saw after you leave," he said. "That's the curator doing their job."
TOP PHOTO: Artist Aung Khant Kyaw at River Gallery in downtown Yangon.