A shortage of women officers in the Myanmar Police Force is hampering its ability to investigate sexual crimes and human trafficking but recruitment is a challenge, partly because of rules favouring men… and a lack of changing rooms in some stations.
By KATRIN SCHREGENBERGER | FRONTIER
MYANMAR POLICE FORCE is recruiting more women as it makes gradual progress towards a government goal set in 2014 of having women officers comprise 25 percent of its ranks by 2030.
MPF, part of the military-controlled Ministry of Home Affairs, has about 90,000 personnel, of whom only about 7,000, or about eight percent, are women, according to the United Nations Office on Drugs and Crime.
That is an increase from nearly four percent in 2014, says the UNODC, referring to the year in which it began advising the ministry on gender equality and other reforms in the MPF.
The low number of women in the MPF is often a constraint when investigating crimes such as rape and human trafficking because of a cultural reluctance by female victims to discuss their ordeals with male officers.
But even if the proportion of women officers in the MPF continues to improve, attitudes towards their role also need to change, experts say.
"Female officers often get stuck in administrative functions," Mr Troels Vester, UNODC country manager in Myanmar, told Frontier. "There are very few frontline officers."
Vester said that this limited opportunities for women officers to be promoted and most remained stuck in the lower ranks.
Women officers were almost never assigned to night duties, "but this is when most of the gender-based violence and sex-related crimes happen", Vester said.
He said women officers rarely had opportunities to be involved in cases in which women were the victims even though they often wanted to investigate such crimes. Gender-based work limitations were deterring young women from joining the MPF and affecting the motivation of those in the force, he added.
"The mindset in Myanmar is that men are smarter and they should take the lead everywhere," said Daw Omma Rangmi, 60, who recently retired after serving for 34 years.
"Women are told to stay behind and it is hard to get into the frontline services, for which men are supposed to be better suited," she told Frontier.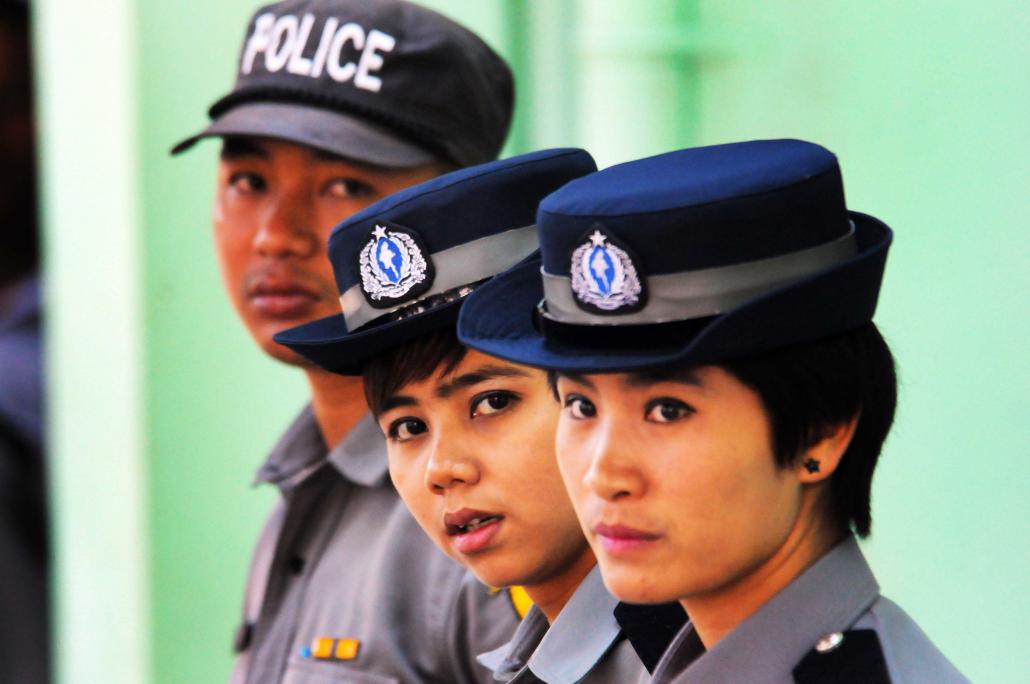 Omma Rangmi served with the Narcotics Investigation Special Forces in Shan State from 1986 to 2004, when she joined the MPF's Anti-Human Trafficking Unit, where she worked until 2015. She was one of the first women in Myanmar to be promoted to police colonel in 2015 and served in the Department of Transitional Crime until her retirement in January.
Her rise through the ranks was driven in part by a desire to prove wrong those who believed that women officers could not be as effective as their male counterparts.
"I wanted to put the dealers in jail, to get promoted, and I worked hard," Omma Rangmi said, recalling with a big smile the time she arrested some drug dealers.
They were shocked to be caught by a woman, she said. "They never imagined it would happen to them."
Omma Rangmi said she had been replaced by another woman, a police colonel, who has become the highest-ranking woman in the force.
She said the opportunities for women in the police force have increased. There were about 20 female lieutenants-colonel in the MPF and more women were being assigned to fieldwork and rostered to work nights, she said.
"Nowadays, there are a lot of chances for women but we need more of them in the police force," Omma Rangmi said.
A police lieutenant who was a trainer on an MPF reform programme said it was important to not only increase the number of women in the force but also empower them by providing the necessary training.
"In our society, there is the belief that women are weaker than men. I think that idea makes women lose their confidence," he told Frontier on condition of anonymity.
He said this lack of confidence created difficulties when working with women on certain jobs. "Women are not able to arrest a suspected person, because they do not dare to," he said.
He also claimed that night patrol was not a suitable role for women "because women should not be on the road at night".
Instead were useful for office work, investigation and crowd management, he said.
"Violent male protesters do not fight policewomen," he explained. At the 2013 Southeast Asian Games, when football matches took place in Yangon the authorities assigned female officers to conduct security checks on patrons because they believed male football fans would be more likely to cooperate with women than men.
A female police officer based in Mandalay, who spoke to Frontier on condition of anonymity and who has served in the MPF for almost 20 years, stressed the need for more women on the force.
"There are so many men," she said.
But in some sections of the Ministry of Home Affairs women are more prevalent. Ma Thida, a writer and former political prisoner who was incarcerated in Insein Prison between 1993 and 1999, said the prison guards in her ward were mainly female.
"At the time, most of the police women were middle aged, and some were even older," she told Frontier, adding that she saw an increasing amount of younger women prison guards around the time of her release.
Vester said there is no discrimination in the recruitment process, but gender bias is evident in what the MPF refers to as its "social rules", particularly one rule that restricts when women officers may marry.
"The intake rules in themselves are not discriminatory, but it is in the application of the social rules where problems start coming in," said Vester, adding that these were likely discouraging more women from joining the force.
Until recent years, the rules had stipulated that women officers were forbidden to marry during their first five years with the MPF; for men it was the first year of service. Omma Rangmi said the rules were eased in 2012, allowing women to marry after two years of service. The waiting time for men was abolished completely, she said.
While Vester said sexual harassment in the MPF seemed to be little different than in other countries, Omma Rangmi said she believed it was on the rise.
"There are more cases of sexual harassment today than 20 years ago because there are also more women in the force," she said, adding that she had never encountered any problems while working with men.
Vester said improving the working environment for women in the MPF would require changes to facilities.
"There must be separate changing rooms," he said, adding that a review was also needed of women officers' uniforms because the skirts they were required to wear on duty were too tight and restricted their movement.
Noting that there were no women trainers in the MPF, Vester said changes to the force's training institutions and procedures could also help to attract more women.
Last year, UNODC began providing training on responding to gender-based violence and has since trained about 100 officers.
The training, to continue this year, is being provided in cooperation with the United Nations Population Fund as part of its three-year Women and Girls First initiative, launched in 2016. The US$14.5 million (K19.4 billion) joint initiative is being funded by UNFPA and the governments of Australia, Britain, Canada, Finland, Italy and Sweden.
Vester said improvements to MPF training and workplace facilities that would help it to recruit more women would ultimately be a financial matter.
But the goal of an MPF with women comprising 25 percent of its officers would not happen by itself.
"There should be more outreach to schools and sports clubs and there should be more information about how it really is to be a women police officer," he said.
It is argued that bringing more women into the MPF would help to raise public trust in the force and lead to an increase in reporting gender-based crimes. It would also benefit the government by enabling it to demonstrate a genuine interest in addressing gender discrimination.
Officials from the Ministry of Home Affairs could not be reached for comment for this article.
'Women have to watch out for each other'
Police Colonel Omma Rangmi retired in early January after a 34-year career that established a new benchmark for what women can achieve in the male-dominated Myanmar Police Force.
The highest-ranking woman to serve in the MPF is delighted that there are more opportunities for women to advance through it ranks than when she joined in 1984, aged 26.
When Omma Rangmi was transferred from a narcotics suppression team to the Anti-Human Trafficking Unit in 2004 the appointment was so unusual for a woman that she wondered if it was the beginning of the end of her career.
"I asked myself, 'Is something wrong?'" she recalled, in an interview with Frontier.
The doubt was unnecessary as Omma Rangmi achieved remarkable progress in the MPF, blazing a trail for future officers.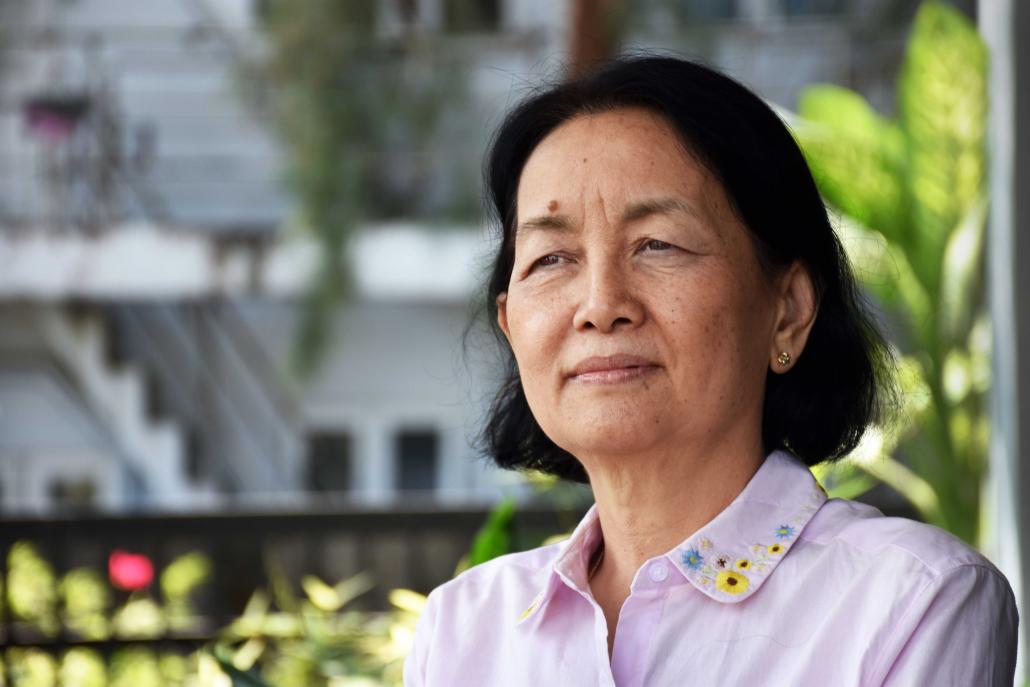 A highlight of Omma Rangmi's career was her promotion to police colonel in 2015, an achievement of which she, the daughter of a Tatmadaw officer, is very proud.
There were only a few women when she joined the force. Omma Rangmi said they were almost never promoted and usually assigned to perform administrative duties, but she was ambitious and eager to do what she regarded as real police work.
An impressive performance at the Police Training School in Mandalay resulted in Omma Rangmi first being assigned to a narcotics suppression role in Shan State, where she was raised.
She was authorised to carry a gun, which was unusual for a woman officer.
"I was very lucky, but I worked hard for it," she said. "I was frightened to go undercover because it was very dangerous, but I did it to prove to the men that a woman could handle that kind of role," she said, adding that drug dealers did not suspect that a woman in her 20s could be a police officer.
When Omma Rangmi was transferred to the Anti-Human Trafficking Unit in 2004 one of the reasons why she wondered if the move marked the end of her career was because she was no longer authorised to carry a gun.
It was a concern that soon faded as Omma Rangmi began devoting herself to fighting human trafficking, which could be emotionally difficult because of the suffering endured by victims.
Her first assignment was to travel to Yangon International Airport to meet a 17-year-old girl being returned from Malaysia where she had been rescued from sexual abuse. Omma Rangmi was shocked by the teenager's appearance. She said the experience had made her determined to help young girls who have fallen prey to traffickers and been sold into the sex trade.
"Women police officers are needed to investigate these cases," she said. "Women have to watch out for each other."
TOP PHOTO: Theint Mon Soe aka J | Frontier