Many who continue to work under the junta oppose the coup but are kept in their jobs by fear, family obligations and a belief they can do more good within the system than out on strike.
By EMILY FISHBEIN, ZAU MYET AWNG and VAHPUAL | FRONTIER
Daw May Thu is not proud to serve under the military regime. Quite the opposite: she despises it and fervently prays it will fall. Yet while she seethes with resentment and shame, she continues to serve in her position at the Ministry of Home Affairs in Nay Pyi Taw.
"It's not wrong to think of me as a coward, because many people are so determined and made bold decisions to join [the Civil Disobedience Movement]," said May Thu. Along with others interviewed for this report, she is given a pseudonym to avoid reprisals.
"Sometimes when I see [social media] posts that criticise non-CDM people, I start to sweat. My whole body becomes warm and I feel so ashamed," she said.
Since the February coup, hundreds of thousands of civil servants have gone on strike throughout the country. The strike is one element of the CDM, which includes boycotts of military-linked companies and their products, and other activities aimed at disrupting the junta's efforts to consolidate control over the country. The CDM has caused serious disruption to healthcare, education, banking and transport services, and cracks are also showing in the police, local administration and other sectors.
As the regime suspends contracts, issues arrest warrants, evicts the families of public servants and hunts down those refusing to report to work, CDM participants have earned strong support domestically and internationally. Underground funding networks have raised hundreds of thousands of dollars to support striking workers, and in March, the CDM was nominated for the Nobel Peace Prize.
The Committee Representing Pyidaungsu Hluttaw, comprised of lawmakers ousted by the coup, endorsed the movement within weeks of the first strikes, and in March said it would guarantee that people who joined the CDM could return to their posts under a future civilian government. The following month, the CRPH-appointed interim National Unity Government, which is serving in parallel to the regime, announced that it would use funds donated to the CRPH to pay the salaries of striking civil servants.
Meanwhile, those who have stayed in their posts have faced social punishment, a strategy of naming and shaming people connected with the military or supporting the regime. As the military's acts of terror have increased in frequency and violence, hostility towards those who are not participating in the CDM has only grown.
At times, anger towards these individuals has turned violent. On May 4, Myanmar Now reported a series of explosions at a court, education office, and public hospital compound in Magway Region's Myaing Township, with residents attributing the blasts to CDM supporters, and on June 2, Democratic Voice of Burma reported that a bomb exploded at the house of a non-CDM teacher in the town of Mogok in Mandalay Region.
Frontier interviewed five civil servants who chose not to join the CDM. All said they had opposed the coup and contemplated joining the movement, but had decided to stay at their posts for reasons ranging from concern for their families, fears for their safety and loyalty to like-minded colleagues. Some also thought they could do more to help the people by continuing to work rather than going on strike or resigning.
May Thu said that if, as she expects, the junta eventually falls, she and other non-striking colleagues will be prepared to accept any censure or punishment for their choice.
"When the [civilian] government wins, if CDM people point their fingers and laugh, we will happily leave our office," she said. "All I want is for the coup to fail and the CRPH to win."
"If they ask us to leave in humiliation … we will not hesitate to do so."
'Becoming like Pyongyang'
On the day of the coup, May Thu and her colleagues were called to a meeting and told that as civil servants they must continue to do their duties regardless of who was in power.
"The majority of my colleagues, maybe two-thirds, were disappointed to learn about the coup. On that day, we weren't motivated to work anymore," said May Thu.
For a few weeks, however, some hope lingered that the protests would succeed and military rule would be short-lived. May Thu and like-minded colleagues joined the nationwide evening ritual of banging pots and pans to symbolically "drive out evil".
They also watched with excitement and admiration as others left their posts. Most did this by resigning rather than going on strike, due to fear of arrest, although May Thu said this has become less common in recent weeks because the regime has started denying resignation requests.
"Many of my colleagues couldn't stand it anymore and decided to resign not long after the coup … We just watched them and respected them for their decisions," she said.
But as the days passed, her optimism faded. Shots were fired at an apartment where people were banging pots and pans, and the practice gradually stopped in her compound. May Thu watched as the CDM's momentum in her office also fizzled out. "At first, it seemed like the CDM was going to succeed, and many people were planning to leave, but for so many reasons, some of us changed our minds," she said.
Life for civil servants in Nay Pyi Taw has also grown increasingly regimented. "They started to order us to do things that we didn't want to do," May Thu said. She and her colleagues are required to inform the authorities about visitors to their dormitories, for example, and now have to sign in twice a day at the office. They have even been ordered to buy "low quality" cloth for their uniforms at a "high price" from a military-run enterprise and sew them according to detailed specifications. "It starts from how many buttons we can sew and if we change it a bit, it can cause problems," May Thu said. "We must follow their instructions exactly."
"We joke among ourselves that our place is becoming like Pyongyang," she added, referring to the capital of North Korea, a totalitarian dictatorship.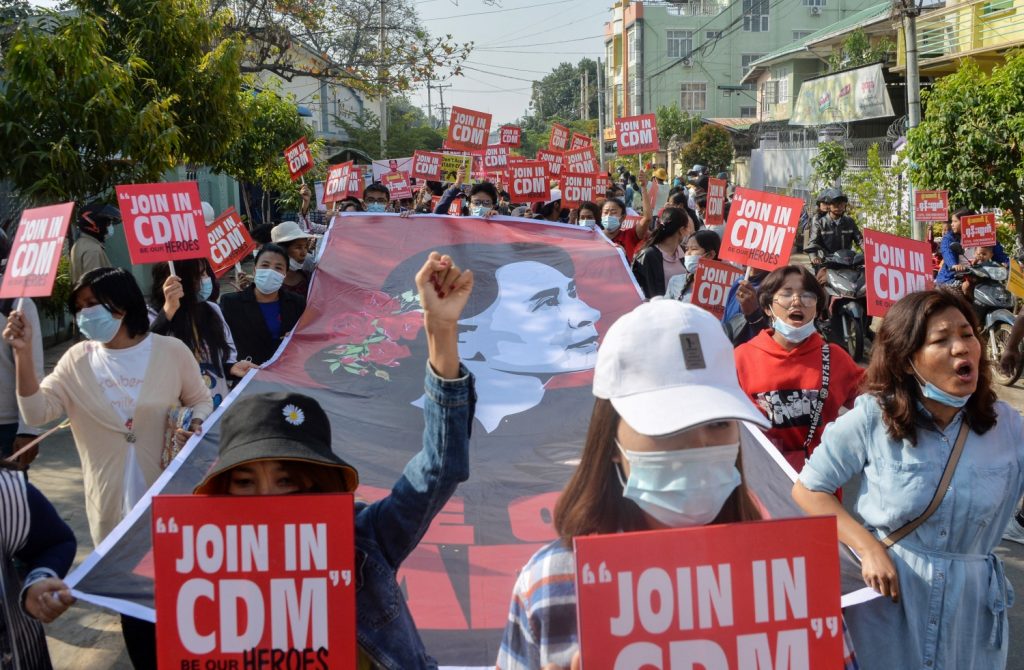 Camaraderie with her colleagues has helped her cope with the situation, but despondency often overwhelms May Thu.
"We don't feel like doing anything at the office. Every day, we have to sit and read [the regime's] orders. We know they will bring nothing good for the country … We just want to cry."
May Thu reached a breaking point during the Thingyan holiday in mid-April, when she and her colleagues were required to participate in traditional Myanmar dancing on a stage at a military-run event.
Some feigned stomach aches, but the ruse was unsuccessful because they were unable to present a doctor's certificate. "You could count with one hand those who really enjoyed celebrating Thingyan," said May Thu, who broke into tears when describing the experience. "We had to dance, despite our sadness."
After Thingyan, she called her parents and told them she was coming home, but changed her mind after speaking with female colleagues. "We all live together as a family," she said. "I don't want to break our relationship."
May Thu also believes that leaving her post could do more harm than good. "If we joined the CDM and left the office, military staff would surely replace us," she said.
"I know that there are many people who will say, 'You decided to stay, so why are you complaining?' … If I were them, I might say the same thing to non-CDM people. Nonetheless, I still hope there's some people who'll understand our choice and sympathise with us."
Safeguarding families
Family considerations are a powerful reason why some civil servants have not joined the CDM. "[My mother] worked really hard so I could become a doctor," said Dr Paing Htoo, who works at a public hospital in Kayin State. He supports his single mother and a younger sibling, who would have no income if he were detained.
More than 150 health workers have so far been arrested for joining the CDM, and the junta has issued arrest warrants for 400 striking doctors, according to the Humanitarian Data Exchange. "I consider my family more than myself," said Paing Htoo. "I'm worried that if I join the CDM, I might get arrested and it would break my mother's heart."
Paing Htoo also believes he can help his community by continuing to serve patients, especially the elderly and poor.
"I completely agree that the coup is an injustice," he said, "but most people here depend on the services [my hospital] provides. By continuing to work here, I can give a little help to those in need."
Although he worries about facing harassment or threats for his decision not to join the CDM, he hopes his integrity will protect him. "According to my [Buddhist] religion, if you do good things, merit can save you from danger," he said.
High CDM participation in the education sector prompted the regime to suspend more than 125,000 CDM teachers throughout the country in May, but some in the profession have felt unable to join the mass strike. Although Roi Ja, a primary school teacher and single mother in Kachin State, was upset about the coup, she decided not to join the CDM because of her family responsibilities. "Of course, I would prefer to work under the previous government than the military," she said. "I really wish the coup would fail. I would definitely join the CDM if I had another secure job and received enough to support my children."
With arrest warrants out for more than 200 teachers, fear of arrest also deterred Roi Ja from going on strike. "I would have to be alert all the time," she said, adding, "I couldn't easily relocate [and go into hiding], since I have a big family and other responsibilities."
Fearing social punishment, however, she has hidden her decision from her colleagues who are in the CDM . "I feel guilty and ashamed," she said.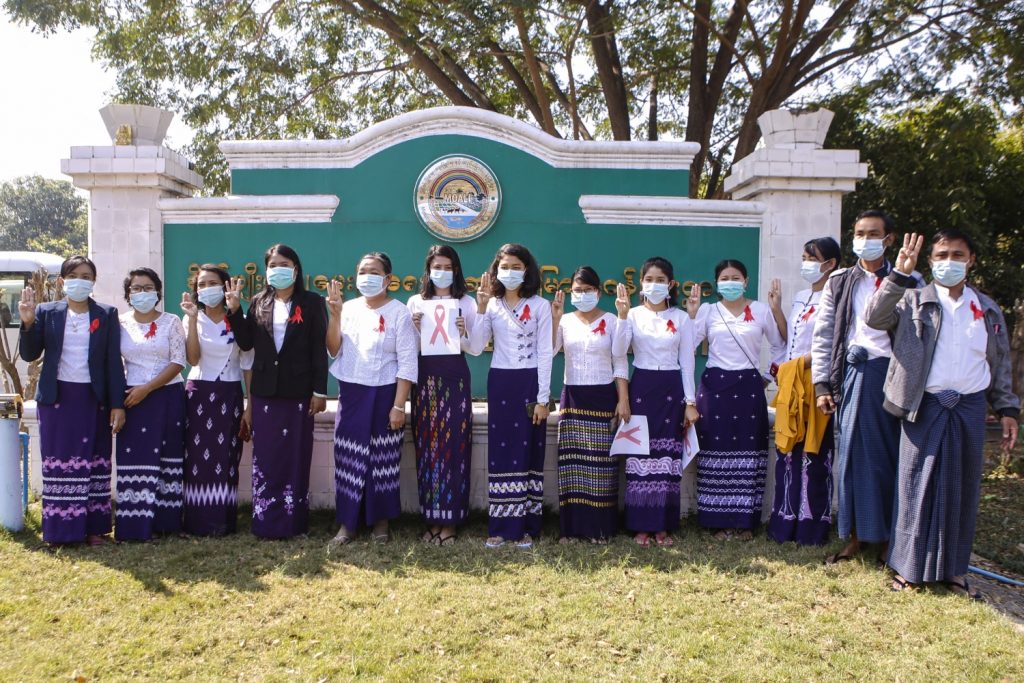 U Kaung Myat, an election official who asked that his location not be revealed, became the sole income-earner for his family of four after his wife joined the CDM. He worries about being dismissed from his post should he also join the CDM, but also fears being promoted should he stay in his role. "If I am offered [a promotion], it will be the hardest decision … I will hesitate because many people have given their lives," he said.
Like many Union Election Commission staff across the country, he was detained shortly after the coup when the junta pressured election officials to back its unsubstantiated voting fraud claims, in an effort to discredit the National League for Democracy's victory in November's election.
Having spent more than a month in custody, Kaung Myat fears being arrested again. "I was abducted once. I don't want to experience it twice," he said.. "If I was single, I could run and hide somewhere, but I have two children and my wife is pregnant."
Fighting from inside
U Kyaw Kyaw, a police officer in Chin State, said his work had become more dangerous since the coup but he had resolved to remain in his job. "I don't feel safe, because people's reactions to us before and after the coup have changed," he said. "I am especially worried about being attacked or shot when I go outside."
Civilians in cities and towns across the country have been arming themselves since late March to defend their communities from regime forces, and recently, unknown assailants fired tumi hunting rifles at the police station where Kyaw Kyaw works.
Although Kyaw Kyaw initially contemplated joining the CDM, the news that one of his colleagues who had joined the movement was arrested while trying to cross the border to India has deterred him, as has a sense of obligation to the oath he took when joining the police force. "Personally, I don't like the military dictatorship, but this is politics and I [have to] step aside from politics," he said. "We took an oath to the country under Myanmar's flag when we started working in the police force … We are just civil servants and we have to carry out our duties."
Ko Thu Rain, a CDM organiser who focuses on police defectors, said he had had to try new tactics when seeking to support holdouts like Kyaw Kyaw in resisting the regime
The CRPH declared March 31 as the deadline for civil servants to join the CDM, and whether or not this was decisive, Thu Rain acknowledged that the rate of people joining from within the police force was slowing. Although he estimated that 95 percent of police officers were opposed to the coup, he said many of those left felt too fearful to leave their post.
"All the risk-takers have already become CDM," Thu Rain said. " Now I cannot convince people to join the CDM." Instead, his support network is focusing on encouraging police who remained at their posts to fight the system from within, by using their authority to help people through acts of leniency.
"[Previously], people got involved in the CDM by running away from the office. Now, non-CDM people will get involved in a different way," he said.
Thu Rain hopes that this covert strategy need only be temporary, until ethnic armed groups and newly-formed People's Defence Forces take control of cities and towns that could serve as safe havens for defecting police and other civil servants. Once this begins, he predicts that a domino effect will follow.
"If one very strong police station [or force] goes against the military, then every police force in Myanmar will [rise up]," he said. "They are waiting for that time, but they don't know who is going to do that … They cannot take the risk if it is not a good time. They only have one [chance]"
Thu Rain said that every move from now on will need to be weighed carefully, and that past practises in the movement must be re-thought.
"The CDM people did their best [but] it is time to change the strategy," he said. "We have to approach it in a clever way; [only] then we can win this fight."