Local defence forces armed with homemade guns are inflicting heavy blows on the Tatmadaw, but some groups worry how long they can hold out without greater support from the National Unity Government.
By FRONTIER
Early on April 2, U Nay Win Tun's phone rang in the darkness of his home in Kani Township.
On the line was a contact in Thabyay Aye village, some 100km to the south in Yinmabin Township, elsewhere in the arid plains of Sagaing Region. He sounded panicked; two hours earlier, at 3am, he said, around 100 soldiers and police had descended on Thabyay Aye to arrest Ashin Thaw Pa Ka, a revered monk who had emerged as a leader of anti-coup resistance in the area.
A shoot-out erupted and four injured villagers were detained, the contact said, and the security forces were offering to hand them over in exchange for the monk. But the people of Thabyay Aye were refusing to do a deal and hoping they could stall the junta troops until reinforcements arrived.
Nay Win Tun didn't hesitate. He slung a tumi gun – a homemade, single-shot hunting rifle that is common in the area – across his back, placed two grenades he'd recently purchased from an ethnic armed group in a gunny sack, and hopped on his motorbike.
As the sun rose to his left above the Chindwin River and he drew closer to Thabyay Aye, Nay Win Tun saw many tumi-armed villagers – from Yinmabin and Kani as well as Monywa and Pale townships of Sagaing – travelling in the same direction. Shortly after he arrived, there were several thousand fighters gathered near Thabyay Aye, he said.
A three-hour pitched battle ensued, with the police and soldiers putting up fierce resistance in spite of the fighters massed against them. Eventually, weight of numbers won out, and they were forced to retreat. Witnesses and civilian fighters told Frontier that at least a dozen police and soldiers were killed and there were no civilian casualties. Frontier could not confirm these numbers independently, and Tatmadaw spokesperson Brigadier-General Zaw Min Tun could not be reached for comment.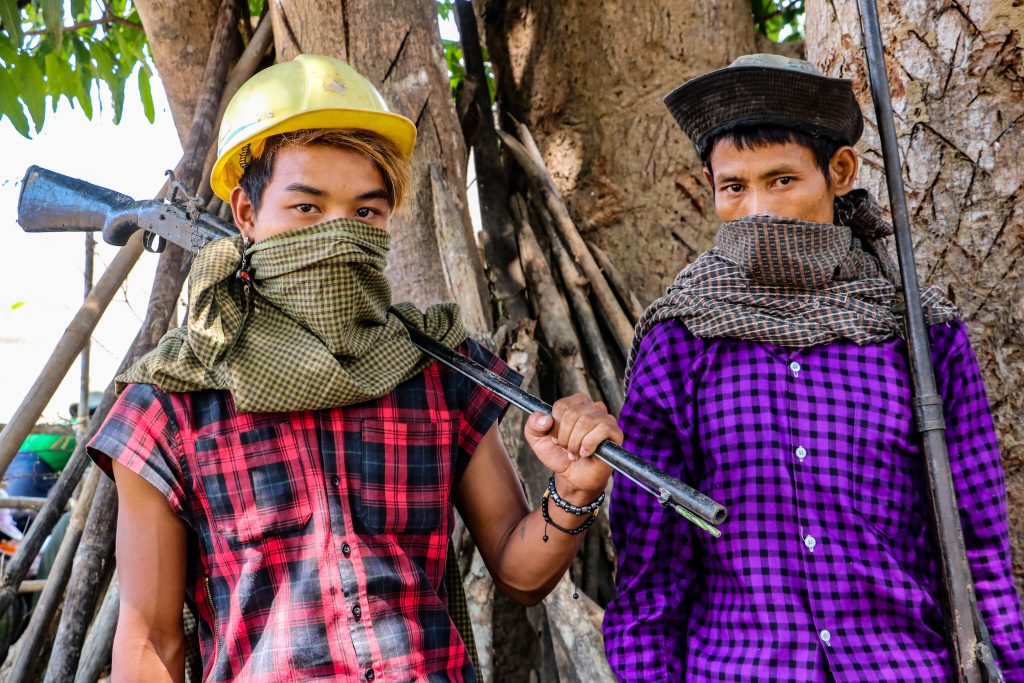 A grassroots revolt
For the villagers with their tumi guns, the battle at Thabyay Aye on April 2 was a morale-boosting victory; regime troops have not returned to the village since, and Thaw Pa Ka remains free.
Although they had started forming village defence forces a month earlier – around the time the junta stopped using water cannon and stun grenades against protesters and instead began firing live rounds – Thabyay Aye was their first major engagement with the security forces.
Around the same time, protesters also took up the fight further north in Kalay and Tamu, swapping their protest placards for tumi guns and other improvised weapons.
In the two months since, conflict between regime forces and civilian militias has escalated and spread across Sagaing Region and other parts of the country, including Mandalay and Magway regions and Chin and Kayah states.
It is largely a grassroots, bottom-up rebellion, in which villagers have spontaneously risen up with whatever arms they can find.
Around Yinmabin, the monk Thaw Pa Ka had been integral to establishing the village defence forces. Together with other community leaders, he started running basic combat courses for residents, who took part with the only weapons they had – their tumi guns.
Further to the north, Nay Win Tun had helped set up village defence forces across parts of both Kani and Yinmabin along the west bank of the Chindwin, opposite Monywa. Like Thaw Pa Ka, he had concluded that the situation demanded more than peaceful protest.
"I knew on the day of the coup [on February 1] that an armed revolution would be necessary, and I began acquiring as many weapons as I could," he said.
But Nay Win Tun is no battle-hardened insurgent. The 41-year-old father-of-two smiles often and is quick to laugh. For decades he worked as a timber and cattle merchant, rising early each day to tend to his herd. His voice is thick with the anyar accent that denotes a person who lives in upper Myanmar.
Nay Win Tun first used guns as a teenager; his father was a police officer, and together with his friends taught the young man how to fire revolvers and old carbine rifles. But Nay Win Tun insists most of his knowledge has been picked up recently, in the wake of the coup.
After the clash in Thabyay Aye, Nay Win Tun, Thaw Pa Ka and other local leaders realised their strength lay mostly in numbers; with only limited weaponry, it was important to work together. So, they formed a defensive alliance they call the United Villages Force, bringing together defence forces in 80 villages in Yinmabin, Pale, Kani and Mingin townships.
But at the same time, they also knew they needed to remain nimble; gathering in large numbers for extended periods would make them an easy target. They therefore appointed a leader for each participating village, and members were organised into 10-person units or cells. The larger villages have many cells, while smaller ones might have just a few.
"It's hard for the security forces to crack down when we are so dispersed. Staying in small teams also makes it easier to train recruits without being noticed," Nay Win Tun said, adding, "At the same time, it's like a big network – we're all connected. If they target a village, the forces from other villages can quickly come and surround them."
Still, the lack of advanced weapons remains a major problem, he said.
Just 25 kilometres from Kani, the Sagaing Region capital Monywa is home to the Tatmadaw's North Western Command, which nominally has dozens of infantry battalions at its disposal. The Tatmadaw also has artillery, helicopters and drones to monitor civilian forces. It's nothing like an equal fight.
Still, Nay Win Tun says the sheer number of people joining the civil defence forces meant there was an opportunity to hit the Tatmadaw hard.
"If each member of our people's forces had the same weapons as the Tatmadaw, we would seize all of Monywa District … we would win the revolution."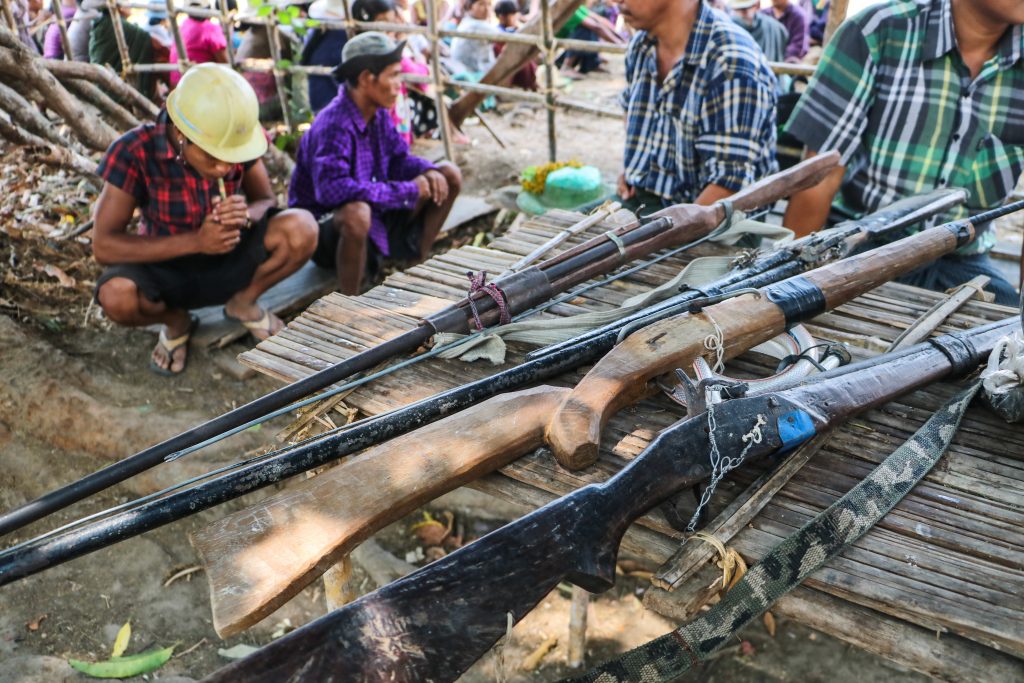 Seeking support
To improve their firepower, local defence forces are looking to the parallel government and ethnic armed groups.
While the defence forces formed organically, they have been given a tick of approval by the National Unity Government, which was formed in mid-April by the Committee Representing the Pyidaungsu Hluttaw. Although the ousted lawmakers that lead the NUG and CRPH are largely from the National League for Democracy, they have discarded the party's longstanding commitment to non-violence.
On May 5, more than a month after the fighting at Thabyay Aye, the NUG announced the creation of the People's Defence Force as a national resistance army and invited the village defence forces to come under its auspices. Many have accordingly pledged allegiance to the NUG and rebranded themselves as local chapters of the PDF, although there is so far little evidence of a centralised command-and-control system.
The NUG said that the PDF would later be integrated into a "federal" army together with ethnic armed groups, with whom they are coordinating informally in the meantime.
NLD lawmakers like U Myint Htwe, 45, who won the Sagaing Region Hluttaw seat of Ye-U 2 in the 2020 election, have played an important role in connecting the newly formed defence forces to the NUG and ethnic armed groups.
Myint Htwe said he and other lawmakers in Sagaing Region had been providing daily updates on the local situation to the NUG defence minister, U Yee Mon, a poet and former political prisoner who also won a seat for the NLD in last year's election.
"I've also been speaking with ethnic armed groups about how they can support the defence forces with weapons training," he said.
But he conceded that many local armed resistance groups that have sprung up in the Bamar heartland have found it difficult to access better guns and training.
"Since we are very far from ethnic armed organisations, we don't have any weapons except tumi guns. And even if we had enough money, it's really hard to buy light weapons, such as pistols," he said.
Even so, these Bamar groups have so far received more help from ethnic armed groups than the NUG.
Ko Aung Kyaw, a student activist and leading member of the Monywa General Strike Committee, said a local PDF has sent about 100 youth from the town to train with ethnic armed groups in border areas, and more have done so independently. Some have already returned, and are in turn training local fighters.
Still, he's hopeful the NUG will come through for them in future.
"There are indeed many challenges, but we've spoken with [NUG defence minister Yee Mon] about our need for weapons and other support, and the defence minister has told us that the NUG plans to support our needs," Aung Kyaw told Frontier on May 4, while declining to give further details for security reasons.
While they wait for weapons and training, Sagaing's civil defence forces continue to strike out at the Tatmadaw, with deadly consequences for both sides.
On May 5, villagers with tumi guns ambushed three boats of Tatmadaw soldiers as they travelled upstream on the Chindwin.
The villagers waited on both sides of the river near Upper Kin village in Kani Township before opening fire, forcing two boatloads of soldiers to flee and the third to abandon their vessel midstream, according to some of those who took part in the attack.
They said at least 10 Tatmadaw personnel, including the acting battalion commander Major Thant Sin Myint, were killed, while six of the tumi-armed attackers also died in the exchange. Villagers also later relieved the abandoned boat of the explosives on board.
The Tatmadaw waited six days to respond. On May 11, troops descended on Thamin Chan village tract, less than 10 kilometres west of Upper Kin – between the river and the Monywa-Kalaywa highway – where they believed the leaders of the ambush were living. Most of the men who were healthy enough to do so fled into the jungle, but soldiers arrested 30 people and established a base at the village of Thamin Chan.
The following day, soldiers also entered Zee Bin Dwin village on the Monywa-Kalaywa road, about 27km from Monywa, in an effort to find more of the participants in the attack. Residents said the soldiers shot indiscriminately, stole money and killed cattle and livestock. Around 40 people were arrested, including some women. "They treated everyone as though they were an enemy. We just had to run as quickly as we could before they arrived," said one resident of Zee Bin Dwin.
On May 22, meanwhile, the rebranded Kani PDF reportedly attacked a Tatmadaw convoy, forcing it to retreat, with casualties reported on both sides. Three days later, reports said an unknown group attacked five Tatmadaw vessels travelling upriver to Kani, apparently seeking to reinforce the local garrison, and the Kani PDF ambushed troops heading to Kani by road.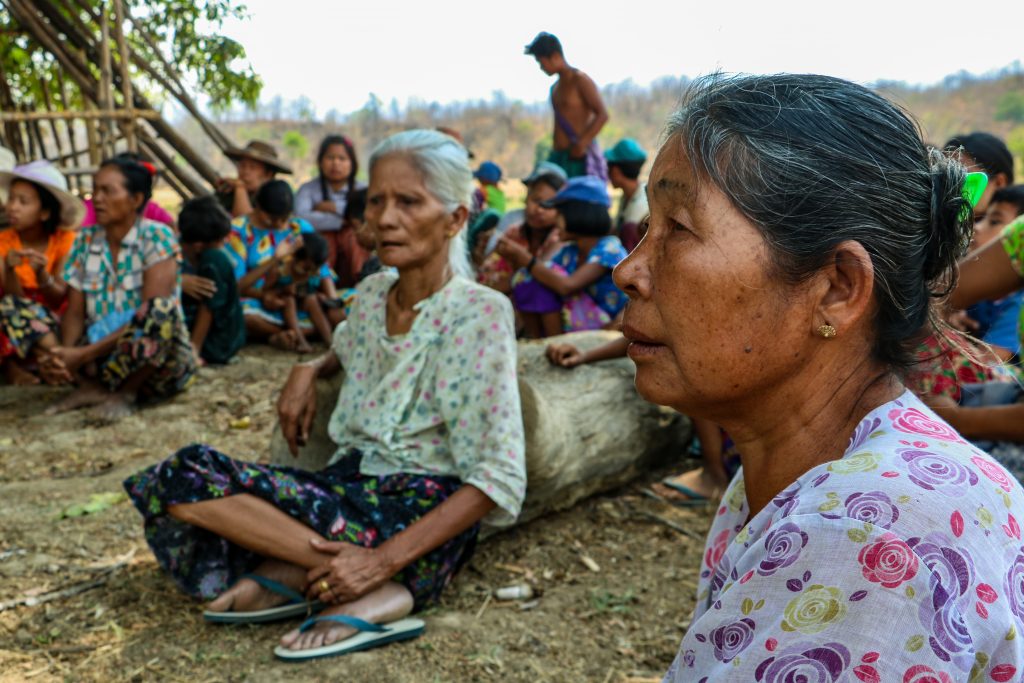 The cost of victory
About 100km north of Monywa, on the scenic road to Kalaywa, is a group of villages known as Seh Ywar Chaung.
The name means "Ten village corner", but there are now 14 villages in the Seh Ywar Chaung area, which is close to the remote and rugged Alaungdaw Kathapa National Park.
As in other areas of Sagaing, the residents of Seh Ywar Chaung quickly formed a defence force as the military began brutally crushing peaceful protests.
On April 17, they were told that a convoy of military vehicles was heading their way through the mountains. While around 3,000 villagers fled into the nearby forest, others prepared an ambush.
"Three [Tatmadaw] trucks came from Mingin at about 4pm. We had taken positions on both sides of the road to Kalaywa and … opened fire on the first truck," said U Hla Zaw Moe, 34, from Htantabin village, part of Seh Ywar Chaung.
He and several other fighters told Frontier that about 2,000 people took part in the attack – about two-thirds of them armed with tumi guns and the rest with crossbows and slingshots.
They claimed to have killed at least 30 Tatmadaw soldiers and destroyed one truck, while suffering just one loss themselves.
By about 7:30pm, the villagers had retreated into the forest, while the Tatmadaw convoy established a post nearby, Hla Zaw Moe recalled.
The next day, the defenders, although exhausted from the previous 24 hours, attacked the convoy again. But just minutes after they launched their offensive, four additional trucks of troops arrived from Mingin. Following a three-hour battle, in which Tatmadaw soldiers fired mortars and rocket-propelled grenades, the civilian forces were left with little choice but to retreat.
The two days of fighting left three villagers and around 40 Tatmadaw soldiers dead in total, according to members of the defence force. Frontier could not confirm the numbers independently, and the Tatmadaw has not publicly acknowledged the attack.
Among the locals who died was Ko Aung Zaw Oo, 29, who had proved himself in a previous battle. On April 16, the day before the fighting began in Seh Ywar Chaung, he was involved in a separate clash with the Tatmadaw in Yar Gyi village tract, about halfway between Seh Ywar Chaung and Monywa.
Aung Zaw Oo was injured and detained by Tatmadaw soldiers on April 17. Three days later his body was found in the forest; he appeared to have been stabbed to death. He left behind a wife, Ma Nwe Kyi, and two sons, aged two and seven.
"He told me he was going to fight [in Yar Gyi] and said if he survived, he would return," Nwe Kyi said. "He called the next day at 4am, before the fighting began [in Seh Ywar Chaung], saying he was worried about me and the kids. It was the last time I spoke to him."
Nwe Kyi spoke to Frontier at a ceremony to honour the fallen fighters. The event was organised by Ma Cherry, a leading member of the Monywa General Strike Committee, and included a donation for those who had been forced to flee their homes because of the fighting. Cherry, a prominent activist who is wanted by the junta, held Nwe Kyi's hand throughout the event, consoling the widow as she fought back tears.
"He was trying to build a wooden house for us," Nwe Kyi said of her husband. "He had already laid the foundation on our land … but since the economic situation is not good, we were spending all of our income on food."
Another victim of the fighting at Seh Ywar Chaung was Ko Aung Myo Oo, 23. He is survived by his wife of the same age, who is seven months' pregnant, and their six-year-old daughter.
"He never spoke about what he was doing," the widow, who asked not to be named, told Frontier. "I haven't even told our daughter that he is dead – she thinks her father is travelling somewhere."