Despite threats from the regime and a lack of secure channels, groups in Myanmar and overseas have lent massive support to striking public servants in the Civil Disobedience Movement.
By FRONTIER
It wasn't an easy decision for Dr Suu Suu, an assistant surgeon and postgraduate student at the University of Medicine 2, to join the Civil Disobedience Movement in the aftermath of the Tatmadaw's February 1 putsch.
"I'm not from a well-off family. My parents are retired civil servants who had to struggle so that I could study medicine. When I told them I intended to join the CDM they cried a lot," said Suu Suu, who asked that her real name not be used because of concern about repercussions.
As an assistant surgeon at a government hospital, Suu Suu's monthly salary is about K280,000, which she said was not enough to cover her living costs. "I economise as much as possible because I don't want to be a burden on my parents," she said.
The military regime has said it will only pay salaries to striking public servants if they sign a pledge to return to work, so the loss of her modest income has increased the hardship on her family.
But she has no regrets – and her stand against military rule has also brought offers of support. "My cousins have told me not to worry about the money and have said they will help me this month," she told Frontier in late February.
Suu Suu is far from the only striking civil servant facing financial hardship in the wake of the coup. Since medical personnel launched the CDM on February 2, a day after the military takeover, it has grown into a national movement embraced by public servants throughout the bureaucracy.
Although precise figures are not available, Frontier believes that tens of thousands of public servants have so far joined the CDM, despite repeated threats and some facing legal action. More than 300 of the country's 1,200 government hospitals are reported to have shut, and staff at about 40 universities and colleges have also joined the CDM. The strike spans almost every organ of state, from the Central Bank to the police force to the Department of Social Welfare. In some of the largest ministries, such as the Ministry of Electricity and Energy, the proportion of striking workers is well above 50 percent.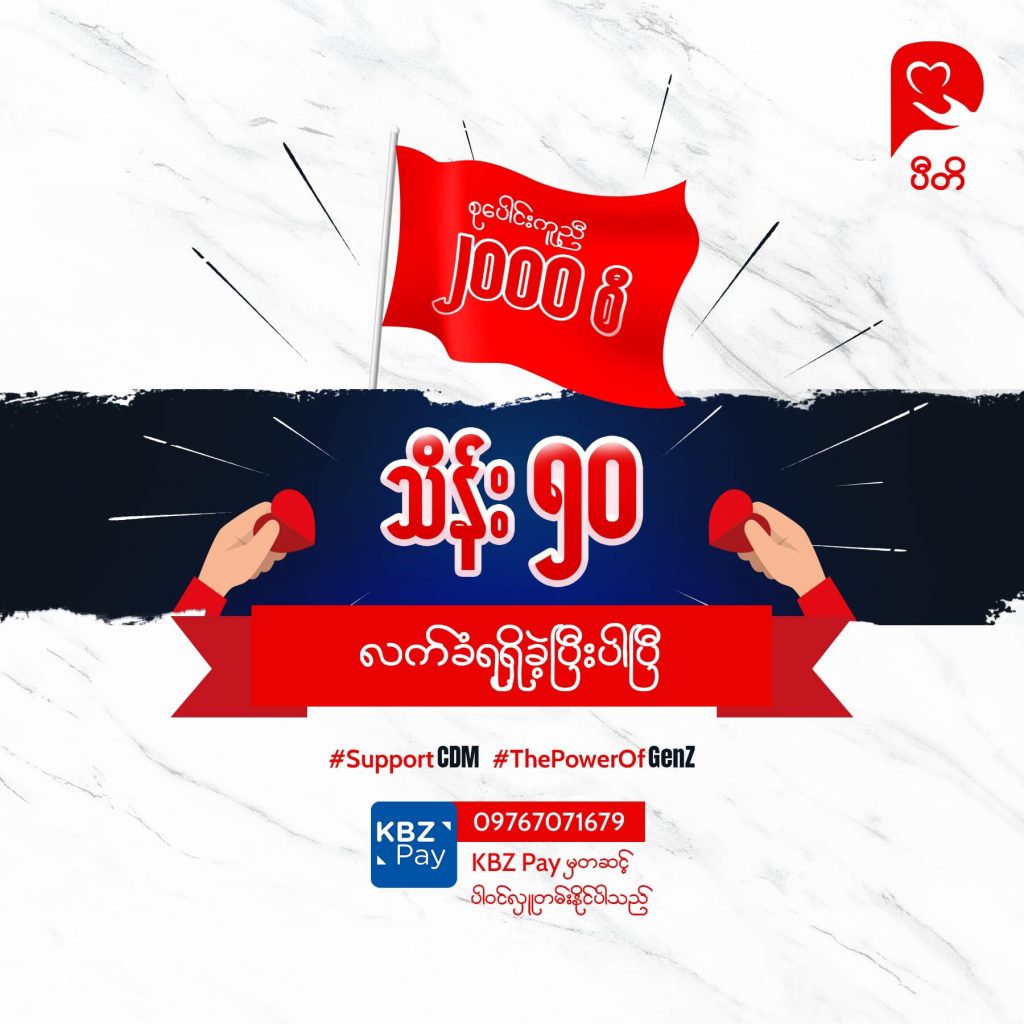 Support groups multiply
Not all can rely on help from family or friends like Suu Suu. If the movement is to be sustained, many will need financial support while they are unable to receive their salaries.
CDM support groups began emerging in mid-February with the backing of prominent politicians and celebrities, and have so far managed to raise large sums. Networks of Myanmar expatriates around the world have also set up support groups to gather donations and remit them to Myanmar.
One of these support groups is the "Civil Disobedience Campaign – Myanmar Engineers". A leader of the group told Frontier that the group had so far received donations of more than K50 million from within Myanmar and abroad, and was preparing to scale up its assistance, but more money was needed. "We have just collected enough money to help another 300 people, though we had received more than 600 applications [for assistance] by February 16," she said.
At least four other groups that support striking public servants – 21 Savage MM, 2/2021 Khaing Mye Thaw Let Myar(Holding Hands Tightly), PiTi (Joy), and Yone Htwet Soe (Let's Get Out of Here) – are also receiving large donations from the public.
A member of PiTi said the group had disbursed the equivalent of tens of thousands of US dollars to more than 200 civil servants, but it had received many more requests for assistance.
PiTi has since launched a fund-raising campaign called "Together let's share K2,000 each" and donations can be transferred to its KBZ Pay account or through its social media page. So far, they have received more than K5 million, but are seeking to raise more through various channels so they can support an additional 600 striking workers from the education sector.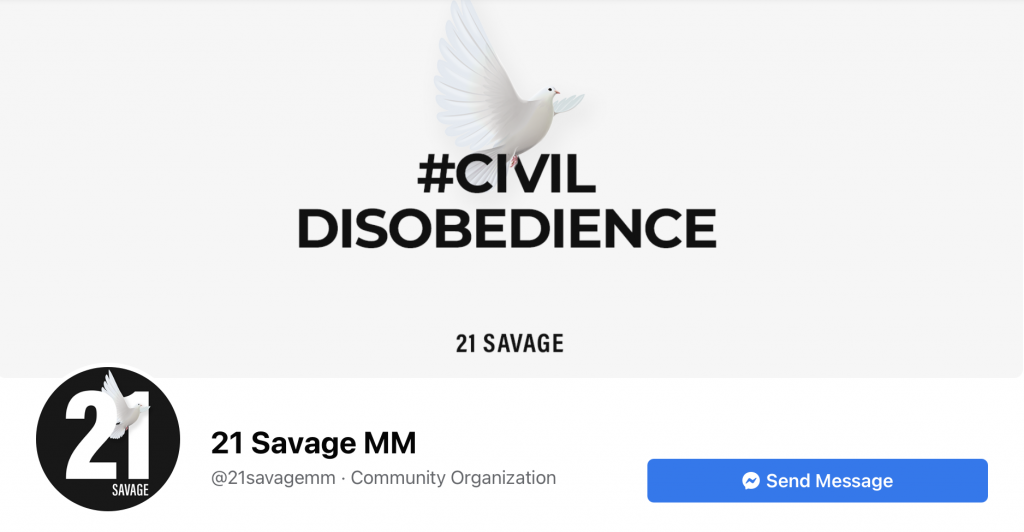 Unsurprisingly, the groups have experienced interference from the authorities. Group members have noticed that after posting their contact phone numbers to social media pages, incoming calls were blocked from around the second week of February. To avoid disruption, the groups are advising striking public servants and donors to contact them via the Facebook page chat box or Viber.
A member of PiTi said the group was vulnerable to telecommunications surveillance because it relies on telephone contacts. "Another thing we are afraid of is that they will block our bank accounts. If they investigate the bank accounts, it will be dangerous for us. However, we will continue to support the CDM without hesitation," the member said.
Another challenge, the member said, is verifying the identity of striking civil servants who are asking for support. "We have to request their ID because we want to be sure they are genuine and not con artists. But some people are suspicious and don't want to give their personal information."
There are many smaller, nameless groups, as well as individual donors, showing solidarity with striking public servants. A doctor in a private practice told Frontier that she and four friends had used their existing networks to raise K60 million by February 23.
"We have no social media page, but we have motivated the people around us to donate," she said. "We just want to do what we can to support CDM."
Because their group is so small, they find it challenging to vet people who request support. "It's easier and more effective for us to seek out people we know are doing CDM rather than for people to contact us," she said.
Some private businesses are also quietly assisting the CDM.
Ma Su Mon, a nurse at Yangon's North Okkalapa General Hospital, said she was among a small group being provided with food and accommodation by a company that operates buses on the Yangon Bus Service network.
"There are only five of us, because most of the nurses have returned to their hometowns. We have been fine so far because the YBS company has given us a place to stay and food," she said. "Another CDM support group has also offered to give us money because we can't get our salaries."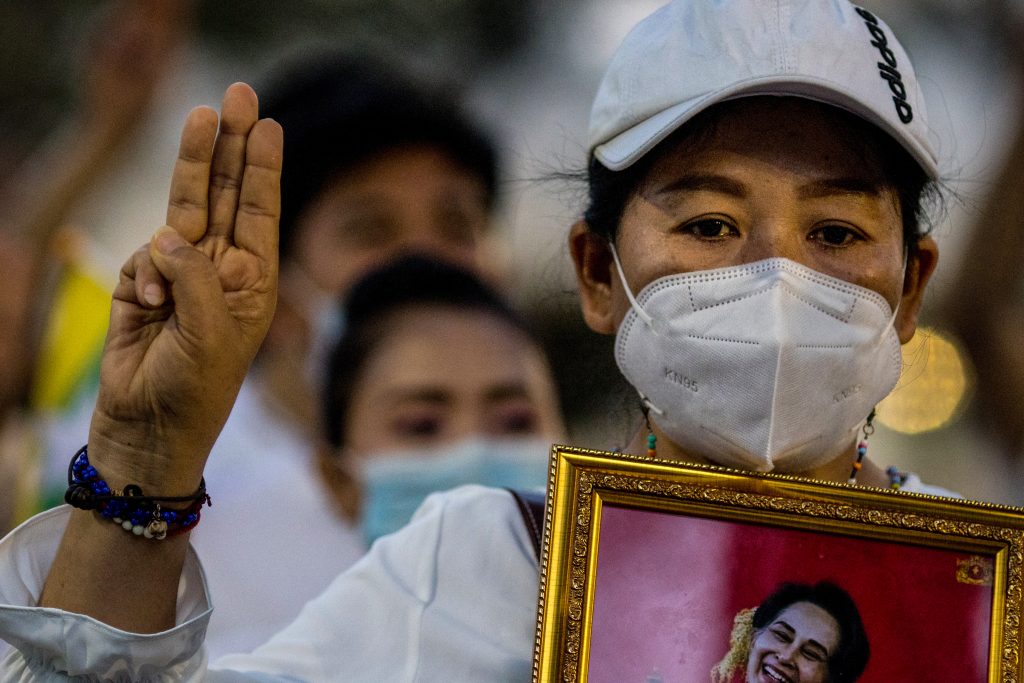 Help from afar
Meanwhile, considerable sums are also being raised overseas by groups of Myanmar expatriates in Japan, Singapore, Thailand and Western countries.
In Japan alone there are four CDM groups, said Ko Myo Than Thaik, aka Myo Gyi, a member of We Love Myanmar (Japan).
Tokyo-based WLM had used social media to raise more than K100 million from the Myanmar community there as of February 20, the most out of the CDM support organisations in Japan.
The organisation has sent a total of K80 million to groups and a few individuals, Myo Gyi said, but stood ready to provide as much support as the striking workers need.
"I respect all those who have joined the CDM and I appeal to them not to give up," he said. "We believe that providing support for the CDM will encourage more and more civil servants to join. Our struggle will succeed soon."
Meanwhile, migrant workers in Thailand are doing what they can to support the CDM from their typically more modest salaries.
"We sent K10 million to a group in Yangon for our first donation, and K5 million to a group in Nay Pyi Taw for the second," a migrant worker in Bangkok told Frontier. "I want to encourage all civil servants in Myanmar not to be afraid, because we will continue to provide them with support."
Expatriates in South Korea and the United States have also been lending a hand.
Radio Free Asia reported on February 20 that the Myanmar community in South Korea had provided K83 million and expatriates in Los Angeles had so far raised about US$60,000 (about K84.5 million), with more expected.
Ironically, Myanmar communities overseas are encountering difficulties transferring funds to Myanmar because of bank closures caused by private sector staff going on strike, under the conviction that crippling the banking sector would seriously undermine the junta.
Instead, they are using informal means to get money into the country, which have the added advantage of being less traceable by authorities.
Myo Gyi said his group was arranging transfers with the help of Japanese and Myanmar businesspeople who own companies in each country. WLM hands funds in Japanese yen to a company's Japan office and the money is paid out by its Myanmar office in kyat to local representatives of WLM.
Myo Gyi said it would be "dangerous" to mention the names of the companies. "I don't want them to get into trouble because of the money transfers; if they were detained by the military it would make it difficult to continue transferring donations to Myanmar."
These fears appear to be well-founded. At a meeting of the State Administration Council on March 1, Senior General Min Aung Hlaing and members discussed the "illegal inflow of foreign money to associations [and] action to be taken against support of manpower and money behind riots and protests", a report in the state-run Global New Light of Myanmar said.
Min Aung Hlaing also reiterated that ministries have been instructed to take legal action against civil servants participating in the CDM "after systematic inspections", while members discussed the need to expose "local organizers and advisers outside the country encouraging civil servants to participate in the CDM".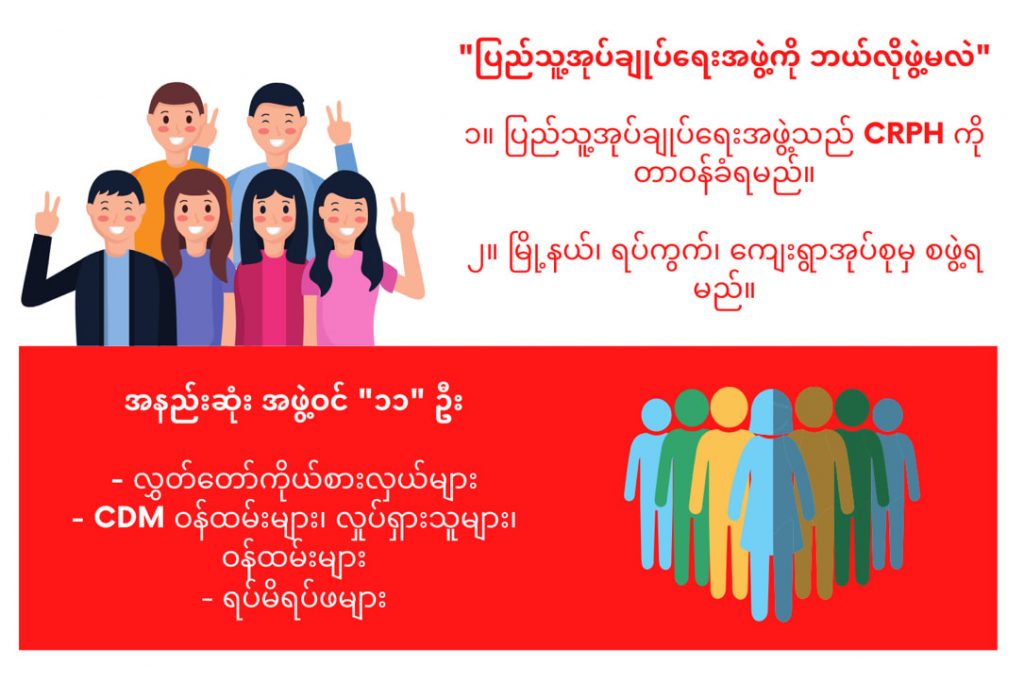 MPs marshal support
While the junta hopes to extinguish the CDM, the National League for Democracy-led Committee Representing the Pyidaungsu Hluttaw is striving to sustain it.
The CRPH, which was formed by MPs-elect as a legitimate interim government, has promised to support all public servants who join the CDM and said that they will be able to return to their positions after the Tatmadaw relinquishes power.
More recently, a member of the CRPH cabinet, Dr Zaw Wai Soe, set a March 7 deadline for civil servants in his three ministries – education, health and sports, and labour, immigration and population – to decide if they will join CDM.
Pyithu Hluttaw MP-elect for Yangon's Hlaing Township, U Aung Kyaw Kyaw Oo, said the NLD's central executive committee had ordered the creation of CDM support teams. The Hlaing team has seven members, he said.
"In each township, MPs will lead the teams. In my township we are collecting information about those joining the CDM and receiving donations. So far, we have received about K6 million," he told Frontier on February 23.
The teams have to operate in secret to avoid attracting the attention of the police and General Administration Department officials. Aung Kyaw Kyaw Oo said team members had also gone underground to avoid being arrested.
"I have not slept at home for a few days. About three days ago, the police came to my home and searched for me," he said, adding that some striking workers were afraid to contact his group directly and were being encouraged to send their personal details through Viber.
"For their safety, we told them to use their old addresses rather than their current address."
The CDM support team in Yangon's Insein Township says it has been able to provide 38 striking public servants there with an amount equivalent to their regular salary.
The eight-member team is headed by Yangon Region Hluttaw MP-elect U Wai Min Han, who said it had so far disbursed more than K8.2 million to CDM participants. The donations were received from "people who loathe the military dictatorship", he said.
A stronger and more secure mechanism for delivering CDM support could be crucial to the movement's chances of success, analysts argue, particularly if the struggle drags on for several months or even more than a year.
Although Suu Suu's relatives are supporting her for now, her experience underlines the challenges many striking workers face.
Like other surgical students, she is assigned to a hospital as an assistant surgeon. While support groups are providing assistance to striking doctors and nurses at her hospital, assistant surgeons have largely fallen through the cracks.
"Maybe it's because we are still students," she said, adding that most postgrads at the University of Medicine 2 have had a similar experience. "We also haven't contacted any organisations because it's quite complicated to do that and most of us were okay for February. But March is uncertain – we might have to contact them at the end of the month."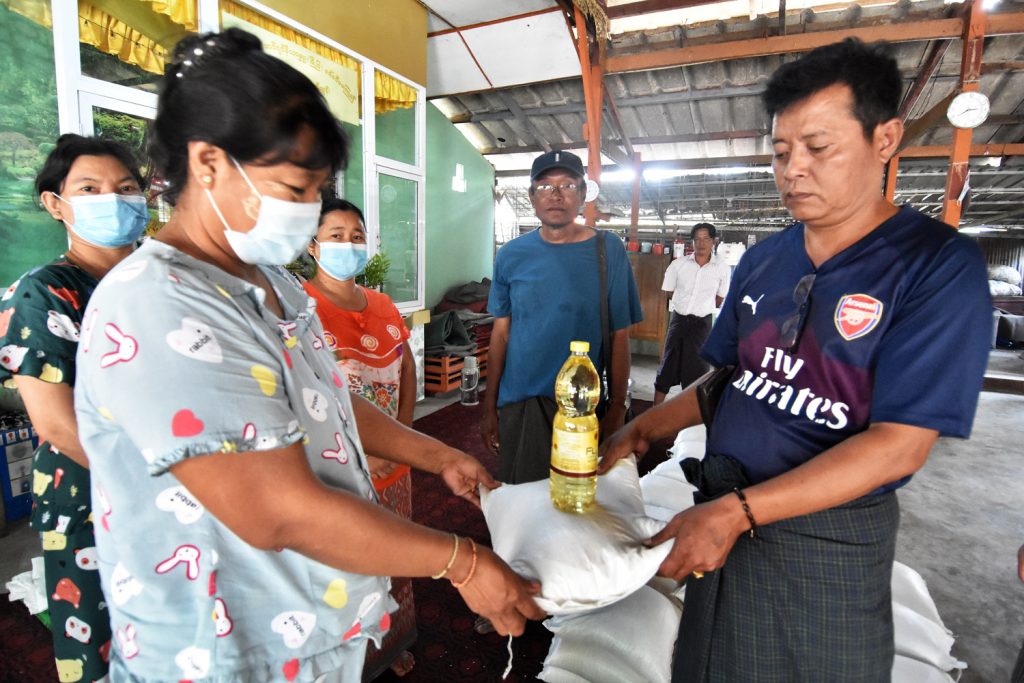 The trains stop
Myanma Railways has about 30,000 workers throughout the country, of whom about 90 percent have joined the CDM, halting trains since the first week of February.
U Htay Hla, deputy general manager of Myanma Railways' railbus engine and maintenance department, told Frontier the CDM had been successful at attracting railway workers because it was supported by staff at the general manager and deputy general manager level.
Htay Hla, who is in hiding, has sacrificed more than most to join the movement. He was due to retire next year, and could have avoided the CDM and enjoyed a quiet retirement. "But I can't not be involved," he said. "I have taken a leading role because it is so unfair. Whenever I talk about the coup it makes me angry."
Striking railway workers have been targeted by the Tatmadaw, but its efforts to pressure them to return to work by surrounding their living quarters in Yangon and Mandalay have failed. On February 17, soldiers tried to force railway employees in Mandalay to return to work at gunpoint, but they silently resisted.
Htay Hla said such attempts to force staff to work were bound to fail. "Even if the driver drives the train, it can't enter to next station if the station master doesn't allow it and staff who manage the line traffic aren't working," said Htay Hla.
The public has responded to the resistance of railway workers by providing donations. Htay Hla said a committee was formed at Ma Hlwa Gone railway station in Yangon's Tarmwe Township to accept and distribute funds among railway families in Yangon.
"Most of the donations go to the big railway workshops such as those at Ma Hlwa Gone and Insein. People don't notice the other railways staff, the people who check tickets and those who maintain the tracks, so we are making sure the donations also help them," he said.
Despite threats to not pay striking workers, the military regime paid salaries for February to Myanma Railways staff, Htay Hla said.
However, not every staff member received a salary. Each department head in every township has to submit a bill request to Nay Pyi Taw, and in some townships every single worker was on CDM, which meant there was no one to type up the request or sign and send it. Htay Hla said that none of the 105 staff at his workshop got paid, but staff at the Insein workshop did because they sent a bill request. He said the payment of salaries had not affected the CDM, however.
"Within the railways sector, CDM is still going strong," he said. "Staff who received salaries did not have to commit to return to work … and we encourage all staff to reject any instruction from this rebel government even if it pays their salary."
Hundreds of staff who were paid even refused to take their salaries on principle, he said. "The department heads are just keeping the cash in their office because the staff
don't want to receive any money from this illegal government."
At the same time, support for striking workers remains strong, he said. Each of his 105 workers has received a minimum of K80,000 and a bag of rice from donors. "Donations have not declined. More support is coming almost every day to railway staff."
Many Myanma Railways families already live precariously. Daw Amy San said her husband's monthly salary of K150,000 had never been enough to support their family of two children, and for years she'd run a shop selling rice and curry to cover expenses. Yet she said they had no hesitation about resisting the regime.
"We've already decided that my husband will quit if the military pressures him to resume work," she said. "We railway families decided that we must fight until the people win."