A coalition of local and international groups has launched a website to present data on online defamation cases and strengthen their push for reforming the Telecommunications Law.
By VICTORIA MILKO | FRONTIER
SECTION 66(D) of the Telecommunications Law – pertaining to online defamation – has received plenty of attention in recent years, but accurate facts and figures on the topic can be hard to come by.
Enter the #SayNoTo66(d) website, launched earlier this year. Created by a coalition of more than 20 local and international organisations that are working to track and raise awareness about online defamation, it was developed to make their findings easily available and counter disinformation and inaccuracies about the issue.
Daw Wai Phyo Myint, the regional outreach manager for the Centre for Responsible Business, which is a member of the coalition, says the groups began coming together after a digital rights forum in 2015.
"After this digital rights forum we were like, 'Okay, let's take a closer look at this issue. What are the major challenges and legislative issues we would like to touch on and advocate government?'" she said. "While we found that there are many problematic laws, it was clear that 66(d) was causing a lot of problems."
Around the same time, Yangon-based tech innovation lab Phandeeyar was looking to expand its digital rights discussions and began hosting monthly digital rights meet-ups.
"In early 2017 we decided to launch a monthly digital rights monthly meeting," said Ma Ei Myat Noe Khin, the digital rights manager at Phandeeyar. "For the second meeting we were planning on talking about the [Law Protecting the Privacy and Security of Citizens] that had just been passed. But then we heard there was maybe an opportunity to amend the Telecommunications Law, so thought it would be a good time to talk about [it] instead."
The #SayNoTo66(d) coalition was set up in May 2017. Another member is Athan, a group founded by poet Ko Maung Saungkha, who had previously been jailed under 66(d) and was an outspoken proponent of reforming the law.
"I was always getting calls from journalists asking for the latest information, asking me to talk about 66(d)," he told Frontier. "So the coalition realised that we needed to create a website where people could easily access and see the data and findings."
The website was built by Phandeeyar using data from Free Expression Myanmar's recent report, 66(d): No real change.
One of the first things that greets visitors is a large banner that states, "Use of 66(d) has substantially increased under the NLD government," a statement backed up by infographics and interactive charts.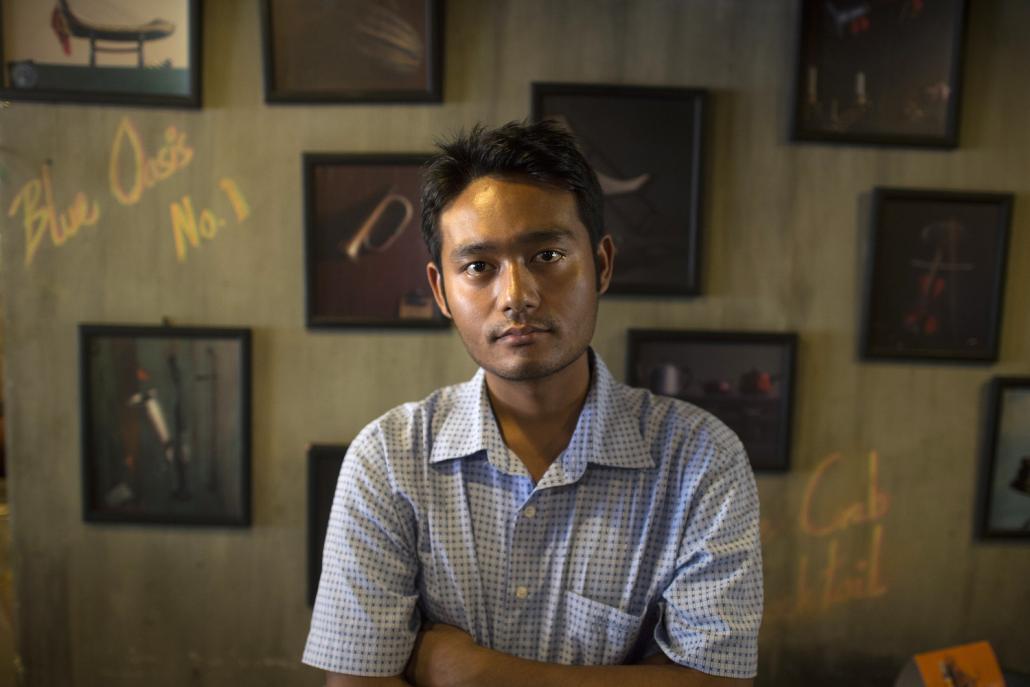 Further down the page, visitors can read infographics that break down the data further, illustrating that more than half of cases stem from matters "closely related to the state", such as the military, public officials, and individuals involved in political parties.
A section of the website, which is available in Burmese and English, explains why 66(d) should be abolished, while another provides a form for visitors to fill out to inform the groups of previously unreported 66(d) cases.
Ei Myat Noe Khin said that while the debate about 66(d) is not new, it was the first time that such complete data had been compiled, visualised and made available to the public. She said it was a different and often more effective way to impart information.
"For example, if you look at it the visualisations you can see the percent of people and professions it's being used against, like journalists and human rights defenders," she said. "When we visualise the information people can better understand the message behind it, and what it means."
The coalition plans to update the website on a quarterly basis and hopes to link it to Facebook so that notifications about new 66(d) cases can be sent as notifications to the website's followers. In the meantime, the coalition expects the website will clearly articulate why the coalition believes reform of the Telecommunications Law is necessary, Ei Myat Noe Khin said.
"If we look at the article it's very obvious the definitions are fake, and that there is no true definition in the law. It gives some people the authority to define it however they like and put people in jail," she said. "66(d) simply is not protecting people – it's clear that we need to abolish it."
This article originally appeared as part of Frontier's Digital Myanmar 2018 special edition. Top photo: A journalist has '66D' drawn on his face during a protest against the Telecommunications Law at Bahan Township Court in June 2017. (Steve Tickner | Frontier)