An advocacy group has proposed four options for reforming Myanmar's tangle of criminal defamation clauses, which are being used ever more frequently under the National League for Democracy government.
By KAUNG HSET NAING and ANDREW NACHEMSON | FRONTIER
In April 2019, Ma Su Yadanar Myint took part in a traditional musical theatre performance known as "thangyat" to mark Thingyan.
Within a month, she and six other members of the Peacock Generation troupe were in jail and facing the possibility of several years' imprisonment for the performance, which satirised the military.
Since pre-colonial times, thangyat performances have satirised the powerful through poetry, music and dance, and Su Yadanar Myint said her troupe was merely expressing "the people's desire in their hearts" to remove the military from parliament. She insisted they never meant to "discredit" or "disband" the military. "How many rebellions were there in the army because of our song?" she asked. "Did anyone resign from the army because of our song?"
Because they had livestreamed the show on Facebook, one of the charges was brought under section 66(d) of the Telecommunications Law, which carries a possible prison term of two years for "defaming" someone using a telecommunications network – that is, the internet. The much-criticised 2013 law doesn't define defamation or include any defences, and has been used to jail hundreds of people, mostly over the past five years.
Su Yadanar Myint was eventually released after 15 months in jail but some of her colleagues remain behind bars on similar charges. She said their experience showed the defamation clause in the Telecommunications Law was "very dangerous", and the lack of clear definitions had enabled the military to use it to support its "one-sided ideology". But more broadly, she said defamation laws are used in Myanmar to "target and suppress" activists and undermine free expression, which is the "most fundamental principle of democracy".
Those seeking to silence dissenting voices like Su Yadanar Myint do indeed have a wide selection of criminal defamation laws to choose from, many of which fail to meet anything close to international standards. Cases brought under the laws are heavily stacked against the defendant.
To mark International Human Rights Day, advocacy group Free Expression Myanmar published an extensive report on Myanmar's "many laws on defamation" which it says are "unclear and vague" and frequently result in the "disproportionate" punishment of prison time.
The report details 11 sections across six criminal laws that criminalise defamation, including section 66(d), and finds none of them "conform to even the most basic of international standards". Among the many problems outlined are a lack of clear definitions, the use of laws to "punish statements of opinion rather than assertions of fact", their use by powerful people to silence critics, and the imposition of "highly punitive criminal sanctions" rather than civil settlements.
Generally, defamation clauses are meant to outlaw demonstrably false statements that hurt somebody's reputation or livelihood, and in many countries these are punished with a fine or other compensation rather than jail time. In Myanmar, the laws are more regularly used to imprison government opponents, including those who have made critical but factually correct statements about those in power.
As Su Yadanar Myint explains it, "We were arrested under this law because they wanted to arrest us."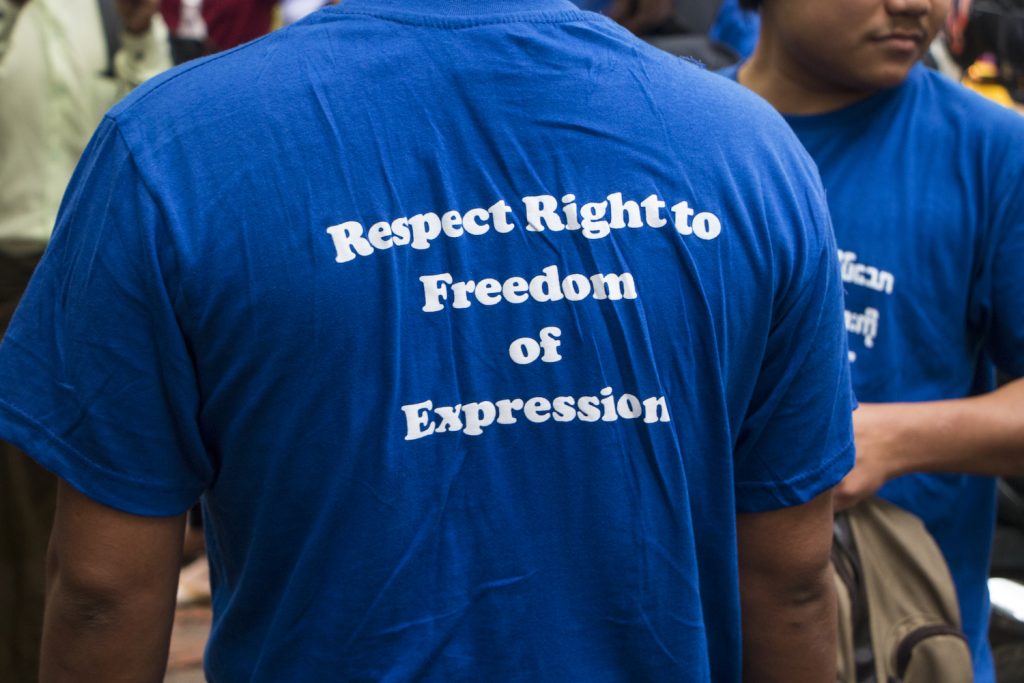 Mr Phil Robertson, deputy director of Human Rights Watch's Asia division, called Myanmar's defamation laws "an unmitigated disaster". "These are legal tools that the military, business and government elites love because these laws enable them to threaten prison for anyone who gets out of line," he told Frontier in an email.
In the case of the Peacock Generation, only the group's members were prosecuted under 66(d), despite many other people sharing the video. But one of the earliest applications of the law was against social worker and activist Patrick Kum Jaa Lee, who was prosecuted for simply sharing a picture of an unidentified individual stepping on a photo of Myanmar's military chief, Senior General Min Aung Hlaing, on Facebook with the caption: "If you share this picture, action will be taken against you. Please share that sharing such a picture is dangerous."
Like most defamation clauses in Myanmar, Free Expression Myanmar says 66(d) fails to meet pretty much every international legal standard. It does not define defamation, it allows public bodies to bring lawsuits, it does not require public officials to tolerate higher levels of criticism, it does not declare truth or opinion as a defence, and it imposes imprisonment rather than fines.
The report also acknowledges that lawyers don't always do a great job defending clients facing defamation charges, and offers suggestions for how defence teams can better counter defamation accusations. Defamation in the Penal Code, the only place where it is actually defined, is described as containing five elements, so Free Expression Myanmar recommends trying to force the prosecutor to prove all five elements beyond reasonable doubt, regardless of which law has been used to bring a defamation suit. For example, the Penal Code says, "the content must include an allegation and it must relate to either an individual or an association's business". Myanmar's constitution also provides the right to "dispute the constitutionality of defamation laws", the rights group adds.
While it may be tempting to see these laws as a legacy of colonial or military rule, activists say the situation has not improved under the National League for Democracy, which came to power in 2016. While the military retains constitutional authority over the police force, the NLD government directs criminal prosecutions through the attorney general's office, and courts are administered by the supreme court, whose chief justice is a presidential appointee. However, "there is little evidence that courts have begun to shift their role during the transition to democracy," the Free Expression Myanmar report says. Moreover, 66(d) cases require the approval of the civilian Ministry of Transport and Communications, and the NLD retains full control of the law-making process through its parliamentary majority, which it has preserved in another landslide victory in the November 8 election.
Robertson agreed that progress had stalled under the NLD. "The issue of 'defamation' is another area where they have fallen down. It's rather shocking that despite years of suffering mistreatment and imprisonment during military rule, some of the NLD members and senior officials appear to have jumped the other way to actually use these defamation provisions against their critics," he said.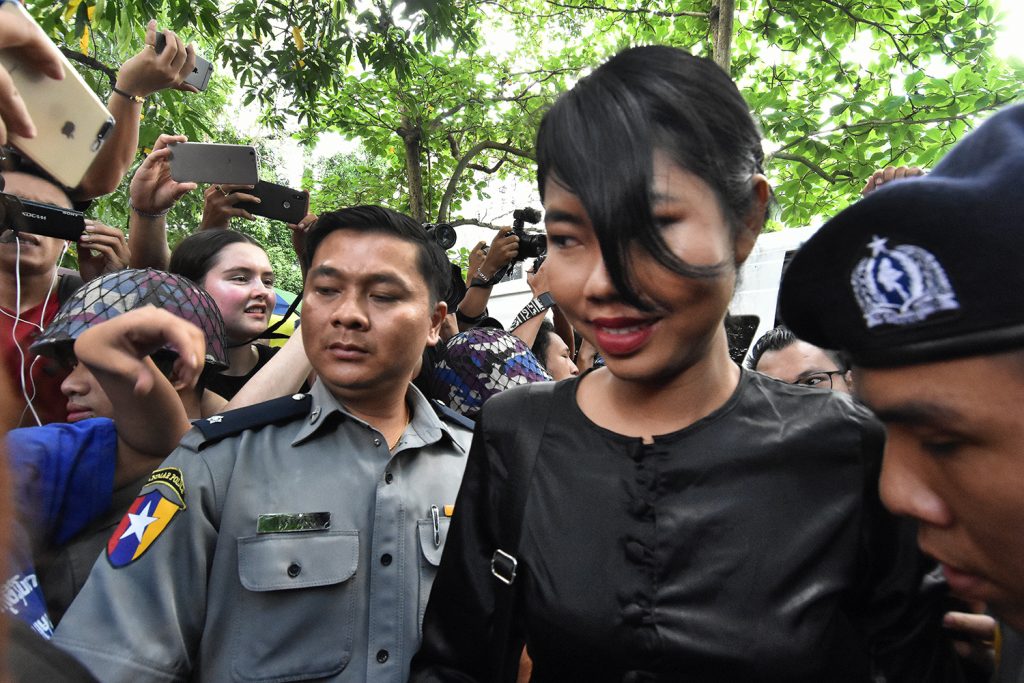 The latest law to include a defamation section – the Law Protecting the Security and Privacy of Citizens – was adopted by the NLD parliament in 2017 and also fails to meet all of the same international standards as 66(d), Free Expression Myanmar said.
NLD spokesperson Monywa Aung Shin put the blame back on the military, saying that defamation laws were introduced to "protect our citizens" but "the Ministry of Home Affairs and the Tatmadaw cannot tolerate people's criticism".
However, free speech advocacy group Athan recently reported that members of the NLD government had made regular use of criminal defamation, directly contributing to a decline in free expression. Athan's research found 539 criminal suits had been filed against more than 1,000 individuals for public criticism in the first four years of the NLD government's term in office. The government initiated around half of the cases, it said, while the military filed 52 and the NLD submitted eight complaints. Nineteen complaints were filed against people who had criticised State Counsellor Daw Aung San Suu Kyi.
Monywa Aung Shin conceded that "the NLD government still has a lot to learn from the past five years". He said he welcomes pressure from activist groups to amend defamation laws, adding that this lobbying should be directed at parliament.
In the report, Free Expression Myanmar offers four approaches for possible reform – repealing existing laws and adopting a new Civil Defamation Law, strengthening defences for legitimate criticism and expressions of opinion, removing prison sentences from existing laws or limiting the circumstances in which criminal defamation can be applied – and lists the benefits and drawbacks of each option.
Robertson praised the "sensible proposals" put forward by FEM, saying "stripping defamation laws of prison sentences would be a huge first step". He agreed that any amendments would need to be followed by reforms targeting "court bias" and "lack of judicial independence". "The best place to start is reforming the laws since the NLD has an unassailable majority in the parliament and can move quickly if they want to," he said.
But Su Yadanar Myint said she has low expectations for the NLD's second term. The NLD already had five years to change the laws, she said, "but they did not fix them." "This time, the NLD said we should advise the upcoming parliament on this. But I don't trust they will amend [the laws]."