Proposed changes to a 1993 narcotics law will treat drug addiction as a health problem rather than a crime and emphasise treatment and rehabilitation over long prison sentences.
By HEIN KO SOE | FRONTIER
WHEN U WIN MIN was arrested for a drug offence in Yangon's South Okkalapa Township after the Thingyan water festival in 1994, he was 26 and had been a user for 10 years.
Win Min, an injecting drug user who had contracted HIV in 1991, was arrested under section 16(d) of the 1993 Narcotic Drugs and Psychotropic Substances Law for "transfer of a narcotic drug or psychotropic substance by a person who possesses the same with permission in accordance with law to a person who is not so permitted".
Anyone convicted under section 16 faces a jail sentence of between five and 10 years; section 15 provides for jail terms of between three and five years for those who fail to register as addicts or fail to follow health ministry directives for medical treatment.
Win Min was convicted on the basis that he was carrying a syringe. He received an eight-year sentence. The first 36 weeks of this he served at the Myanmar Police Force's Wett Htee Kan rehabilitation centre at Pyay in western Bago Region – the only facility of its kind in the country for those convicted of drug offences – before being transferred to a normal prison.
But he told Frontier that during the eight months he spent on remand, he received no medical support and suffered agonising withdrawal symptoms.
Like most addicts who are arrested in Myanmar, he was forced to attend the rehabilitation camp.
"We lost our future," he said. "Treatment wasn't our own decision, it was compulsory. This policy has been harmful for so many drug users. I felt awful at the time."
Myanmar is hardly alone in handing out harsh prison sentences to narcotics users. However, it is slowly moving towards joining the increasing number of countries that have decriminalised drug laws and emphasised treatment rather than punishment.
A draft bill of amendments to the 1993 law published in newspapers in March proposes that drug users will no longer be punished with long prison sentences and will instead be offered treatment and rehabilitation.
The amendments provide for police to be able to send drug users to receive treatment at Ministry of Health and Sports medical facilities before being sent to rehabilitation centres. Adults will be required to attend the centres for two hours a day until they have completed a minimum of 180 hours and a maximum 240 hours of rehabilitation. Minors will be sent to child rehabilitation centres.
Drug Policy Advocacy Group-Myanmar coordinator Dr Nang Pann Ei Kham welcomed the government's move to decriminalise drug use but said she was concerned some sections of the draft law lacked clarity. In particular, it is essential for the amendments to stipulate that treatment and rehabilitation programs are voluntary and appropriate to the needs of users, she said.
The amendments also need to ensure legal protection for all aspects of harm reduction activities, she said. These activities aim to reduce the harm associated with drug use and include needle and syringe exchange programs, methadone substitution therapy for users of opioids, HIV testing and treatment, and overdose prevention and management.
The government should also cooperate more closely with the United Nations Office on Drugs and Crime and NGOs to ensure its policies are up to international standards, she added.
One challenge to implementing decriminalisation is resources. It's doubtful that the government could implement a serious compulsory treatment programme even if it wanted to.
The ministry estimates that the number of injecting drug users totals about 83,000. Though some NGOs say there could be as many as 300,000 but stress that the figures should be treated with caution.
The Ministry of Health and Sports operates 46 methadone clinics throughout the country that have about 10,000 registered patients.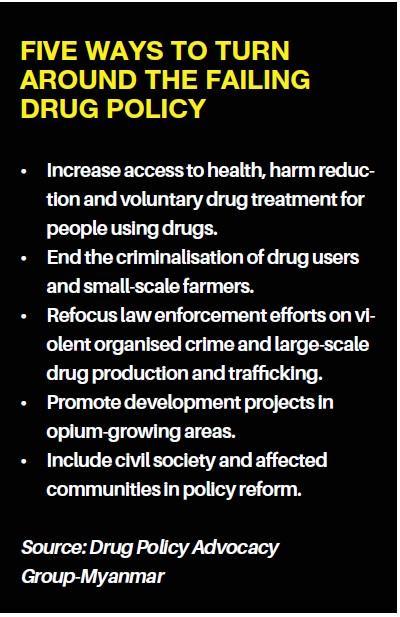 In addition to the rehabilitation centre in Pyay – the only one run by the MPF – the Ministry of Social Welfare, Relief and Resettlement has a total of 12 centres, in Yangon, Mandalay and Tanintharyi regions and Kachin, Kayin and Shan states, which treat registered drug addicts.
The permanent secretary of the Ministry of Social Welfare, Relief and Resettlement, U Soe Aung, said its rehabilitation centres were not operating at capacity because of budget constraints.
If the amendments were approved, the ministry would seek more funding for the centres, he told Frontier.
Lack of resources has been a perennial issue, Win Min said. In 1991 he voluntarily registered as an addict with the Ministry of Health, which gave him access to methadone, but he said few registered after that due to a shortage of medication.
He added that funding was needed to establish more rehabilitation centres and treatment clinics, and that they needed to be operated in cooperation with international organisations. It was important that treatment was voluntary, he said.
The move towards decriminalisation has also been welcomed by U Kham Aung, a former colonel in the Myanmar Police Force who spent 20 years in its anti-narcotics task force before retiring in 2009.
Kham Aung said the government should also increase funding for the task force so it can step up its efforts against traffickers. Reducing the amount of drugs on the market would help to prevent former users from relapsing, he said.
Drug law reform would also help to reduce the number of inmates in the country's crowded prisons, said Kham Aung, noting that decriminalisation had first been discussed by the former ruling junta before 2009.
"Long prison sentences are destroying the lives of people arrested after using drugs for the first or second time," he told Frontier. "We have to consider and care about the future of drug users. They can change their lives themselves."
Many of the estimated 60,000 inmates in the country's 43 prisons and 46 labour camps have received long sentences for relatively small drug-related offences, according to a US State Department report. In 2015 alone, drug-related cases were brought against 9,188 suspects, according to official figures.
The overwhelming majority are drug users and advocates of decriminalisation say police resources would be better spent targeting large-scale trafficking and other organised crime.
A February 2017 paper from the Drug Policy Advocacy Group Myanmar warned that the country's drug policies, including the 1993 law, were "outdated and inadequate", and had failed to eliminate or even reduce drug use, trafficking and production.
"Worse, the implementation of harsh policies and penalties has caused immense additional harm to Myanmar people and communities," it said.
The paper called for five key "interventions" to tackle the immense challenge posed by drug use and production. It also noted that the policy failures of previous governments have created great frustration among affected communities, which has sometimes resulted in them adopting their own hard-line strategies to tackle the problem.
Win Min said decriminalisation would also help to end the stigmatisation and discrimination experienced by addicts and former drug users.
"We are not criminals," he said. "We are human beings who have made mistakes but are trying to rebuild our lives for the better."
TOP PHOTO: Theint Mon Soe aka J | Frontier