Many of the thousands of civil servants who joined the Civil Disobedience Movement have endured a year of fear and financial difficulties but they remain resolute in their refusal to work for the regime.
By FRONTIER
For high school teacher Daw Thit Thit Lwin, the past year has been a struggle. 
Her decision to join the Civil Disobedience Movement, along with hundreds of thousands of other civil servants in a defiant rejection of the Tatmadaw's seizure of power a year ago, left her without an income.
The 55-year-old grew up during Myanmar's socialist period, when the country sank into deep poverty, but said supporting her sick, elderly mother through a global pandemic on no income was the greatest financial challenge she has faced.
"It was a very difficult year for me. My mother is over 80, and her health is getting poor. I needed more money than before, but I was jobless," Thit Thit Lwin, who has been a teacher for more than 30 years, told Frontier on January 14.
So far, she has managed by selling off some of the gold jewellery she bought over the years. Despite not knowing how long she can survive without work, she said she has no regrets about giving up her job.
"I haven't had any income for a year, but I'm not starving yet," she said. "As well as selling some jewellery I have also received some financial support for former pupils. I saw in their eyes how much they respected my decision. Nothing could replace that."
The CDM campaign, launched by government healthcare workers immediately after the February 1 coup, has been one of the most powerful and effective expressions of the people's determination to resist the military dictatorship.
The movement also attracted enthusiastic support from many within the private sector, with thousands of workers walking away from their jobs at banks, ports, and military-linked companies, both temporarily and permanently. The refusal of civil servants and private sector employees to work initially paralysed the economy, and continues to undermine the junta's efforts to govern the country.
The State Administration Council, as the military regime calls itself, responded to the CDM by dismissing civil servants en masse. Nearly 140,000 staff, mostly teachers like Thit Thit Lwin, have been sacked from the Ministry of Education alone, and thousands more from the healthcare, electricity supply, railways and forestry departments, among others, have also been fired.
Thit Thit Lwin gave up her life as she knew it when she decided to join the CDM. Her sacrifice is all the more significant given she was just five years away from retirement and a government pension for life. But she is resolute about not working under the military.
"People were amazed by my decision, because I have no one to rely on – I am single and have no husband or children to support me," she said. "People might think I regret my decision, but I absolutely do not. Even if I was starving, I would refuse to work under the junta that killed our students."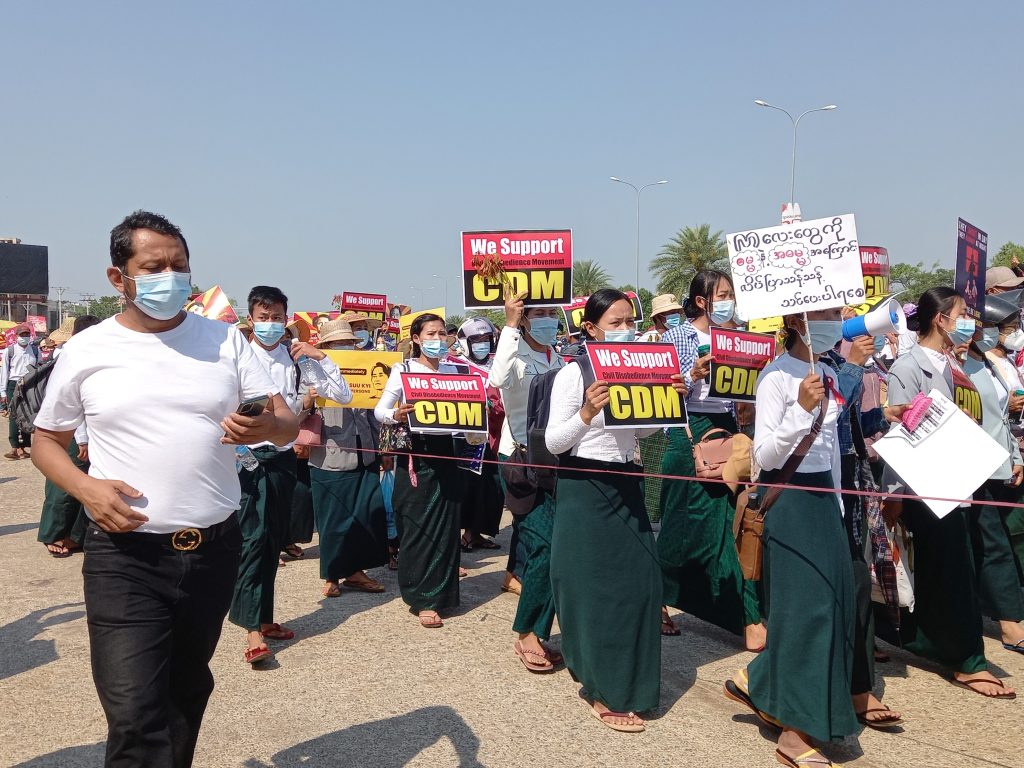 'Huge' needs and competing crises
The National Unity Government, the parallel civilian government appointed by lawmakers elected in November 2020, said in August that more than 400,000 civil servants had joined the CDM after the coup. While it is not known how many remain on strike, it is clear that the striking workers and the people who rely on them for financial support are in dire need of help.
The NUG has launched a number of initiatives to raise money to support striking workers, including an online lottery. The NUG's Ministry of Planning and Finance has said that 70pc of the proceeds from the "Spring Lottery" would go towards supporting striking civil servants, with the rest distributed as prize money.
During a trial in August, all 50,000 tickets sold out in just over an hour, earning the NUG K100 million (about US$60,760). The monthly lottery officially launched in November, with tickets priced at K2,000 and a top prize of K1.5 million.
The lottery's Facebook page said that as of December 25 it was supporting more than 6,700 striking civil servants with the proceeds. However, this is less than two percent of the number of government workers who initially went on strike, and just a small portion of the 160,000 CDM workers who have registered to receive aid from the lottery program, according to its Facebook page. More than half are from the education sector, with healthcare workers making up the next largest group.
The NUG's finance and planning ministry did not reply to Frontier's request for information on how much the NUG has raised from the lottery or how much has been distributed in total to striking civil servants.
The NUG is not the only organisation providing aid to sustain the movement. Fundraising and support groups emerged soon after the launch of the CDM, attracting large sums from donors. But a range of challenges, including safety, donor fatigue and competing crises, have left many without help. 
In particular, support groups say attracting donations has become more difficult since the shift to armed struggle, because the public is also being asked to provide support to People's Defence Forces and other newly formed militias, as well as people displaced by fighting between the Tatmadaw and the resistance.
The spokesperson for a CDM support group called Piti (Burmese for "joy") said it had provided US$250,000 (about K445 million) of cash and food to more than 5,000 CDM teachers over the past year, but has been unable to provide aid since September because of a shortage of funds.
The spokesperson said public attitudes changed after the NUG declared the start of a "people's defensive war" on September 7 last year.
"Supporting the PDFs is also the right thing to do, but there is less focus on the CDM, and many are no longer supported. We still receive donations, but they are only about [one percent] of what we received before," he told Frontier on January 15.
Dr Sitt Min Naing is a member of the CDM Medical Network and helps to channel aid from the NUG and other donors to striking healthcare personnel. He told Frontier that about 65,000 healthcare personnel had joined the CDM after the coup and about 40,000 remained on strike and in need of support as of January.
Sitt Min Naing said the CDM Medical Network has also seen a collapse in donations over the past six months or so, something he also attributed in part to donors shifting support to PDFs.
As of early May last year, the network had distributed more than K1.2 billion raised by fundraising groups in Myanmar and overseas, to about 12,000 striking healthcare workers, he said.
That month, the NUG announced the formation of the PDF, and Sitt Min Naing said since then the network has only been able to distribute another K6.8 million – less than 0.5 percent of the amount provided in the first three months after the coup.
Another factor in the decline in CDM donations, he said, was that massive amounts of money were also raised and distributed in the middle of last year to respond to Myanmar's COVID-19 third wave, which likely killed more than 100,000 people.
"Donors are exhausted because they had given money for COVID-19 before the coup, and after [the coup] they continued to donate for the revolution. The people have been very responsive in providing support," Sitt Min Naing said.
The lack of safe avenues to get the money into the hands of CDM workers has also dissuaded donors, especially for those in the Myanmar diaspora.
Shwe Maung* is a member of NYC Volunteers for Myanmar Democracy Movement, a fundraising group based in New York City that has been gathering donations from the Myanmar community in the United States to support PDF groups.
He said the group was sending donations to PDFs in part because it was less risky than supporting CDM participants.
"It is difficult to identify the CDM people and their support groups […] We are worried about the safety of the people who are helping us. That's why we focus on PDFs," said Shwe Maung, who expressed concern about informers pretending to be involved in the CDM.
However, Shwe Maung, who works in New York, said he still believes CDM is important for the revolution and has continued to provide financial aid to striking workers who he knows personally.
"I am very worried that the CDM will weaken. The most difficult thing for this organisation is not being able to help the CDM people who approach us for assistance. It hurts so much to reject them. We know that they are as important as the PDFs," he said.
Sitt Min Naing said that even though the amount of support available for striking civil servants had declined, CDM participants even encouraged his group to prioritise PDFs.
"CDM people deserve much admiration. When we offer to send financial aid to them we are sometimes told, 'Please send that money to the NUG Ministry of Defence to buy weapons. We can survive by eating rice and salt.' We see in their words how much they want the revolution to succeed," he said.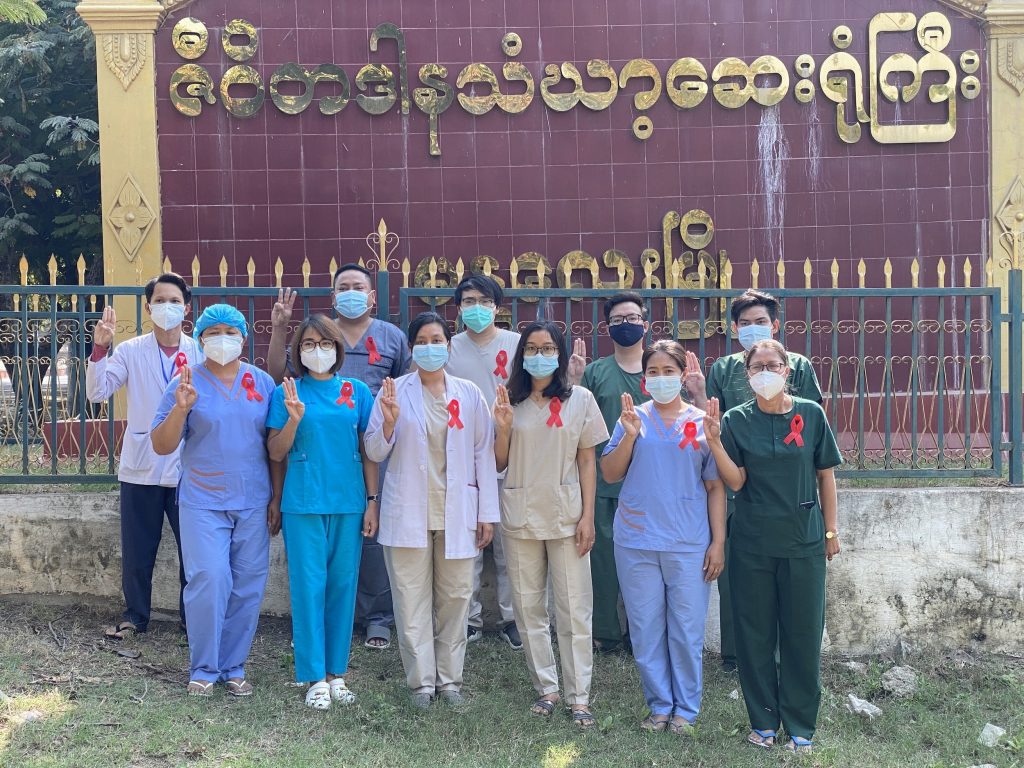 Breaking the strike brings little relief
One year after the coup, the financial hardships have proven too much for some striking civil servants. Although many are stoically determined to remain on strike, thousands have returned to their jobs under the junta because of money worries.
Among them is primary school teacher Ma Hnin Wai Khin, who joined the CDM and took part in protests after the coup. She returned to her job in May last year when the junta's education ministry began withholding the salaries of teachers who joined the CDM, after initially continuing to pay them.
She earns K180,000 a month and supports her father, a stroke victim, and her 13-year-old sister.
"I have two mouths to feed so I can't afford to lose my salary. I don't support the military coup but I had to return to work – in my financial situation, I had no choice," Hnin Wai Khin told Frontier.
Although it dismissed striking teachers, the SAC left open the possibility of reinstatement if they appealed against their dismissal within six months. In reality, teachers found themselves working under a cloud of suspicion, and often without pay.
Hnin Wai Khin, who returned just before the education ministry began sacking striking teachers, said fired CDM teachers who want to return to their jobs have to undergo a rigorous investigation from ministry bureaucrats.
"I was not on the CDM list that the SAC compiled, because I had already returned to work. However, teachers who returned to work after being dismissed are facing a tough investigation," she said.
U Yu Lwin*, 56, the principal of a government primary school in Ayeyarwady Region, joined the strike initially but changed his mind after a list of striking workers was created by the township education department. He tried to return to work in June but is still waiting for approval from the SAC eight months later.
Yu Lwin told Frontier on January 12 that he had been summoned for questioning at the township and district education department offices at least 10 times.
"I cannot return to my job and I am not receiving my salary. In the past six months, I've had to go to the district office to answer questions twice, and I continue to be questioned at the township office. I have no idea when this inspection process will end," he said.
Yu Lwin refused to disclose what questions he had been asked at the inspection meetings. He said he is one of eight teachers in his village tract who decided to return to work after being sacked.
The CDM leader at this same village tract told Frontier that around 90 teachers had initially gone on strike, but the number had declined to about 80 because some had returned to their former positions.
"We heard that those people are still not being paid. They also keep having to submit to questioning. I think the SAC no longer trusts those who want to return to their jobs, and therefore, they are not being allowed to return to their school. They are in a difficult situation because they are neither CDM nor non-CDM," he said.
A CDM village tract leader in Ayeyarwady Region said that SAC's actions have only hardened the resolve of CDM participants.
"No one wants to leave the CDM after seeing how those who wanted to return to work had to undergo tough inspections from the SAC. It made the CDM participants more determined to stay on strike. The number of striking civil servants in my village has been stable since July," he said.
Working with insecurity
After being fired from her job as a government medical officer, Dr Suu Suu* struggled for months to find work at a private hospital because they were afraid to hire anyone who had joined the CDM. In the end, she had no choice but to take a job in a small clinic in an impoverished ward in Yangon.
"During job interviews, they would shake their heads as soon as I said I am CDM. They explained that they dare not hire CDM workers because they were afraid that the SAC would take action against them," said Suu Suu.
The junta has threatened to revoke the licence of any private hospitals that recruits CDM participants.
Last month, Suu Suu was able to secure a new job at a private hospital in Yangon that supports the CDM.
"The hospital hides our real identities and finds ways for us to work safely," said Suu Suu, adding that there are seven CDM staff at the hospital. "Although it is safe here, our ears are always open for rumours about military raids. When we hear these rumours, we have to take the day off work."
Suu Suu said she is relieved to have the job because she needs the money to support her family.
"When I worked at the ward clinic, I only made a little money. I am earning a good salary at the private hospital and I want to keep working there, so I hope there is no problem with the military," she said.
Apart from anxiety about possible military raids at her workplace, Suu Suu is also facing pressure from Yangon's University of Medicine (2), which has accused her of breach of contract for pausing her postgraduate studies.
"They sent a letter last month seeking compensation of K2.5 million under an agreement that postgraduate students have to sign. I have no plan to pay that money back because I will resume my education when the revolution succeeds," Suu Suu said.
Many civil servants who joined the CDM say they have faced similar difficulties finding a job because of wary employers.
Ma Zin Zin Naing, a CDM primary teacher, became a salesperson at an eye care centre in Yangon 10 months after the coup. She had worked at a government primary school in a rural area of Ayeyarwady Region for four years.
"Before I became a civil servant, I worked for a company in the private sector, so it was not too difficult for me to find a job. But I had to lie and conceal from my employer that I had joined the CDM," said Zin Zin Naing, 28.
Sitt Min Naing said businesses that have oppressed CDM people must be punished after the revolution succeeds.
"The people will continue to decide who took part in the revolution and who suppressed CDM. But I want to warn those businesses that suppressed CDM people about the possibility of boycott campaigns," he said.
Project keeps teachers' teaching
Because of the difficulty in finding new jobs, groups that support striking civil servants are finding other ways to provide assistance. Piti, for example, has implemented a teaching project to support the careers of CDM educational personnel.
As part of the project, called Piti Education, it has launched classes for fee-paying basic education students in October last year. The number of CDM teachers providing classes has risen to about 100.
"We just thought it would be better if we could support their careers rather than just give them financial aid, so we decided to open the classes. We charge a reasonable fee to the students that we then use to pay the teachers. We are changing from providing financial support to supporting career development and opportunities," the Piti spokesperson said.
Piti Education has also launched three-month courses for Grade 4 and Grade 6 students on online platforms.
A member of the Madaya Educational CDM Committee wants employers to hire striking civil servants because it will help to ensure that the CDM campaign does not collapse in the future.
"I want to tell the employers that the CDM people gave up their careers for the future of our country and our people, and can they please appreciate them and provide job opportunities as much as possible," the committee member said.
For teacher Thit Thit Lwin, the road ahead looks tough. But she is determined to continue opposing the junta, even if it means she will face further hardship.
"I have no regrets. I chose this path because I think it is right," she said. "I believe that one day I will receive justice. And even if that doesn't happen, at least the people will be free from this curse." 
* Denotes the use of a pseudonym