Six months ago, Myanmar endured a catastrophe as its health system was overwhelmed with seriously ill COVID-19 patients. A Frontier investigation finds that the true death toll may be in the hundreds of thousands, as most were never counted.
By FRONTIER
Around 11am on July 28, 2021, more than two dozen ambulances from volunteer funeral service groups queued outside Yangon's Yayway cemetery, waiting to unload the bodies of suspected COVID-19 victims for cremation.
Myanmar's third wave was just a month old, but its hospitals were already overwhelmed with oxygen-starved patients. Thousands were dying in their own homes, and with little help coming from state-run services, social welfare groups took on the responsibility of transporting the bodies to the city's cemeteries.
Like the hospitals, the cemeteries were soon also unable to keep up. The wait to drop off bodies became so long that charity groups had to cut back on the number of trips they made to the cemetery.
Daw Than Than Soe, who heads the Shin Than Kwink (Right to Life) Social Rescue and Funeral Services Group based in South Dagon Township, said her organisation carried as many as 40 bodies a day during the third wave in July, up from just five during normal times.
"We had to cut it back to 20 or 25 a day. That's as much as we could do … [because] we had to wait at the cemetery for a long time," she said.
Although it was clear that most of those brought to Yayway on July 28 had died from COVID-19, they would not be counted in the day's official death toll.
The regime's Ministry of Health reported just 78 COVID-19 deaths in Yangon Region on July 28, yet regional government figures show that there were 1,404 burials at the city's four main cemeteries – more than 10 times the normal figure.
This suggests that around 1,200 deaths were missed in Yangon alone that day. Over the course of July and August as many as 30,000 COVID-19 deaths may have gone uncounted in the city.
Burying the dead
From July 1 to September 30, 2021, Myanmar's official figures show more than 1.5 million tests were conducted, with 306,799 confirmed cases and 14,401 deaths.
But even the regime acknowledges that the real death toll was higher. Dr Khin Khin Gyi, director of emerging infectious diseases at the junta's health ministry's Central Epidemiology Unit, confirmed that the ministry figures only count COVID-19 confirmed patients who died in hospitals.
"Deaths in private residences are not included in the health ministry's COVID-19 figures because they haven't undergone laboratory tests," she said.
But the military regime has never explained why it did not mandate that tests be conducted on all deceased, particularly those with symptoms, given that a simple rapid diagnostic test takes just 15 minutes.
Numerous sources told Frontier that local officials showed no interest in probing the cause of death of those who had passed away in their own home after suffering from COVID-19 symptoms.
Frontier interviewed representatives from 10 social rescue teams and funeral service groups in Yangon Region, all of whom confirmed that township medical officers had written "underlying causes" or "chronic illness" as the cause of death for these individuals on certificates given to next of kin.
"Health officials just claimed it was an ordinary death when COVID-19 suspected patients died in their home. They didn't bother to swab the patients to confirm they had the virus," an official from a funeral services group based in North Okkalapa Township said, on condition of anonymity.
While some doctors and volunteer groups said lack of health staff to carry out testing may have been part of the issue, they said they also believed that there was a deliberate attempt made to undercount the number of COVID-19 deaths for political reasons.
Interviews with 15 social rescue teams and funeral service groups in other states and regions, including Bago, Magway and Tanintharyi regions and Shan State, said that in their experience death certificates were not even being issued at the height of the third wave.
Ward and village tract administrators worked with charity groups to safely cremate or bury COVID-19 suspected patients who died at home but didn't involve township medical officers.
"The ward administrators in Magway write recommendation letters in case people need written confirmation of the death. They then bury the bodies at the cemetery as soon as they get burial certificates from the municipal authorities," said Ko Nay Moe Swe Kyaw, founder of a charity group called Sharing from People to People, which provided oxygen to COVID-19 patients.
Data gathered by Frontier from oxygen support and funeral service groups in Magway Township show there were at least 1,000 suspected COVID-19 deaths in the township during the third wave, but the junta-controlled health ministry had announced just 83 deaths by September 15.
Social rescue teams and funeral service groups said they suspected tens of thousands of suspected COVID-19 deaths in rural and remote areas may have been "buried" by local administrators, without the health department ever being informed.
Whether this was indeed a deliberate strategy, there is no doubt as to the outcome: a massive undercount of the death toll.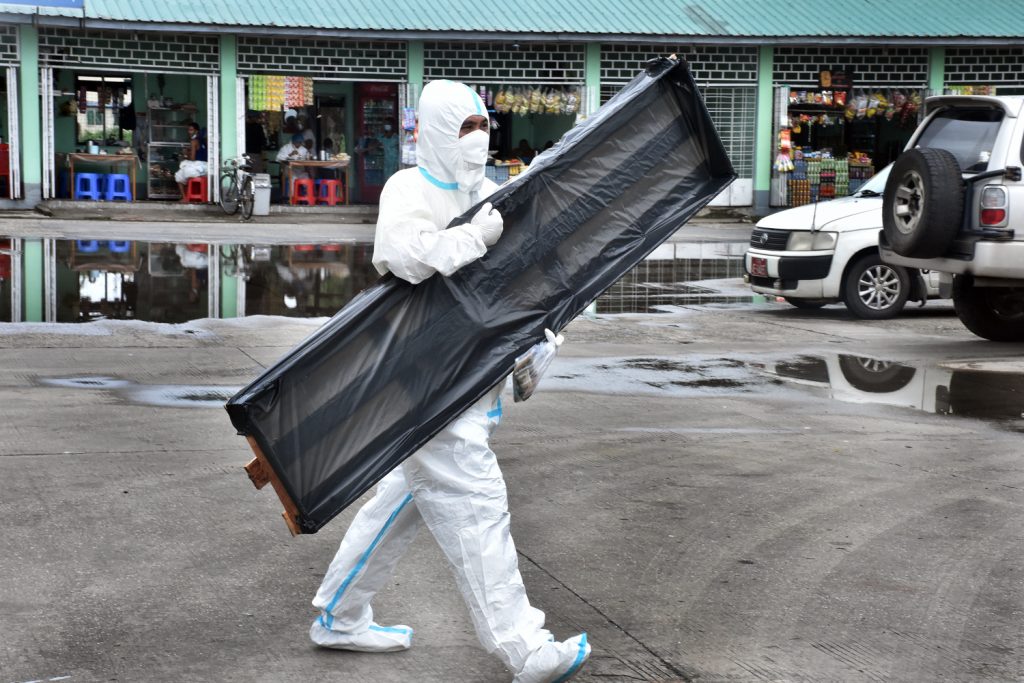 Probing Myanmar's real COVID death toll
Given many COVID-19 deaths were not recorded with the junta's Ministry of Health, and many of those that were recorded were not attributed to COVID-19, reaching a true figure for the death toll is all but impossible.
The parallel National Unity Government's Ministry of Health conducted its own assessment in August 2021, receiving more than 25,000 responses, the majority from Yangon. The assessment found a death rate three times higher than the regime figure, leading the NUG to estimate that at least 43,500 people died of COVID-19 between June 1 and September 30. Further, just 17 percent of deaths occurred in a public hospital, with 73pc in homes and 10pc in other locations.
But even this is likely to be a significant undercount; the excess mortality method suggests at least 30,000 deaths may have been missed in Yangon alone at the height of the third wave.
In June, July and August, the city's four main cemeteries – Yayway, Hteinbin, Kyi Su and Kyuchaung – handled the remains of 44,939 people, from any cause of death.
These figures come from a September 2 Facebook post by U Hla Soe, the junta-appointed Yangon Region chief minister. Yangon City Development Committee, which manages the city's cemeteries, did not respond to requests for comment and further statistics. 
This total includes 3,685 in June, 28,396 in July and 12,858 in August. The daily number of deaths peaked on July 23, with 1,803.
Excess mortality is calculated by subtracting the expected deaths during normal times and confirmed COVID-19 deaths from the reported deaths – in this case, the burials. The excess figure includes both deaths from COVID-19 that weren't reported, as well as deaths from other causes as a result of the conditions created by the pandemic.
The June figure provides a rough baseline for expected deaths: at the time, there were few people in the city seriously ill with the virus. Further, on July 19, a Yangon City Development Committee official told military-run television network Myawady that Yangon's four cemeteries typically handle around 130 bodies a day, or close to 4,000 per month. Applying Myanmar's estimated crude death rate to the population for Yangon provides a similar number.
Official figures for Yangon Region show that there were 12 COVID-19 deaths in June, 1,780 in July and 1,351 in August.
After adjusting for the expected deaths and confirmed COVID-19 deaths from the total for July and August, the burial figures indicate there were around 30,000 excess deaths in Yangon at the peak of the third wave in July and August – most of them likely due to COVID-19.
But the number of missed COVID-19 deaths in Yangon was likely even higher. The figure Hla Soe quoted does not include bodies processed at cemeteries for religious minorities, notably Muslims and Christians, or those who were buried elsewhere (or not at all).
In September 2021, Frontier was able to visit both the Sunni Muslim section at Yayway Cemetery and the Yayway Ecumenical Garden, a Christian cemetery in North Okkalapa Township.
Figures from both showed a significant increase in burials during July. The Yayway Sunni Muslim Cemetery recorded 1,698, compared to just 200 a month in normal times. On July 16 alone, there were 99 burials – almost half the normal monthly total.
"Most of the burials in July were COVID-19 suspected patients who had died in their homes due to lack of proper medical treatment and shortage of oxygen," an official from the cemetery, who spoke on condition of anonymity, told Frontier. "We've never seen so many burials in a single month here."
It was a similar story at the Yayway Ecumenical Garden, which counted 410 for the month, including 34 on July 27. In normal times there would be just 50 burials a month, said an official from the garden, who asked not to be named.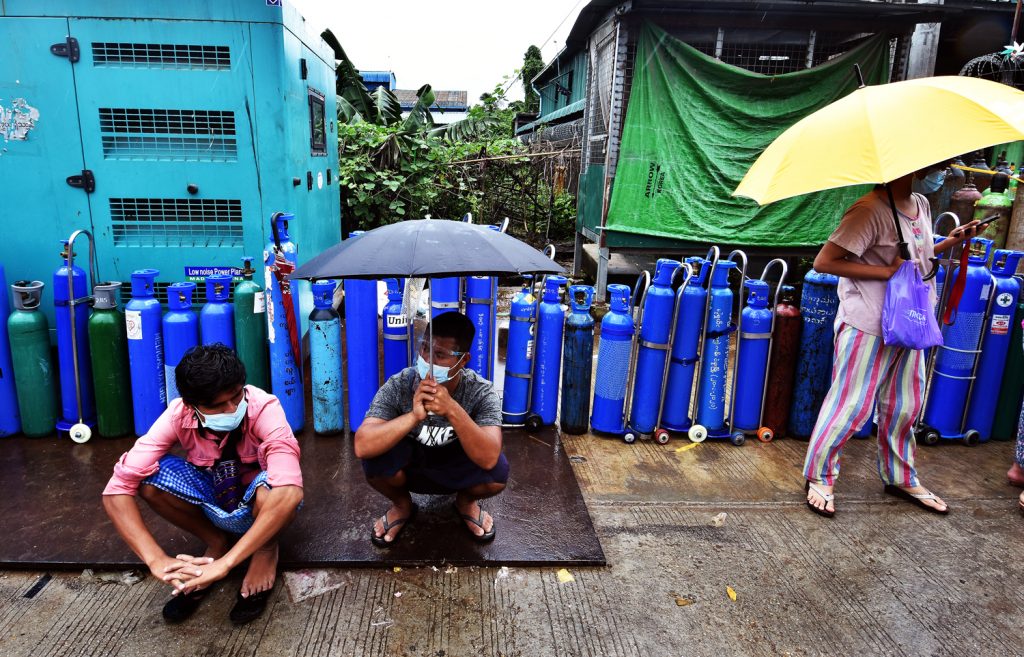 'Tens of millions infected'
Although Yangon's third wave began to ebb in August, the Delta variant would go on to ravage other parts of the country in turn: Mandalay and Magway followed soon after, and by mid-September Bago was recording the highest number of daily cases. Since October, Shan State has been the source of half of all confirmed cases.
Urban Yangon accounted for around 10 percent of Myanmar's population at the time of the 2014 census. Its 30,000-plus uncounted COVID-19 deaths suggests that the total for Myanmar may be well over 100,000.
Frontier interviewed representatives from social rescue teams and funeral service groups around the country, and they painted a similar picture of the third wave: hospitals were either closed or quickly overwhelmed, and anyway lacked the oxygen needed to treat severe COVID-19 cases. Most victims died in their homes and were never counted.
A health worker with the junta-controlled Ministry of Health based in Bago Region's Thegon Township told Frontier that many who made it to hospital were too sick to be helped.
He said many people with COVID-19 symptoms were reluctant to inform the authorities because they were worried about having to quarantine, which would mean they were unable to work.
"They often treated themselves at home with remedies based on old wives' tales. When they arrived at hospital, it was too late," he said.
An official from Myat Chan Thar, a group supplying oxygen to COVID-19 patients in Taunggyi Township in Shan State, estimated that around two-thirds of COVID-19 patients in the township were receiving treatment at home because the hospitals were understaffed and striking health care workers were struggling to safely provide alternatives to the state-run system.
From September 2021, official figures showed a significant decline in the case positive rate – the proportion of tests that come back positive – as the regime launched a testing blitz. Daily confirmed cases and officially recorded deaths also slowly declined towards the end of the year.
Myanmar public health experts say the decline in new cases was likely because the majority of the population had been exposed to the virus, even though official figures show that there were fewer than 400,000 cases from June 1, 2021, to the end of the year.
"Of course, it is very difficult to confirm this assumption without a sero-survey," said one health expert from an international NGO working in Myanmar, referring to the testing of a random sample of the population for antibodies that indicate a previous COVID-19 infection. "But a lot of people had symptoms similar to COVID-19, and there were desperate pleas for oxygen and health assistance."
Three public health experts told Frontier its calculation for Yangon Region COVID-19 deaths was plausible, and that it was clear the national toll was also a massive undercount.
One pointed to research that showed India's COVID-19 death toll may be up to 6 million – 12 times higher than the official count.
"I think the epidemic in Myanmar was as bad or worse [than India's] and healthcare services were largely not functioning, so many more severely ill COVID patients would have died," the source said.
"I have no doubt that tens of millions of Myanmar people got infected," another source added, "and that more than 100,000 – or even a few hundred thousand – died."