A brutal crackdown in Yangon's Hlaing Tharyar Township in mid-March triggered an exodus of migrant workers. As protests subside, many are heading back to the big city but are finding that work is scarce.
By FRONTIER
On April 18, the second day of the traditional Myanmar year, Yangon Region's outer western Hlaing Tharyar Township was busier than it had been in a month. With the Thingyan holiday over, large numbers of people were entering the heavily industrialised township on motorbikes, in taxis and aboard light trucks loaded with their belongings.
They were returning to the scene of a massacre. Pitched battles on March 14 between well-armed security forces and protesters wielding home-made weapons left at least 58 protesters dead, according to a local network of volunteer medical groups, and several factories were burned down. That same day, the junta declared martial law in the township and in neighbouring Shwepyithar – a draconian new security regime, where civilians can be hauled directly before military tribunals and handed death sentences, that was later extended to four other outlying, industrialised townships in Yangon.
Fearing a wider crackdown, and with many having already lost their factory jobs amid the near-collapse of the garment sector, tens – possibly hundreds – of thousands of migrant workers fled to their home towns and villages. Hlaing Tharyar, whose population had swelled to close to a million thanks to a decade of steady migration from the countryside, suddenly resembled a ghost town.
But after more than a month away, and with protests in decline because of brutal suppression by soldiers and police, many of those who fled have begun making their way back to the commercial capital. They were largely driven to return by a lack of jobs in the countryside, but with increased factory closures and reduced output, and a steep decline in the wider economy, many are struggling to find new work and to meet the expenses of living in the city, raising the prospect of hunger and further waves of displacement.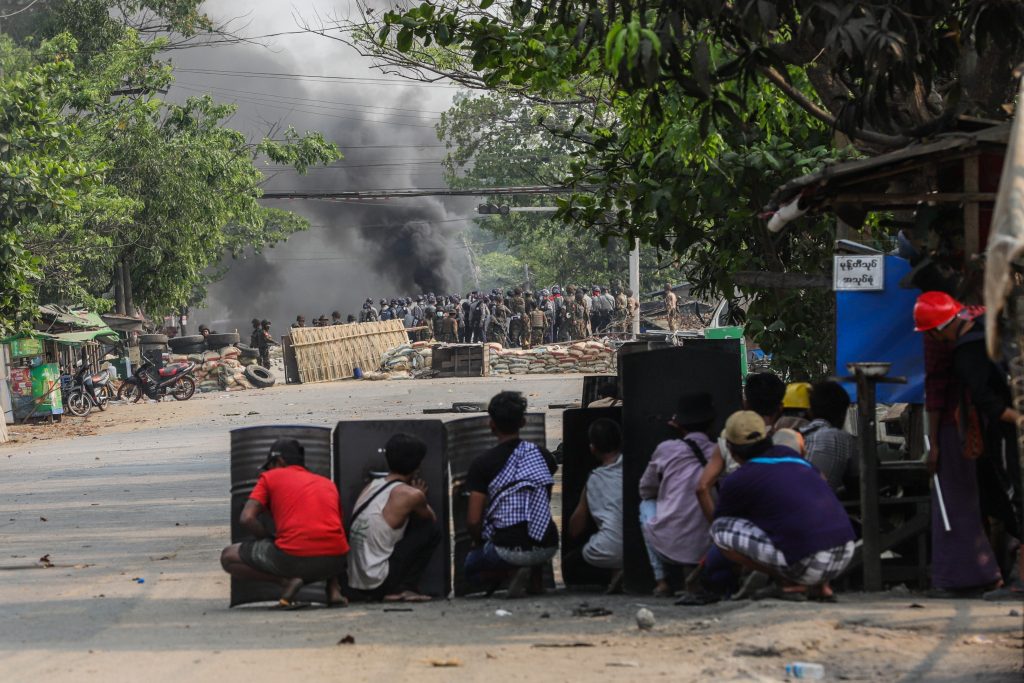 Ma Nwet Yi Win, a former workplace union leader at a shoe factory in Hlaing Tharyar, joined the mid-March exodus and left for her home village in Ayeyarwady Region's Ngapudaw Township, but is now back in Yangon. Returning to the city to find work was the only way for the migrant workers to survive because there are no jobs for them in the villages, she told Frontier.
"If Yangon is stable and it's safe to live there, the people will return. They have to return if they want a job or the opportunity of going abroad to work," said Nwet Yi Win, who lost her job at the shoe factory after it closed permanently on March 24.
Nwet Yi Win said ultimatums from factory managers to resume work or be fired had prompted some workers to return to their jobs in early April. She said many had been afraid of returning to Yangon because of the military's "inhumane oppression", including regular raids on homes to arrest political opponents, but were worried about losing their jobs.
However, according to Hlaing Tharyar residents, even those who still had jobs in the township's dwindling number of operational factories largely chose not to return until after the mid-April Thingyan holiday.
Ko Aung Ye Min, who works at a noodle factory in the township, had ignored a less severe order from his bosses for employees to resume their jobs on April 1 or forfeit their Thingyan holiday pay.
"I don't care about the money – I have to take care of my life and if I had returned to work on April 1, I might have been risking death," he said, referring to the threat of Tatmadaw crackdowns.
Aung Ye Min said that, like him, most of the factory's employees did not return to work until April 20, by which time a sense of stability seemed to be returning to Hlaing Tharyar.
Ko Min Min Soe, a taxi driver in Hlaing Tharyar, said migrant workers who returned to their rural homes after the violence in mid-March had to rely on motorbikes because taxis were unavailable. Taxi drivers did not want to risk their vehicles being damaged in a fresh bout of unrest, he said.
However, the reduction in protests and return of migrant workers since Thingyan is keeping him and other taxi drivers busy. "I already have three orders for trips to bring back migrant workers from Kyaiklat [Township, Ayeyarwady Region], Ahpyauk [town in Yangon Region's Taikkyi Township] and Kawhmu [Township, Yangon Region]," he said.
"Each trip is worth about K50,000. Three or four workers are pooling their money and hiring my car together," he said.
But even if some of the township's bustle has returned, the landlords of dormitory blocks – where much of the migrant workforce is housed – say Hlaing Tharyar's population is still well below pre-coup levels.
U Aung Hlaing Win, 55, who owns four hostels in Shan Kyaung ward in eastern Hlaing Tharyar, said about half his rooms were vacant.
"Before Thingyan, some of my hostels had no tenants. I have begun receiving tenants since April 18, but the situation is totally different to before the coup. My hostels used to be full and I had to turn people away," he told Frontier.
Aung Hlaing Win added that the ward was still quiet with many shops closed because their owners were yet to return to Yangon.
"Most of the migrant workers in our ward are from Rakhine State and Ayeyarwady Region. They come here to work in factories or run small businesses like shops. It seems that some are still wary about returning to Yangon because they think it is not safe yet, but they might return by the end of April," he said.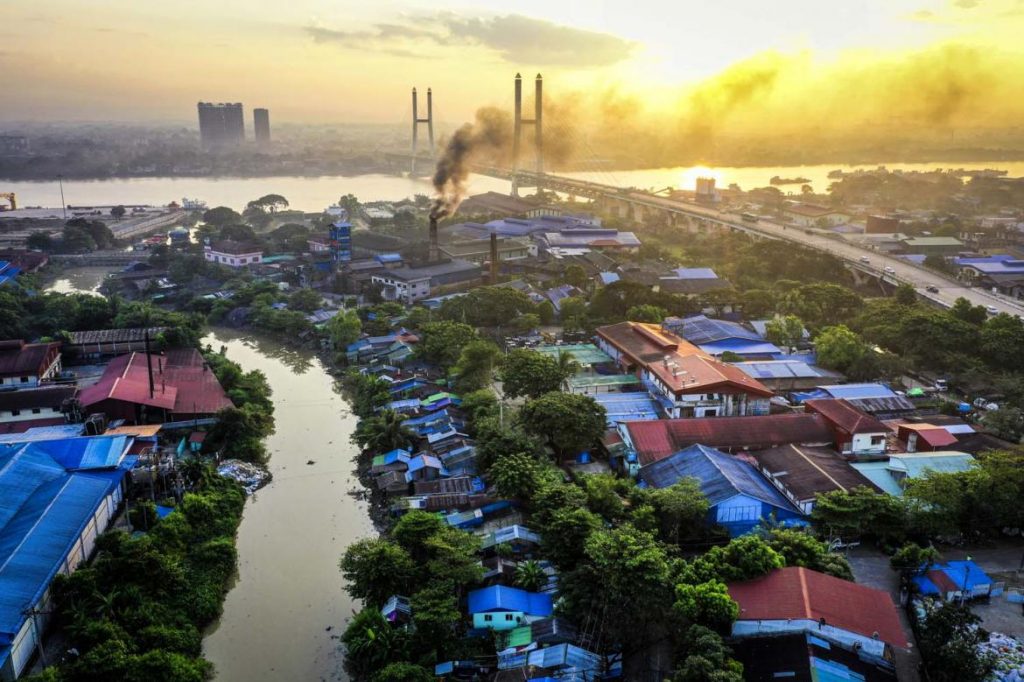 Labour activist Nwet Yi Win also expects many more workers to return to the township because they will need jobs to support themselves and their families. But most will likely be disappointed, she believes, and will find themselves no better off than in their rural homes.
"After the military coup, many [garment] factories closed permanently because of a lack of orders from abroad, so I don't know how those people will find another job," she said. "Because of the COVID-19 situation, we also cannot go to neighbouring countries to find work."
Despite losing her job at the shoe factory, Nwet Yi Win still makes some money from reporting labour issues to non-government organisations, but she mainly relies on financial support from her family.
Jobs are harder to find because even factories that have continued operations have downsized their staff, as orders and income have plummeted.
Ma Su Myat Nwe has been looking for work since she was laid off from a Hlaing Tharyar garment factory in February. After more than two months, she is thinking of giving up the search and leaving Yangon for good.
"I might go to Lashio where my parents work at a restaurant," she said. "Although I don't have to pay for accommodation because I'm staying at my brother's home [in Hlaing Tharyar], it's not going to work in the long term."
Those lucky enough to keep factory jobs have meanwhile seen their earnings reduced thanks to the 7pm curfew imposed under martial law. Although only an hour earlier than a nationwide curfew that has been in place since February, it deprives factory workers of the opportunity to earn overtime pay in the evenings. This supplementary income enabled them to not only meet the expenses of living in Yangon but also send money to their families and maybe save some for the future.
"If we don't work overtime, we will receive only K150,000 a month, but if we work overtime our salaries rise to about K220,000. Every factory worker wants to find a job that includes overtime," said garment factory worker Ma Thida. Her workplace now closes at 4:30pm each day, she said, to ensure workers have time to return home before curfew.
However, labour activist Nwet Yi Win said that, even without a curfew, there would likely be few opportunities to work overtime. Orders have plummeted because the garment sector, which dominates Hlaing Tharyar's industrial zones and was already severely weakened by the economic fallout from the pandemic, relies heavily on demand from European countries that have strongly condemned the coup, she explained. Some companies, such as H&M and Benetton, have already stopped sourcing from Myanmar.
Factory worker Ma Thida said she was relieved to still have a job, despite not being able to earn overtime, but was no longer able to support her family in her home village. She had been sending her family K100,000 a month before the coup, she said.
Meanwhile, creeping inflation is making it harder to even support herself. "My income is lower than before, but the prices for basic commodities have risen. It's harder to make ends meet," she said. "I don't expect the situation to be good, but I hope it won't get worse."