Hundreds of thousands of workers have fled joblessness and state violence in Yangon's Hlaing Tharyar Township, but without jobs waiting in their home villages a mass exodus to foreign labour markets may be on the horizon.
By FRONTIER
Twenty-three days after the military seized power, the Tai Yi shoe factory, in Yangon's industrial Hlaing Tharyar Township, announced it was closing and would terminate all employees within one month.
It was news that Ma Khin Aye, a 35-year-old Hlaing Tharyar resident who had worked at the factory for seven years, had been dreading.
"At that time, my first thought was about my age," she told Frontier on March 11. "I'm 35. No factory is going to hire someone that old. Most want to hire only young people."
On March 24, more than 200 workers at Tai Yi were given severance payments based on the length of their employment. Khine Aye's seven years earned her a payout of K800,000 ($567).
Already struggling due to COVID-19, Myanmar's once-booming garment sector has been decimated by the effects of the February 1 coup, putting at risk more than half a million jobs.
Striking public and private sector workers – including many from the garment sector – have joined the Civil Disobedience Movement, bringing the country's ports, banks and logistics sectors to a standstill, making it difficult for factories to access raw materials or send out finished goods.
In recent weeks, violence has directly affected the industrial suburbs of Hlaing Tharyar, Shwepyithar and South Dagon, with scores of protesters killed and more than a dozen factories torched. More and more foreign buyers have temporarily suspended orders from Myanmar, and it's unclear whether that business will return.
Khine Aye said she does not know what her future now holds. At the moment, she said, she has no choice but to return to her hometown ­­– a dusty village in Ayadaw Township, Sagaing Region.
"There were once jobs weaving [traditional textiles] and rolling cheroots there, but nobody weaves anymore, and if I roll cheroots for an entire day I can only make K2,000," she said, her eyes cast vacantly into the middle distance. "I have no idea how I'll survive."
Khin Aye is among the hundreds of thousands of factory workers in Myanmar who before the coup had been hanging on by the thinnest thread of hope that, as the world begins to recover from the COVID-19 pandemic, work would pick up and life might resume some sort of normalcy. She said she'd been grateful to have been able to keep her job, as she watched hundreds of her coworkers be let go.
But the February 1 coup has dashed those hopes completely.
"I was always worrying, 'when will I be laid-off?' Now it has really happened to me," she said. "We [workers] are always the first to suffer when there's a crisis in the country."
Labour strikes
Industrial workers, including garment workers in Hlaing Tharyar, were among the first to take to the streets in protest against the junta. On February 6, dozens left the township's textile factories and marched into the city to demonstrate. Ma Marlar, general secretary of the Federation of Garment Workers Myanmar, said their fury at the military's power grab was exacerbated by having endured the economic ravages of the pandemic.
"Throughout COVID-19, employers slashed wages and laid off workers. Workers have faced massive hardships. Now, as we've started to just barely see the end of COVID-19 in sight, we've been crushed by the military again," she said. "We know they're a threat to our livelihoods, and even our lives."
Marlar, 37, who worked at the Chinese-owned Mian Yi Garment Factory in Hlaing Thayar, was among those marching that first day. There is a pervasive but misguided belief held by many in Hlaing Tharyar – Marlar included – that China encouraged the coup and is supporting the junta. But she also believes that, by hurting Chinese businesses, it may force Beijing's hand to pressure the junta to step down.
"There are more than 500 workers in Mian Yi and more than 300 have joined the strike," she said. "The owner allowed us to leave without pay but said we have to return by May 3. Some are still going to work, which we understand, because they are struggling financially."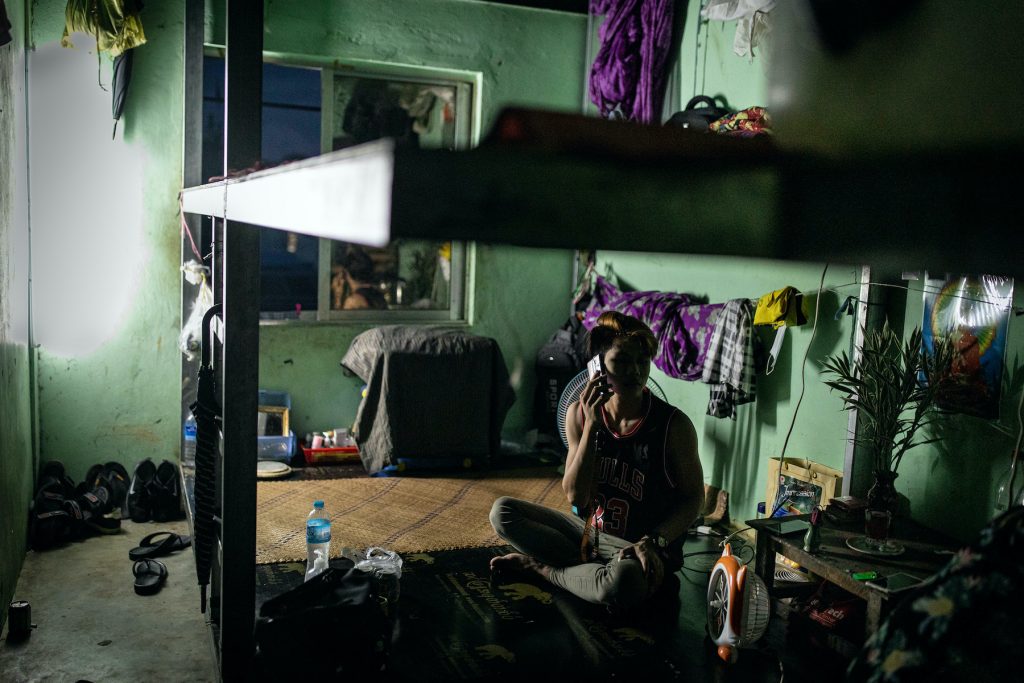 She said the owners have tried to accommodate the workers, allowing them to work when and if they can, and to receive payment at the end of the month only for the days they've worked.
"They said, 'If workers want to come, come, and if not, don't.' At the end of the month, they will calculate the days a worker came in and pay that," Marlar told Frontier.
These striking private sector workers are hoping for the kind of material support the CDM has garnered. Online, clandestine funding networks have sprouted up to support government workers who've walked off the job in an effort to cripple the military's ability to govern. Nwet Yi Win and Marlar said striking factory workers need similar cash or in-kind support if they are to make their strike effective.
"There is no external support yet [for us]. Not only government employees but also private employees joined the CDM because they do not want a military dictator. We would like people to donate to these employees, who are also actively involved in CDM," Marlar said.
Exodus
The economic devastation sparked by the coup and ensuing strikes was fully visible in Hlaing Tharyar by late February, when migrant workers first began leaving the city for their countryside home villages. With hours and wages cut, they couldn't afford to pay rent while they waited for factories to reopen. But hundreds of thousands more left after March 14, when the junta declared martial law in the township following a brutal crackdown in which it reportedly killed more than 50 people.
Workers usually pay between K50,000 and K80,000 for a 10-square-foot room. Many had lobbied their landlords to reduce rates last month but were largely unsuccessful.
"A few owners cut rates by K10,000 or K20,000, but it was very rare. Most said their incomes were already hurt because a lot of rooms were going vacant," Nwet Yi Win said.
The owner of a hostel in the township's Shan Kyaung ward told Frontier on March 25 that 21 of the 24 rooms in his normally fullybooked hostel are vacant.
"They've all left for their hometowns. It's really hurt my business," he said. "I understand the workers are facing a financial crisis. I wish I could reduce the rent for them. But think about this – for March, I took in K180,000 for three rooms. Monthly income from this hostel is normally K1.5 million."
Yet for many, the return home is a stopgap fix, not a long-term solution. Though they can't afford to stay in Yangon, there are still no jobs for them back home. Nwet Yi Win believes many will soon try to leave the country to seek menial work abroad, tilling land or cleaning houses.
She has friends who are using their severance to help pay fees to agents who will help them find work in Thailand. These agents are already increasingly reaching out to unemployed factory workers with offers of jobs in Thailand's construction, manufacturing and agricultural sector, promising 350 Thai baht a day (K15,800) plus overtime, she said. She plans to go after Thingyan, in mid-April.
But the road to work in Thailand is often full of unscrupulous job brokers and fly-by-night employment agencies that can leave migrant workers with crushing debt.
Friends of Nwet Yi Win who have returned to Dawei Township, in Taninthary Region, had hoped to find work at the Dawei Special Economic Zone, where the Myanmar and Thai governments were jointly developing an industrial park and a port. The project had already been delayed, but days after the coup the Thai government canceled planned meetings on it, with deputy prime minister Supattanapong Punmeechaow saying its investment "will have to be halted for now, and talks will resume once there is a new government in Myanmar". It is one of several cross-border infrastructure projects that have evaporated or ground to a halt in the wake of the coup.
"Some workers from Dawei [Township, in Tanintharyi Region] have already left for Thailand," Nwet Yi Win said. "Working abroad will be the only choice for many who've lost their jobs in the industrial zones of Myanmar."