In 2016, Ko Ye Win Tun saw a man walk above the clouds on YouTube. Inspired by a professional slackliner, he was immediately hooked and now wants to popularise the sport in Myanmar.
Words & photos by NYEIN SU WAI KYAW SOE | FRONTIER
Every weekend morning, at about 5:30am, a man arrives at Thakin Mya Park, in Yangon's Ahlone Township, and strings a two-inch-wide strip of nylon web between two trees, hung slack a few feet off the ground.
Slowly, he puts one foot on the line, then the other. He balances in the air, hovering above the ground, and begins to move forward. By this point, there's often a small crowd watching on.
Ko Ye Win Tun found his passion in 2016. The 37-year-old car salesman from the Kan Daw Lay ward of Yangon's Mingalar Taung Nyunt Township was attending martial arts classes, and the instructor got him to walk along a bamboo pole raised a few feet from the ground. He found that the simple act of concentrating on keeping his balance calmed both his body and mind.
When the Bago Region native went home from class that day, he looked on YouTube for more balancing exercises. At the other end of a long internet wormhole, he found himself watching a video of a man walking through the clouds.
It was Samuel Volery, a Swiss slackline athlete, walking across a slackline – as the two-inch strip of webbed nylon is known – hung 477 metres (1565 feet) above ground in the Swiss Prealps.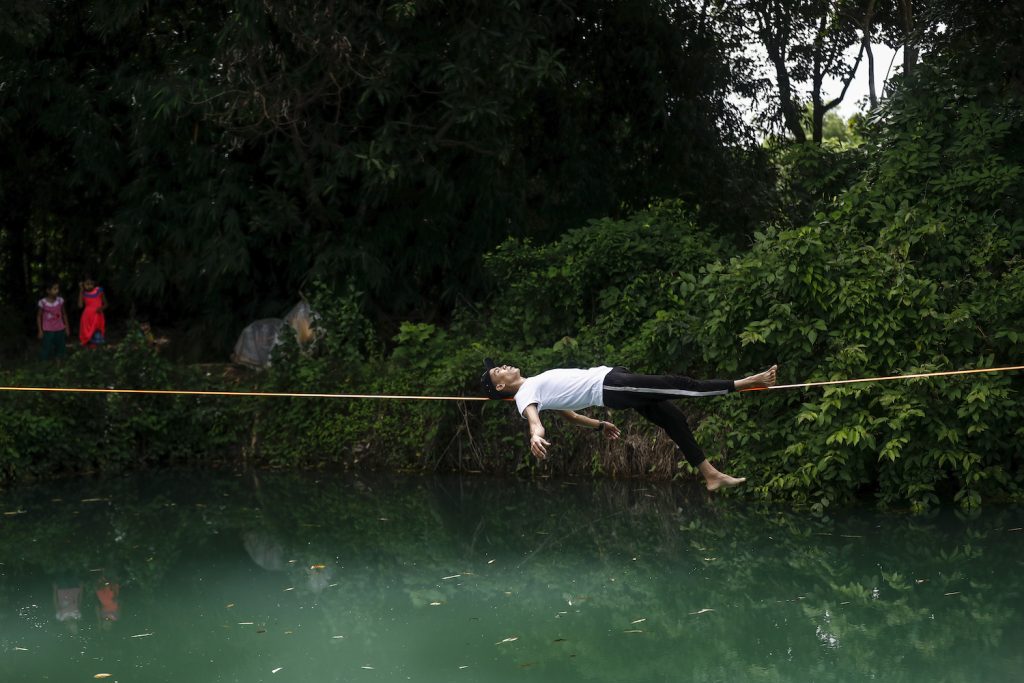 Slacklining – a newer, more yogic version of the centuries-old tight-rope walk – usually attracts backpackers and mountain climbers, longhaired neohippie types who hang out in Colorado and California, in the American West, where the sport began. In more recent years it has spread to mountain-climbing communities the world over, but it has yet to catch on in Myanmar. Ye Win Tun had certainly never seen it before that day in 2016. As he watched Volery tip-toe on the clouds, something in him shifted.
"I couldn't keep my eyes off the video. He walked over the slackline and beneath him the clouds were moving," Ye Win Tun told Frontier. "I wanted to be like him."
Now Ye Win Tun is intent on growing the sport's popularity in Myanmar. After chancing across Volery, he went online to learn about slacklining and watch more videos. He then ordered a cheap nylon rope from China in mid-2017, he recalled, and began practising.
He's since gotten a proper slackline, but struggles to find a public space to practise. Risk-averse park guards and a conservative park department are reluctant to allow this "strange sport" in most of Yangon's public parks.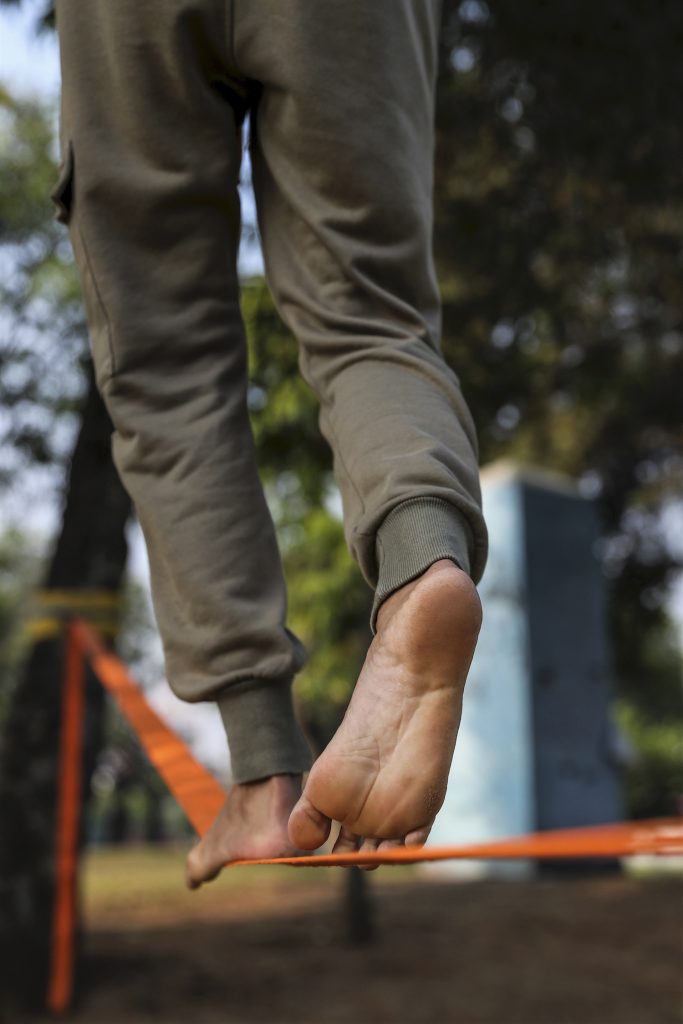 'They'd never seen a sport like this before'
As the name implies, tight-rope walkers cross a line that is pulled, well, tight. In slacklining, the tension is loosened, giving the line varying degrees of slack based on the athlete's style.
Tales are sometimes told of climbers as early as the 1960s stringing their climbing ropes from tree to tree between climbs, and balancing on or walking across it. An American climber named Adam Grosowsky is usually credited as the originator of modern slacklining, however – it's said he first slacklined during a climbing trip to America's Yosemite National Park sometime in the early 1980s.
Slacklining was at first a diversion between climbs – a way to strengthen balance and pass the time – but it quickly gained adherents and soon spun into its own sport. Now there are countless variations. The added width and slackness of the line allow athletes to push past traditional tight-rope walking, performing all sort of acrobatic stunts.
The celestial-height slacklining Ye Win Tun saw Volery doing is called highlining. Tricklining involves the athlete performing jumps, flips and handstands, or combinations thereof. Urbanlining combines several of these but in an urban setting, the line strung between high-rises or telephone poles. There is even Yogalining, in which practitioners hold difficult, static yoga poses while balanced on the line.
The calm Ye Win Tun found is unsurprising: slacklining is considered by many to be a form of "moving meditation". Because of its ability to strengthen muscle and focus concentration, many Western physiotherapists have even added slacklining to their therapeutic toolkits.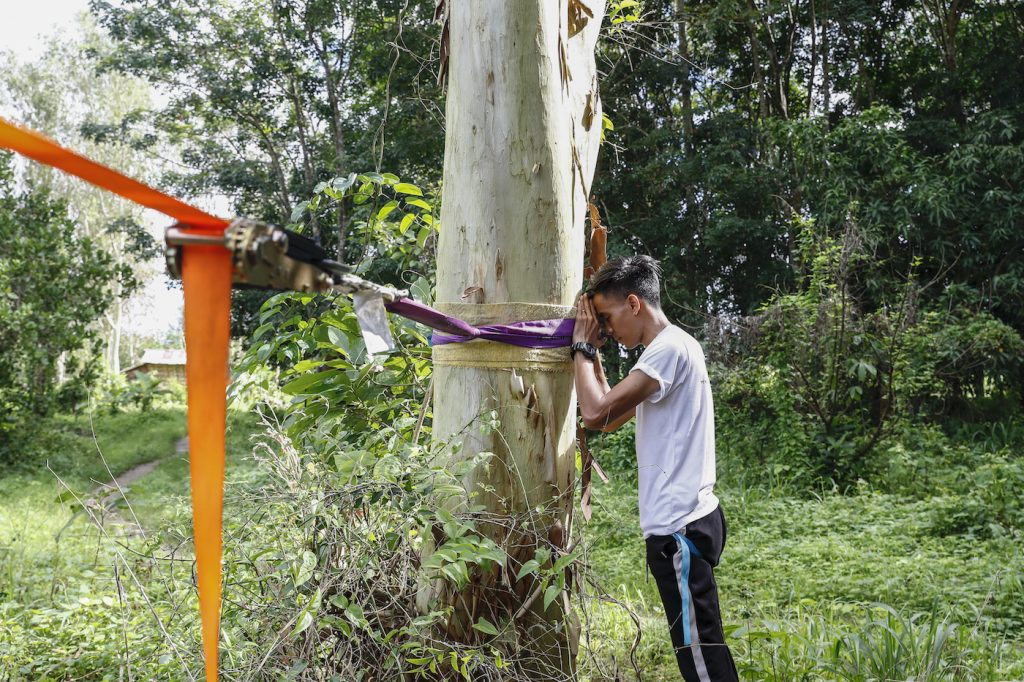 Ye Win Tun had some skill to start with. His balance had already been honed through six years practising the northern Chinese martial art mahar kyunan. But that first rope from China didn't quite cut it.
"It was just a normal nylon rope, and I had to wait like eight months for it to get here," he said.
Still, he practised and kept watching videos on YouTube. He started collecting the tools of the trade; an entire outdoor sports industry has bloomed full of new and improving anchors and carabiners to fasten slacklines to trees, and gadgets that help adjust the line's tension or protect tree bark.
Finally, in June 2018, he ordered a proper slackline on Amazon. Once it arrived, he ventured into Yangon's public parks.
He first tried to set a line in People's Park, in Dagon Township, but security guards immediately rushed over to stop him. They said he needed to apply with the park department for permission.
In July 2018 he applied for permission with the Yangon City Development Committee's Department of Gardens and Sporting Grounds. While waiting for a response, he tried again in Thakin Mya Park, in Ahlone Township, but the security guards there responded similarly.
"No! No! You can't do that," he recalls a guard yelling at him. "I've never seen this strange sport before. I can't allow you to do this – my supervisor would scold me." He tried to explain the concept of slacklining but the guard wouldn't listen.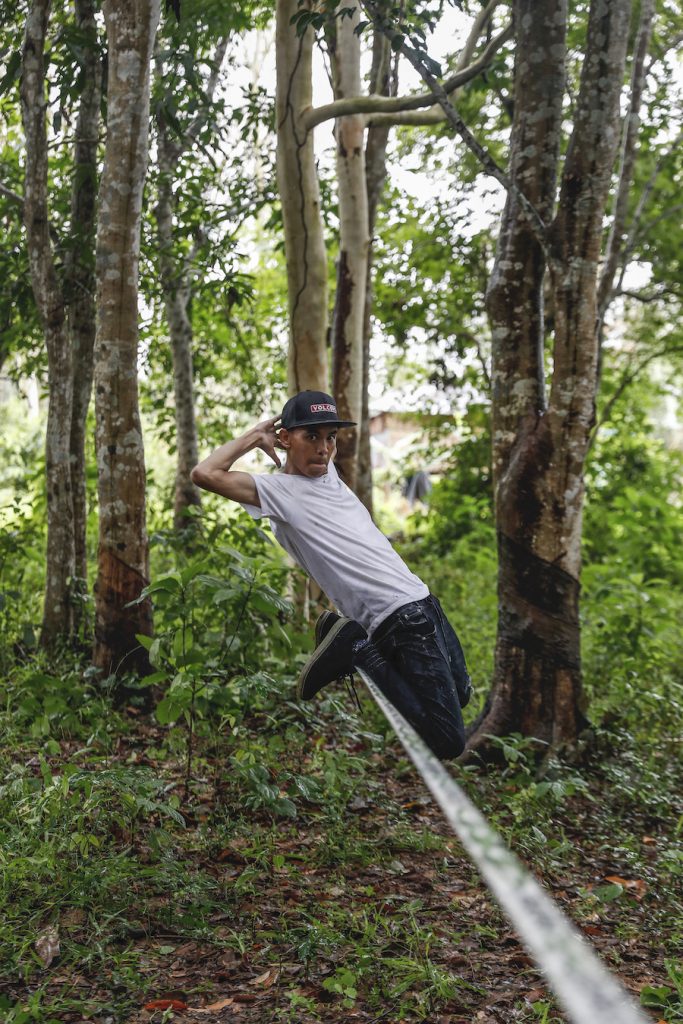 Next, Ye Win Tun tried a section of Kandawgyi Park on Natmauk near the Bogyoke Aung San statue. There the guards were more lenient, but in early mornings the park is overrun with joggers, and cyclists whiz by.
For six months he came and practised, beginning about 5:30am, but he grew sick of competing for space with the early-morning exercisers – it wasn't the sort of zen atmosphere one needs to easily find balance. He did gain enough skill and confidence, though, to try highlining, even if he wasn't quite at Volery's heights.
He went back to Thakin Mya Park and set a line about 3m high and 40m across. This time, the guards just watched.
"I think they were surprised – and curious," he said.
An audience gathered and started to cheer him on. A group of elders actually lobbied the guards to let him proceed.
"They'd never seen a sport like this before," he said.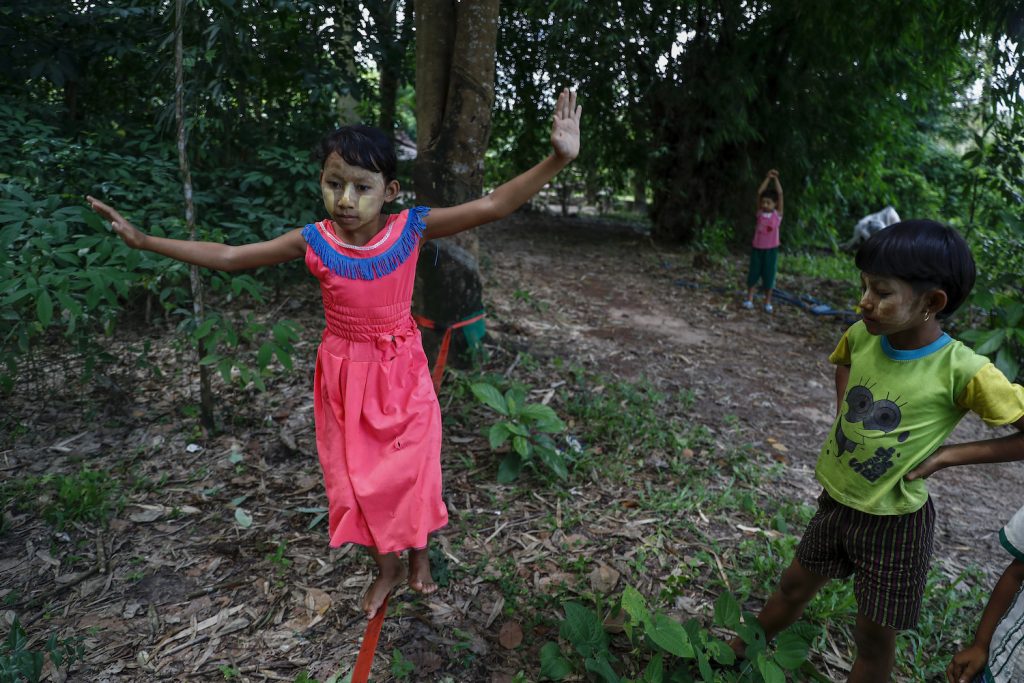 After he walked the slackline, people stuck around and asked questions – they were interested.
Throughout 2018 and 2019, he continued practising early in the morning in Thakin Mya Park, accruing curious onlookers and sometimes even participants. He created a Facebook page called Myanmar Slackline Community, and throughout that year it more than doubled, from 11 to nearly 30 followers.
But Thakin Mya Park is barely 200 metres on each side – hardly room enough real slacklining – and the trees are like shrubs compared to other parks in Yangon. Ye Win Tun wanted to go higher.
In December 2019 he tried his luck at People's Park again, where open space abounds and the trees tower above. To start, he set 55m of line about 2.1m high. Security rushed over immediately.
"You can't do this without a permit!" they told him. "A strange sport like this – you have to apply for permission and get a letter from the parks department to do this … What if someone gets injured? We can't be liable for that."
Ye Win Tun told them he'd applied for permission from the park a year ago and had still gotten no reply.
"I wasn't harming anyone. It's not violent like some sports. I'm just walking on a rope strung between two trees," he told the guard. "I even use equipment that protects the trees."
They wouldn't listen – they made him take the line down and pack up.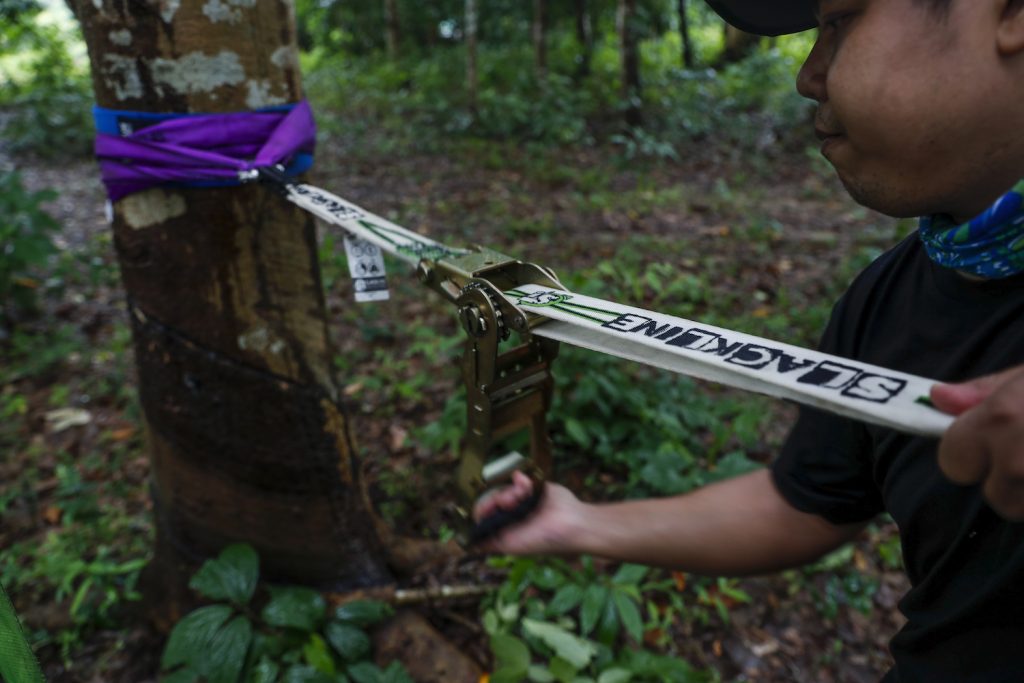 Two days later he went to the park office to inquire about the letter and found out the department had made an official reply in September 2018 but had never sent it to him – they had the wrong phone number and address. Their response: no. They said slacklining would damage tree bark.
"I've practised in Thakin Mya for more than a year and have never harmed a single tree," he told Frontier. "I use gear that protects them. It's basic slackline etiquette."
This isn't the first time the park department has objected to lesser-known sports that attract a more youthful cohort. Road cyclists and mountain bikers are a common sight at People's Park, but BMX bikes have been barred. In June 2017, when a drunken man slapped one BMX biker in the face, security refused to help, then kicked the BMX bikers out of the park, several of them told Frontier.
"We were just riding our bikes," said Ko Kyaw Zin Thant, 19, an elite Myanmar BMX biker who's competed at the SEA Games and the Asia Games. "The park rangers didn't help us. They even evicted us from the park." Kyaw Zin Thant and his friends have applied for permission to ride BMX bikes in the park three times, and been rejected on each occasion.
Daw Win Sandar, the People's Park guard that initially argued with Ye Win Tun, told Frontier it was the park department's decision to ban the sports but declined to comment further, referring questions to the department's head office. Frontier called the head office and several additional numbers listed on the website of the Yangon City Development Committee, which the park department operates under, but no one answered.
"I've attended some workshops in Vietnam, and they think about incorporating urban sports and listen to young people," said Ko Nyi Nyi Aung, a climbing instructor and founder of the Climb O'Clock rock-climbing gym in Yangon.
"Here, we athletes want a good relationship with park rangers and want to officially use the parks in compliance, so we apply and try to explain to them, but they don't negotiate."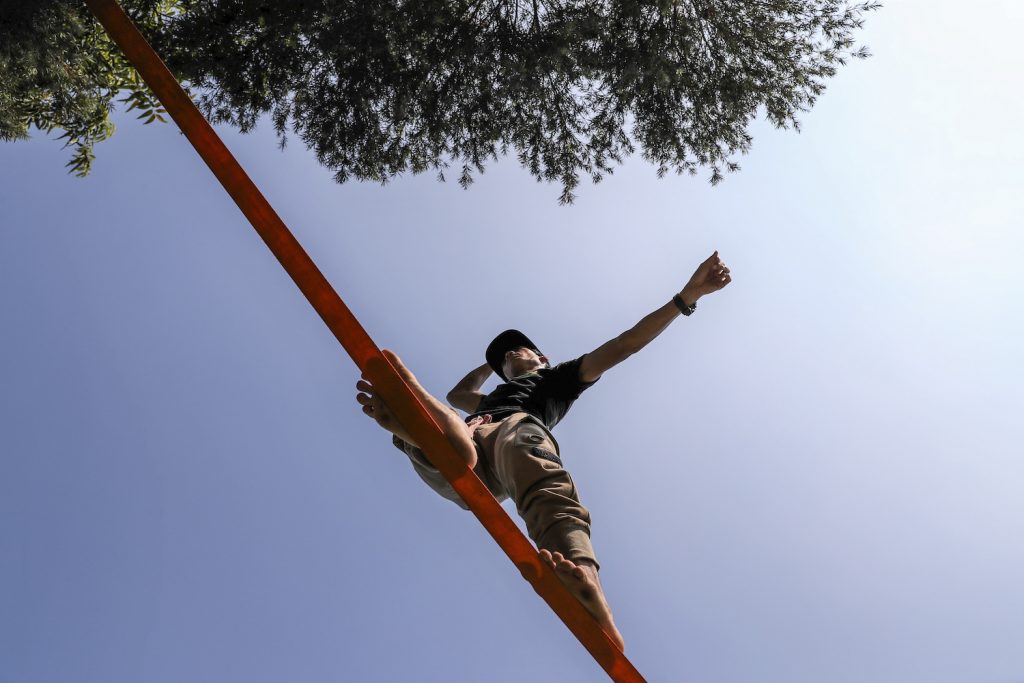 COVID-19 qualms
When Ye Win Tun first created the community Facebook page, in February 2018, he asked members for a K10,000 annual fee to buy group gear. It attracted an active crowd, mostly avid hikers, cyclists and yogis. They were still gathering every weekend, early on Saturday and Sunday mornings, in Thakin Mya Park before the pandemic hit.
"I like to challenge myself," said Ko Aung Kyaw Thu, a 37-year-old member of the group. "When I am on the rope, I'm only focused on trying to stay on the rope and not fall. I think I've gotten addicted to balancing my body and controlling my mind this way."
But near the end of 2019, Ye Win Tun made some policy changes to the group that led to a sharp decline in membership. He asked for an additional, one-time K10,000 donation from each member so they could upgrade their gear, and he introduced a mandatory two days a week of regular participation to stay in good standing. He wanted members to take the sport seriously. Fifteen members immediately disappeared. Now there are just six.
Even with a larger group of committed members, the COVID-19 pandemic would have taken its toll. The group has been unable to gather in parks to practise due to bans on large gatherings.
But Ye Win Tun connected with Ko Thet Aung, spokesperson for Duwun Orchard – a 300-acre farm with 11 reservoir lakes in Hmawbi Township, on the outskirts of Yangon. Ye Win Tun saw photos of the lakes and reached out to the farm. He wanted to walk over the water – waterlining, in slackline vernacular.
"I know the slackline community here is very small, but his passion is very infectious," said Thet Aung. "I invited him to the farm to slackline whenever he wants."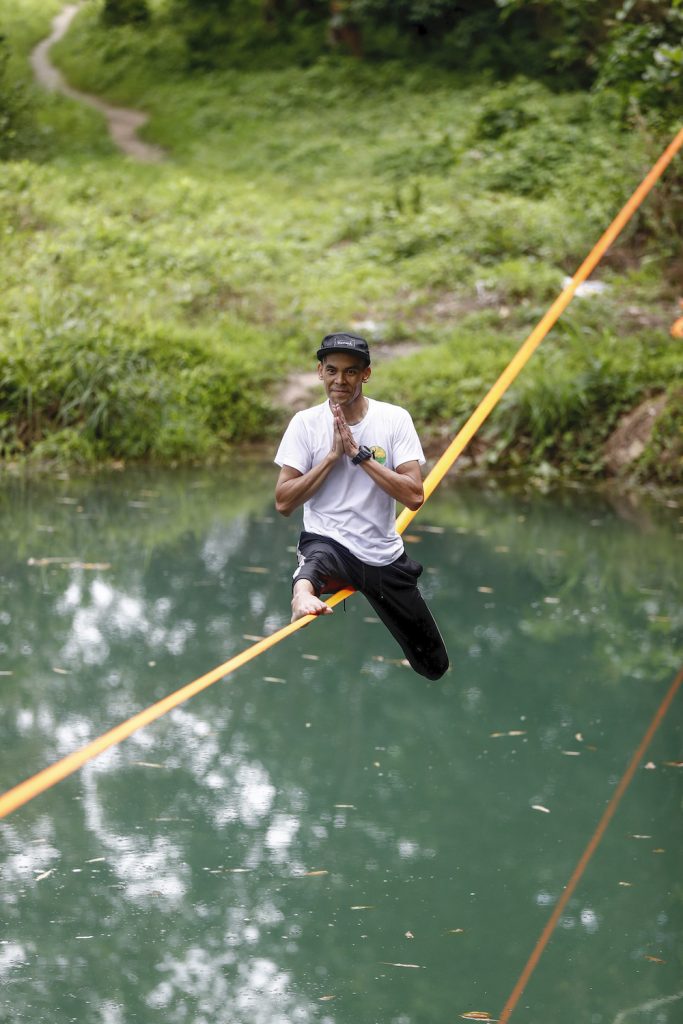 Thet Aung believes the sport will grow in Yangon.
"With kids especially," he said. "It's healthier than staying indoors with their gadgets."
"In other countries, slackline communities are big and popular. They have a lot of fun. In Myanmar, it's not well known yet," Ye Win Tun said. "Slacklining has got a lot of benefits for the health of the body and mind … As a community, we have to train ourselves, and to push ourselves."
Whether slacklining continues to gain fans in Myanmar, Ye Win Tun is too hooked to give it up.
"Even if I'm the only member, I'll keep practising," he said. "I want to walk on the clouds."