The colourful umbrellas made by hand at workshops in Pathein are among the products being affected by shortage of bamboo, a versatile raw material with considerable potential for commercial development.
By KYAW YE LYNN | FRONTIER
THE SHORTAGE of a special variety of bamboo is creating challenges for the handmade umbrella industry established a century ago in the Ayeyarwady Region capital, Pathein, by loyal subjects of Myanmar's last monarch, King Thibaw.
The umbrella workshops concentrated on Pathein's Tawya Kaung Road are an unlikely legacy of the decision by the British to banish Thibaw to India after they seized the royal palace in Mandalay in November 1885 at the end of the Third Anglo-Burmese War.
In 1914, a group of about 30 people who included U Shwe Sar, the royal parasol maker in Thibaw's court, travelled from Mandalay to Pathein, then a major river port.
"They came here hoping to travel to Ratanagiri in India where King Thibaw was exiled with his family," Ko Min Naing, a grandson of Shwe Sar, told Frontier at the family's workshop.
"However, the British were very clever. They did not want them to be reunited with the king, so they enticed them by various means to settle in Pathein," said Min Naing, the third-generation owner of the Shwe Sar Traditional Umbrella Workshop.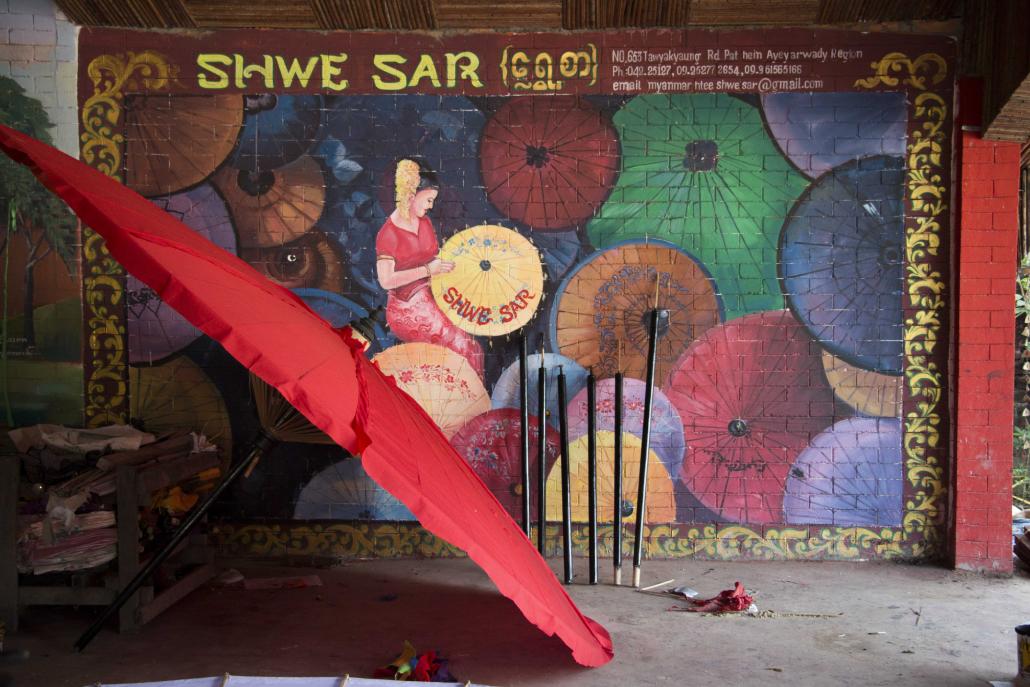 Their hopes thwarted, Shwe Sar and other members of the group settled along Tawya Kaung Road. The British provided land where they began making the umbrellas known in Burmese as "Pathein hti".
"My father taught me how to make a Pathein hti when I was five," said Min Naing, who decades ago began supplying umbrellas to outlets in Yangon, Mandalay and Bagan, and exporting them to countries such as Germany and France.
"Business is going well," he said, but added that the workshops have for the past five years been affected by a shortage of a high-quality bamboo species known in Burmese as "Tharagu".
"We can't source enough Tharagu bamboo from Ayeyarwady and I sometimes have to go to Rakhine State to buy that kind of bamboo."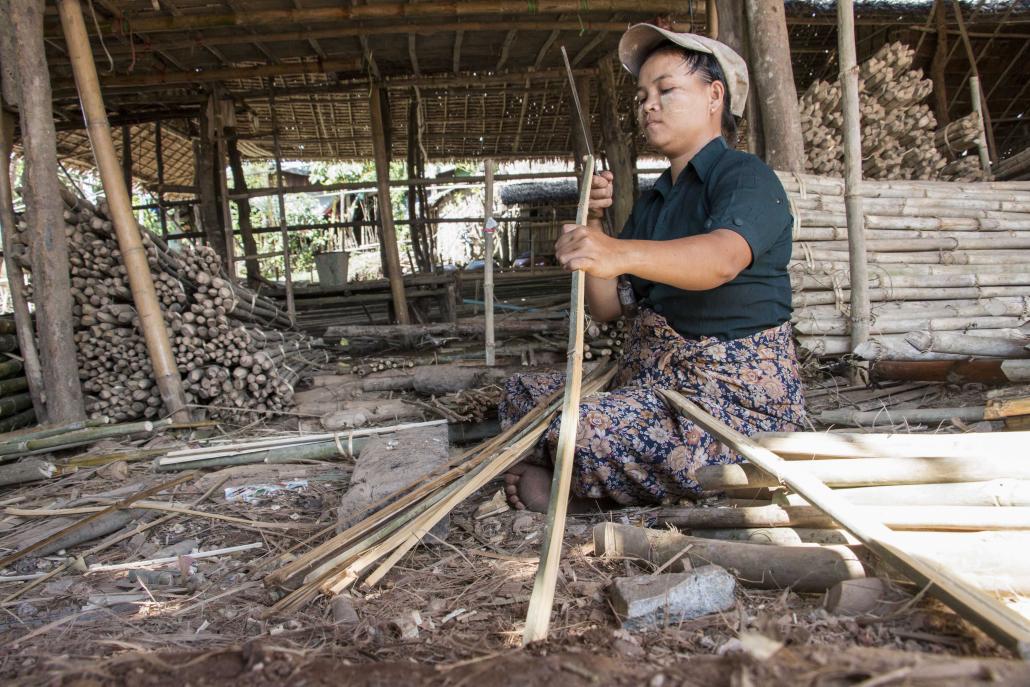 Min Naing said one factor contributing to the shortage is the country's largest paper mill that uses bamboo as a raw material. The mill is in Ayeyarwady's heavily-forested Thabaung Township, to the north of Pathein.
"The mill is producing tens of thousands of tonnes of paper a year and is using all kinds of bamboo, but we can only use Tharagu bamboo to ensure the quality of the umbrellas," he said.
The price of Tharagu bamboo has increased 10-fold over the past five years, he added.
Government figures cited in a report by the United Nations Food and Agriculture Organization and the International Network for Bamboo and Rattan in 2005 highlighted the paper industry's demand for bamboo. The figures showed that bamboo consumption by the paper and pulp industry soared from 43,245 tonnes in 1990 to 103,597 tonnes in 2000 before falling to 60,412 tonnes in 2004. Supply lagged behind demand, the report said.
Min Naing, who grows some bamboo in his workshop compound, said he hoped the authorities would allocate land to umbrella makers to establish plantations of Tharagu bamboo.
Myanmar's vast bamboo forests are said to be the world's third largest, after those in China and India. Myanmar has 17,838 square kilometres (1.7838 million hectares) of commercial-grade bamboo forests in Bago and Tanintharyi regions and Rakhine State, according to Ministry of Environmental Conservation and Natural Resources data.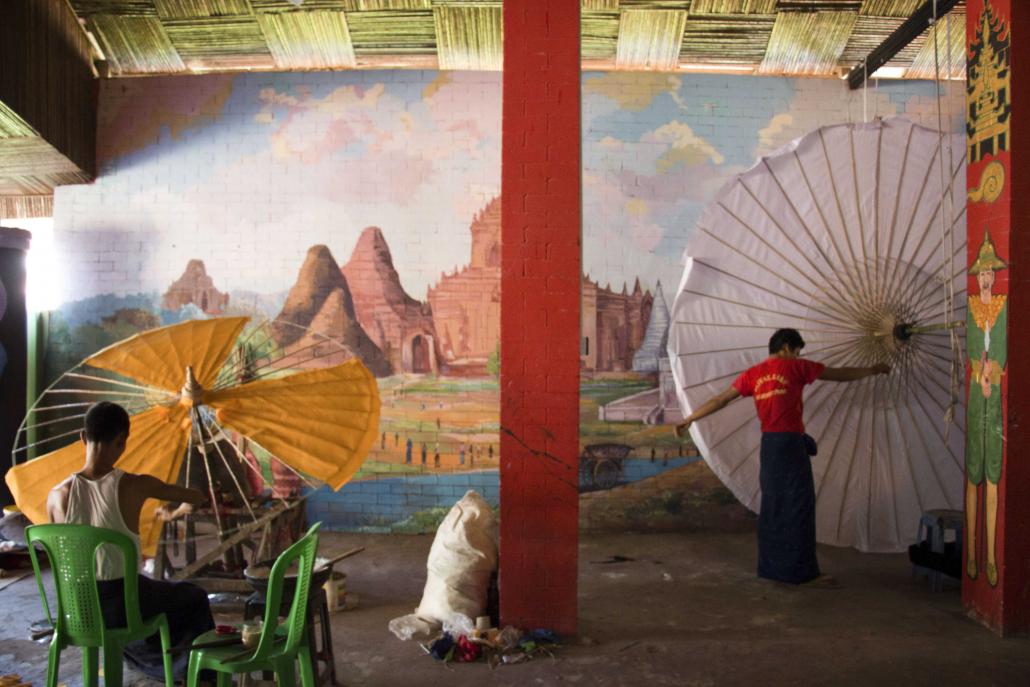 The Myanmar Bamboo Association, a grower's group, is also worried about shortages of the versatile raw material.
"The bamboo supply is not even enough for local market demand," said U Khin Hla Aung, an executive member of the MBS.
Bamboo is used in Myanmar as a raw material for construction and flooring, as well as products such as furniture, textiles, vinegar and alcohol, Khin Hla Aung said.
"But it is difficult to obtain the bamboo suitable for construction purposes," he told Frontier at his bamboo plantation near Okkan, in northern Yangon's Taikkyi Township.
There has been high demand from overseas buyers for raw bamboo and value-added products such as furniture for many years, Khin Hla Aung said.
"But a lack of technology and the raw material shortage is limiting the growth of the bamboo products industry," he said.
MBS has been campaigning to promote the establishment of bamboo plantations on degraded forest land since it was founded in 2015.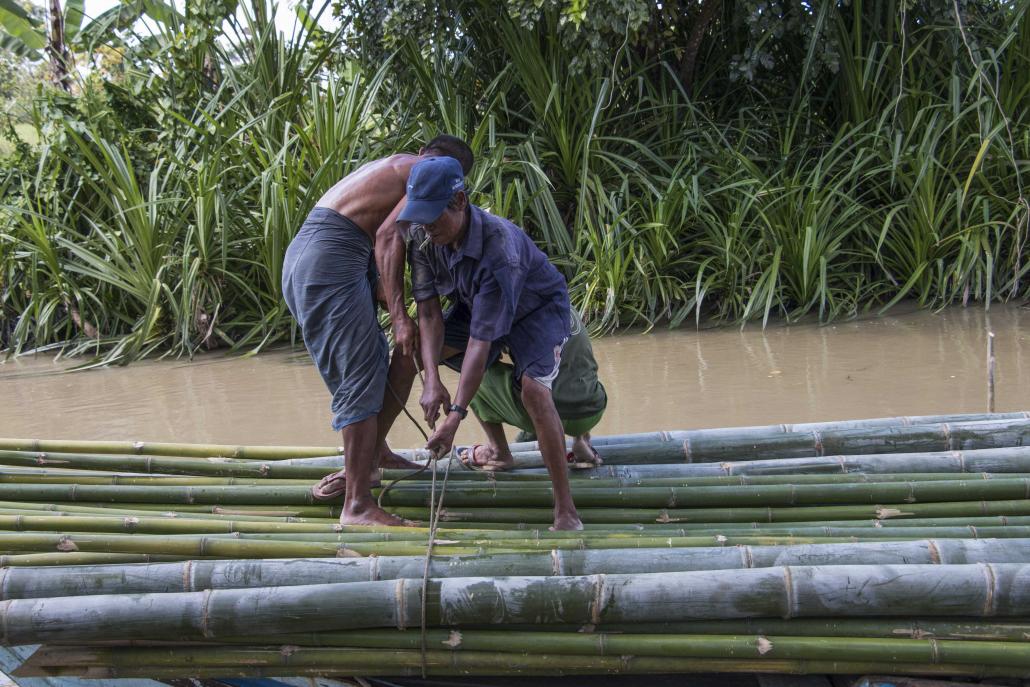 The campaign has two objectives, said Khin Hla Aung. "The first is to help bamboo growers raise their incomes and the second is environmental conservation," he said.
The group collects and distributes bamboo seeds to those who want to establish or expand plantations and also provides seedlings.
U Soe Tint, deputy director at Forestry Department, said the ministry has also taken a number of steps to promote the sector. Since 2013, it has allocated 1,424 acres of forest land to establish bamboo plantations and also organised 25 groups of farmers to establish community bamboo forests on 72,400 acres in Tharyarwady District, Bago Region.
Restrictions have also been loosened to attract investment in the sector, he said, including the decentralisation of the approvals process for small plantations and cancellation of the application fee.
But plantation owners in Yangon Region's Kawhmu Township told Frontier that income from bamboo was less than potential alternative crops.
U Htay Kyaing from Yaytarshae village owns a 60-acre plantation and also trades bamboo from neighbouring properties.
"Honestly, bamboo farms are not commercial and beneficial," he said. "Our annual income is only K80,000 to K100,000 per acre … I am considering planting rubber or hardwood instead."
Htay Kyaing said eight years ago he had tried to produce bamboo charcoal at the suggestion of businesspeople from Yangon.
"We tried and managed to do it but didn't have the proper technology to make it commercially viable so we stopped after four months.
Ma Thadar Wai, who runs a 60-acre plantation with her husband in Bo Thagyar village, also said lack of technology and expertise was a problem.
"We only know how to use the bamboo as a raw material so we are not making much profit," she said. "We have raw material and some money to invest but we can't do it alone. We'd be happy if someone wants to partner with us and provide the technology to produce value-added products."
The bamboo industry is receiving some support from the Business Innovation Facility programme of Britain's Department of International Development, which says the sector has potential for expansion because of the commercial advantages of some varieties found in Myanmar.
BIF's programme manager/operations coordinator for Myanmar, Ms Olivia Elson, said bamboo's versatility meant it could be used in many sectors as long as it was processed to make it durable.
"The demand for bamboo is growing due to increasing interest in timber alternatives," Elson told Frontier.
"However, bamboo is not currently managed systematically and sustainably, which means that communities have to go further into the forest every year to find good bamboo," she said.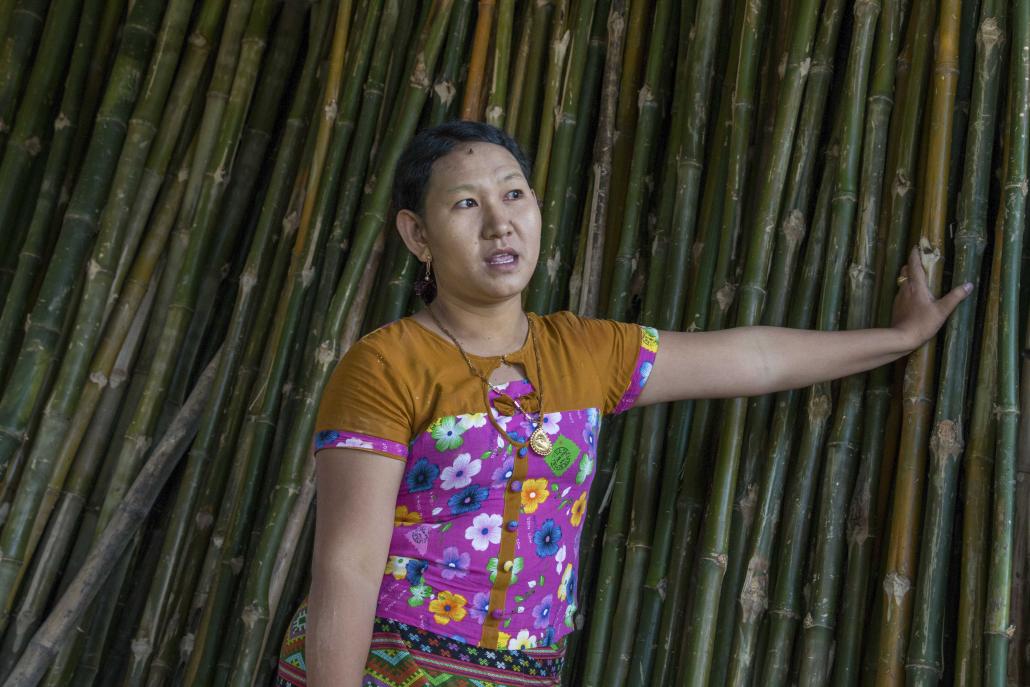 Elson said Myanmar needed to change its perception of bamboo as a poor man's timber. It also needed to promote high-quality bamboo products made from sustainably harvested sources, and target the domestic market first and then the export market, she said.
The Myanmar Rattan and Bamboo Entrepreneurs Association said there is a large international market for bamboo products but more investment is required to develop export products.
The association's vice chairman, U Tin Oo, said its member companies export bamboo products worth up to US$300,000 a year but there was significant room for expansion.
The amount earned from exports was "pretty small", he told Frontier, adding that Myanmar was still mainly relying on naturally grown bamboo while other countries had plantations and marketing campaigns. "We need to create an integrated bamboo industry," he said.
Tin Oo said this would entail factories and workshops being located close to plantations and producing a variety of products from the different parts of the harvested bamboo plant. The large parts of the bamboo could be used for flooring; instead of throwing away the waste, it could be used for chopsticks or toothpicks.
The association has established plantations on hundreds of acres of land allocated to it by the government in Yangon's Taikkyi Township and Minhla Township in Magway Region.
BIF says promoting the sustainable management of bamboo resources is just one of the measures Myanmar should take to help grow the industry. Other measures include mapping the resource, promoting planning for communities and businesses, investing in pilot projects and research and development for some species, providing industry incentives, clarifying land tenure for growers and creating a friendly bamboo business environment.
Asked about commercial bamboo plantations, Elson said the question was not whether they were needed in Myanmar.
"The question is more what Myanmar plans to do with all of its degraded land," she said. "Bamboo can restore solids and ecosystems, retain huge quantities of water and capture significant amounts of carbon."