Rice prices are going up, hitting ordinary Myanmar consumers, but smallholder farmers must still contend with higher costs of fertiliser and diesel.
By FRONTIER
Ploughing his patch of land with a pair of oxen in central Myanmar, U Zaw Myo Latt wearily laments the life of a small holder. Although rice prices are rising, the costs of growing the crop have soared because of events beyond his control.
"I farm because I have no choice. I have no other way of earning a living. I make no profit from farming. I have a plot of land, so I farm, that's all," the 30-year-old said as he prepared his 2.5 acres for a winter crop of black gram rice following the monsoon paddy harvest in Zabuthiri Township, Nay Pyi Taw.
"This year in our field," Zaw Myo Latt said, "we harvested 70 baskets per acre," a lower yield than usual. "That was because we had to economise on fertiliser, which is getting more expensive," he explained.
Zaw Myo Latt is the eldest son in a family of seven and has taken over the farm work so his parents can do other jobs, because they can no longer survive on farming alone.
"My father works as a broker at a cattle market. My two younger brothers are government employees earning a [monthly] salary of K200,000 each," he said, roughly US$95 at the official exchange rate.
His experience mirrors that of many rice farmers across Myanmar, as increased costs of fertiliser and mechanisation over the past two years outstrip rising market prices for rice. Some 70 percent of Myanmar's population depends on income from agriculture and most farmers are smallholders.
Monsoon paddy prices this year ranged from K1.2 million to K1.5 million per 100 baskets, depending on the variety, up from K800,000 last year.
"The price is higher… Last year the profit for farmers on one acre of rice would be just over K100,000," said U Aye Swe, who has seven acres of land in Pyawbwe Township in Mandalay Region. "This year I think it will be around K400,000. But even that would not be a comfortable and attractive profit for farmers."
Farmers interviewed by Frontier complained that a sack of chemical fertiliser rose to over K100,000 ahead of this year's monsoon paddy from K80,000 last year, while the cost of hiring a mechanical harvester jumped to K90,000 an acre from K70,000.
This follows an 80pc leap in global fertiliser costs last year, according to the World Bank, driven in part by soaring gas prices as economies emerged from COVID-19 lockdowns. Russia's invasion of Ukraine drove prices even higher.
Because Myanmar farmers rely on imported fertiliser, they were also hit by the devaluation of the kyat that followed the military coup in February last year, driving up prices of all agricultural inputs from overseas.
Even though some farmers are recovering this year compared to the market turmoil of 2021, cash-strapped rice farmers are cutting back on fertiliser use, which will affect yields.
"Per acre yield varies from one farmer to another," said U Than Htun, who farms 10 acres in Mandalay Region's Patheingyi Township. "If cultivated systematically and you use as much fertiliser as needed, then the yield is sure to be good. Presently farmers have to economise on input, using only as much as they can afford."
The average paddy yield is 50-70 baskets per acre, according to farmers, with production costs of nearly K600,000 an acre for a good yield.
U Ko Ko, owner of 30 acres, also in Patheingyi Township, says higher paddy prices were being sustained in late November by buyers who expect yields to fall at the next harvest. "That is why they are still buying eagerly," he said.
Local knowledge is backed up by international reports.
The International Food Policy Research Institute, a United States-based non-profit research centre, says Myanmar's rice productivity dropped 2.1pc during last year's monsoon season. Yields declined significantly in Kayah and Chin states, both affected by conflict and enduring high levels of food insecurity. IFPRI said 2021 prices of fertiliser based on urea increased by 56pc on average, while mechanisation costs rose 19pc. Paddy prices at the farm, meanwhile, rose by just 8pc.
"While the rice sector has been a source of stability in the country, the situation for future crop seasons is however concerning given further increases in input prices (especially fertiliser), the overall reduced profitability of rice farming, the reduced coping strategies remaining for rice farmers, and currency policy changes by the military government," IFPRI said.
IFPRI said in a separate survey of millers across Myanmar in August this year that 91pc cited limited access to electricity and affordable fuel as their most significant disruptions, with average milling throughput falling by 20pc from a year earlier. Higher rice prices and milling margins had largely tracked the devaluation of the kyat against the US dollar, it said.
With millers predicting lower yields this year because of less fertiliser and less favourable rains, IFPRI said a decline in monsoon paddy production could have large implications for rural and urban households if prices were driven higher as a result.
U Myint Wai, a farmer with 100 acres in Maubin Township in the country's biggest rice growing region of Ayeyarwady, said the consumer is paying more but the farmers don't see the profits.
"Farmers have to repay loans taken for growing their rice as soon as it is harvested. The price of rice usually rises in March and April, but the farmers have no more rice by that time. The brokers and merchants will have it. So, the profit goes to those who already have money," he said.
Prices of basic commodities in Myanmar, including rice, have gone up in tandem with the value of the US dollar.
"The price of the dollar is around K3,000, gold is around K2.6 million/tical [16.34 grams] and rice is above K40,000 for 50 kilogrammes. The prices have jumped and I don't think they'll fall back," said Ko Ko.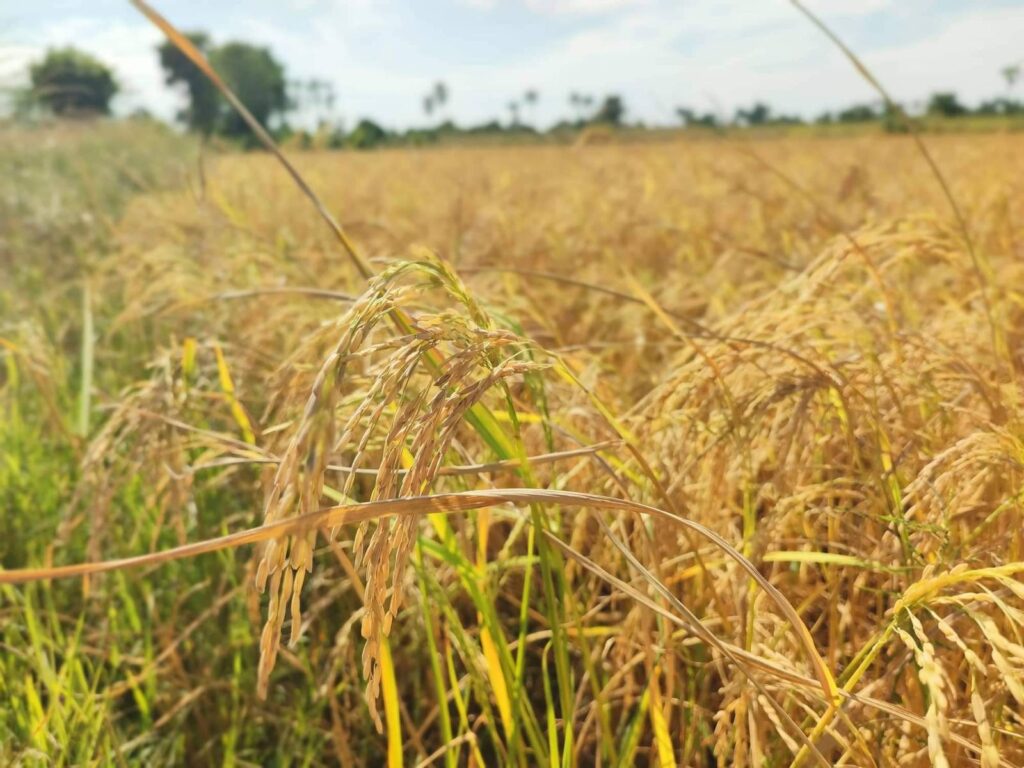 Junta dismisses shortage concerns
Coup leader Senior General Min Aung Hlaing insisted during a speech in August that the country was still producing enough rice for local consumption.
His subordinate U Myo Tint Tun, deputy permanent secretary of the regime's Ministry of Agriculture, Livestock and Irrigation, said Myanmar expects to grow over 17 million acres of paddy in this fiscal year, ending in March 2023. This would be less than the 17.42 million grown last fiscal year, but slightly more than the 16.88 million in 2020-21.
These assurances were echoed by U Ye Min Aung, chair of the Myanmar Rice Federation, which regularly meets with the junta. The businessman told Frontier that although the price of rice has risen, people should not fear shortages because "successive national governments" have prioritised maintaining sufficient domestic stocks before exporting the surplus.
However, he said rice needed to be cheaper, especially for urban workers. "For this, the private sector, the government and international development agencies should cooperate. Then the socio-economic lives of ordinary people will improve."
Ye Min Aung predicted rice exports will remain stable at around 2 million tonnes in the 2022-23 fiscal year, bringing in $800 million. He said that so far this fiscal year, ending in March 2023, exports have totalled over 1 million tonnes, with the next four months expected to see the most exports. Rice is one of Myanmar's biggest export earners, and the country is the world's seventh largest exporter of rice, with China serving as the largest buyer.
Myo Tint Tun said a new contract farming system for summer paddy is still being planned. "We are discussing with region and state governments. It is not complete yet," he said, explaining that sub-national administrations needed to decide how many acres and which farmers would be involved. Under the contract system, the junta will extend loans to private entrepreneurs, rice millers and rice companies to work with farmers.
From the K400 billion State Economic Promotion Fund, the regime says it will use K230 billion for cultivation of 850,000 acres of summer paddy and 500,000 acres of green gram rice in the 2022-23 fiscal year. Farmers will not be given cash directly but K200,000 worth of seeds, chemical fertiliser and diesel per acre.
Ye Min Aung said the Myanmar Rice Federation invited interested rice millers and rice companies in September and received proposals from around 40 companies for the scheme, which will be underway by January.
"This programme is aimed at promoting summer paddy production and will be mostly implemented in Ayeyarwady, Bago and Yangon regions," he said. "Summer paddy is important and if the production rate is good, the local and export market will benefit."
But four of the five farmers interviewed by Frontier said they were not interested in this contract system and that they simply wanted lower input prices.
Regime 'not showing goodwill'
The basic reference or guaranteed floor price for paddy was set by the junta at K630,000 for 100 baskets on November 11 for this year's monsoon paddy and the summer paddy early next year.
Although ostensibly aimed at protecting farmers' income, those interviewed by Frontier said that at about half the market price, it offered no real protection at all.
"They [the regime] set the basic price each year just as a formality. They are not showing goodwill towards farmers," said Ko Ko.
However, Ye Min Aung insisted that the basic reference price only acts as a guaranteed floor in case prices fall too far.
He pointed out that the price was decided by the Leading Body for the Protection of Farmers' Rights and Enhancement of their Benefits. Set up after a law passed in 2013, it is composed of agriculture ministry and other officials, private business-owners, farmers' organisations, technicians and state and regional ministers of agriculture.
Myint Wai, the farmer in Ayeyarwady, said farmers could not survive at that price.
"If farmers were to sell their paddy at the basic price announced by the government, you would have to go to the museum to see one," he declared.