Monastic schools play in indispensable role in the education system because they provide disadvantaged children with an opportunity to learn.
By SHARON PUN | FRONTIER
THE CLASSROOM rings with the sounds of teaching: A group of children confidently recite the alphabet while others laugh and chatter and, above it all, the voice of a teacher maintaining order.
It's more accurate to call this place of learning a "schoolroom" rather than a "classroom", because children in all five primary grades are being taught in a common space.
The children may differ by age and grade but they share a desire to receive an education.
They are students at the Aye Yeik Thar Monastic Education School in Yangon Region's East Dagon Township. An English-language poster on the wall of their room proclaims the aims and objectives of monastic education; point number one says: "For students rich or poor, to be efficient in writing, reading and arithmetic like in Basic Education and modern-day education."
As a signatory to the Education For All commitment, an initiative led by the United Nations Educational, Scientific and Cultural Organization (UNESCO), Myanmar state primary schools do not charge school fees. However, parents often have to pay for supplementary expenses and private tuition, which is not affordable for all. Monastic schools run by monks or nuns, which are usually free of charge, fill the gap by providing an education to needy and orphaned children.
Monastic schools began during the 11th century after King Anawrahta, founder of the Bagan Empire and regarded as the father of the Burmese nation, embraced Theravada Buddhism. The schools run by monks offered the only education at the time.
After Burma was colonised by the British they introduced their own education system and monastic schools were relegated to a subordinate role. Monastic schools and all private educational institutions were banned from 1962 to 1988 when the country was ruled by General Ne Win's Burma Socialist Programme Party. Monastic schools were permitted to re-open in 1992 and teach the national curriculum prescribed by the Ministry of Education.
Monastic schools are recognized in the National Education Law enacted in 2014 and are co-governed by the Ministry of Religious Affairs and Culture and Ministry of Education.
Figures from the Ministry of Religious Affairs and Culture in 2016 showed there were 1,600 monastic schools across the country providing an education to nearly 300,000 children. Mandalay had the highest number of monastic schools, with many others in Yangon and Sagaing regions.
U Tissa, 28, is one of the monks who teaches at Aye Yeik Thar. While still studying at the International Theravada Buddhist Missionary University, he began teaching there a year ago because he wanted to help children in the area who could not afford to attend a state school.
"Standard white and green uniforms are required in state schools, but it is acceptable not to wear them here if students cannot afford them," he said of the school, which has 160 students.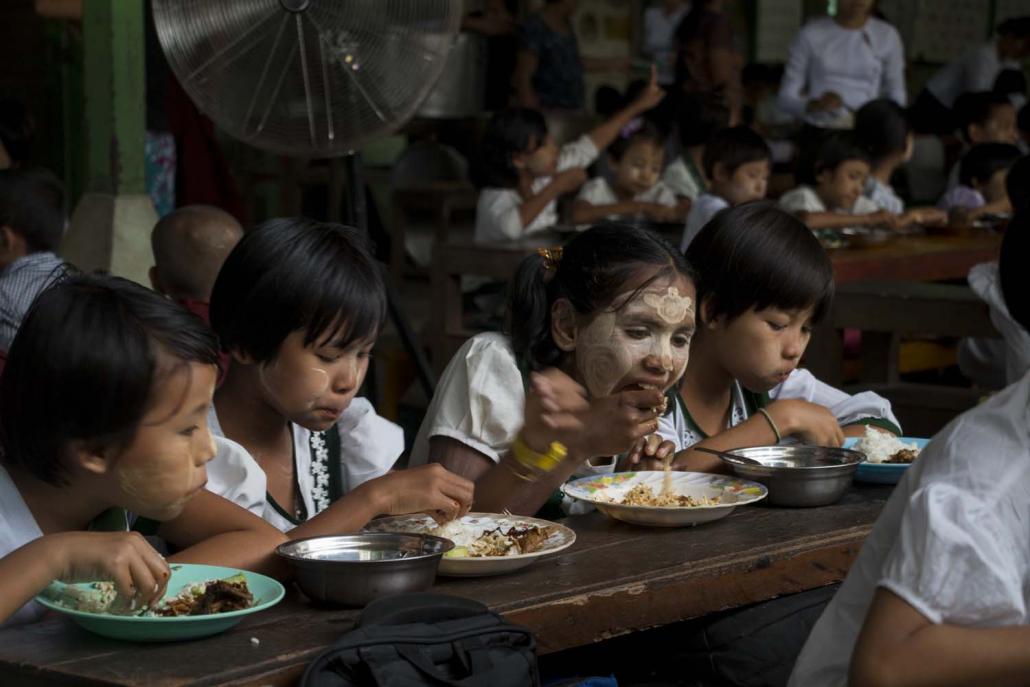 Tissa said some wealthy families were proud of being able to send their children to renowned state or private schools, but such an education was beyond the reach of children at monastic schools.
Big workload, little pay
Funding is a challenge for monastic schools because they do not receive fees and their financial situation is often precarious.
Many monastic school teachers are volunteers and those who are paid receive low salaries. "If someone applies to teach here only to earn an income, we can't accept them because we don't have the ability to pay much," Tissa said.
Since 2013-14, a primary level teacher at a monastic school with 40 students is paid K36,000 a month by the government; for middle and high school levels, the monthly salaries are K45,000 and K50,000 respectively. Tissa says that's not even enough to cover the cost of his phone charges.
For additional income, monastic schools rely on donations. Tissa said the salary of teachers at monastic schools that are well funded by donations can be as high as K100,000 a month. However, as donations may vary, teachers' salaries may fluctuate every month.
"I struggled for nearly a month," said Daw Khin Ma Swe, 50, a teacher since 2009 at the Thone Htat Monastic Education School in Yangon's Bahan Township, recalling a hard decision she had to make about her career 10 years ago.
After she completed her matriculation in 1995, Khin Ma Swe was invited to teach at the Phaung Daw Oo Integrated Monastic Education School in Aung Myay Thar Zan Township of Mandalay, where she was paid K600 a month. After teaching at the monastic school for two years she changed to a better-paying job, in an administrative position at a private pre-school.
In 2008, she decided to leave her job at the preschool to teach at the Thone Htat Monastic Education School. Her salary went from US$500 (about K700,000) a month to just K80,000.
Khin Ma Swe said she was initially frightened of her students, many of whom were street kids aged between seven and 11. Some used offensive language and others had drug abuse problems, such as sniffing the chemicals in permanent markers, she told Frontier.
Khin Ma Swe wanted to give up, but was encouraged to keep going by a colleague who reminded her that she was changing the children's lives for the better.
Freedom to teach
Khin Ma Swe said she enjoys the greater freedom she has as a teacher at a monastic school, even though they follow the same national curriculum as state schools. She can adjust the pace of her teaching to suit the learning capacity of her students, unlike the rigid conformity of state schools, which require teachers to meet inflexible instruction timelines.
"I don't like exams, I only like assessments," she said, explaining that she is allowed to use the teaching approach that she believes is most suitable for her students.
Teachers at a monastic school can have activities outside classes and sometime Khin Ma Swe prepares lunch and washes the robes of young novice monks. In many ways she is like a mother who takes care of all aspects of her students' lives.
Good school leadership is essential to ensure that the method chosen to teach is effective, said U Aung Ko Oo, 43, manager of education advocacy and policy at the Monastic Education Development Group, a community-based organisation that works for the improvement of monastic schools throughout the country.
MEDG focuses on providing leadership training to monastic school principals, teaching them to give teachers flexibility in planning lessons. MEDG also provides month-long courses for monastic school teachers at which they learn to design interactive lessons with a child-centred approach.
Khin Ma Swe, who has taken the course with colleagues, agreed that it had helped them to teach more effectively.
Aung Ko Oo said monastic school teachers usually have more hands-on experience in dealing with students of differing abilities, despite many of them not having graduated from teacher training colleges.
Hard work unrecognised
No matter how much experience or extra training they may have, monastic school teachers have generally not been accorded the same recognition as teachers at state or private schools. That could soon be about to change though.
Aung Ko Oo said a national teacher competence framework, which would allow teachers at monastic and community schools to be compared with their peers at other institutions, was still being drafted by the Ministry of Education with assistance from UNESCO.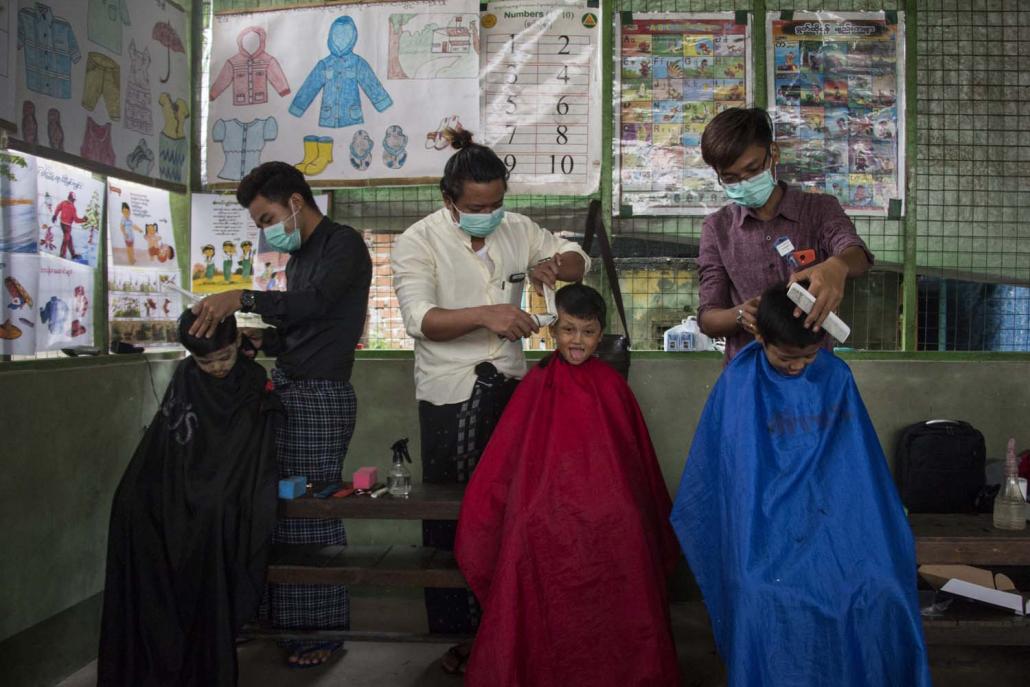 He said formal accreditation would boost the professional self-esteem of teachers at monastic schools and improve teacher retention rates.
Aung Ko Oo acknowledged that even state schools do not have enough qualified teachers. The Ministry of Education was facing many other challenges to improve the education system and this was why the task of upgrading the quality of teaching at monastic schools continued to rely heavily on non-government organisations.
"Monastic schools, community schools, government schools are all the same; they are basic schools," Aung Ko Oo said. "In the future, monastic schools should be able reach [the same] standard."
A reason to continue
Despite the many challenges faced by monastic schools, they continue to attract support because of the important role they play in providing an education to children who may otherwise never attend school.
"Education is essential," said Tissa emphatically. He quoted a Myanmar proverb: One who lacks education is always under the command of others.
Khin Ma Swe has experienced rewards from teaching that have nothing to do with money. The rowdy street children she encountered early in her career have become responsible adults with jobs who are able to support themselves and their families.
"I feel proud of them," she said.
Daw Win Win Yee, 38, also a teacher at the Aye Yeik Thar Monastic Education School, said she had accepted her low-paying job because she treats this as a voluntary work.
She has inspired one of her Grade 4 students, Ma Tha Zin Moe, who told Frontier how much she and her friends enjoyed their lessons.
"It's my ambition to become a teacher," said the 10-year-old girl, "just like my teacher."
TOP PHOTO: Children eat lunch at the Aye Yeik Thar Monastic Education School in Yangon's East Dagon Township. (Nyein Su Wai Kyaw Soe | Frontier)