For the seventh instalment in our travel series about wild swimming spots, we visit the shimmering waterfalls, tranquil lakes and monsoon floodplains that surround the former royal capital.
By DOMINIC HORNER | FRONTIER
MANDALAY. There's no other name in Myanmar that conjures up quite the same nostalgic power. It's a city that has meant many different things to many different people through the ages: a bastion of Burmese culture, a place of colonial daydreams, the economic axis of the north. I'll humbly add one more to the list: Myanmar's wild swimming Mecca.
Zaw Gyi River
Two hours south of Mandalay, and starting at the mouth of an enormous dam, Zaw Gyi is a refreshingly brisk river swim. We kayaked downstream and you can easily do the same if you fix yourself up with a decent inflatable (in Yangon see Winner Sports, Access Spectrum, and Super Sports). Failing that, head to the riverside village (21.466700, 96.361694). The waters here are nice and shallow and it's a great spot to lark about with locals in the late afternoon.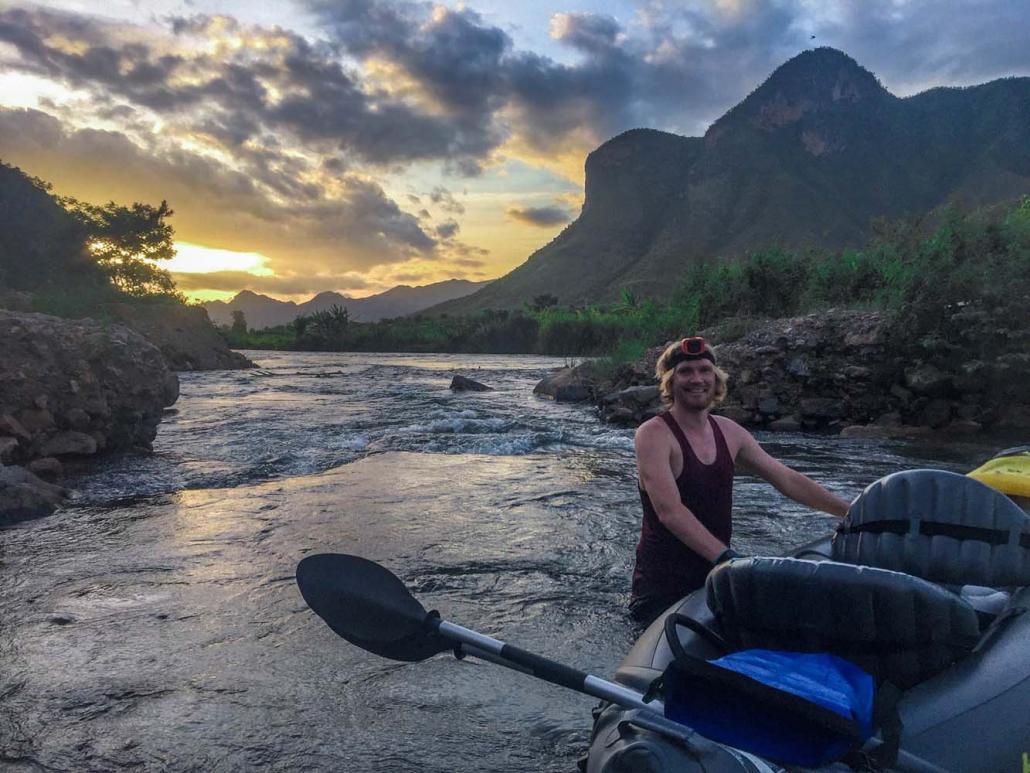 Dee Doke Waterfall
With its shimmering turquoise waters, Dee Doke (21.710807, 96.355292) makes for one hell of a photo-op. Once your money shot of the main fall is out the way, you might consider this little detour: From the right-hand side of the falls, clamber up the rope to the upper steps. The crowds quickly fall away and at the very top there's a decent jump.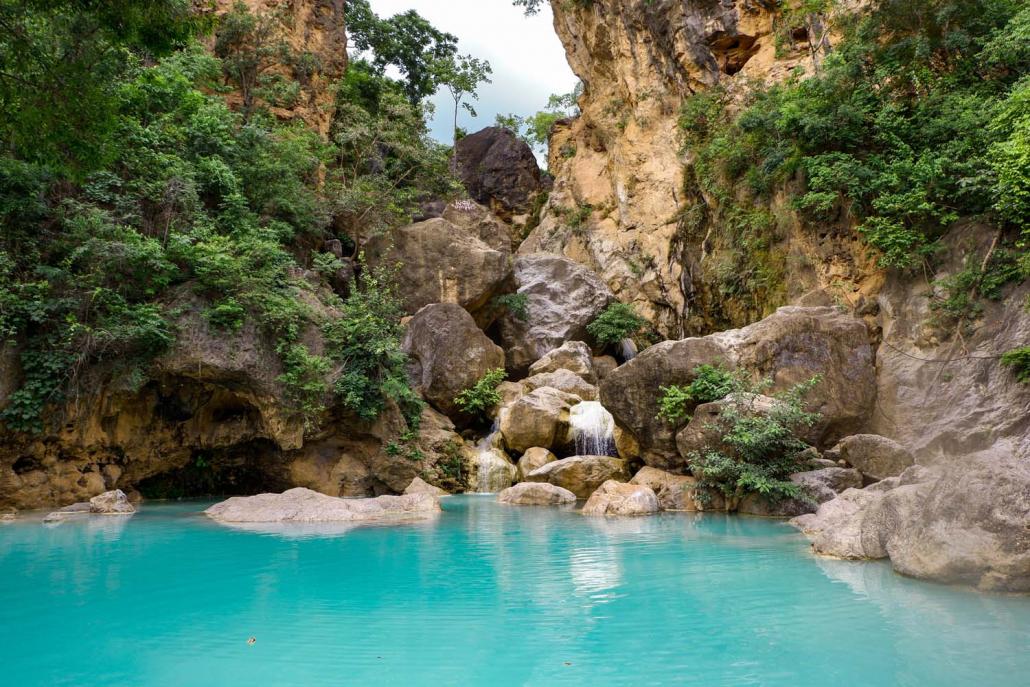 Whak Kar Waterfall (rainy season only)
It's tough being 15 minutes down the road from one of Myanmar's foremost natural attractions – just ask Whak Kar falls (21.759424, 96.335311). Whak Kar receives just a fraction of the exposure as its glistening sister fall, Dee Doke, which is very unfair. Whak Kar may not have the same immediate wow-factor, but what it does have is diversity. There are plunge pools, tree-jumps, gurgling streams, as well as more than its own fair share of tumbling falls. Whisper it, but Whak Kar might actually be better than Dee Doke.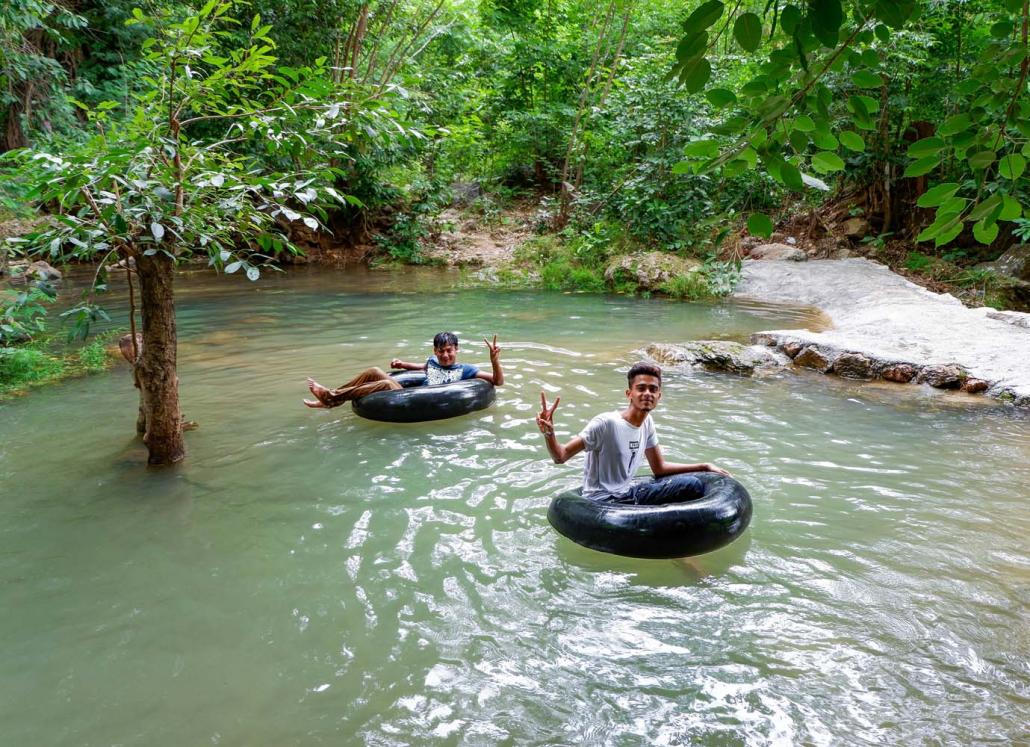 Eight-Floor Waterfall (rainy season only)
The base of these falls is nice enough but to get to the real treasure you need to get your game face on and climb that mountain. Here's your incentive: the more floors you scale, the more spectacular the views, and the more sublime the swimming holes become.
Turning from the Lashio highway here: (21.466700, 96.361694)
Base of the falls: (21.466700, 96.361694)
The floodwaters of Sakyin (rainy season only)
Even if you're not that fussed about wild swimming, you might still want to check out the mining town of Sakyin – one of the most out-and-out bonkers places in Myanmar. A 90-minute drive north of Mandalay, the whole town is given over to the extraction of alabaster from the surrounding mountains, which is then drilled, sanded, chiselled, painted and decorated into Buddha statues. The whole town (people included) is covered in a thick white dust and the piercing sound of power tools and pounding hammers follows you at every turn.
It gets weirder. During rainy season the surrounding plains become completely submerged, transforming Sakyin into nothing short of a wild-water wonderland. From the base of the pagoda here (22.288621,96.070898), you can organise a boat trip out onto the floodwaters to visit a half-sunken footbridge, isolated villages, and awe-inspiring views of the mountains. Wild swimming doesn't get much wilder than this.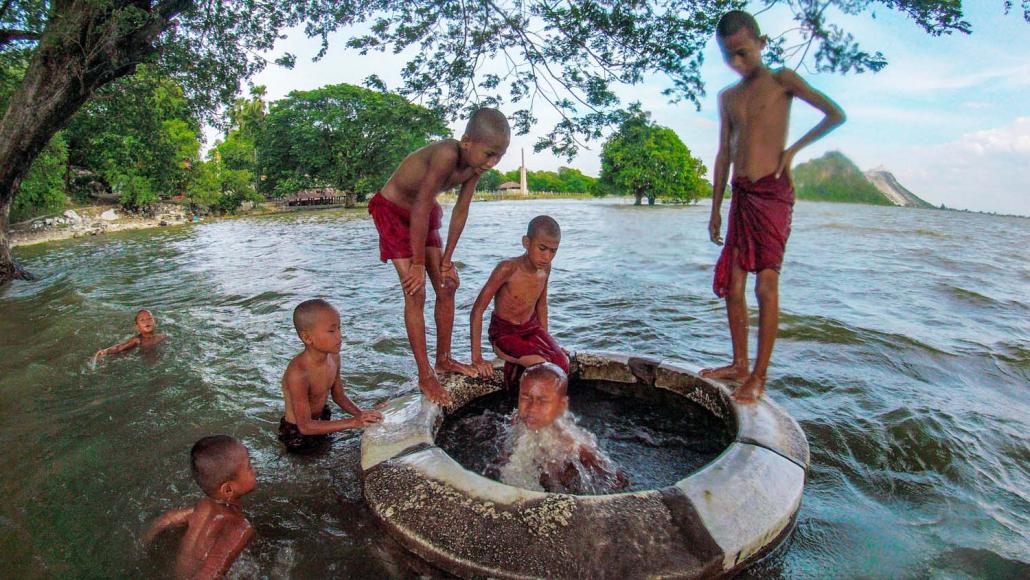 Kaunghmudaw Inn & Sagaing Inn (rainy season only)
The Kaunghmudaw pagoda dominates the skyline in the town of Sagaing, across the Ayeyarwady River from Mandalay. Its enormous dome looms over a lake of the same name, providing a fantastic backdrop while villagers bathe and wash clothes on the banks, making this is a very down-to-earth spot in which to have a soak (21.929526, 95.933072).
The lake's twin directly to the south, Sagaing Inn (21.897552, 95.923688), is tough to get to because of the bad roads but the payoff is a big blue basin of unspoilt loveliness. One for the purists.
The Mu River Railway jump
Admit it, you've always wanted to jump from a railway bridge, haven't you? Make this bridge over the Mu River (21.978618,95.675195) your first. Before you do, though, follow these safety precautions: jump from the middle and not from the stone pillars (the water around their bases is a bit shallow), wear shoes, and remember that this is an active railway line with trains crossing at 9am and 4pm. Avoid those times….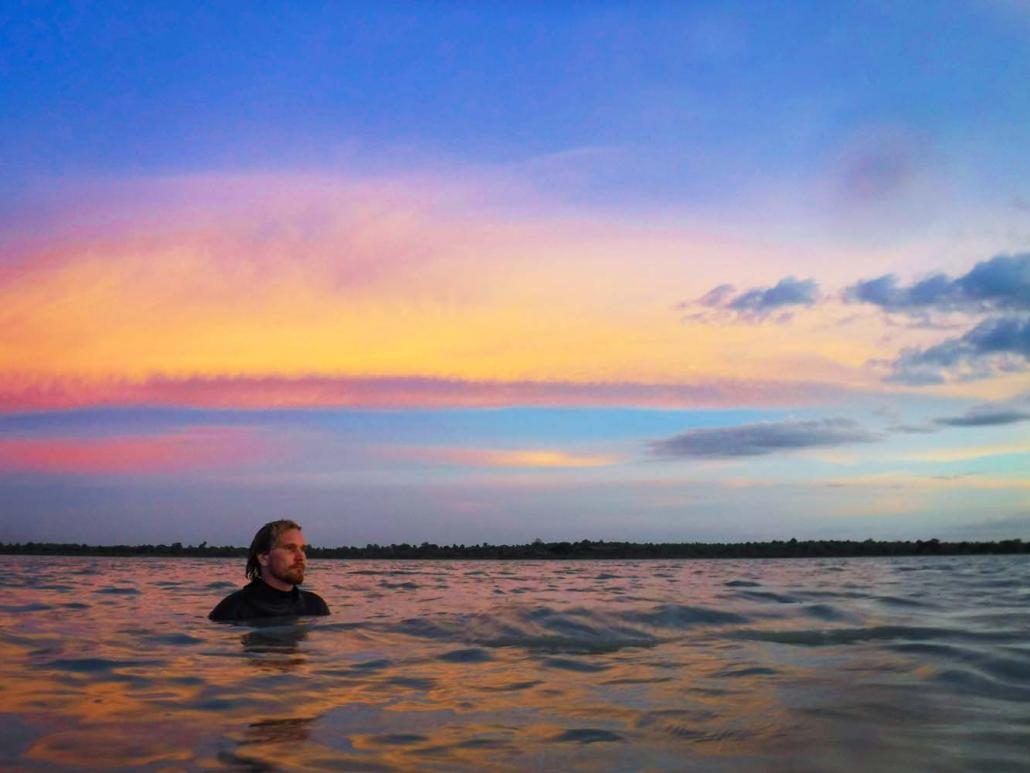 Yay Myat Gyi Inn (incorrectly labelled Yay Hkar Inn on maps)
It's hard to overstate just how massive this lake is – almost half the size of Mandalay itself. You can rent a boat at the village here (22.035546,95.928043) and go on a mini-cruise of the lake. Once you've got over the scale of the place there's not much to actually see, though. With that said, when I was there I was treated to the greatest sunset I've ever seen in my life. But trust me, once the sun's down you don't want to hang around because the mosquitoes will make breakfast, lunch and dinner out of you.
D-Garden Waterboom & Seven Mile Beach
If you've got kids in tow, then these fantastic family-friendly resorts along the Dotehtawaddy River (also known as the Myitnge) in Kyaukse Township, south of Mandalay, should be on your itinerary. On paper, D-Garden is your standard flumes, pool, adventure playground waterpark. In practice, it has a wild energy that's slightly imposing. Maybe that's got something to do with the music, which, in classic Myanmar style, is turned up to eardrum perforating volumes. Five minutes down the road, Seven Mile Beach is even fuller with fun and games including an arcade, a water trampoline, jet skis and a zip-line, to name just a few.
Note: Though the beach is open year-round, most of the water activities are only available outside of rainy season (May – October).
How long do I need?
To see everything? About a week.
How do I get around?
Every destination listed here is between one and two hours from Mandalay by taxi. If you decide to take a motorbike you will add half an hour to the journey.
Where do I stay?
There's tons of choices in Mandalay though my personal pick is Dreamland Guest House. Brilliant staff and great value, with non-shared rooms starting at USD$13.
When should I visit? 
The rainy season. Seven Mile Beach, D-Garden and Dee Doke are the only places worth visiting outside of the rains.
TOP PHOTO: Jumping from the Mu River railway bridge. (Dominic Horner | Frontier)