More than 10,000 people displaced by heavy fighting at Mindat in Chin State are marooned in camps and forests, cut off from most sources of relief as the annual rains begin.
By FRONTIER
After enduring the longest and most frightening few days of their lives, Mai Honey Nway, 32, and her family decided to flee Mindat along with thousands of other residents of the war-torn town in Chin State.
On May 18, at 5am, with her two-year old daughter in a sling on her back, she climbed into a deep earthen drain behind her house with her husband, her younger brother and sister, and a 10-year-old niece, so they could make their way out of the town, which had been occupied by the Tatmadaw the previous day after a heavy siege. As they fled, skirmishes continued in the rural hinterland of Mindat Township between the military and retreating units of the Chinland Defence Force, a civilian militia resisting the military coup.
The group was joined by Honey Nway's friend and her family. The woman, who is the same age as Honey Nway, walked with difficulty because she had suffered a back injury when Tatmadaw-fired artillery smashed into her house.
"We didn't dare go by the road because snipers were shooting anything they saw," said Honey Nway, who teaches the Bible at Sunday school in Mindat. "We walked through the jungle for many hours until we reached a spot where villagers were waiting to pick us up [with motorcycles]."
Honey Nway and her husband, who had to leave behind their shoe shop in the town, were among more than 10,000 people who fled the fighting in Mindat to seek refuge at temporary camps established at remote villages in the township.
The 10,945 internally displaced people amount to almost a quarter of the population of Mindat Township, including rural areas, as counted by the General Administration Department in January 2020. The displaced include 43 pregnant women, 626 children aged under five, and 23 people with disabilities, the Mindat IDP camps' management committee told Frontier.
Committee members and other reliable sources say thousands of others must be living rough in forests or staying with relatives or friends because few people remain in the town, where soldiers are reported to have gone on a looting spree, stealing everything from smartphones to livestock from deserted homes. (Despite repeated attempts, Frontier could not reach Tatmadaw spokesperson Brigadier General Zaw Min Tun for comment about this or any other allegation mentioned in this article.)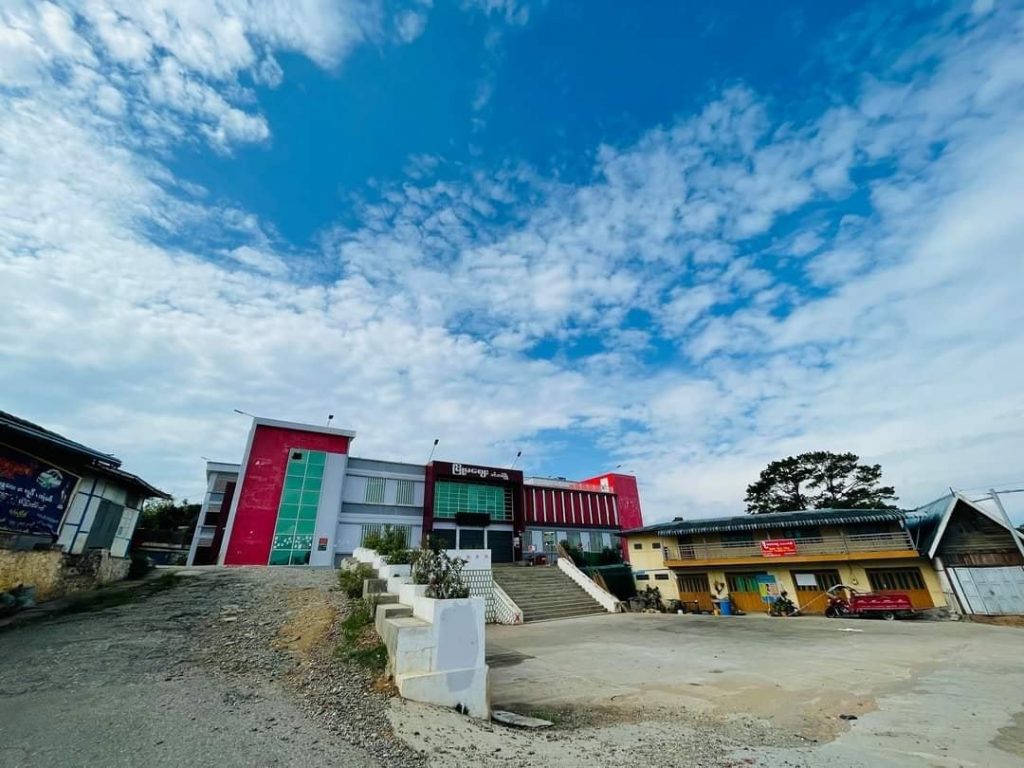 During her trek through the jungle, Honey Nway saw a woman give birth and heard about the death of an eight-year-old girl in a fall from a mountainside.
On the evening of May 18, an exhausted Honey Nway and her family, and her friend's family, arrived at Tuiring village, about 65 kilometres from Mindat towards Matupi.
'No idea where to run'
Fighting between the CDF and the military at Mindat had begun on April 24 after soldiers refused a CDF demand to release local seven youths who had been arrested for protesting the February 1 coup. The CDF attacked police and army posts, killing 15, and heavy fighting continued until the two sides agreed a ceasefire on April 29.
Another round of fighting began on May 12 after further negotiations to exchange prisoners collapsed. This prompted the junta, which calls itself the State Administration Council, to impose martial law on Mindat Township late on May 13. The civilian-run Mindat People's Administration Team, formed in February shortly after the coup, responded by declaring the imposition of martial law "illegitimate" and describing itself as the township's only legitimate authority.
The Tatmadaw rained shells and rockets on the CDF-held town and flew in troops on helicopters to bypass the militia's devastating road ambushes. Under a relentless assault, the CDF began to retreat, prompting several thousand non-combatants to flee. The exodus peaked on May 18, a day after the Tatmadaw seized full control of the town, sparking fears among residents of mass arrests and violent reprisals.
At Tuiring village, Honey Nway and her family made the best of adjusting to the difficult conditions at a crowded IDP camp established in the compound of a church. The 153 resident IDPs, who sleep under tarpaulin shelters, were some of the most vulnerable residents of Mindat: the elderly, pregnant women, people with disabilities, and children. Largely absent are the town's able-bodied men, many of whom joined the CDF and remain committed to the fight.
Compared to other ethnic states in Myanmar, Chin has seen little conflict in recent decades and its inhabitants are less accustomed than communities in Kachin, Karen or Shan states to military atrocities and displacement – the exception being in Chin's far-southern township of Paletwa, which has been devastated by the conflict with the Arakan Army since 2019.
"We never thought we'd end up in a situation like this," said Honey Nway. "We never expected having to abandon our homes and businesses. On the day we fled Mindat, we struggled to give each other encouragement. It was difficult not to cry out."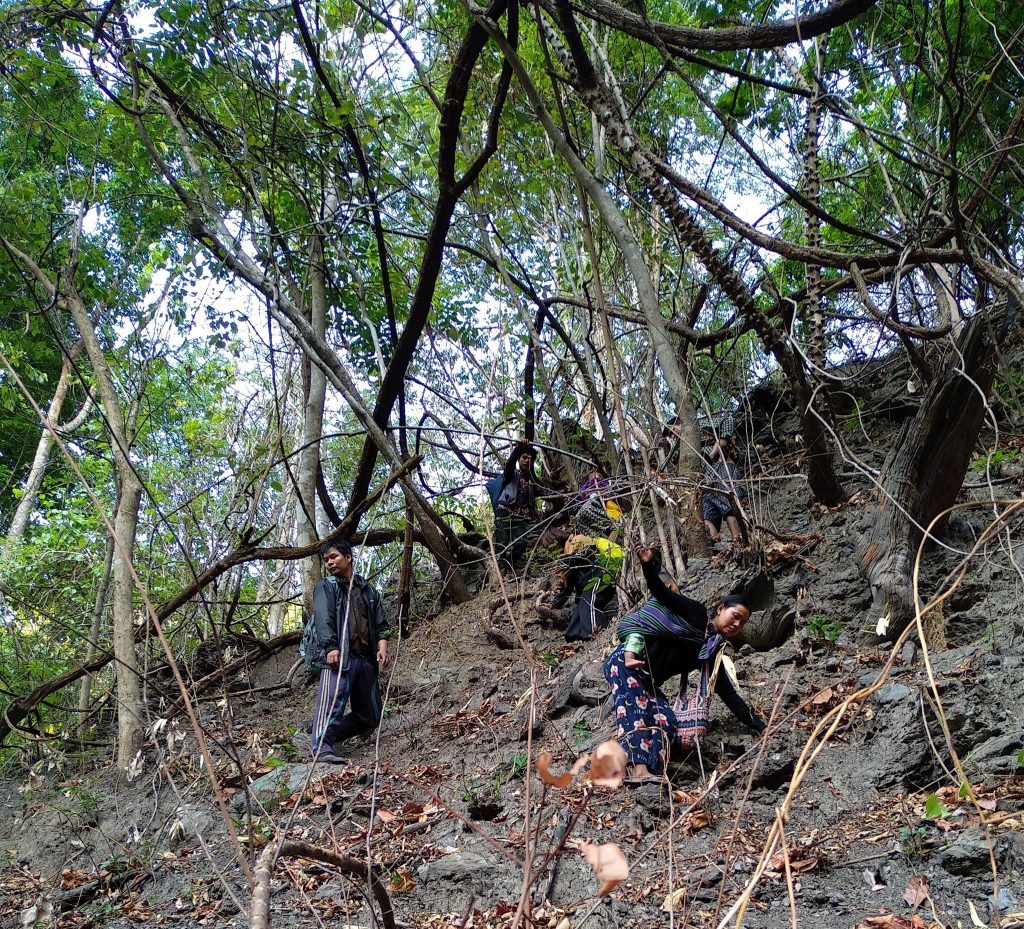 Initially, the camp was short of basic necessities, but has since been re-supplied with enough food to last well into June.
"Now that donated goods have arrived, things aren't as difficult as before and we feel relieved," said Pastor Om Naing, the manager of the Tuiring camp. "What we don't want is any fighting near the village. We'd have no idea where to run."
Om Naing said the IDP camp had been established in the church compound in the hope that being on religious land would protect it from attack.
"But when I look at the online news, oh god, they are shooting at churches, too. So, we are thinking of relocating," the pastor told Frontier.
He was referring to reports of a Tatmadaw artillery attack on a Roman Catholic church in Kayah State's Loikaw Township on May 24 that killed four people among dozens who were sheltering from fighting, and the shelling of another Catholic church in neighbouring Demoso Township two days later.
Although the Tuiring camp has enough food for another month, many of the 23 impromptu IDP camps in the township do not have sufficient food, medicine and women's hygiene products to meet even existing needs.
Among them is the camp at the village of Kihta, about 37km northwest of Mindat. With 1,151 residents, it is the second biggest camp after the one at Lukse, 24km southeast of Mindat town, which is sheltering 1,505 people.
Kihta camp resident Mai Kee Awe, 22, who worked for the Lutheran World Federation at its branch in Mindat, is among those who fled the town with her family after the fighting intensified.
Kee Awe said the people of the town had heard about the Tatmadaw's brutal crackdowns elsewhere in Myanmar and were terrified of what might follow.
"When we couldn't take it anymore, we ran for our lives," said Kwe Awe, who, though she feared for her own life, was full of "sadness and pity" on seeing elderly people running to the jungle.
She told Frontier they were relieved to find sanctuary at Kihta, but their situation was precarious.
"The camp is in a church compound, and it's not so bad living there, but there are many daily challenges because it had to be established in a rush. We have no running water, and we need more toilets and menstrual pads," Kwe Awe said.
But while the needs at the IDP camps are great, supplying them puts volunteers in danger. On May 19, a man was arrested in the town of Kalay, in Sagaing Region bordering Chin, after he withdrew K17 million from his bank account to support the IDPs, local media reports said. The money had been donated to his account from people across Myanmar and overseas.
Meanwhile, soldiers stationed on the roads have been confiscating food, medicine and other supplies being sent to IDPs, camp management committee members and other volunteers told Frontier.
Kihta camp manager Salai Ning Thang, 30, said some aid was getting through but it wasn't enough.
"People in other townships and cities are donating food, medicine and other goods, but we still need more supplies," said Ning Thang, who also had to flee Mindat with his one-year-old son. "We don't have enough medicine, and international NGOs and United Nations agencies can't reach us."
The rains begin
Figures from the Assistance Association for Political Prisoners show that 12 people, all men, were killed by the Tatmadaw in Mindat between May 12 and May 29. Although the AAPP's toll includes people who fought in or alongside the CDF, it also includes a municipal staff officer who had left government service to join the Civil Disobedience Movement, and who was reportedly shot dead while returning to the town from an IDP camp to collect his possessions.
Also among the dead are two boys killed by a landmine in Pu Keng village, about 20km south of Mindat. Salai Shine Tun, secretary of the Chin National League for Democracy, a political party, told Frontier that Tatmadaw troops had been posted in the village, indicating that they had laid the mine.
Shine Tun said he urgently wanted the Tatmadaw to observe the provisions of the Geneva Conventions and respect no-fire zones around IDP camps. Beyond the immediate threat to displaced people, he said the military's alleged laying of landmines poses a long-term danger to local people in the area.
"Our Chin people practise shifting cultivation on the hill slopes and the use of landmines by the military is inappropriate. I want the international community to be aware of the military's violations and take effective action immediately," Shine Tun said.
Another Chin politician, Salai Isaac Khen, who ran the National League for Democracy's election campaign in Chin last year and is a former minister in the state government, called for international humanitarian organisations, such as the International Committee of the Red Cross, to be granted immediate access to Mindat.
"Any restrictions by the State Administration Council on the provision of humanitarian assistance is a violation of human rights," Isaac Khen told Frontier.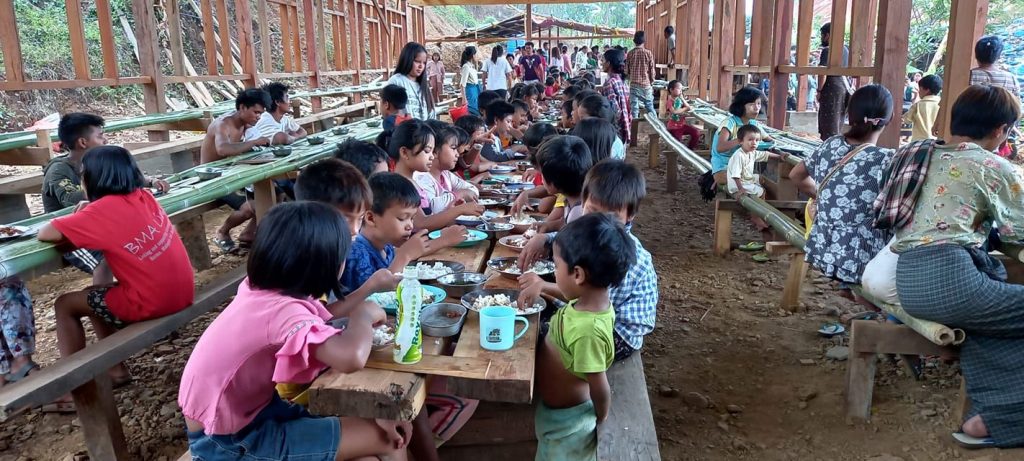 The conflict in Mindat has also affected other towns in southern Chin, for which Mindat acts as a gateway for travel and trade from central Myanmar. Prices of basic goods have risen sharply in Rezua, Matupi, Sami and Paletwa, and supplies of some products have run out.
Although food and medical supplies are the most immediate concern, some IDPs said they long for foreign military intervention in Myanmar under the principle of Responsibility to Protect, or R2P, because they fear the junta's violence will only worsen unless it is defeated.
"I wish the international community would pay attention to Mindat," said a 52-year-old displaced man in the township who requested anonymity. "We want action to go beyond sanctions, for example [military action] under R2P."
Some also hope for assistance from ethnic armed groups. On May 29, the Chin National Front signed an agreement with the National Unity Government, a parallel administration formed in April by ousted MPs and ethnic leaders, to "demolish the dictatorship and to implement a federal democratic system", the NUG said in a statement.
But despite being a prominent player in the peace process, the CNF, which was formed in 1988 and signed a ceasefire with the government in 2012, is a negligible military force, and it is doubtful that any of the more powerful groups can drive the Tatmadaw from Chin. The fall of Mindat in mid-May, meanwhile, showed that the various new resistance forces that have sprung up across the country are not yet able to coordinate effectively.
Nonetheless, some IDPs, such as Kee Awe at the Kihta camp, remain hopeful. "I hope the terrorist military council will be ousted and we will have a genuine democracy as soon as possible," she said.
Even if outside helps never arrives, camp manager Ning Thang said he and his friends will continue to resist the junta.
"Many friends have fallen in this revolution; I'm proud of them but so sad they are gone," he told Frontier. "Young people like us have no choice but to continue the fight until the military dictatorship is uprooted."
At this stage, however, few people expect the struggle to be over soon. In the meantime, displaced communities face a bleak struggle for survival.
"It's started raining," said Father Nicholas Ghung Thang, who manages the Lukse camp in the compound of the village church. The Christian pastor said the onset of the annual monsoon would severely compound "the transport and other difficulties we're facing".
"Without outside assistance, and with more heavy rain, everyone in the camp could starve."