Although few striking civil servants have returned to work, many in the Civil Disobedience Movement are starting to waver because of intimidation, legal threats and a lack of financial support.
By FRONTIER
When Ko Min joined the Civil Disobedience Movement in February, he was full of optimism. He genuinely believed that if he refused to do his job at the Ministry of Information, and if other civil servants also went on strike, the military regime could quickly be overthrown.
Over two months, though, reality started to set in. If he was evicted from his government housing, where would he live? Without an income, how would he support his ailing and bedridden father and two younger brothers, both students? On April 21, he returned to work.
It was a depressing experience. Ko Min's superiors were welcoming enough – he had expected them to be angry – but some of his colleagues were unfriendly, he said, and treated him like a "loser". "Their attitude was just like, 'Of course you came back. It was never going to work.'" This treatment made him "feel so small".
But Ko Min said it wasn't inevitable that he would have to return to work. If he'd had financial support, he would have happily remained on strike. However, when he contacted CDM support groups, he never received a response.
"It became very difficult to survive, I just didn't know what to do," he said. "So finally, I felt I had no choice but to go back."
By going on strike, Ko Min was in a minority at the information ministry; of the ministry's 15,000 employees, barely 400 joined the CDM.
But by returning to work, Ko Min is also unusual – sources told Frontier that he is one of just a handful of CDM staff at the ministry who have done so.
Civil servants in other ministries paint a similar picture. Although levels of participation in the CDM vary significantly from department to department, relatively few striking workers have gone back.
As a result, CDM continues to cripple a number of important government functions, including the provision of health and education, and electricity bill collection.
Started by public healthcare workers immediately following the February 1 coup, the CDM campaign has been one of the main pillars of resistance to the military dictatorship. It quickly attracted the support of many thousands from other government ministries – a broad coalition of civil servants determined to paralyse the machinery of government that the junta had just stolen from their civilian leaders. The movement soon spread to the private sector, and workers walked off jobs in banks, rail stations, hospitals, schools and ports, bringing the economy and the COVID-19 response to a grinding halt.
But four months on from the coup, the CDM is under major strain. Interviews with more than a dozen striking workers revealed that most lack regular support and are facing financial hardship, even if, unlike Ko Min, they continue to hold out for now.
Threats and coercion
The junta has gradually turned to harsher methods in an effort to break the CDM. Initially it directed department heads to take disciplinary action ranging from pay cuts to temporary suspensions, but by the end of the Thingyan festival on April 20, striking civil servants were being warned that unless they returned to their desks they'd soon be fired.
Many have already received formal notice of their termination – in the Ministry of Education alone, more than 120,000 have already been fired, while thousands of electricity and forestry workers, among others, have also been given the sack. But the regime has left open the possibility of coming back, by saying they can appeal the decision within six months. It's an option some may take up if they can't get financial help.
Some, like information ministry staffer Ma Thida, received their termination orders months ago, however. She was targeted earlier than most, she said, because she had been particularly outspoken and had encouraged colleagues to also walk off the job.
Ma Thida anticipated that she would be fired, so the dismissal letter didn't bother her too much. She was more disturbed by the notice that accompanied the letter, demanding she repay a K440,000 COVID-19 relief payment that the National League for Democracy government had disbursed late last year.
On March 8, the Committee Representing Pyidaungsu Hluttaw – an NLD-led body formed by lawmakers who had been ousted by the coup – announced that civil servants did not need to repay the loans. Encouraged by this announcement, Thida decided she wouldn't pay back the debt. Then she received a second notice on May 4, and noticed that the local police station had been copied on the letter.
Although she was already in hiding, Thida was worried that if she left the debt unpaid, the authorities would pursue her family members instead. "I don't want my family members to suffer because of me," she said.
She doesn't have K440,000 to pay it back on her own, so she tried to seek cash assistance from a CDM support group but was unsuccessful. "I'm not the only one who has not received any support from any group," she said. "Many CDM participants are in the same position."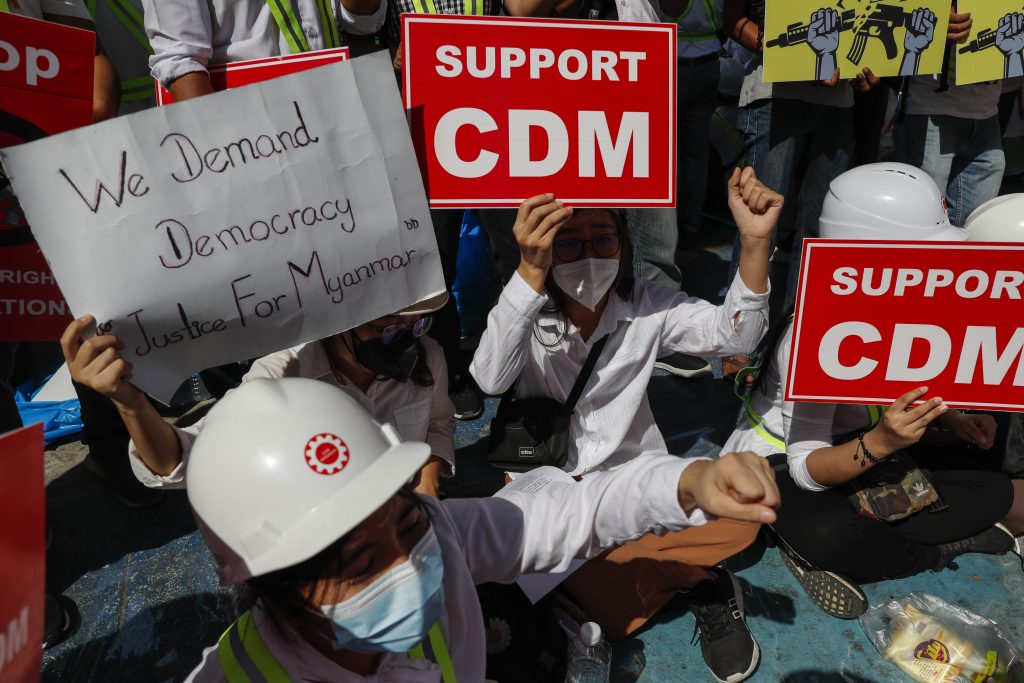 The Ministry of Natural Resources and Environmental Conservation is also demanding its striking workers repay the COVID loan. The ministry's Department of Tropical Reforestation terminated 39 striking employees in Magway Region on May 4 and warned them they would be prosecuted if they failed to repay both their loans and the paychecks they had been drawing while on strike.
More than 6,000 ministry employees joined the CDM, the majority of whom have not returned, said one forestry officer who was sacked on May 4.
"A few people have returned to work, but most are still on strike. We've been fired and are being pressured to repay our loans, but we don't care. We expected this. I will remain on strike until we get our democracy back," he said.
The junta has dealt with some CDM participants even more harshly. It has charged hundreds of striking civil servants – particularly health and education workers – for incitement under section 505A of the Penal Code. This charge carries a three-year prison sentence, although some of the targeted workers have not been arrested, and remain in hiding.
The regime has also resorted to threatening and terrorising relatives of striking government workers, in an effort to get them to return to work. On March 28, for example, it detained a striking teacher's mother and brother in Mandalay Region's Mogok Township, and later charged them under 505A.
Another brother of the striking teacher said his family members were charged because they refused to hand the teacher over to the regime in exchange for their release. "How could we do an exchange for my sister? I'm concerned she would be sexually harassed," he said of the teacher, adding that the rest of the family is in hiding.
While the risk posed to family members has moved some CDM participants to return to work, others have simply tired of life of the run.
"One of my CDM colleagues decided to go back to work because she could no longer stand moving to different places every night," said a lecturer at Yangon Technological University who asked not to be identified.
Others fear being included on the daily list of striking government workers charged under 505A, which the military publishes in state-controlled media.
"CDM participants are wondering when their turn will come, and it makes them think about returning to work," said a striking doctor in a senior position at Mandalay General Hospital. "Over time, the stress and psychological trauma builds."
Still, she said, many in the medical sector are not returning.
Struggling on
It's a similar story in other ministries, where a relatively small proportion of striking staff have resumed work.
At the Commerce Department in the Ministry of Commerce, for example, about 80 of the 500 employees initially joined the CDM. By the end of May, just 11 had returned to work; the rest were dismissed on May 21.
At the Ministry of Agriculture, Livestock and Irrigation, a senior official said that of the 160 employees in the Fisheries Department who had gone on strike, only 15 had returned and 104 of the rest had already been sacked.
The official said there was "no severe penalty" for returnees. "We welcome their return, and the more that return, the better for us. Those who have been dismissed can lodge an appeal within six months if they want to return," the bureaucrat said.
Sources in the Ministry of Electricity and Energy say that about 300 of the more than 2,000 employees at the ministry's Nay Pyi Taw office joined the CDM and nearly all remain on strike. A senior staff member in the Department of Hydro Power Implementation, who was sacked on March 24, said only one of the 26 department staffers who joined the CDM in February has returned to work.
However, he said two were considering returning because they were worried about losing their government-provided housing. "They won't be able to find rental accommodation quickly and they can't afford to buy a house," said the man, who is single and has returned to his hometown to live with his parents.
A Commerce Department worker who is on strike said civil servants who joined CDM were also facing pressure from their families. "They will never get another job in the civil service because the military regime will put them on a blacklist," she said. "But their parents and other family members are also urging them return to work so that they don't get [arrested or tortured]."
At the same time, some of those who have returned to work are being criticised by their families.
One teacher at a primary school in Hmawbi Township on Yangon's northern outskirts said that after its headmistress decided to return to work after Thingyan, the woman's son refused to drive her from their home in Sanchaung Township. "She now has to travel to Hmawbi by taxi," the teacher said.
Financial support out of reach
Although most workers who joined the CDM remain committed to the cause, many are risking financial ruin.
Shortly after the CDM launched, underground funding networks emerged to raise and distribute donations from the public to striking workers to cover the loss of their salaries, either in cash or kind.
CDM support groups say they were able to provide adequate financial support initially, but the mobile internet shutdown imposed on March 15 and restrictions on cash withdrawals from ATMs and bank branches imposed at the start of March have gradually starved them of funding.
The leader of a CDM support group in Yangon, who asked not to be named, told Frontier that although the movement remains strong, in order for it to succeed striking workers would need more financial support and protection.
He suggested that either the CRPH or the National Unity Government, which the committee formed in April, had to step up.
"If [CDM participants] don't get financial support, no one can guarantee how long they'll be able to stay on strike," he said.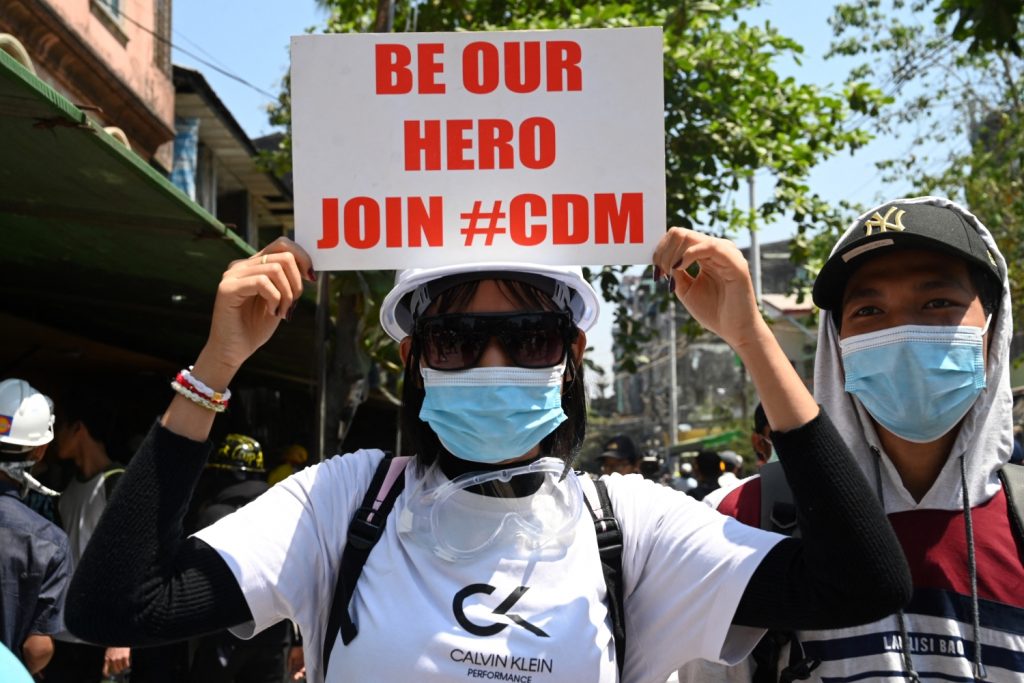 The CRPH has formed support teams in most townships and encouraged striking workers to contact them, but because they have to work in secret to avoid the security forces this can often be difficult. On the CRPH-CDM Supporting Team Facebook page, users frequently comment under posts asking for help in contacting local support networks. But the risk of networks being infiltrated with junta informers makes online introductions dangerous.
When the CRPH-CDM Supporting Team page reported that between May 5 and 11 it had received nearly K256 million in donations, and local support teams had given striking workers between K50,000 and K100,000 each, its page was flooded with complaints from users claiming to be striking workers who had missed out.
In southern Shan State, volunteers at a local CDM support team told Frontier that they have compiled a list of 1,600 striking workers in their township, but the K3.5 million a month they receive from the CRPH covers just a fraction of their needs. Despite coordinating with civil society groups to raise extra funds, the support team still has to limit regular handouts to those most in need, such as heads of households with children or ill family members.
"Over the past three months, we were able to provide support to three needy groups three times," the team leader said. "However, some of the 1,600 people were only helped once."
In other locations, CDM participants told Frontier that they and their colleagues been missed out entirely. A striking Nay Pyi Taw-based employee of state-run broadcaster MRTV who was sacked on March 10 said she had filled in a form on the CRPH website to request financial support but none was forthcoming.
"None of the CDM participants in my township have received any support from the CRPH. However, I twice received K50,000 from a social welfare association in my township," she said, adding that seeking help from local charity groups was a faster way to receive support than from the CRPH.
One striking teacher told Frontier she'd turned to her own personal networks after receiving "no reply" from the CRPH-CDM Supporting Team. "To be frank, the support is weak," she said.
"My friend collected donations and sent them to me and I shared the money with five striking colleague," she said. "I was able give each at least K50,000, sometimes K70,000, until April." But by May, she added, those donations disappeared. "As the strike continues, it's became more difficult to support ourselves."
She and she and her colleagues are no longer confident they can remain on strike until the regime falls. "We don't know what to do," she said.