Unwilling to accept military rule, many in Kachin are looking to the Kachin Independence Organization to fill a void in governance. As the KIO strengthens its influence, it is facing mounting pressure to regulate environmentally destructive gold mining.
By EMILY FISHBEIN, JAUMAN NAW, JAW TU HKAWNG and NU NU LUSAN
Bawk Nu* has spent the last 11 years dreaming of the day she could safely return to her village of Nam San Yang. She is one of more than 100,000 people who fled their homes following a resumption in fighting between the military and the armed wing of the Kachin Independence Organization in 2011, and she has lived in a camp for internally displaced people near the KIO headquarters of Laiza ever since.
Not long after villagers evacuated Nam San Yang, businesspeople started buying up their land for gold mining. After the coup, the scramble for gold turned into a frenzy. Excavator trucks turned what remained of the village into gaping craters and piles of earth, but Bawk Nu was one of the few who refused to sell. On December 27, KIO banned gold mining in areas within its sphere of influence.
Both Bawk Nu and Mun Awng*, a member of the village's Baptist church, said that although gold mining temporarily stopped in January, it had resumed when they visited the village in May. "During the day, everything was quiet, but mining happened at night," said Bawk Nu. "The mining continued… The only thing that changed was that it wasn't happening openly."
Among properties mined during that time were those adjacent to Bawk Nu's. Her land buried in waste heaps, she recently conceded to sell it, feeling she had no alternative. "I had dreamed of going back home when my village became peaceful," she said. "After I saw all the gold mining in my village, I felt like my dream was shattered."
She is one of many people across Kachin State who have suffered the adverse impacts of a gold mining rush since the coup, as a contracting formal economy pushes people to look for new sources of income and the collapse of rule of law emboldens people to extract resources without fear of consequences.
Interviews with 12 villagers and seven members of Kachin civil society over the past six months for a series of articles on gold mining in Kachin State highlight an exacerbation of problems which have been reported by civil society groups since the early 2000s. These include a loss of land, the deterioration of social fabric, polluted water and eroded riverbanks.
The interviews also reinforce a well-documented link between resource extraction and armed conflict.
Kachin's resources, including gold, jade and timber, have long provided funds for armed actors including the military and KIO. Since the coup, fighting in the state has intensified as the KIO continues its fight for self-determination and joins the national uprising against the junta. The situation has fostered the perfect conditions for the state's conflict resource economy to thrive, at the expense of local communities and the environment.
Local sources told Frontier that regardless of whether the military, KIO or militia groups claim control over an area, any group which can access the area is likely to collect taxes on gold mining operations there, but none were systematically regulating the industry.
They said that as the KIO increases its influence in areas outside of its territory as well as its legitimacy in the eyes of the public, they would like to see it step up its response to gold mining.
"In this current situation, we see the KIO as our parent and our government," said Naw Ja* from Hpung Ing Yang village in Sumprabum Township. "I would like the government to address gold mining…[and] prioritise protecting our natural environment."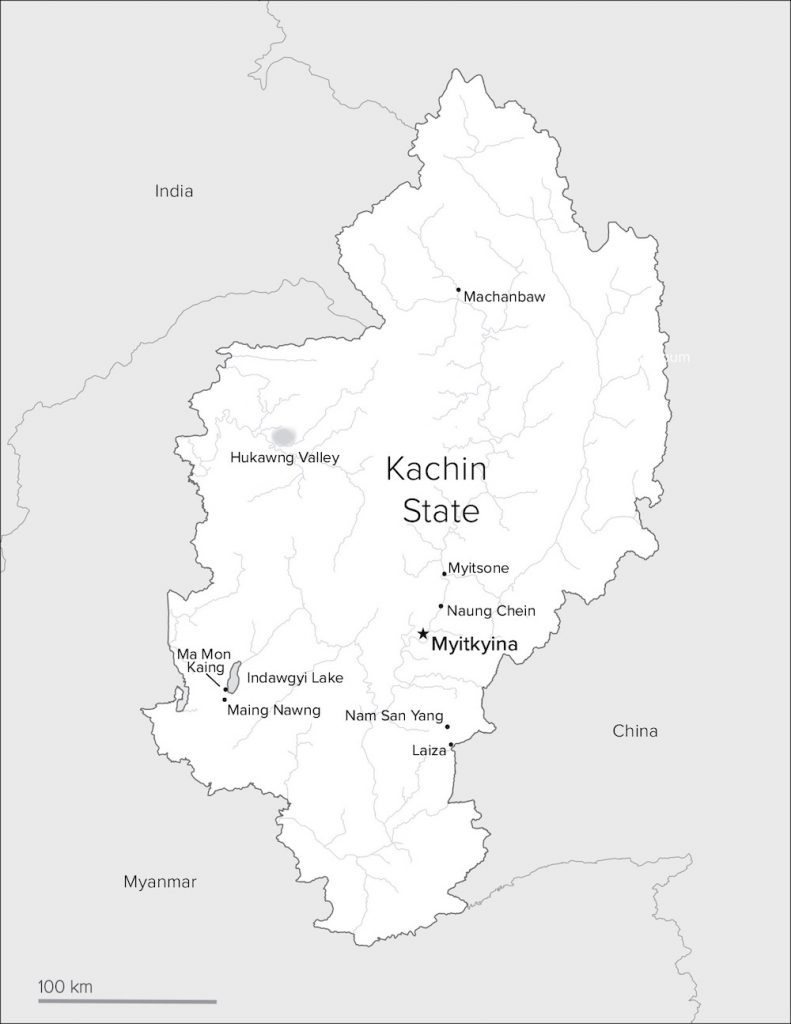 A sandy wasteland
Although people in Kachin have traditionally panned for gold and used rudimentary diving methods, mechanised gold mining first picked up after the military and KIO signed a ceasefire in 1994 and the military began issuing large resource concessions across the state. Since the coup, however, the mining has reached unprecedented levels, local sources said. "After the coup, people mined gold without concern for the environment," said Naw Ja in Hpung Ing Yang. "After gold miners finish, they just abandon their sites. Many cows fall into mining pits and die."
Sources also said that rivers and streams have become muddy and discoloured with sediment, that gold miners commonly use and dispose of mercury without taking any precautions, and that water levels are exceptionally low, affecting drinking, bathing, fishing and farming.
Gold mining is even increasing in environmentally fragile locations, including in the Indawgyi Lake Wildlife Sanctuary. La Ring*, who is from a village** southwest of the lake, said that gold mining is especially spreading in Ma Mon Kaing and Maing Nawng villages. He added that it was encroaching on the Nam Yin Hka Forest Reserve, which officials were not only failing to monitor, but profiting from gold mining there. "Gold mining is turning the forest into a sandy wasteland," he said.
The increase in gold mining has also brought harmful social impacts. Several local sources described to Frontier an influx of narcotic drugs into some gold mining areas. "When gold miners become addicted to drugs, bosses cut the cost from their wages. Almost all of the bosses sell drugs to their workers," said La Ring.
Rifts have also developed between people perceived as enabling or benefitting from gold mining and those resisting it. Mun Awng of the Nam San Yang Baptist church said that the mining had placed the village's two church denominations at odds because many of those involved in the business or brokering land sales were Catholic, while the Baptist church had been leading efforts to stop the mining.
The situation is straining tensions that surfaced in 2019, when a group of mostly Catholic IDPs returned to Nam San Yang through a controversial initiative facilitated by the military, but Baptists mostly stayed in displacement camps. "This small number of people who returned are the ones doing all this mining and working as brokers," said Mun Awng. "They call other villagers who are still living in IDP camps or other areas and ask them to sell their land."
In a village** on the Mali River just west of the town of Machanbaw, Htun Ja* said that many ethnic Lisus had sold their land. "Gold miners convinced [Lisus] to sell their farmland…so villagers from other ethnicities asked them why. We have to convince them not to sell," he said. According to Htun Ja, some of those who sold had asked businesspeople to build public roads and irrigation canals in return. "We have to explain to them why we should not ask for help from businesspeople…Businesspeople are not a charity organisation. They are looking for profits," he said.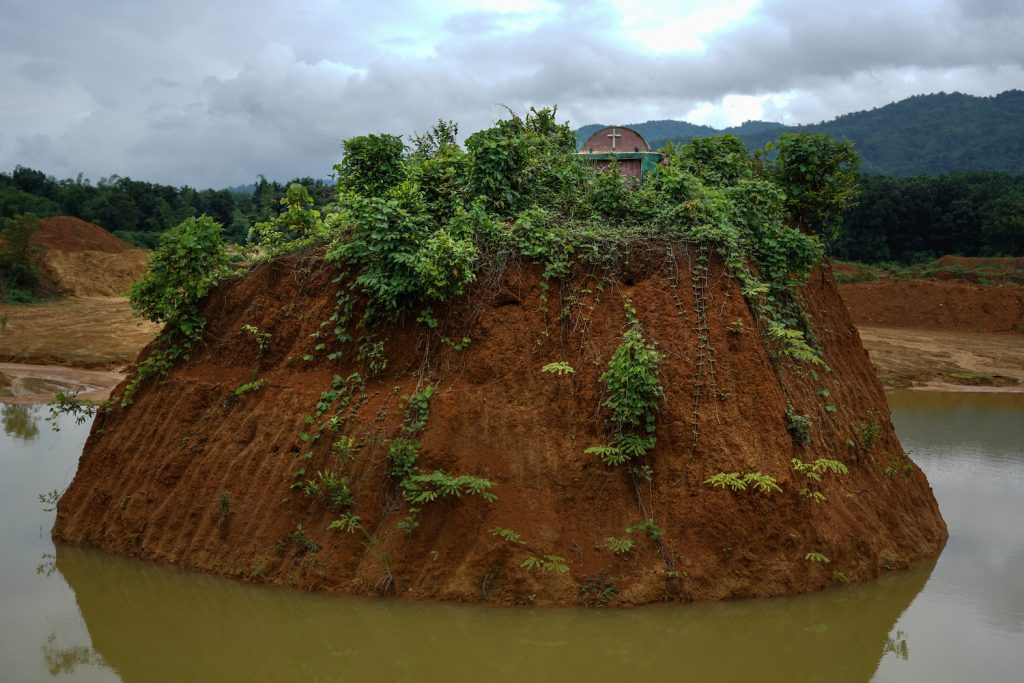 A vicious cycle
Although many of those mining gold are migrants from across the state and country, people are also mining in their own villages at a time of diminishing alternatives. "Local gold miners feel bad about mining [gold], but they still have to do it for their livelihoods," said Brang Naw* in Naung Chein village, Waingmaw Township.
La Ring said that southwest of Indawgyi Lake, many farm labourers had also shifted to gold mining. "Rice farming businesses can't compete," he said. "Local farmers aren't able to pay 10,000 kyats (US$5) per day to workers, but gold mining bosses can pay."
According to Zaw Man Aung of the Hukawng Land Development Programme, a civil society group based in Tanai Township, local people are also increasingly turning to gold mining in the Hukawng valley, which hosts a large wildlife sanctuary and has long experienced intensive gold mining to the detriment of its forests and local land rights.
"Some people know [mining] isn't good for the environment, but they have no choice," said Zaw Man Aung, whose group organised a debate for local youth on June 5 about whether gold mining should be banned. "Especially at this time…they take everything they can. They aren't sure about tomorrow, so they will do it now."
Local sources described a range of factors driving people to sell their land and also said that land grabs were happening in some areas. Southwest of Indawgyi Lake, La Ring said that many farmowners had sold their property because they "just saw an instant huge amount of money," but that in other cases, gold miners "leave local landowners with no choice by disposing of waste on their farmland," he said.
West of Machanbaw, Htun Ja said some of the mining was happening on land which had not been sold, including that of villagers living in IDP camps. "When we went to ask [the miners] about it, they said they did all the process at the higher levels. We don't know whether they have permission or not," he said.
At a time when humanitarian aid is dwindling and armed conflict is ongoing, some IDPs who held onto their land for years are now selling. "Many think that they will sell their land and buy land in the city and resettle there," said Mun Awng in Nam San Yang.
But land grabs and the loss of land through collateral damage are also common in the village, according to Mun Awng. "Some land has been mined without landowners' consent or knowledge. In some cases…[people's] land has been destroyed and landslides have been happening due to mining on their neighbours' land. Some [businesspeople] don't pay the full amount for the land and disappear," he said.
The situation has contributed to a vicious cycle in which, unable to monitor their land closely and fearing they will lose it anyway, many IDPs are selling, which then drives even more people to sell, often at low prices. "Landowners are worried that their land will disappear to landslides when it rains or mined without their knowledge, so one by one they are selling," said Bawk Nu.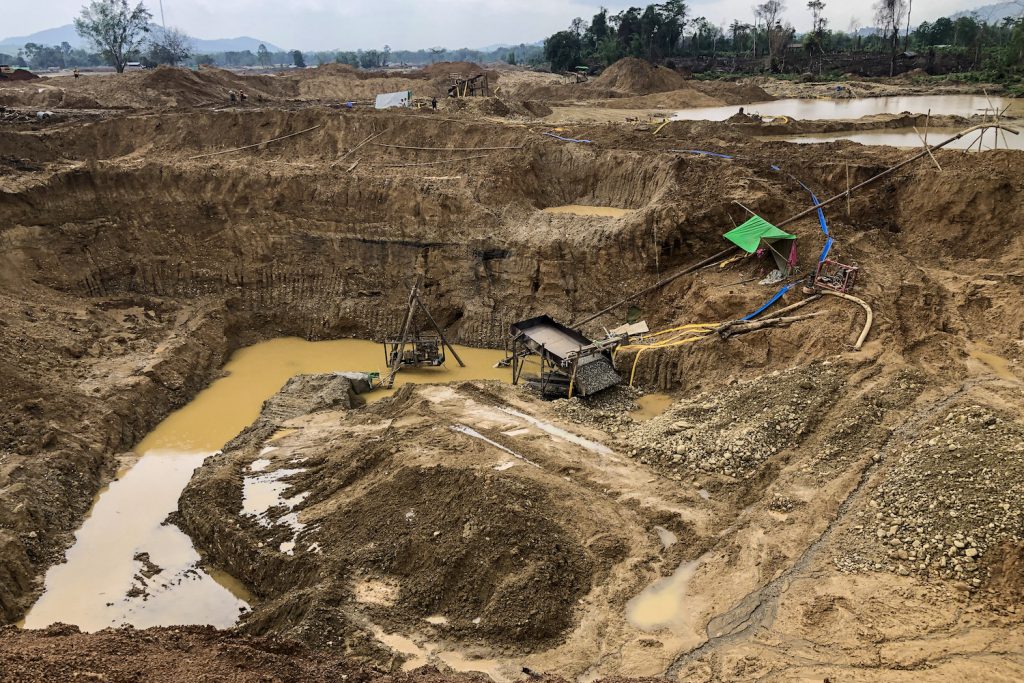 A call for help
Locals who have tried to resist gold mining said they felt unsupported by any armed actor or political institution and they feared social backlash as well as physical attacks as a result of speaking out. "I don't feel safe because gold miners have noticed me," said Htun Ja, who joined other locals near Machanbaw in appealing verbally to local KIO officers and petitioning in writing to the village's General Administration Department, as well as posting wooden signboards warning gold miners to keep out, without any result so far. 
Near Indawgyi Lake, La Ring also said he felt unsafe for speaking out against gold mining, while his efforts appealing to the Forest Reserve Group and KIO officials had so far come to nothing. "The KIO do not take any action against gold mining because they even collect taxes from it. The SAC and militia groups also do not take any action," he said, referring to the State Administration Council, the official name for the junta.
Mun Awng said that the Nam San Yang Baptist church has been petitioning the KIO in person and in writing since around 2013 to stop gold mining in the village, and that he was frustrated not to see more decisive action yet. "We cannot sell farmland or houses in our area without KIO involvement. Although they say 'We are not a government; we are a revolutionary organisation', what I understand is that when they need to take something from us, they say they are our government, but when they need to solve problems for us, they say they are just a revolutionary organisation."
He also said he fears the consequences of raising his voice because it involves challenging the KIO. "It is not easy to speak against them in our area. When we speak against Bamar people, the whole public supports us, but when we speak against our KIO, people will think we are crazy."
Colonel Naw Bu told Frontier during a phone interview in April that the KIO had stopped nearly all gold mining operations in areas under its control since December of last year, and that it was not permitting new operations in the Kachin Region, which it defines as Kachin State and parts of northern Shan State. "We are a revolutionary organisation, but we take responsibility and accountability to protect our land," he said.
He said that the KIO was unable to address gold mining in areas outside of its control because it might lead to armed conflict with military forces, and that some businesses were "taking advantage." "The formal dialogue channel is gone and we cannot negotiate anymore. We are in wartime and as such, we cannot enforce the law effectively," he said.
He also acknowledged that the KIO was still collecting taxes on gold mining operations in some areas under military control, but said that he did not have further information on the amount or locations because this was handled at the ground level. "We have ordered all offices to collect taxes where it is appropriate to do so," he said in June, adding that the KIO central committee had warned its members not to engage in any deceitful acts.
When asked in a follow-up call on June 23 to respond to claims that mining had resumed in Nam San Yang, he reiterated that the KIO had stopped all gold mining in the village, and said that the KIO was not collecting any taxes there either.
"If we use our armed forces to check the situation, there might be some challenges or armed clashes with those responsible [for mining]," he added. "In this situation, some people might pull the wool over [our] eyes and keep on mining gold, but I would like to restate that the KIO has clearly banned gold mining in that area."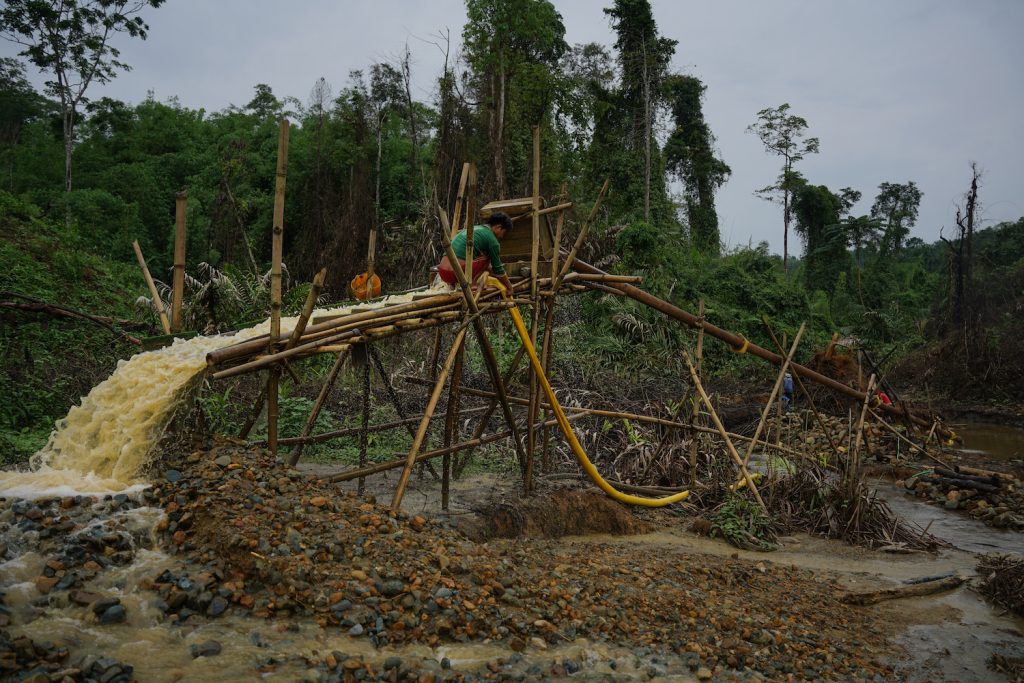 Frontier also spoke with Dr Hkalen Tu Hkawng, the National Unity Government's Minister of Natural Resources and Environmental Conservation and an ethnic Kachin. He said that it was important to consider the KIO's taxation of gold mining within the broader context of its fight against the military. "The KIO has supported and cooperated with many local revolutionary groups," he said. "If we ask them not to collect taxes, how can they get money during this revolutionary period?"
Monitoring and regulating gold mining is further complicated, he said, because of contested governance across the state, leaving a grey area regarding the legitimacy of permits – including the 236 small-scale gold mining permits of four acres each issued by the ousted National League for Democracy-led government.
According to Dr Tu Hkawng, the first priority in addressing the gold mining crisis should be defeating the military regime. "We need lasting peace and stable politics in order to protect natural resources and close down mining…If we just keep on closing down all the mining, the people who get their incomes from it will be angry."
But he said that his ministry had no plan to respond to gold mining in Kachin because it fell under the jurisdiction of the Kachin Political Interim Coordination Team (KPICT), which is serving as an interim political body for the Kachin Region. Its spokesperson, Nsang Gum San, did not reply to Frontier's emailed request for comments.
Those interviewed by Frontier said that for people experiencing the harmful effects of gold mining, waiting for peace and stability to regulate it is unsatisfactory. "[The KIO] have been fighting for Kachin State, for federal democracy, for more than 60 years but our land and environment are being destroyed by gold mining," said a civil society worker from the Myitsone confluence, where 100 women gathered to protest mechanised gold mining on 5 June.
Seng Hkum, a Kachin student who is pursuing his master's degree in public administration and natural resource management policy at Indiana University's O'Neill School of Public and Environmental Affairs, told Frontier he was hopeful that as voices from the public grow stronger, the KIO would respond.
"As they are preparing to take on the role of government in the Kachin Region, they must be responsible and accountable for public concerns. The Kachin Region should seriously consider how to make its future economy more inclusive and diverse in order to reduce its natural resource dependency and chronic resource curse."
* denotes the use of pseudonym for safety reasons;
**In the case of small villages where sources could be easily identified, village names have also been withheld.