With youth flocking to join the Kachin Independence Army since the Tatmadaw took power, Frontier spoke to the young Kachin who believe armed revolution is the only way forward.
By EMILY FISHBEIN, NU NU LUSAN and JAW TU HKAWNG
On the evening of March 13, Zau Tu told his parents he was going to spend the night at a friend's house.
At 6:30 the next morning, the 23-year-old caught a ride from Myitkyina, the Kachin State capital, to the Kachin Independence Organisation headquarters in Laiza, on the border with China. Four hours later, he had enlisted in the KIO's armed wing, the Kachin Independence Army.
Zau Tu, who asked to use a pseudonym, is among what he described to Frontier as an influx of people, mostly youth, joining the KIA following the February 1 military coup. He spoke with Frontier over the Signal messaging application from Laiza, where he is doing basic training. Though he couldn't offer an estimate of how many new recruits have joined recently, he said more have been arriving every day.
Fed up with seeing peaceful street demonstrations met with violence, Zau Tu said he enlisted in the KIA because he wants to help overthrow the military junta by force. He is also fighting, he said, for Kachin State's self-determination under a federal democratic union, for which the KIO has fought since 1960.
"I'm fighting for a more peaceful future," he said. "Many people decided to enlist with the mindset that this is the last fight."
Resistance to the coup has brought ethnic nationalities' decades-long struggles for self-determination in line with the desires of the larger population, including the Bamar majority, to topple the junta. Before February 1, many Bamar regarded ethnic armed groups as threats to national unity, but in recent weeks, these armed groups have received a flood of mainstream support. As the Tatmadaw continues to kill, arrest and terrorise civilians, calls are growing across the country for ethnic armed groups to step in and protect the people by participating in a "federal army". This new federal army, which so far exists only as an idea, would not only unite Myanmar's ethnic armies in the borderlands, but also recruit Bamar civilians from central Myanmar and, it is hoped, defectors from the Tatmadaw.
Frontier spoke with seven Kachin youth and the spokesperson of the newly-formed Kachin Political Interim Coordination Team, which hopes to represent Kachin interests in any future talks over a new federal democracy. Most of the young people interviewed say they believe that Tatmadaw violence is driving an irreversible course toward civil war. While they welcome the recent surge in Bamar support for federal democracy and a newfound recognition of the legitimacy and role of ethnic armed groups, some are cautious about trusting the new overtures, having had their political ambitions ignored for decades. Still, they hope that by participating in the national resistance movement, they can push the country closer to genuine federalism.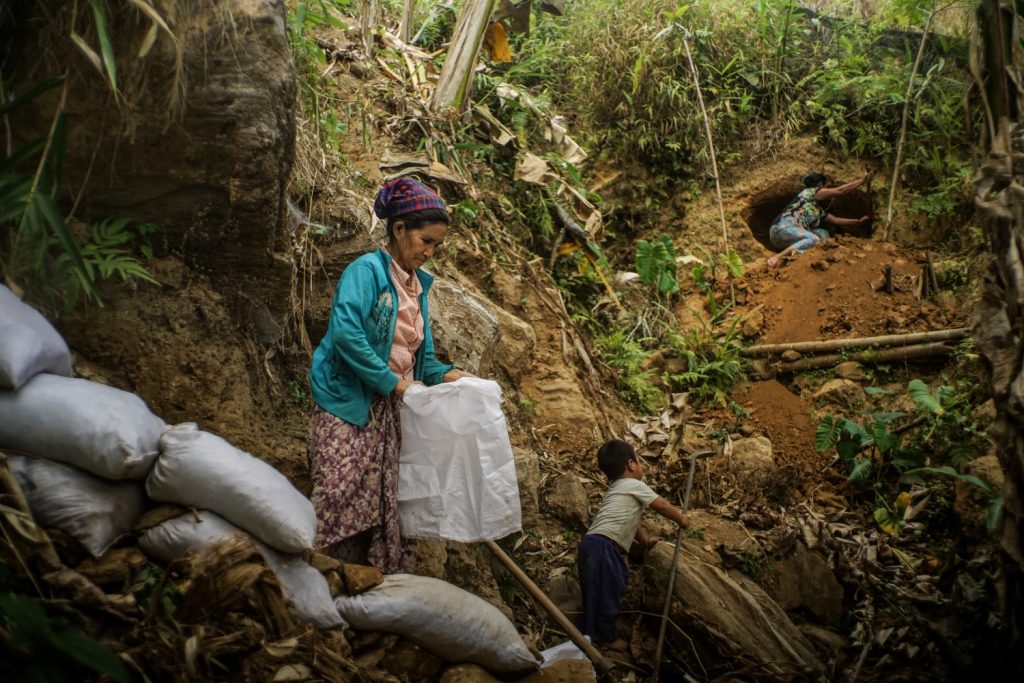 'Our best chance'
Zau Tu and Naw Naw, 21, a civilian volunteer with the KIO, say dozens of Kachin and non-Kachin people, mostly in their twenties, are now arriving in KIO-controlled areas every day – from Kachin and elsewhere – and that between 20 and 30 percent of new arrivals are women.
Naw Naw, who began volunteering in December after losing his job in a cafe in Yangon due to the pandemic, initially served in the KIO's COVID-19 prevention unit. But now, he says, he's ready to join the KIA if called. "We want freedom because we have lived under [the military] for so long. I'm volunteering [with the KIO] to get federalism," he told Frontier over Signal from Laiza.
Hkun Ja, the pseudonym of a young man in Myitkyina, had intended to open a pharmacy in early February, but the coup scuttled that plan. He said he's ready to join the KIA if it becomes part of a new federal army. "Now is our best chance to start an armed revolution," he said. "Previously, only [non-Bamar] ethnic people fought against the military … [But] now, people in urban areas have faced many brutal attacks. That's why it's time to fight together."
Hkun Ja's comments represent a common view about the relationship between ethnicity and conflict in Myanmar. Bamar people have in fact fought against the Tatmadaw, for instance in the All Burma Students Democratic Front and earlier in the Communist Party of Burma, but armed rebellion has mostly been waged by non-Bamar ethnic groups, who have also borne the brunt of Tatmadaw violence against civilians since independence.
Two other young men told Frontier that they also wanted to enlist in the KIA, but that family responsibilities are keeping them from joining just yet.
"If we are silent, we will continue drowning," said one, a 24-year-old who works for a civil society organisation in Myitkyina. "The KIA needs manpower. I think it would be better to join armed groups in this revolution against military dictatorship than [risk being] injured or killed during protests." But he has so far stayed home, because he is the only son in his family and his parents have not allowed him to enlist.
The other, a 26-year-old English teacher in Myitkyina, also said that, as an only son, he feels duty-bound to respect his parent's wishes. "My parents don't even want me to attend protests, but I still do. I'm really willing to fight with a gun, but it's hard," he said.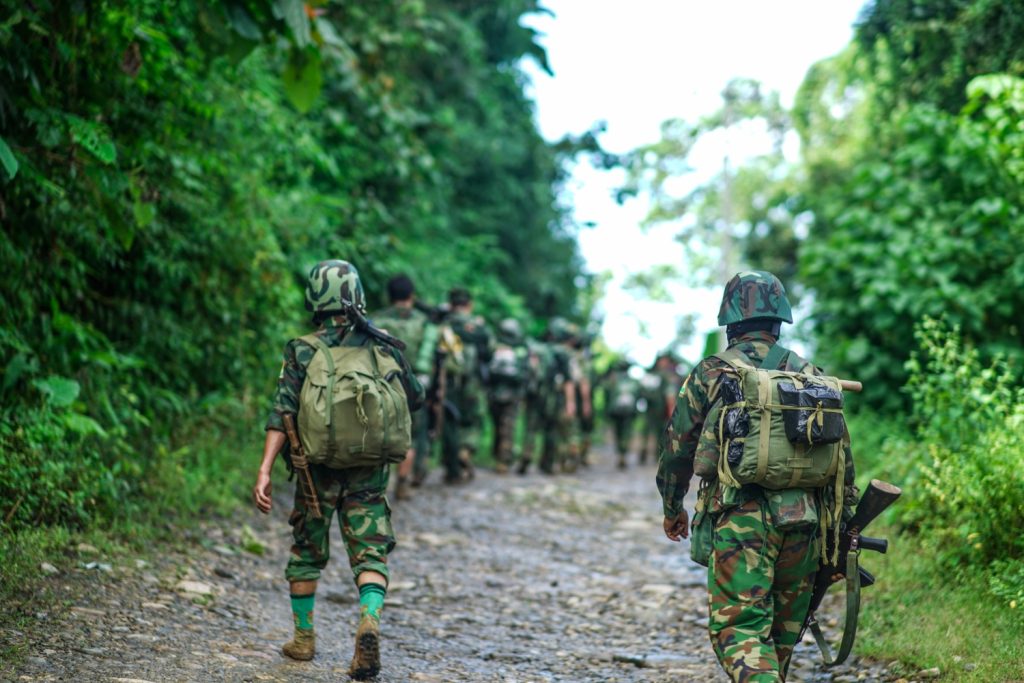 'My greatest fear is dictatorship'
Fighting between the KIA and Tatmadaw had been relatively quiet since late 2018, save for in northern Shan State, where clashes have been ongoing since early this year. But since March 12, fighting has broken out nearly every day in townships across Kachin, displacing hundreds, many of whom have taken shelter at churches. Few believe that the Tatmadaw's unilateral declaration on March 31 of a one-month, nationwide ceasefire will stem the violence, particularly since the ceasefire explicitly excludes retaliation for "actions that disrupt government security and administration." Attacks have already occurred since the announcement, including gunfire and shelling in Kachin's Mogaung Township on the night of April 1, Myitkyina-based The 74 Media reported.
Like elsewhere in Myanmar, state security forces in Kachin are violently cracking down on anti-coup demonstrations. Between March 8 and 31, police and soldiers shot 10 people dead, according to the news outlet Kachin Waves. The 74 Media reported that on March 30, junta forces burned a house in Myitkyina where they suspected a victim's body was being kept.
Kaw Ring, the pseudonym of a 24-year-old who lives in the KIO-controlled border town of Mai Ja Yang, told Frontier that she fears a full-scale resumption of civil war. She is among the more than 100,000 people who've been displaced in Kachin since 2011, when a 17-year ceasefire between the KIO and Tatmadaw collapsed. In August 2018, a United Nations fact-finding mission found that the Tatmadaw had committed crimes against humanity during its war in Kachin, including murder, enforced disappearance, rape and sexual violence. Worn down by life under armed conflict, Kaw Ring wants to avoid more fighting.
"I don't think it's a good time for armed revolution," she said. "If there is a war, the civilians are the ones who will suffer."
While she considers the KIO a protector and the legitimate government in its territories, Kaw Ring hopes the group will refrain from engaging in large-scale conflict.
"We have been fighting for many years, but we haven't achieved victory, or found any solution, yet," she said. "I believe if young people continue this protest movement by [peacefully] raising our voices against the military coup, it will be more effective."
Overall, though, Frontier's interviews and social media analysis indicate broad support for armed resistance. Seng Nu Pan, a young Kachin activist who ran for a state hluttaw seat with the Kachin State People's Party in November but lost to the NLD, said an armed response has become necessary. Although she opposes violence in most circumstances – and serves as a youth leader of the Kachin State Public Demonstration Movement – she feels that the public has exhausted all viable alternatives, and hopes that taking up arms alongside nonviolent methods will mean fewer civilian deaths in the long run.
"With the military killing, torturing and arresting innocent civilians, we must choose armed resistance; if not, they will kill thousands more innocent people," said Seng Nu Pan.
"This is the time for [ethnic armed groups] to protect civilians' lives," she said, calling on the KIA to develop a strategy that minimises casualties.
On March 19, Colonel Naw Bu, head of the KIO's Information Department, told local media that the KIO supports the establishment of a federal army to protect the rights of all Myanmar people.
Seng Nu Pan told Frontier that, while most Kachin youth now support armed revolution, some community elders are reluctant to.
"The older generations have concerns and fears … Some are encouraging resisting the coup by praying, but we in Generation Z believe that by only praying at home, we will not be able to achieve our goals," she said. "[Some community elders] do not want to see any more bloodshed. They told us not to take a confrontational approach, as it might cost us our lives."
In a March 14 Facebook post, KSPP chairperson Manam Tu Ja, 75, who also served as KIO deputy chairperson until 2009, wrote that "The answer to the problem is on the negotiation table, not on the battlefield" and that the current crisis "should be resolved through nonviolent means so that innocent civilians do not die again."
Seng Nu Pan, however, believes that failing to fight the Tatmadaw with arms could be an even greater threat to young people's futures.
"My greatest fear is dictatorship, not civil war," she said.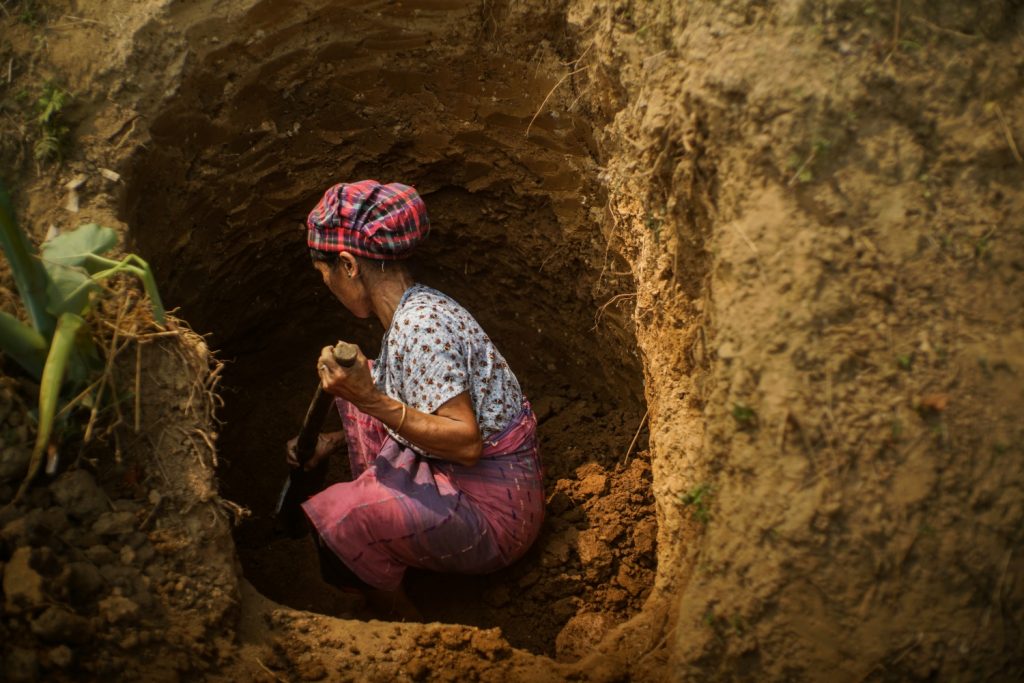 Rooted like an abscess
For ethnic nationalities including Kachin, the protest movement is not only about fighting against military dictatorship; it's also about fighting for a new constitution that guarantees them federal rights. These rights were promised to ethnic leaders in the 1947 Panglong Agreement brokered by Aung San Suu Kyi's father, General Aung San, as a condition for joining the soon-to-be-independent Union of Burma. The failure of every government since to grant these rights has fed decades of armed rebellion.
After promising in early 2016 to prioritise building peace by making good on the Panglong Agreement, the National League for Democracy instead antagonised ethnic armed groups, leaving many non-Bamar feeling betrayed. In January 2019, it called for the Tatmadaw to "crush" the Arakan Army, which is fighting for self-determination for Rakhine State in western Myanmar, and in August 2020 excluded the AA from the 4th Union Peace Conference, prompting its allies – including the KIO – to boycott the conference. The NLD also kept an "unlawful association" designation in place for the KIO and other non-signatories to the 2015 Nationwide Ceasefire Agreement, leaving support for these groups an imprisonable offence. Two Kachin religious leaders were jailed in 2017 and others charged in 2020 under the Unlawful Associations Act for allegedly "associating" with the KIO. Under the NLD, conflict continued in Kachin, Rakhine, Chin and Shan states, and federalism remained distant..
The military-drafted 2008 Constitution, which reserves control of key ministries and a quarter of parliament for the Tatmadaw and centralises power in Nay Pyi Taw, is a fundamental impediment to federal democracy and lasting peace, said Seng Nu Pan. "The military dictatorship is rooted like an abscess; many times, people have tried to dress the wound without curing it, and it gradually got worse," she said, referring specifically to the Tatmadaw's decades of natural resource exploitation in ethnic nationality areas – including during its ceasefire with the KIO, from 1994 to 2011.
"To build a nation, we should have a constitution based on the Panglong Agreement," she added. "We must have the right to govern our state."
Before the coup, many Bamar supported Aung San Suu Kyi uncritically, without examining her stance toward ethnic armed groups and federalism. Now, the shared experience of violence and oppression at the hands of the Tatmadaw have brought a new sense of solidarity with other ethnic groups who've suffered the military's brutality for so long, and an awareness of the reasons they have taken up arms.
"In the past, mainland Bamar people didn't really understand why ethnic people were fighting against the military," said Kaw Ring, the IDP in Mai Ja Yang. "Now, many young [Bamar] people have come to understand and empathise with what other ethnic people have been going through."
The General Strike Committee of Nationalities, a protest group which includes representatives from more than two dozen ethnic nationalities, including the Bamar, has led increasingly popular calls to abolish the 2008 Constitution, and to establish a new one based on federalism. On March 31, the NLD-dominated Committee Representing the Pyidaungsu Hluttaw took the first steps toward that end. The committee, comprised of elected MPs who were ousted by the junta, declared the constitution void and released an interim federal charter as a precursor to drafting a new constitution.
KPICT spokesperson Nsang Gum San was more cautious in declaring a rapprochement between the Bamar and the ethnic nationalities. Despite what he considered to be a shared commitment to building a federal democracy, ending dictatorship, and defending the people's human rights, he said that each tended to emphasise different aspects of the struggle.
"We [Kachin] resist to retain our political and territorial integrity, while our Bamar counterparts revolt to reclaim democracy," he wrote in an email response to Frontier.
Nonetheless, he believes there is reason for optimism. He said his committee is actively engaging with the CRPH, foreign governments and "like-minded partners" to ensure that this time, federalism is achieved. "'Fool me once, shame on you; fool me twice, shame on me,' as the saying goes," he said, adding that it was "not even in the self-interest of the CRPH or central government to betray us should we all come out of this revolution successfully."
"There is no better time to establish a federal democracy," he said.