Lured by the prospect of high returns on investment, thousands have collectively lost millions of dollars in a Ponzi scheme that flourished in rural Myanmar.
By HEIN KO SOE & THOMAS KEAN | FRONTIER
A "404 error" message was the first sign that something was wrong.
For three weeks, Ko Khin Maung had been able to check the value of his investment in SCL Myanmar by logging into a website, www.sclclub.com. Now he couldn't, and for the first time he wondered whether he would get back the US$1,000 he had spent on shares in the company in December 2016.
SCL had recently set up in his hometown of Pyay, in western Bago Region, and promised to more than double investors' money in three months. They were told that it was a subsidiary of a London-based company, Saxon Capital Limited, that traded gold, oil and foreign currencies.
A friend who had bought $4,000 of shares convinced Khin Maung to invest. At first the weekly cash "returns" flowed in, but it wasn't long before the money dried up.
Khin Maung approached the woman, Daw Nan Ta Nonn, who sold him his shares. It turned out she wasn't an SCL employee; rather, she was paid a commission for the shares she sold. She claimed that she too had been cheated by SCL.
Despite the unusually high return that SCL was offering – a telltale sign of a Ponzi scheme – Khin Maung said he was shocked that the company had disappeared with the money.
"My friend suggested we just invest a small amount, and if SCL is real then we will invest more," Khin Maung told Frontier last month. "But I put in US$1,000 at first … I just wanted to make as much money as possible.
"I never thought I would be cheated," he added.
Khin Maung and his friend were far from alone. In the Pyay area, hundreds of investors have been cheated, particularly in surrounding villages. And, naturally, they want the authorities to do something about it. "We contacted [representatives from the company] to get back our money but they say that it's not possible and that SCL has been abolished," Khin Maung said. "I want to know what action officials will take in this case."
Thousands cheated, millions lost
Although Pyay has emerged as a hotspot for SCL victims, complaints have also emanated from other areas of the country. Frontier's investigation, which has included dozens of interviews and more than a month of research, indicates that thousands – possibly tens of thousands – have been scammed, with losses of at least several million dollars.
SCL had "leaders" in many towns and used a commission system to increase share sales. Although the whereabouts of those at the top of the SCL pyramid are unknown, some who sold shares in their communities on behalf of the company are facing criminal and civil cases.
A Facebook group named SCL Club, with 2,500 members, stands as sad testament to the reach of the fraud. One Facebook user, Phyo Min Kyaw Kyaw, posted that in his hometown of Theinni, in Shan State, "there are a lot of people who haven't got any money as a profit although they have bought shares". There are similar posts from Kutkai, Shan State; Padaung, Bago Region; Myawaddy, Kayin State; Paung, Mon State – the SCL scam clearly spread far and wide.
(Next week, we examine the impact that the SCL scam had on one small town in Mon State, where up to 10 percent of households had invested.)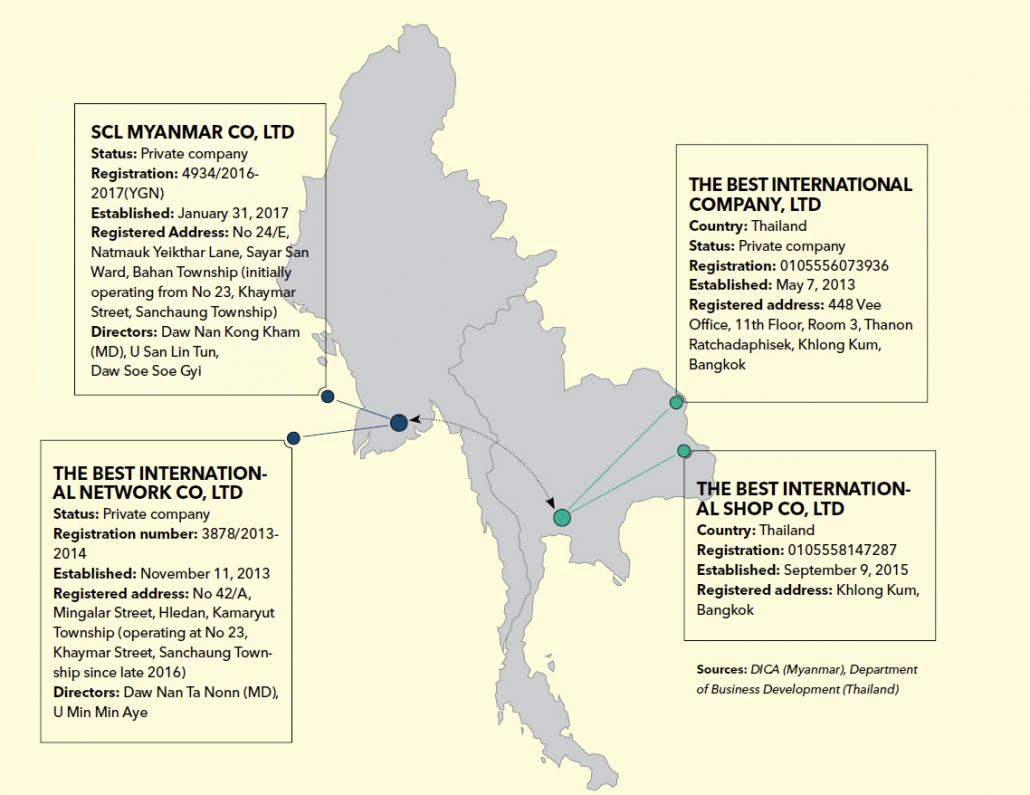 Thanbyuzayat and Ye townships in southern Mon State also have many SCL victims.
Ma Zin Mar Tun from Thanbyuzayat told Frontier she invested $11,000 on March 10 after being approached by a man named U Aung Zaw Htet, who told her she could double her money in just a few months. However, after handing over the money to Aung Zaw Htet, she received no payments. Like Khin Maung and the other investors, she also received no documentation from SCL.
When she questioned Aung Zaw Htet, he told her that SCL had disappeared but she could get her money back by investing in a new company named I Smart Golden Myanmar. On June 28 she paid him K125,000 at I Smart's office in Mawlamyine's Myaingtharyar Ward, she said. As with SCL, she's since heard nothing about her investment.
"Thanbyuzayat has so many people who have lost money to SCL and I Smart," Zin Mar Tun told Frontier. "Nearly everyone in town knows someone who has been cheated."
I Smart's original office in Mawlamyine was in a shophouse beside a KBZ Bank branch, close to the town's university. It had been closed for several months when Frontier visited in July. Ko Bite Pu, who runs a nearby betel nut shop, said that earlier this year the building had been a hive of activity, as people came from Ye and Thanbyuzayat to invest money. "It was like whole villages were coming into town," he said. "But I'm not surprised they got cheated. Everybody knew there was something suspicious about that company. It was too good to be true."

When contacted by Frontier, Aung Zaw Htet cast himself as the victim. He had lost more than US$20,000 of his own money in SCL, he said. "I'm a member of SCL, but I didn't cheat anyone. I've been trying to get back money for all those people in Thanbyuzayat who, like me, were cheated by SCL," he said.
Asked about I Smart and the claim that it had cheated victims of SCL, he demanded to know who had given this information to Frontier. When we refused to provide the name of the person, he invoked a Buddhist threat – "myay myo leh meh" (the earth will open up and swallow you into hell) – to persuade us from publishing the accusation.
Timeline of a scam
Based on posts in the SCL Club Facebook group, it seems that suspicions began to emerge in mid to late February, when customers noticed that their promised "units" had not been deposited into their accounts (the company paid a mix of cash, sent through the bank network, and units equivalent to $1 that could be cashed out later). A user named Bo Myint Lwin, who was promoting the investment scheme on the page, assured them that nothing was wrong. On February 22 he posted that growing accusations that SCL was a scam were simply the result of it becoming more "famous".
Users from around the country began to ask questions and wait anxiously for news. On Friday March 10, the SCL Myanmar office was closed. A notice taped to the door said those who wanted to withdraw their money could do so on Monday; if they couldn't come to collect it in person, SCL would transfer it to them through the bank.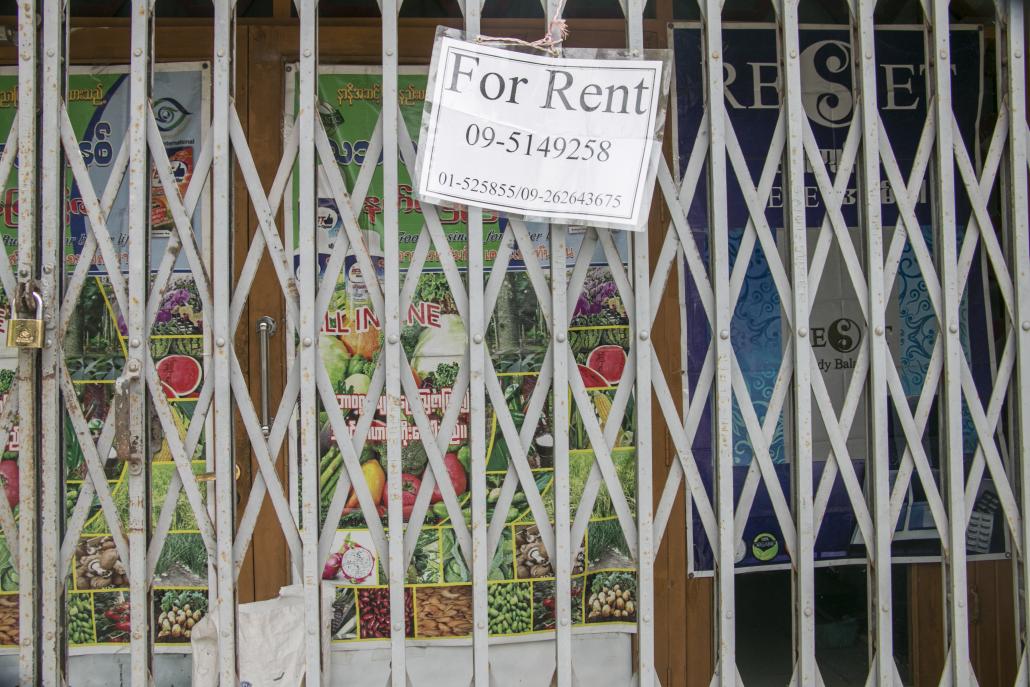 The money never materialised, however. On March 15, a group member, Poewai Phyoe, reported that she visited the SCL office and was told that the units had not been transferred because a server update was in progress. Investors were unable to withdraw their money because the company's Thai office had not transferred it to Myanmar. They would probably get their money the following Friday, she was assured.
The next day, the same member posted images of an online conversation with the "leader & MD" of SCL Myanmar, who promised that those who had invested would get their money back.
By then, though, many realised they had been cheated. Even Bo Myint Lwin, who had previously been assuring worried investors that their money was safe, had changed his tone. He reported in early April that some people associated with SCL were now operating as I Smart.
The post that probably best sums up the mood is also the shortest. A user named ဒီလ ထီပေါကျမယ့ျသူ – that is, "the one who will win lottery this month" – posted a status update on April 28: Feeling sad. The only words were "S.C.L".
Minister 'furious' at government inaction
The SCL scam has caught the authorities flat-footed and highlighted the lack of focus on detecting financial crime. For months, information about SCL filtered through the lower reaches of the government but no serious action was taken. Bago Region Minister for Planning and Finance U Nyunt Shwe told Frontier that the Pyay District General Administration Department alerted his ministry to the possibility that SCL was selling shares illegally way back in the first week of February. On March 24, his ministry reported the case to the Union Ministry of Planning and Finance. It took another two months for Nay Pyi Taw to inform the Ministry of Home Affairs, Central Bank of Myanmar and the Securities and Exchange Commission of Myanmar (SECM), which regulates the sale of shares and other securities.
The consequences of the government's inaction have been serious; not only has it likely blown any chance of catching those who masterminded the SCL scam, it has since morphed and as a result even more people have lost money.
According to U Myint Oo, acting director general of the Ministry of Planning and Finance's Financial Regulatory Department, minister U Kyaw Win was "furious" when he was recently alerted to the SCL case and learned that no comprehensive investigation had been undertaken.

Instead, investigations by separate ministries and agencies – including Union and regional planning and finance ministries, various police branches and the SECM ­– have been conducted with little or no coordination, resulting in overlap and unnecessary delays.
These probes have also lacked the necessary scope and resources to crack the case. They appear, for example, to have neglected the likely international dimensions and failed to use social media for research and to find victims.
Because SCL used the formal banking system to accept payment and remit "returns" to investors, it should be possible to track how much has been bilked by checking activity on accounts connected to known key figures in SCL. For the most part, this does not appear to have been done. (Of the three institutions most frequently used by SCL to transfer money, CB Bank and AYA Bank did not respond to requests for comment, while KBZ declined to comment.)
Myint Oo said that on Kyaw Win's instructions the Ministry of Finance and Planning is gathering information and expects to launch legal action against SCL for selling shares in Pyay District without approval from SECM.
Local officials from the Financial Regulatory Department are interviewing those who lost money in Pyay and seeking to identify who was responsible. The department is also cooperating with the Directorate of Investment and Company Administration. "We have found out some information from SCL that indicates it is linked to a company from Thailand," he said.
Chasing the money
Through the shuttered glass doors at No 23 Khaymar Road, in the quiet backstreets of western Sanchaung Township, you can still make out vinyl signs for products like Reset Body Balance and Nano organic fertiliser. A note on the door announces that the ground floor apartment is for rent.
Until about three months ago, No 23 was the office of The Best International Network Company, a multi-level marketing firm established in late 2013.
The company shifted to Sanchaung in late 2016 from Hledan, but the primary function of the Khaymar Road office appears to have been a base to sell shares in SCL Myanmar, a separate company established on January 31, 2017. In February, SCL shifted to its registered address of No 24/E, Natmauk Yeikthar Lane, Bahan Township, but when investors began realising that they'd been duped, most headed to Khaymar Road for answers.
"So many people came here to find out about this company after its office closed," said U Zaw Myint Lwin, the administrator of Khaymar Thiri Ward.
When Frontier contacted the owner of No 23, he confirmed that The Best International Network Company had rented the office for six months. (He refused to give his name or the name of the woman with whom he signed the contract.)
"They didn't stay the full period," he said. "When they left before the end of the contract, I tried to call them and I managed to get in touch with the woman who signed the contract. She said she was receiving medical treatment in Thailand."
According to the DICA registry, SCL has three directors: Daw Nan Kong Kham, U San Lin Tun and Daw Soe Soe Gyi. The Best International Network Company has two directors: Daw Nan Ta Nonn and U Min Min Aye. None of them appear to have any other directorships.
The office was not the only thing the two companies shared. Nan Ta Nonn, The Best International managing director, acted as the SCL leader in Pyay, said Khin Maung. Ko Nyan Tun from Paung, who is facing criminal and civil charges for selling shares on behalf of SCL, said SCL director San Lin Tun was formerly a senior member of The Best International.
A number of other names have also been connected to the scam. Khin Maung from Pyay said he transferred money to three people in Yangon: Ma Nwe Nwe Hlaing, Ma Hnin Ei Phyu and Ma Nang Wha. Nyan Tun also transferred money to Nwe Nwe Hlaing, a police investigation found.
Aung Zaw Htet from Mawlamyine said that when the money stopped flowing from SCL Myanmar's head office to its investors in February, he travelled to Yangon to meet with the directors. He said that although the DICA records show there are three, there were actually four more partners in SCL Myanmar. However, he refused to provide their names.
Frontier tried to contact all of the individuals mentioned, but none of the contact phone numbers they used while involved with SCL are still in operation.
The Thailand connection
The Best International Network Company is a branch of a Thai multi-level marketing firm, The Best International Company Limited, which according to Thailand corporate records was registered in May 2013. Another firm, The Best International Shop Company Limited, was registered at the same address in the Khlong Kum area of Bangkok in May 2016. Videos on its YouTube channel show the company's CEO, Chitsanupong Suramaitip, leading training and promotional events in Pyay, Mandalay and other cities in Myanmar.
The Best International Network Company shifted from its previous office, at No 42/A Mingalar Street, in the Hledan area of Kamaryut Township, last year. Ko Thant Zin, who owns a restaurant three buildings down from the former office, said he often met a woman from The Best International Network Company named Ma Nang. Aged in her early 30s, he said she looked ethnic Shan.
"The company was here for about six months and she would often come and eat lunch or dinner at my restaurant, together with some Thai and Chinese people," he told Frontier.
That's not where the links with Thailand end, however. The website that was set up so that SCL investors could check the value of their investment, www.sclclub.com, is registered to an entity named "Maison Michel" in Thailand.
Meanwhile, a website used by I Smart before Aung Zaw Htet launched in July appears to have been hosted on a small server in Thailand.
The various I Smart websites give the impression that the company sells beauty products, organic fertiliser and organic coffee. Many of the brands are the same as those sold by The Best International in both Myanmar and Thailand.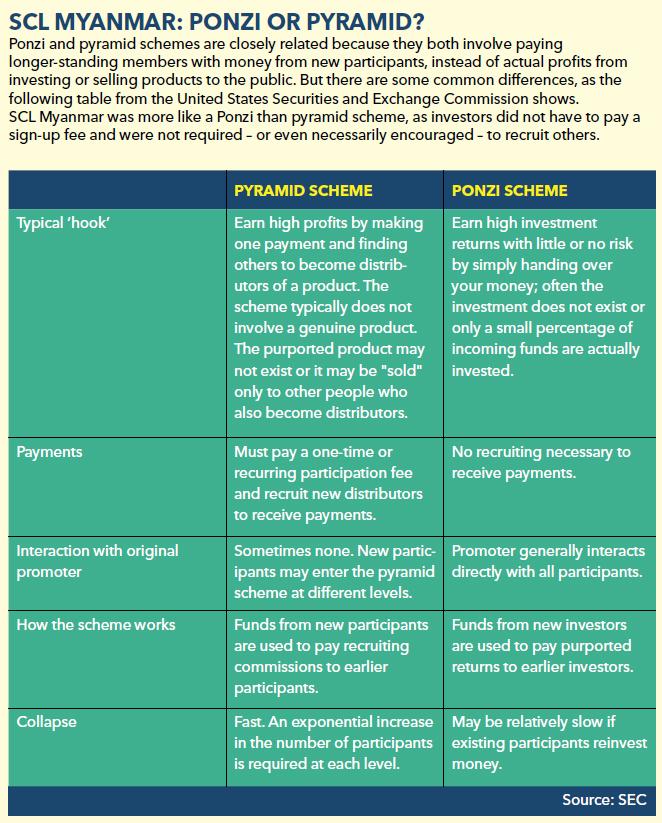 Saxon Capital Limited
When SCL was being promoted in Myanmar, prospective investors were told that it was a British company with offices in six other countries, including the United States, Japan, Thailand, Spain, Australia and India.
There was indeed a British company named Saxon Capital Limited registered with Companies House, but it was struck off on March 7 for failing to keep its filings up to date. The company, which offered investment services, had a single director, Mr David Connolly, and little or no actual business.
There are also companies named Saxon Capital Group registered or formerly registered in several of those countries, including the US, Thailand and Australia. They were connected to an earlier investment scam perpetrated in Southeast Asia in 2015-16.
(In the final instalment of our three-part series, we'll examine this earlier scheme.)
So were they involved? At this stage it seems that SCL Myanmar was either perpetrated by people involved in the previous Saxon Capital Group scam, or was a copycat; it may even have been devised by victims of Saxon Capital Group, because the modus operandi was very similar.
Although Saxon Capital Limited in the UK was the focus of SCL Myanmar's promotional materials – which, for example, cited SCL's London address as the group's headquarters – there is no evidence that it or Connolly was involved. Similarly, there is apparently no link between Saxon Capital Limited and Saxon Capital Group. (None of the contact numbers or email addresses for Saxon Capital Limited or Saxon Capital Group are still active.)
The Saxon Capital Group scam was highly sophisticated and perpetrated by Westerners with local partners. In contrast, the SCL Myanmar promotional materials lack polish: they are littered with spelling and grammatical errors, and bad photo editing. They also refer interchangeably to Saxon Capital Group and Saxon Capital Limited, but settle mostly on a new identity: Saxon Capital Group Club.
Multi-level marketing
SCL appears to be linked to a decline in the popularity of multi-level marketing, which boomed in the wake of former president U Thein Sein's economic and political liberalisation. While MLM companies, particularly Aim Star, are still prevalent, as awareness grows about their operations it is becoming harder to recruit the new members.
Several SCL victims said they were attracted by the idea of a "passive income" – something that MLM cannot offer. Although they could receive a commission for recruiting new SCL investors, there was no requirement to do so.
It appears that some MLM companies, or at least their members, had already realised that selling "shares" was an easier way to recruit new members.
Ma Sardar Mon, a journalist from Mawlamyine, said that in 2016 she invested more than K800,000 at the suggestion of her sister-in-law. She was told she was buying shares; after handing over the money, though, she discovered she'd been recruited into an MLM company named QNet. Instead of shares she received a "BioDisc", a small piece of glass that the manufacturer, Amezcua, claims can "redefine and harmonise the energy of water".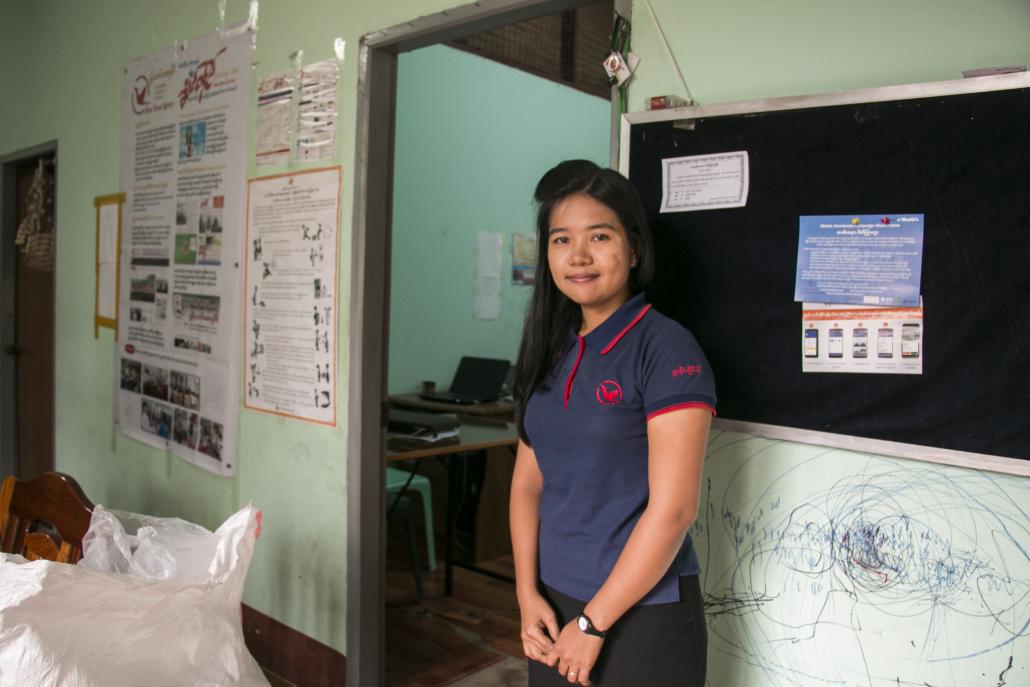 With the help of a volunteer lawyer, Sardar Mon and three other Mawlamyine residents opened a case against the company's local representatives under section 420 of the Penal Code, which relates to cheating. Eventually, though, the court in Mawlamyine found them not guilty, she told Frontier. Her lawyer, U Kyaw Win, said that in making the decision the judge cited the lack of any contract or other documentation between the parties.
The SCL scammers were also aided by the rise of social media. Mr Lennon Chang, a lecturer in criminology at Melbourne's Monash University who specialises in cybercrime, said Ponzi schemes and other scams could take off much faster as a result of the internet.
"The development of technology will definitely facilitate this type of scam," he said. "It will make it easier – for the same results, they will definitely need to spend less effort than 10 or 20 years ago."
He suggested that local factors, such as a lack of financial literacy and trust in formal financial institutions, would have helped SCL.
"In Myanmar, many people still don't think or know how to double check whether something is true or not," he said. "If some people comment under the post and say [SCL provides] a good return, then I believe a lot of people will be persuaded to put money in."
Weak and inexperienced regulator
On June 27, the SECM issued a notice in state newspapers warning that "Saxon Capital Limited" was "fraudulently" selling shares to the public in Yangon, Mandalay, Ayeyarwady and Tanintharyi regions by promising high returns. The company was using both the formal banking system and mobile platforms to sell the shares, it said.
The notice stated that under the Securities Exchange Law it is illegal to sell shares "using the banking system and mobile platforms" and anyone found doing so would face legal action. It published a contact phone number and email address and invited the public to inform the SECM if anyone was found selling shares, or had bought shares and lost money. On July 3 it published a second notice, this time warning the public against investing in I Smart.
SECM member U Htay Chun told Frontier it was the first case of its kind since the commission was formed in 2014. "The information we received is that SCL company has been cheating the public by offering shares and promising they will pay a high interest rate," he said.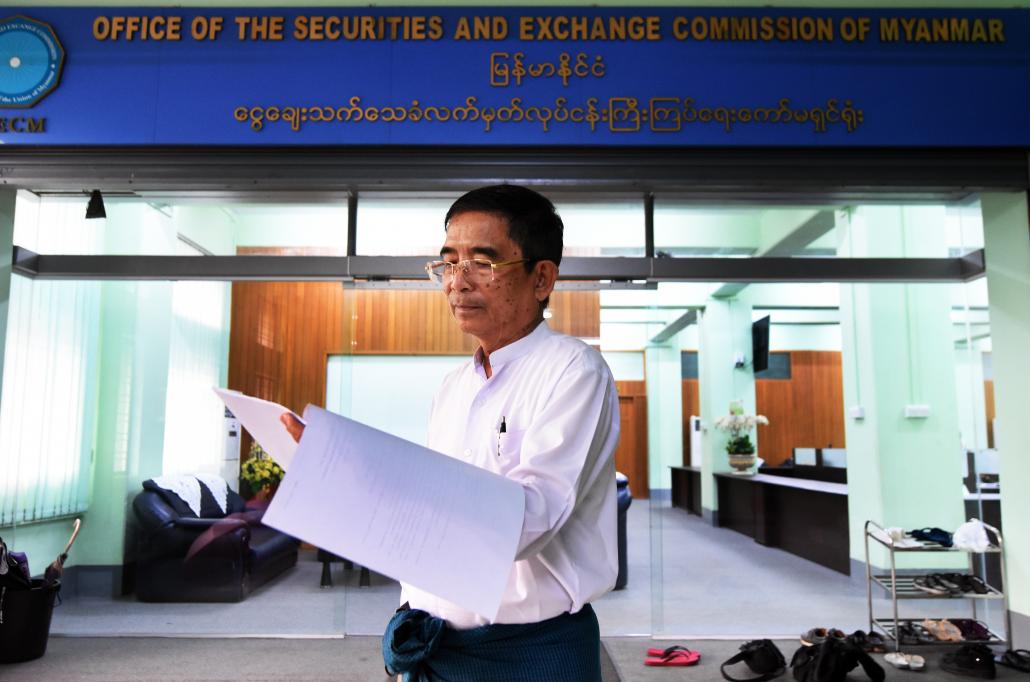 Since publishing the notices, the SECM has received several complaints, including from Khin Maung in Pyay and Zin Mar Tun in Thanbyuzayat. The commission is compiling the complaints and gathering further evidence so that it can file a case against the directors of SCL Myanmar under section 55(a) of the Securities Exchange Law for carrying out an unregistered securities business, which carries a potential five-year prison term.
But Htay Chun seemed doubtful that anyone would be apprehended, adding that it would be a "test" for the Ministry of Home Affairs to track down those responsible.
He also bemoaned the commission's lack of manpower and experience. "We only have five people to investigate. We are also only two years old and have a lack of experience in inspection and surveillance … As far as we can, we are trying our best."
On the SCL case in particular, he said, "Nobody informed us, nobody informed our organisation. Without any information, we can't do anything."
Easy targets?
In the late 1990s and early 2000s, Myanmar was rocked by a series of scams in which unlicensed and unregulated finance firms, known as a-kyoe saung lo-ngan, offered high monthly returns on shares. The collapse of a succession of these enterprises in the second half of 2002 was the spark for the banking crisis, Mr Sean Turnell, an associate professor at Australia's Macquarie University and economic adviser to the National League for Democracy, wrote in his 2009 book, Fiery Dragons: Banks, Moneylenders and Microfinance in Burma. The enterprises were not authorised to accept deposits but like SCL they got around this restriction by describing depositors as "shareholders". "A blind eye seems to have been turned by regulators until very late," he wrote.
While the a-kyoe saung lo-ngan were active in urban areas, SCL focused on regional and rural areas where levels of financial literacy tend to be lower.
Htay Chun from SECM said those behind the SCL fraud were "very clever" in the way they targeted and carried out their scheme.
But he also blames those who invested for chasing unrealistically high returns.
"People in these areas trust others very easily and most of the people are very greedy," he said. "I want to tell people, don't believe when you are offered high returns. You are just inviting to be cheated."
Some on the SCL Club Facebook page have a similar message for those who lost money.
Zaw Myo Thant suggested that the scam victims "let bygones be bygones" and learn from their experience. "You need to think carefully so as not to be cheated again … Do not believe that money can be easily earned."
Others are taking solace in the promise of retribution for those responsible, in the next life if not this one.
A user named Meme Lay wrote a letter to the "liars from SCL", warning them that if they don't repay their debt in this life they might return as an animal, or even a "lunatic, dumb or disabled".
"Everything you did," she said, "will definitely come back to you."
TOP PHOTO: Nyein Su Wai Kyaw Soe | Frontier