OmegaPro, an investment scheme parading as an online membership club, is offering the promise of incredible profits, drawing people in at a time of great uncertainty. National regulators and analysts examining the company believe it to be a pyramid scheme.
By FRONTIER
U Soe Min thinks he is sitting on a goldmine.
In July 2021, the Myanmar migrant worker living in Malaysia decided to invest in OmegaPro, a trading platform supposedly based in Dubai.
Promoting a website flush with flashy images of retired football stars and self-proclaimed business gurus, the company says its members stand to earn returns of 300 percent on investments over 16 months. Tellingly, these extravagant profits are not driven by savvy investment decisions, but by the company's "top secret" trading algorithm.
"If you don't withdraw your investment for 12 years, you could be a billionaire," Soe Min told Frontier, echoing the words of many other investors. He refused to reveal how much he has invested in OmegaPro.
The 42-year-old is not alone. A rapidly declining economy and a loss of trust in the country's financial sector have left people in Myanmar searching for safe and lucrative ways to store cash. Unscrupulous firms are preying on their desperation, exploiting post-coup legal uncertainty and offering get-rich-quick schemes.
Sources told Frontier that OmegaPro has attracted tens of thousands of Myanmar investors, with many adamant it can be trusted and confident of reaping rich rewards.
However, since it began operations in 2018, the shady firm has been investigated and blacklisted by a number of national financial regulators who believe it to be a pyramid scheme.
'Creating financial freedom'
Interest in online trading and gambling platforms surged in Myanmar in the months following the February 2021 coup. OmegaPro, which promises to "create attainable financial freedom", began drawing in users as early as March of that year, according to those paying to use its services.
A self-proclaimed "multi-level marketing" platform, a business model whereby companies use regular people or agents as opposed to retail outlets to sell their products, OmegaPro promises to take investors' money and use it to generate huge profits from forex and other unspecified financial markets.
To benefit, a potential investor simply selects a membership package, with prices ranging from US$100 to $50,000, and waits. The company says its investment algorithm will do the rest, conveniently removing the requirement that users make trading or other investment decisions.
But the promises of exorbitant wealth and guaranteed high returns seem too good to be true for some financial regulators, like the Autorité des Marchés Financiers and Autorité de Contrôle Prudentiel et de Résolution in France.
In 2020, they blacklisted two websites affiliated with OmegaPro for offering unauthorised forex trading services.
The regulators' statements said OmegaPro Ltd is registered in Saint Vincent and the Grenadines and advertises itself there as a "registered brokerage firm". But in February 2022, the Caribbean country's Financial Services Authority warned that it does not issue forex trading licences.
"Be wary of promises of quick profits without trade-offs. There is no such thing as high returns without high risks," the FSA statement said.
Spain joined France in labeling OmegaPro as an unauthorised investment service, while Belgium declared it to be fraudulent.
In April 2022, the government of the Republic of the Congo went further, arresting two "Platinum Leader" tier OmegaPro members and charging them with securities fraud for soliciting other users to join the platform.
The company now says on its website that it does not accept investment applications from residents of the United States, Canada, Iran or member countries of the Gulf Cooperation Council, which comprises Bahrain, Kuwait, Oman, Qatar, Saudi Arabia and the United Arab Emirates.
The articles of incorporation for OMP Money, a company related to OmegaPro and registered in London using a virtual mailbox, show that two of its directors reside in Dubai, where the company claims to be based, despite also having businesses registered in the Caribbean and shell companies in various jurisdictions. One of them, Indian national Mr Dilawarjit Singh, was the director of failed cryptocurrency trading platform Omnia Tech, and questions have been raised regarding his links to other fintech fraudsters.
Frontier was unable to contact OmegaPro's directors.
In the United Kingdom, OMP Money first registered as a SIC 96.09 company, which means that despite offering financial services, it was only legally permitted to perform astrological and spiritualists' activities, escort services, pet care services, piercings and tattoos or other approved "personal service activities".
Muddying the picture, OMP Money was incorporated under a new entity in April 2020 with a SIC 6499 registration, which permits trading in specific types of securities, as well as financial underwriting. However, in January this year, the UK's Financial Conduct Authority revoked OMP Money's licence, meaning OMP's UK shell company is no longer permitted to issue electronic money or provide payment services.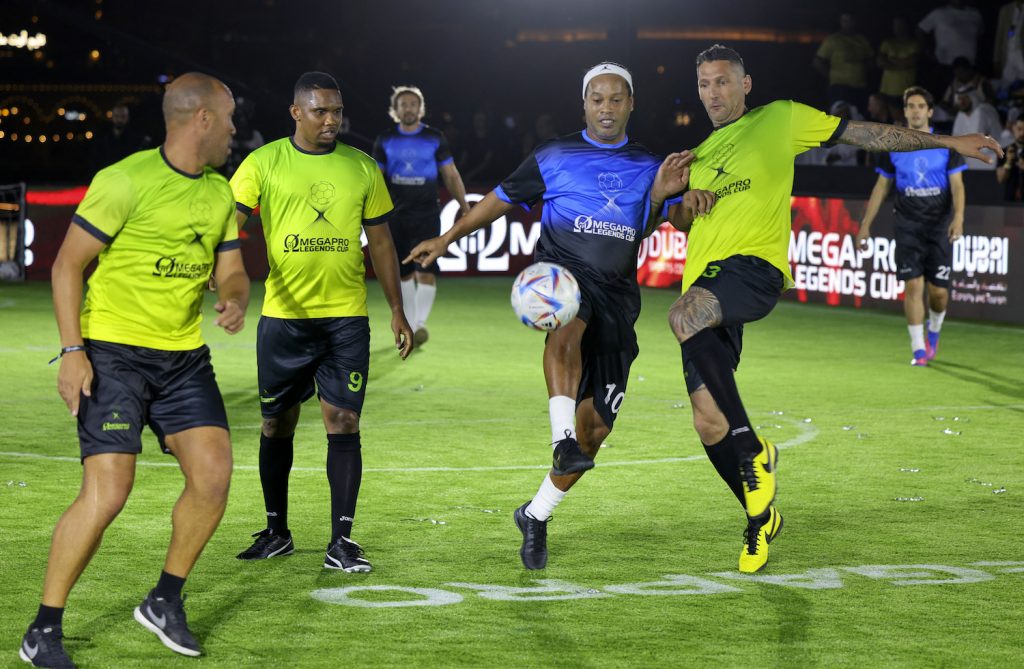 'How could they cheat people around the world?'
Despite international concern about OmegaPro's activities, users continue to put faith in the company, which enjoys particular appeal in the developing world, with large investor bases in South American countries.
To ensure members actively push to enrol new investors, OmegaPro oversees a bedazzling marketing strategy, with targets ranging from young people to a less tech-literate older generation.
Several high-profile former sportsmen including Brazilian footballer Ronaldinho promote the platform, as does motivational speaker Tony Robbins. Famous faces partake in awards ceremonies across the globe, where high-performing members are lauded and given prizes, including MacBooks.
According to the company's website, the platform boasts more than 2.3 million members in over 200 countries as of August. Colombia leads the way, providing 44pc of OmegaPro's total membership, followed by Peru with 10pc and South Korea with 6pc. Financial regulators in Colombia and Peru have issued securities fraud warnings against OmegaPro.
Thanks to the coup, Myanmar is now listed amongst OmegaPro's "highest performing" countries, making up 2pc of OmegaPro membership, or around 40,000 users. A review of digital content associated with OmegaPro published across popular social media platforms shows thousands of posts in the Myanmar language, with most posts created by members looking to benefit from referral bonuses.
In one widely shared Facebook video, Ye Naung, a popstar and Myanmar Idol contestant, promotes OmegaPro as a trusted online trading platform, arguing that those signing up stand to make significant profits.
"Invest with OmegaPro and triple your money in 16 months. I also invest in OmegaPro," he said.
OmegaPro members also promote the perceived benefits of the platform during Zoom calls. The meetings, in which between 400 to 800 investors participate, are held daily.
"There is no need to be educated; you just need to learn how to earn money," a participant said in an address to prospective investors at a meeting on August 8, which Frontier attended.
To become an OmegaPro member, investors must purchase a "package" in the company and pay a $49 administration fee. Investors said they are required to pay in USDT, a cryptocurrency tethered to the US dollar. USDT is seen as less volatile than other floating, virtual currencies. Buyers purchase their USDT by transferring funds through Myanmar's mobile banking or mobile money applications at the real, or black market, US dollar rate.
For users to cash out, money must be withdrawn in the same fashion, to a USDT crypto wallet — the company provides no means to withdraw cash directly to investors' bank accounts. This means that OmegaPro theoretically never handles investors' cash in hard currency; and that the investment risk is multiplied, as investors' fates are now tied to both a company and a cryptocurrency. An investor may only choose to withdraw without penalties after 16 months, with most choosing to reinvest their original sums plus interest accrued at this point, keeping funds in the OmegaPro ecosystem.
The company uses enticements typical of pyramid schemes, with investors receiving perks and a finder's fee for referring new members.
"If you get a new member, you will receive 7pc of the package that the new member bought. If a new member bought a $1,000 package, you will earn $70," an investor said during a Zoom meeting. The finder's fee is significantly larger than the interest accruals on smaller investments favoured by many in Myanmar, making the recruitment of new members a priority amongst what OmegaPro terms "senior members". Senior member status is assigned to anyone who has made one successful referral.
A business analyst in Yangon who requested anonymity told Frontier that they believed online trading and betting companies were taking advantage of Myanmar's post-coup chaos, and a social media space now saturated by news of violence.
"They are taking advantage of that; the worst is the investors in OmegaPro who are trying to get other people to become investors," the analyst said.
Another business analyst who asked not to be named said OmegaPro's website does not list a physical address, and prospective investors in the company need to be cautious to avoid getting scammed.
"It is not clear in what country it is registered. Isn't it strange that the company guarantees that investors will get 300pc profit? Forex trading and stocks are not businesses that you can predict how much profit you will get," the analyst told Frontier on August 2.
Soe Min, the migrant worker and OmegaPro investor, dismisses the advice, claiming that OmegaPro's head office is in Dubai and that information about its three top executives is readily available on the company's website.
"How could they cheat people around the world? If they cheated us, it's like they cheated the world, isn't that right?" he said.
Three other OmegaPro investors interviewed by Frontier said they had complete faith in the company.
29-year-old Nang Thein Mai, who lives in the Shan State capital Taunggyi and has been an OmegaPro member since last year, said she didn't care that other countries had taken action against the company.
"The company is trading with our money and is giving us 0.45pc [interest] in daily profit. If you don't withdraw your profits for 16 months, it will pay 300pc on your investment as a return — isn't it cool!" she said.
Once in the system, rules regarding the withdrawal of cash invested in OmegaPro are strict and seem aimed at keeping members on the platform.
"You can choose to withdraw before 16 months, but you will be fined 30pc of your account. Also, once daily interest accruals reach the same amount of money you paid for your original fee, you can't withdraw without reinvesting in a more expensive package. All packages expire after 16 months, at which point you must buy a new package," said Thein Mai.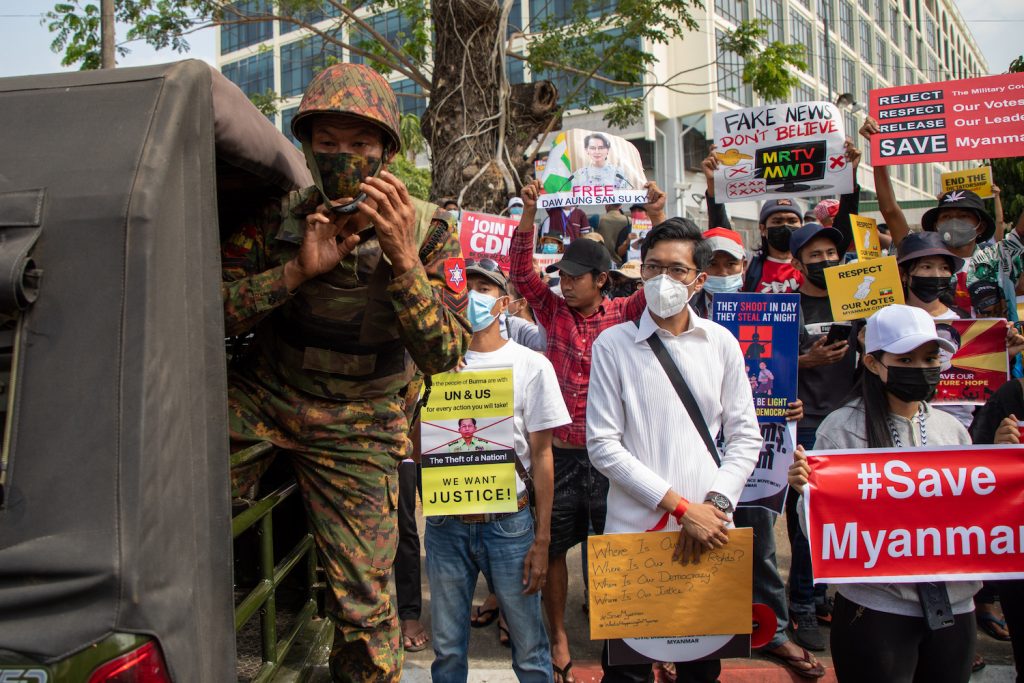 'It's very important that people know it isn't legitimate'
The two business analysts who spoke to Frontier said they believe OmegaPro to be a pyramid scheme. A pyramid scheme is a criminal enterprise which relies on attracting a constant stream of fresh investors to cover dividend payments to existing investors. OmegaPro claims instead to be a multi-level marketing company – a common cover for pyramid schemes.
In 2018, Myanmar's Ministry of Commerce banned multi-level marketing under the 2012 Essential Supplies and Services Law. Violators face a maximum penalty of three years' imprisonment and a fine of K500,000 ($235).
But rule of law has broken down since the coup, with the military regime focusing most of its attention on crushing dissent. Most people in Myanmar refuse to acknowledge the junta as the legitimate government, instead recognising the National Unity Government, a cabinet appointed by lawmakers elected in the 2020 polls.
Ko Shin Thant Aung, a business analyst based in Bangkok, told Frontier that if the NUG declared OmegaPro a fraud, it would make the public more aware of the risks — yet even that may not be sufficient to stop people investing in the scheme.
"It is very important that people know that OmegaPro is not legitimate, but they are more likely to pay attention to legal action than announcements," argued Shin Thant Aung.
OmegaPro says an investment of $100 will earn $300 in 16 months, yielding a total payout of $400. If left to earn compound interest for 12 and a half years, an investor will earn a fantastical $1.9 million.
It's easy to see where Soe Min's billion-dollar dream comes from.
However, OmegaPro's promises of 300pc returns after 16 months are, at best, suspicious. Historical data from the Standard and Poor's 500 index, which tracks the performance of 500 leading listed US companies, shows average annual yearly returns on investment of roughly 7pc, with most investors considering a yearly ROI of between 5 to 10pc a good return, depending on a product's risk profile.
There is also, of course, no guarantee that OmegaPro will exist in 12 years when an investor's big payout is due. The company offers no long-term guarantees to investors, with a focus on short-term profit.
Other pyramid schemes — like Koscot Interplanetary — typically reward investors with piecemeal payouts before collapsing overnight, taking investors' money with them.
"They will recruit investors and pay profits on the money invested using the funds from new members. The company could collapse if there is no new investment — and nothing could be done about it," said Shin Thant Aung.
With no guarantees to back up OmegaPro's promises, it falls to financial regulators to ensure that financial services being offered to consumers in Myanmar are legal, robust and can be delivered.
U Myint Thura, director-general of the junta's commerce ministry, told Frontier on August 10 that if OmegaPro wanted to operate as an authorised investment service it would need to register with the ministry.
"If it doesn't register, it isn't legitimate. It can be reported to the Illegal Trade Eradication Steering Committee or the Department of Consumer Affairs," he said.
With Myanmar's military regime hobbled by a mass strike of civil servants known as the Civil Disobedience Movement, it isn't clear how effective Myanmar's corporate regulator, the Securities and Exchange Commission of Myanmar, will be at pursuing unlawful investment schemes.
Frontier also unsuccessfully sought comment from the NUG commerce ministry.
Ma Chit Su Aye, an office worker in Yangon and a "senior member" of OmegaPro, said she and other investors will continue to ignore the criticism.
"We assume that those who criticise OmegaPro do it out of jealousy because we are earning a lot of money," she said.