The Interfaith Dialogue Group has drafted a law aimed at penalising religious hate speech, but critics of the move say communities should be responsible for ending sectarian tension.
By HEIN KO SOE | FRONTIER
ON A recent cloudy Yangon afternoon, a group of workers was taking a lunch break at a small roadside restaurant.
When a man walked past in clothing that identified him as a Muslim, the restaurant owner shouted: "Do you want to eat? We have three types of pork curry." The man and the restaurateur laughed. They were old friends sharing a joke.
The exchange was light-hearted, but in many other parts of the country – including Yangon – religious tensions are high, especially between Buddhists and Muslims, and notably since sectarian violence broke out in Rakhine State in 2012.
Much of that tension has been exacerbated by hate speech, fake news and baseless rumours on social media and in the public domain.
"Before, we largely had a peaceful co-existence between religions, but that has changed in the last five years," U Thar Nyan, general secretary of the Interfaith Dialogue Group, told Frontier. "So much fake news and hate speech has been spread that it has led to divisions between communities."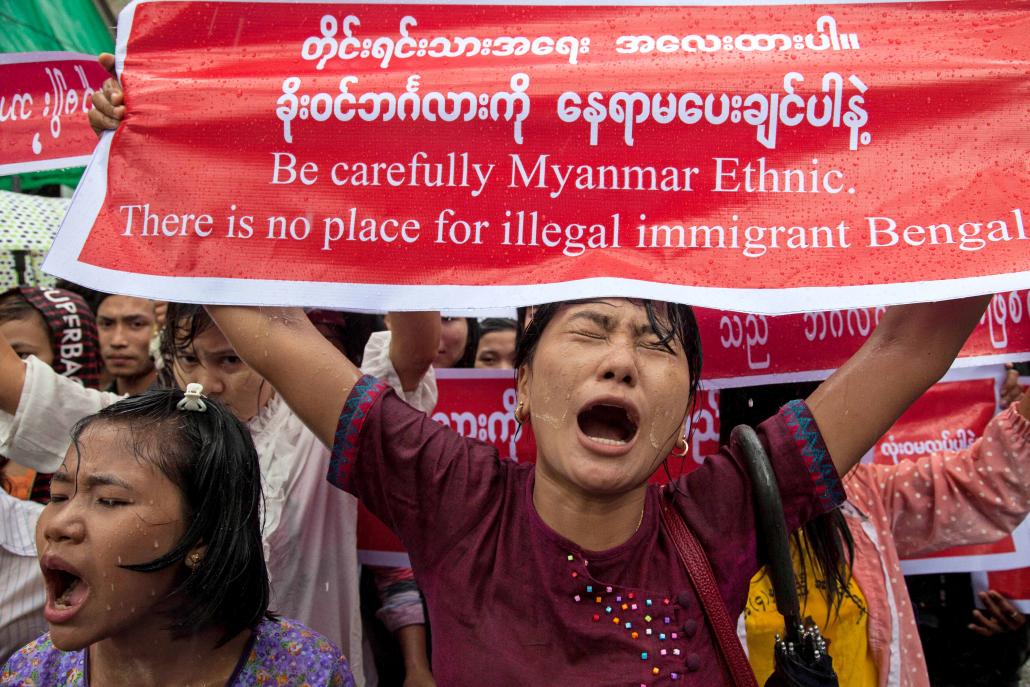 One of the main challenges, said Thar Nyan, is a lack of education among people who cannot tell the difference between real news and fake information, especially rumours spread on social media — such as the lie that cost the lives of two people during sectarian violence in Mandalay in July 2014. In that incident, news quickly spread that two Muslim teashop owners had raped a Buddhist girl. The apparent incident, later proven to be a lie related to a business dispute, was quickly spread online after it was shared on the social media pages of prominent nationalists, including U Wirathu.
"I absolutely believe that all the religious violence we have seen in recent years has been fomented by hate speech, both on social media and through other mediums," he said.
To address the issue, the IDG has prepared a draft hate speech law that it says aims to protect believers of all faiths from vilification. The draft was sent to the Attorney General's Office and the Ministry of Religious Affairs and Culture in late August.
The draft law includes seven chapters and eight articles, and includes a definition of hate speech, how hate speech incidents can be investigated and a list of penalties. The draft law defined hate speech as speech or a physical attack on other religions, including through social media, print media or handouts. In its current form, penalties range from three months' to three years' imprisonment.
It enables any citizen to lodge a complaint about hate speech with the ministry. If it so decides, it will form a committee of religious leaders to investigate the case. If evidence is found to justify the complaint, the case will be referred to the police.
The draft law focuses only on hate speech linked to a religious group and will not apply in the case of personal verbal attacks, said Thar Nyan.
"The law was based on common agreement among all religious leaders," said U Sein Win, chairman of IDG. "If we put the law into practice, we will be able to reduce the use of hate speech in communities and that could prevent further conflicts."
U Aung San Win, a director at the ministry, said it had not yet provided any input to the draft.
"Now we are getting advice from the attorney general for the law, and if it is approved the ministry will send it to the parliament," he said.
Although well intentioned, critics of the law say it is not needed and communities should focus more on mending sectarian tensions.
"A hate speech law does not exist in other countries in Southeast Asia, and most countries are focused on [promoting] peaceful co-existence between all religions," said Mr Alan Davis, Asia director of the Institute of International War and Peace Reporting.
"It is a bad idea to [try to] control hate speech. We should promote the freedom of speech and it is more important to promote people's education than to try and control hate speech," he said.
IWPR monitors hate speech in countries around the world. In Myanmar, it has program called a mone mae sagar (Anti-hate speech) that monitors hate speech on social media and print and broadcast media.
When hate speech is detected on social media or in newspapers, the program counters it with peaceful language and by sharing factual information, said project coordinator, Daw Shwe Zin Khaing.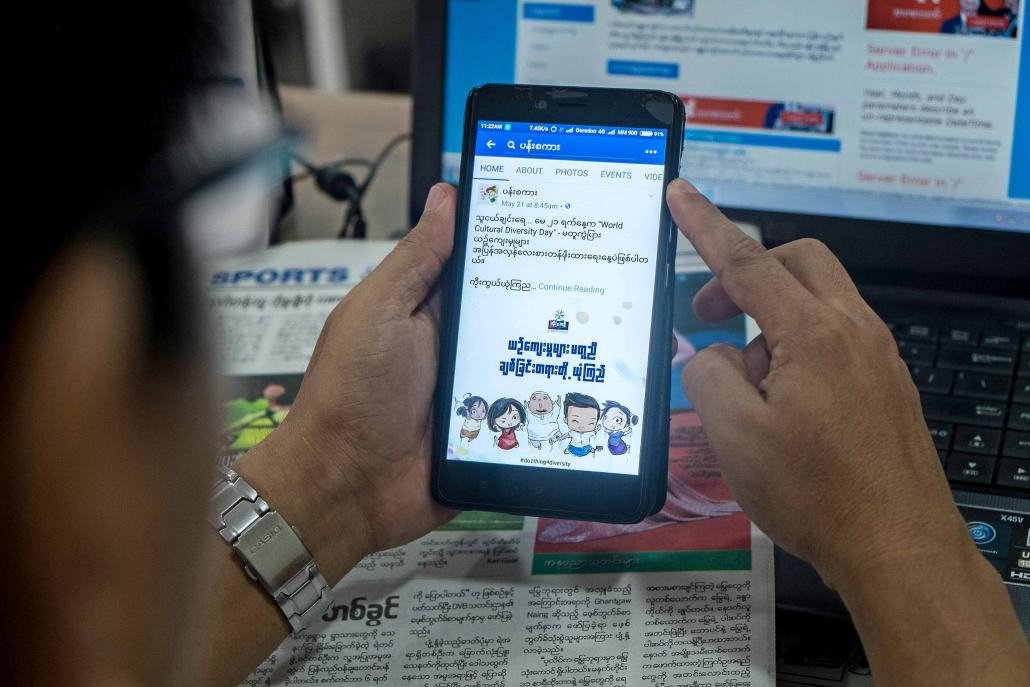 There are 9.7 million Facebook users in Myanmar and a mone mae sagar said most of the hate speech is found on the social media platform. It also monitors television stations, and the social media accounts of those who have previously shared hate speech or false information.
The organisation found 565 cases of hate speech on social and broadcast media in the reporting period from August to October last year. 261 of the cases were anti-Muslim, 39 anti-Rohingya and 32 anti-NLD. Other targets included Buddhists, Bamar, Christians and members of the LGBT community.
Ko Win Ko Ko Latt, chairman of the Myanmar Nationalist Network, who is facing charges under the Peaceful Assembly Law over a protest outside the United States embassy in July after it used the term Rohingya in an expression of condolence following a drowning tragedy in Rakhine State, says his group only deals with the facts.
"We are releasing the true stories of what is happening to Buddhists in a legal way. If someone thinks what I am saying is hate speech, we are always open to discussing that," Win Ko Ko Latt told Frontier.
"If the government wants to control hate speech, then it should focus more on making sure 'other religions' are transparent and stop hate speech in other religions," he said.