Pro-military social media users are helping Myanmar's military regime hunt down business owners planning to support a silent strike on February 1, and activists say messaging app Telegram is failing to stop their campaign despite it potentially putting lives at risk.
By ANDREW NACHEMSON and FRONTIER
Prior to the coup, social media personality Han Nyein Oo was best known for sharing salacious celebrity gossip. Now, his channel on messaging app Telegram is dominated by pictures of dead bodies of pro-democracy activists and resistance fighters and pro-regime propaganda that claims people support the military.
In recent days, he's been posting more prosaic photos of shops, offices and businesses. But the images are no less disturbing, because they are part of a campaign to help Myanmar's military junta take action against businesses planning to join a protest to mark the one-year anniversary of the coup. "Please take a photo of the shops that [plan to] close on February 1 and send it to me," he wrote on January 23.
The Myanmar military seized power on February 1, 2021 after the National League for Democracy won a landslide reelection victory in November 2020. To demonstrate the extent of public opposition to the regime, activists have declared a "silent strike", calling for all people to remain inside between 10am and 4pm and for businesses, including shops, to close for the day on February 1.
A similar event held in December was highly successful, producing stirring images of completely empty streets across the country, but also clearly angering the regime. Ko Soe Naing, a photojournalist, was arrested while taking pictures of Yangon's deserted streets and later killed in custody. He was the first journalist to be killed since the coup.
This time around, the junta has announced that those participating in the silent strike could be charged with supporting terrorism, sedition or incitement – offences that attract heavy prison terms – while business owners could also have their property confiscated.
Backing up the military is a team of social media users that have been reporting businesses planning to participate in the strike and urging their followers to do the same.
Most of these users are found on messaging app Telegram and Russia's most popular social media site VK, because since the coup Facebook, which is Myanmar's most popular platform, has banned many prominent pro-military users known for spreading hate speech and disinformation. This has forced them to turn to these less popular but also less regulated digital spaces.
Both platforms were launched by Russian brothers Nikolai and Pavel Durov, although they left VK in 2013 and 2014, respectively, claiming the company was taken over by Russian government allies.
Han Nyein Oo is far from alone in targeting silent strike supporters. Other well-known Telegram accounts, like Thazin Oo, Sergeant Phoe Si and Kyaw Swar, have also identified protest participants so the authorities can take action against them.
"Aba may be in a good mood… however, Han Nyein Oo, Kyaw Swar and I are not nice," wrote Thazin Oo, referring to junta chief Min Aung Hlaing by a Burmese word for grandfather that is often used to refer to military leaders. Ma Thazin Oo describes herself as a journalist, but frequently appears on the military-run Myawady TV and is up front about her support for the regime. "We are destroying the terrorists because they are causing all kinds of trouble to the people. I urge the people who want to live in peace to collaborate with our team," she wrote.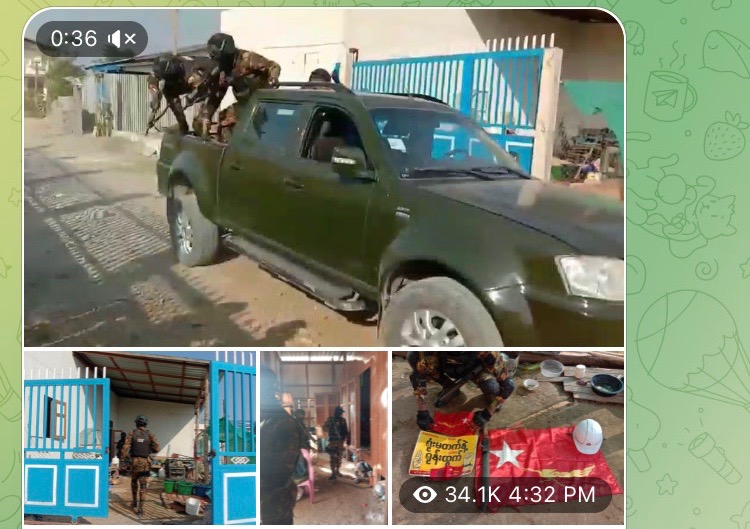 Sending in the troops
The social media users do not appear to be making empty threats.
Han Nyein Oo claimed that some of the businesses he reported to authorities were raided, and their owners arrested for supporting "the terrorist NUG and PDF".
The National Unity Government was formed following the coup by lawmakers elected in the November polls, and in early May announced the establishment of an armed wing, the People's Defence Force. The junta has declared both the NUG and PDF terrorist organisations.
Han Nyein Oo is clear that the intention of calling out the businesses was to alert the authorities. "I didn't do anything wrong. I reported it after warning them. Let me ask you again, who lives across from me and dares to announce that the store will close? If you know a brave shop, you can report it safely," Han Nyein Oo wrote. "Thank you to all the security forces for taking prompt action on every post."
Han Nyein Oo has even demanded that action be taken against any soldiers who fail to investigate his tips, accusing them of being "watermelons". This is a slang term for soldiers who secretly support the NLD: They are said to be green on the outside, the colour associated with the military, but red on the inside, the colour associated with the NLD.
In one post, Han Nyein Oo targeted a bakery in Mandalay, which had allegedly closed for the silent strike in December. "They support the PDF terrorist group and he [the bakery owner] even insulted the head of state," Han Nyein Oo wrote, adding that the bakery owner was "happy" when a bomb allegedly planted by resistance fighters exploded in Mandalay.
Han Nyein Oo posted about the bakery at 10:30am on January 27. At 2:21pm, he posted pictures showing soldiers raiding the building, where they supposedly found NLD paraphernalia like flags and portraits of party leader Daw Aung San Suu Kyi.
Frontier spoke to the bakery owner just before the raid. He said he doesn't use social media very much and only found out about Han Nyein Oo's post through friends. "I am worried about being arrested and having my shop shut down forever," he said. The shop owner declined to say whether he would participate in the February 1 silent strike, citing fears for his safety.
A witness in Mandalay confirmed to Frontier that the bakery was raided, and individuals were arrested.
In another sign that Han Nyein Oo is directly collaborating with authorities, he posted a picture of a barbecue restaurant in Mandalay on January 25, claiming it planned to participate in the protest. The same restaurant was then featured in a poster reportedly distributed by the junta warning businesses not to strike. Han Nyein Oo has since shared photos of the shuttered restaurant, with a sign out the front saying it had been seized for supporting PDFs.
Mr Phil Robertson, deputy Asia director of Human Rights Watch, said it's the "height of absurdity" to charge business owners for choosing to keep their shops closed. "The fact that this discussion is even occurring shows how truly warped and rights abusing Myanmar has become under the military junta's rule," he said.
Prominent activist Ko Moe Thway, who has been active in promoting the silent strike, said the crackdown is further evidence that the military regime is "fascist".
"I am saddened to hear of such arrests. On the other hand, I am proud of the people who fought bravely. Our revolution will succeed, so we are determined to get the justice we deserve for these losses," he said.
Moe Thway said even if stores are forced to open, it won't impact the silent strike, as the military can't stop people from staying inside their homes. "There is no law in the world where you can be arrested for staying in your own home. Therefore, forcing shops to open is not a threat to the silent strike," he said.
The owner of an electronics shop in Yangon told Frontier that he planned to open his store to avoid legal trouble, but in the expectation that there would be no customers
He said about eight local junta officials, including staffers from the General Administration Department and municipal staffers visited his shop on January 27. They forced him to sign a letter saying he would open on February 1. "Failure to do so will result in legal action, and those who do not open it that day are considered to be politically active," he said.
He said the junta's threats were akin to tactics used in North Korea, and its preemptive crackdown showed that the military was "very scared".
"I think the silent strike was successful before it even started," he said.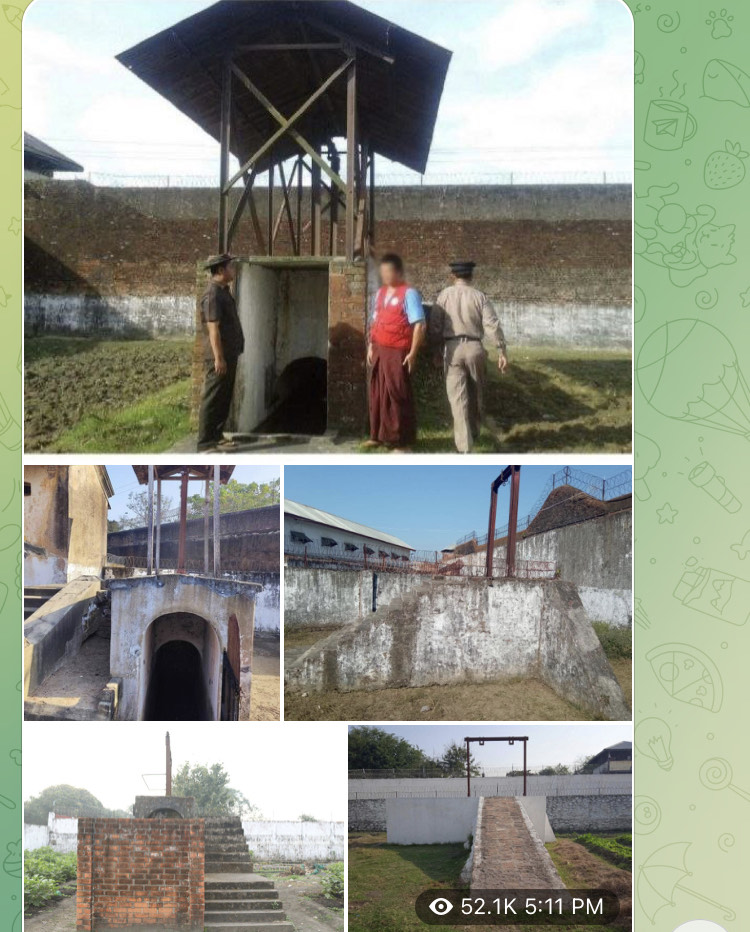 Trouble with Telegram
Han Nyein Oo has multiple Telegram channels, the largest of which has over 89,000 subscribers and is growing rapidly. Thazin Oo's Telegram channel has over 32,000 subscribers her main Facebook page has more than 100,000 followers, but she hasn't posted there since July 2021.
Facebook confirmed to Frontier that Han Nyein Oo has been banned from the platformand regularly tries to createnew accounts. Frontier flagged one such account, which was created on January 1, and Facebook took it down within 24 hours.
Telegram, on the other hand, does not appear to have taken any action against his accounts, despite attempts to report them by activists, and did not reply to Frontier's requests for comment.
Unlike Facebook, Telegram has taken a hands-off approach to moderation since the coup, making little attempt to enforce its limited rules of use. As a result it has become popular with pro-military users, and been criticised for failing to control hate speech and disinformation. 
This appears to be largely in line with Telegram's global practices.
"Telegram has responded to some pressure from tech giants like Apple and Google to remove violent content in the past, but it has resisted most pressure to fight rampant misinformation and conspiracy theories," the Reuters Institute for the Study of Journalism wrote in a report in October of last year.
The German government has even said it is considering banning Telegram for failing to control hate speech, threats of violence and COVID-19 disinformation. "The coronavirus pandemic in particular has contributed to people becoming radicalized on Telegram, threatening others and even publishing calls to murder," the chief of Germany's Federal Criminal Police Office, Mr Holger Muench, said in statement this month.
Moe Thway says it is important to pressure Telegram to respect human rights and international law, and believes if faced with enough criticism, it will eventually respond. "For example, Facebook and Twitter have become more responsible and accountable after the recent Rohingya incidents," he said, referring to hate speech and disinformation that spread unchecked on social media during the violence against the Rohingya in 2017.
The electronics shop owner also called for Telegram to protect people who are "suffering and being arrested" due to the actions of Han Nyein Oo and other pro-military users.
"We want it to be implemented as soon as possible," he said, accusing Telegram of "promoting violence and hate speech".
One of Telegram's only terms of service bans the promotion of violence "on publicly viewable Telegram channels". Sending soldiers after shop owners could be construed as promoting violence, particularly given the military's propensity for using lethal force.
The Assistance Association for Political Prisoners says nearly 1,500 civilians have been killed by the junta, including more than 100 who died while in military custody. Many more have reported being tortured in detention.
In another post, Han Nyein Oo shared pictures of gallows, ostensibly taken inside Myanmar's prisons, saying they are being "cleaned" in preparation to execute NLD MP Zeyar Thaw and prominent activist Ko Jimmy, who were both recently handed death sentences. "The more moves those outside make, the closer the final days become for those inside," he wrote.
Robertson from HRW said Telegram has been a "black hole" in terms of moderation and needs to "urgently" investigate the platform's misuse in Myanmar.
"The fundamental problem lies with the Tatmadaw and the police, who are arresting, torturing, and in some cases killing people in custody," he said. "Having an online mob trying to organize and direct military actions to arrest more people just feeds into this problem."