Public health experts have warned that the election is likely to lead to an increase in COVID-19 cases, largely due to supporters gathering for victory celebrations.
By AUNG PHAY KYI SOE | FRONTIER
On election day, Daw Myint Myint San, 40, arrived at a polling station in Yangon Region's riverside Dala Township at 7am to cast her vote. There was already a long line, and when Frontier met her an hour later she was still waiting patiently outside Basic Education Primary School No 6 in Kyan Sit Thar ward.
The 500 voters who were lined up had all been provided KN95 face masks, face shields and a squirt of hand sanitizer by polling station staff, equipment that the government had recently purchased from China to ensure the vote went ahead safely.
But the sheer size of the crowd meant they had to bunch together, and were unable to adhere to Ministry of Health and Sports social distancing guidelines that recommend staying six feet apart.
It was a similar story at many other polling stations, particularly in urban areas. Election monitoring groups like the Carter Center and People's Alliance for Credible Elections noted that while social distancing was mostly adhered to inside polling stations, voters in lines outside stations didn't always comply.
Yangon has been the epicentre of Myanmar's "second wave" of COVID-19, accounting for almost 50,000 of the 65,000 cases – about 76 percent – recorded to November 11.
Many voters in Yangon expressed concern about contracting COVID-19 to Frontier on November 8, but nothing was going to stop them from voting – in most cases, for the National League for Democracy. The Union Election Commission has estimated turnout at above 70pc – higher than the 69pc recorded in 2015, despite the pandemic.
"No matter what happens because of the lack of social distancing, it is very important to vote for the NLD so it can form the next government," Myint Myint San told Frontier. "That's why I came to vote today, despite COVID-19."
More worrying, health experts say, are the crowds of jubilant NLD supporters who ignored social distancing rules when they gathered on the nights of November 8 and 9 to celebrate victory, including near the party headquarters on Shwegonedine Road in Yangon's Bahan Township.
Myanmar has so far not recorded a spike in cases since the election. After a significant drop in cases on November 9 – due to a large decline in testing – the number of cases rose above 1,000 again on both November 10 and 11. The case positive rate – the proportion of tests that comes back positive – remains in the 7pc to 8pc band. But experts say that if the election did have a "super-spreader" effect, it would not likely be evident yet.
"A post-election increase in the COVID-19 infection rate is expected to emerge in five to seven days as a result of the massive election celebrations throughout the states and regions," Dr Khin Khin Gyi, director of the health ministry's central epidemiology unit, told Frontier on November 10.
But Dr Khin Maung Lwin, a public health expert and retired director of the ministry, predicted that the increase in infections would likely appear two weeks after election day if people didn't follow ministry of health guidelines. "What happens with COVID-19 in the future depends on what we do now," he said on November 7.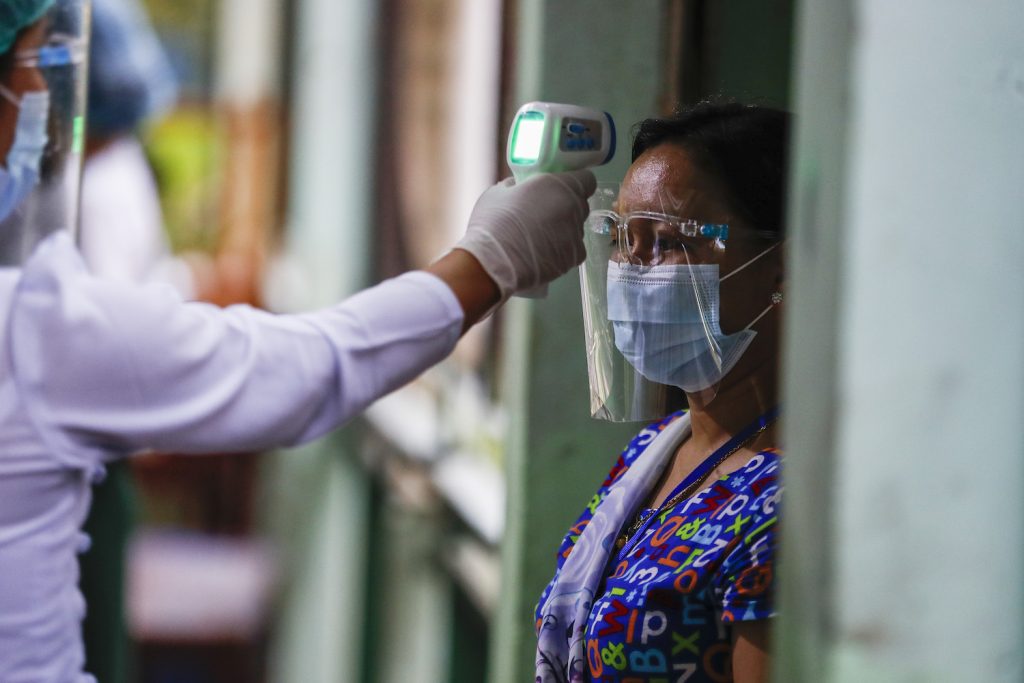 Securing the vote
Despite the worsening COVID-19 outbreak, the UEC and government had consistently said that with mitigation measures the vote could go ahead safely on the planned date of November 8. 
The health ministry and UEC took a range of precautions to protect voters and polling staff from the virus.
President's Office spokesperson U Zaw Htay told a news conference in Nay Pyi Taw on November 5 that the government had spent US$28 million buying personal protective equipment from China, which began being delivered late last month and was distributed to every state and region.
The PPE included clothing, KN95 masks, face shields, and medical caps for use by voters, polling station staff and volunteers.
Polling station staff checked voters' body temperatures and required them to wash their hands before they entered polling stations. Voters were also required to wear a mask, and were given a mask if they did not have one.
Ministry spokesperson Dr Than Naing Soe said special procedures were also devised to maintain social distancing while voting.
"We have made sure there was no risk of infection during voting," he told Frontier on November 6. "It will be safe for voters."
But these procedures were based on voters taking no longer than seven minutes to fill in their ballot paper.
Carter Center observers at 234 polling stations estimated most voters spent an average of 30 minutes in a queue and took nine minutes to be processed and to cast their vote.
Social distancing was noticeably absent at some of the bigger polling stations, however. High turnout at some polling stations in Yangon in particular meant that many people did not observe social distancing.
To gauge voters' attitudes about the COVID-19 risk on election day, Frontier visited 21 polling stations at three wards in Dala, which is across the Yangon River from the commercial capital, and two polling stations in Thingangyun, northeast of the downtown area.
"They are so eager to vote it is difficult getting them to observe social distancing," U Thet Khaing, chair of the Kyan Sit Thar ward election sub-commission in Dala, told Frontier.
Daw Su Thet Soe, 33, who voted at a polling station in Thingangyun's ward A, said most people waiting to vote did not practise social distancing. "I didn't worry too much about being infected by COVID-19 because I wore a KN95 mask and a face shield," she said.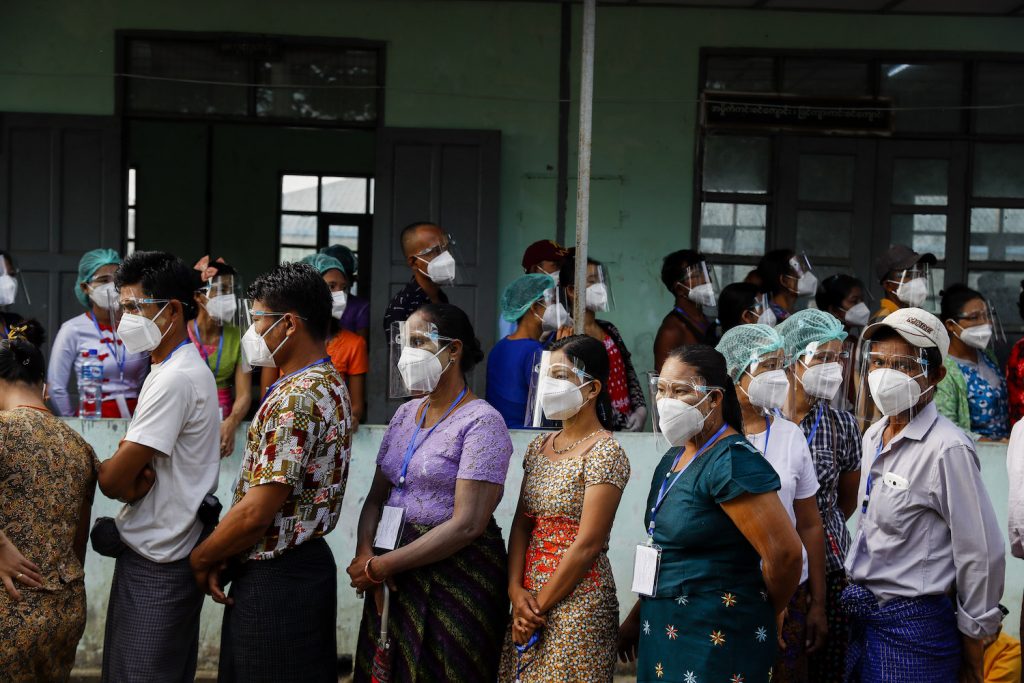 Public health experts told Frontier that if voters followed other health ministry guidelines, the chances of catching the virus would be greatly diminished even without social distancing.
Dr Than Sein, president of the People's Health Foundation, an NGO, said the three most important steps voters needed to take were wearing a mask, washing their hands and practising social distancing.
Khin Khin Gyi agreed that voters who wore masks and face shields and washed their hands with sanitizer should not be too worried about being infected by the coronavirus, even if they had come into close contact with others while lining up.
"Even if masks don't offer 100pc protection, they are very important. We don't expect too many problems" from lack of social distancing, she said.
Dr Sid Naing, a public health expert and the country director of Marie Stopes Myanmar, an INGO, said, "There could be some infections due to lack of social distancing, but the risk is not very high."
Public health policy expert and GP Dr Myint Oo said that although a lack of social distancing at polling stations may theoretically increase the risk of infection, there was little evidence from around the world of elections directly causing a COVID-19 case spike.
"Even with a lack of social distancing, there are few opportunities to transmit COVID-19 at polling stations," he said.
Nevertheless, among some of those manning the polling stations, there was a fear of catching COVID-19. Ministry of Education figures show that about 150,000 teachers worked at polling stations on election day.
Some teachers on duty in Dala told Frontier they were especially concerned because the authorities were not testing them for the coronavirus or isolating them in quarantine before and after the vote. "The voters were not even six inches apart; it was too crowded," said one. "On election day I had to test every voter with a non-contact thermometer. I was so scared about getting infected I didn't even want to breathe – I didn't dare remove my mask."
For some, those fears have been well placed. In Ayeyarwady Region's Pathein Township, a teacher tested positive for the virus while being trained for polling station duties. Dr Than Min Htut, head of Pathein General Hospital, told Frontier on October 29 that the teacher was infected by a family member and the other members of the training class had no reason to worry.
Speaking to Frontier on November 5 about another incident, Than Min Htut confirmed that seven polling officials in Pathein had contracted COVID-19 while collecting advance votes from an infected 84-year-old man, and had all been admitted to the hospital.
On November 6, the Myanmar Teachers Federation said in a statement that a 56-year-old deputy polling station officer from Thanlyin Township in Yangon Region had died suddenly of COVID-19.
In a follow-up statement on November 9, the federation called on the government to cover the cost of health care for teachers and others who become ill after working at polling stations, and to arrange for all of them to be tested.
"The ministry of health has said that more than 1,000 people are becoming infected every day, so if a person with COVID-19 voted they could transmit the virus to the teachers, which could be dangerous. That is why we want testing for teachers," said Dr Zaw Myo Hlaing, the federation's secretary.
There have already been several cases of teachers or election sub-commission officials testing positive since the election. On November 10, the Amarapura Township election sub-commission in Mandalay Region said a teacher who had been on polling station duty at Tatgyi village had tested positive. The same day, a teacher who served as a member of a polling station in Yinmartaw village in Magway Township also tested positive, prompting authorities to lock down the village. Also on November 10, the chair and secretary of Yangon's Northern District election sub-commission were confirmed as having the virus. Meanwhile, a foreign observer from the Asian Network for Free Elections and her interpreter tested positive for COVID-19 after visiting polling stations in Bago Region's Thayarwady District from November 7 to 10.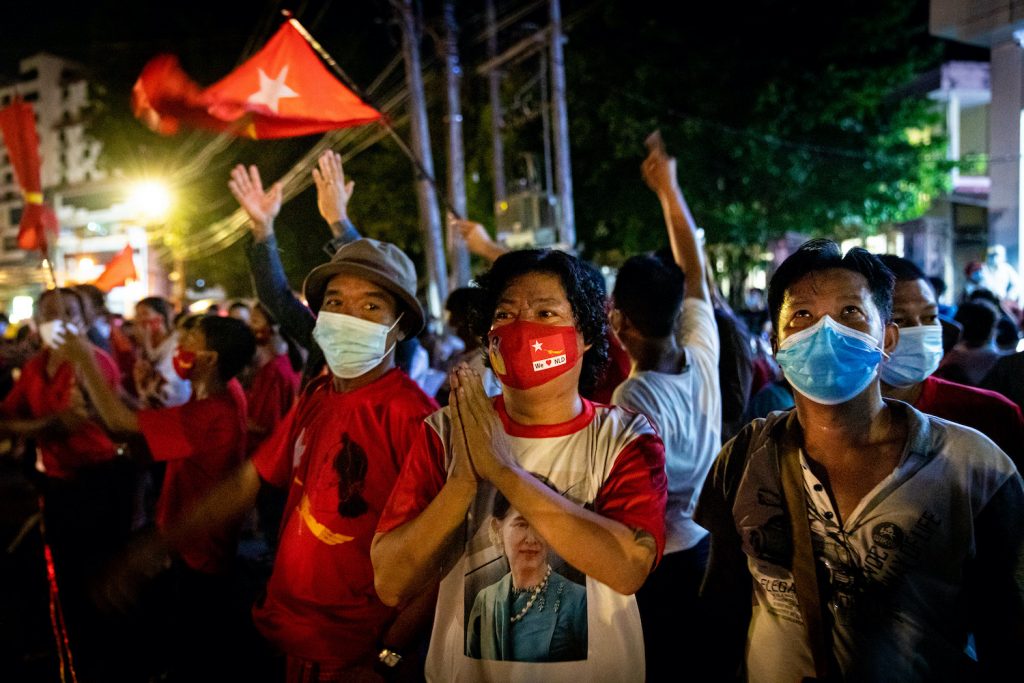 'It's totally fine if I'm infected'
But health ministry officials and public health experts are worried that the jubilant victory celebrations by NLD supporters, rather than the act of voting, could lead to a sharp increase in COVID-19 infections.
Sensing another massive victory for the NLD, supporters began gathering outside its headquarters in Yangon about 6:30pm on November 8 – long before official results began to trickle out of the UEC.
Supporters chanted "NLD must win" and "Amay (mother) Suu must win", clapping loudly and waving NLD flags. They ignored the party officials who pleaded through loudspeakers for them to disperse, as traffic police struggled to create a corridor for cars to pass through on West Shwegonedine Road.
"We can't even think about the virus – it's totally fine if I'm infected. I will celebrate all night," said Daw Wai Mar Kyi Lwin, a woman in her 40s who waved an NLD flag and wore a mask with a picture of party chair and State Counsellor Daw Aung San Suu Kyi.
One young couple told Frontier they came to celebrate, "because we are sure that the NLD has won".
Similar celebrations took place in Mandalay – where supporters also ignored requests to wait for the results at home – and in Yangon they continued for a second night on November 9.
Khin Khin Gyi revealed that three NLD supporters who had celebrated the party's victory on November 9, and were admitted to Yangon General Hospital later that night to be treated for injuries suffered in a fight, had all tested positive for COVID-19 before undergoing surgery.
"People are happy that the NLD won, but they should not celebrate in big crowds because there could be negative consequences," said Khin Khin Gyi.
Sid Naing said the mass celebrations during the pandemic were very dangerous.
"This shows that people are not really concerned about COVID-19 and are not following guidelines; such behaviour will make it difficult for health authorities to control the coronavirus," he said.
The government took a soft line, with Aung San Suu Kyi saying in a public address that it was "natural" and "unavoidable" that some people would gather to celebrate.
Nevertheless, the health ministry issued a reminder on November 10 that gatherings of 30 or more people were banned as part of COVID-19 prevention measures, under section 21(b) of the Prevention and Control of Communicable Diseases Law. 
As health experts brace for another wave of post-election cases, political leaders are also turning their attention back to COVID-19 – both controlling its spread and alleviating the economic impacts.
Aung San Suu Kyi said on November 9 that the country had faced two challenges: holding the election successfully and overcoming the threat posed by the coronavirus.
"We have overcome the first one," she said. "We need to work very hard for the [COVID-19] infection rate to go down … We believe that we will be successful with the firm determination and the participation and support of the people."